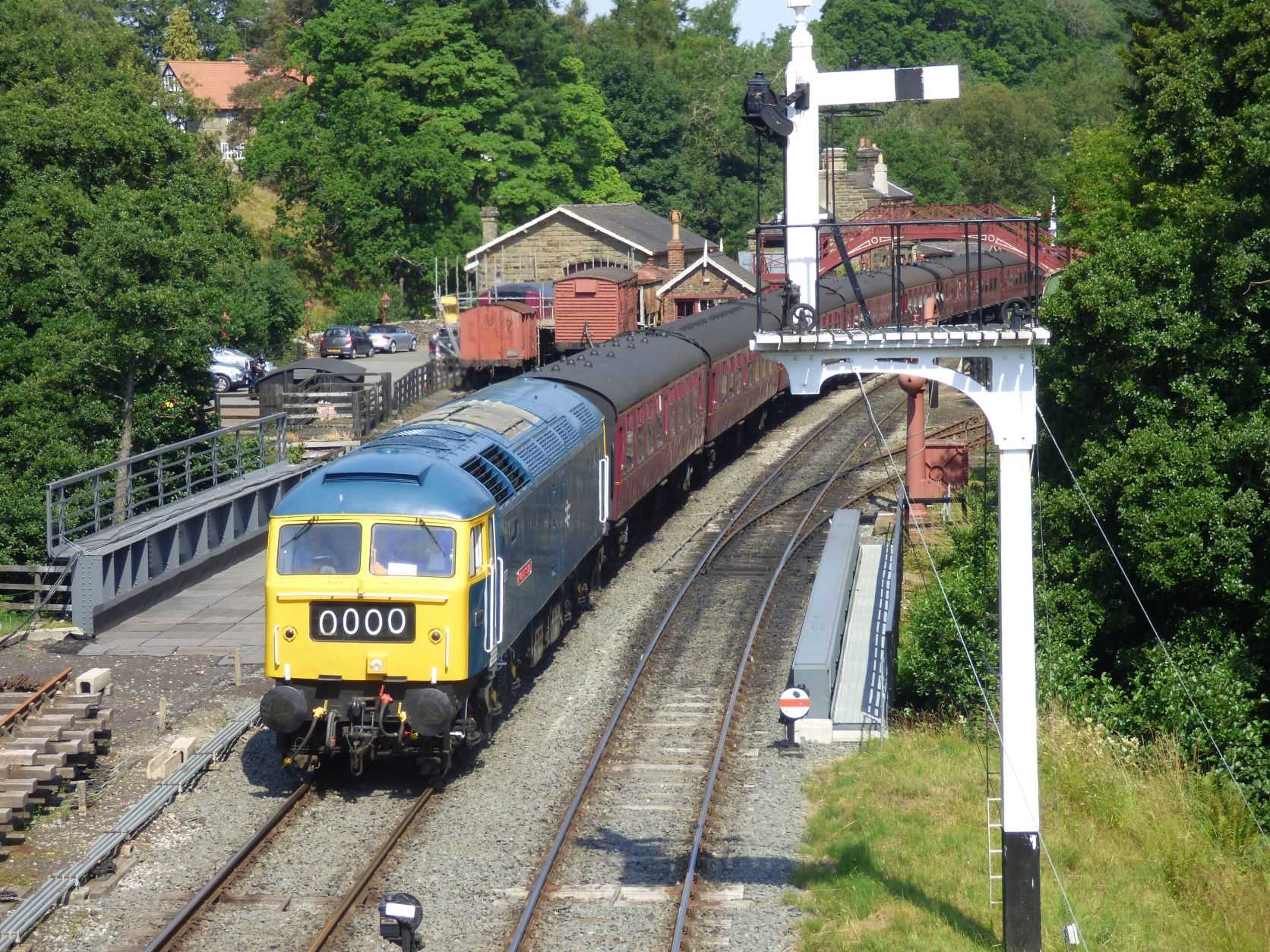 BR 1965 Crewe-built Class 47 47077 (D1661, 47613, 47840) 'NORTH STAR' hauled her first revenue-earning turn on the North Yorkshire Moors Railway on Monday 18th July 2022, pictured at Goathland by Martin Fisher © CC BY-NC 3.0
Although not strictly within the period of review of this roundup, the 'hot news' on this hottest day of the year (so far) was made by our Class 47 47077 (D1661, 47613, 47840) 'NORTH STAR' who found herself pressed into service on the NYMR due to the very high fire risk and the need to support steam loco operations.
The loco looked and sounded superb as she went 'out and about' on the NYMR, and DEPG member and our local correspondent MARTIN FISHER braved the high temperatures to take some excellent shots, one of which is featured above.
The NYMR plan to use the '47' on a regular basis from now onwards, with crew training turns mixed in with scheduled haulage operations, so 'NORTH STAR' is going to be busy (at last !). MANY THANKS to all involved in making this loco serviceable again.
For the rest of this roundup, we will keep it quick and straightforward, because time is short and temperatures are too high to allow hours of work on the keyboard. Hopefully you will find enough of interest in this abridged edition. Thank you for supporting the DEPG !
Class 33 'Crompton' D6575 (33 057) took over the scheduled 'BLUE TIMETABLE' turns last weekend, and was pictured at Minehead on the evening of Saturday 16th July 2022 at the head of her train, in preparation for the 10:00 service from Minehead to Bishops Lydeard the following morning. Photo by Mark Ireland © CC BY-NC 3.0
For our next two running dates, Sat/Sun 23/24 July, 'Hymek' D7018 will again be hauling the two return services that originate at Minehead, so make the most of this opportunity to enjoy the 'Maybach Music' and come along to the WSR and take a ride.