NOTE : Apologies for the lateness of the roundup posting this week.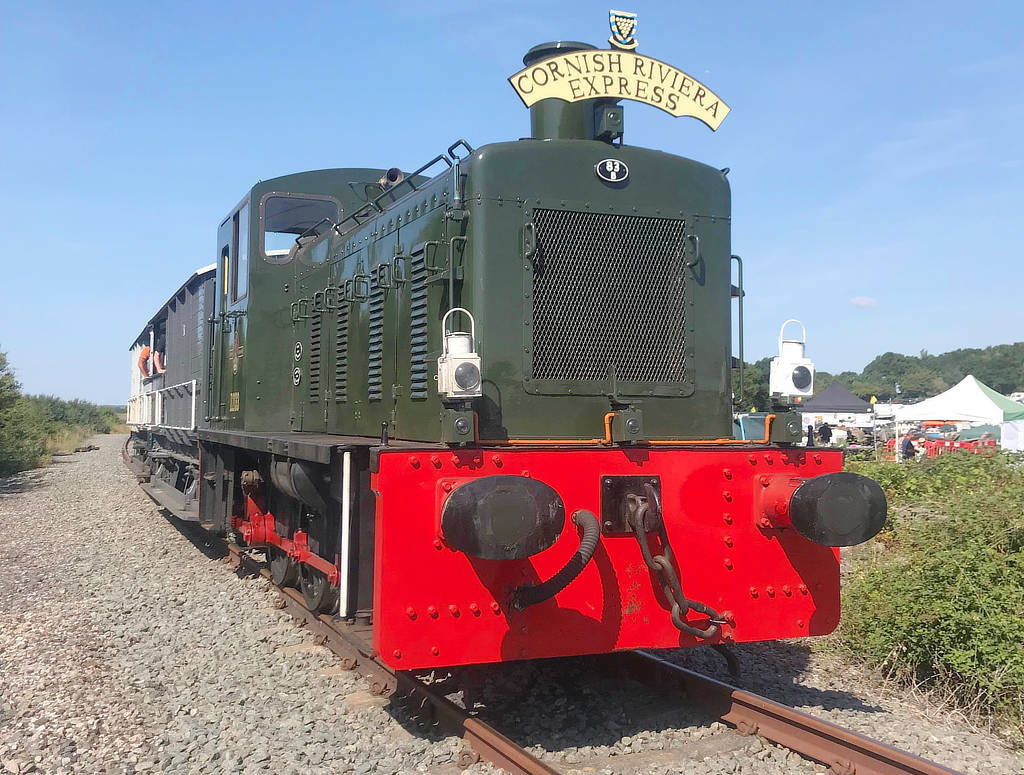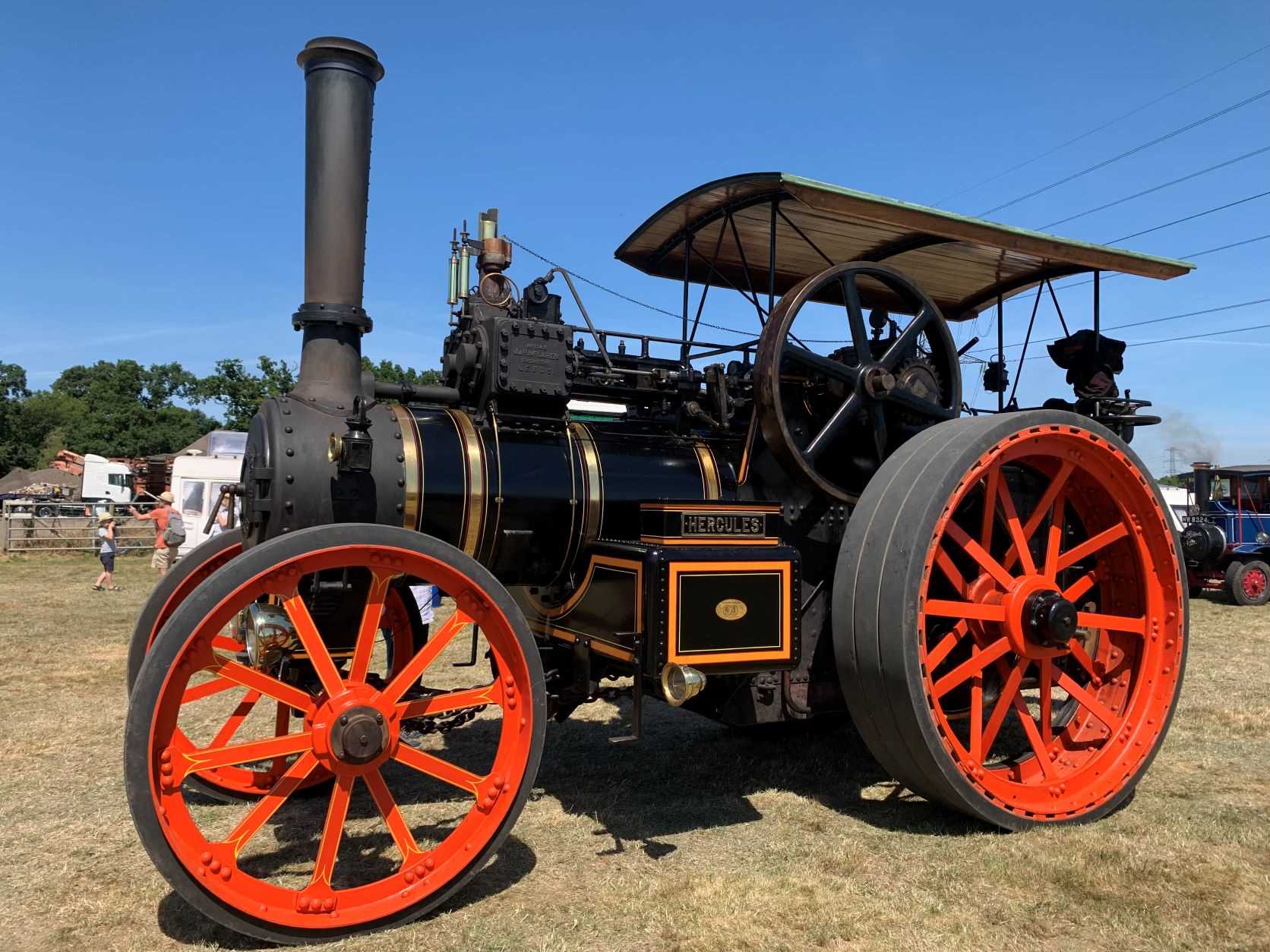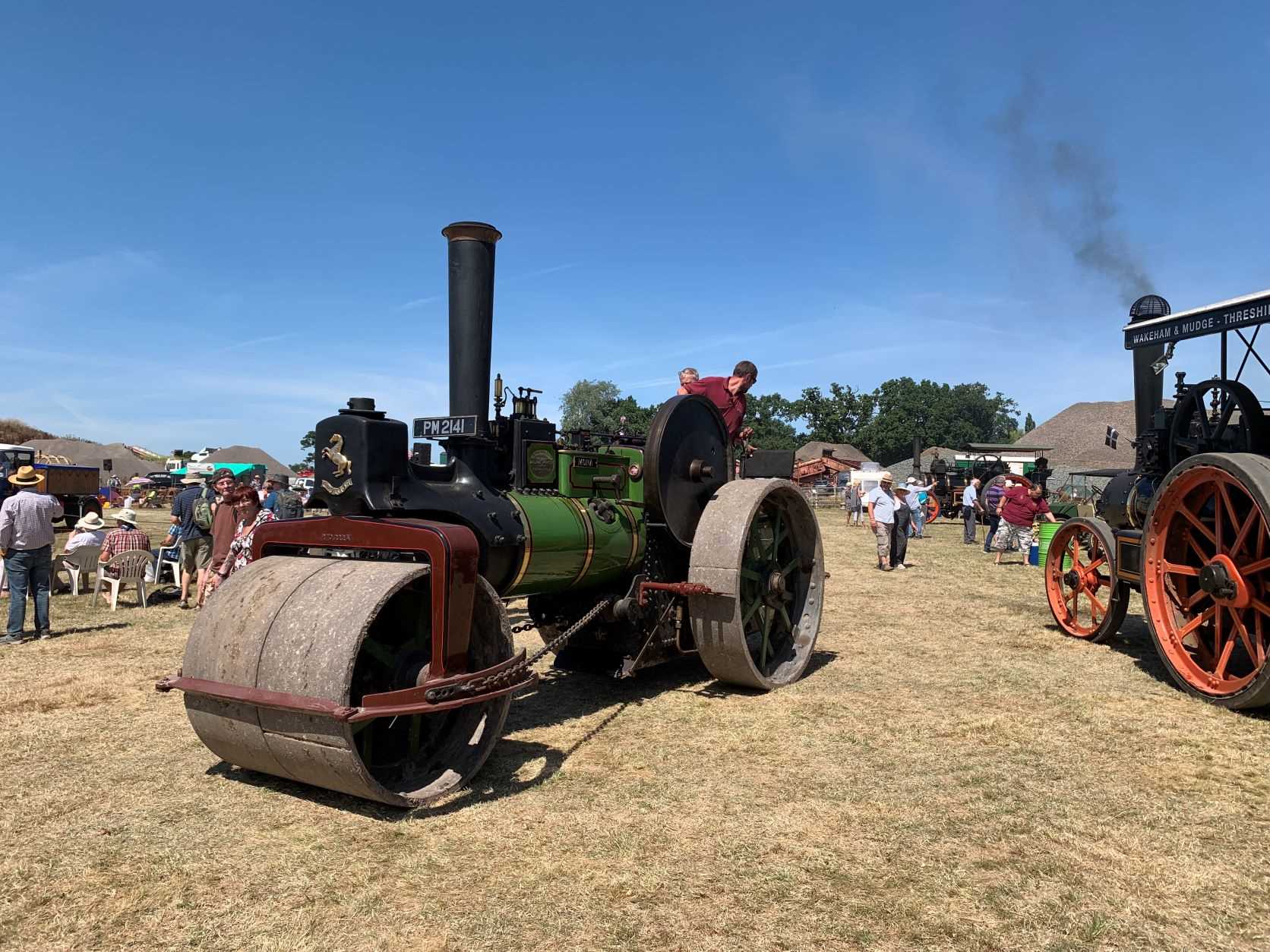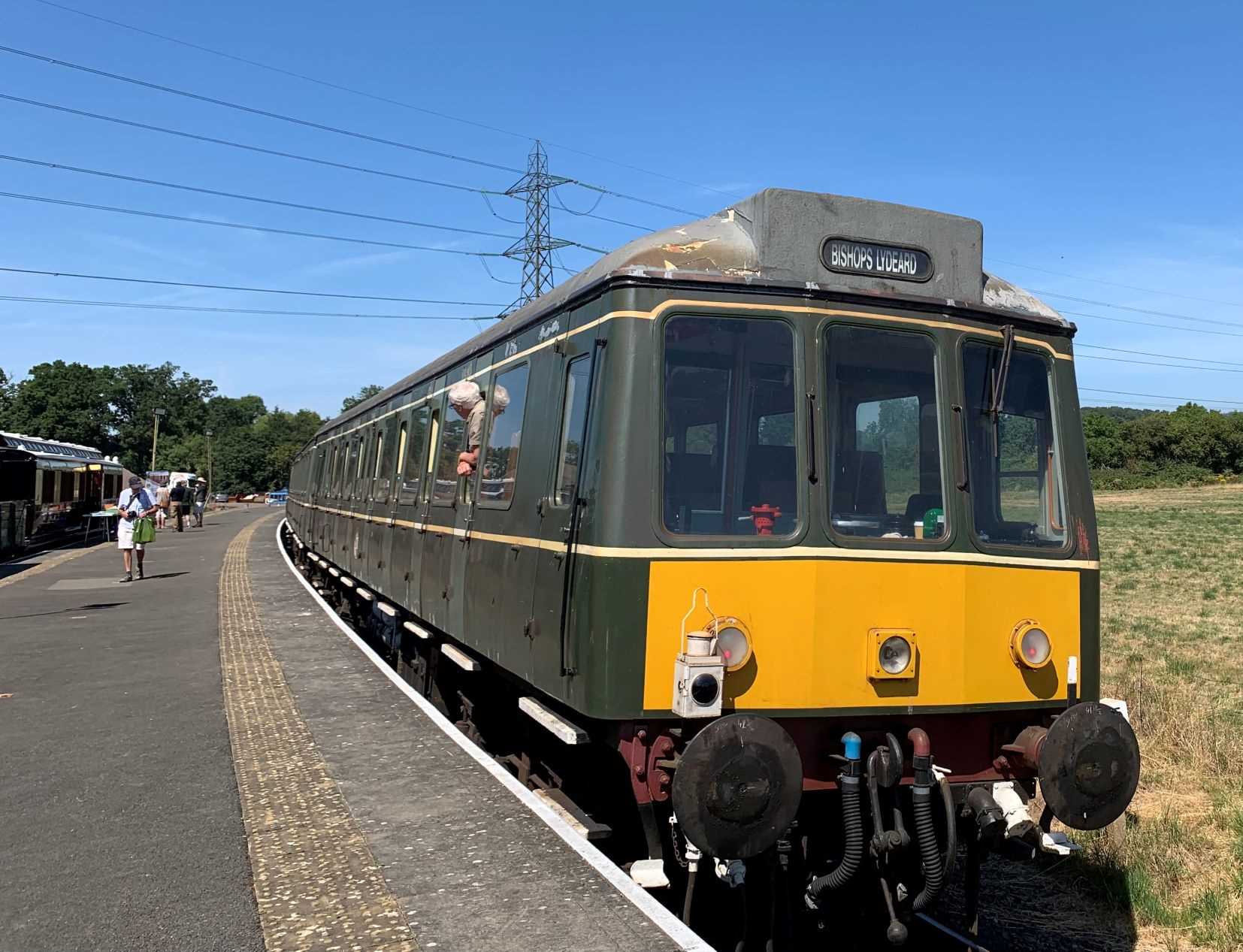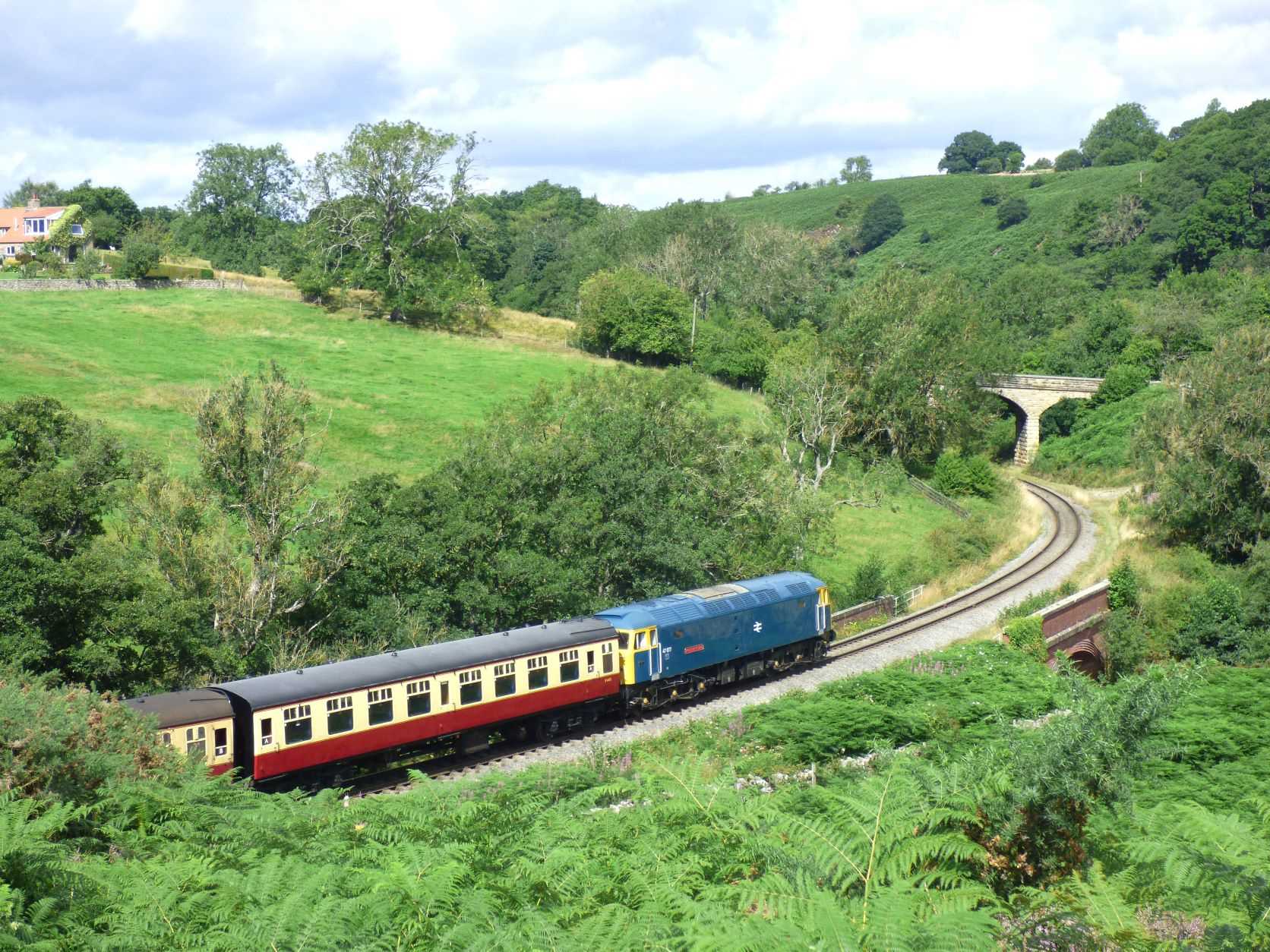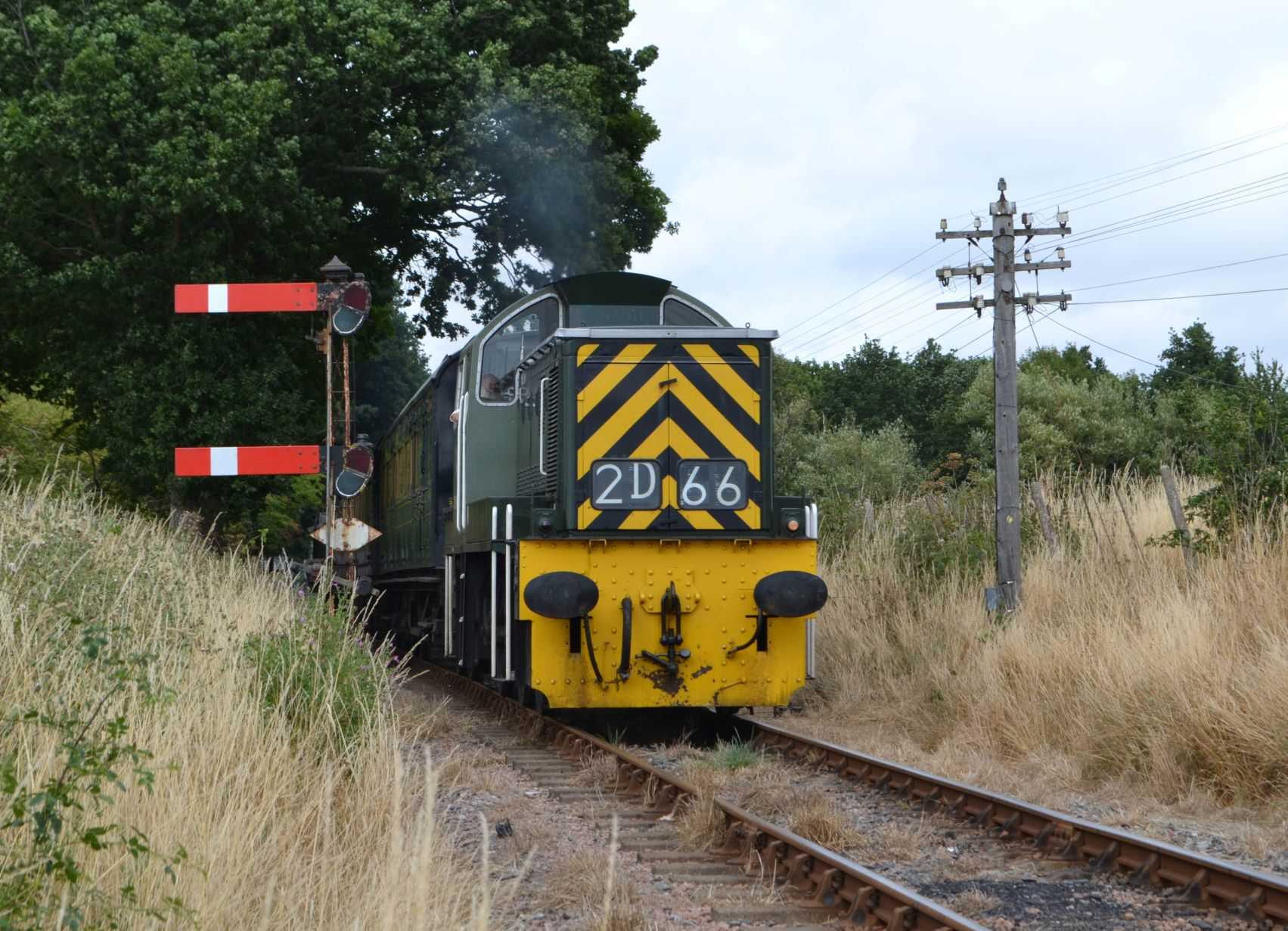 D9526 was pictured while working hard on the short sharp 1:70 climb out of Wittersham Road station on 2nd August 2022. Note the low height signals on this 'Colonel Stephens' light railway. Photo by Colin Girle © CC BY-NC 3.0
And now for a light-hearted take on the various steam bans that are in force across much of the UK … a very imaginative piece of artwork, courtesy of the KESR  !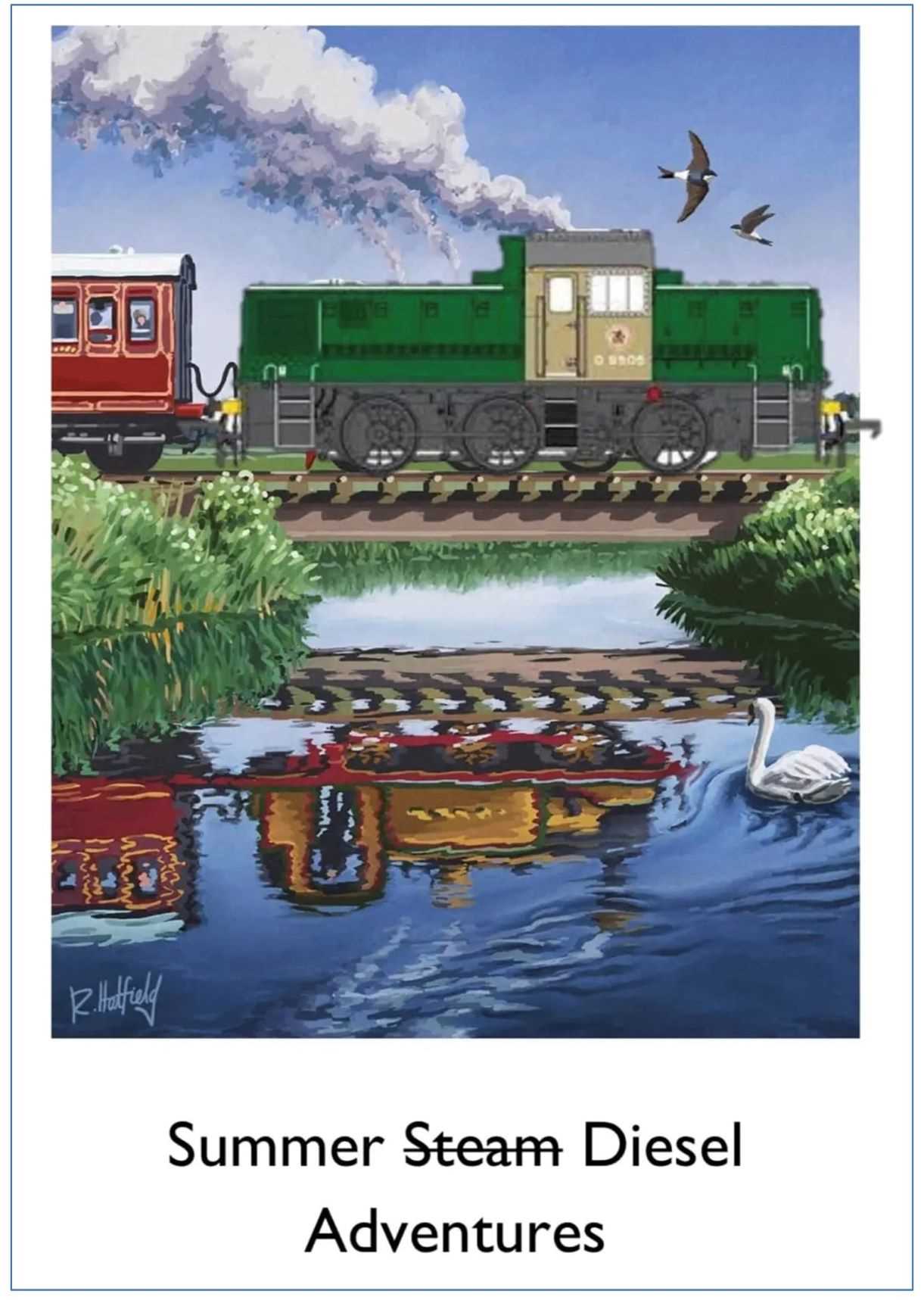 The modified YELLOW timetable went into force on the WSR last Tuesday 2nd August and Class 33 'Crompton' D6575 (33 057) worked the 11:00 Bishops Lydeard to Minehead and the 15:25 return service on the Tuesday, Wednesday and Thursday as planned. The weekend was all steam except for the DMU running to Norton Fitzwarren on the Rally shuttle, but the continuing dry spell had left the embankments tinder dry and two significant fires broke out, one near Williton on Saturday 6th and another near Blue Anchor on Sunday 7th, so the WSR decided to impose a steam ban and revert to the BLUE timetable with the two Class 33 'Cromptons' providing the haulage as from Monday 8th.
As mentioned before, things tend to happen in clusters and we again ran into trouble with Class 33 D6566 (33 048) on the Monday and the DMU had to be pressed into service to save the day. More about this in the next roundup, but suffice to say that all locos have returned to serviceable status now.
We kept our DIESEL RUNNING DATES page updated throughout the affected days and we have a DIESELGEN bulletin lined up for later today to spread the news about the planned running this coming weekend (FOUR 'Cromptons' on the WSR). MANY THANKS for supporting this year's DIESEL RUNNING program on the WSR.

The usual caveats of loco availability apply, but we will be aiming to deliver the above program of running with the locos indicated and we will provide as much advance notice of any change as possible, using our DIESELGEN and Twitter feeds, so please sign up to keep up to date.
LOCO NEWS:
Class 52 D1010 'WESTERN CAMPAIGNER' – we will need to keep it brief this week but there was plenty of progress on this loco, as can be seen from the photos below. Please consider SPONSORING A PATCH because there is plenty of fresh metal that needs engraving ! Thank you in advance for your support !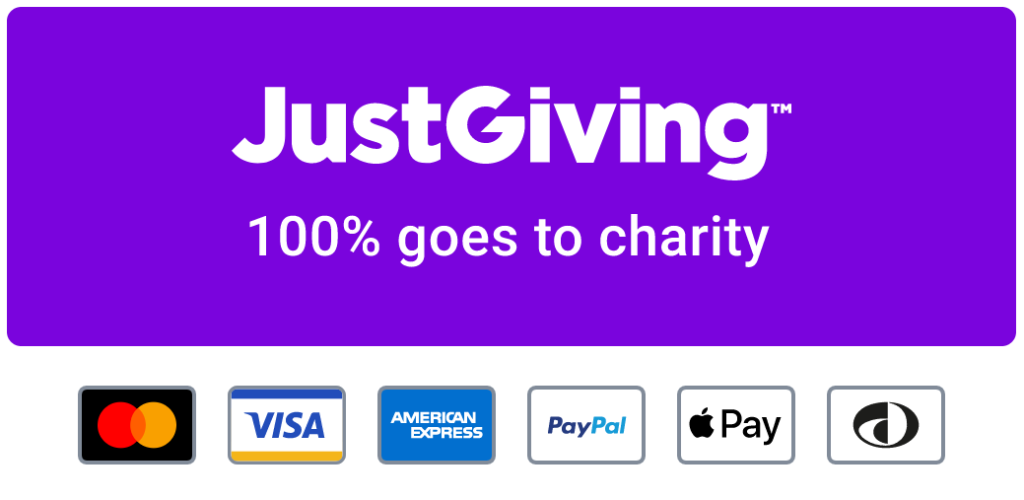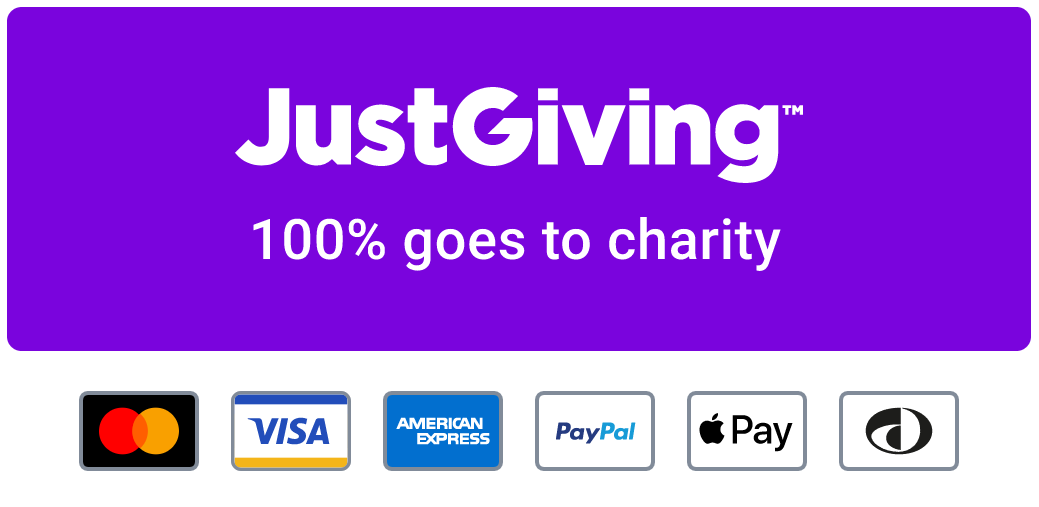 The 'CAMPAIGNER' team continue their work on restoring this massive and complex locomotive. Although bodywork repairs have progressed well, we still have a lot of rubbing down and painting to do, so PLEASE DO COME ALONG AND HELP IF YOU CAN !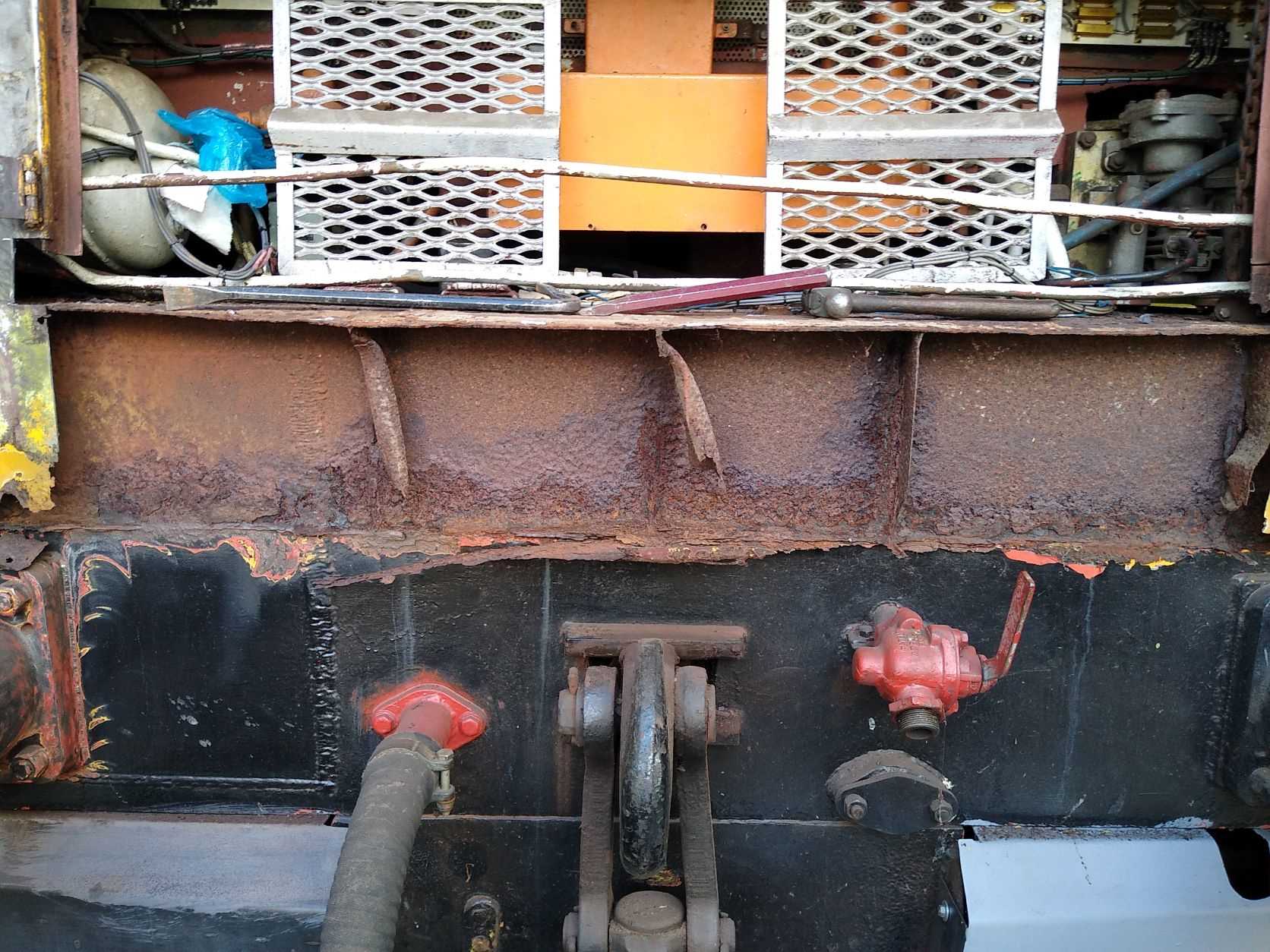 D1010 – the corroded upper buffer beam valance strip at 'A' end was removed to assess the underlying structure and this is what we found ! Evidence of previous collision damage, probably dating back to 1972 which was when the loco was last repaired at Swindon Works. Don't worry, it will all be sorted out by the next roundup. Pictured at Williton on 2nd August 2022 by Colin Foxhall © CC BY-NC 3.0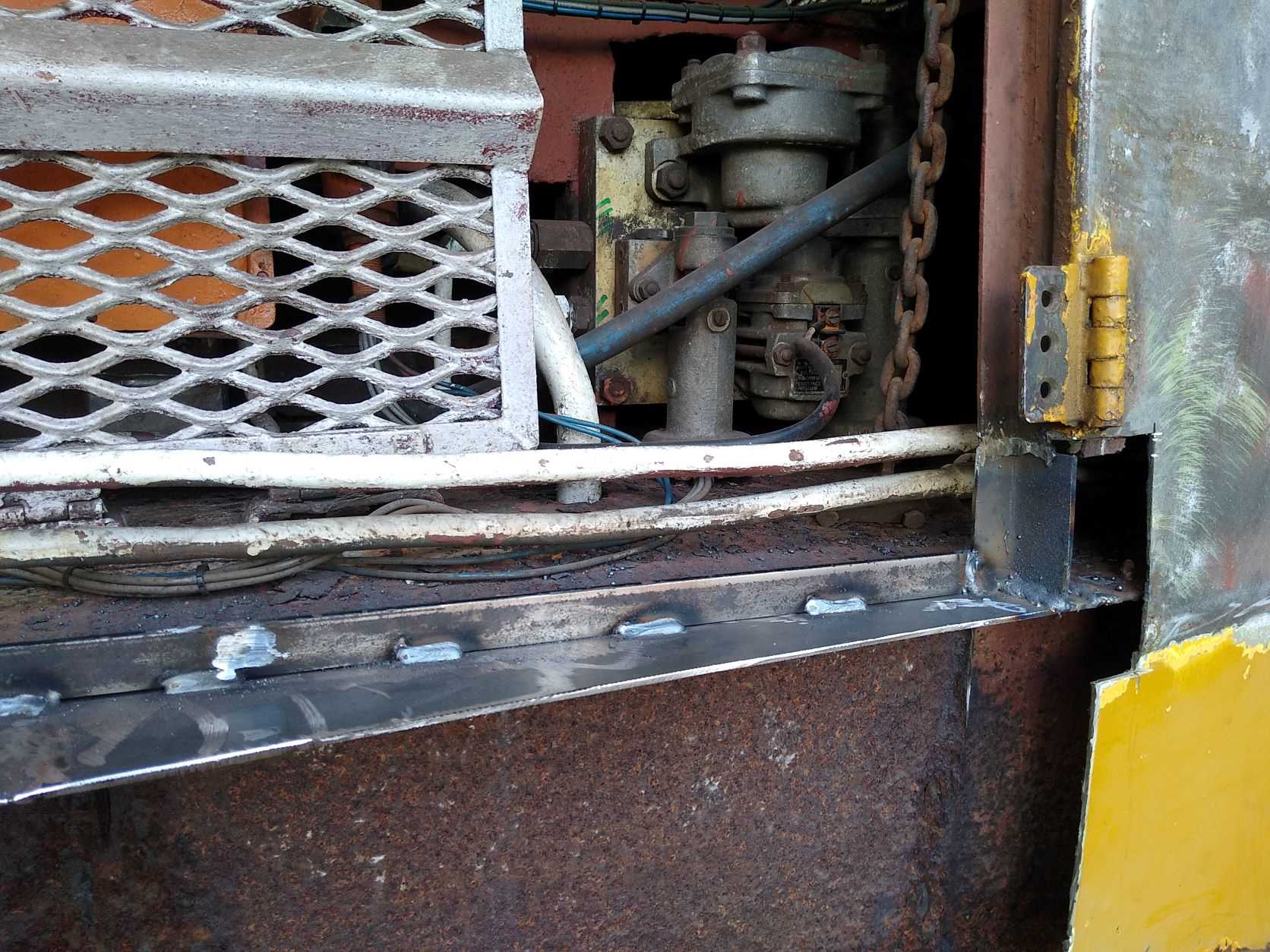 D1010 – Step 1 is to put shape and strength back into the structure that sits behind the valance strip, as this photo of the left side of 'A' end shows. Step 2 will be presented in the next roundup. Pictured at Williton on 2nd August 2022 by Colin Foxhall © CC BY-NC 3.0
D1010 – one of the headcode frames has been fitted with new rubber seals around the glass – a task that was every bit as difficult as it looks. Well done Gordon for persevering ! Pictured at Williton on 6th August 2022 by Tom Courtney © CC BY-NC 3.0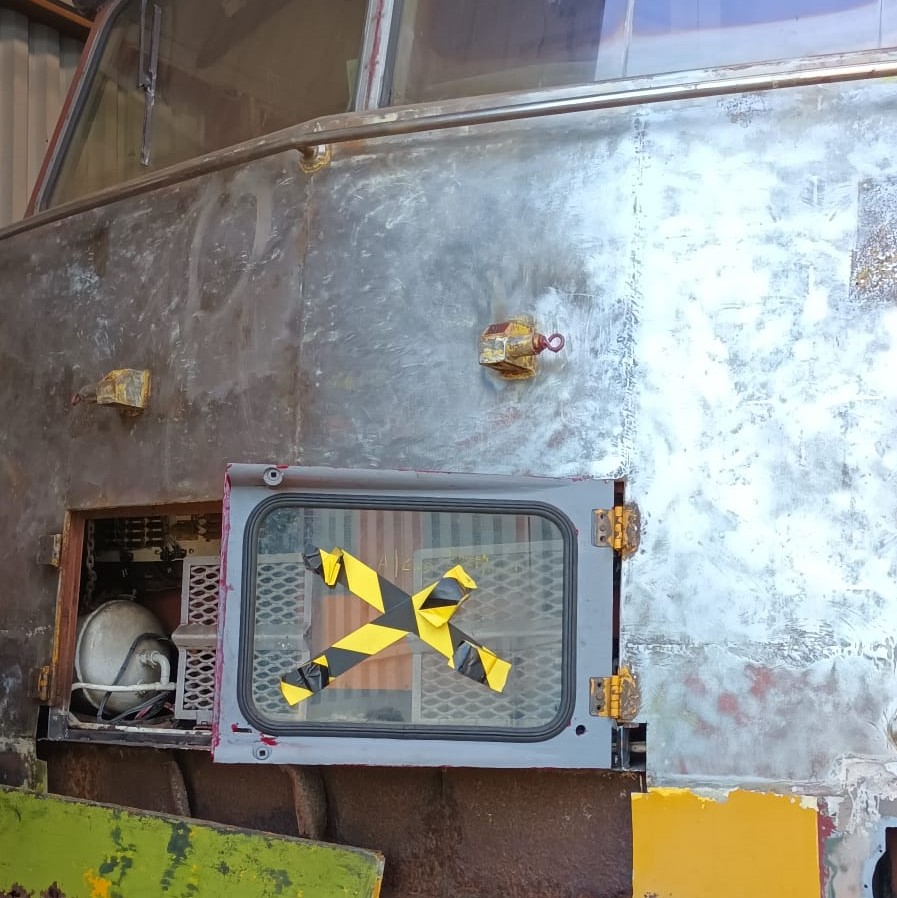 D1010 – the re-sealed headcode frame was trial fitted to the aperture at 'A' end to ensure that everything was properly aligned. Pictured at Williton on 6th August 2022 by Tom Courtney © CC BY-NC 3.0
To support the work that is progressing in multiple areas on D1010, we launched our CAMPAIGN for CAMPAIGNER by offering 'SPONSOR A PATCH' where you can donate in support of the bodywork repairs that are taking place on D1010 'WESTERN CAMPAIGNER' and HAVE YOUR NAME ENGRAVED ON THE SPONSORED PATCH or PART.
For the sum of £25, this scheme offers you a chance to sponsor the restoration of this much-loved locomotive, with your personal contribution being recorded and documented on a set of drawings that will be made available at our Williton depot on running days and open days. For those who prefer to remain anonymous, a unique reference number or code word will be allocated and engraved instead.
See our CAMPAIGN for CAMPAIGNER web page for more details !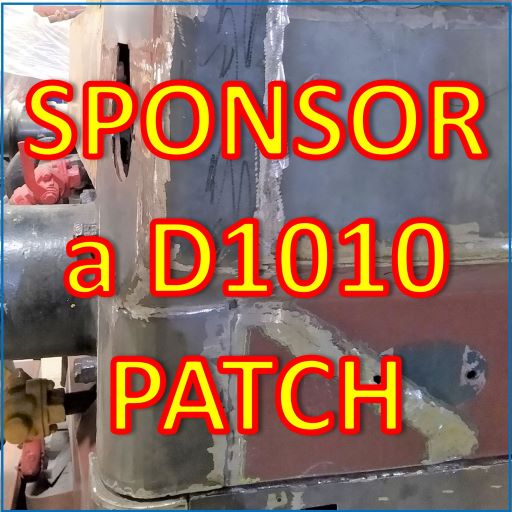 Class 33 D6566 (33 048) – this loco was stabled at Williton throughout the weekend and moved to Minehead on Monday morning to take up her unexpected additional duties. The rest, as they say, is history!
Class 33 D6575 (33 057) – this loco is currently based at Bishops Lydeard and is in regular use as per our DIESEL RUNNING DATES page.
Class 35 'Hymek' D7017 – no change last week due to non-availaibilty of the people with the appropriate knowledge and the continuing need to perform some maintenance tasks on sister loco D7018. Progress is expected to resume THIS Saturday with a view to getting the loco out on test later this month.