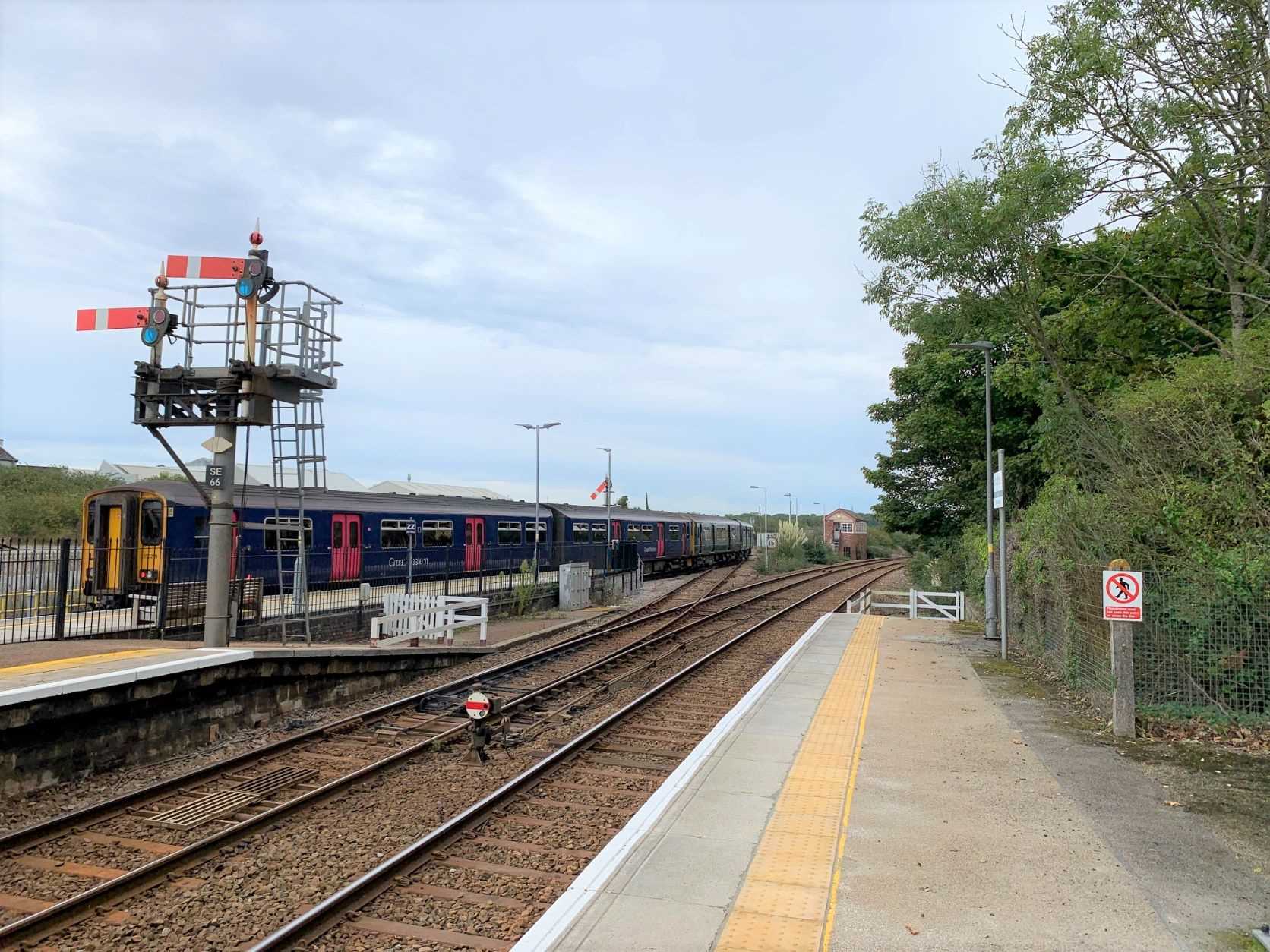 A pair of GWR Class 150/2 diesel-hydraulic 'Sprinters' worked the 30-minute interval shuttle service between St Erth and St Ives on Monday 12th September 2022, pictured leaving St Erth at 1748 and framed with semaphore signals and a signal box. The very well-kept and well-organised park-and-ride station, the very friendly staff and the wonderful views combine to make the journey an absolute pleasure. Photo by Andy Royal © CC BY-NC 3.0
The opening photo of this roundup may appear a strange choice, but your author is on holiday in Cornwall and under orders to keep this edition short and to the point. The normal array of photographs is not available to me this week so here's a quick summary of what has been going on at the DEPG (as far as I know!):
We at the DEPG were saddened by the passing of HM Queen Elizabeth II after a lifetime of service and duty that spoke for itself and deserves to be acknowledged by all. Unfortunately, we have our own sad news to add to this, as follows:
John Benson, founder and former President of the DEPG, passed away recently. His funeral was held on Tuesday 13th September at St Mary's Church, Marden (near Hereford). The DEPG was represented by Terry Deacon. We will document the backstory to John's role in the creation of our group and his subsequent contribution, and include it in a future edition of the DEPG quarterly newsletter.
The WSR 'Forties Weekend' took place on Saturday 10th and Sunday 11th September and the DEPG provided an 'open depot' in support of the event. After the slim pickings of recent open days, we had plenty of locos available to view, including 'Hymek' D7017 undergoing the final stages of her engine repair inside the loco shed and Class 33 'Crompton' D6566 (33 048) in the yard undergoing preparation work while she waits for her refurbished heat exchanger. Fully serviceable locos on shed were 'Hymek' D7018 and 'Crompton' D6575 (33 057) along with Barclay 0-4-0DH number 578 (ROF 1).
Work continued on our two long-term restoration projects, Class 52 D1010 'WESTERN CAMPAIGNER' and Class 14 'Teddy Bear' D9518, although the type of task being undertaken had to be modified to be a little more friendly to the public who were allowed to get up close to the locos that were the subject of the work.
Sales team stalwart and Membership Secretary Chris Shields manned the DEPG sales stand throughout the weekend, offering DEPG-branded hats, polo shirts, sweatshirts and the like, along with our ever-growing selection of new books. Many thanks to Chris for his tireless efforts to raise money to support the DEPG fleet.
Looking ahead: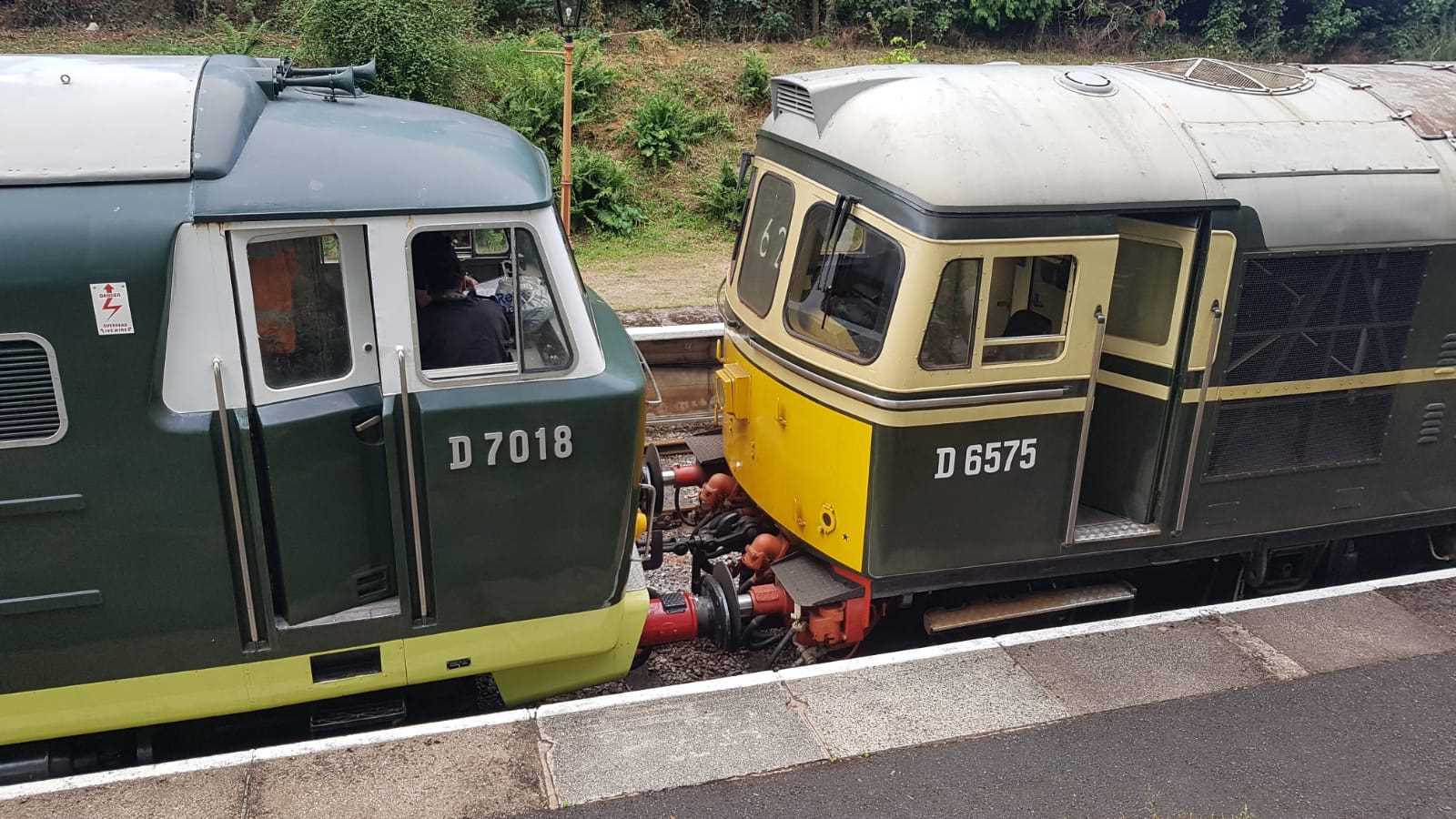 Class 35 'Hymek' D7018 was pictured while waiting for a 'down' service to pass at Crowcombe Heathfield Station on Saturday 20th August 2022′ The 'Hymek' was leading Class 33 'Crompton' D6575 (33 057) on their journey to Bishops Lydeard where they both had work to do. Photo by Martin Howard © CC BY-NC 3.0
On the weekend of 17th and 18th September, we have Class 33 'Crompton' D6575 (33 057) running for 80 miles as per the BLUE timetable.
On the weekend of 24th and 25th September, we have Class 35 'Hymek' D7018 running for 80 miles also as per the BLUE timetable. This will be the LAST scheduled diesel-hauled service of the season, so please come along and enjoy the ride.
We have kept our DIESEL RUNNING DATES page updated throughout all of the recent timetable and traction changes, with links to the WSR timetables, so this page can be used as a one-stop-shop for diesel-hauled services on the WSR. MANY THANKS TO ALL WHO HAVE TRAVELLED for supporting this year's DIESEL RUNNING program on the WSR. The season is not over yet – there is MORE TO COME so click on the banner below to visit the page and get the details:

The usual caveats of loco availability apply, but we aim to deliver the published program of running with the locos indicated and we will provide as much advance notice of any change as possible, using our DIESELGEN and Twitter feeds, so please sign up to keep up to date.
LOCO NEWS:
Class 52 D1010 'WESTERN CAMPAIGNER' – this loco remained inside the loco shed for the duration of the 'Forties Weekend' so that work could progress on getting a coat of primer on all exposed areas of metalwork. Only when getting 'up close and personal' to this loco does it become apparent just how much area there is to be painted, rubbed down and painted again.  Many thanks to all of our volunteers for their massive effort on this massive locomotive !
Please consider SPONSORING A PATCH because there is plenty of fresh metal that still needs engraving and it is in a prime location, right at the front of the loco at 'A' end ! Thank you in advance for your support !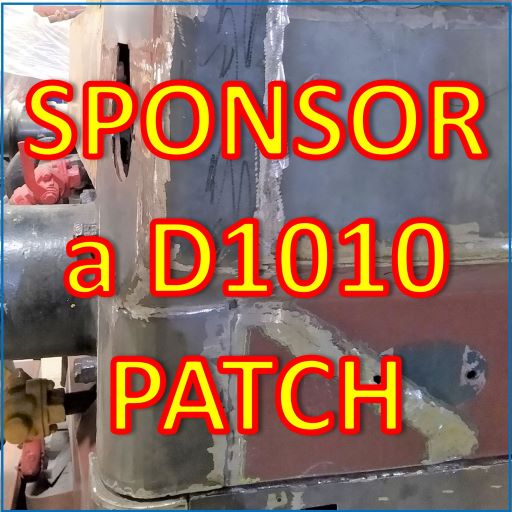 Although bodywork repairs have progressed well, we still have a lot of rubbing down and painting to do, so PLEASE DO COME ALONG AND HELP IF YOU CAN !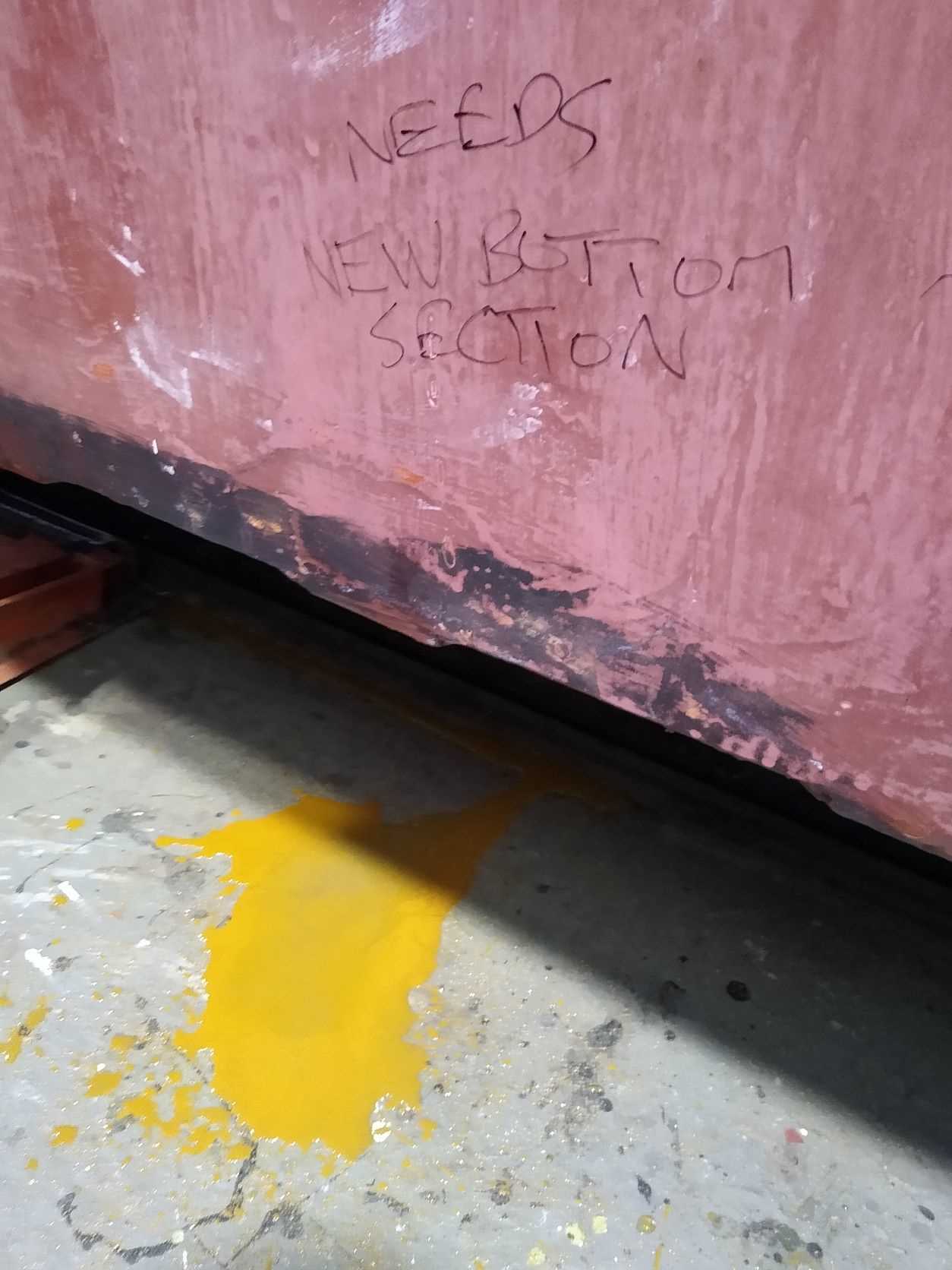 D1010 – one of the battery box doors made a 'sloshing' noise when opened and was found to contain a quantity of rusty water! The well-rotted bottom section of the door had to be replaced. Pictured at Williton on 6th September 2022 by Colin Foxhall © CC BY-NC 3.0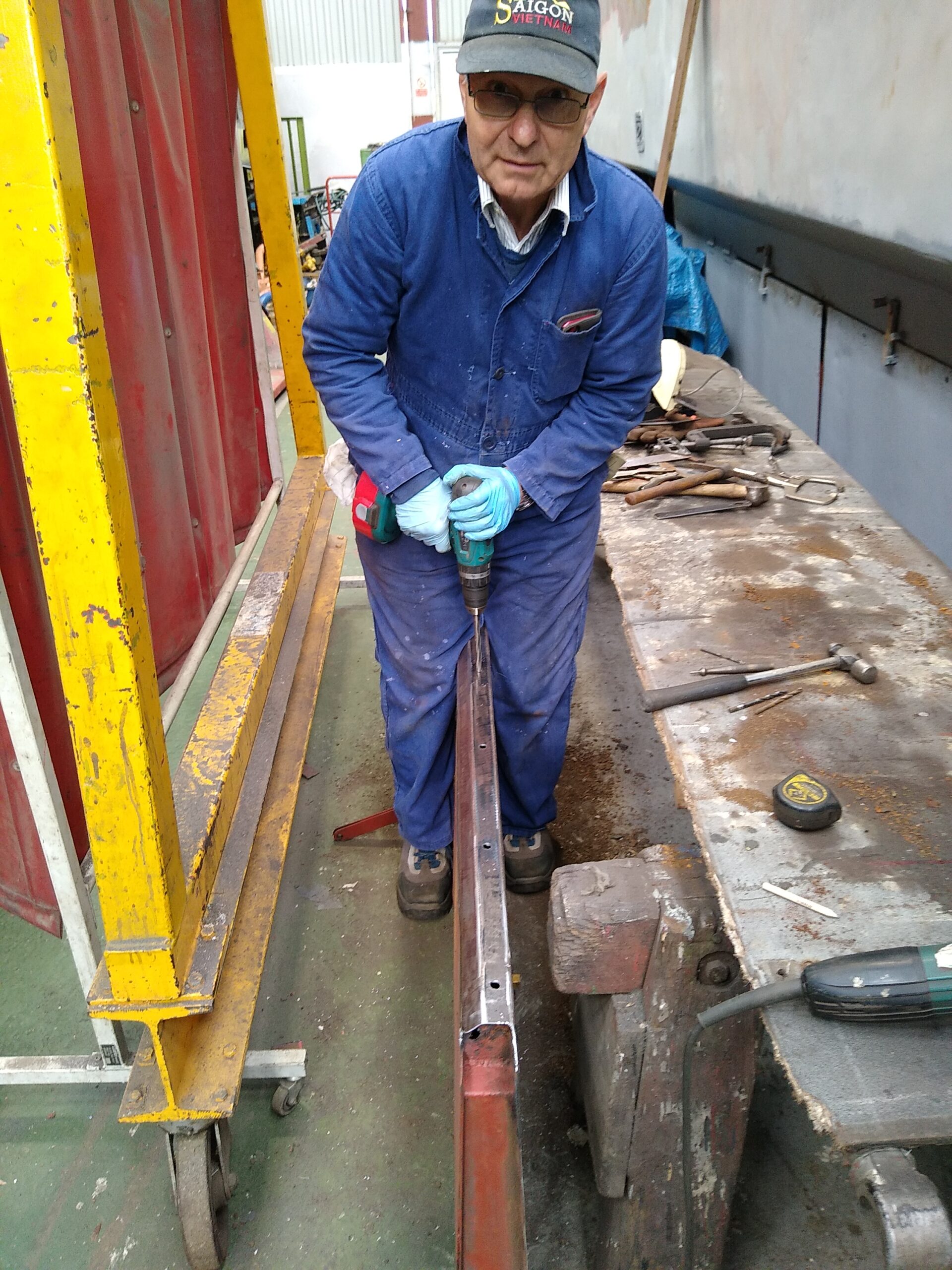 D1010 – the new metal of the replacement bottom section of the battery box door is provided with drain holes to prevent water build-up inside the closed section, courtesy of volunteer Tim at Williton on 6th September 2022. Photo by Colin Foxhall © CC BY-NC 3.0
To support the work that is progressing in multiple areas on D1010, we launched our CAMPAIGN for CAMPAIGNER by offering 'SPONSOR A PATCH' where you can donate in support of the bodywork repairs that are taking place on D1010 'WESTERN CAMPAIGNER' and HAVE YOUR NAME ENGRAVED ON THE SPONSORED PATCH or PART.
For the sum of £25, this scheme offers you a chance to sponsor the restoration of this much-loved locomotive, with your personal contribution being recorded and documented on a set of drawings that will be made available at our Williton depot on running days and open days. For those who prefer to remain anonymous, a unique reference number or code word will be allocated and engraved instead.
See our CAMPAIGN for CAMPAIGNER web page for more details !


Class 33 D6566 (33 048) – this loco is undergoing preparation work for the re-installation of her refurbished heat exchanger, expected to be received some time in October. This has allowed time for the crankcase to be cleaned out and the oil strainer and filter housings to be cleaned and refitted before the heat exchanger comes back and the fresh oil goes in. We expect this loco to be back in action some time in October.
Class 33 D6575 (33 057) – this loco is currently stabled at Williton and being the WSR Duty Loco, is fully serviceable. She will move to Minehead on the morning of Saturday 17th September to be in position for her weekend duties under the BLUE timetable. See our DIESEL RUNNING DATES page for more information.
Class 35 'Hymek' D7017 – this loco is edging closer to completion and should be ready for an engine run later this month.
Class 35 'Hymek' D7018 – this loco will be in use on the 10:00 and 14:30 Minehead to Bishops Lydeard return services on Sat/Sun 24th/25th September. Keep an eye on our DIESEL RUNNING DATES page for updates or join the DIESELGEN email bulletin group (which also includes information about non-public services, where the information is available to us sufficiently in advance).
Class 14 'Teddy Bear' D9518 – the Class 14 team continue to work on the re-installation of the compressed air system and the associated valves and pipework. In parallel to this work, the 'short nose end' sections have been retrieved from storage so that they can be restored and made ready for re-fitting when the pipework has been completed. Hopefully we will have pictures in the next roundup.
This loco is the subject of a fundraising appeal so please follow this link to find out more. We need your help ! In addition to funds, we also need plenty of HANDS. If you love the 'Teddy Bears' and you are not already a member of the DEPG, please join us so that you can become one of the team that is going to return D9518 to full operational condition as 'NCB No. 7'.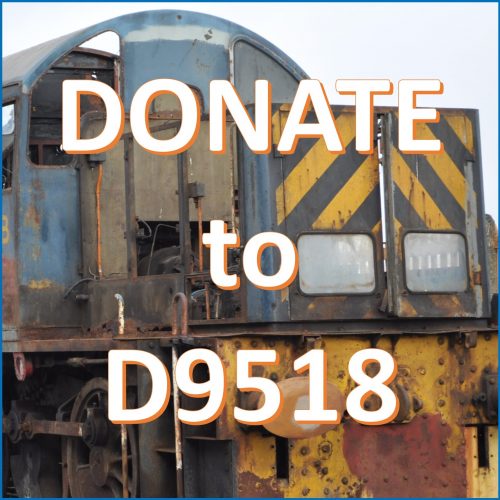 Class 14 'Teddy Bear' D9526 – this loco continues to be in regular use on the Kent & East Sussex Railway although the return of steam to the line will have reduced the pressure on this loco considerably. We expect the loco to remain at the KESR until some time in the spring of 2023.
Class 47 47077 'NORTH STAR' – this loco continues to be in regular use at the NYMR, which is great news for the loco and for the DEPG. The travelling public seem to like her as well, which is good news and will help ensure that she gets used regularly in future.
Andrew Barclay 0-4-0DH 578 – this little loco remains in the yard at Williton, ready for service.
If you can help by donating your time, then please JOIN US and come along to the depot for an introduction to what we do and how we do it. We currently have people on site from Saturday through to Tuesday and we can open on other days if we can be sure of getting at least two volunteers on site at all times, so there is plenty of scope. We have tasks of all types to suit most capabilities, both skilled and unskilled.
Many thanks to all of our volunteers who give up so much of their time to work on the cleaning, painting, maintaining, restoring, managing and fund raising for our fleet of heritage locomotives !
BOOK REVIEW – we now have a book review of the first volume from regular correspondent Neale Long and will be including it in the roundup next week and posting it to our website ASAP. We also have stock of the newly-released second volume which we hope will live up to the same standard as the first volume. Both books are in stock at our 'Tiverton warehouse' and are ready to mail out, so please click on the images to go to the links on our ONLINE STORE.
We have added several other NEW BOOKS to our online store recently including GREEN DIESEL DAYS, so please visit our online store and browse then buy to support the work that is taking place on our locomotives. Thanks !
ON SHED – this feature will return ASAP.
DEPG NEWS – The Annual General Meeting (AGM) took place at 14:00 at Williton on Saturday 3rd September 2022. A full report of the AGM will be included in the next edition of the DEPG Newsletter, due for distribution in November. If you are a member and would like to receive an advance copy of the report, please get in touch by replying to this email or by using the CONTACT FORM on our website.
Our new online membership system is working well and feedback has been very positive, even though some anomalies have had to be corrected here and there. Membership is INCREASING STEADILY ! If you haven't done so already, please take a look at your membership record and make sure that it is correct. You will also be able to select 'paper', 'paperless' or 'paperless except newsletter' communication, according to your preference. In the event of any discrepancies, please email Membership Secretary Chris Shields using members@depg.org or use the CONTACT FORM on our website.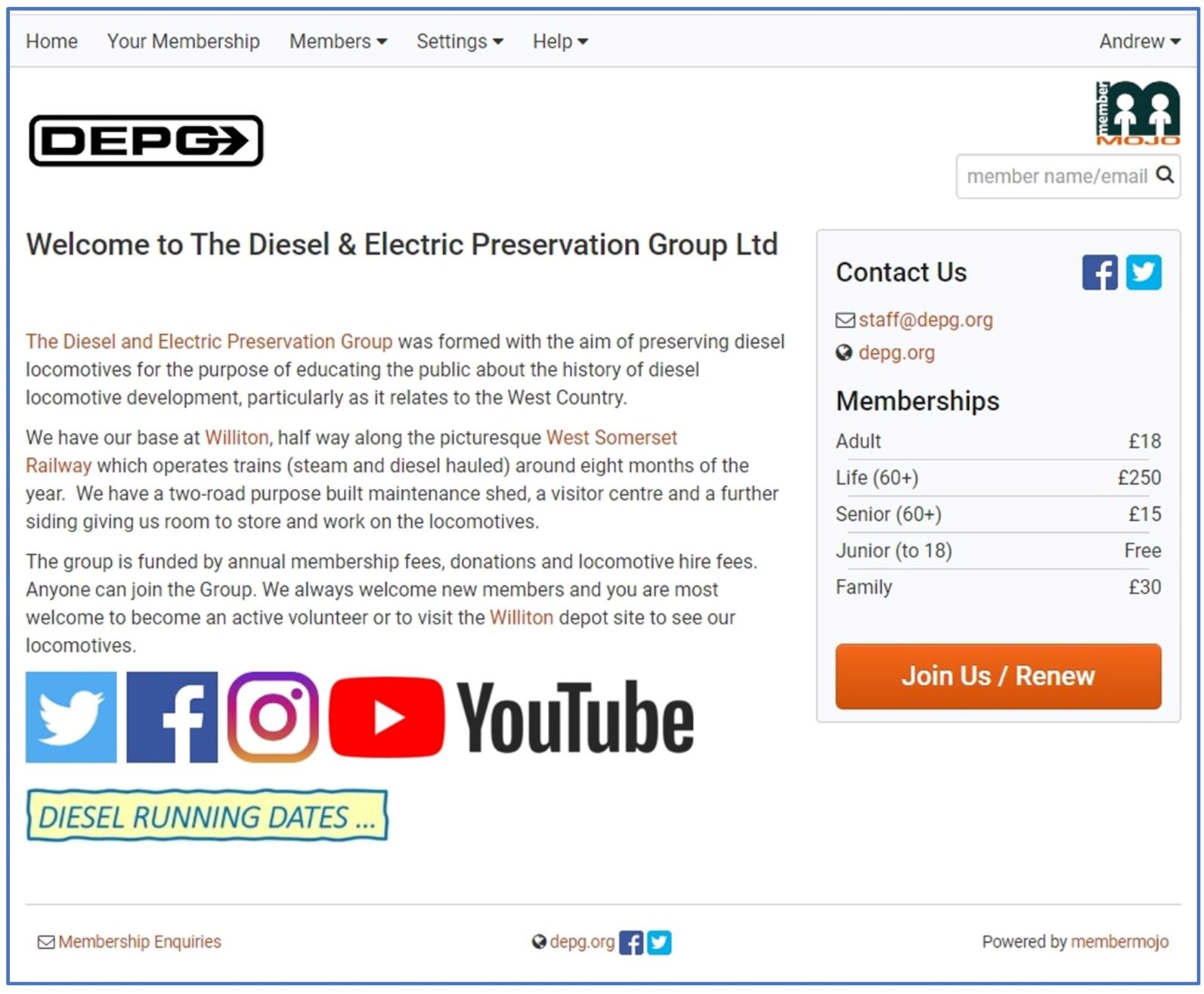 WSR NEWS: this coming weekend on the WSR will be the penultimate scheduled diesel haulage opportunity, the ultimate will be the weekend of 24th/25th September, so please do come along and support the remainder of the 2022 diesel running program of the WSR and the DEPG to make sure that we get invited to run our heritage diesels next year as well !