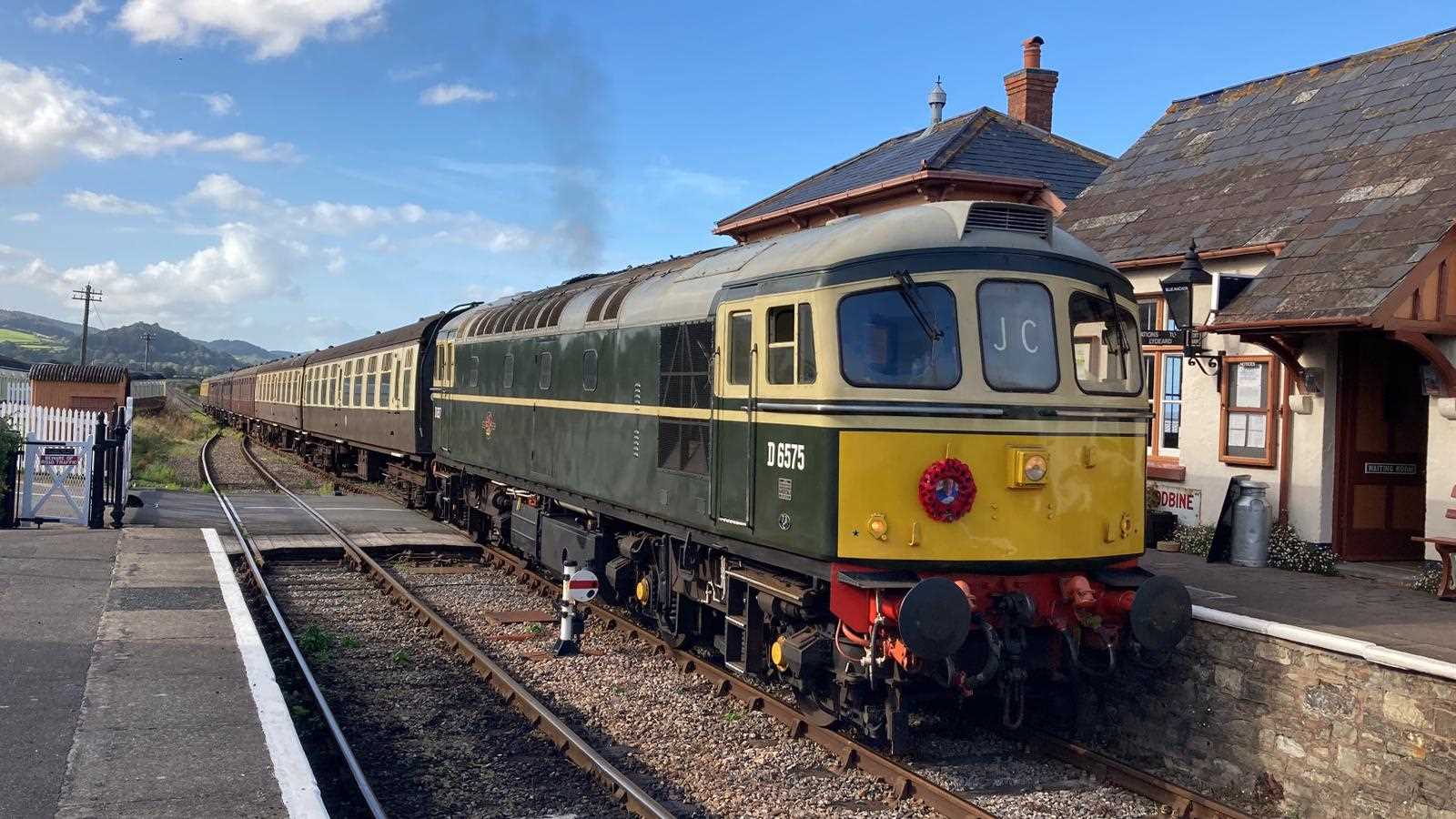 Class 33 'Crompton' D6575 (33 057) had the honour of working the last scheduled diesel-hauled service of the 2022 season on Sunday 16th October 2022. Pictured when hauling her train up the rising gradient into Blue Anchor station on Saturday 8th October 2022 by Josh Brinsford © CC BY-NC 3.0
The 2022 running season drew to a close last Sunday 16th October when Class 33 'Crompton' D6575 (33 057) worked the last of the scheduled diesel-hauled trains of the 2022 timetable, the 14:30 from Minehead to Bishops Lydeard.
In total, our locos worked public services on 46 different days of the 2022 season and covered more than 4,000 miles in the process !
Reliability was good with almost all scheduled diesel-hauled trains starting as booked. The star performers this year have been Class 33 'Crompton' D6575 (33 057) with 100% despatch reliability, covering 1,935 miles over 27 days without any issues, and Class 35 'Hymek' D7018 also with 100% despatch reliability and covering 1,070 miles over 14 days without any issues.
Class 33 'Crompton' D6566 (33 048) started well with 100% reliability through to mid-August when the heat got to her and she suffered a number of issues resulting in her withdrawal from service on the 18th August. This loco still managed to run a creditable 1,056 miles over 15 days before running into trouble, the result of which was that 11 of her booked departures were covered by the DMU and the rest by sister loco D6575.
The other casualty was 'Hymek' D7017 back in June when she suffered a cylinder head joint ring failure on the first day of the Diesel Gala. Her place was taken by other locos from the home fleet and only one service was changed to steam haulage as a result of the failure.
So, the overall reliability total for the year was 202 actual DEPG departures out of 216 booked departures, therefore 94% which does not seem unreasonable for a fleet of 60-year old locos, especially considering that we had not expected to be running diesels at all during August.
We have kept our DIESEL RUNNING DATES page updated throughout all of the timetable and traction changes that took place during the year and will keep this page available as a detailed record of public running for 2022. The above running statistics have now been added to that page. We will create a new page for 2023 as soon as timetables have been agreed and published.


MANY THANKS TO ALL WHO HAVE TRAVELLED for supporting this year's DIESEL RUNNING program on the WSR.
LOCO NEWS:
Class 52 D1010 'WESTERN CAMPAIGNER' – this loco celebrated her 60th birthday last Saturday – and that gave us the opportunity for a bit of fun and a slice of cake !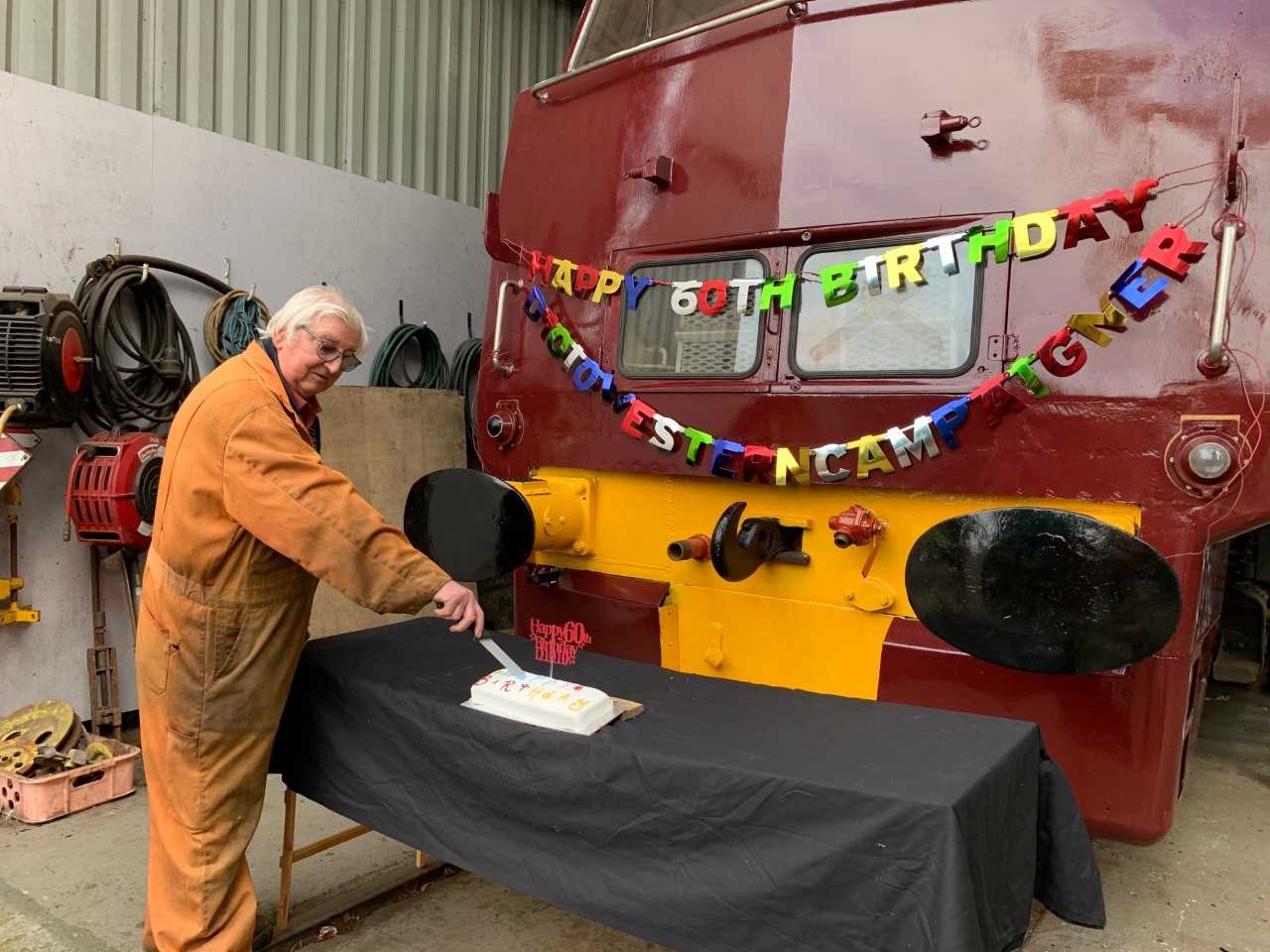 D1010 pictured at Williton on her 60th birthday, 15th October 2022, with Gordon about to cut the cake. Photo by Andy Royal © CC BY-NC 3.0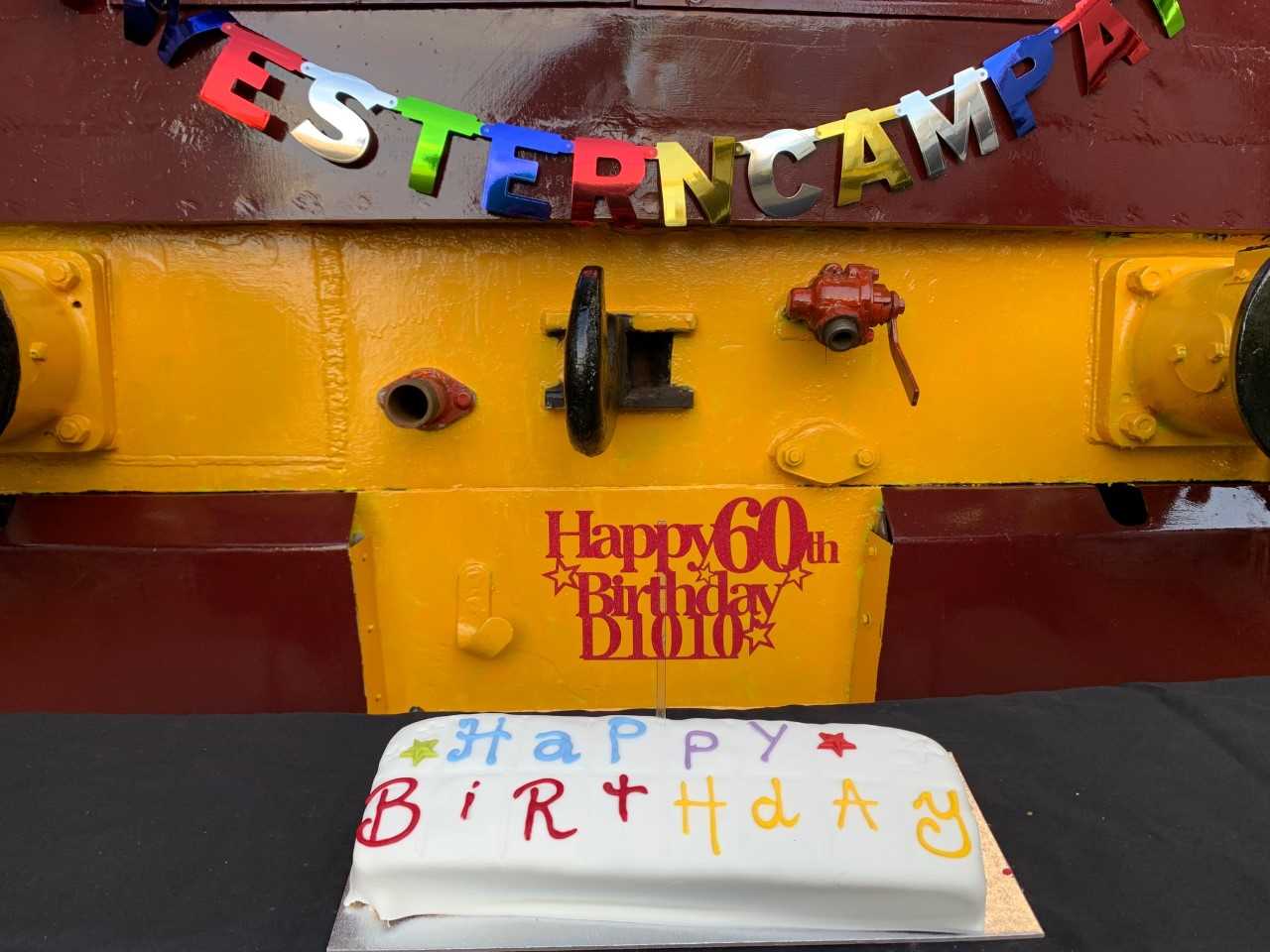 D1010 entered service at Old Oak Common depot on 15th October 1962 making her the oldest survivor of this famous class of locomotives that once totalled 74 machines. Do you have a photo of her from her early days ? If yes, please consider sharing it with us all. Photo by Andy Royal © CC BY-NC 3.0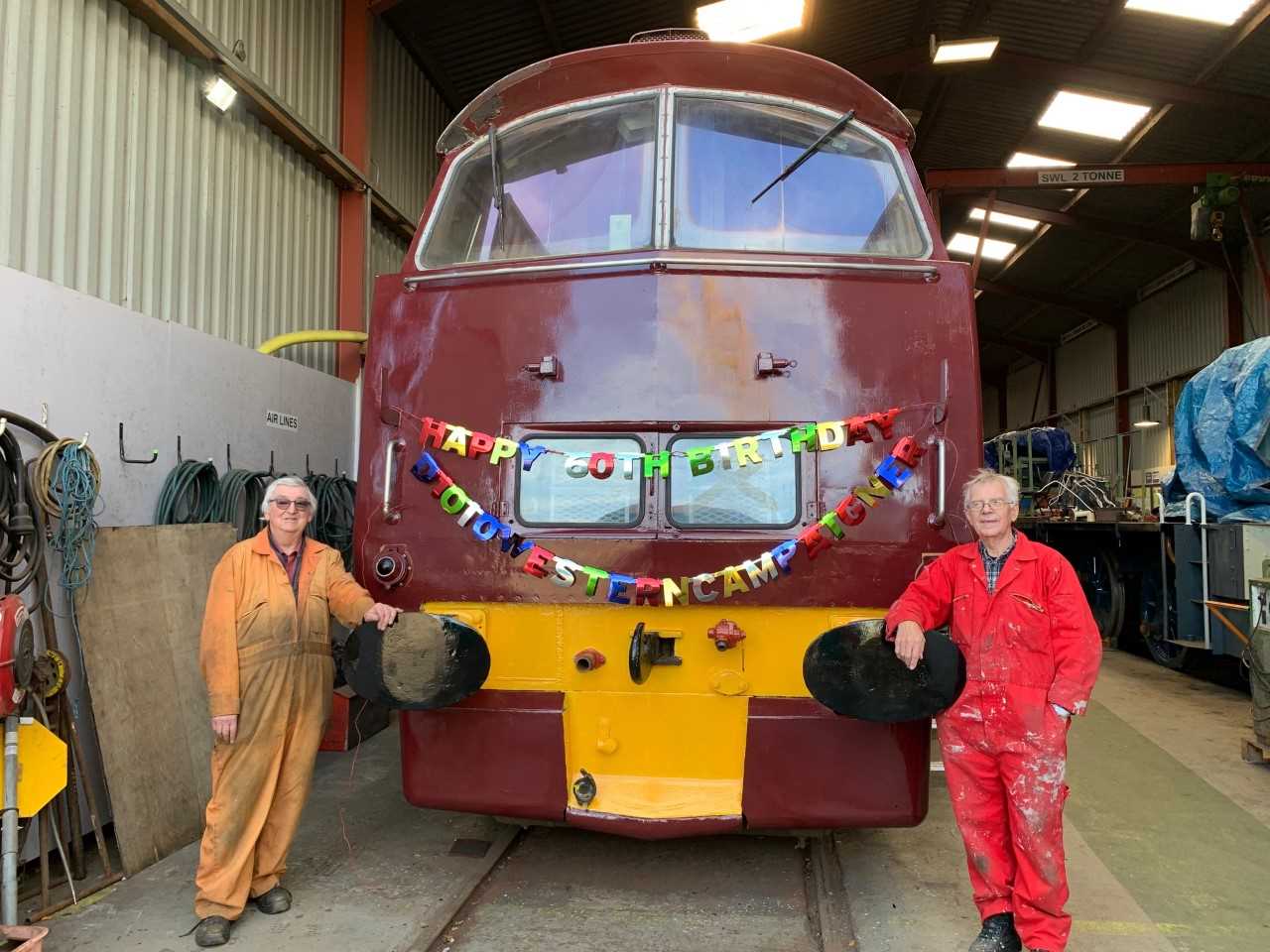 D1010 pictured at Williton on her 60th birthday, 15th October 2022 with Gordon on the left and Ian F on the right. Photo by Andy Royal © CC BY-NC 3.0
The restoration of D1010 continues to make progress, with the bodywork of the loco improving every week as our volunteers continue their work. In parallel with the bodywork, we are making progress on the disassembly of the 'B' end hydraulic transmission and achieved the separation of the first stage turbine from the housing. This revealed evidence of severe corrosion on the input shaft bearings, clear evidence of water ingress in years gone by. The complete set of bearings will be replaced when the transmission is reassembled.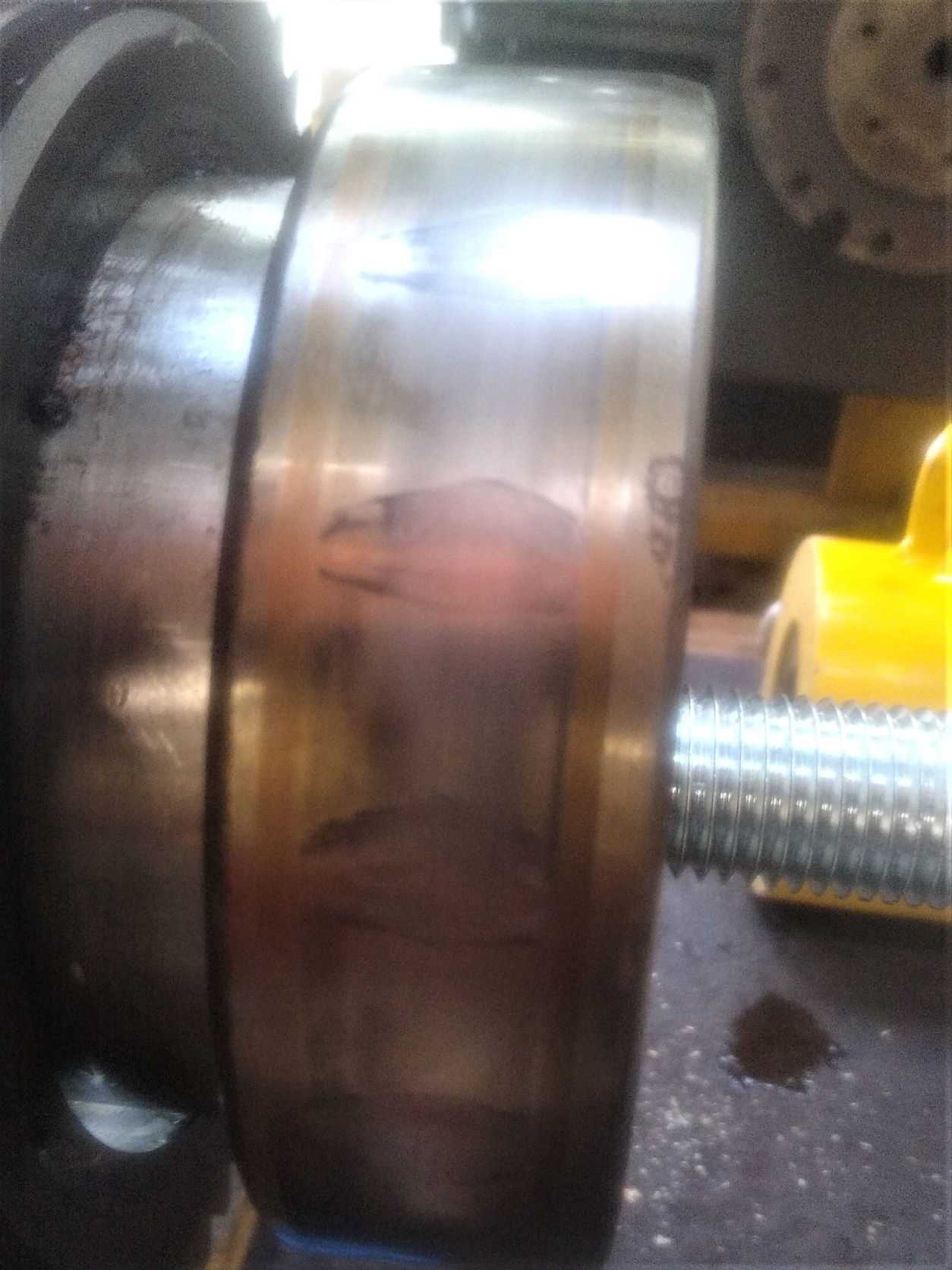 D1010 – the input shaft bearing on the first torque converter stage of the 'B'-end transmission shows clear evidence of corrosion caused by water ingress. This bearing will be replaced along with all of the others on the turbine rail assembly. Pictured through a greasy lens at Williton on 10th October 2022 by Colin Foxhall © CC BY-NC 3.0
To continue our rate of progress requires FUNDING which is becoming harder to get as belts are being tightened everywhere. If you are able to do so, please consider SPONSORING A PATCH because there is plenty of recently-added metal that still needs engraving. We engraved 50 patches recently and we have another 100+ still to do, so the scheme has been very successful (well done Colin F for suggesting it).
Photographs and certificates of sponsorship will be sent out to all who have sponsored this phase of the restoration work, but please bear with us because our admin resources are severely stretched at the moment. Click the image below to sponsor a patch. Thank you in advance for your support !
We still have a lot of work to do on this massive locomotive, so PLEASE DO COME ALONG AND HELP IF YOU CAN !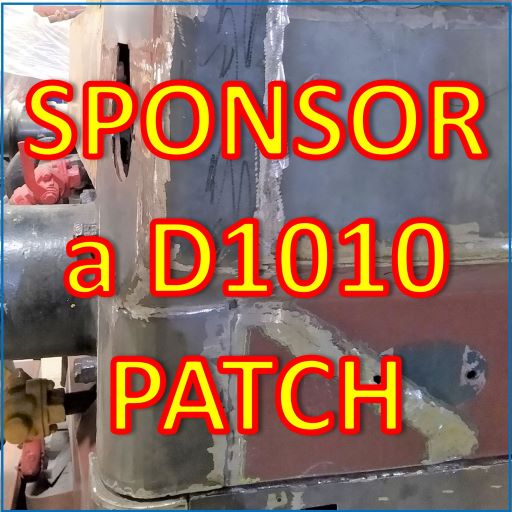 See our CAMPAIGN for CAMPAIGNER web page for more details !

Class 33 D6566 (33 048) – the failed heat exchanger appears to be beyond repair, so the next option being investigated is to have the core of the heat exchanger rebuilt. This is the most expensive option and will also take a long time. The next best option is to acquire a used heat exchanger from one of the Class 33 owner groups and have it overhauled. Hopefully it will be fully functional or repairable without too much time or expense. The third option is to adapt a heat exchanger from a Class 56 (of which we have several) and have new pipework made to compensate for the slightly shorter length (the reduced heat transfer capacity will not be an issue when used at heritage railway speeds and loads). All three options are being investigated at the moment.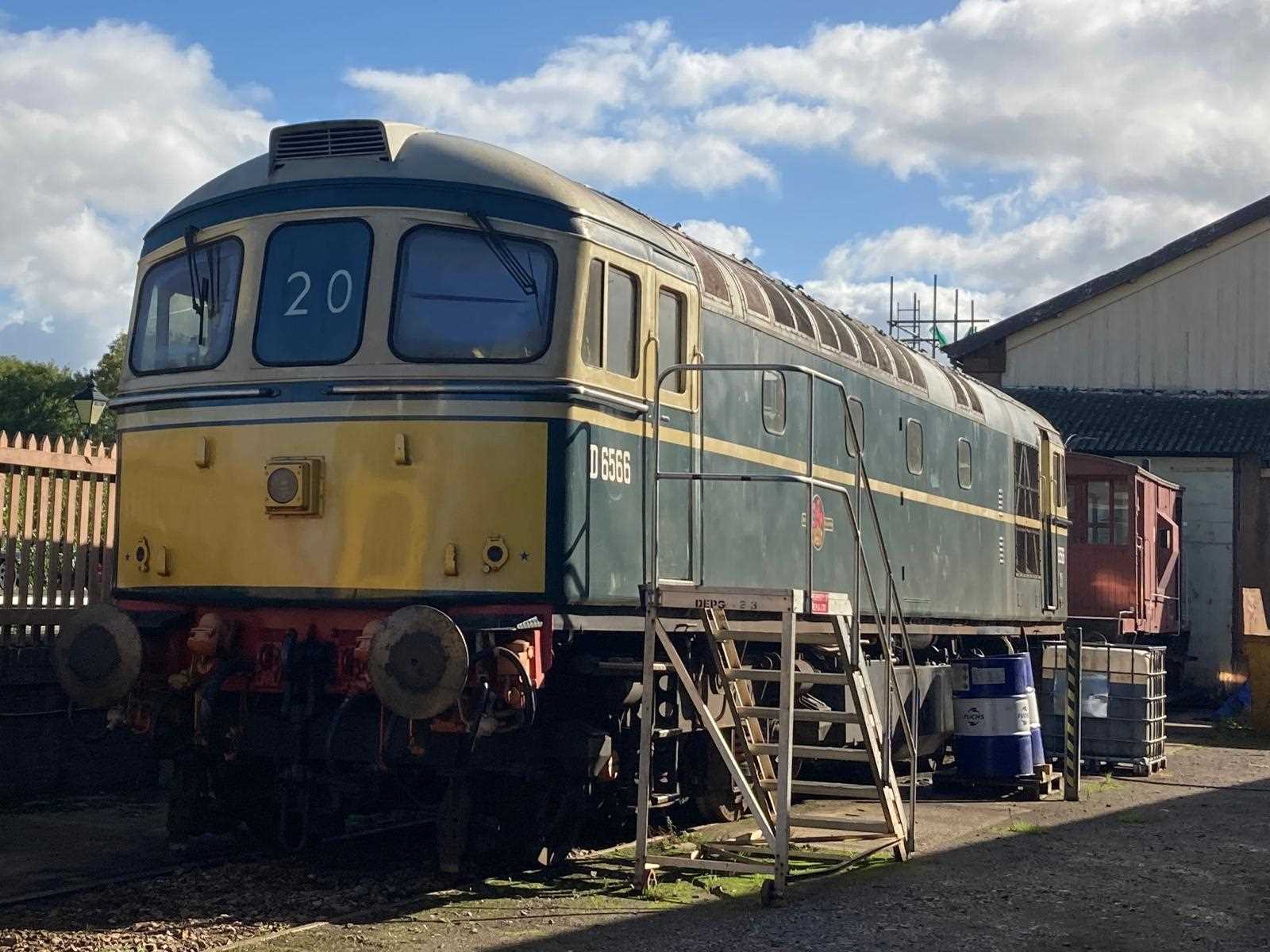 D6566 (33 048) – the complications with the repair of the failed heat exchanger are likely to keep this loco confined to barracks for some considerable time. Pictured in the yard at Williton on 8th October 2022 by Josh Brinsford © CC BY-NC 3.0
Class 33 D6575 (33 057) – this loco is the WSR Duty Loco and is fully serviceable. Following the completion of her scheduled public service duties on Sunday 16th, she moved from Bishops Lydeard to Williton 'light engine' to be in position for the first DIESEL DRIVER EXPERIENCE COURSE (DDEC) to be run since 2019 !
There are two DDECs scheduled this month, the first on Friday 28th October and the second on Saturday 29th. These have not been advertised because they are already fully booked, fulfilling obligations from 2020. There will be a new program of DDECs for 2023 and the WSR will soon be announcing the dates for these very popular courses.
Class 35 'Hymek' D7017 – there was no time available to continue the inspection work on this loco because of the need to re-organise the loco shed to put everything back in the position it was in before this loco had to be accomodated for her engine work. Everything in the shed had been compressed into the smallest possible space, so one project blocked another, and this had to be rectified. Hopefully, D7017 will get her inspection next weekend.
Class 35 'Hymek' D7018 – this loco also has to wait in line for her turn for attention. The work list on this loco comprises a number of small but important tasks that will be tackled during the coming weeks.
Class 14 'Teddy Bear' D9518 – the work on this loco is continuing on several fronts, both on-site at Williton and off-site at subcontractors, where specialised components such as drive shafts and electric motors are being evaluated and reconditioned. The team purchased some brand-new heavy-duty electrical switches for the vacuum exhauster control panel and these expensive items were paid for by a matching donation from one of the restoration team members, which reminds us that the rapid progress on this loco is due to the generosity and support of the many donors who are so keen to see this project through to its conclusion. THANK YOU VERY MUCH TO ALL WHO HAVE CONTRIBUTED !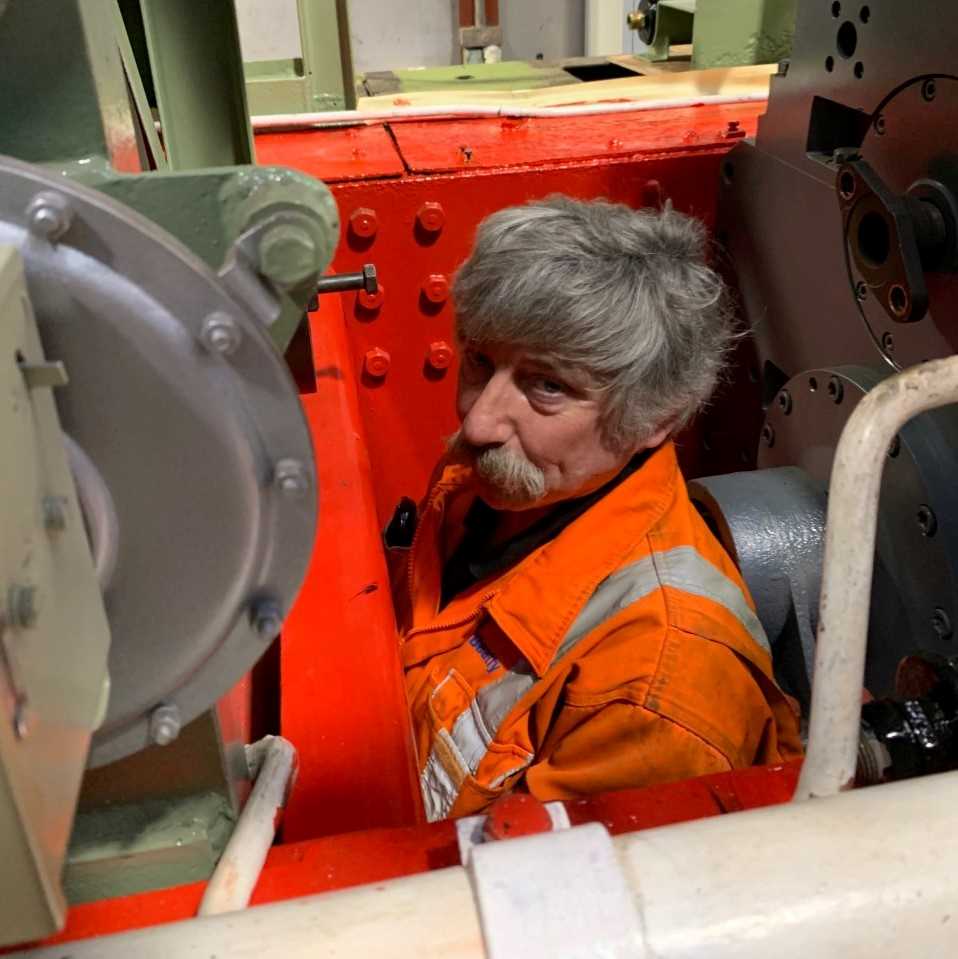 D9518 – team leader Simon P was pictured between the frames at Williton on Saturday 15th October 2022 as he continued the re-installation of the many pipes and conduits that connect the brake frame and generator. Photo by Andy Royal © CC BY-NC 3.0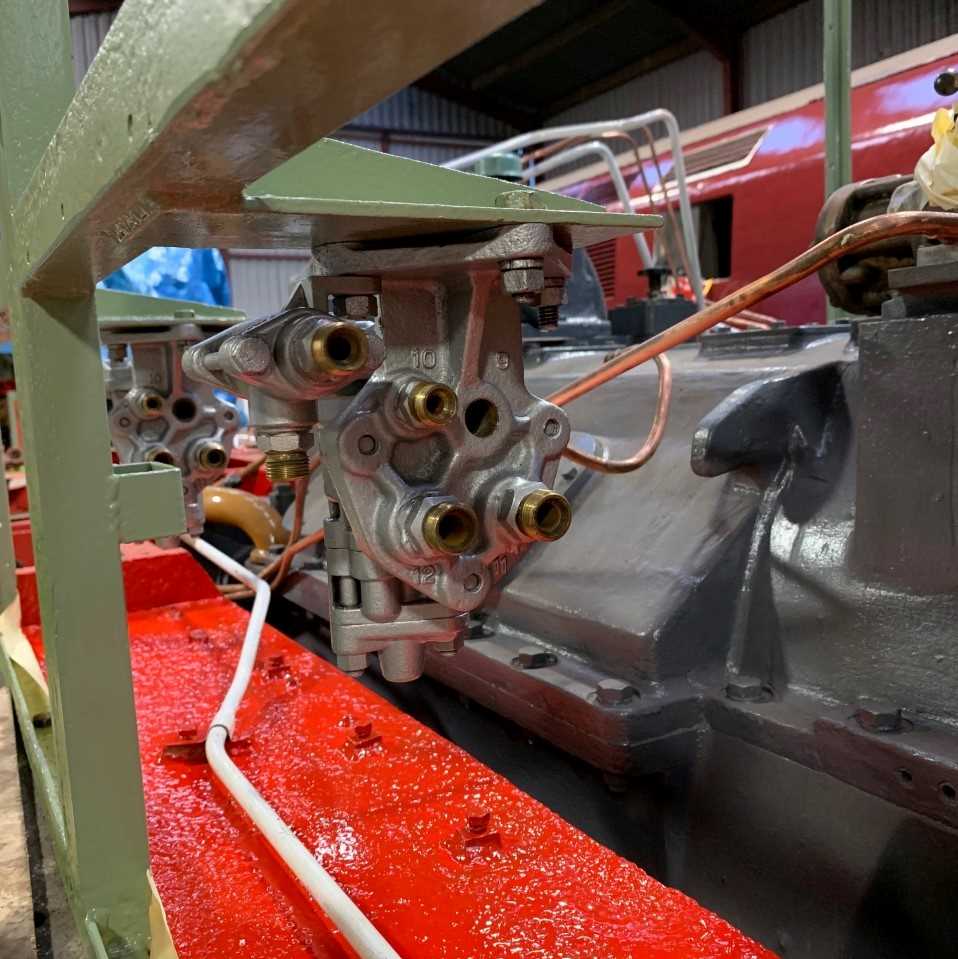 D9518 – one of the recently refurbished brake relay valves was re-fitted to the relevant side frame at Williton on Saturday 15th October 2022. It looks like new, but it is 58 years old ! Photo by Andy Royal © CC BY-NC 3.0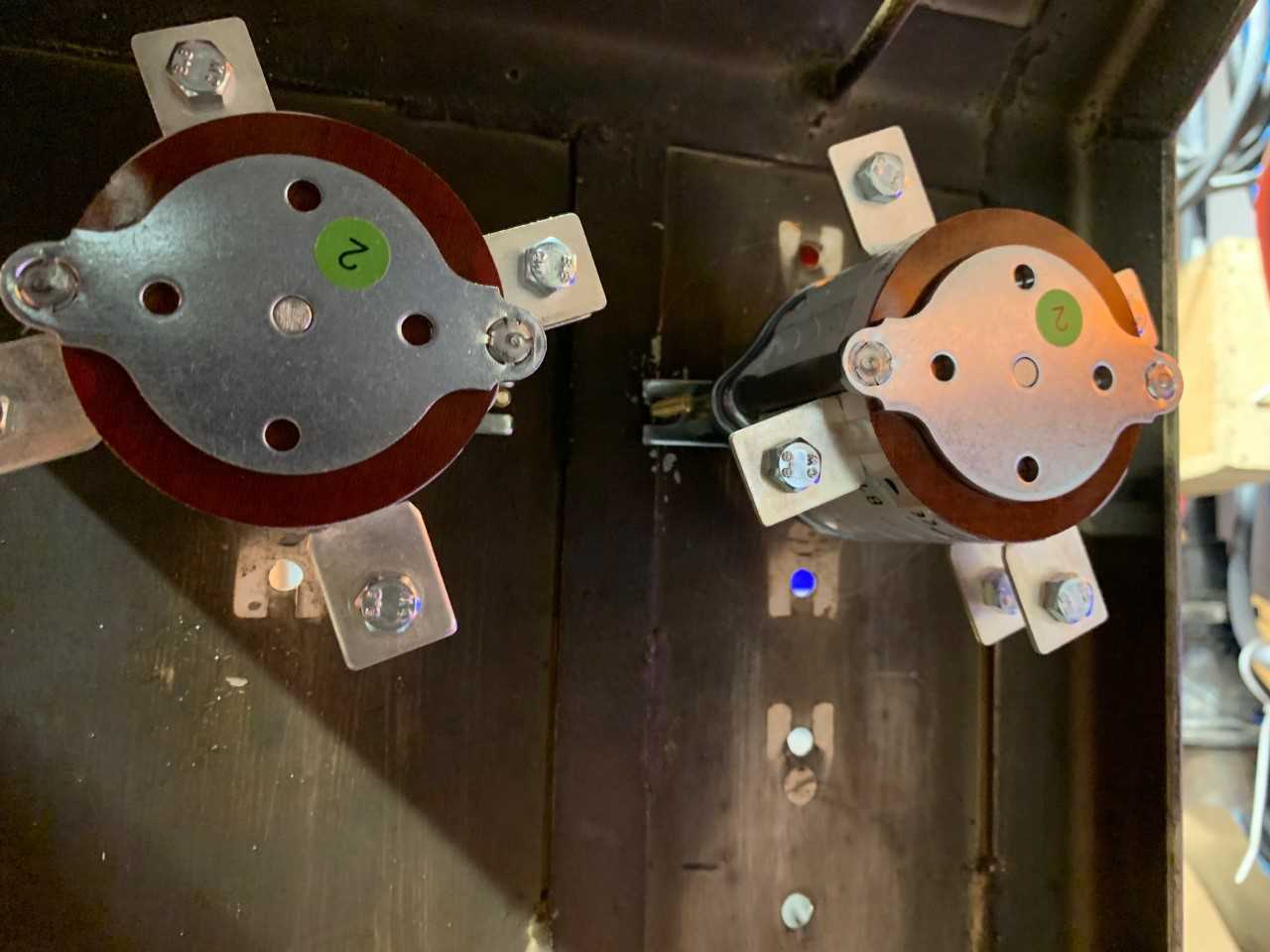 D9518 – two brand-new 'Santon' heavy-duty rotary switches were purchased to provide high reliability for the vacuum exhauster controls. These switches were made to the exact same specification as the original equipment that was fitted to the loco when built in 1964. Pictured at Williton on Saturday 15th October 2022 by Andy Royal © CC BY-NC 3.0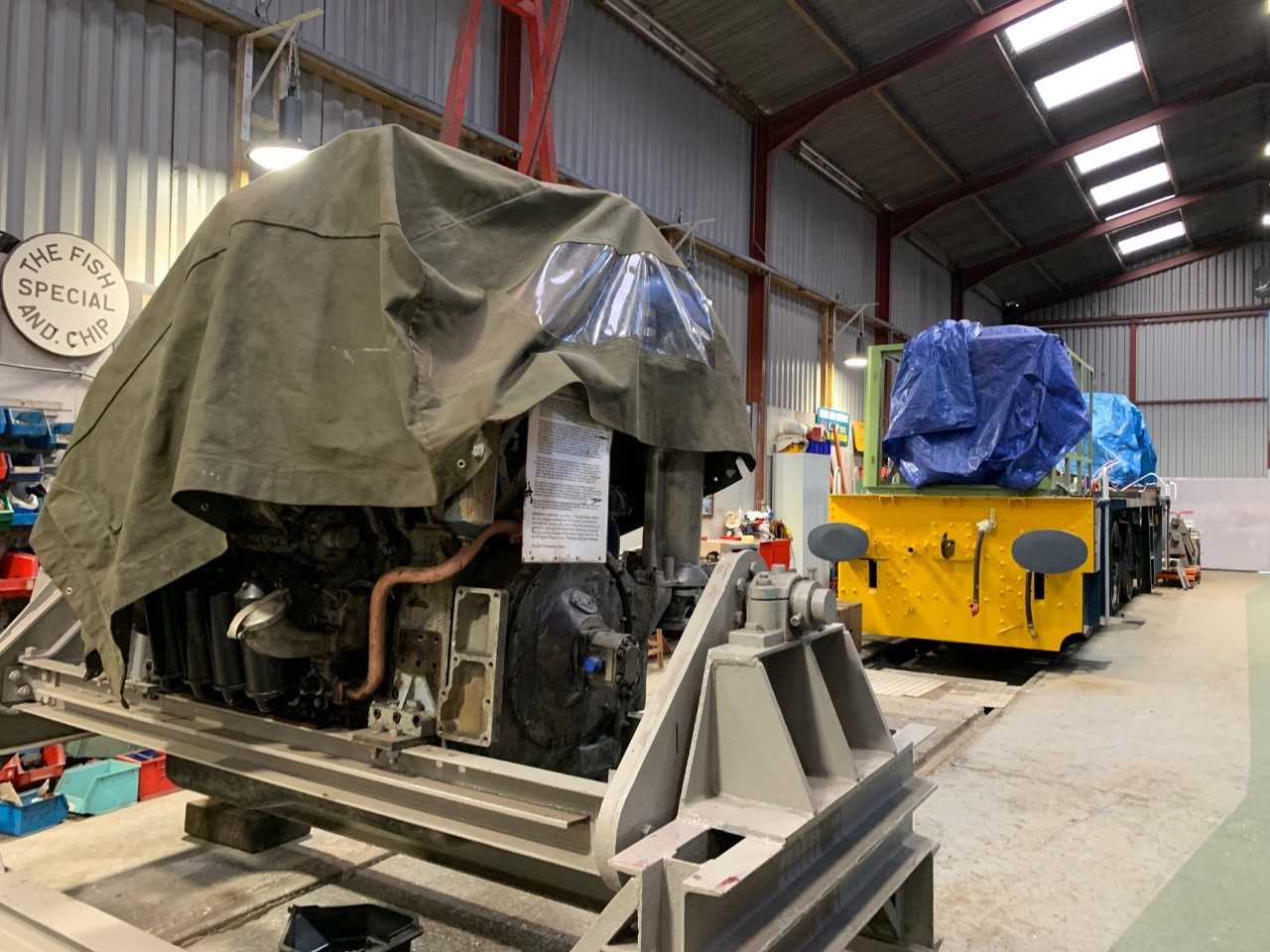 D9518 – the Paxman 6YJXL V6 diesel engine has been repositioned to allow workbenches to be erected alongside. This will allow Terry to make a start on the overhaul of this engine (previously used in D9526). Pictured at Williton on Saturday 15th October 2022 by Andy Royal © CC BY-NC 3.0
This loco is the subject of a fundraising appeal so please follow this link to find out more. We need your help ! In addition to funds, we also need plenty of HANDS. If you love the 'Teddy Bears' and you are not already a member of the DEPG, please join us so that you can become one of the team that is going to return D9518 to fully operational condition as 'NCB No. 7'.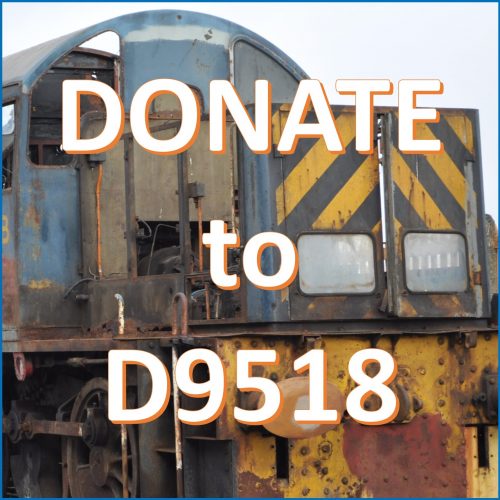 Class 14 'Teddy Bear' D9526 – this loco continues to be in regular use on the Kent & East Sussex Railway working alongside the steam locos and the Diesel Multiple Unit (DMU), sharing the work of hauling the public services. Work on locally-based sister D9504 has progressed well, so we expect to see D9526 returning to Williton early in the New Year.
Class 47 47077 'NORTH STAR' – this loco continues to be in regular use at the NYMR, although usage is reducing as autumn sets in. During the last three months, this loco has covered more than 2,500 miles, so her first season in service has been a big success !
Andrew Barclay 0-4-0DH 578 – after receiving attention to her paintwork over the last few weeks, our smallest loco did not repay the favour and decided to develop a fuel system fault which prevented her engine from starting. The fuel lift pump was serviced and the various seals and gaskets replaced, then the fuel lines were primed, but she still refused to start. Further work will take place this coming weekend, weather permitting.
If you can help by donating your time, then please JOIN US and come along to the depot for an introduction to what we do and how we do it. We currently have people on site from Saturday through to Tuesday and we can open on other days if we can be sure of getting at least two volunteers on site at all times, so there is plenty of scope. We have tasks of all types to suit most capabilities, both skilled and unskilled.
Many thanks to all of our volunteers who give up so much of their time to work on the cleaning, painting, maintaining, restoring, managing and fund raising for our fleet of heritage locomotives !
BOOK REVIEW – many thanks to all who placed their advance orders for the DEPG 2023 CALENDAR, further details of which will be posted here and on our webstore soon. To prevent waste and maximise the contribution to DEPG funds, we will be limiting the number of calendars that we order to match demand and no more. The printing costs have risen but if we control the quantity that we order, we can keep the price the same as last year, which is £12 including VAT excluding postage. Click here or on the image below to place your ADVANCE ORDER. Thank you to all of our contributors for allowing us to use their work for this important purpose.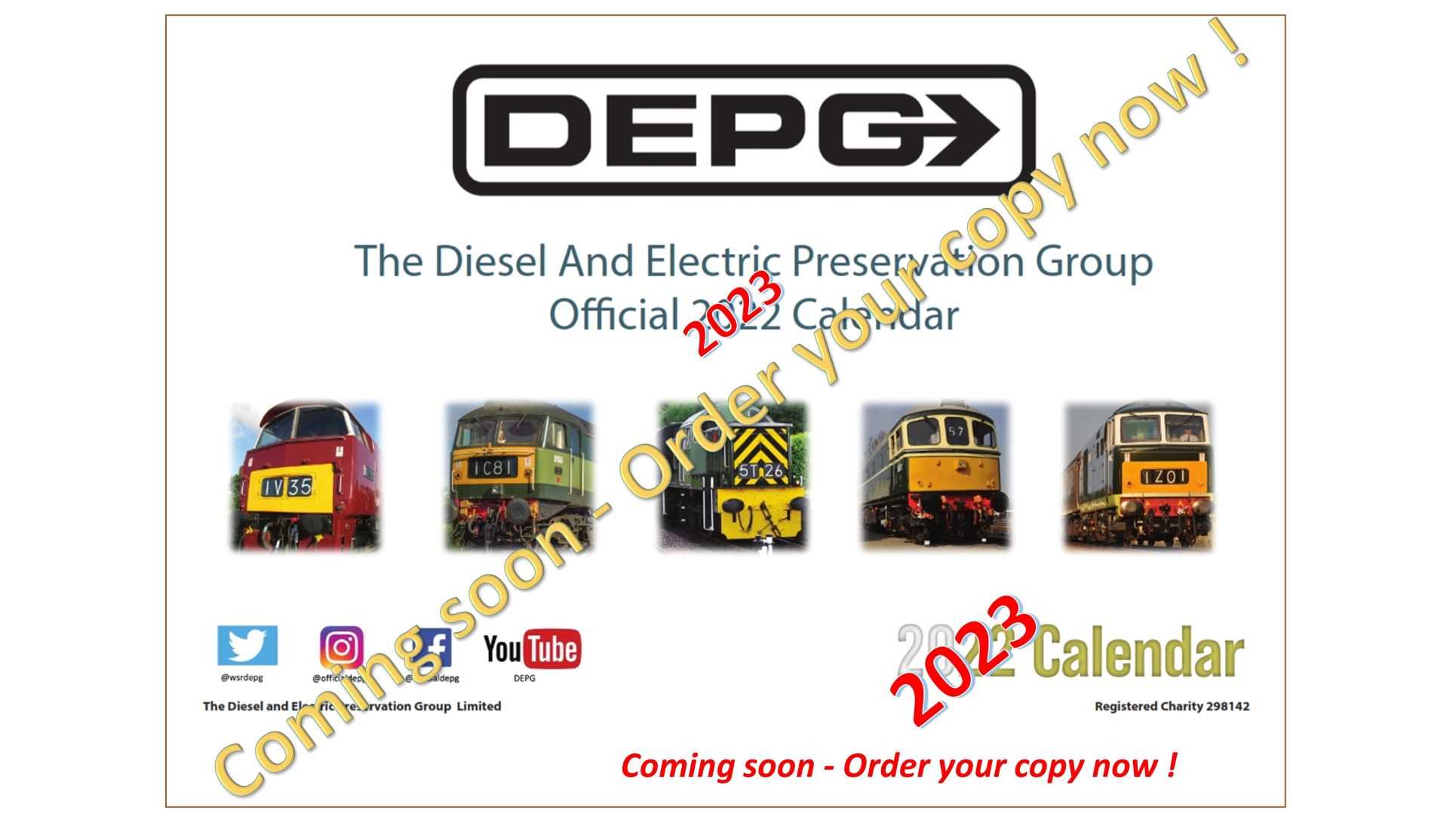 We have added several other NEW BOOKS to our online store recently including THE BEATEN TRACK Vol.1 and Vol.2 and GREEN DIESEL DAYS, so please visit our online store and browse then buy to support the work that is taking place on our locomotives. Thanks !
ON SHED – regular contributor and DEPG member Keith Fender has provided us with some shots of our very own D6575 (33 057) in BR livery, taken when the loco was a regular performer on the South Coast to South Wales route. The journey involved a change of direction and a change of traction at Bristol Temple Meads, with one Class 33 hauling the train in and detaching while another Class 33 attached at the other end to haul the train out again. This meant that the same loco would appear on it's relevant 'shuttle' leg for several days at a time. Luckily, Keith has captured some images from those memorable days. Here's one such image below: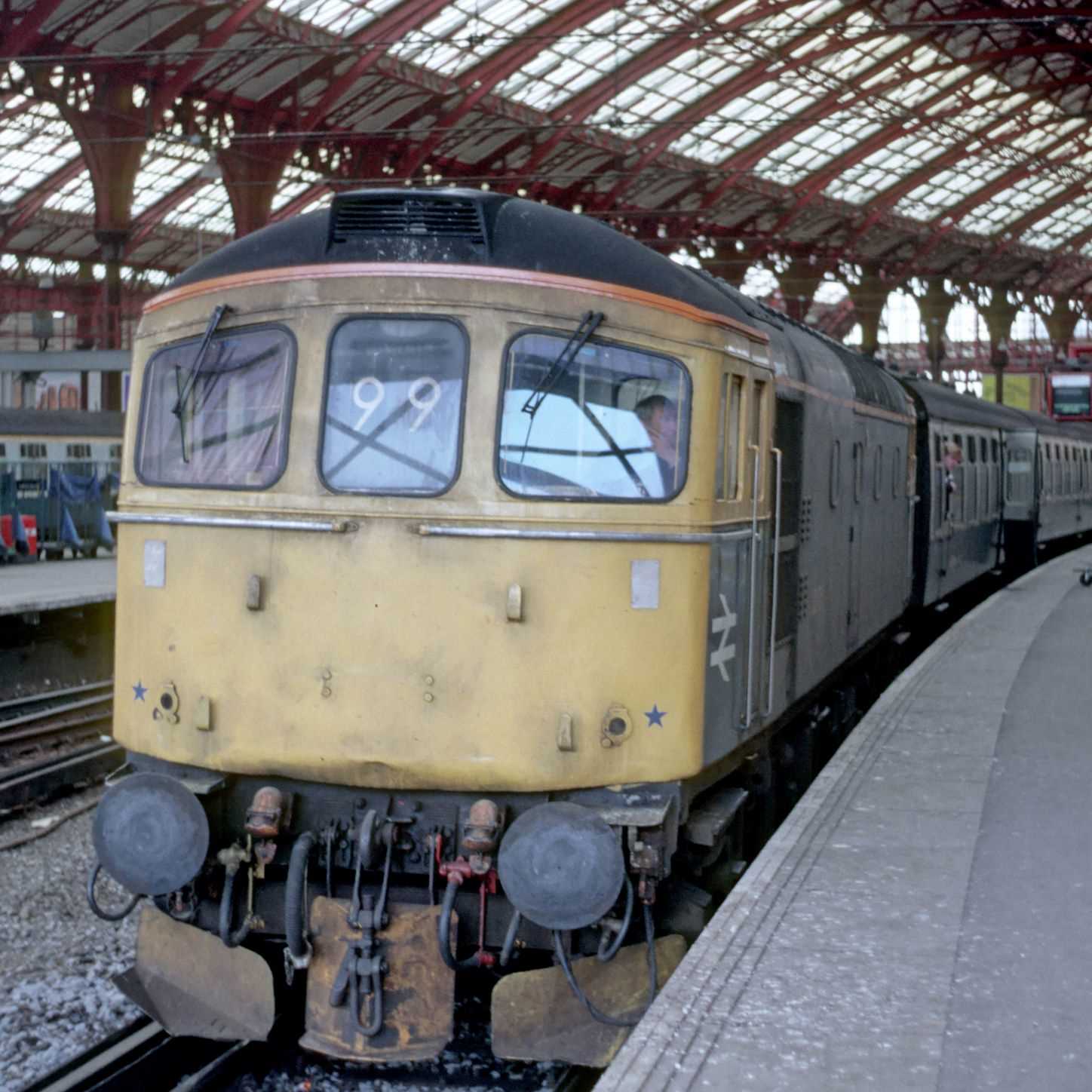 Class 33 'Crompton' 33 057 (D6575) was pictured at Brighton Station at the head of the 0830 service to Cardiff on 26th March 1988. The dull and dirty appearance was typical of the era, although a clean and shiny 'namer' did appear on this working on more than one occasion. Photo by Keith Fender © CC BY-NC 3.0
Many thanks to Keith for sharing his work with us.
DEPG NEWS:
We have received confirmation that the funeral of former DEPG Chairman JOHN CRONIN will take place in Westbury-on-Trym, Bristol, on Friday 4th November 2022. Please use our CONTACT FORM or email contact@depg.org to let us know if you want to attend at the memorial service that will take place at 12:45 later that day.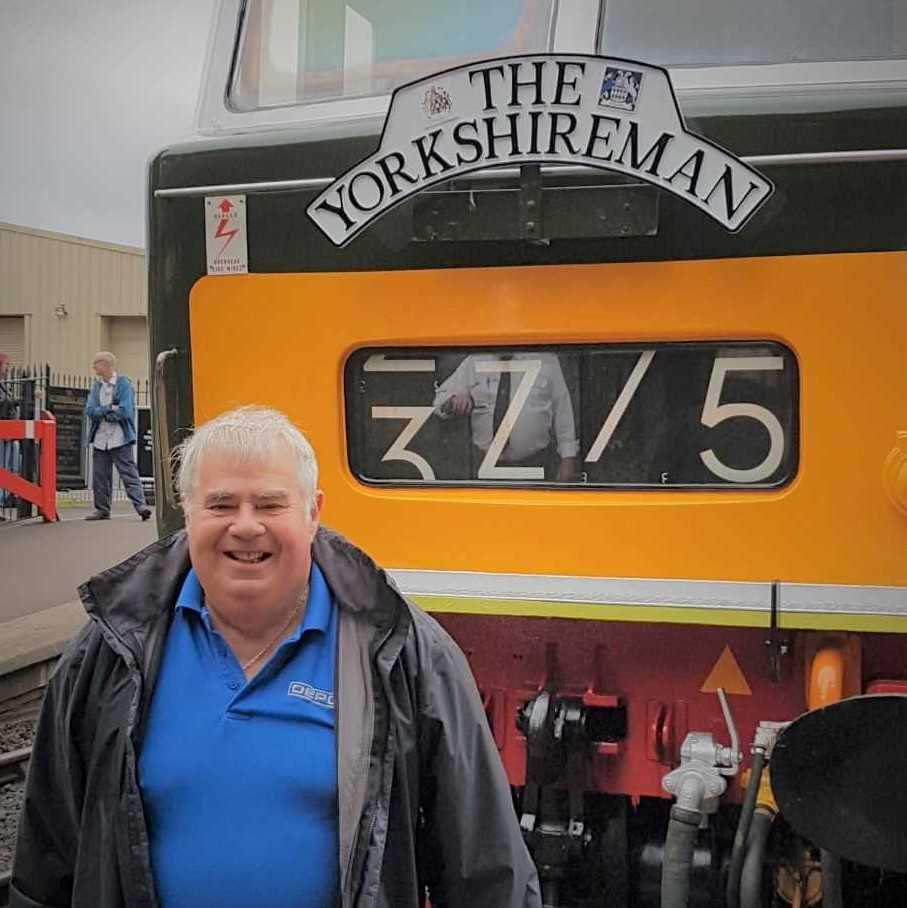 Former DEPG Chairman the late John Cronin was pictured at Bishops Lydeard on 20th August 2017 by Bob Tiller © CC BY-NC 3.0
If you want to make a donation to John's chosen causes, a JustGiving page has been set up for that purpose. Here's the link: https://www.justgiving.com/crowdfunding/johncronin
The synopsis of the DEPG Board Meeting that took place on 1st October 2022 has been prepared and will be shared with DEPG members (for whom we hold valid email addresses) later this week (apologies for the delay).
While reorganising our loco shed last weekend, a decision was taken to dismantle a 2-tonne manual gantry crane and offer it for sale, because it has been made redundant by a larger 5-tonne electric gantry crane that gets used in preference. Here's a picture of the crane that is now available for sale:
This two-tonne gantry crane with manual hoist (dated 2008) is available for sale, with proceeds to go to the DEPG general fund. Use our CONTACT FORM or email contact@depg.org if you are interested in acquiring this crane. Pictured at Williton on Saturday 15th October 2022 by Terry Deacon © CC BY-NC 3.0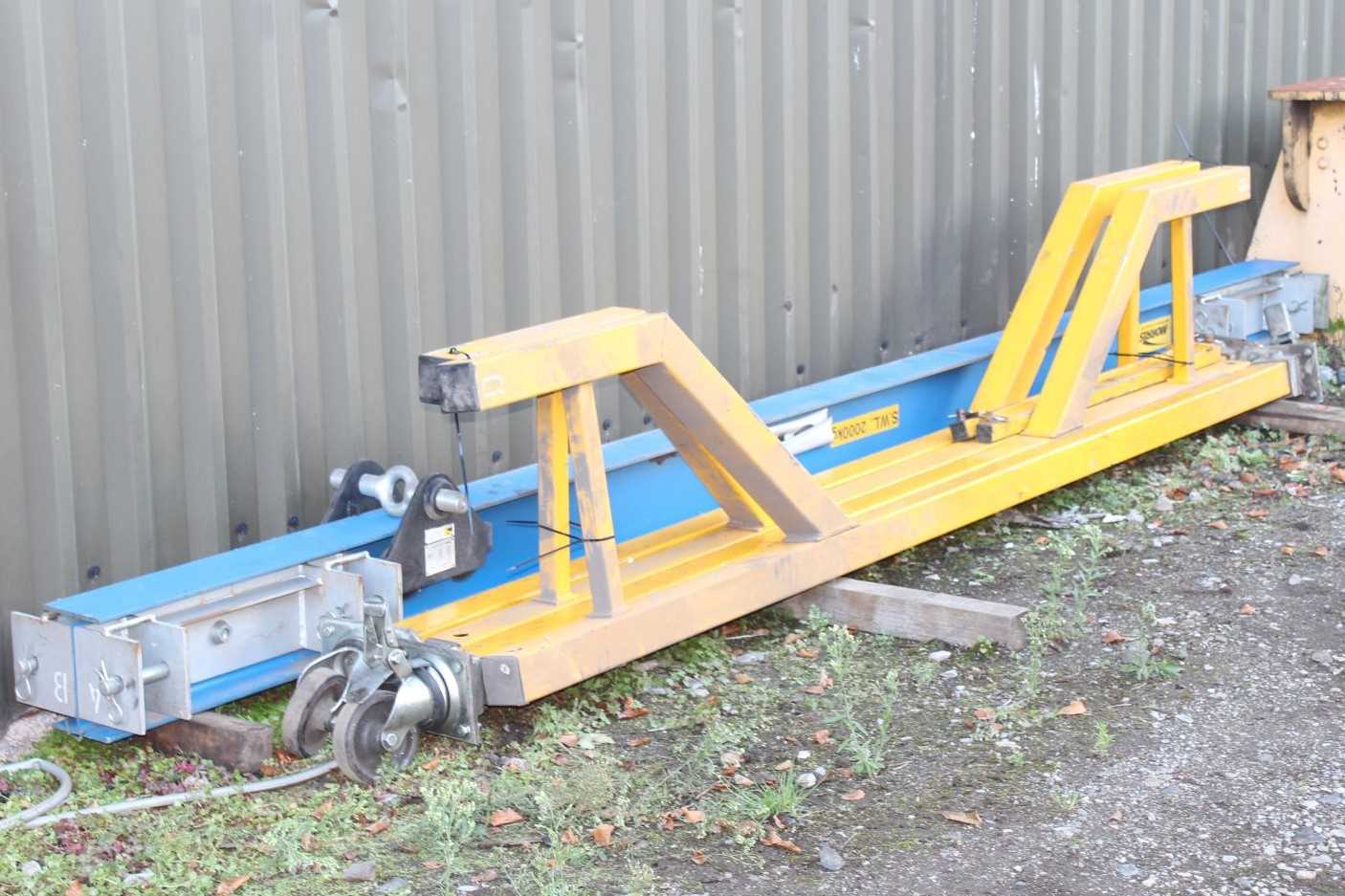 This two-tonne gantry crane with manual hoist (dated 2008) is available for sale, with proceeds to go to the DEPG general fund. Use our CONTACT FORM or email contact@depg.org if you are interested in acquiring this crane. Pictured after disassembly at Williton on Saturday 15th October 2022 by Terry Deacon © CC BY-NC 3.0
Our new online membership system is working well and feedback has been very positive, but please be aware that WE STILL OFFER THE TRADITIONAL PAPER-BASED MEMBERSHIP via cheques and mail, by using the form available via this link. If you want a form mailed to you, just use our CONTACT FORM or email our Membership Secretary CHRIS SHIELDS via members@depg.org
Of particular importance is the GIFT AID option. If you are a taxpayer, please consider setting your GIFT AID status to YES so that the DEPG can claim the tax that you paid on your subscription and/or donation. This increases the value of your payment by 25% and that makes a significant amount of difference to our fundraising. Thanks !
For our new online membership system, click here or on the image below and log in (no password required) to create a new membership or to check the details of your current membership. THANK YOU FOR SUPPORTING THE DEPG !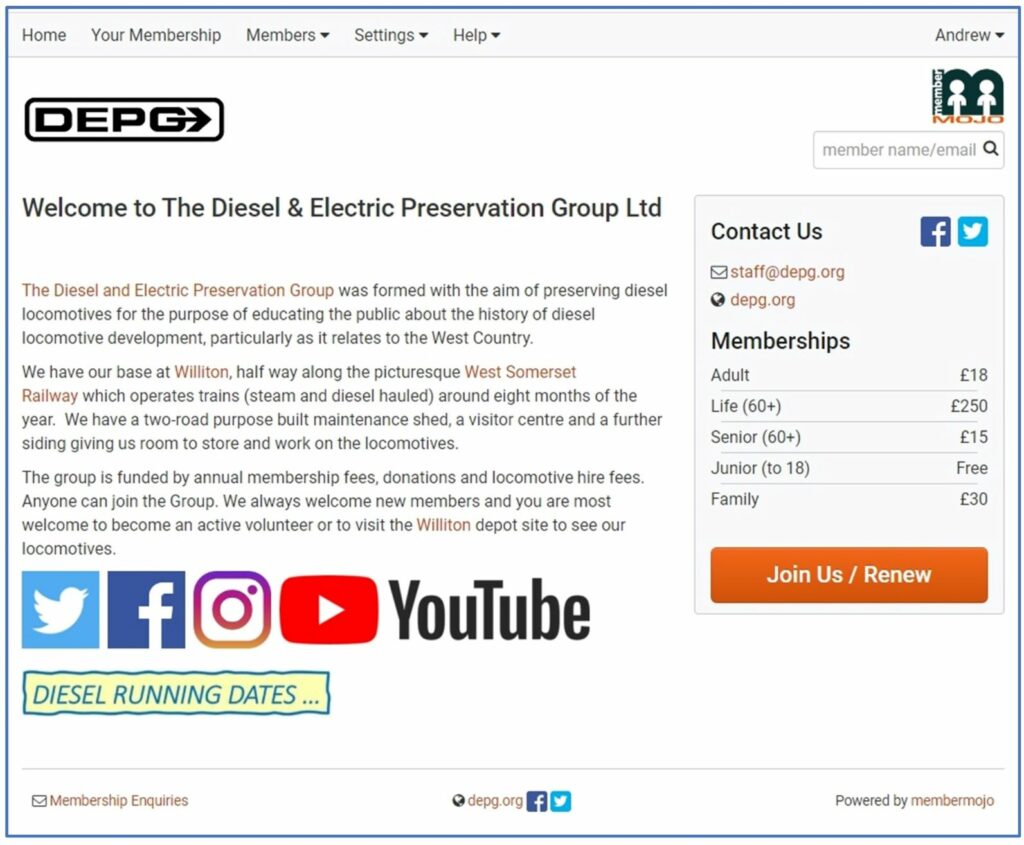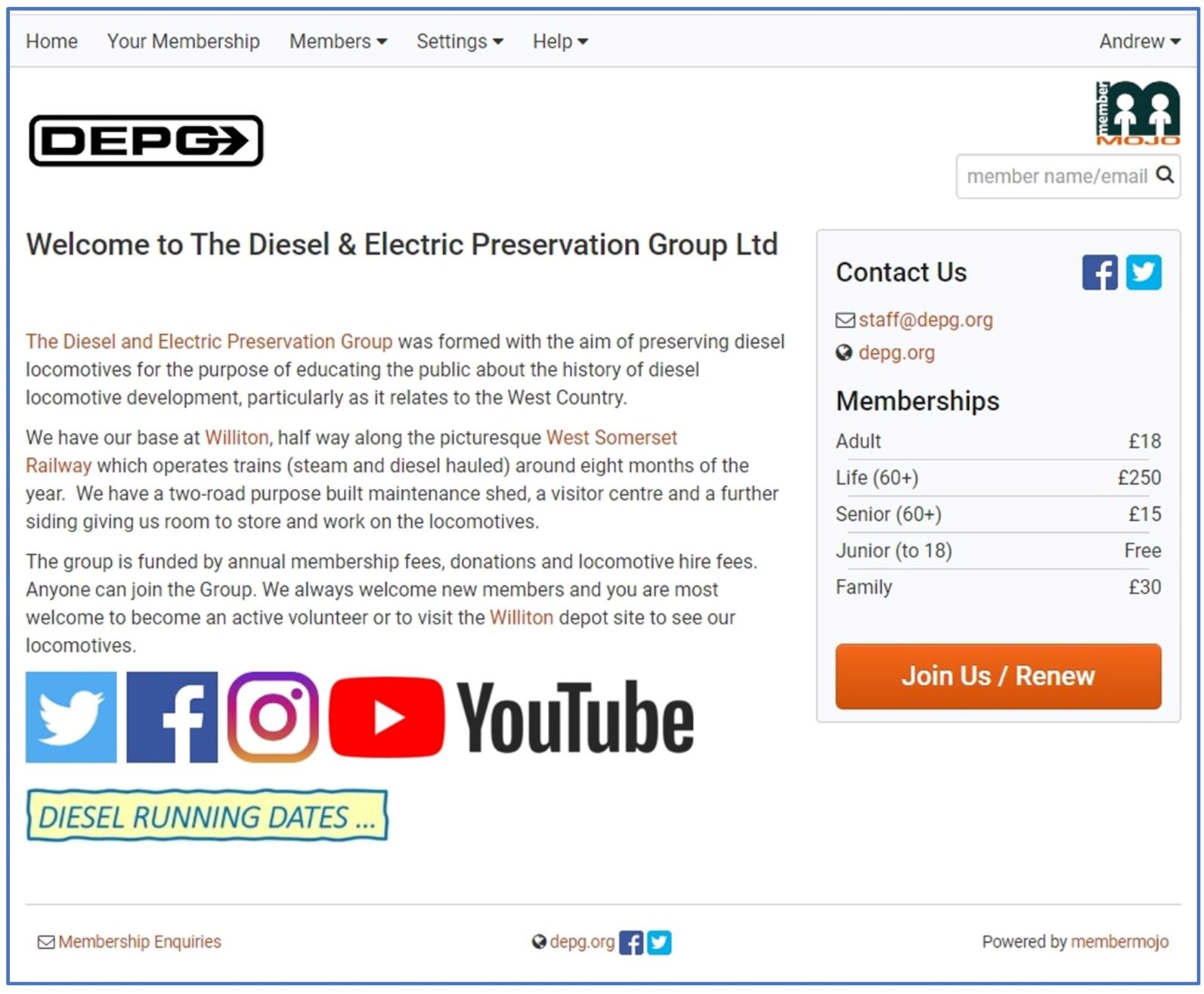 WSR NEWS: 
The WSR is now taking bookings for the 2022 'WINTERLIGHTS' trains which will be steam hauled on the journey to Crowcombe Heathfield and diesel hauled on the return leg, using one of our Class 33 'Cromptons'.
The colours and sights of last years' services resulted in a sell-out and demand is going to be solid again this year, so don't leave it until later to make a booking. If you and/or your family want to experience it, then now is the time to make a booking. Click here or click on the image below.