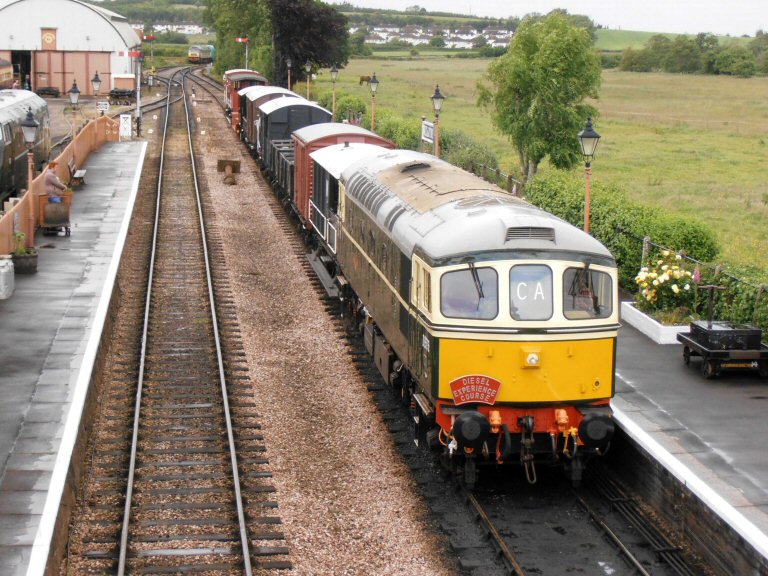 Class 33 'Crompton' D6575 (33 057) will be working the DIESEL DRIVER EXPERIENCE COURSE on Saturday 29th October. D6575 was pictured at Williton while working a course on 15th June 2013 by Ian Robins © CC BY-NC 3.0
Although the 2022 running season has drawn to a close, there is no rest for Class 33 'Crompton' D6575 (33 057) because she is working the DIESEL DRIVER EXPERIENCE COURSE that is scheduled to run on Saturday 29th October, fulfilling bookings that were taken in 2019 !
These courses start at Williton, where four participants attend for a safety briefing before joining the train. The loco and brake van depart from Williton with two participants in the cab, one driving and one secondman, along with two DEPG drivers who are responsible for instruction, supervision and safety. The other two participants travel in the brake van along with the Guard.
At Minehead, the goods train is collected and the consist heads for Bishops Lydeard (or sometimes Norton Fitzwarren), where the loco runs around the train and re-attaches for the journey back to Minehead. Upon arrival at Minehead, the goods train is returned to the siding and the loco and brake van then returns to Williton. The participants change places at appropriate points along the journey so that each participant gets a decent chance at each role.
Having been a participant myself, I can say for sure that it is a thoroughly enjoyable and interesting day, and highly recommended. The courses are offered by the WSR and when dates are published for 2023, we will update the link on the 'Drive a Locomotive' page on our website to point at the relevant page on the WSR website.
Did you know that our locos worked public services on the WSR on 46 different days of the 2022 season and covered more than 4,000 miles in the process ?
We have kept our DIESEL RUNNING DATES page updated throughout all of the timetable and traction changes that took place during the year and will keep this page available as a detailed record of public running for 2022. The running statistics have now been added to the page. We will create a new page for 2023 as soon as timetables have been agreed and published.
MANY THANKS TO ALL WHO HAVE TRAVELLED for supporting this year's DIESEL RUNNING program on the WSR.

LOCO NEWS:
Class 52 D1010 'WESTERN CAMPAIGNER' – after the birthday celebrations of last week, it was back to normal and the team continued with their hard work on improving the body finish (more rubbing down and repainting) and the re-fitting of body items such as marker lights and sandbox doors. The battery compartment doors were treated to a coat of primer over the repaired metal. The batteries will not be re-installed for a few more weeks, not until several more coats of paint have been applied.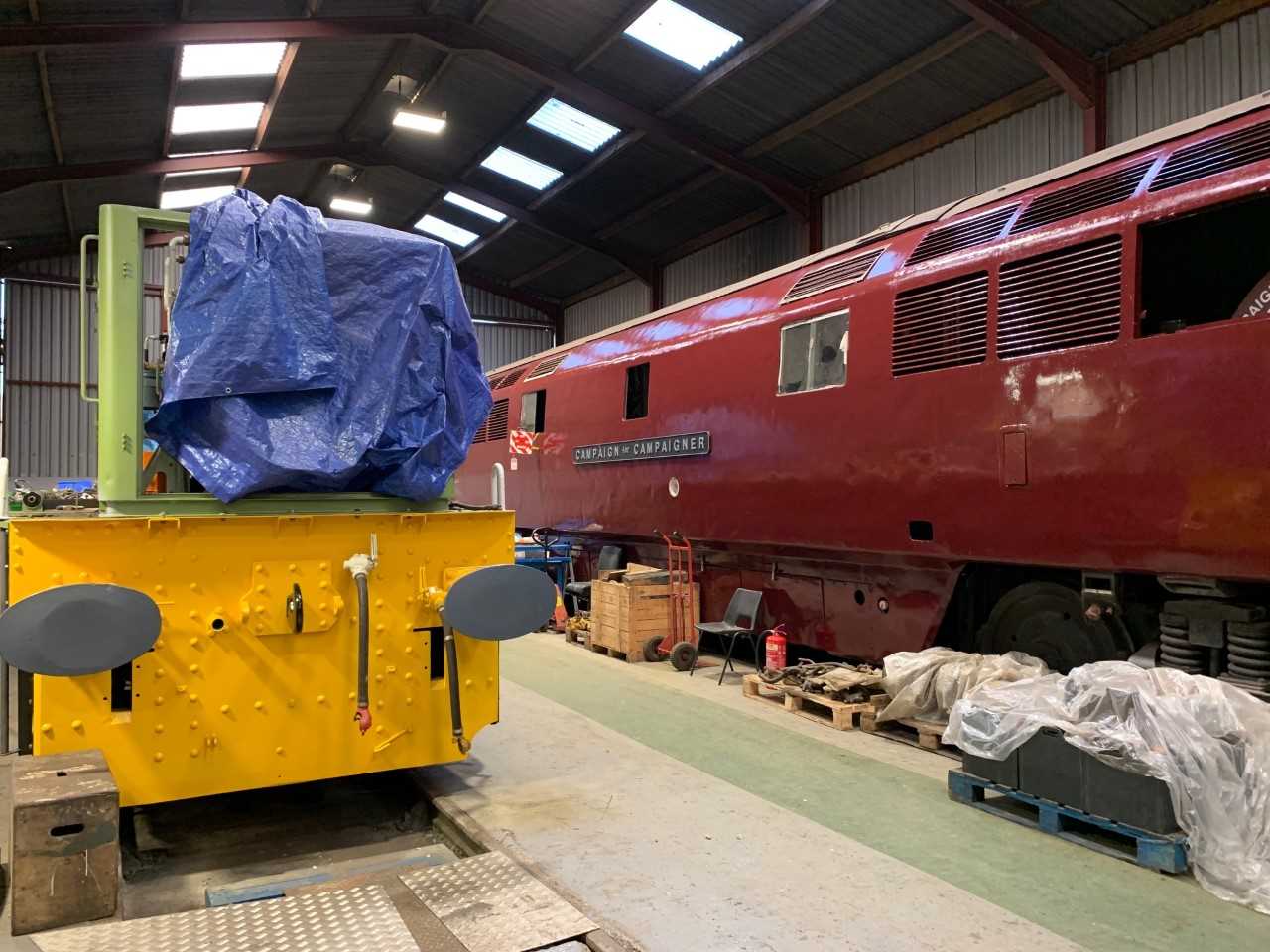 D1010 pictured at Williton on her 60th birthday, 15th October 2022, inside the loco shed with another Swindon product alongside, namely Class 14 'Teddy Bear' D9518. Photo by Andy Royal © CC BY-NC 3.0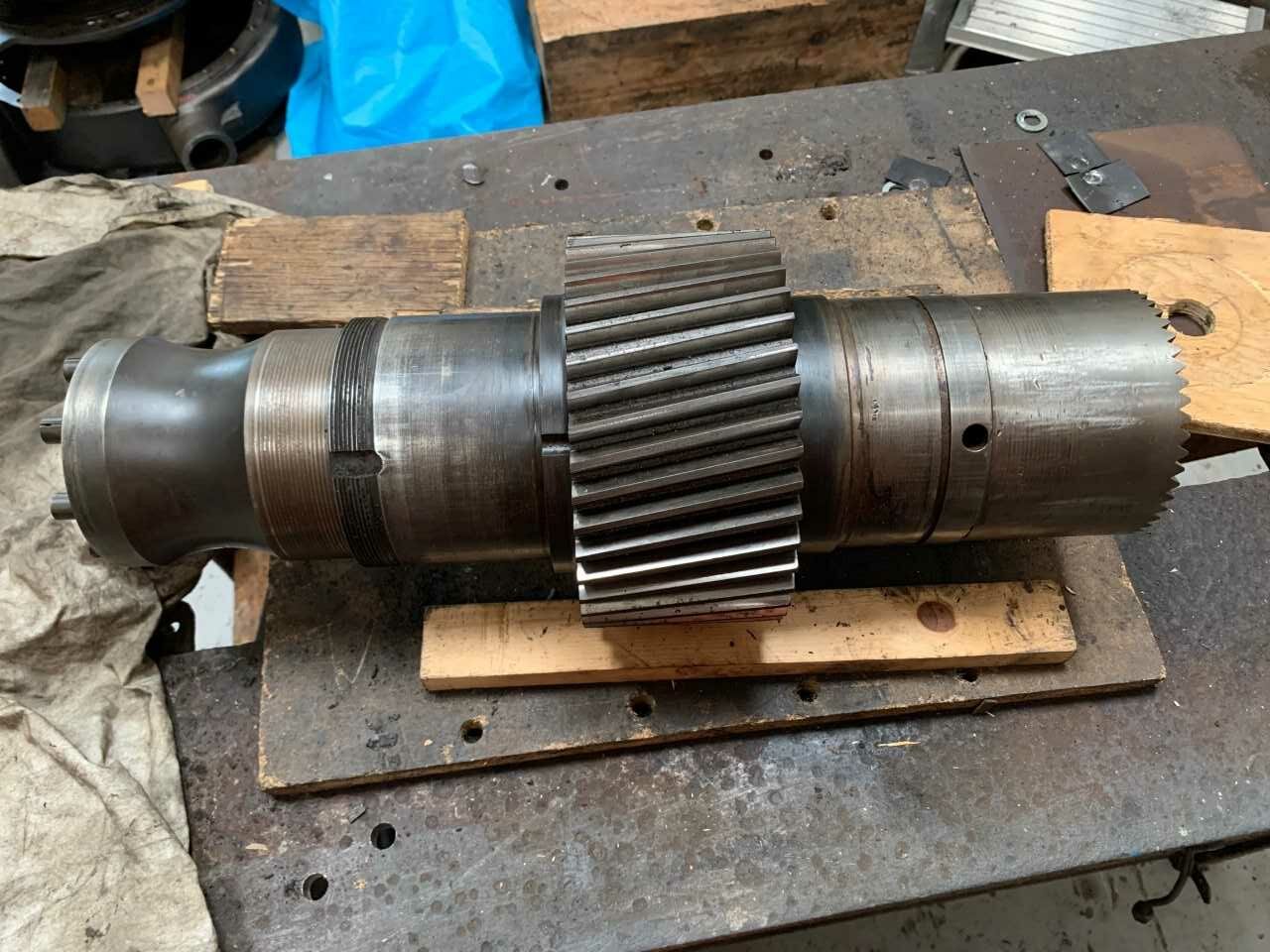 D1010 – the turbine rail of the 'B' end transmission has now been stripped down to the component parts, with the damaged bearings removed so that the shafts can be cleaned up for inspection and measurement. The centre section of the shaft that transmits the drive from the engine to the turbines was pictured at Williton on 15th October 2022 by Andy Royal © CC BY-NC 3.0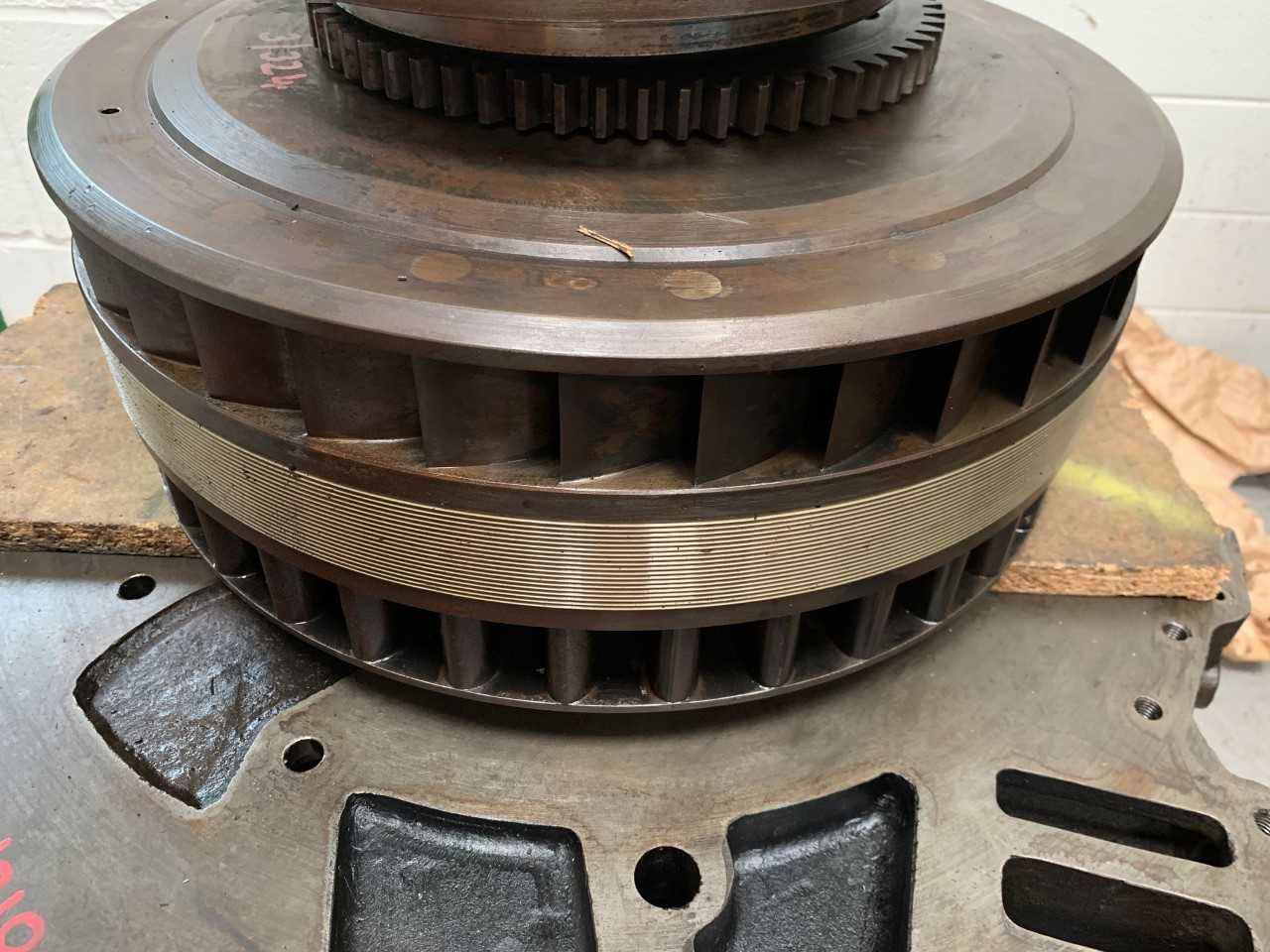 D1010 – the turbine from the first stage (low gear) torque converter of the 'B' end transmission is the major component in this stack of parts and first indications are that this magnificent piece of 1960s engineering is in very good condition. Pictured at Williton on 15th October 2022 by Andy Royal © CC BY-NC 3.0
To continue our rate of progress requires FUNDING which is becoming harder to get as belts are being tightened everywhere. If you are able to do so, please consider SPONSORING A PATCH because there is plenty of recently-added metal that still needs engraving. We engraved 50 patches recently and we have another 100+ still to do, so the scheme has been very successful (well done Colin F for suggesting it). Photographs and certificates of sponsorship will be sent out to all who have sponsored this phase of the restoration work, but please bear with us because our admin resources are severely stretched at the moment. Click the image below to sponsor a patch. Thank you in advance for your support !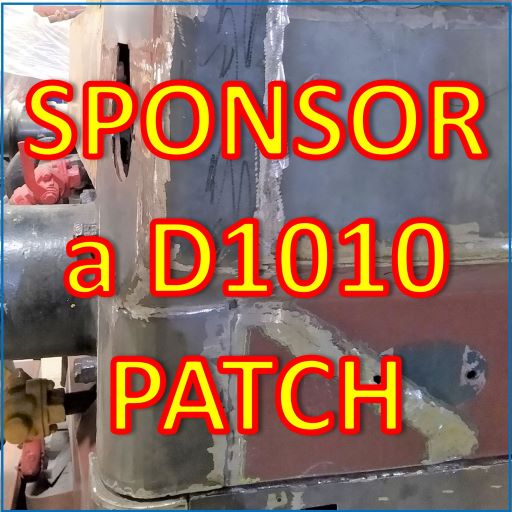 We still have a lot of work to do on this massive locomotive, so PLEASE DO COME ALONG AND HELP IF YOU CAN !
See our CAMPAIGN for CAMPAIGNER web page for more details !

Class 33 D6566 (33 048) – the failed heat exchanger has been shipped to another subcontractor for assessment but is expected to need a new core. Meanwhile, efforts are being made to find a spare that a Class 33 owner group may be willing to sell or willing to loan, although it is highly likely that a spare will also need some degree of refurbishment before it can be put to use, given that it will have been stored for 20+ years since it was last used.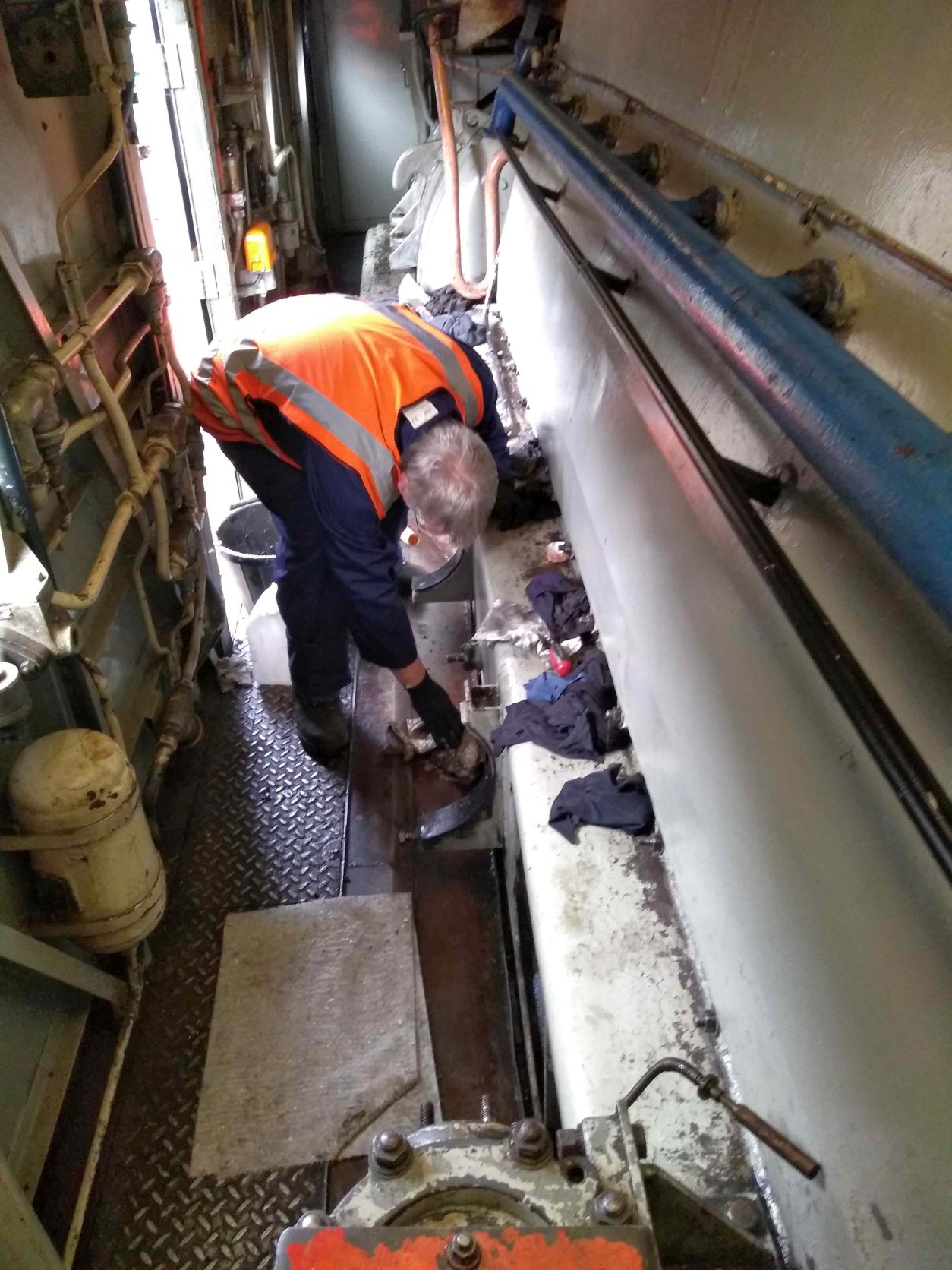 D6566 (33 048) – the space that would normally be occupied by the heat exchanger was cleaned up by volunteer Ian FS at Williton on Saturday 22nd October 2022. Photo by Ian Robins © CC BY-NC 3.0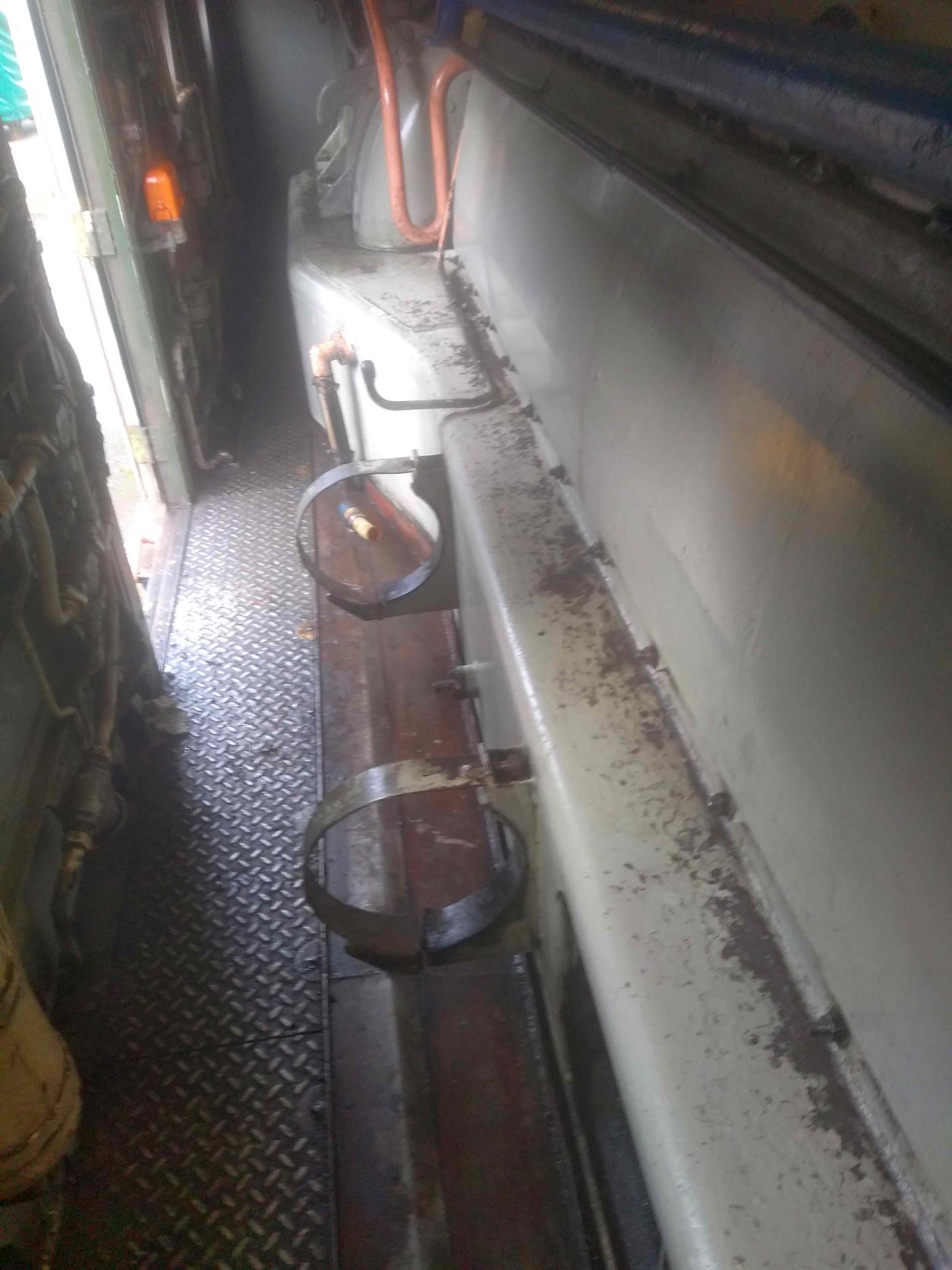 D6566 (33 048) – the space that would normally be occupied by the heat exchanger was cleaned up by volunteer Ian FS at Williton on Saturday 22nd October 2022. The deck plates will be lifted out this coming weekend for further cleaning to take place. Photo by Ian Robins © CC BY-NC 3.0
Class 33 D6575 (33 057) – this loco is the WSR Duty Loco and is fully serviceable. This loco will be in use on Saturday 29th for a DIESEL DRIVER EXPERIENCE COURSE (DDEC), the first since 2019 !
Class 35 'Hymek' D7017 – there was no time available to continue the inspection work on this loco because of other priorities, and this coming weekend, our inspector will be involved in the DDEC, so this loco will wait patiently for her turn to come along.
Class 35 'Hymek' D7018 – this loco also has to wait in line for her turn for attention. The work list on this loco comprises a number of small but important tasks that will be tackled during the coming weeks.
Class 14 'Teddy Bear' D9518 – the progress continues on several fronts with Terry, Nick and Paul C working on the brake rigging while John C worked on the rebuild of the electrical cubicle, leaving Simon and Colin to figure out the reassembly sequence for the myriad of pipes and conduits that need to be re-installed at the 'B' end of the locomotive. Here's some pictures to tell the story: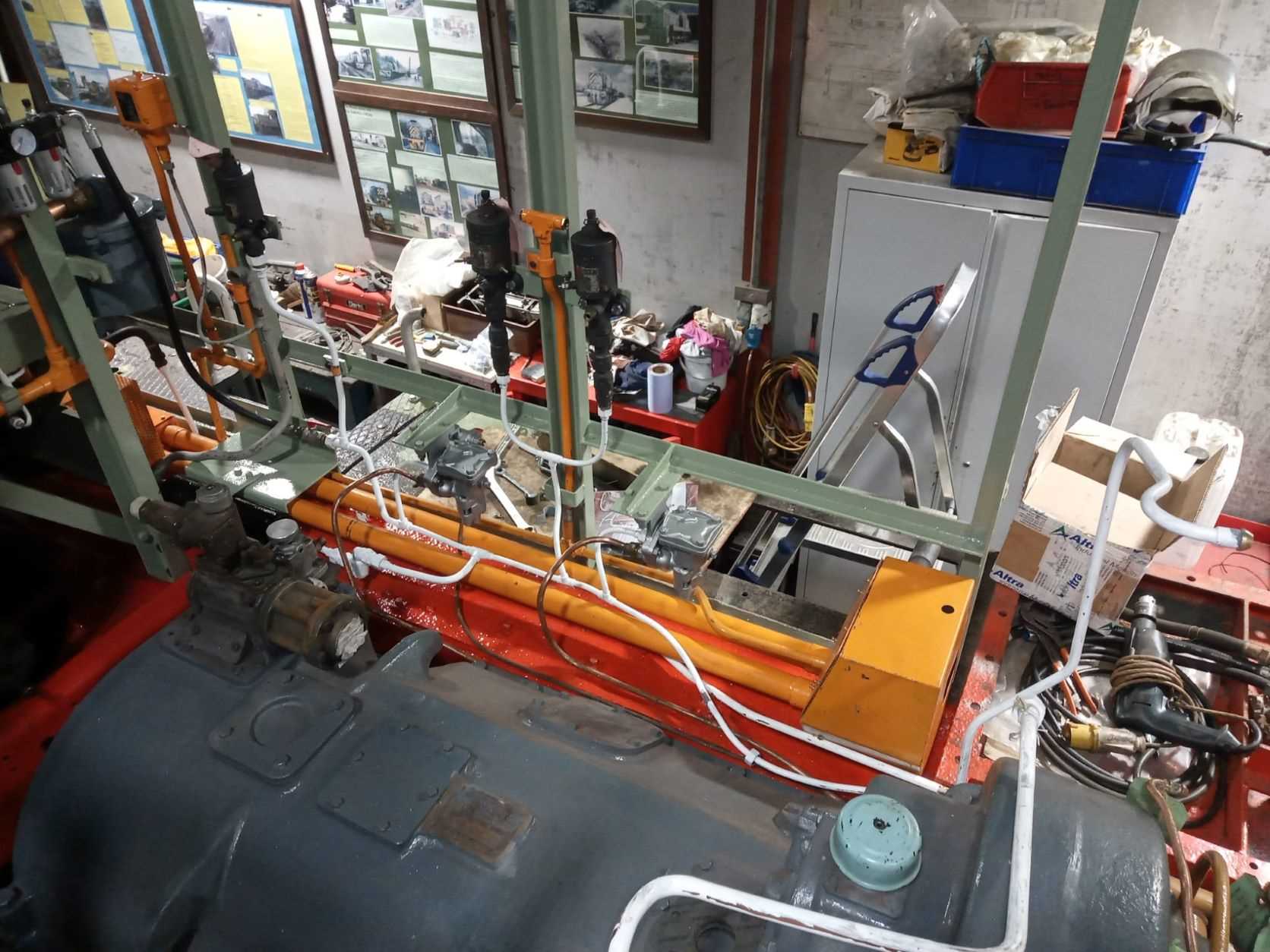 D9518 – trial fitting of the compressed air system pipework (white) took place at Williton on Saturday 22nd October 2022. The unpainted pipes will be removed for painting once their bends have been finalised. The solenoid valves will also be removed for refurbishment and painting before re-fitting. Photo by Colin Girle © CC BY-NC 3.0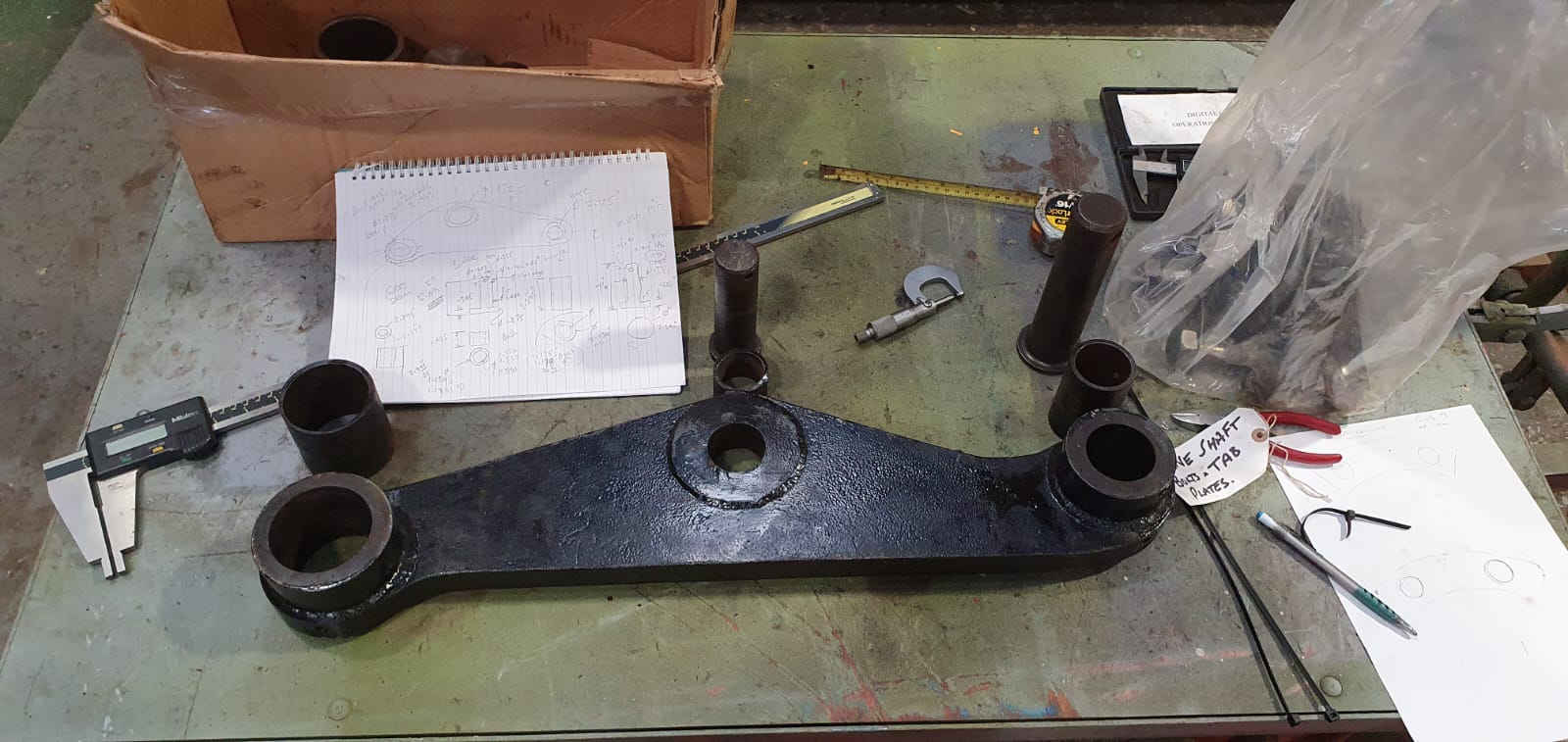 D9518 – the steam-age brake rigging components were evaluated so that new pins and/or bushings could be fitted where necessary at Williton on Saturday 22nd October 2022. Photo by Paul Clark © CC BY-NC 3.0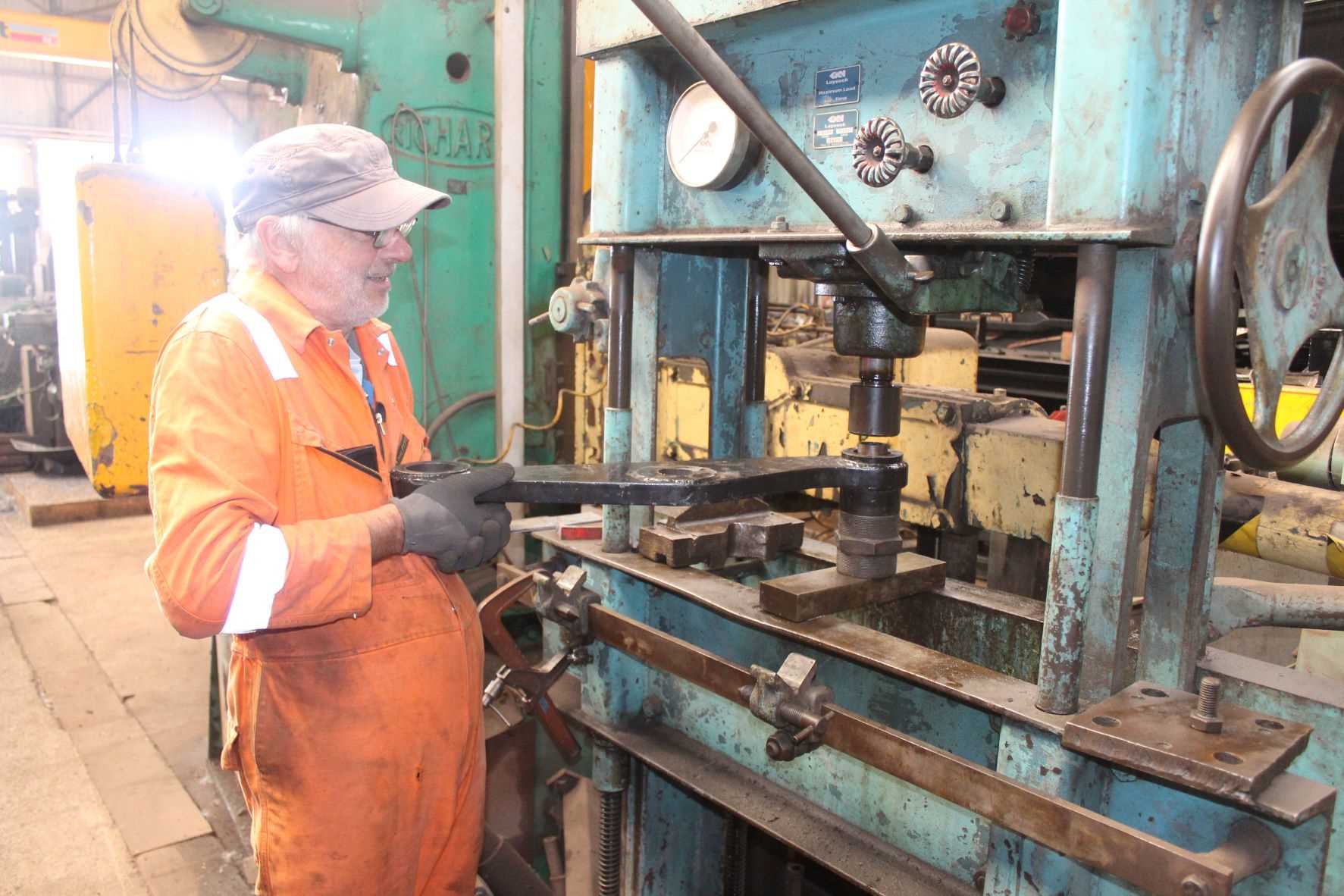 D9518 – one of the brake hangers is being held horizontal by the steady hands of Nick while a new bushing is pressed into place. Pictured at Williton on Tuesday 18th October 2022 by Terry Deacon © CC BY-NC 3.0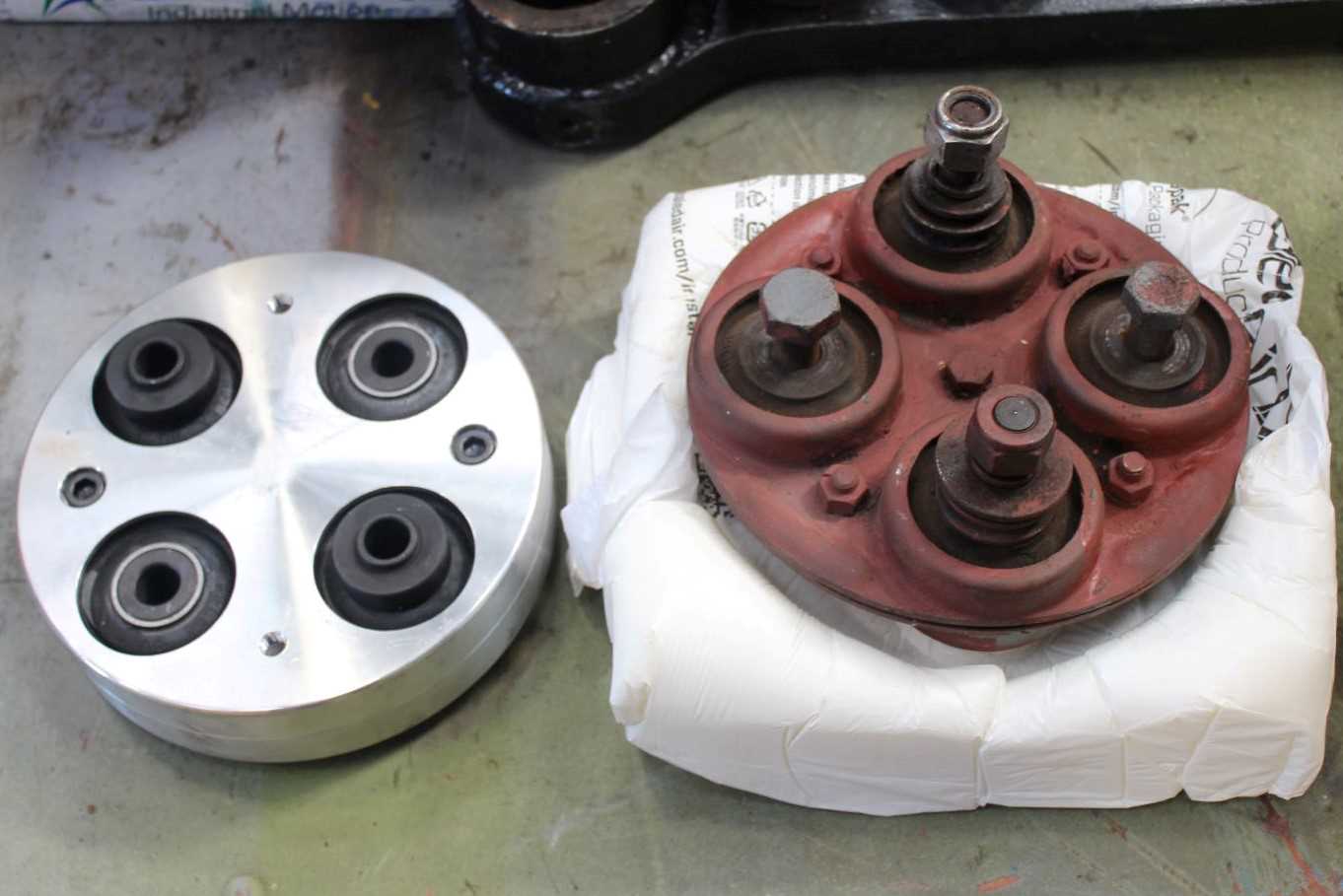 D9518 – one of the brand-new 'Layrub' couplings was pictured alongside the original at Williton on Tuesday 18th October 2022. The new couplings will allow the generator drive shaft assembly to be prepared for re-installation between the transmission and the generator. Photo by Terry Deacon © CC BY-NC 3.0
This loco is the subject of a fundraising appeal so please follow this link to find out more. We need your help ! In addition to funds, we also need plenty of HANDS. If you love the 'Teddy Bears' and you are not already a member of the DEPG, please join us so that you can become one of the team that is going to return D9518 to fully operational condition as 'NCB No. 7'.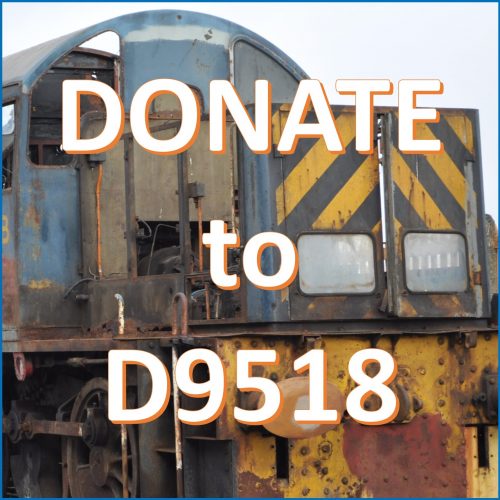 Class 14 'Teddy Bear' D9526 – this loco continues to be in regular use on the Kent & East Sussex Railway and has now reached 700 hours of use, which means another 'A' exam is needed and this is taking place this week.
Class 47 47077 'NORTH STAR' – this loco continues to be in regular use at the NYMR, although usage is reducing as autumn sets in. During the last three months, this loco has covered more than 2,500 miles, so her first season in service has been a big success !
Andrew Barclay 0-4-0DH 578 – investigations into the fuel system issue that is preventing the engine from starting have pointed to the fuel injection pump, which has now been removed from the loco and will be sent out for specialist overhaul. The pump appears to have been affected by contamination in the fuel system, so the fuel tank will be drained and flushed and upgraded fuel filters will be fitted. The diesel fuel is also used as hydraulic fluid for the torque converter, so it is possible that the contamination is coming from the breakdown of the seals within the 50-year-old torque converter. This will be investigated while the loco is out of use.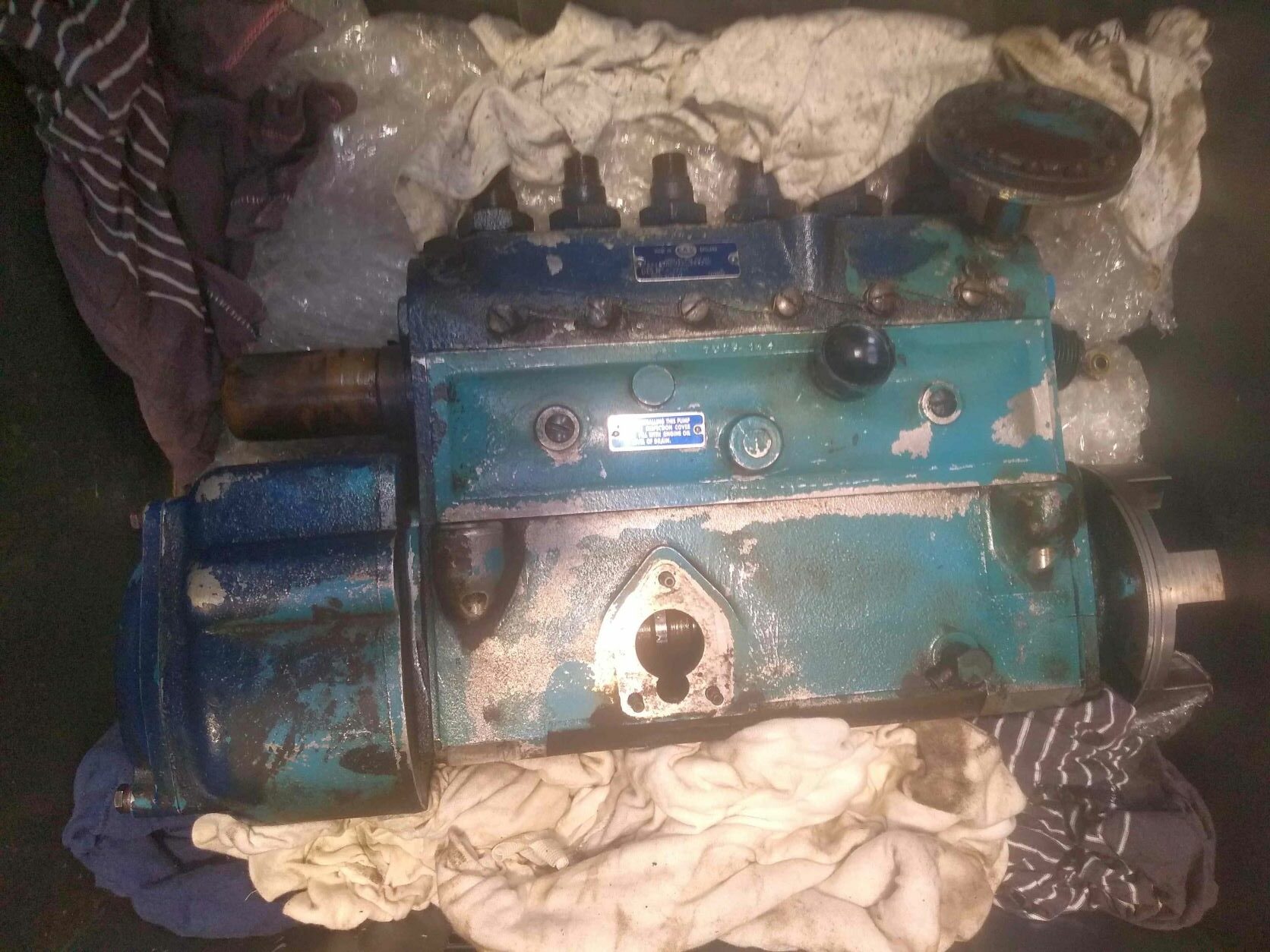 Barclay 578 (ROF 1) – the malfunctioning fuel injection pump was removed from the loco at Williton on Saturday 22nd October 2022 and will be sent out for specialist repair and overhaul. Photo by Ian Robins © CC BY-NC 3.0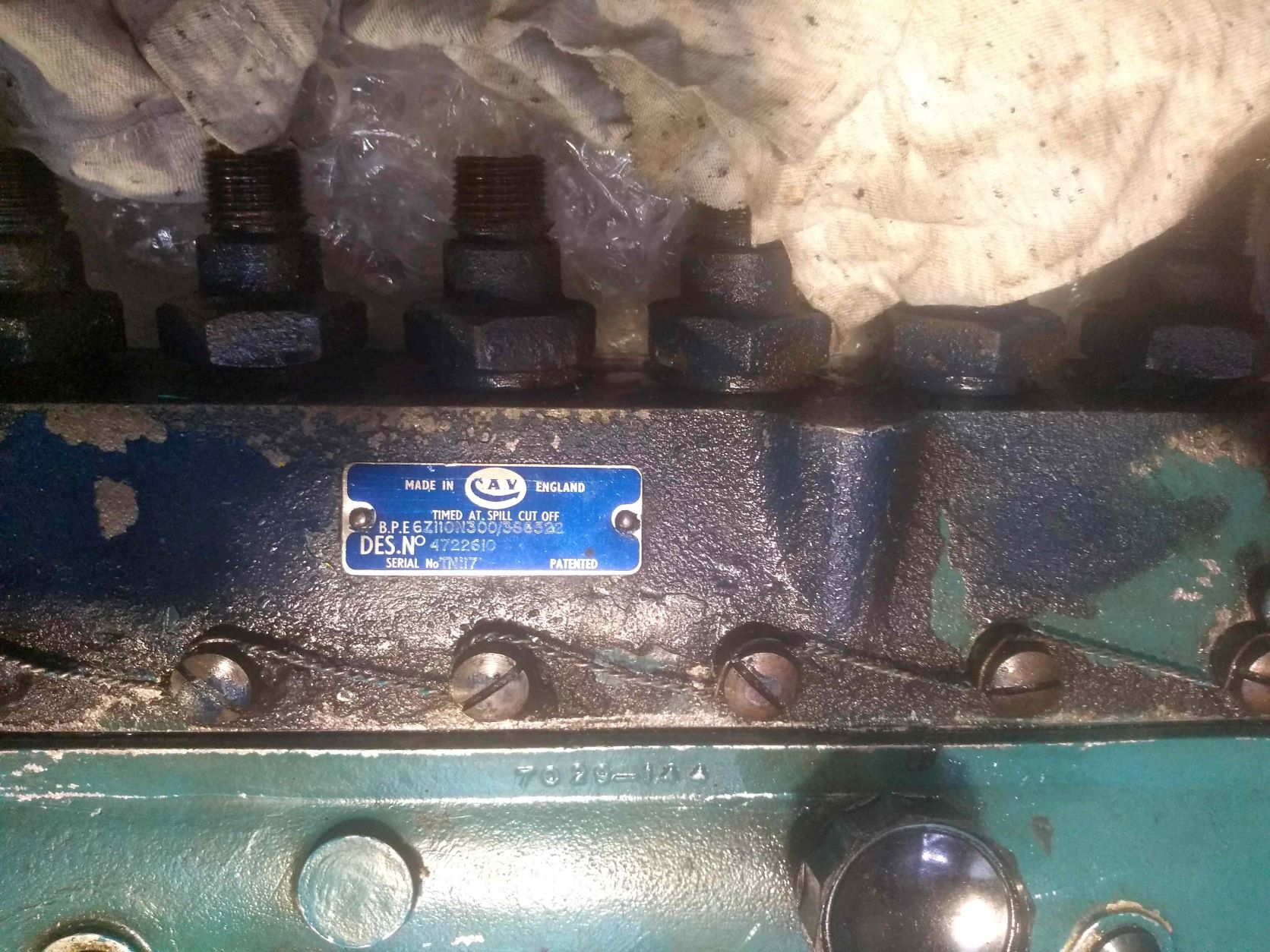 Barclay 578 (ROF 1) – this close-up of the fuel injection pump shows that it is an original CAV (Charles Anthony Vandervell) part that probably dates back to the loco build date of 1972. Although owned by Lucas since 1926, the company did not use the name Lucas CAV until 1978. Pictured at Williton on Saturday 22nd October 2022 by Ian Robins © CC BY-NC 3.0
If you can help by donating your time, then please JOIN US and come along to the depot for an introduction to what we do and how we do it. We currently have people on site from Saturday through to Tuesday and we can open on other days if we can be sure of getting at least two volunteers on site at all times, so there is plenty of scope. We have tasks of all types to suit most capabilities, both skilled and unskilled.
Many thanks to all of our volunteers who give up so much of their time to work on the cleaning, painting, maintaining, restoring, managing and fund raising for our fleet of heritage locomotives !
BOOK REVIEW – this week, we have a book review from regular contributor Neale Long in relation to the recently-released book 'THE BEATEN TRACK – VOLUME 2', a short taste of which is reproduced below. Click here or on the image to go to the full article on our website: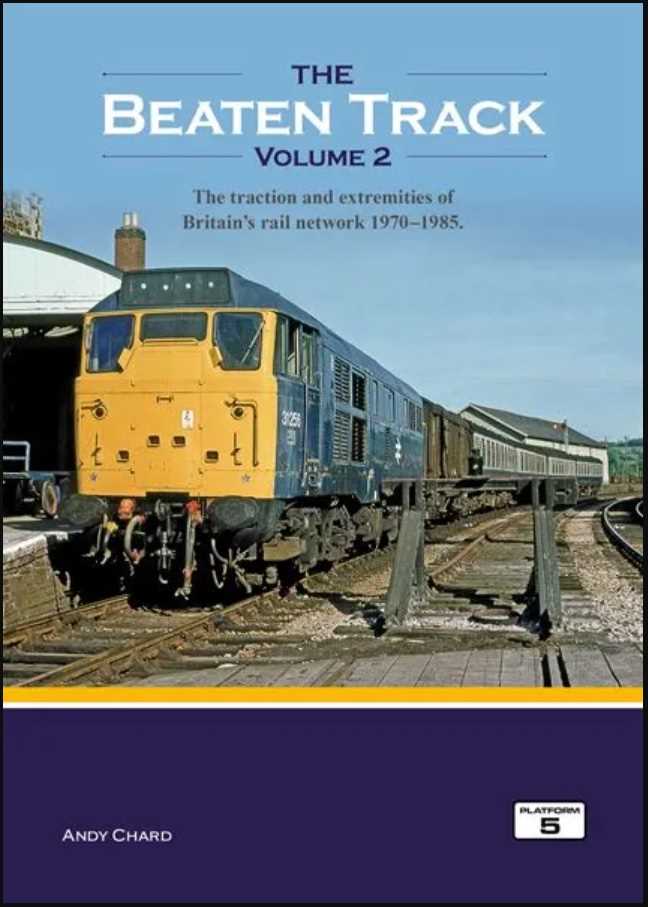 "This 176-page hard back book published by Platform 5 builds on the picture that was created by the very successful Volume 1, with author Andy Chard again skilfully compiling an excellent set of images which explore some of the less familiar rail routes that existed within the period 1970-1985.
   Using a wider group of photographers than the first volume, this second volume also draws on the talents of Roger Geach, Bernard Mills and Gavin Morrison amongst others. The mix of rare locations, both passenger and freight, some still existing and some sadly not, will provide a reminder to those fortunate enough to have visited, and a glimpse of long gone locations to those not so fortunate. The traction of the period is well covered, with several long-lost classes …
Continued on a separate page, click this link to read more.
Many thanks to Neale for his efforts in support of DEPG fundraising. It is much appreciated !
A quick reminder that we are now taking advance orders for the DEPG 2023 CALENDAR, further details of which will be posted on our webstore soon. To prevent waste and maximise the contribution to DEPG funds, we will be limiting the number of calendars that we order to match demand and no more. The printing costs have risen but if we control the quantity that we order, we can keep the price the same as last year, which is £12 including VAT excluding postage. Click here or on the image below to place your ADVANCE ORDER. Thank you to all of our contributors for allowing us to use their work for this important purpose.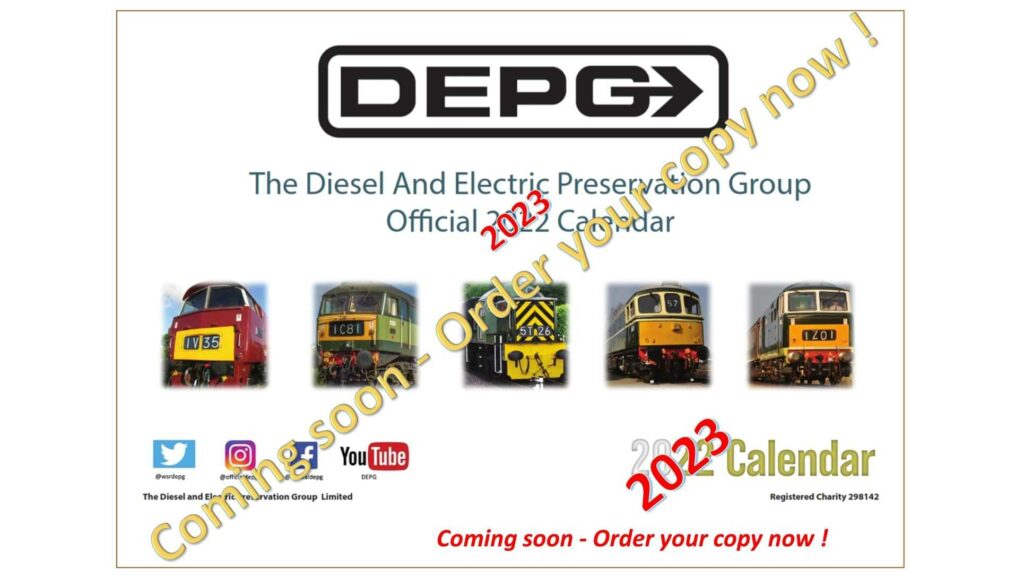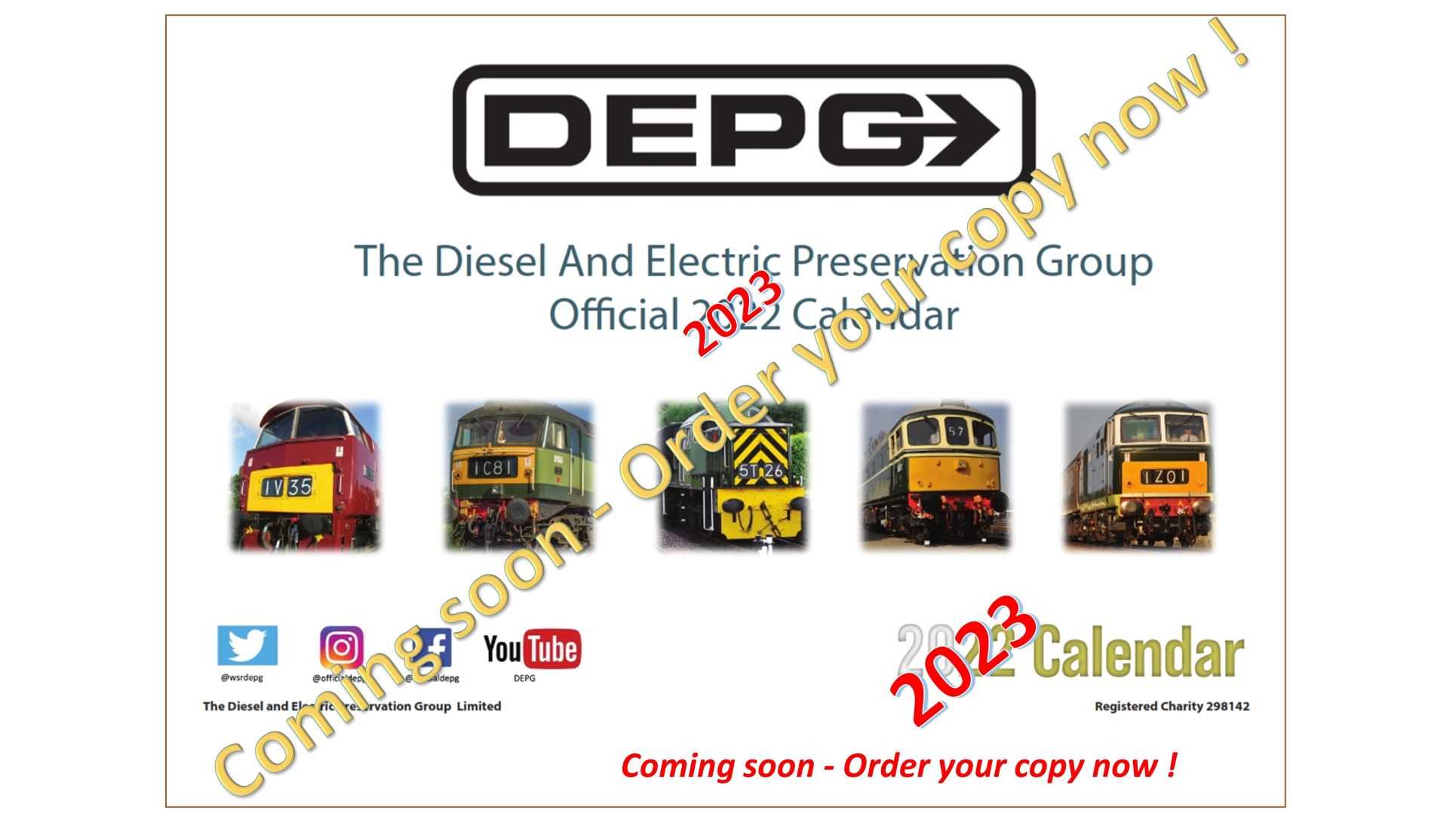 ON SHED – this week, we have a photo of our very own 47840 (D1661 47077 47613) 'NORTH STAR' wearing the BR-blue livery in which she was painted in 2002 for her last five years of operation on the main line. The main differences from the livery that she currently wears as '47 077′ are the headcode blinds that were reinstated in 2007, and the removal of the Electric Train Heating (ETH) jumper cables (the orange connections on the bufferbeam) that took place in 2019, although the loco remains ETH-capable. Many thanks to Terry for sharing his photo with us all.
Class 47 'celebrity' 47840 (D1661 47077 47613) 'NORTH STAR' was pictured while at rest in a very scruffy corner of Crewe Station in October 2003. This loco had the honour of working the very last scheduled cross-country loco-hauled service which ran from Penzance to Manchester on the 19th August 2002. Photo by Terry Deacon © CC BY-NC 3.0
DEPG NEWS – First, a reminder – we have received confirmation that the funeral of former DEPG Chairman JOHN CRONIN will take place in Westbury-on-Trym, Bristol, on Friday 4th November 2022. Please let me know if you plan to attend at the memorial service that will take place at 12:45 later that day.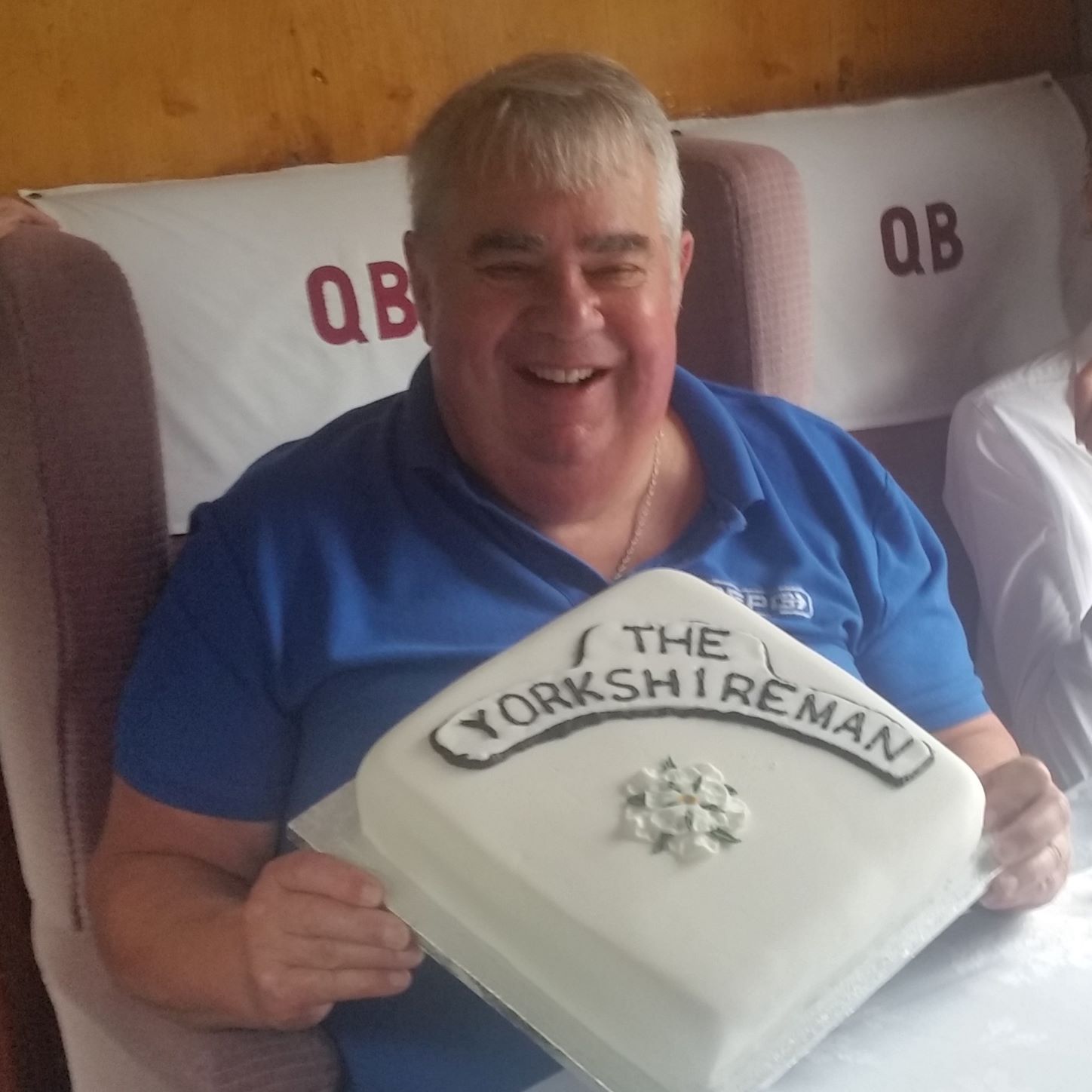 Former DEPG Chairman the late John Cronin was presented with a special birthday cake on the occasion of his 75th Birthday in August 2017, after dining aboard the 'Quantock Belle'. Photo from the DEPG archives © CC BY-NC 3.0
If you want to make a donation to John's chosen causes, a JustGiving page has been set up for that purpose. Here's the link: https://www.justgiving.com/crowdfunding/johncronin
Our new online membership system is working well and feedback has been very positive, but please be aware that WE STILL OFFER THE TRADITIONAL PAPER-BASED MEMBERSHIP via cheques and mail, by using the form attached or available via this link. If you want a form mailed to you, just let me know or email our Membership Secretary CHRIS SHIELDS via members@depg.org
Of particular importance is the GIFT AID option. If you are a taxpayer, please consider setting your GIFT AID status to YES so that the DEPG can claim the tax that you paid on your subscription and/or donation. This increases the value of your payment by 25% and that makes a significant amount of difference to our fundraising. Thanks !
For our new online membership system, click here or on the image below and log in (no password required) to create a new membership or to check the details of your current membership. THANK YOU FOR SUPPORTING THE DEPG !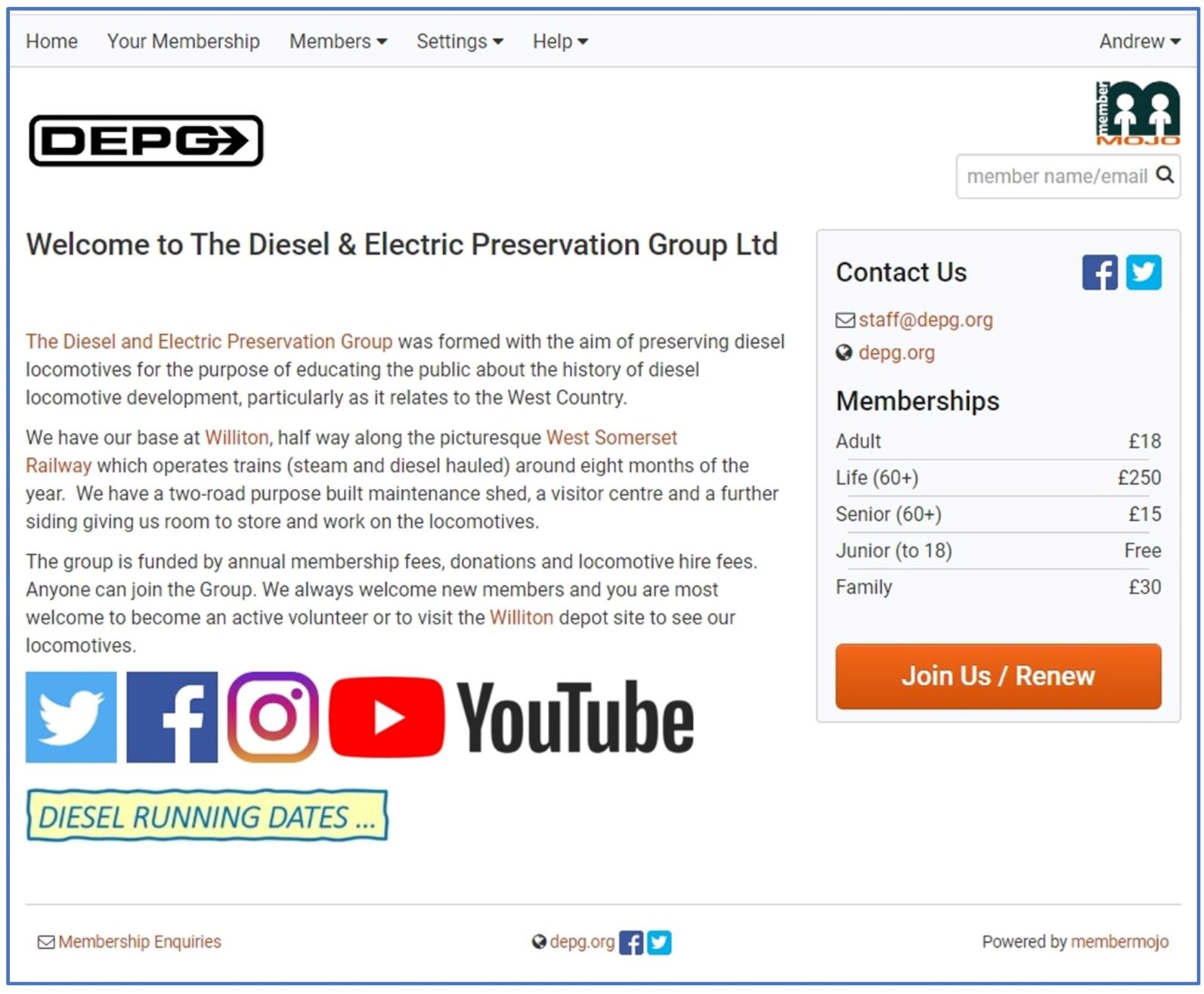 WSR NEWS: 
The WSR is now taking bookings for the 2022 'WINTERLIGHTS' trains which will be steam hauled on the journey to Crowcombe Heathfield and diesel hauled on the return leg, using one of our Class 33 'Cromptons'.
The colours and sights of last years' services resulted in a sell-out and demand is going to be solid again this year, so don't leave it until later to make a booking. If you and/or your family want to experience it, then now is the time to make a booking. Click here or click on the image below.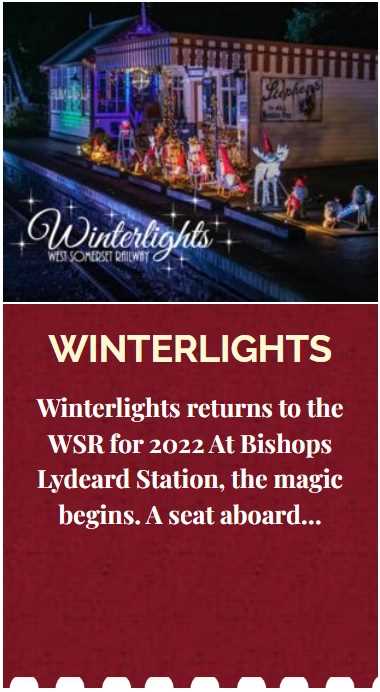 Go to previous Weekly Roundup post