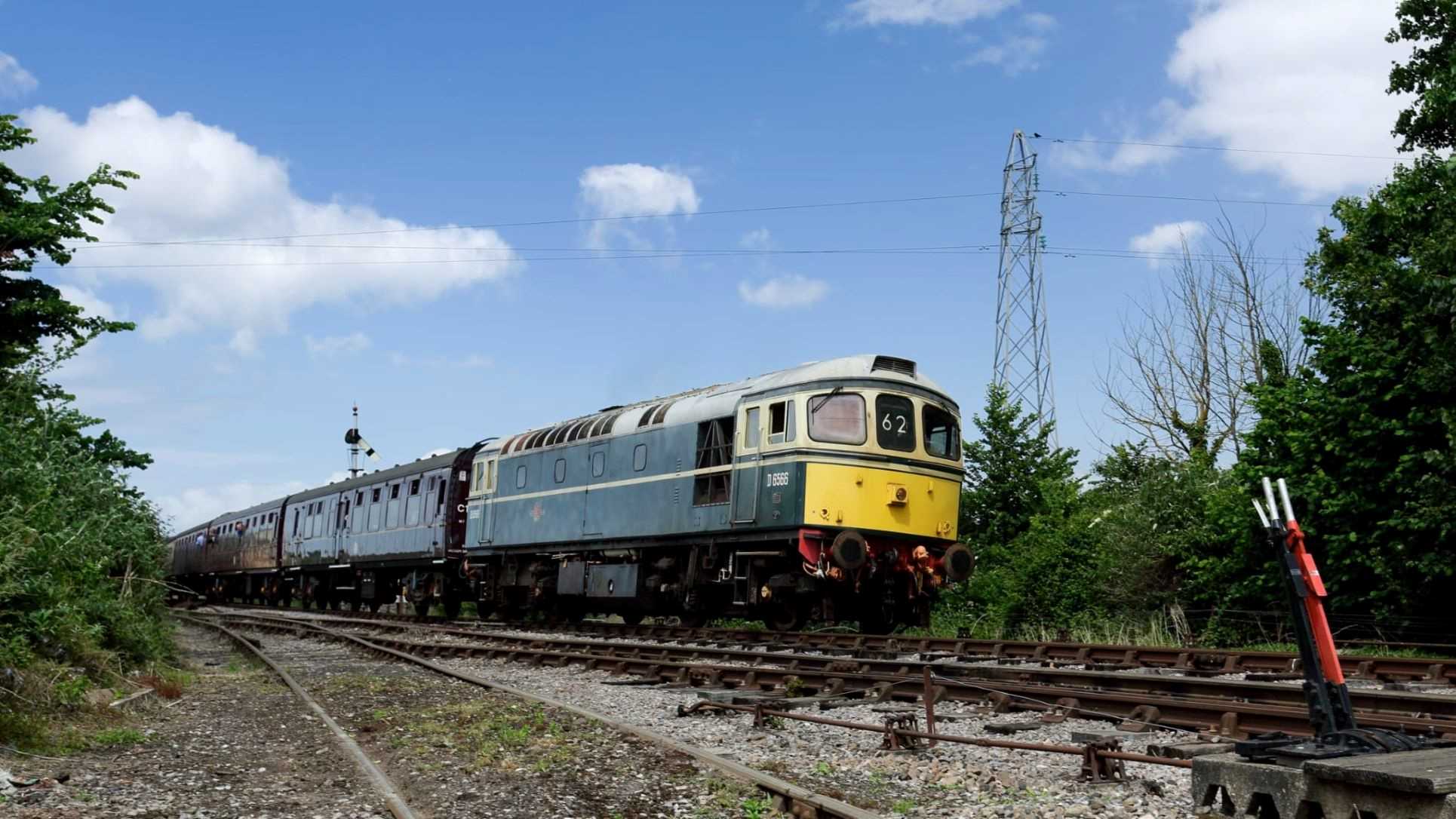 Class 33 'Crompton' D6566 (33 048) approaches Williton from the north on a DIESEL GALA service from Minehead on Saturday 11th June 2022. Photo by Paul Clark © CC BY-NC 3.0
Firstly, apologies for the late publication of this edition of roundup, the delay being caused by the need to get the DEPG Newsletter out for printing as a matter of priority.
The big news this week is that Class 33 'Crompton' D6566 (33 048) is ready for inspection and test running in advance of being returned to service. This update was provided by volunteer Class 33 loco manager IAN ROBINS after he and Tom spent the whole of last weekend working on a low water pressure indication issue that followed the installation of the reconditioned heat exchanger. Assistance has also been provided by Ian FS (so many Ians at the depot these days) and Chris, so well done Team Crompton !
This news will no doubt be appreciated by sister loco D6575 (33 057) who has carried the baton as the duty loco since mid August and will welcome the backup for the 'WINTERLIGHTS' services that run on Fridays and Saturdays up to Friday 16th December, when they become almost daily and continue to the very end of the year.
Bookings on these services are strong, especially for the earlier departure, so if you intend to take a ride then MAKE A BOOKING to secure your places.
WELL DONE TO ALL INVOLVED WITH DELIVERING THESE WINTERLIGHTS SERVICES !
Also running this weekend are the DUNSTER BY CANDLELIGHT services (Friday 2nd and Saturday 3rd) and the SANTA EXPRESS services (Saturday 3rd and Sunday 4th) so it will be good to see Williton Station open for business again.
LOCO NEWS:
Class 52 D1010 'WESTERN CAMPAIGNER' – further progress on the transmission rebuild resulted in the turbine rail input shaft assembly being installed into the centre section of the housing, in readiness for the attachment of the first stage torque converter housing. Each component is being thoroughly cleaned and having any loose material removed before reassembly, because the oilways are very small and cleanliness is essential. The nice new (and expensive !) bearings need plenty of clean oil to keep them in good condition.
Ian FN and Chris made further progress on the bodywork and Gordon attended to the sandbox doors, and we even made some progress on the underfloor wiring in 'B' cab. Here are some photos that show the progress: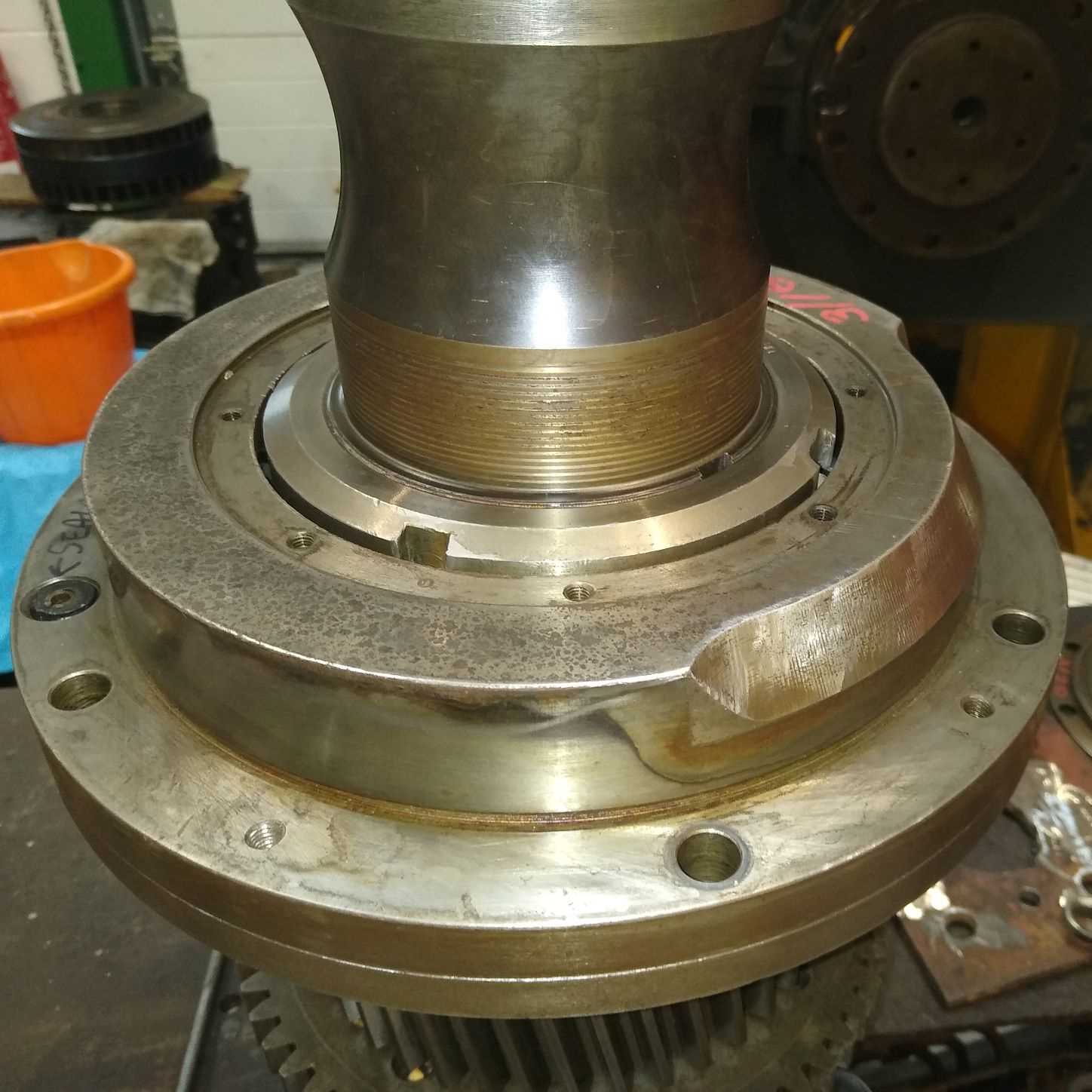 D1010 – the turbine rail input shaft assembly was completed at Williton on Monday 21st November 2022. The new bearings are encased within the housings and fed with oil via the port that is visible on the far left. Photo by Colin Foxhall © CC BY-NC 3.0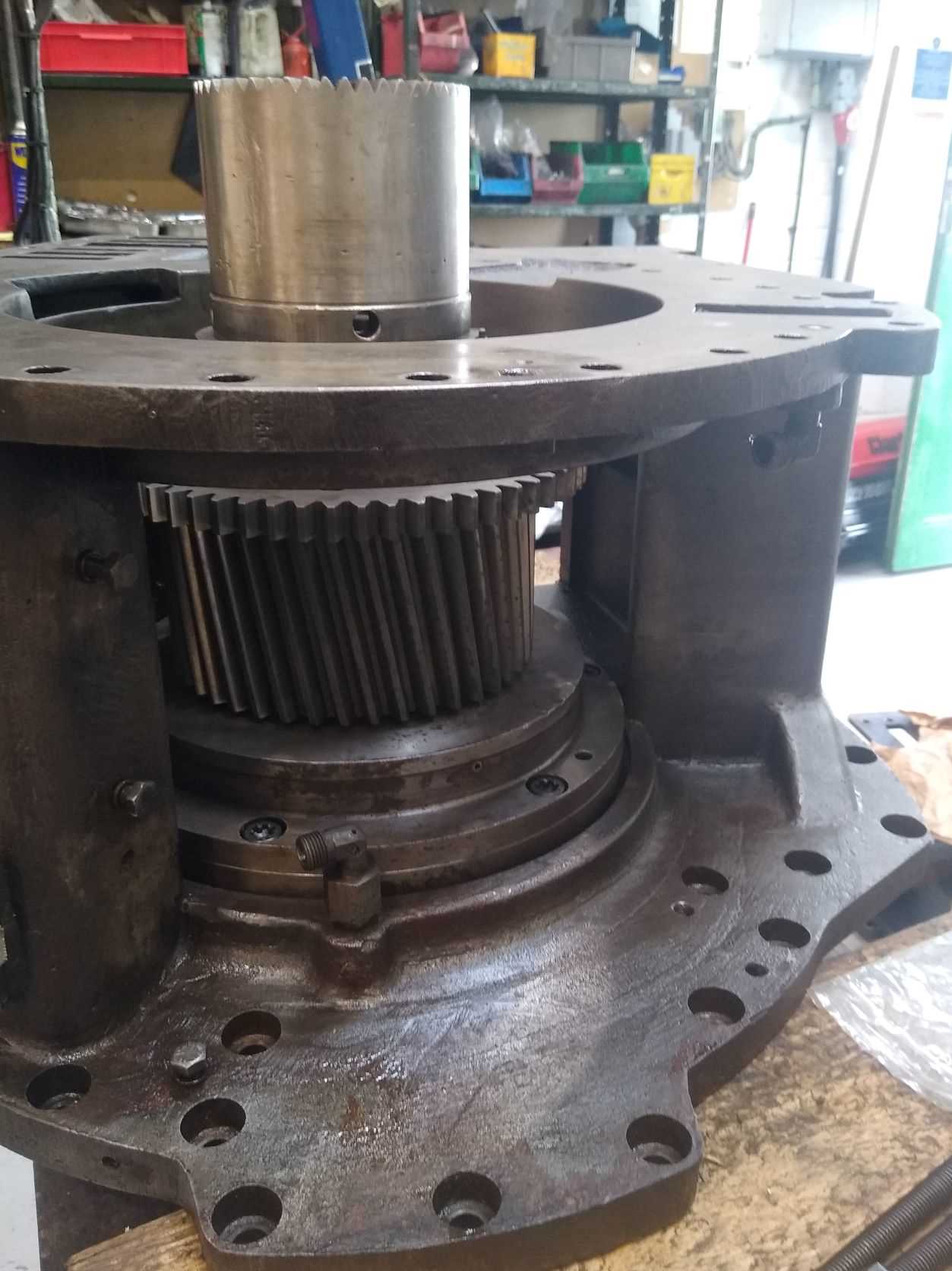 D1010 – the input shaft assembly was then installed into the centre part of the housing and the oilway aligned with the oil pipe union. Pictured at Williton on Monday 21st November 2022 by Colin Foxhall © CC BY-NC 3.0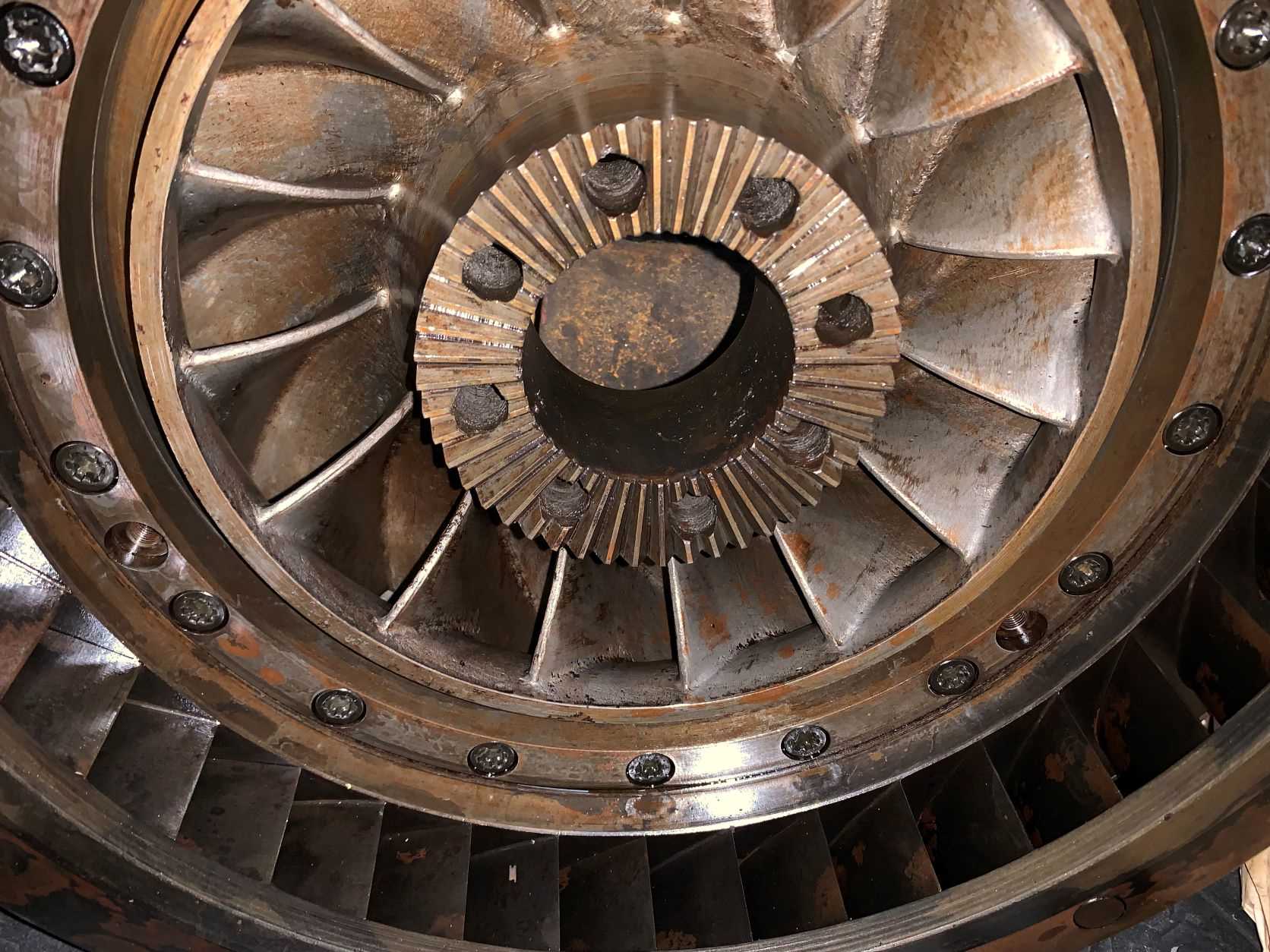 D1010 – the first stage impeller is next in line for cleaning and inspection. This component will be attached to the input shaft via the Hirth joint (radial spline joint) that is visible in the centre of the impeller and in the previous photo. Pictured at Williton on 26th November 2022 by Andy Royal © CC BY-NC 3.0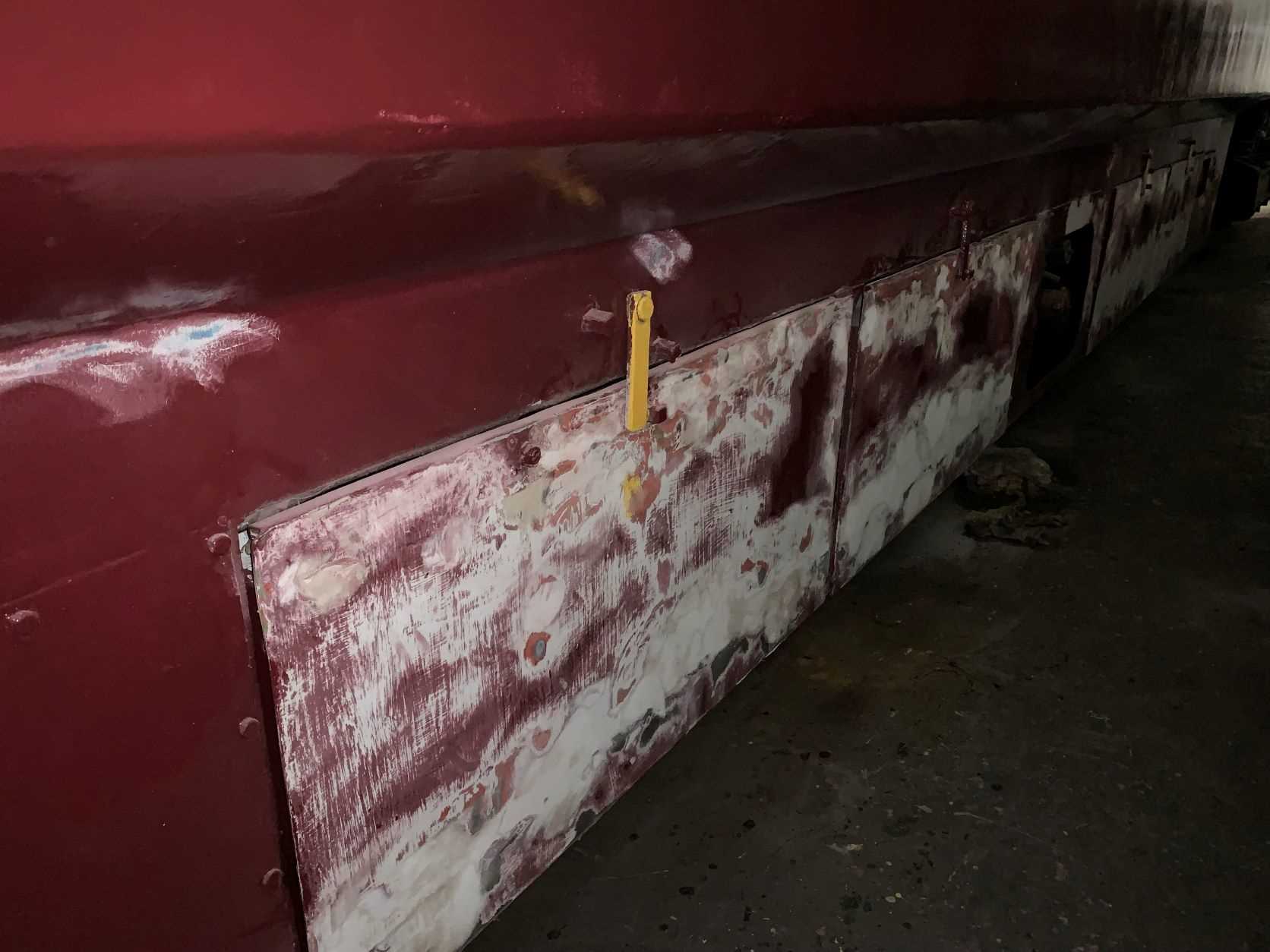 D1010 – the battery compartment doors on the 'B' side of the loco have been receiving attention from Ian FN who has been hard at work, filling, sanding, filling and sanding to get the finish up to his high standard. Pictured at Williton on 26th November 2022 by Andy Royal © CC BY-NC 3.0
D1010 – the spaces bounded by the yellow marks are patches that are waiting for their sponsors. The patches are marked using a vibratory engraver so the markings are in the metal, not just in the paint, and are still visible after sanding the paint away. To SPONSOR A PATCH, see below ! Pictured at Williton on Saturday 19th November 2022 by Andy Royal © CC BY-NC 3.0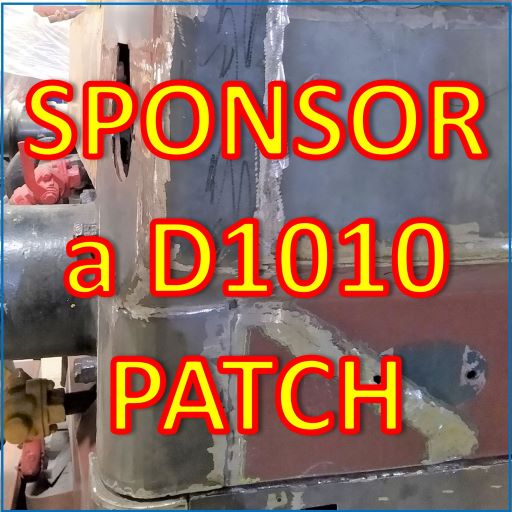 To continue our rate of progress requires FUNDING which is becoming harder to get as belts are being tightened everywhere. If you are able to do so, please consider SPONSORING A PATCH because there is plenty of recently-added metal that still needs engraving. Photographs and certificates of sponsorship will be sent out to all who have sponsored this phase of the restoration work, but please bear with us because our admin resources are severely stretched at the moment. Click the image below to sponsor a patch. Thank you in advance for your support !
We still have a lot of work to do on this massive locomotive, so PLEASE DO COME ALONG AND HELP IF YOU CAN !
See our CAMPAIGN for CAMPAIGNER web page for more details !


Class 33 D6566 (33 048) – covered previously.
Class 33 D6575 (33 057) – this loco is currently stabled at Bishops Lydeard and in regular use on the 'WINTERLIGHTS' services.
Class 35 'Hymek' D7017 – this loco is waiting for completion of her Vehicle Inspection and Brake Test (VIBT) and a test run before she can be declared fit for traffic.
Class 35 'Hymek' D7018 – the planned engine run had to be deferred again because of other priorities, but we hope to get to this task during the coming weekend. The engine will be run for an hour to bring it and the transmission up to temperature and allow the transmission control pressures to be checked and adjusted if necessary. The loco will then need to have a number of small but important tasks dealt with during the winter months, in readiness for her return to service in the spring.
Class 14 'Teddy Bear' D9518 – progress on multiple fronts has become the norm as the team share out the tasks and maintain a very high level of co-ordination. As usual, the pictures tell the story: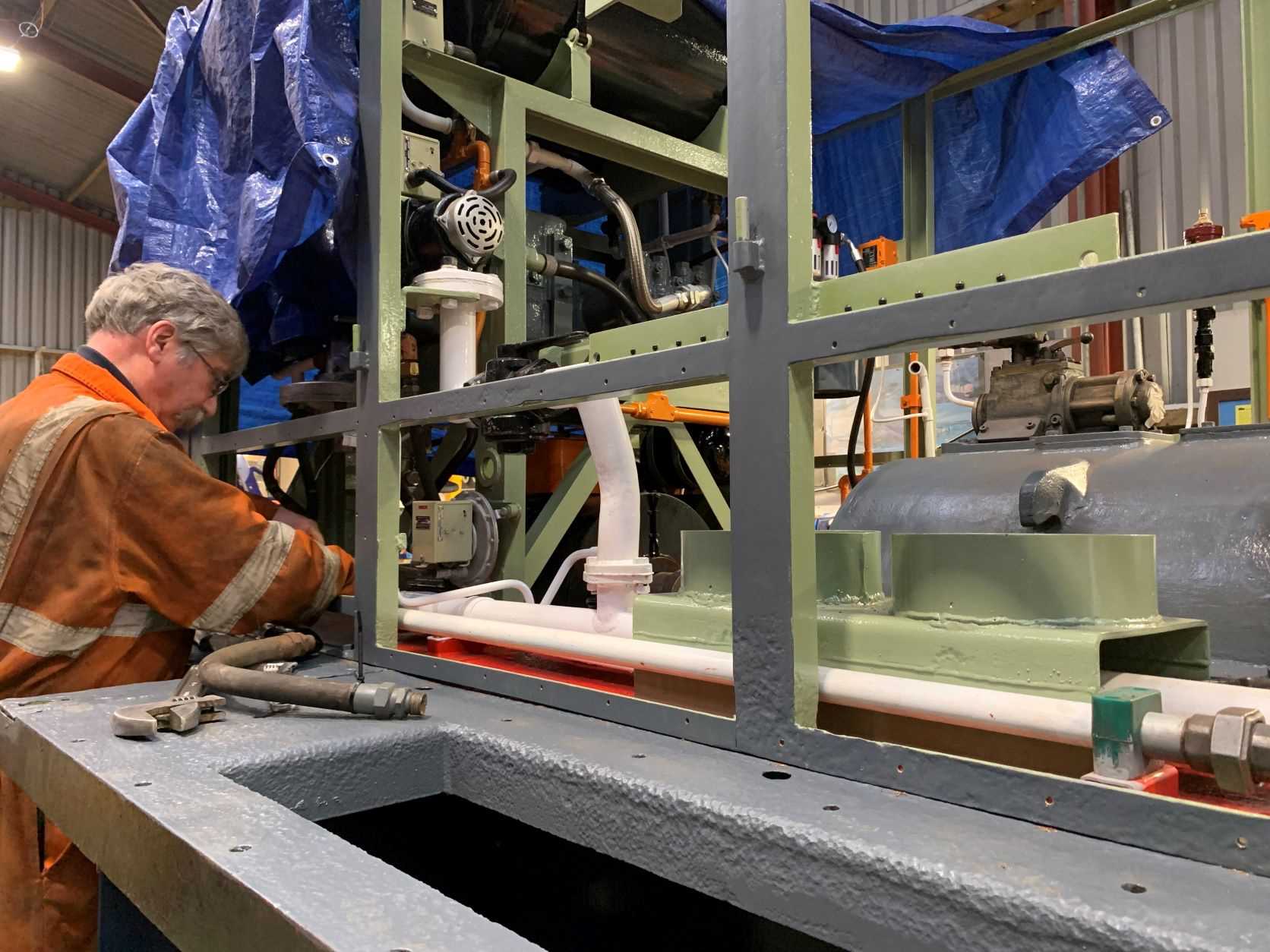 D9518 – Simon removes some very old hoses that need replacing while he can easily access the area that will soon be plated over. Pictured at Williton on 26th November 2022 by Andy Royal © CC BY-NC 3.0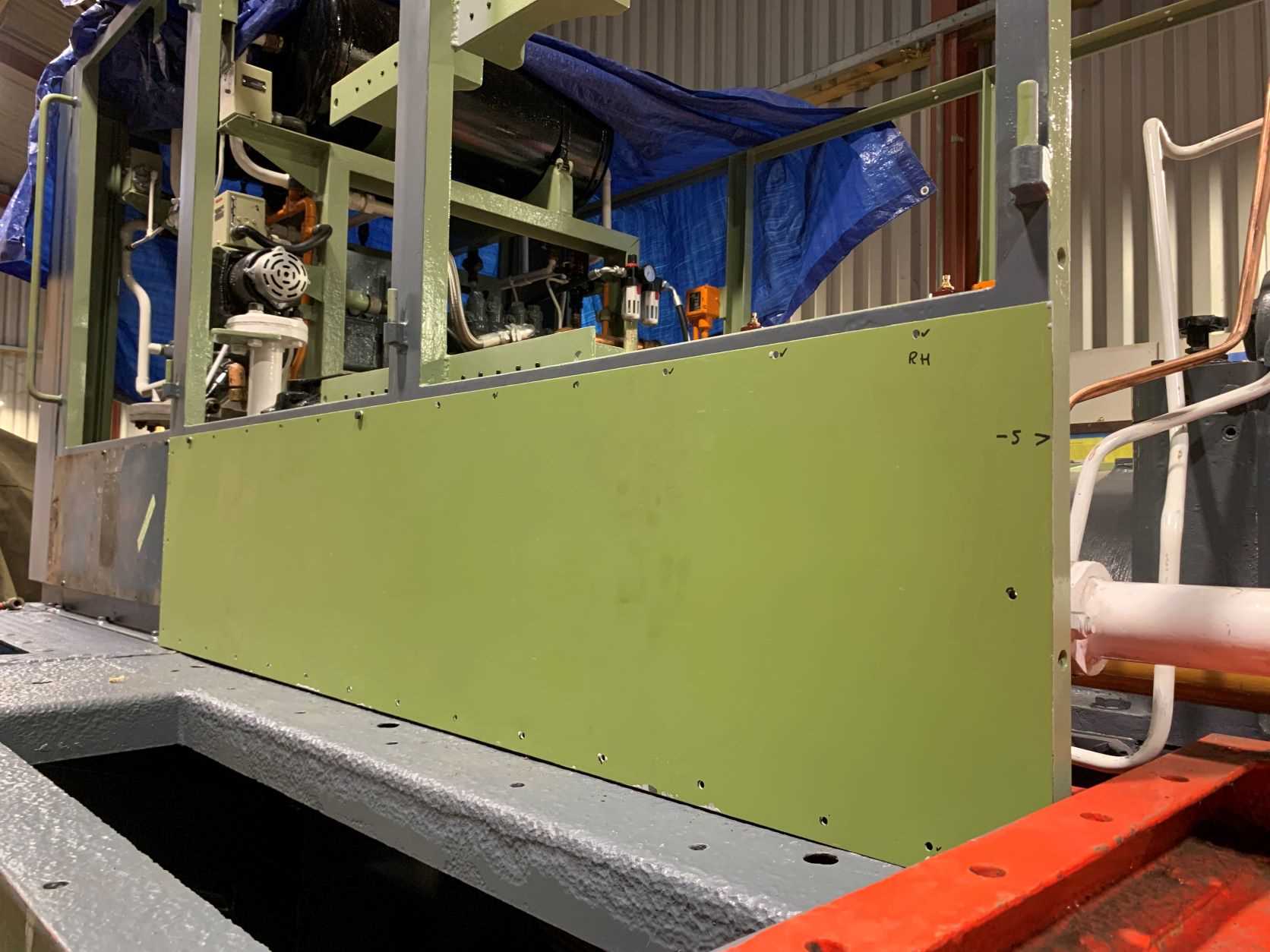 D9518 – the side plates are trial fitted – the green plate being a new part and the blue (ish) part being an original that is in need of replacement. Pictured at Williton on 26th November 2022 by Andy Royal © CC BY-NC 3.0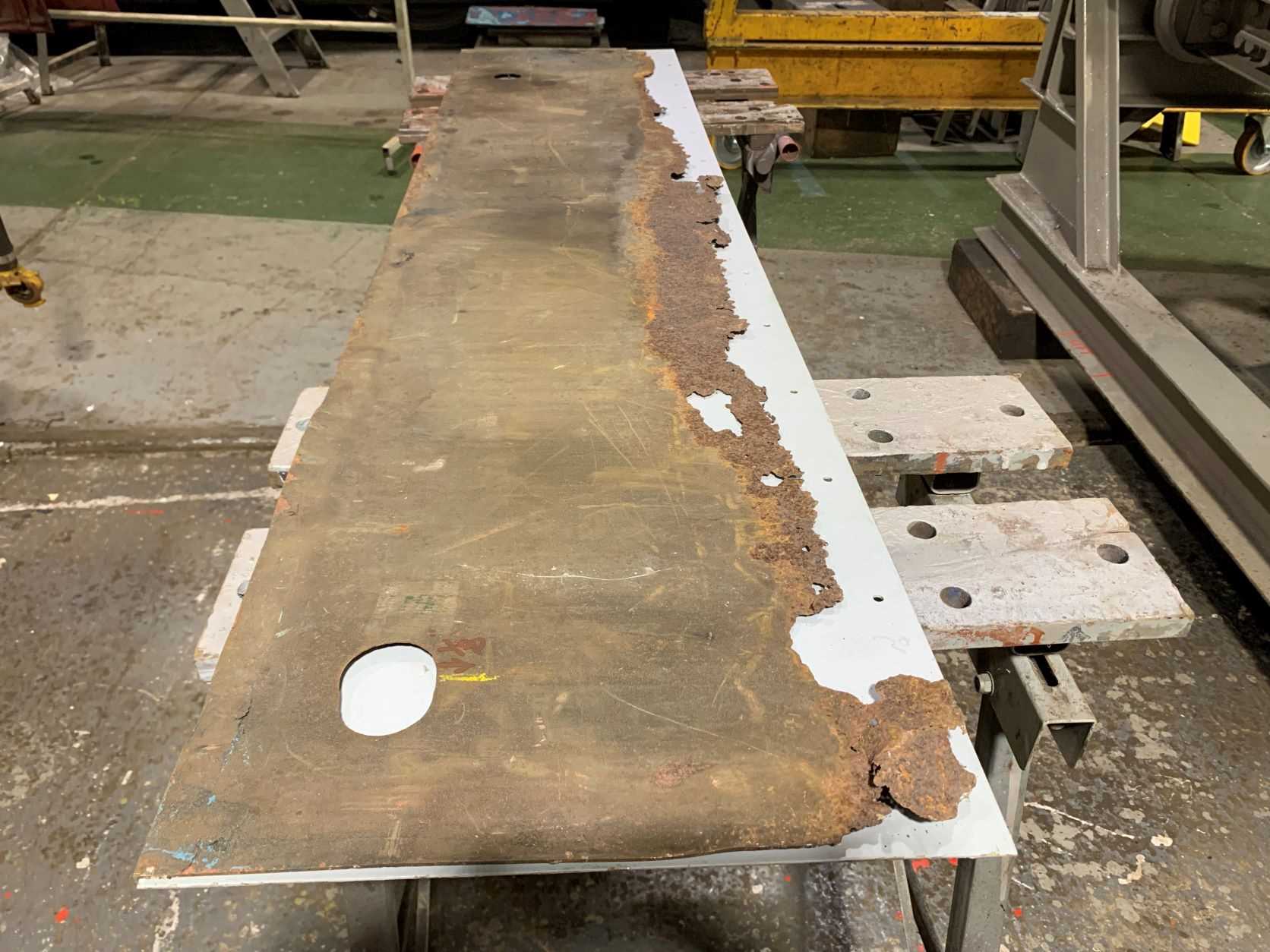 D9518 – an original side plate is being used as a template for the oval holes to be cut in the new plate for the battery cables to pass through. The lower part of the plate (RH) is not much use as a template, in fact it is not much use for anything at all. Pictured at Williton on 26th November 2022 by Andy Royal © CC BY-NC 3.0
D9518 – meanwhile, Terry and his team comprising Nick and Mike have been dismantling the Paxman 6YJXL V6 diesel engine that last ran in D9526 and will undergo a complete rebuild to form a zero-hours engine for D9518. Pictured at Williton on 26th November 2022 by Andy Royal © CC BY-NC 3.0
This loco is the subject of a fundraising appeal so please follow this link to find out more. We need your help ! In addition to funds, we also need plenty of HANDS. If you love the 'Teddy Bears' and you are not already a member of the DEPG, please join us so that you can become one of the team that is going to return D9518 to fully operational condition as 'NCB No. 7'.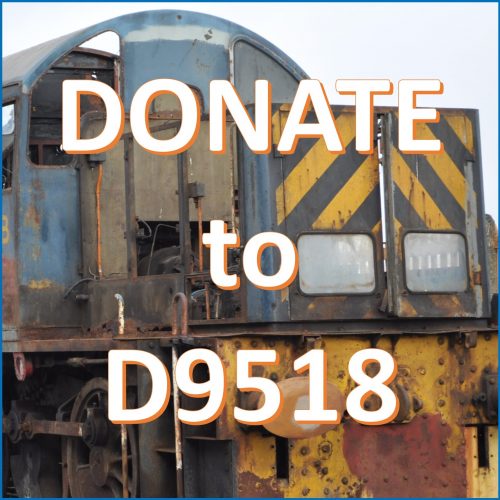 Class 14 'Teddy Bear' D9526 – this loco is currently based on the Kent & East Sussex Railway and continues to see a decent amount of use, clocking up 47.5 hours in November. We expect that our 'Teddy Bear' will be back home at Williton by mid-January 2023.
Class 47 47077 'NORTH STAR' – this loco is receiving attention at the NYMR after a report of an oil leak from her engine governor. When investigated, it was found that the governor is in need of an overhaul, so a spare part will be despatched from Williton stock to get the loco back into service.
Andrew Barclay 0-4-0DH 578 – the fuel system of this loco continues to be the subject of attention and 'hats off' to new volunteer Tony for cleaning out the diesel tank and removing all of the sludge that has accumulated over the last 50 years – definitely not a pleasant job but someone has to do it. Tony also made a new gasket and fitted the inspection plate back into place loosely, in case further work needs to be done. Terry, Simon P and Colin G also lent a hand on this loco to remove the filter for the 'British Twin Disc' 3-stage torque converter (this design uses diesel fuel as the hydraulic fluid). The filter was found to be in a very poor condition and will be replaced. The project continues !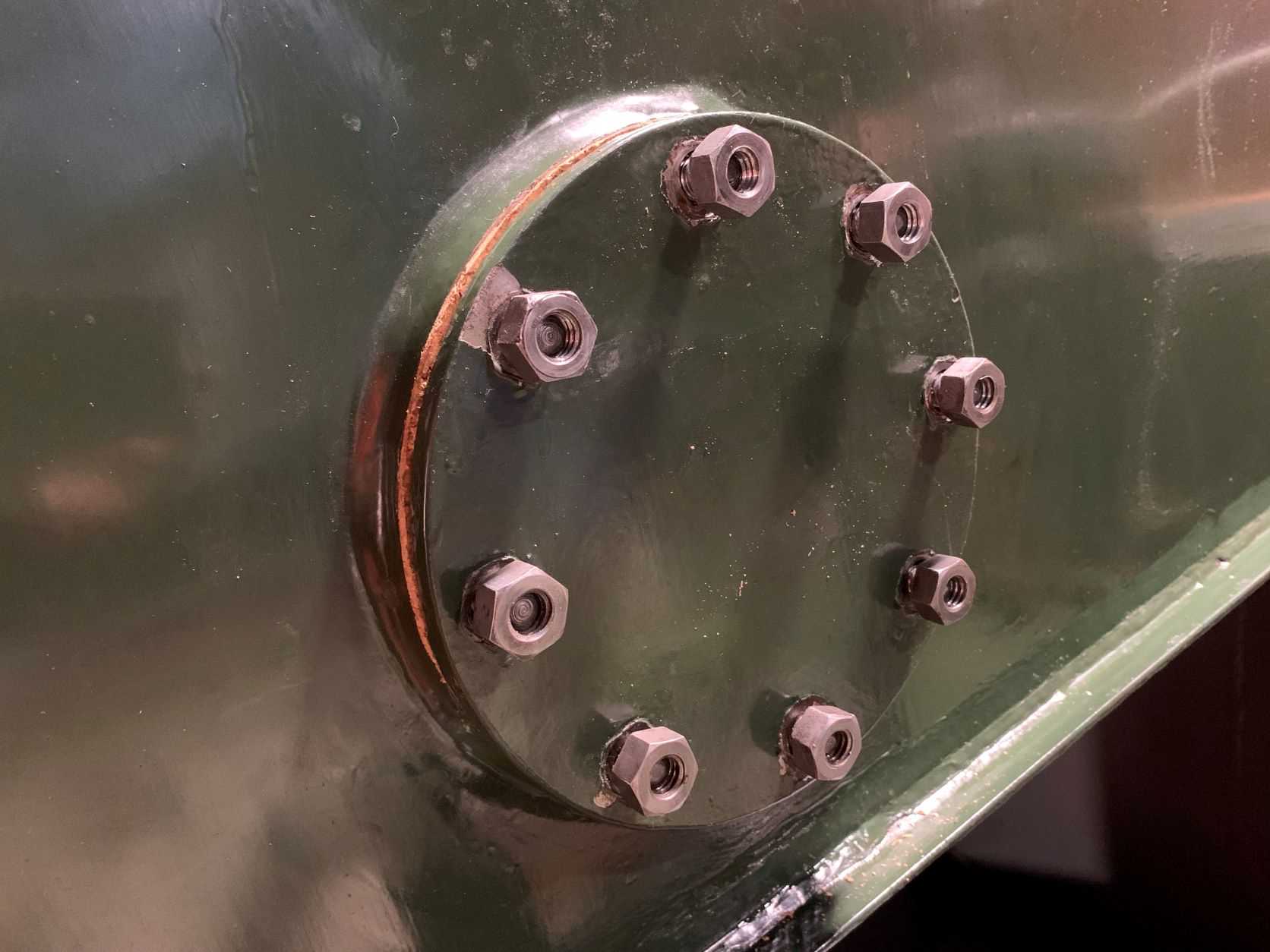 Andrew Barclay 578 (ROF 1) – the newly-made gasket is visible under the fuel tank inspection flange that has been loosely refitted by Tony. Pictured at Williton on Saturday 26th November 2022 by Andy Royal © CC BY-NC 3.0
BR (LNER pattern) 20t Brake Van B952527 – this vehicle is in need of a significant amount of work and will need to have an allocation of resources so that progress can be made on the restoration. To roof is leaking quite badly, so to protect against further dilapidation, the van was sheeted over with a tarpaulin – but the stovepipe had to be removed first, and it didn't want to budge so it had to be cut. It turns out that the stovepipe was made from a redundant boiler tube and was found to be cracked along almost the whole length, so it will have to be renewed anyway. The cast iron stove was also found to be cracked and will also need to be replaced. The first priority was to keep the rain out and that task was completed on Saturday by Martin (mostly) with a bit of help from Chris and Andy.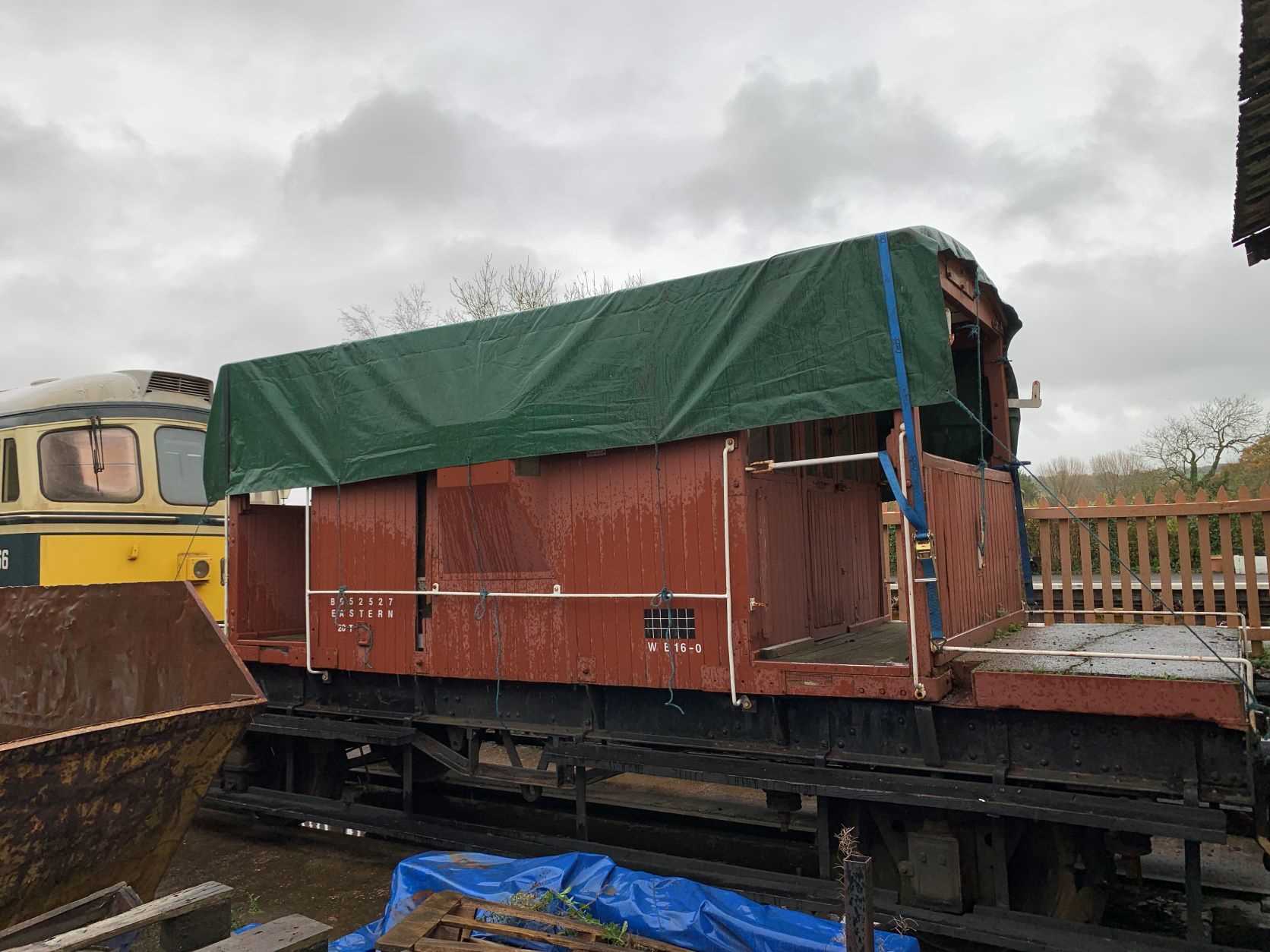 The DEPG's 1954 BR (Faverdale) 20t brake van B952527 has been sheeted over for the winter because it has a leaky roof. Pictured at Williton on Saturday 26th November 2022 by Andy Royal © CC BY-NC 3.0
If you can help by donating your time to any of these projects, then please JOIN US and come along to the depot for an introduction to what we do and how we do it. We currently have people on site from Saturday through to Tuesday and we can open on other days if we can be sure of getting at least two volunteers on site at all times, so there is plenty of scope. We have tasks of all types to suit most capabilities, both skilled and unskilled.
Many thanks to all of our volunteers who give up so much of their time to work on the cleaning, painting, maintaining, restoring, managing and fund raising for our fleet of heritage locomotives !
BOOK REVIEW – we have had a very encouraging uptake on this brand new book from well-known author and DEPG member BERNARD MILLS, which is the fifth volume in his very popular 'BACKTRACKING AROUND' series of 'THEN & NOW' studies, this time covering the lines around Plymouth, Looe, Liskeard and Bodmin, Wadebridge and Padstow.
This new book is offered for sale at £18.95 with all profits going to the D1010 Restoration Fund. We look forward to receiving and sharing a book review from a purchaser in the very near future.
We have also been busy preparing more of our pre-owned book stock for online sales in time for Christmas, so keep an eye on our pre-owned book page because we are updating it regularly (or trying to!).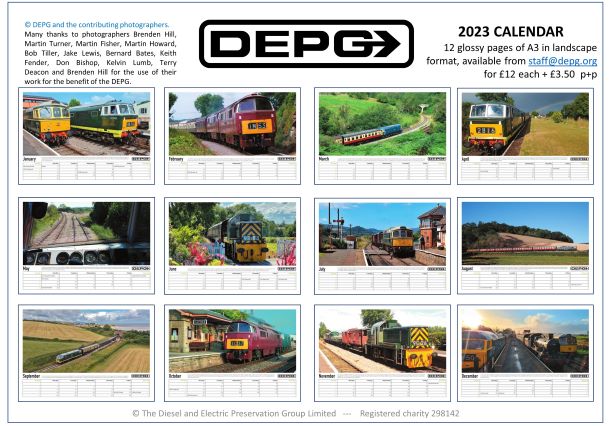 The long-awaited DEPG 2023 CALENDAR is at the printers and we will start distributing it within the next week or so. NOW IS THE TIME TO PLACE YOUR ORDER because we are only ordering the minimum number that will guarantee that all copies are sold. This allows us to keep the price the same as last year, which is £12 including VAT excluding postage. Click here or on the image above to place your order. Thank you to all of our contributors for allowing us to use their work for this important purpose.
Click this link for the animated version (displays via our website).
WILLITON STATION FUNDRAISING – as mentioned last week, our friends at our local WSR station have been busy making a range of embroidered Christmas cards, gift tags and decorations that will be of interest to many, as well as being a departure from what one would normally expect to find on the DEPG website !
The many items are being photographed and examples have been placed on our online store in the 'Christmas Items' category. All monies raised from the sale of these items goes to Williton Station funds. Thank you for your support !
A selection of Christmas items that have been made by volunteers at Williton Station. Each item is for sale for £1.50 each at the Station or via the DEPG online store. Photo by Andy Royal © CC BY-NC 3.0
ON SHED – continuing with a series of photographs that have been provided by Kelvin Lumb, we have a photo of D1048 'WESTERN LADY', one of the seven surviving members of the Class, at the stabling point at Westbury where the Class were often to be found before or after working the heavy stone trains from the Mendips to London and elsewhere. Also in the picture is 47 026, formerly D1597, delivered new to Cardiff Canton Depot in June 1964 and destined for a 38-year career on the mainline before ending her days as 47 597 at EMR Kingsbury scrapyard. Many thanks to Kelvin for sharing another item from his collection with us all.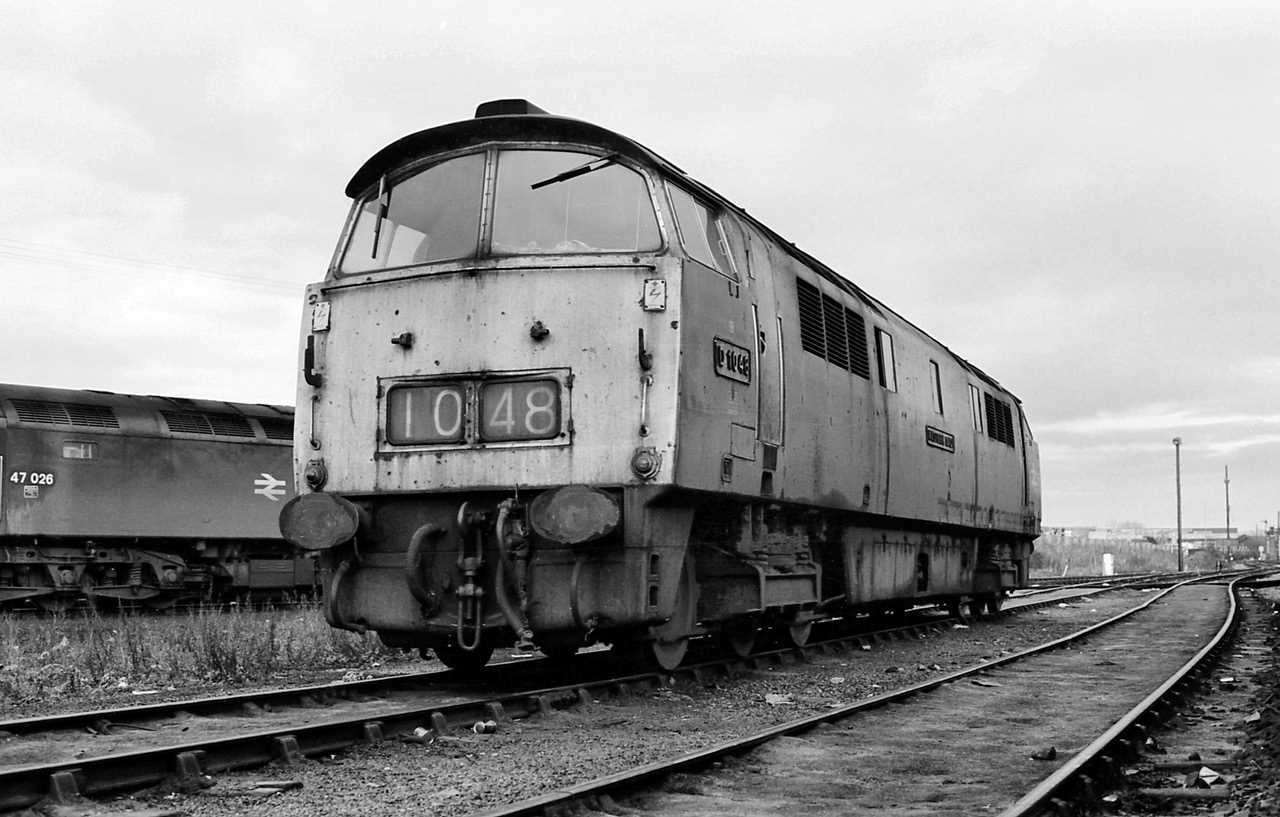 Class 52 survivor D1048 'WESTERN LADY' was stabled at WESTBURY in January 1977 along with 47 026 (D1597, 47 597). Photo by Kelvin Lumb © CC BY-NC 3.0
DEPG NEWS – the November Newsletter is being printed and will be mailed (or emailed) along with the synopses of recent Board Meetings to all registered DEPG members during the coming week. Please let me know if you have not received your copy by this time next week. Thanks !
A very useful item that won't break the bank is our new DEPG keyring LED torch, now in stock and selling for £2.50 with the option of five different colours. The aluminium body, simple on/off switch, swivel keyring, great brightness and replaceable batteries make this a decent purchase. Available from our online store.
IMPORTANT DATES for 2023:
WSR DIESEL GALA : Thursday 8th through Saturday 10th June 2023
DEPG 50th ANNIVERSARY CELEBRATIONS : Friday 22nd and Saturday 23rd September 2023.
Our new online membership system is working well and feedback has been very positive, but please be aware that WE STILL OFFER THE TRADITIONAL PAPER-BASED MEMBERSHIP via cheques and mail, available via this link. If you want a form mailed to you, just let me know or email our Membership Secretary CHRIS SHIELDS via members@depg.org
Of particular importance is the GIFT AID option. If you are a taxpayer, please consider setting your GIFT AID status to YES so that the DEPG can claim the tax that you paid on your subscription and/or donation. This increases the value of your payment by 25% and that makes a significant amount of difference to our fundraising. Thanks !
For our new online membership system, click here or on the image below and log in (no password required) to create a new membership or to check the details of your current membership. THANK YOU FOR SUPPORTING THE DEPG !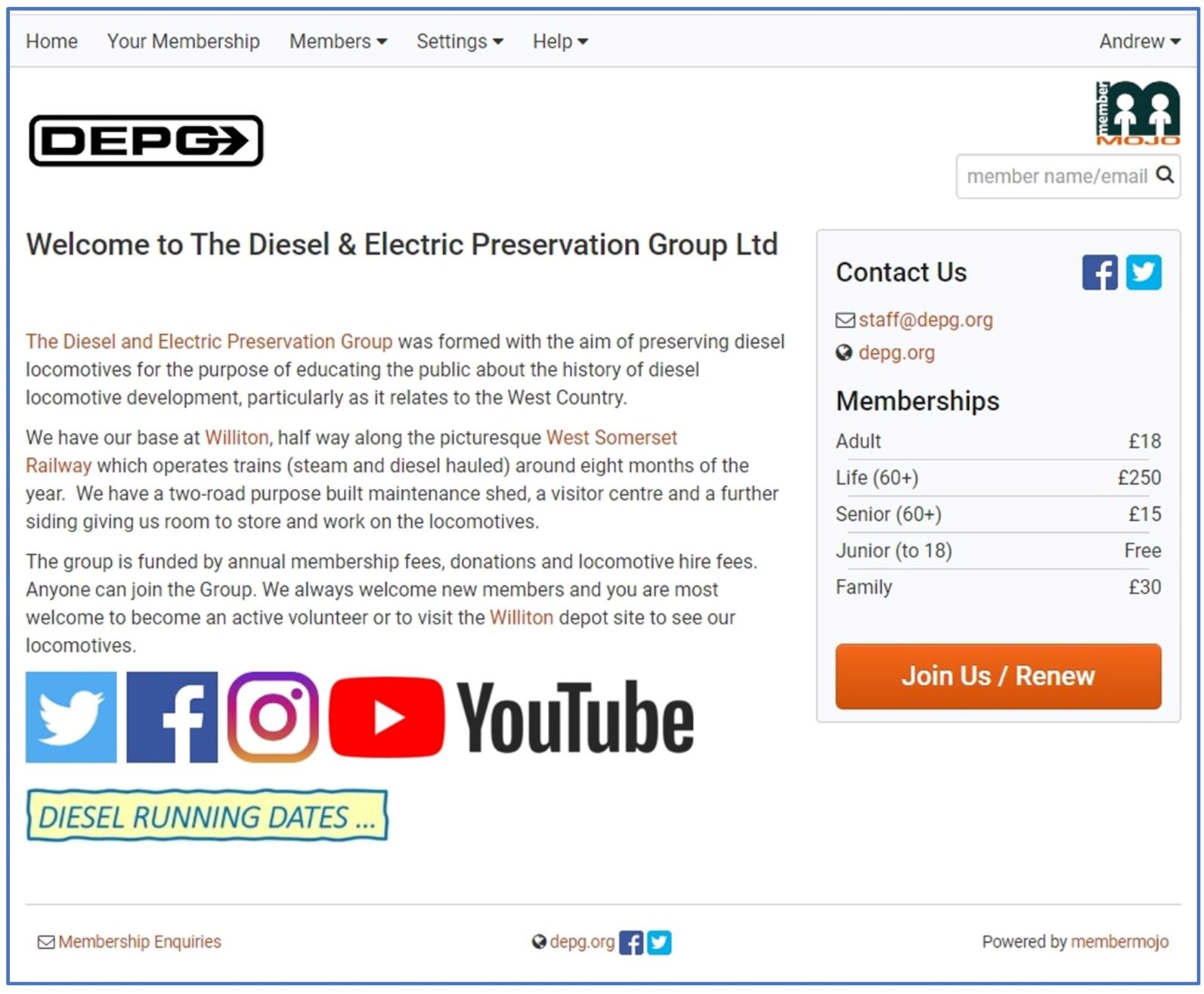 WSR NEWS: 
The WSR is now taking bookings for the 2022 'WINTERLIGHTS' trains which will be steam hauled on the journey to Crowcombe Heathfield and diesel hauled on the return leg, using one of our Class 33 'Cromptons'. Also running are the 'SANTA EXPRESS' services between Bishops Lydeard and Williton, and two special trains on Friday 2nd and Saturday 3rd December for visitors to the 'DUNSTER by CANDLELIGHT' event. 
Demand is expected to be strong so don't leave it until later to make a booking. If you and/or your family or friends want to experience one or more of these events, then now is the time to make a booking. Click here for the events page on the WSR website or click on the images below.