Apologies for the late posting of this edition of roundup.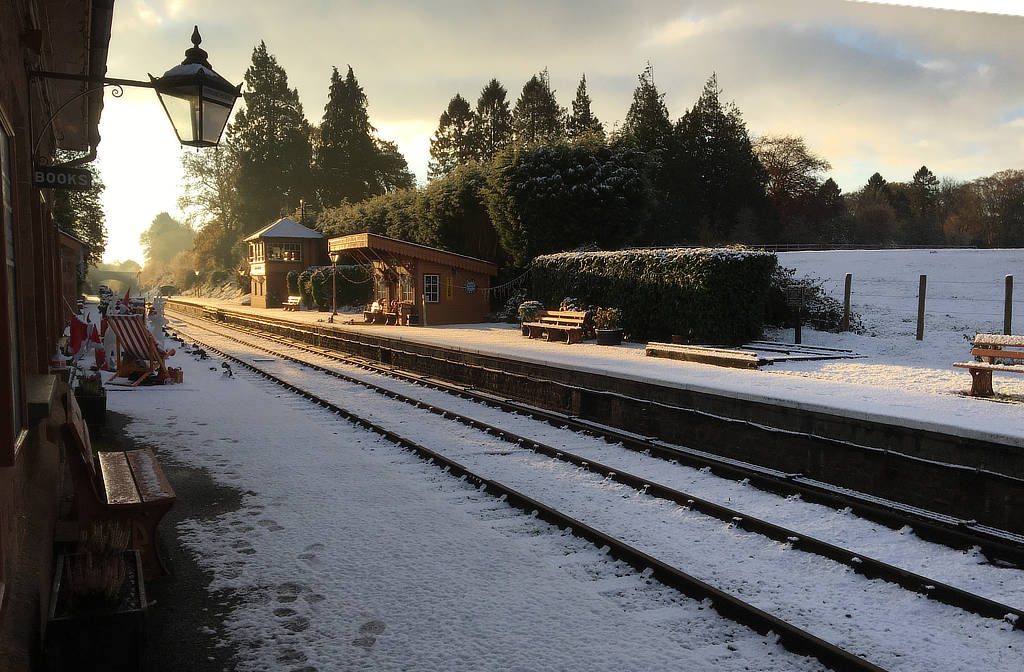 There was no need for 'pretend' snow at Crowcombe Heathfield on Sunday 11th December 2022, nature having made a wonderful vista for the 'SANTA EXPRESS' services that ran later that day. Photo by Malcolm Anderson© CC BY-NC 3.0
As we reach the penultimate roundup for 2022, Class 33 'Crompton' D6575 (33 057) continues to be a regular performer on the 'WINTERLIGHTS' services that will increase their frequency to almost daily from Friday this week, right through to the last day of this year. Several great photos have appeared on the wsr.org.uk website and deserve to be shared here also: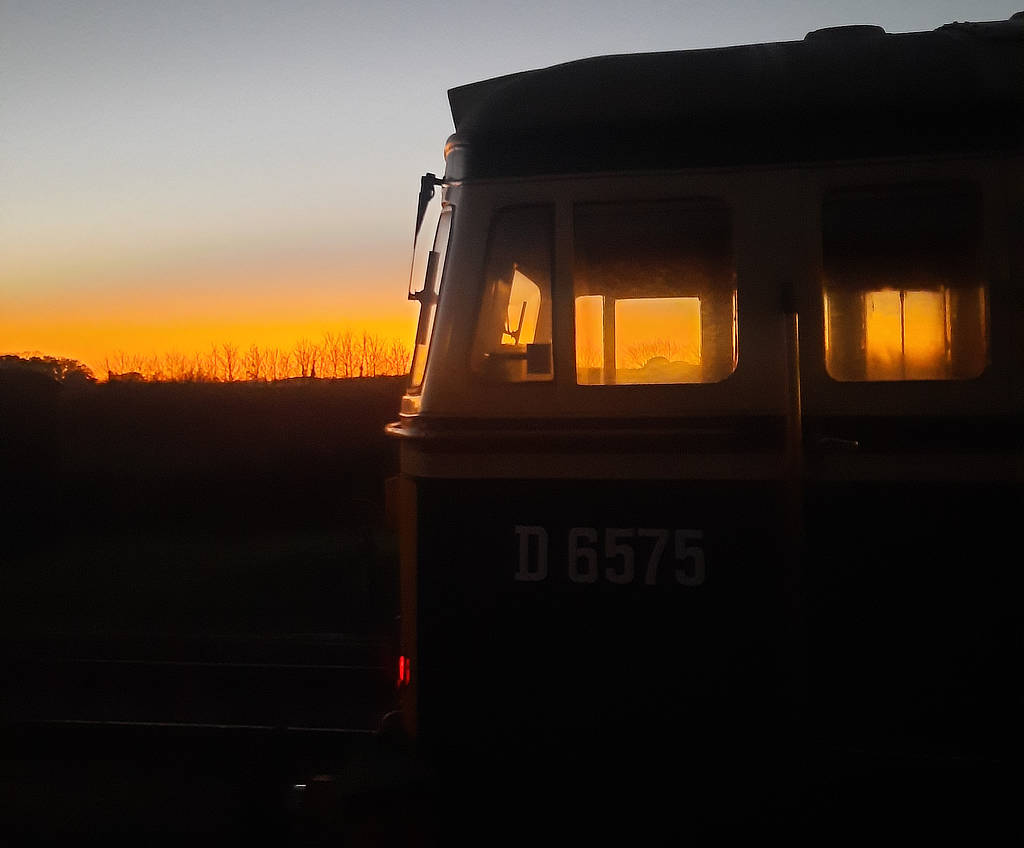 Class 33 'Crompton' D6575 (33 057) was pictured while preparing for the first of the two 'WINTERLIGHTS' services at Bishops Lydeard on Friday 9th December 2022. Photo by Liam Hebditch © CC BY-NC 3.0
Class 33 'Crompton' D6575 (33 057) leads the 'WINTERLIGHTS' service on the return journey to Bishops Lydeard on Friday 9th December 2022. Photo by Dave Fowler © CC BY-NC 3.0
Both the 'WINTERLIGHTS' and the 'SANTA EXPRESS' trains are booking up very quickly, with most services already sold out, so act now and click here if you want to ride on one of the available services.
Once again we say WELL DONE to all volunteers and staff who are braving the cold conditions and working late to support these seasonal services.
LOCO NEWS:
Class 52 D1010 'WESTERN CAMPAIGNER' – progress tends to slow at this time of year as our volunteers attend to their other duties, but we still fielded a good size team on this loco last weekend and cleared up some tasks as shown in the photos that follow: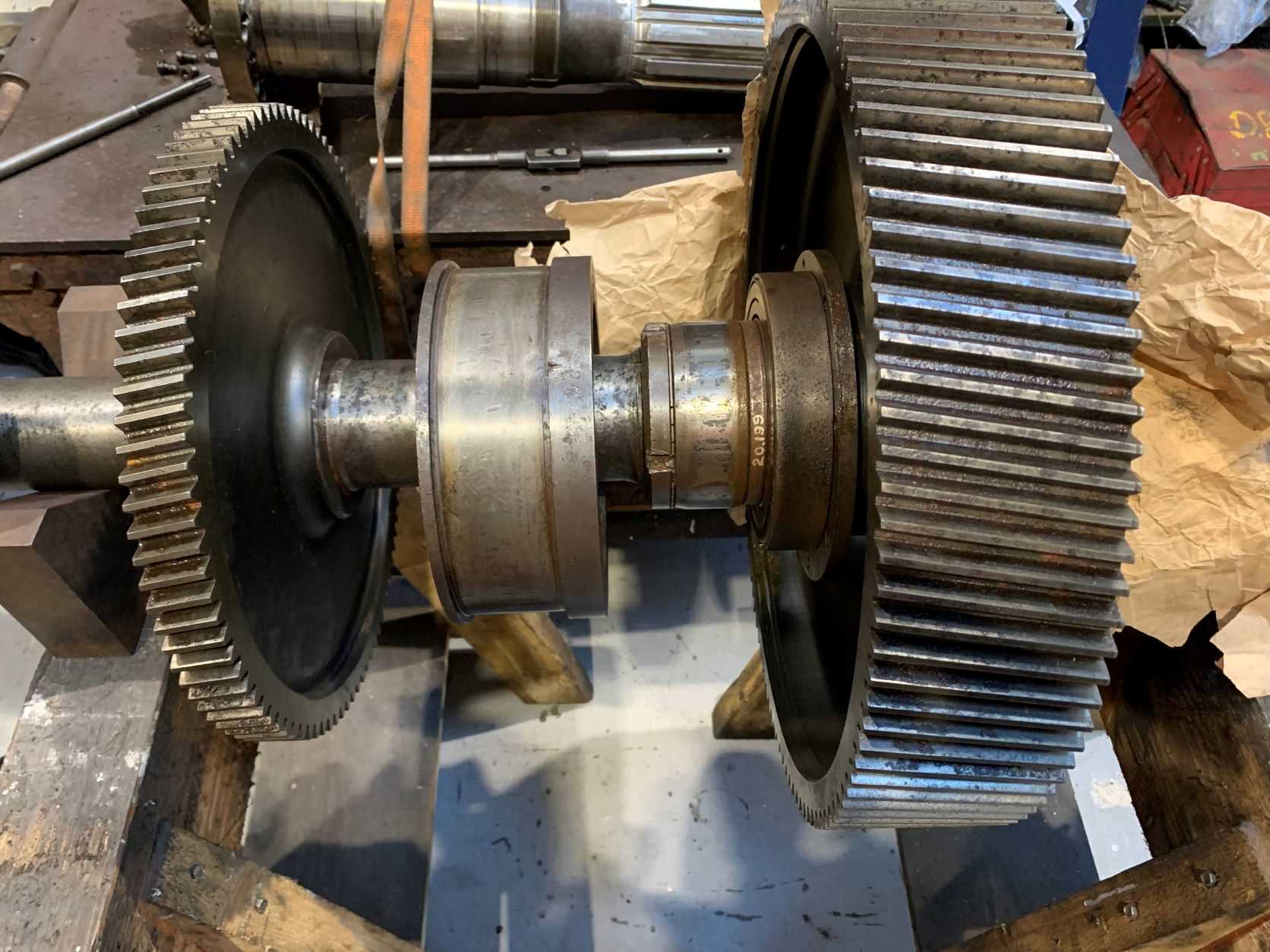 D1010 – the input shaft of 'B' transmission was examined at Williton on Monday 5th December 2022 and revealed severely corroded bearings, all of which will soon be replaced when the shaft is separated into its component parts. This shaft is driven by the engine so it revolves at speeds up to 1500 rpm. Photo by Colin Foxhall © CC BY-NC 3.0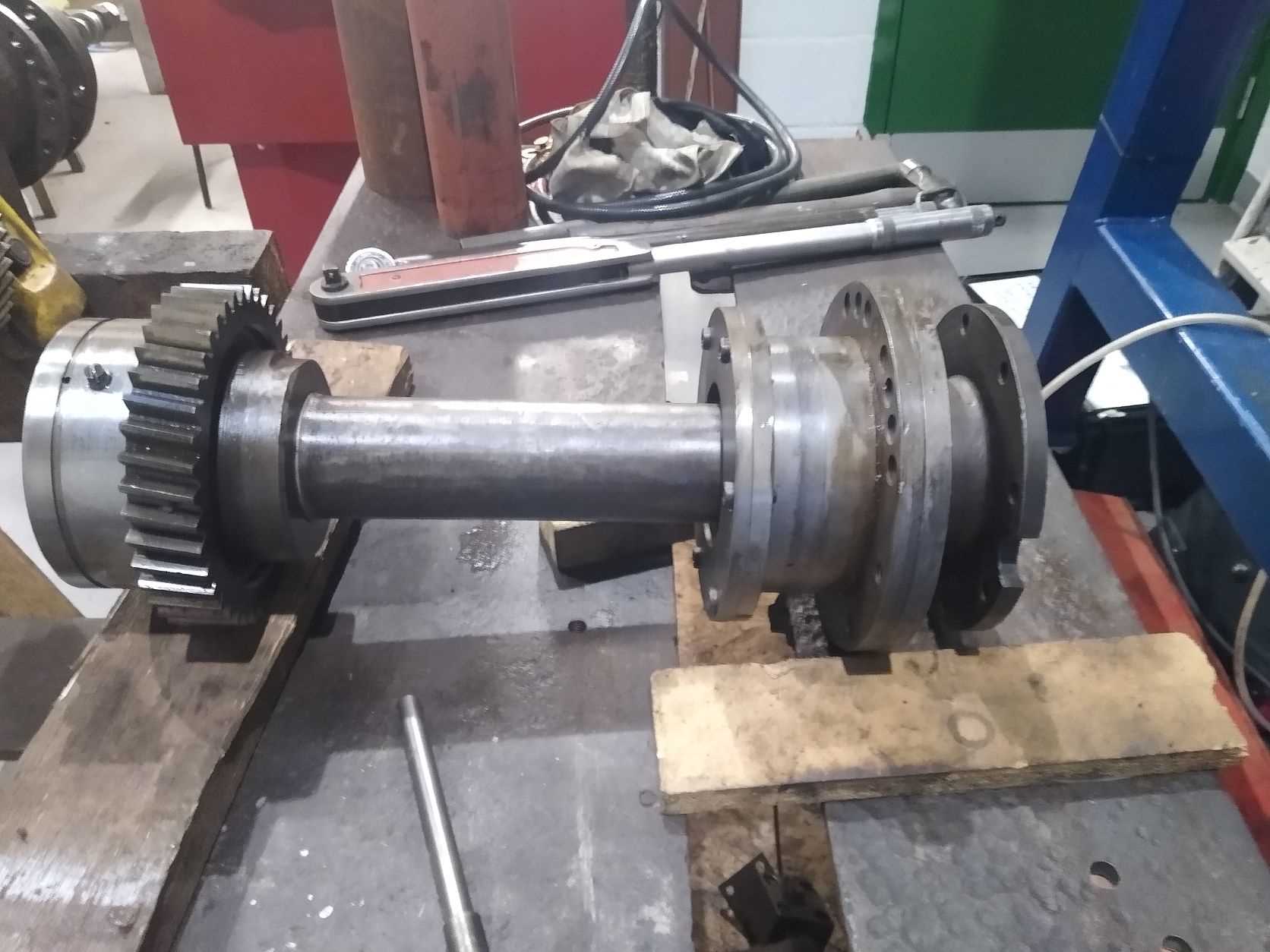 D1010 – the helical gear on the dynastarter shaft engages with the smaller of the two helical gears in the previous photo and is next in line to be separated into its component parts for a bearing inspection. Pictured at Williton on Monday 5th December 2022 by Colin Foxhall © CC BY-NC 3.0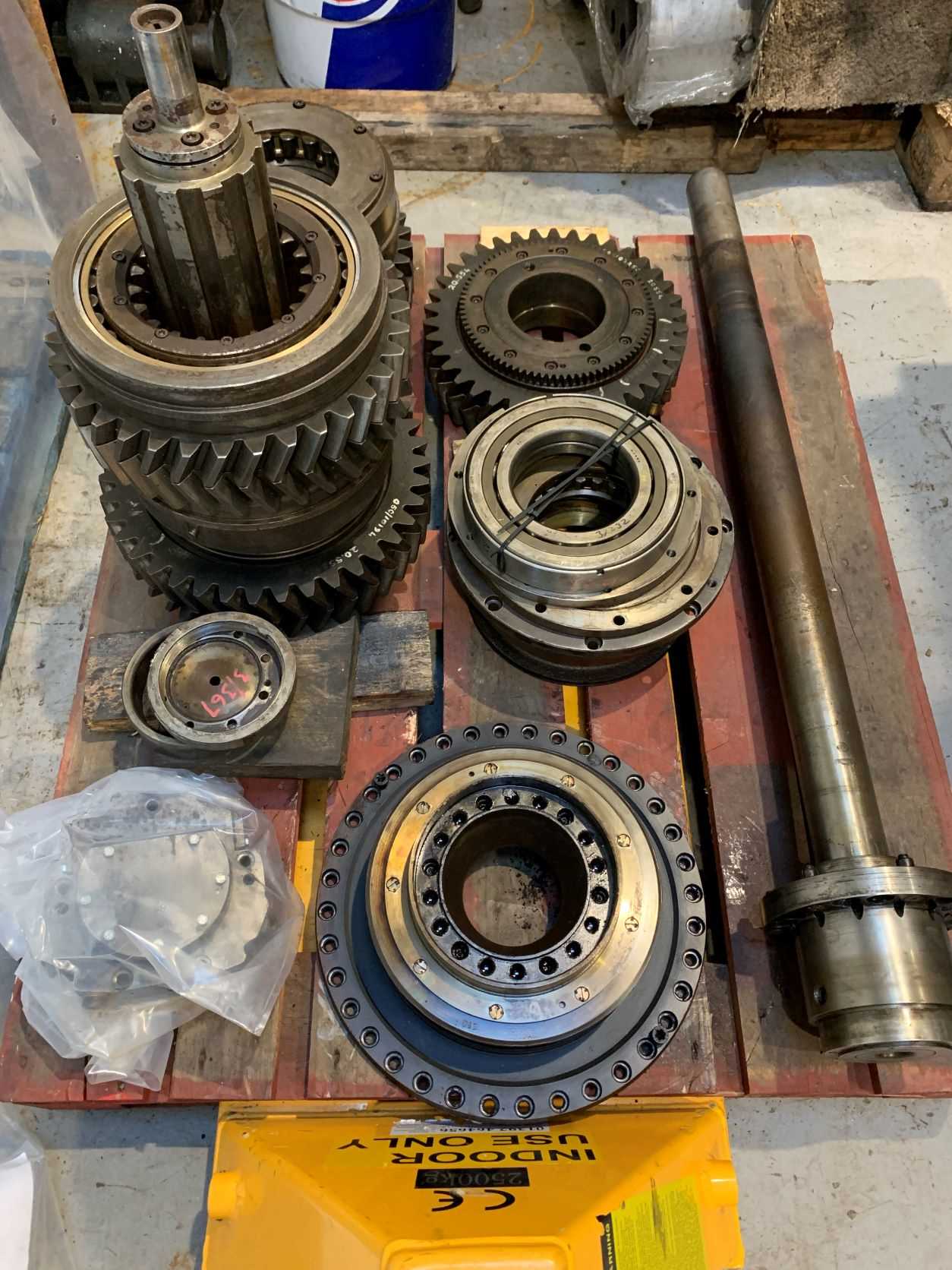 D1010 – component parts from the 'B' transmission are lined up awaiting cleaning and inspection. Pictured at Williton on Saturday 10th December 2022 by Andy Royal © CC BY-NC 3.0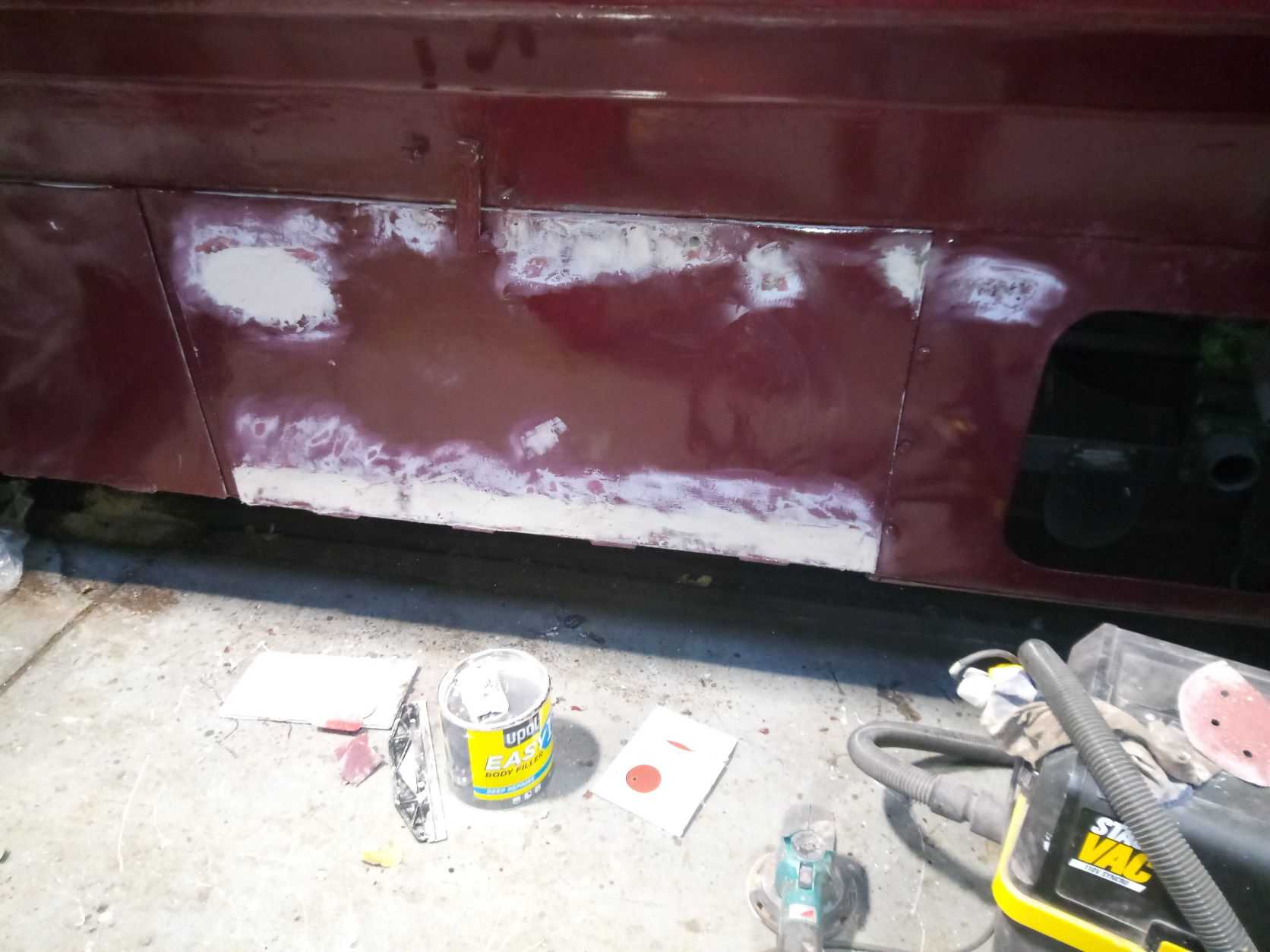 D1010 – the battery compartment doors were in need of some cosmetic treatment after their corrosion repairs, so this is being dealt with by Ian Fn in his usual diligent way. Pictured at Williton on Saturday 10th December 2022 by Mike Evans © CC BY-NC 3.0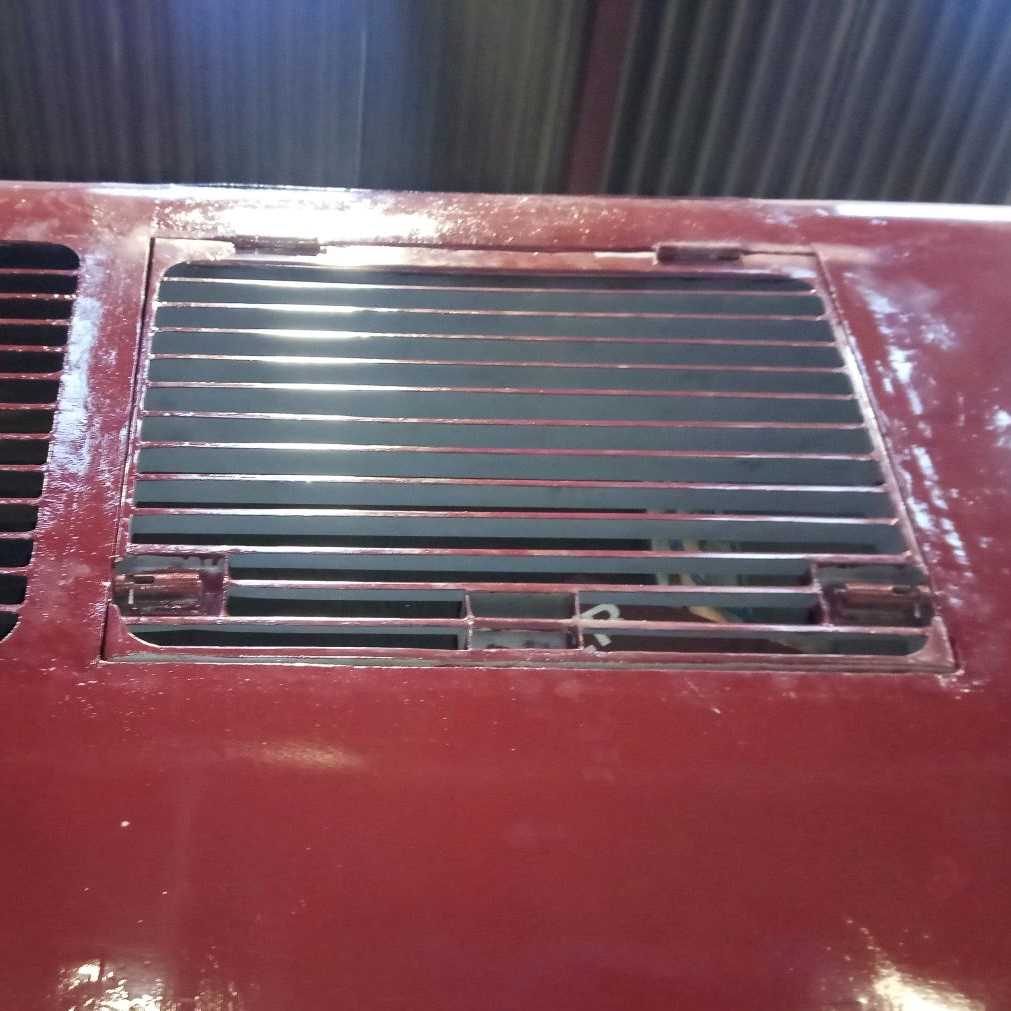 D1010 – the repaired compressor access grille on 'A' side of the locomotive was re-fitted by Mike and Leroy at Williton on Saturday 10th December 2022. Photo by Mike Evans © CC BY-NC 3.0
D1010 – the spaces bounded by the yellow marks are patches that are waiting for their sponsors. The patches are marked using a vibratory engraver so the markings are in the metal, not just in the paint, and will still be visible after sanding the paint away in years to come. To SPONSOR A PATCH, see below ! Pictured at Williton on Saturday 19th November 2022 by Andy Royal © CC BY-NC 3.0
To continue our rate of progress requires FUNDING which is becoming harder to get as belts are being tightened everywhere. If you are able to do so, please consider SPONSORING A PATCH because there is plenty of recently-added metal that still needs engraving. Photographs and certificates of sponsorship will be sent out to all who have sponsored this phase of the restoration work, but please bear with us because our admin resources are severely stretched at the moment. Click the image below to sponsor a patch. Thank you in advance for your support !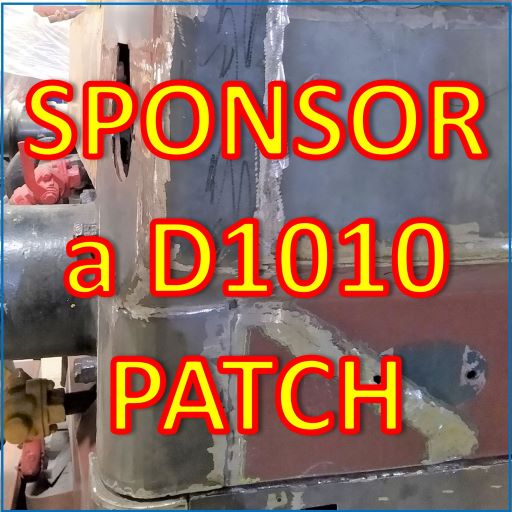 We still have a lot of work to do on this massive locomotive, so PLEASE DO COME ALONG AND HELP IF YOU CAN !
See our CAMPAIGN for CAMPAIGNER web page for more details !

Class 33 D6566 (33 048) – this loco was subjected to an 'A' exam on Saturday 10th and was passed as ready to partake in a test run that will probably take place on Saturday 17th December. The engine was started and checked to ensure that everything was in order and confirmed that she is ready to run, so WELL DONE Team CROMPTON for resolving the issues and allowing this 61-year-old to run again in 2022.
Class 33 D6575 (33 057) – this loco is currently based at Bishops Lydeard and is in regular use on the 'WINTERLIGHTS' services.
Class 35 'Hymek' D7017 – this loco has also been prepared for a test run, and if conditions allow, may be able to join stablemate D6566 on a test run this coming Saturday 17th December.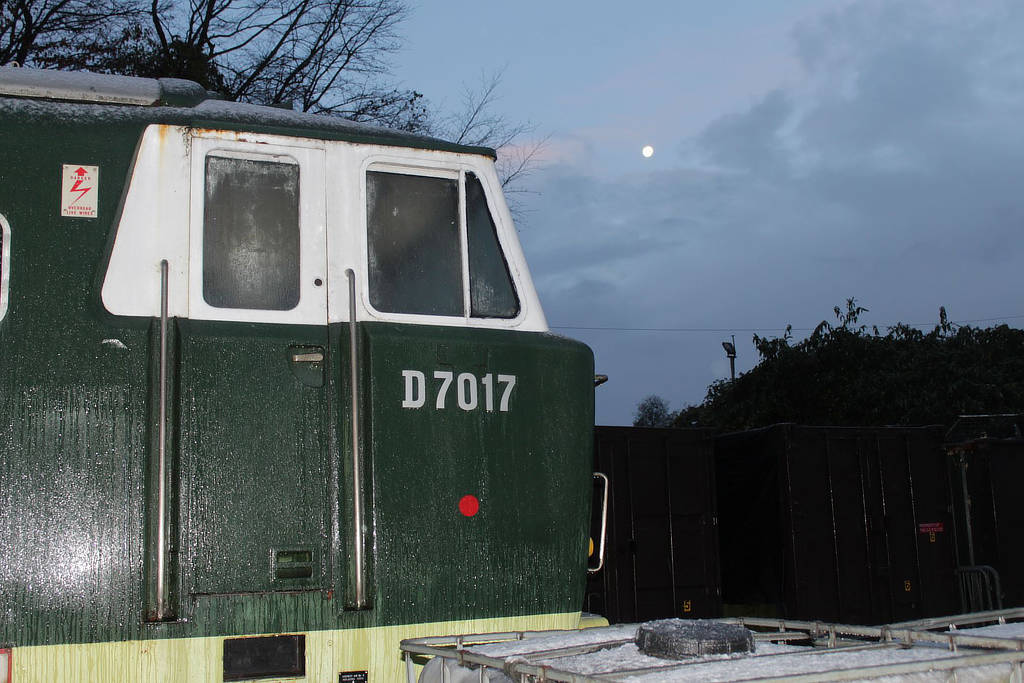 D7017 – pictured in the yard at Williton in the early morning of Saturday 10th December 2022, covered in ice and looking forward to warmer running days in 2023. Photo by Terry Deacon © CC BY-NC 3.0
Class 35 'Hymek' D7018 – this loco also enjoyed an engine run on Saturday 10th, with some checks and adjustments being made by Neil just in case we can fit in a test run before the end of this year.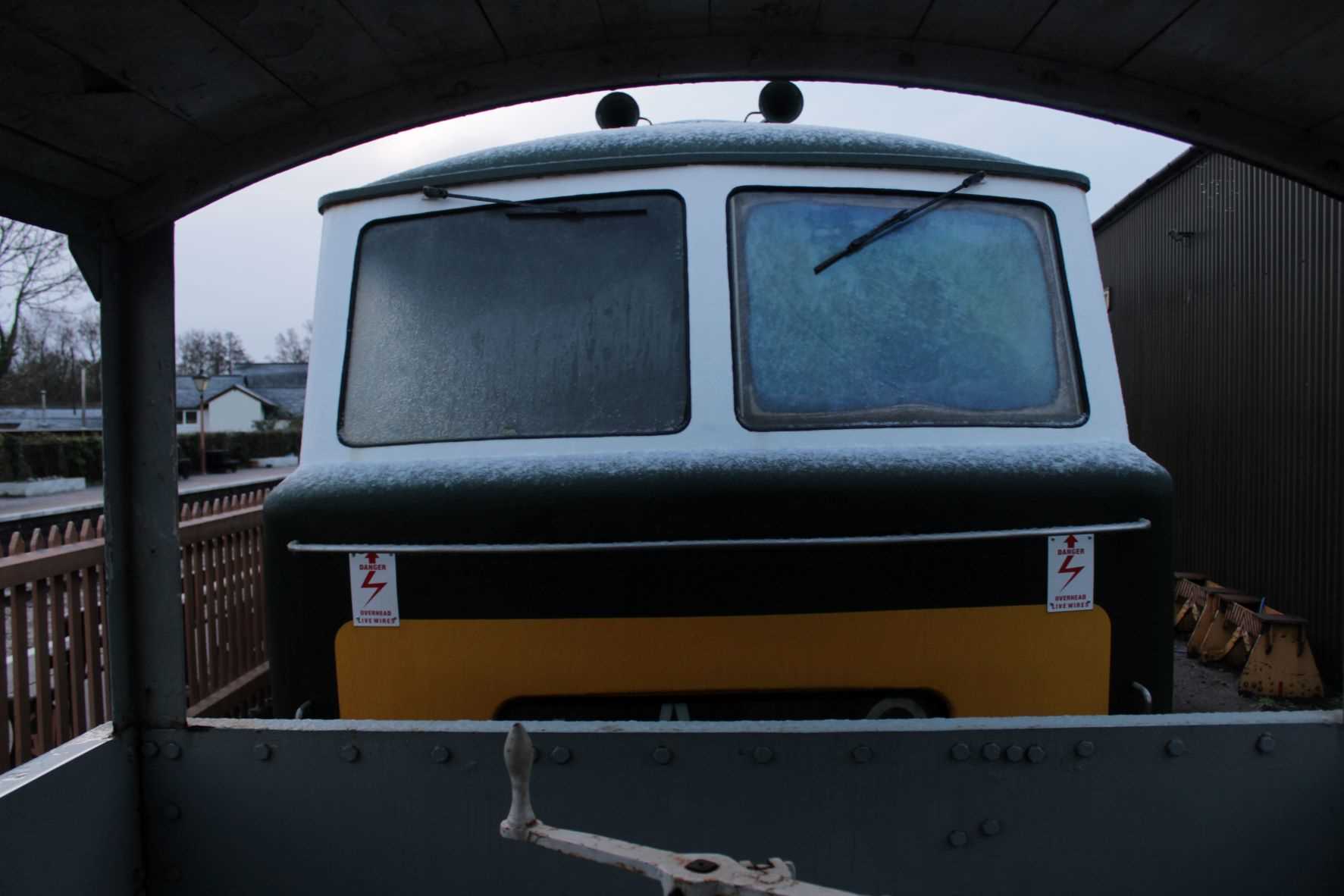 D7018 – pictured from the GWR-pattern 'TOAD' brake van W114751 in the yard at Williton on a very cold and dark Saturday morning, 10th December 2022. Photo by Terry Deacon © CC BY-NC 3.0
Class 14 'Teddy Bear' D9518 – the progress continues on multiple fronts with additional activities going on at subcontractors and at other sites, to keep the fitters supplied with refurbished parts. Here's some recent photos of work in progress: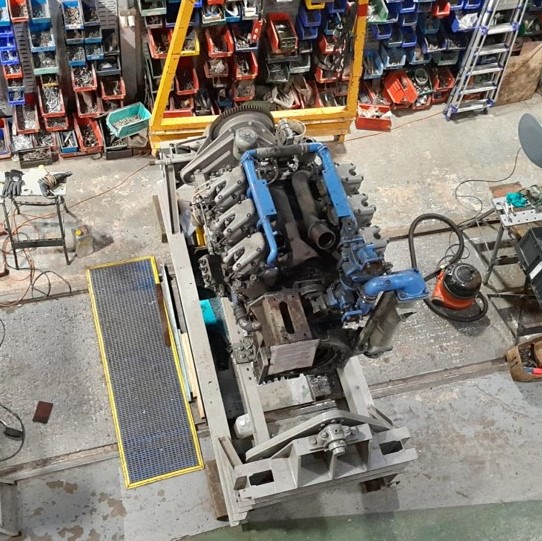 D9518 – a view from the mezzanine of the Paxman 6YJXL 650 hp V6 diesel engine that last ran in D9526 and is mounted on the turnover frame so that it can be completely dismantled for a thorough overhaul and rebuild under the watchful eyes of Terry before being installed into D9518. Pictured at Williton on 3rd December 2022 by Jon Tooke © CC BY-NC 3.0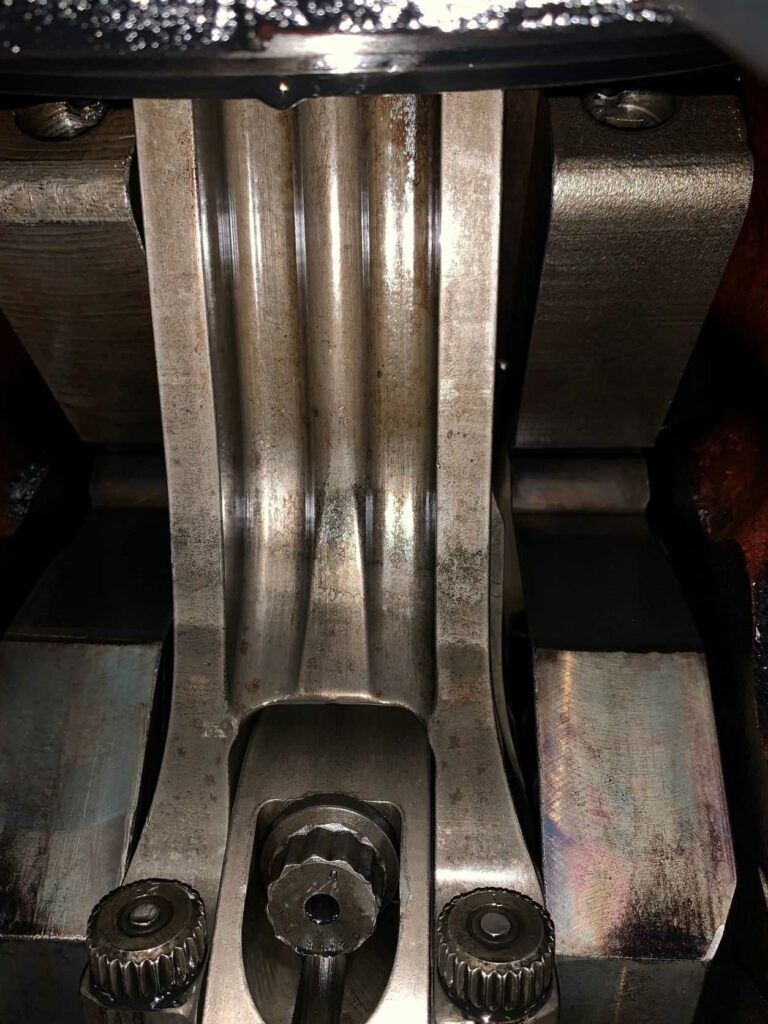 D9518 – a view through one of the crankcase covers of the Paxman 6YJXL reveals the fork-and-blade big-end arrangement and one of the fork-type connecting rods. Pictured at Williton on 26th November 2022 by Andy Royal © CC BY-NC 3.0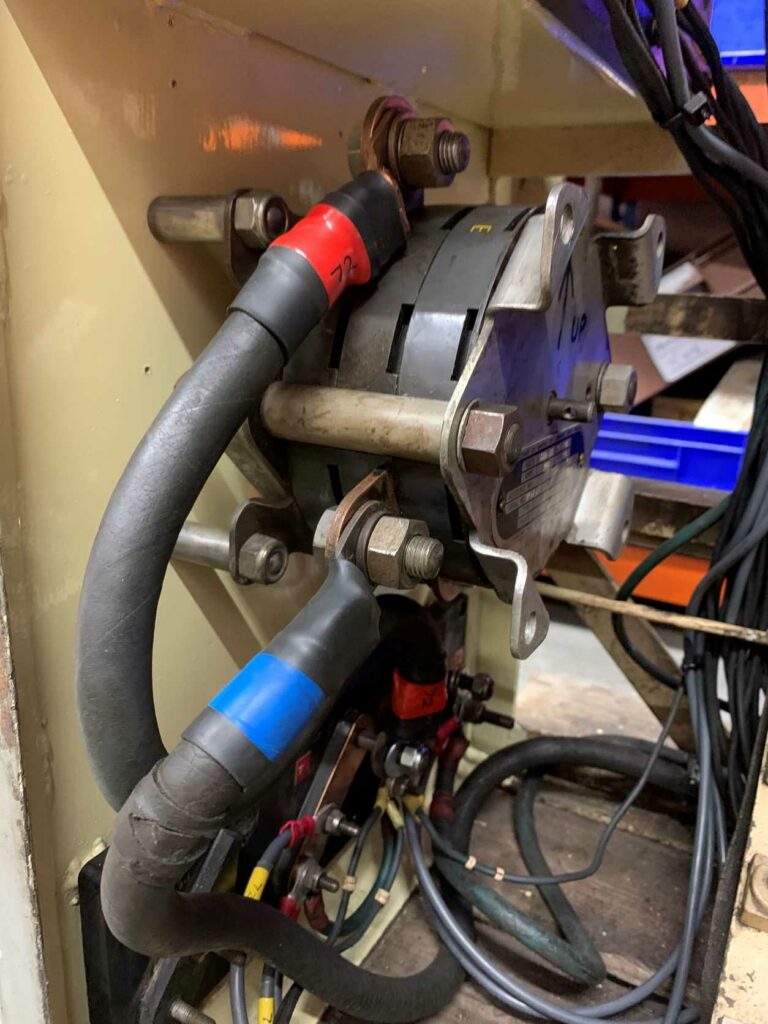 D9518 – the wiring for the heavy duty (and 1965 vintage) Battery Isolator Switch (BIS) was installed by John C at Williton on 26th November 2022. Photo by Andy Royal © CC BY-NC 3.0
This loco is the subject of a fundraising appeal so please follow this link to find out more. We need your help ! In addition to funds, we also need plenty of HANDS. If you love the 'Teddy Bears' and you are not already a member of the DEPG, please join us so that you can become one of the team that is going to return D9518 to fully operational condition as 'NCB No. 7'.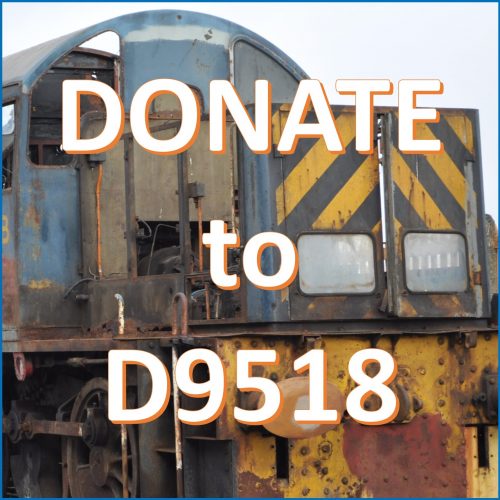 Class 14 'Teddy Bear' D9526 – this loco is currently based on the Kent & East Sussex Railway and enjoying the last month of its Kentish holiday before heading home to Williton some time in mid-January 2023.
Class 47 47077 'NORTH STAR' – this loco is being fitted with the reconditioned engine speed governor by the team led by Bob Fussey at the NYMR which should allow her to return to duty on a standby basis in case any work opportunity comes along.
Andrew Barclay 0-4-0DH 578 – the fuel system overhaul on this locomotive continues and is likely to be an ongoing task for several months, because they system has to be cleaned out then flushed then rebuilt and the overhauled fuel injection pump installed, along with the new fuel filters. The opportunity will be taken to perform some other tasks while the loco is inside the shed and easy to work on.
If you can help by donating your time to any of these projects, then please JOIN US and come along to the depot for an introduction to what we do and how we do it. We currently have people on site from Saturday through to Tuesday and we can open on other days if we can be sure of getting at least two volunteers on site at all times, so there is plenty of scope. We have tasks of all types to suit most capabilities, both skilled and unskilled.
Many thanks to all of our volunteers who give up so much of their time to work on the cleaning, painting, maintaining, restoring, managing and fund raising for our fleet of heritage locomotives !
BOOK REVIEW – apologies for the blatant sales push, but our locos need their funding and selling books is one of the many ways in which we raise money for the cause. Below is a selection of new books – and don't forget to browse our PRE-OWNED BOOKS selection as well.
Our LATEST addition is from well-known author and DEPG member BERNARD MILLS, which is the fifth volume in his very popular 'BACKTRACKING AROUND' series of 'THEN & NOW' studies, this time covering the lines around Plymouth, Looe, Liskeard and Bodmin, Wadebridge and Padstow.
DEPG 2023 CALENDARS – LAST FEW AVAILABLE: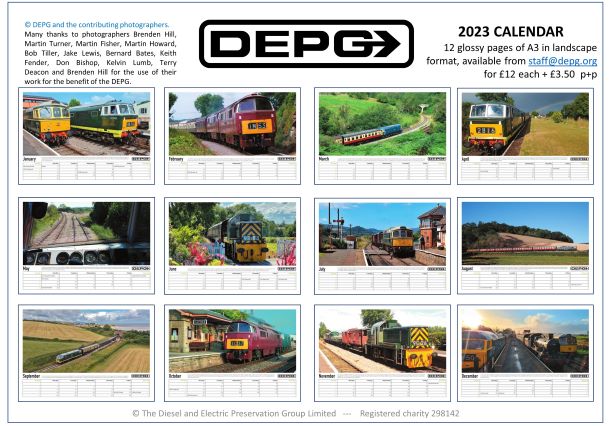 The long-awaited DEPG 2023 CALENDAR is flying off the shelves so PLACE YOUR ORDER NOW to avoid disappointment. Strangely for these times, the price is the same as last year, which is £12 including VAT excluding postage. Click here or on the image above to place your order. Thank you to all of our contributors for allowing us to use their work for this important fund-raising purpose.
Click this link for the animated version (displays via our website).
WILLITON STATION FUNDRAISING – this week is also the last opportunity to order the Christmas items that have been made by our friends at our local WSR station. A selection of the many items have been placed on our online store in the 'Christmas Items' category. All monies raised from the sale of these items goes to Williton Station funds. Thank you for your support !
ON SHED – last week, we featured a photograph of D1009 'WESTERN INVADER' on shed at Cardiff Canton depot in the summer of 1976 and we asked if anyone knew the reason why this splendid-looking loco did not make it into 1977. Almost immediate responses were received from Nev Sloper and Neale Long, referencing the book 'CAST of THOUSANDS' by the late Adrian Curtis, where it was recorded that a failed bogie coil spring was the reason why the loco was withdrawn, her fully serviceable engines and cooler groups being resold to a Dutch businessman. Guys, many thanks for this information.
Continuing with a series of photographs that have been provided by Kelvin Lumb, we have a photo of our very own D1010 'WESTERN CAMPAIGNER' in the company of an unidentified Class 46 'Peak', again at Cardiff Canton Depot in the summer of 1976, and looking a little shabby, especially compared to the photo that we shared last week. Many thanks to Kelvin for sharing another item from his vast collection with us all.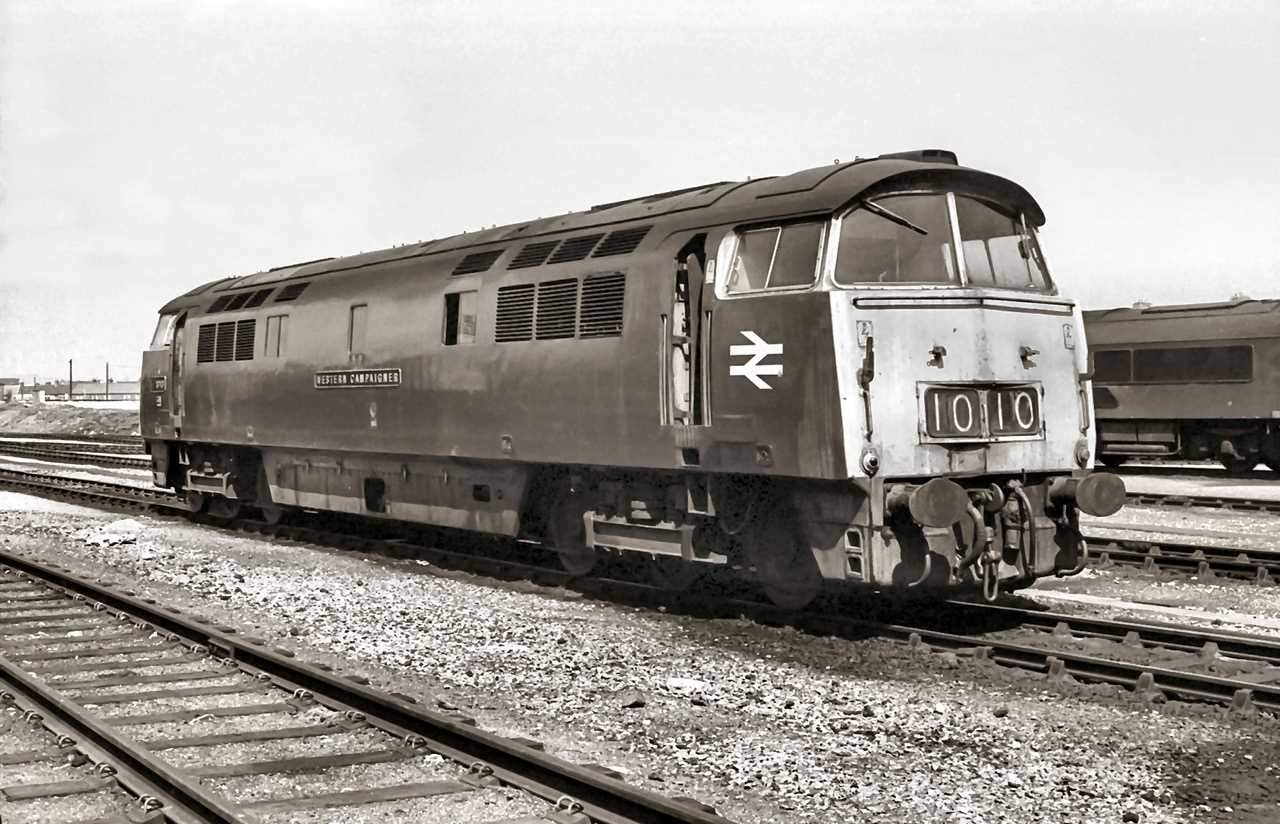 Class 52 D1010 'WESTERN CAMPAIGNER' was stabled at CARDIFF CANTON in the summer of 1976 alongside an unidentified Class 46 'Peak' in an unusually quiet yard. The 'Western' has her cab doors and one of the engine room windows open to provide some through ventilation. The large glass area resulted in the cabs getting very hot on a sunny day. Photo by Kelvin Lumb © CC BY-NC 3.0
DEPG NEWS – the November Newsletter #62 has been mailed (or emailed) along with the synopses of recent Board Meetings to all registered DEPG members. Please let us know if you have not yet received your copy. Thanks !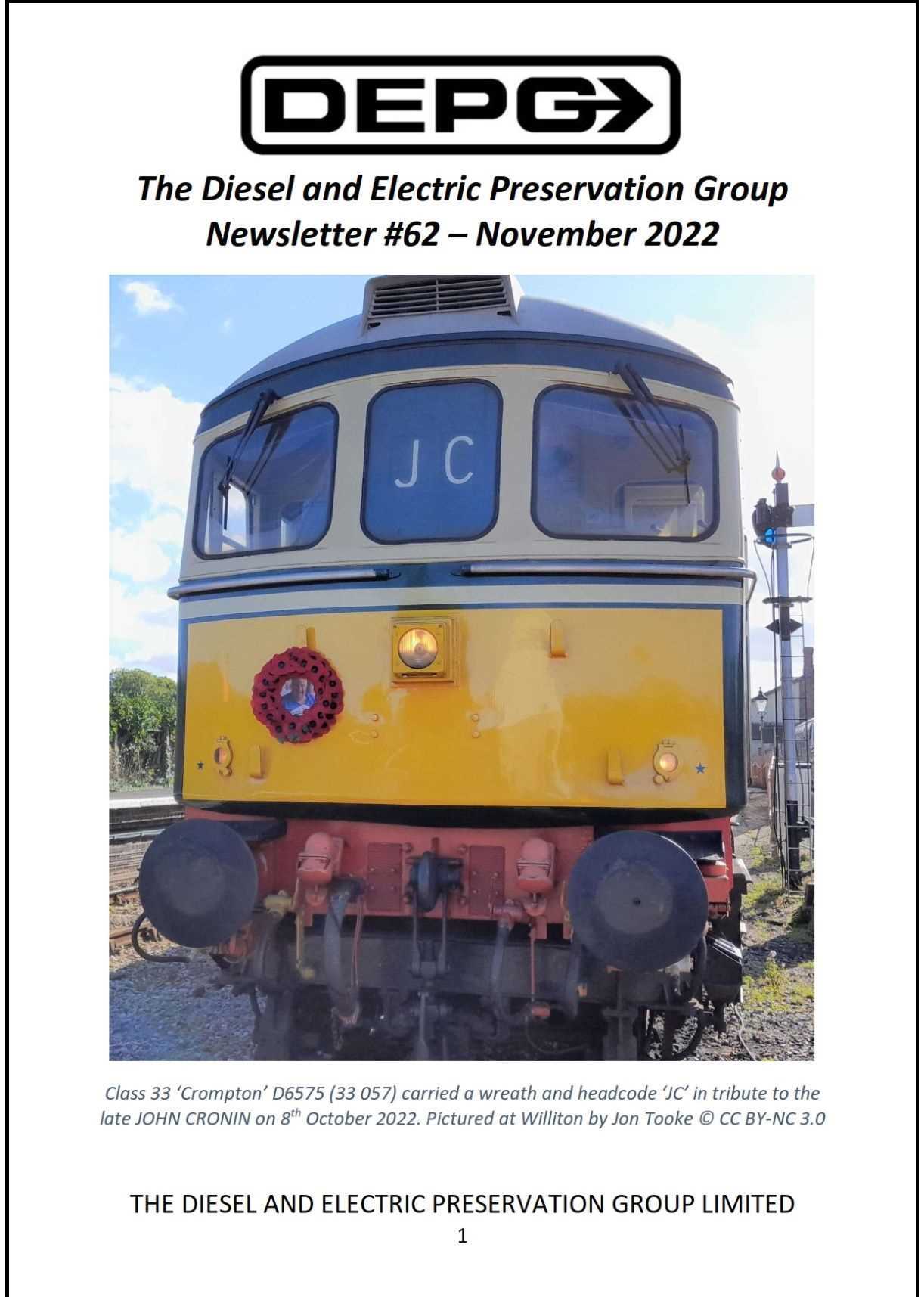 The first stages of constructing our new OIL STORAGE AREA took place on Saturday 10th December during extremely cold weather but our contractor and DEPG supporter COLIN GILBERT and his colleague were undeterred and worked well into the hours of darkness to complete their part of the job.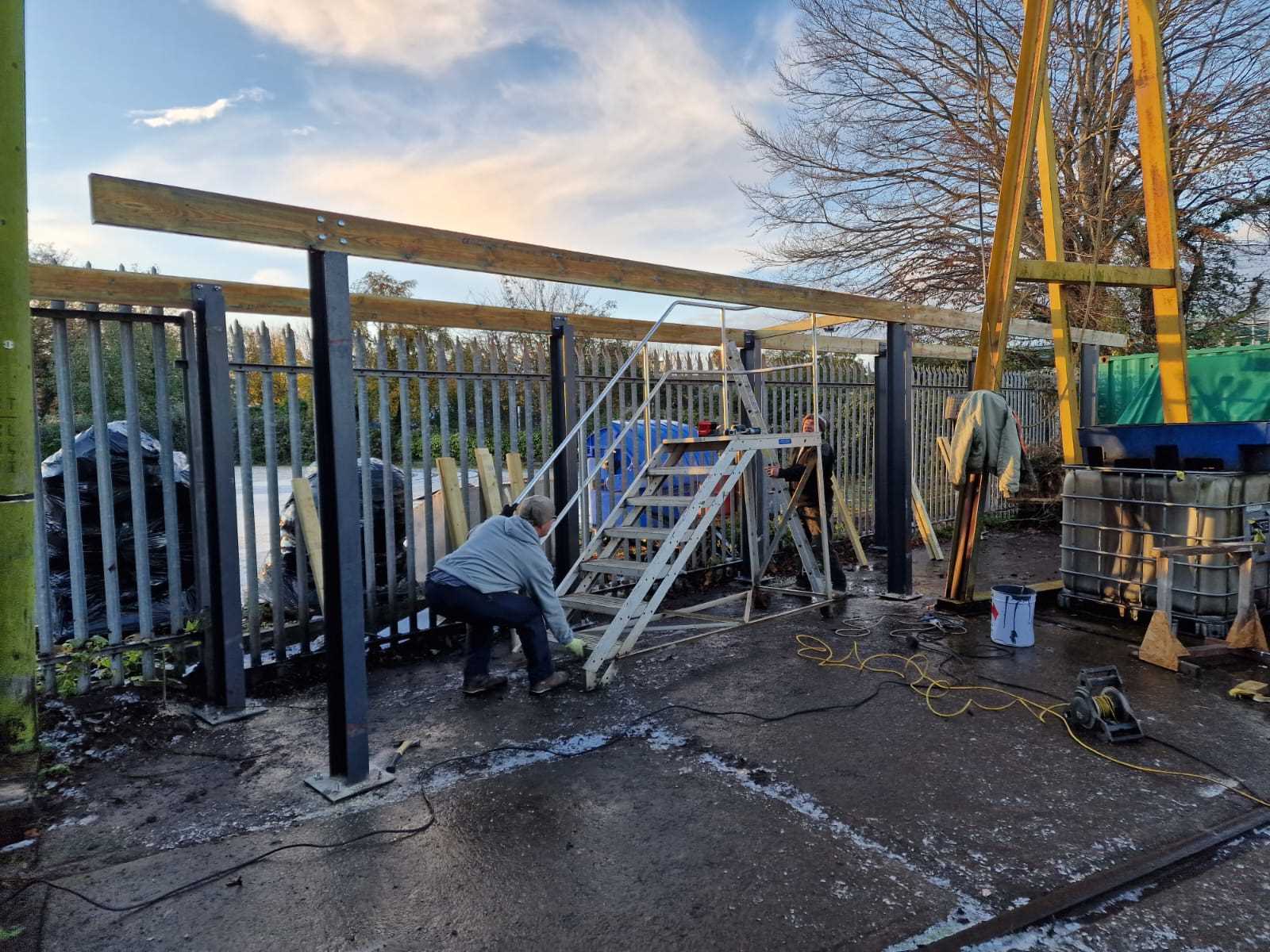 The covered oil storage area was under construction at Williton on the very cold morning of Saturday 10th December 2022 with the steel uprights in place and the timber frame being installed. Photo by Martin Howard © CC BY-NC 3.0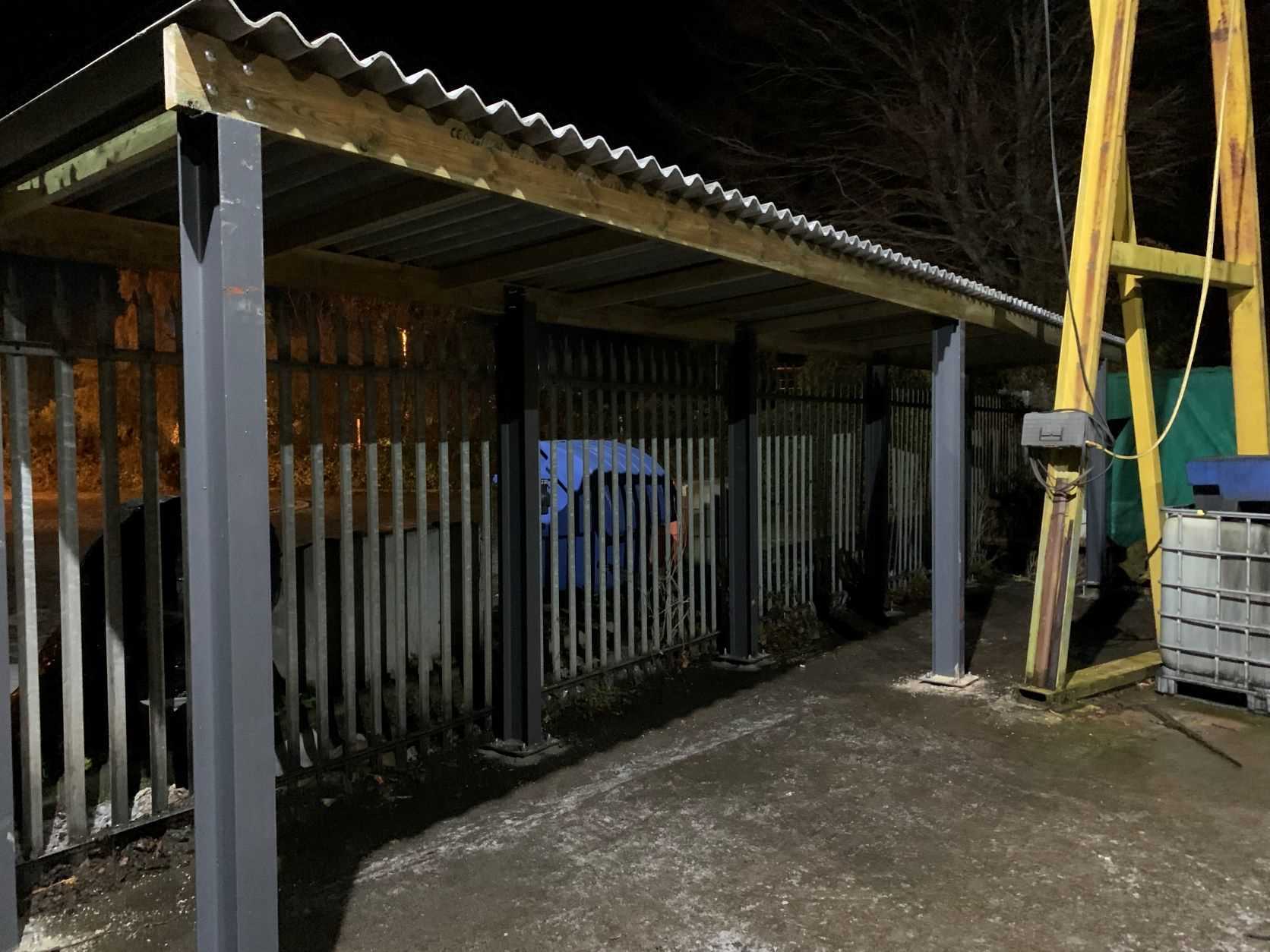 By early evening, the roof was on and the framework now awaits the mesh doors and sides that will allow us to keep new and used oil secure and properly segregated. Pictured at Williton on Saturday 10th December 2022 by Andy Royal © CC BY-NC 3.0
A very useful item that won't break the bank is our new DEPG keyring LED torch, now in stock and selling for £2.50 with the option of five different colours. The aluminium body, simple on/off switch, swivel keyring, great brightness and replaceable batteries make this a decent purchase. Available from our online store.
IMPORTANT DATES for 2023:
WSR DIESEL GALA : Thursday 8th through Saturday 10th June 2023
DEPG 50th ANNIVERSARY CELEBRATIONS : Friday 22nd and Saturday 23rd September 2023.
Our new online membership system is working well and feedback has been very positive, but please be aware that WE STILL OFFER THE TRADITIONAL PAPER-BASED MEMBERSHIP via cheques and mail, available via this link. If you want a form mailed to you, just let us know or email our Membership Secretary CHRIS SHIELDS via members@depg.org
Of particular importance is the GIFT AID option. If you are a taxpayer, please consider setting your GIFT AID status to YES so that the DEPG can claim the tax that you paid on your subscription and/or donation. This increases the value of your payment by 25% and that makes a significant amount of difference to our fundraising. Thanks !
For our new online membership system, click here or on the image below and log in using your email address (no need to remember yet another password) to create a new membership or to check the details of your current membership. THANK YOU FOR SUPPORTING THE DEPG !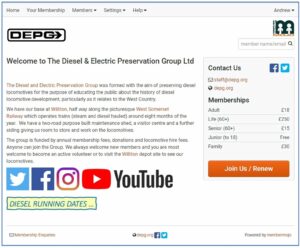 WSR NEWS: 
The WSR is operating the 2022 'WINTERLIGHTS' trains which are steam hauled on the journey to Crowcombe Heathfield and diesel hauled on the return leg, using (mostly) one of our Class 33 'Cromptons'. Also running are the 'SANTA EXPRESS' services between Bishops Lydeard and Williton. 
Demand is strong with only a few seats left on some services, so don't leave it until later to make a booking. If you and/or your family or friends want to experience one or both of these events, then now is the time to make a booking. Click here for the events page on the WSR website or click on the images below.
Go to previous Weekly Roundup post