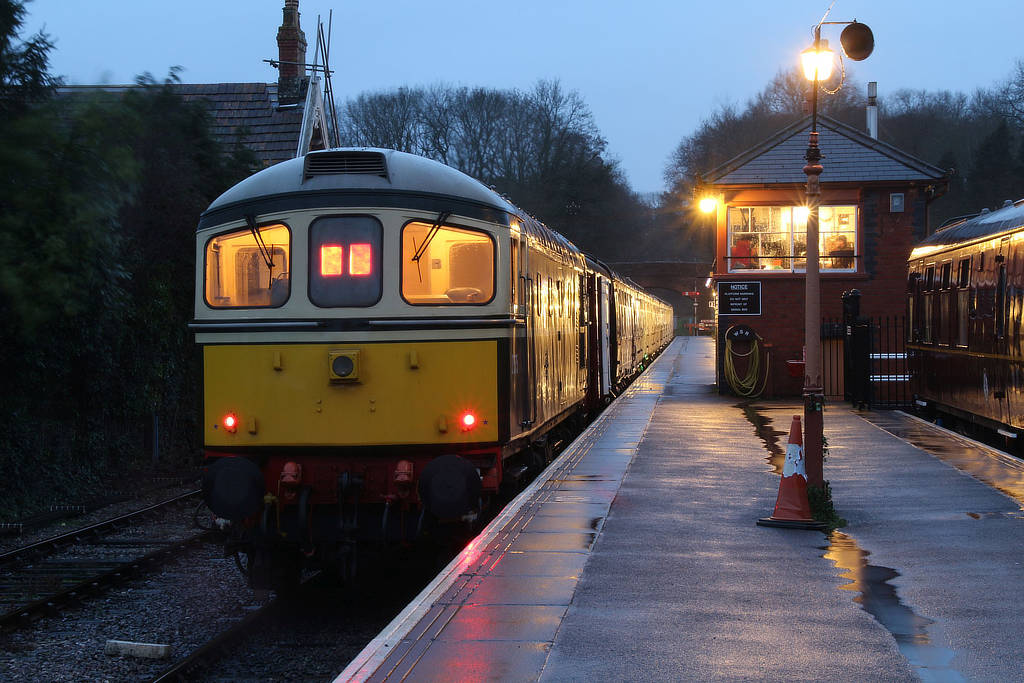 Class 33 'Crompton' D6575 (33 057) was pictured at the tail end of the 'WINTERLIGHTS' service on 27th December 2022 as the train was being prepared for the 17:00 departure from Bishops Lydeard station. The lights will be turned on approximately 10 minutes before departure time. Photo by Mike Collins © CC BY-NC 3.0
HAPPY NEW YEAR to all of our members and supporters ! Let's hope that 2023 is going to be a good year for everyone, wherever they are in the world !
Here's a quick roundup of the last 12 months to remind us of what has been achieved and prepare us for the challenges that lie ahead:
JANUARY 2022 – Our 'celebrity' 47 077 (D1661, 47613, 47840) 'NORTH STAR' finally left Bishops Lydeard by road and travelled 300 miles to the North Yorkshire Moors Railway (NYMR).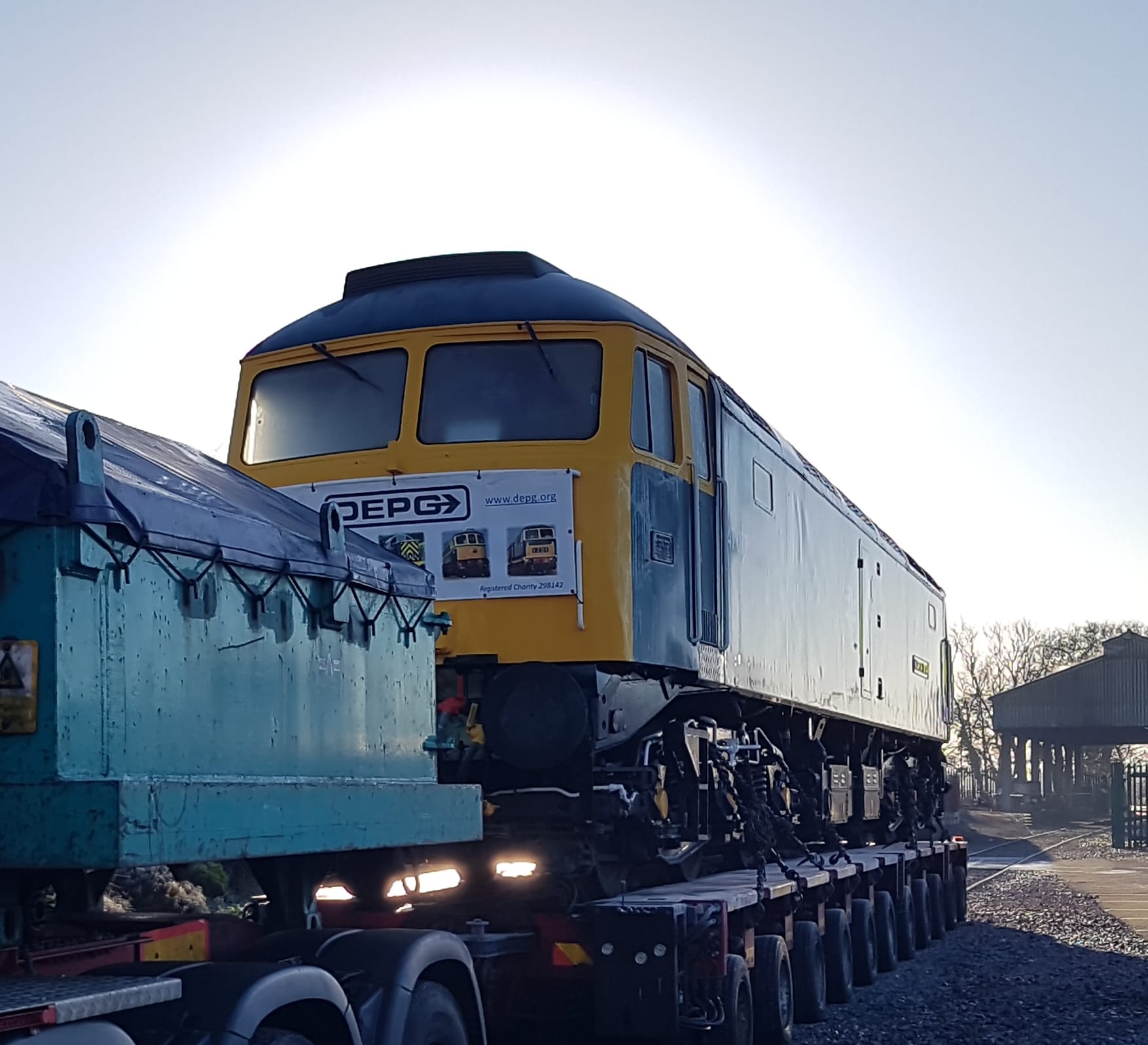 The DEPG's BR-corporate-blue Class 47 47077 (D1661 47613 47840) 'NORTH STAR' was loaded onto an Allelys Heavy Haulage trailer at Bishops Lydeard on a very cold Thursday morning 13th January 2022, in preparation for a 300-mile trip to the North Yorkshire Moors Railway, where the loco will operate for the next two or more years. The loco wears a perfect halo that was created by the early morning sunrise. Photo by Martin Howard © CC BY-NC 3.0
FEBRUARY 2022 – former ROF Puriton 0-4-0 Diesel-Hydraulic shunter Barclay 578 (ROF 1) moved to the WSR RESTORATIONS paint shop for a contract repaint following attention to bodywork.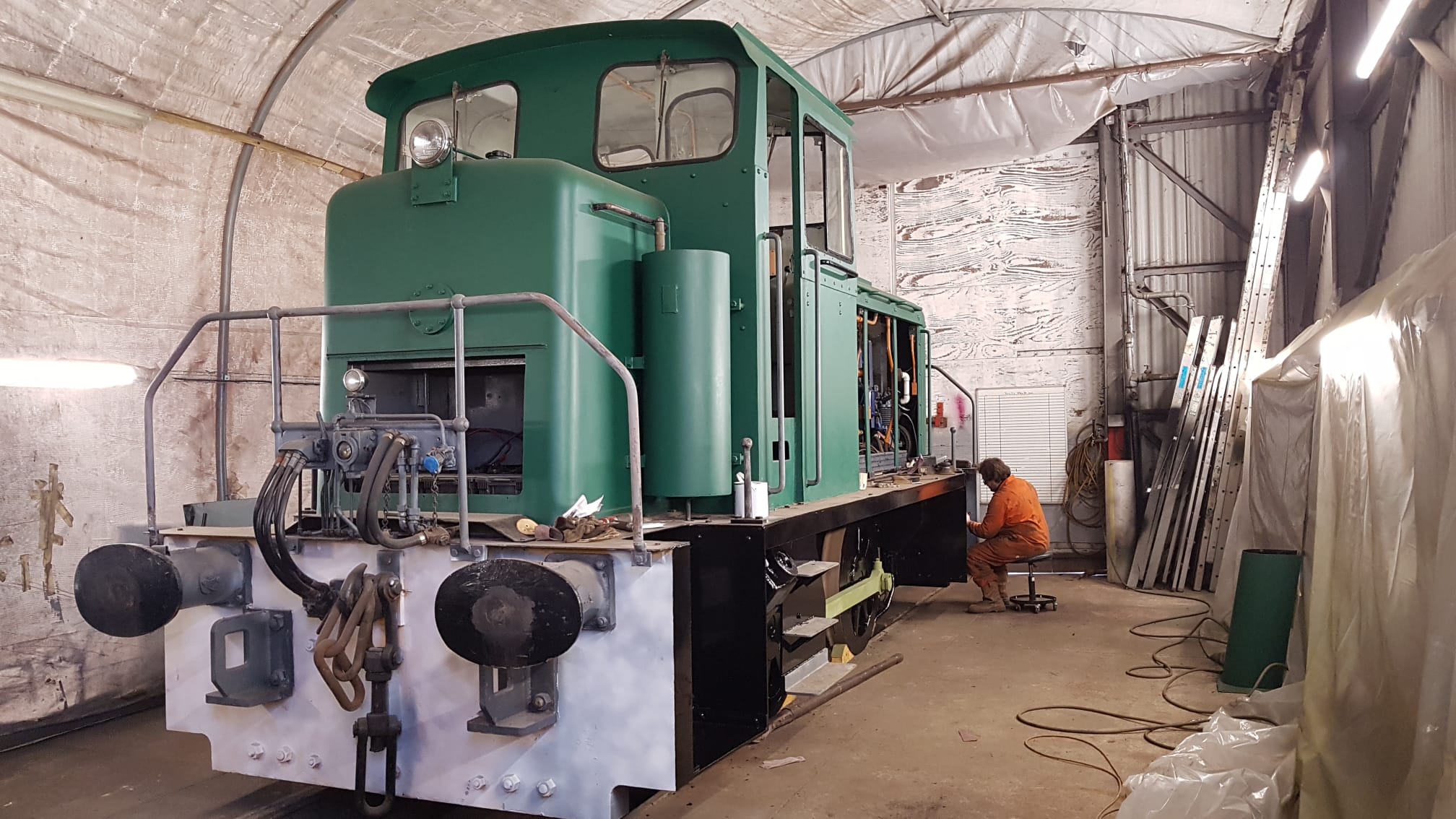 Andrew Barclay 0-4-0 DH number 578 (ROF 1) is seen in the WSR Restorations paint shop at Williton receiving attention from Harry in his own time on Saturday 19th February 2022. Photo by Martin Howard © CC BY-NC 3.0
MARCH 2022 – Beyer Peacock 'Hymek' D7017 was lifted so that her bogie springs could be changed. This was her first lift since BR days and it was fitting that she was lifted using the jacks that were acquired from her first home depot, Bristol Bath Road.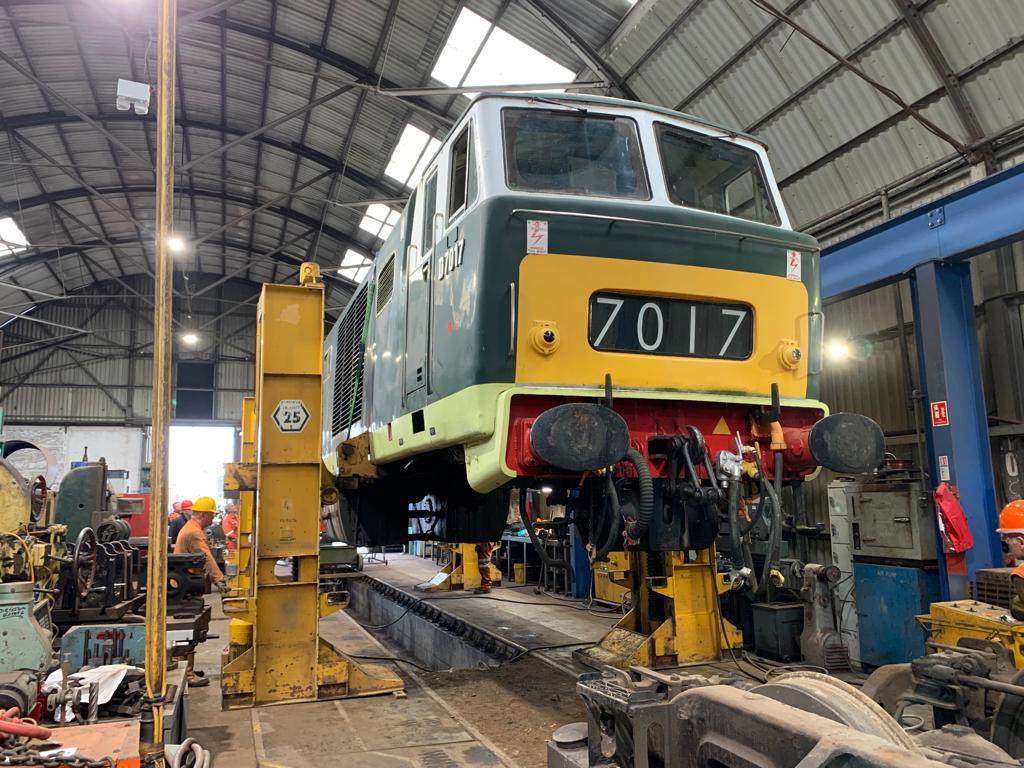 Class 35 'Hymek' D7017 was lifted at the WSR Restorations 'Swindon Shed' on Tuesday 29th March 2022 so that her bogies could be rolled out for spring replacement work. Photo by Andy Royal © CC BY-NC 3.0
APRIL 2022 – we celebrated the RETURN TO MINEHEAD after two years of isolation due to the combined effects of Covid and the upgrading of the Seaward Way Level Crossing.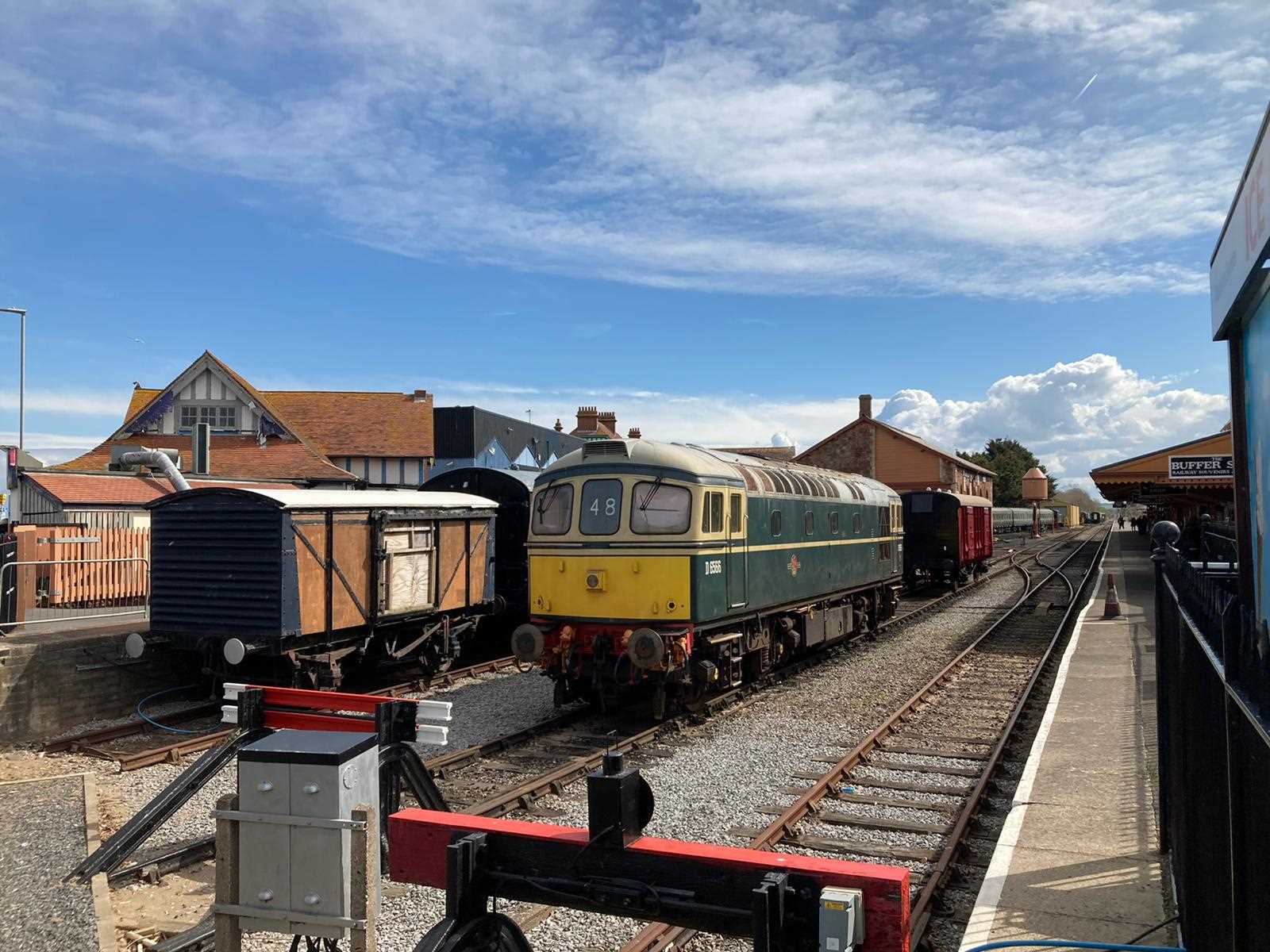 DEPG Class 33 'Crompton' D6566 (33 048) was outstationed at Minehead as 'Thunderbird' loco and was placed on display on the same road as the restored Southern Region 'PMV' Parcels and Miscellaneous Van that it would have worked with during its earlier career as a mainline locomotive when based in the South East. Pictured on Saturday 2nd April 2022 by Josh Brinsford © CC BY-NC 3.0
MAY 2022 – now sporting new bogie springs that were paid for by donations from members, 'Hymek' D7017 was readied for service and given a fresh coat of varnish to freshen up her appearance.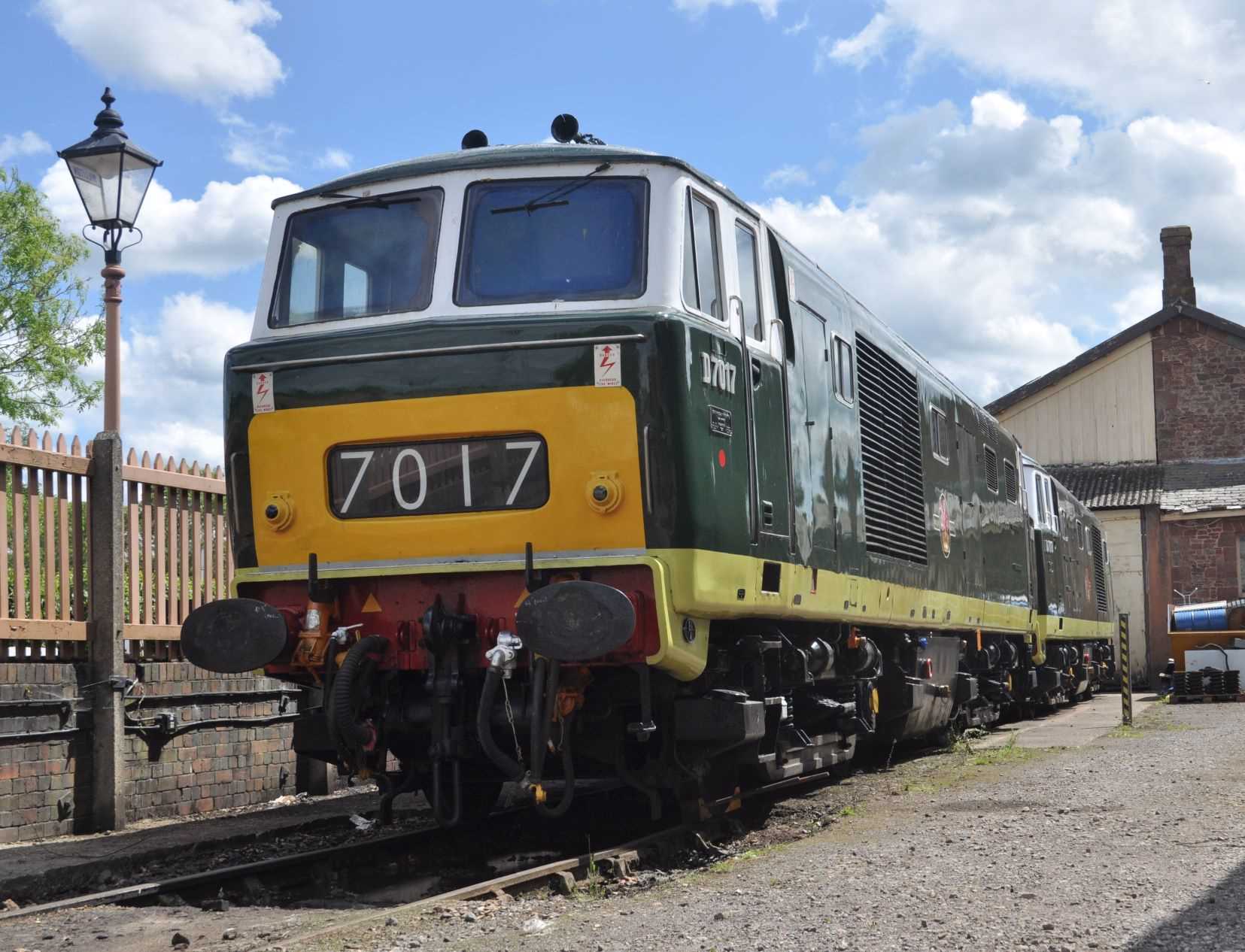 Class 35 'Hymeks' D7017 and D7018 were readied for service at Williton. D7017 has just received a fresh coat of varnish and this has made a tremendous difference to her appearance – thank you Graham ! Pictured on Sunday 22nd May 2022 by Graham Perry © CC BY-NC 3.0
JUNE 2022 – we welcomed the return of the WSR's annual DIESEL GALA which took place from Thursday 9th through Saturday 11th June and featured two guest locomotives, Class 25 D7612 (25 262, 25 901) from South Devon Diesel Traction and the unique Class 17 'Clayton' D8568 from the Diesel Traction Group.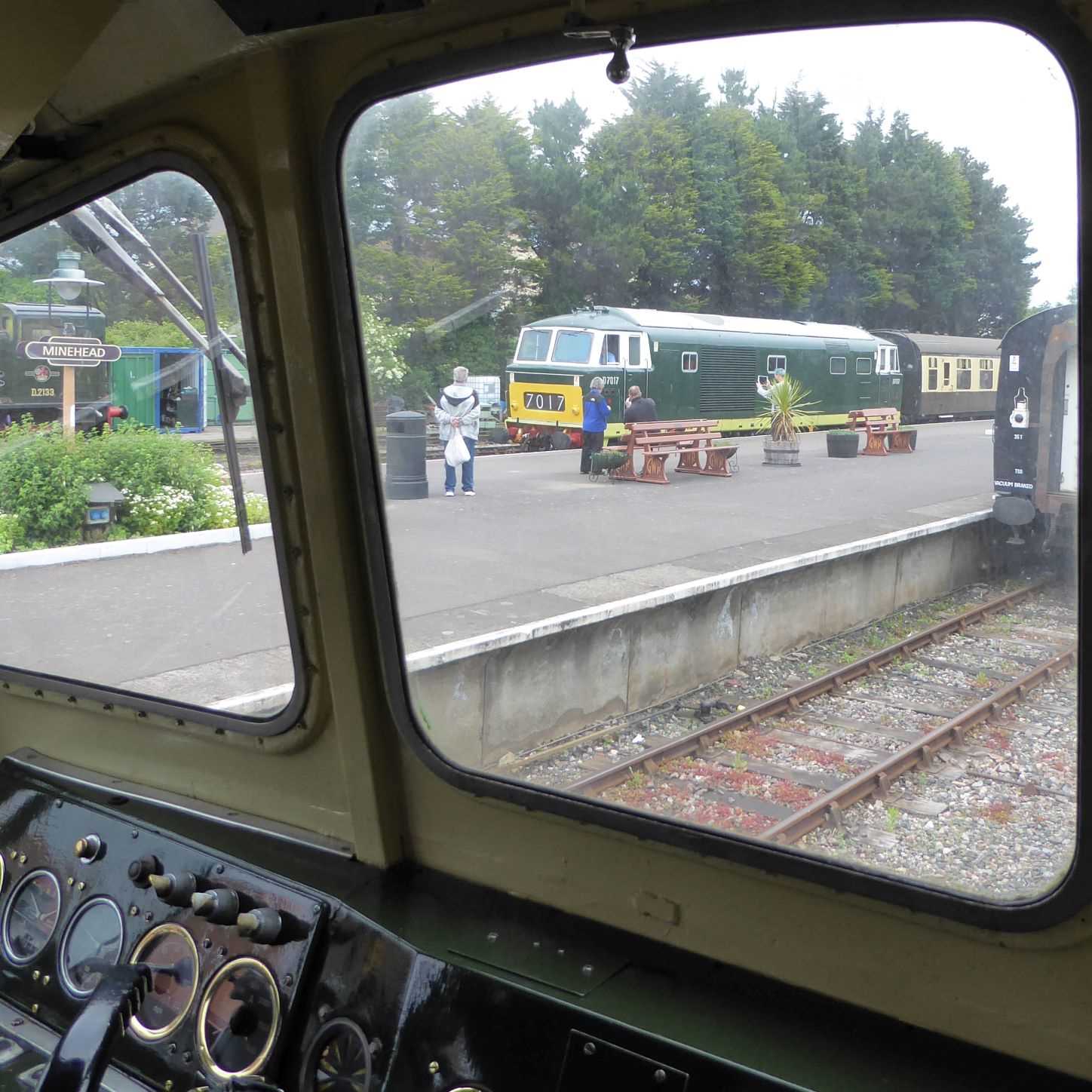 DEPG Beyer Peacock Class 35 'Hymek' D7017 arriving at Minehead, viewed from the cab of visiting Class 25 D7612 (25 262, 25 901) on the first day of the gala, Thursday 9th June 2022. Photo by Martin Howard © CC BY-NC 3.0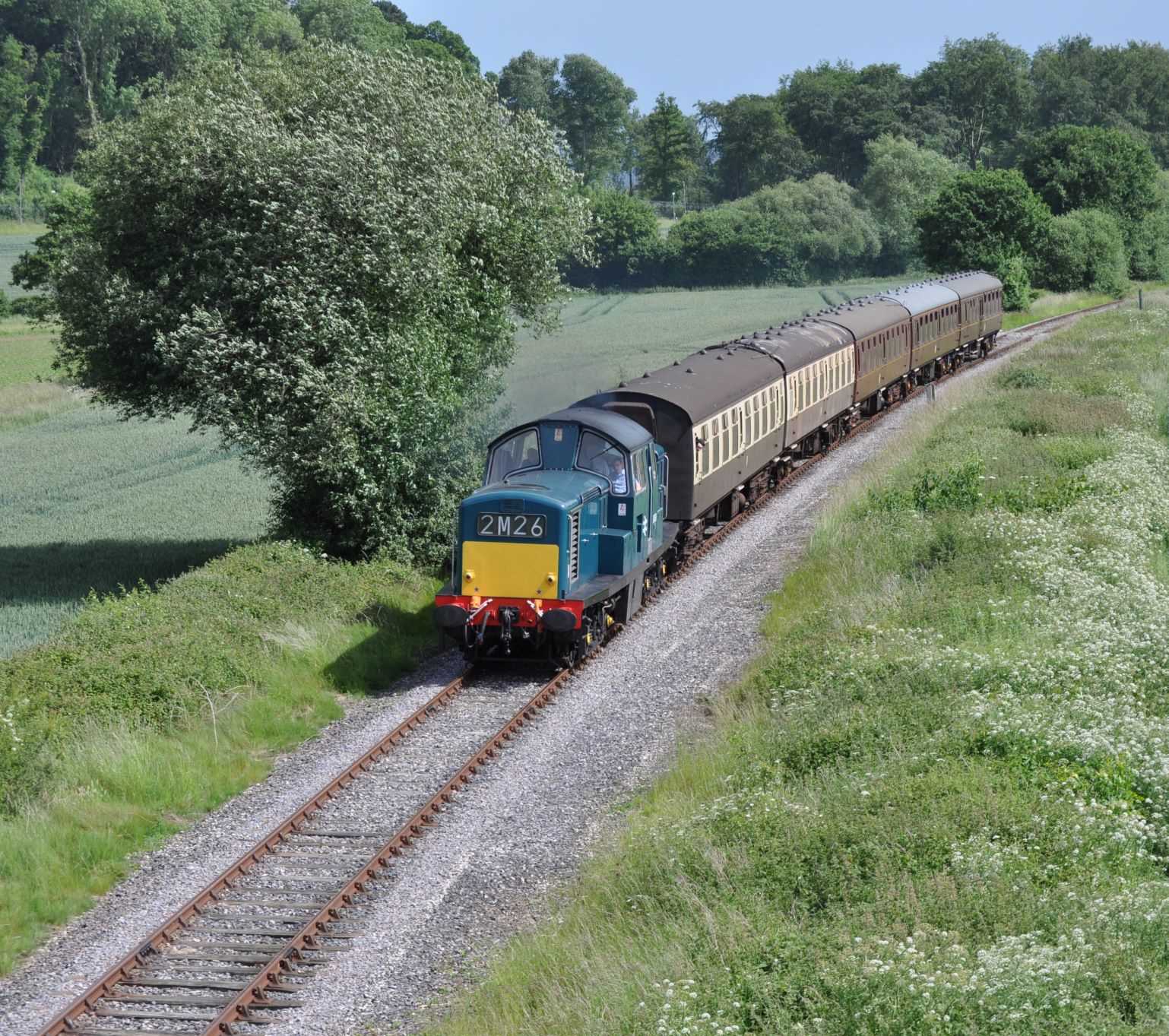 The DTG's unique Class 17 'Clayton' D8568 was pictured with five Mark 1 coaches, working hard on the 3-mile climb from Norton Fitzwarren to Bishops Lydeard. This was the view from Longlands Bridge on Friday 10th June 2022. Photo by Graham Perry © CC BY-NC 3.0
JULY 2022 – our 'celebrity' Class 47 started work on the NYMR during a period of very hot weather and became an instant hit with passengers and crew. The loco worked alongside three other BR-blue diesels and allowed the railway to continue to operate their timetabled services during a period when steam locos were banned due to the very high lineside fire risk.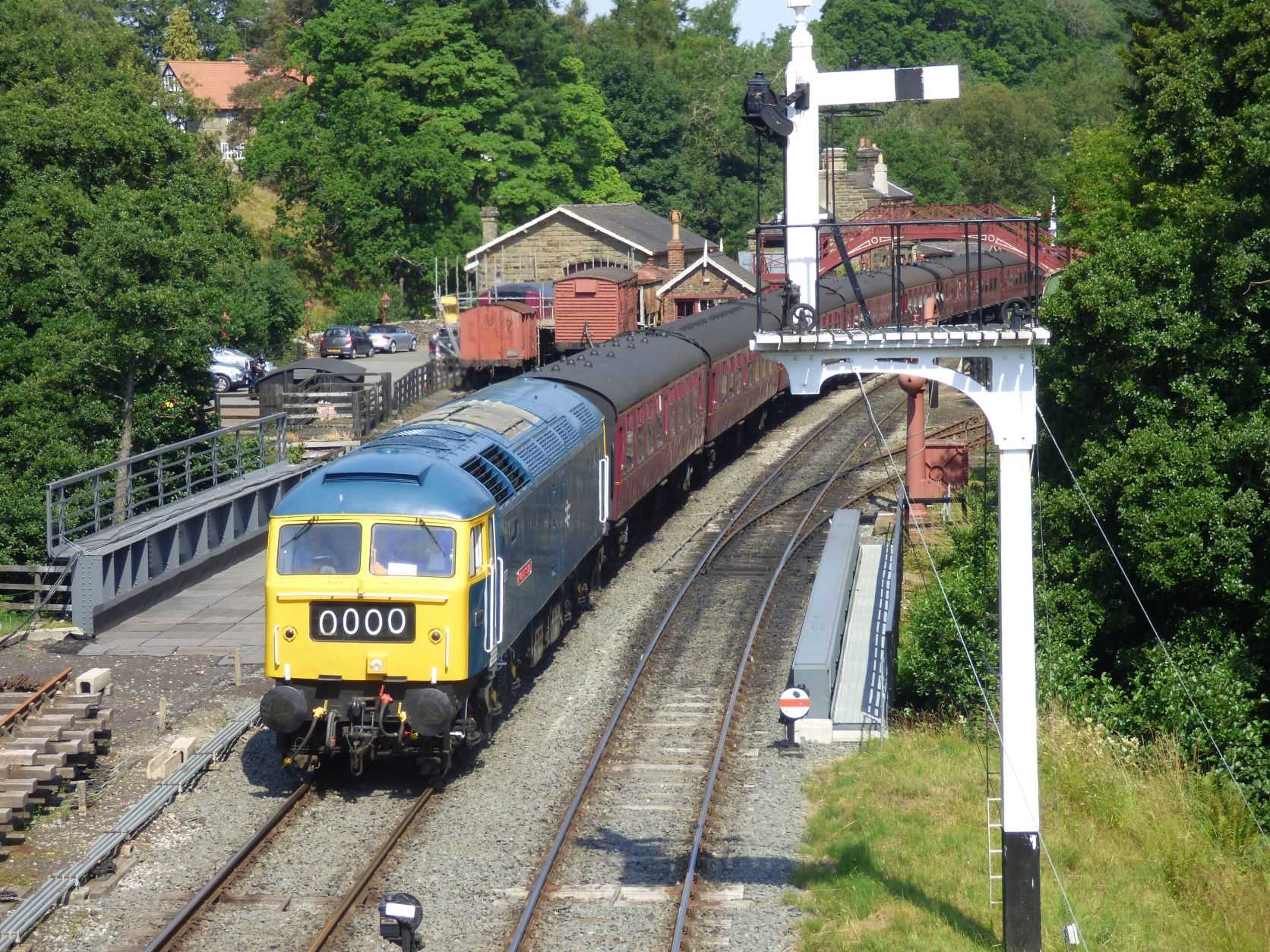 BR 1965 Crewe-built Class 47 47077 (D1661, 47613, 47840) 'NORTH STAR' hauled her first revenue-earning turn on the North Yorkshire Moors Railway on Monday 18th July 2022, pictured at Goathland by Martin Fisher © CC BY-NC 3.0
AUGUST 2022 – the heatwave continued and resulted in a steam ban on the WSR and also at the Kent & East Sussex Railway (KESR) where our Class 14 'Teddy Bear' D9526 was working service trains on a daily basis. An incoming mainline charter saw a pair of West Coast Railways Class 33 'Cromptons' visit Minehead, providing the rare spectacle of four 'Cromptons' and a 'Hymek' at work on the WSR – and no steam!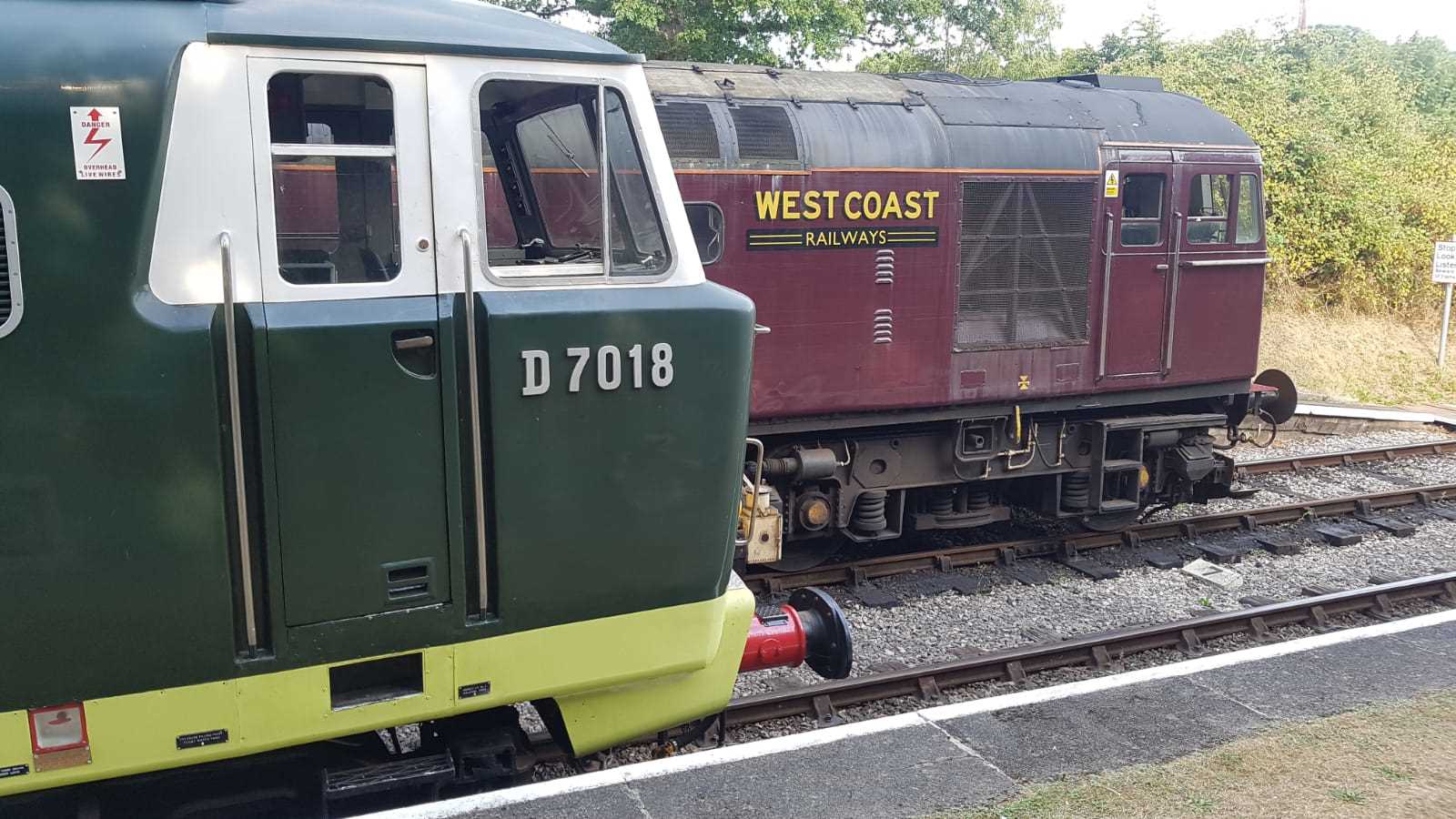 Class 35 'Hymek' D7018 was at the tail end of the 16:30 departure from Bishops Lydeard on Saturday 13th August 2022, seen here at Crowcombe Heathfield where the service crossed with the return leg of the WEST SOMERSET STEAM EXPRESS railtour from Minehead to London Paddington, which was being hauled by West Coast Railways 'Crompton' pair 33029 (D6547) leading 33025 (D6543, formerly 'SULTAN'). Photo by Martin Howard © CC BY-NC 3.0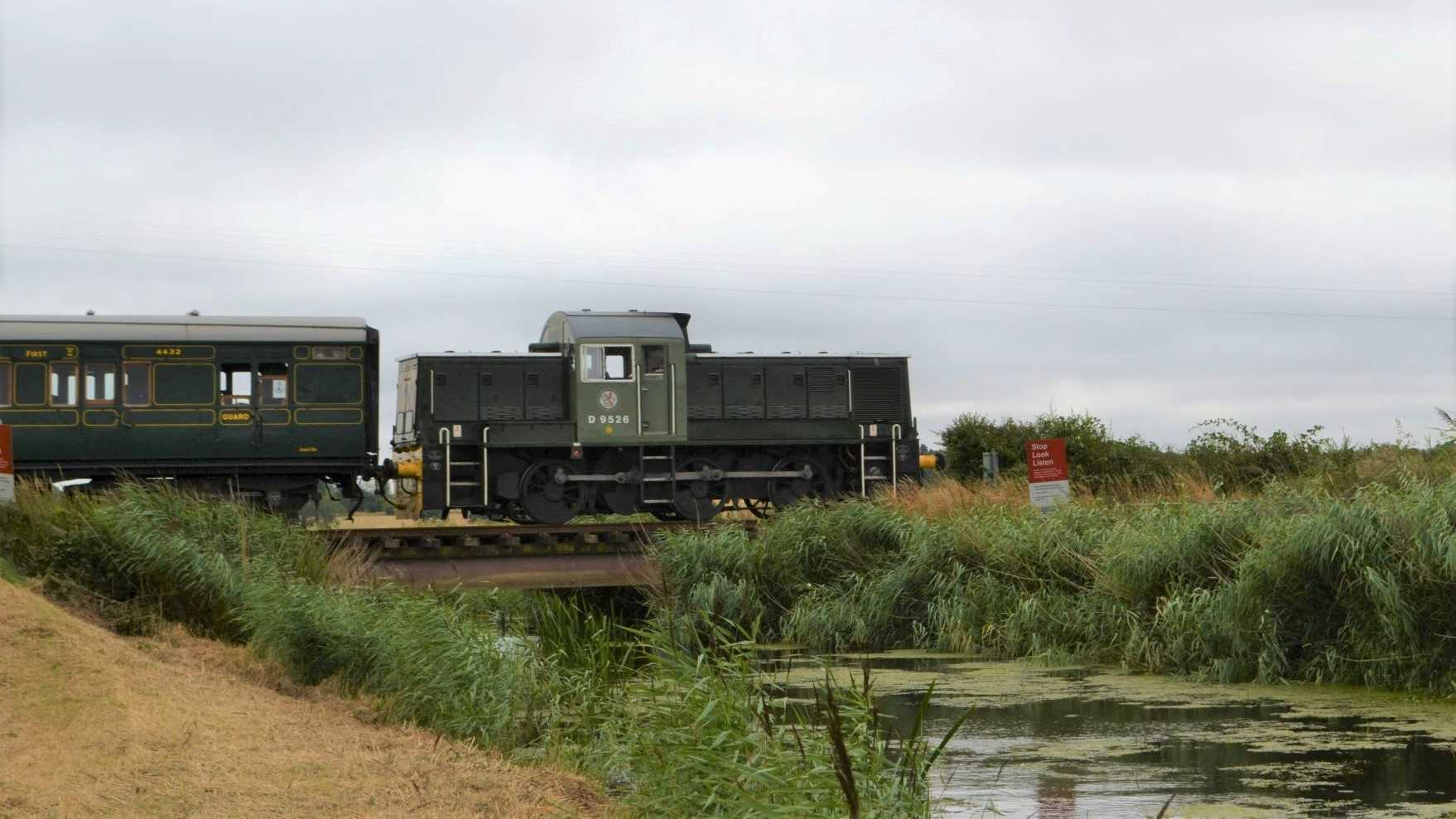 D9526 was pictured while crossing Hexden Channel on 2nd August 2022 with a service train on the Kent and East Sussex Railway. Photo by Colin Girle © CC BY-NC 3.0
SEPTEMBER 2022 – the annual 'work week' occupied the last week of the month, with volunteers on site throughout the week, and Class 52 D1010 'WESTERN CAMPAIGNER' going maroon in the process!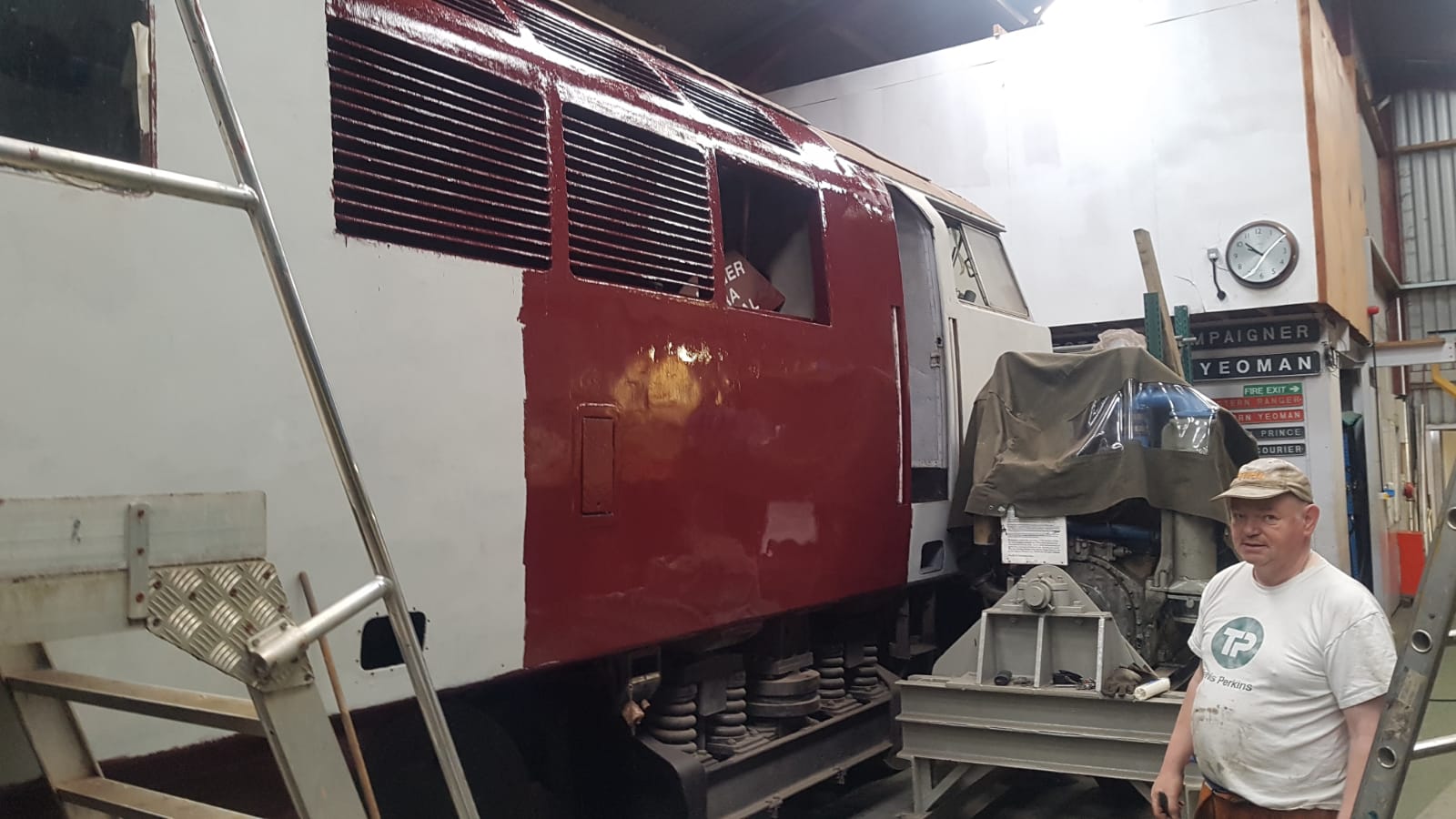 D1010 – Paul T stands aside before resuming his work on the 'A' side of the 'B' end of the loco at Williton on Wednesday 28th September 2022. Photo by Martin Howard © CC BY-NC 3.0
OCTOBER 2022 – our former chairman JOHN CRONIN passed away at the age of 80. John joined our group following retirement from BR and held officer roles from 2000 onwards, becoming chairman in 2009 until his 'second retirement' at the age of 75 in 2017. One of his 'pet projects' was supporting the restoration of Class 14 'Teddy Bear' D9518 (NCB Ashington No. 7) and it was fitting that major progress could be demonstrated on that loco throughout the year, including a major step in October.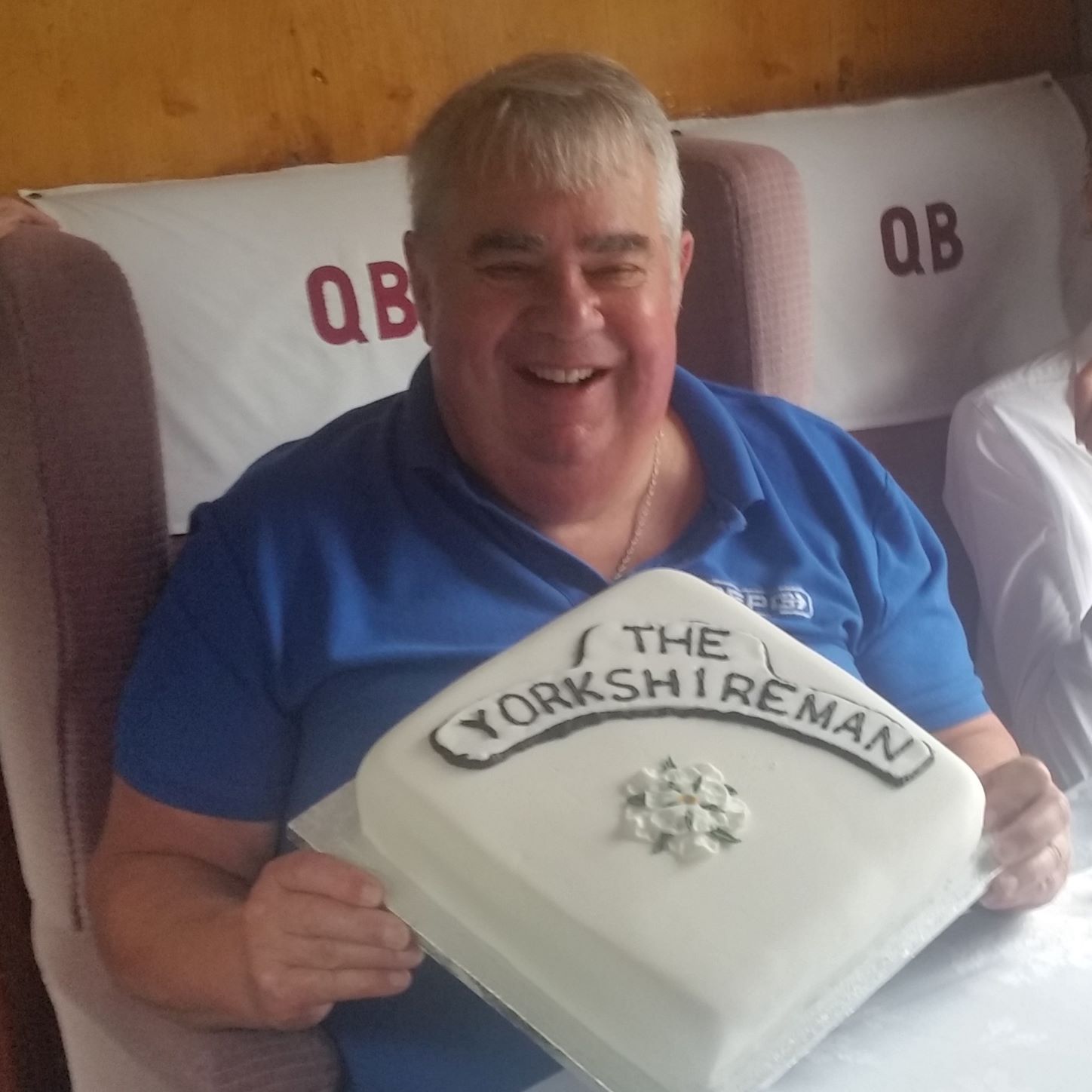 Former DEPG Chairman the late John Cronin was presented with a special birthday cake on the occasion of his 75th Birthday in August 2017, after dining aboard the 'Quantock Belle'. Photo from the DEPG archives © CC BY-NC 3.0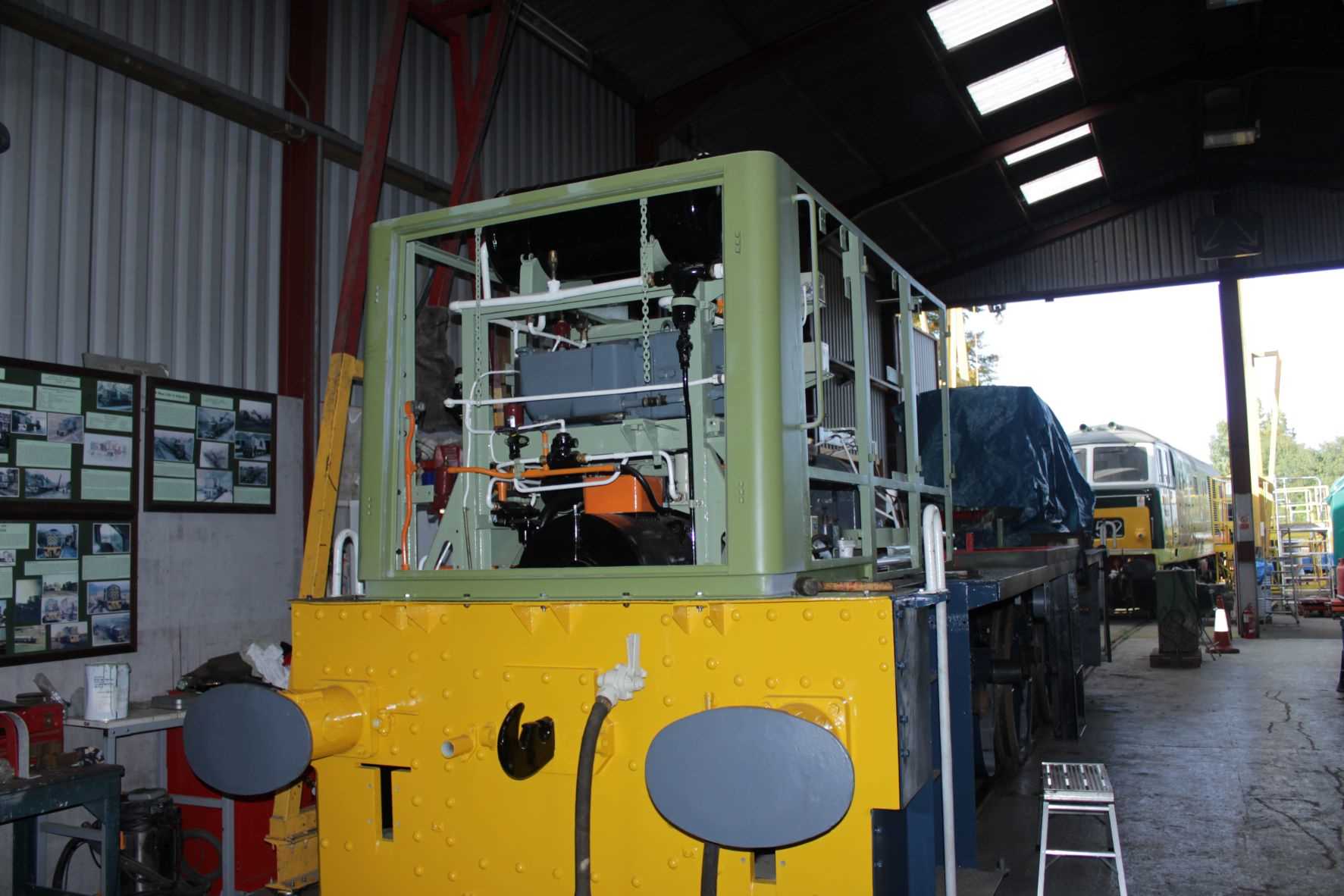 D9518 – the short nose end ('B' end) of the loco takes shape following the re-fitting of the side and end frames at Williton on Saturday 8th October 2022. Photo by Terry Deacon © CC BY-NC 3.0
NOVEMBER 2022 – a major step forward was the commencement of the re-assembly process for the Voith L630rV hydraulic transmission from the 'B' end of Class 52 D1010 'WESTERN CAMPAIGNER', after a period of development of the special tools and special processes that are required to handle this very complex piece of precision engineering.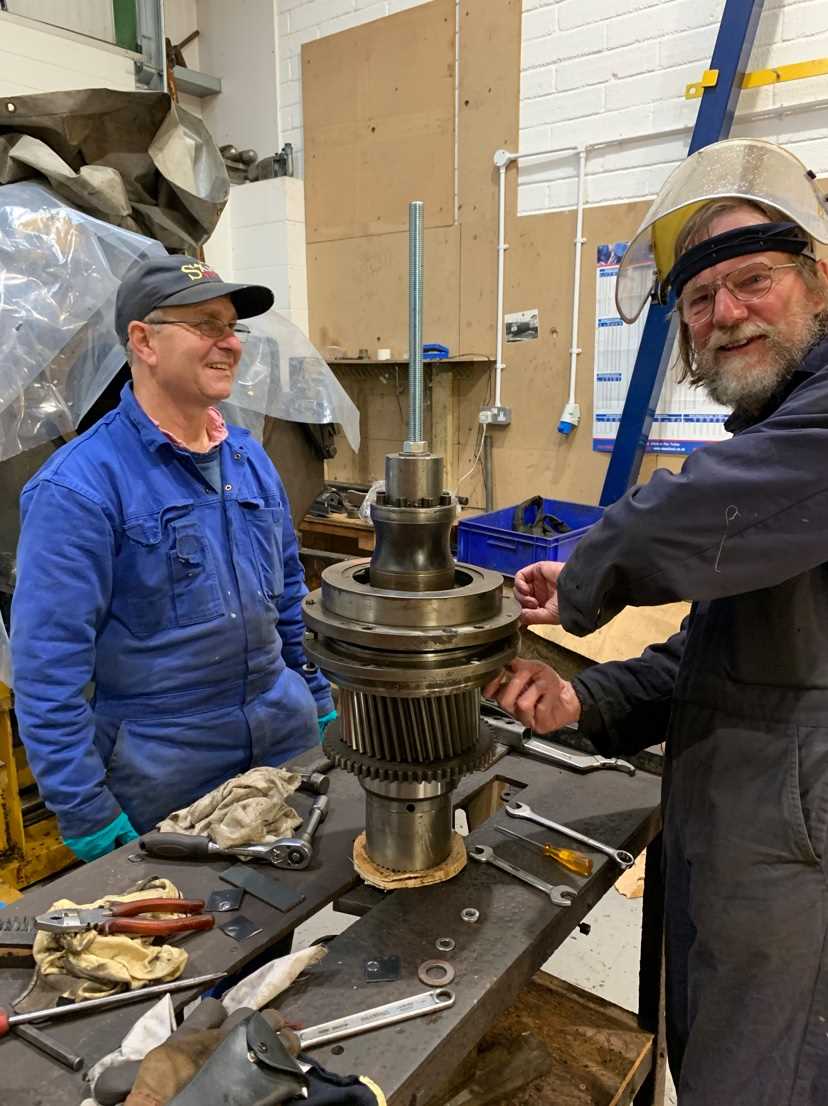 D1010 – a milestone moment as new bearings are fitted around the input shaft by Tim (L) and Colin F (R) at Williton on Tuesday 15th November 2022 after ensuring that the oilway drillings were clear of debris and fully functional. The next step will be to fit this shaft assembly into the housing and then build the first stage torque converter around it. Photo by Andy Royal © CC BY-NC 3.0
DECEMBER 2022 – our fleet strength was boosted by the successful test running of three locomotives, Class 33 'Crompton' D6566 (33 048) and 'Hymeks' D7017 and D7018 from Williton to Bishops Lydeard and back.
Three DEPG locomotives were out on test on Saturday 17th December 2022. From left to right, Class 33 D6566 (33 048), Class 35 'Hymek' D7018 and sister D7017 take a break at Stogumber while on the return journey from Bishops Lydeard to Williton. Photo by Phil Hall © CC BY-NC 3.0
Our test run was well timed, because only two days later, heavy rain caused excessive run-off from an adjacent landowner's field and led to a landslip near Tribble Bridge, two miles north of Bishops Lydeard, closing the route to normal services. The remedial work will be expensive and complex and no doubt involve a significant effort from staff and volunteers, to ensure that the line re-opens in springtime.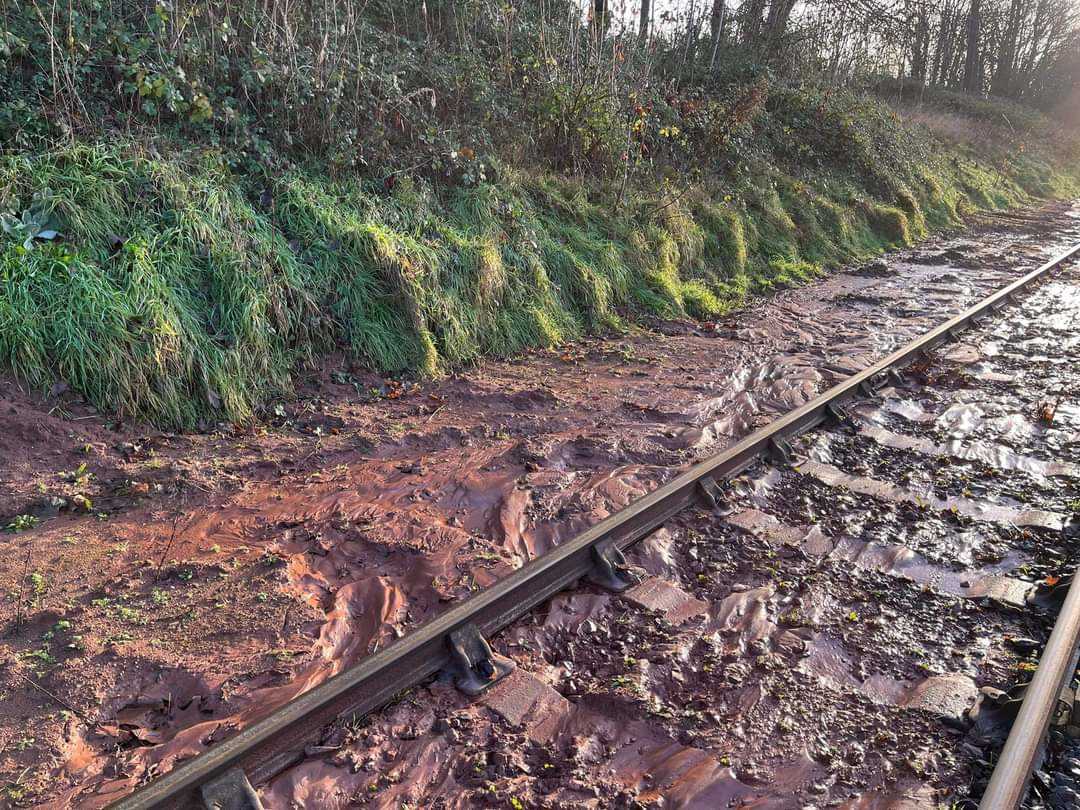 The contaminated trackbed is unfit for use and the embankment now needs to be surveyed by experts to determine the best way forward. Pictured at Coombe Florey on 20th December 2022 by Jon Jones-Pratt © CC BY-NC 3.0
As so often happens, achievements are followed by new challenges, and those challenges will be met by new achievements, with the support of volunteers from the wider railway 'family' and the continued patronage and financial help from all who support the railway and the locomotives that run upon it.
Many more items of news from 2022 can be found by browsing our website. Sign up for ROUNDUP to have the news delivered to your emailbox on a weekly basis.
VERY IMPORTANT DATES FOR YOUR DIARY – the WSR's 2023 Diesel Gala will take place from Thursday 8th through Saturday 10th June 2023, and the 50th anniversary celebrations of the DEPG will take place on Friday/Saturday 22/23 September, so keep these dates free and make a plan to attend ! Click this link to the WSR website to view the dates for other WSR events that are planned for 2023.
Go to previous Weekly Roundup post