Apologies for the late release of this edition of roundup.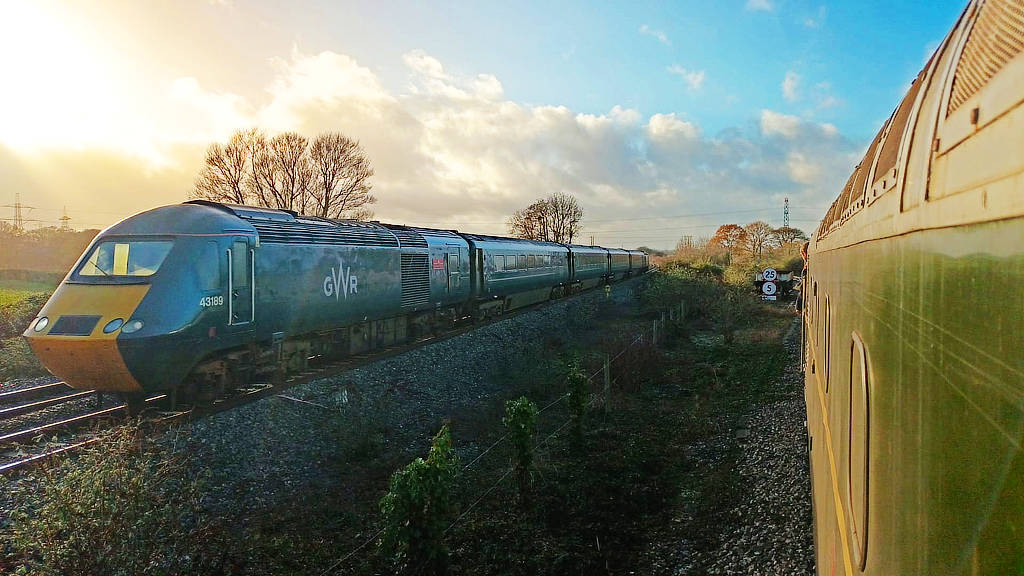 An unusual view from the cab of Class 33 'Crompton' D6575 (33 057) while working top-and-tail with BR(W) 4-6-0 7828 'ODNEY MANOR' on the re-routed 'Santa Express' service on Friday 23rd December 2022. The loco was standing at Orchard Junction, alongside the main line at Norton Fitzwarren, when a GWR 'Castle' set led by 43189 'LAUNCESTON CASTLE' cruised by. Photo by Tom Courtney © CC BY-NC 3.0
On Tuesday 3rd January, Class 33 'Crompton' D6575 (33 057) returned to Williton for planned maintenance, drawing a line under her outstanding performance throughout 2022 where she achieved 100% despatch reliability and encountered only minor issues that were quickly resolved by the crews. For a loco of 61 years of age, that is indeed a creditable performance, so WELL DONE D6575 !
Some issues have started to become evident on D6575 towards the end of the year, in particular the high oil consumption of the compressor, providing advance warning that a compressor overhaul is likely to be required. These issues will be dealt with during the quiet winter period while sister D6566 (33 048) is the duty loco and is available for engineering trains or any special workings.
The return of D6575 to Williton now provides us with a four-loco line-up on number 1 road comprising two 'Hymeks' D7018 (nearest the Old Goods Shed) and D7017, then a GWR 'Toad' brake van, then two 'Cromptons' D6575 and D6566. In the event of a 'Tug-of-War', the poor old 'Toad' would have to take some serious punishment !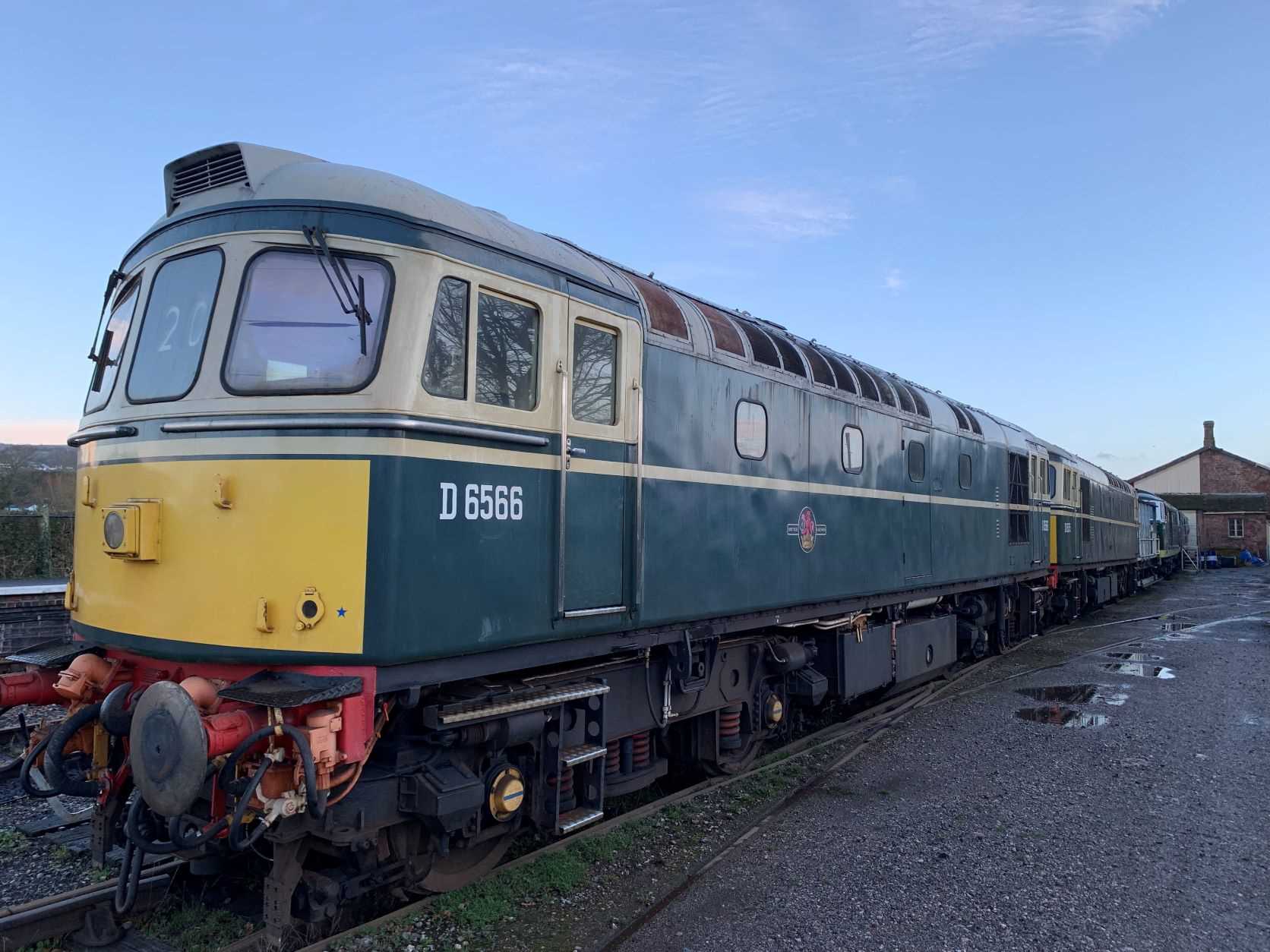 Class 33 'Crompton' D6566 (33 048) stands at the head of a 6,500 hp lineup that includes sister D6575 (33 057) and Class 35 'Hymeks' D7017 and D7018. Pictured at Williton on Sunday 8th January 2023 by Andy Royal © CC BY-NC 3.0
The return of D6575 to Williton (and the return of the two steam locos and the empty coaching stock to Minehead) was made possible due to special permission that was granted to cross the embankment at Coombe Florey after an inspection and test run had been made earlier that day. The trackbed and embankment sustained significant damage on Tuesday 19th December due to excessive and uncontrolled run-off from fields above the railway. This caused the line between Bishops Lydeard and Crowcombe Heathfield to be closed to all traffic, resulting in the re-routing of the 'Santa Express' and 'Winterlights' services to make use of the Norton Fitzwarren section instead.
The Chairman of the WSR, Jonathan Jones-Pratt, wrote to all volunteers and gave thanks for the wide-ranging support that the railway had received from the WSR 'family' in adapting to the situation, and also gave thanks to specialists both local and further afield, who offered their help in relation to the assessment of the damage and the determination of the steps to be taken to resolve the issue. We will bring further news as it becomes available.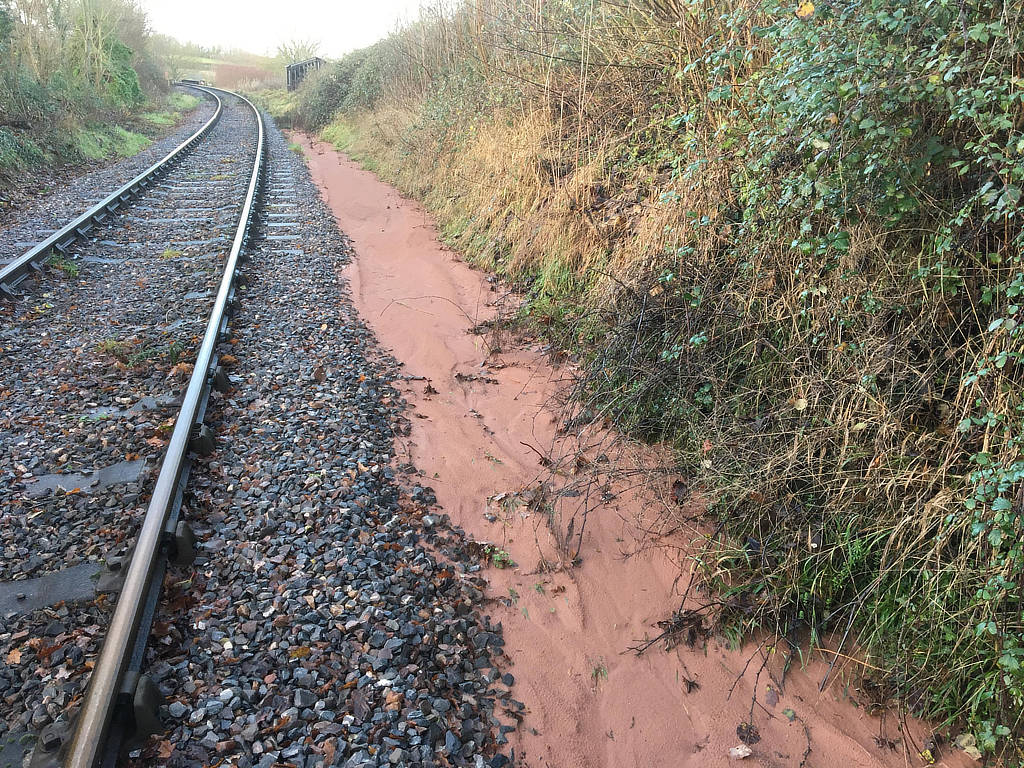 The cess alongside the trackbed has been filled with mud deposited by run-off from the adjacent farmland. Pictured at Coombe Florey on 8th January 2023 by Malcolm Anderson © CC BY-NC 3.0
LOCO NEWS:
Class 52 D1010 'WESTERN CAMPAIGNER' – work resumed in January in several areas of the loco, including the reinstatement of the wiring that had to be removed to allow welding work to take place under the cab floors. The remains of the old and badly corroded cable conduits were removed in preparation for new conduits to be fitted later this month.
Progress continued on the 'B' transmission with the preparation of tooling and fixtures to aid the disassembly of the input shaft to allow the corrosion-damaged bearings to be replaced. This shaft shows the evidence of having being rebuilt many times during BR service, so great care will be needed when rebuilding it yet again.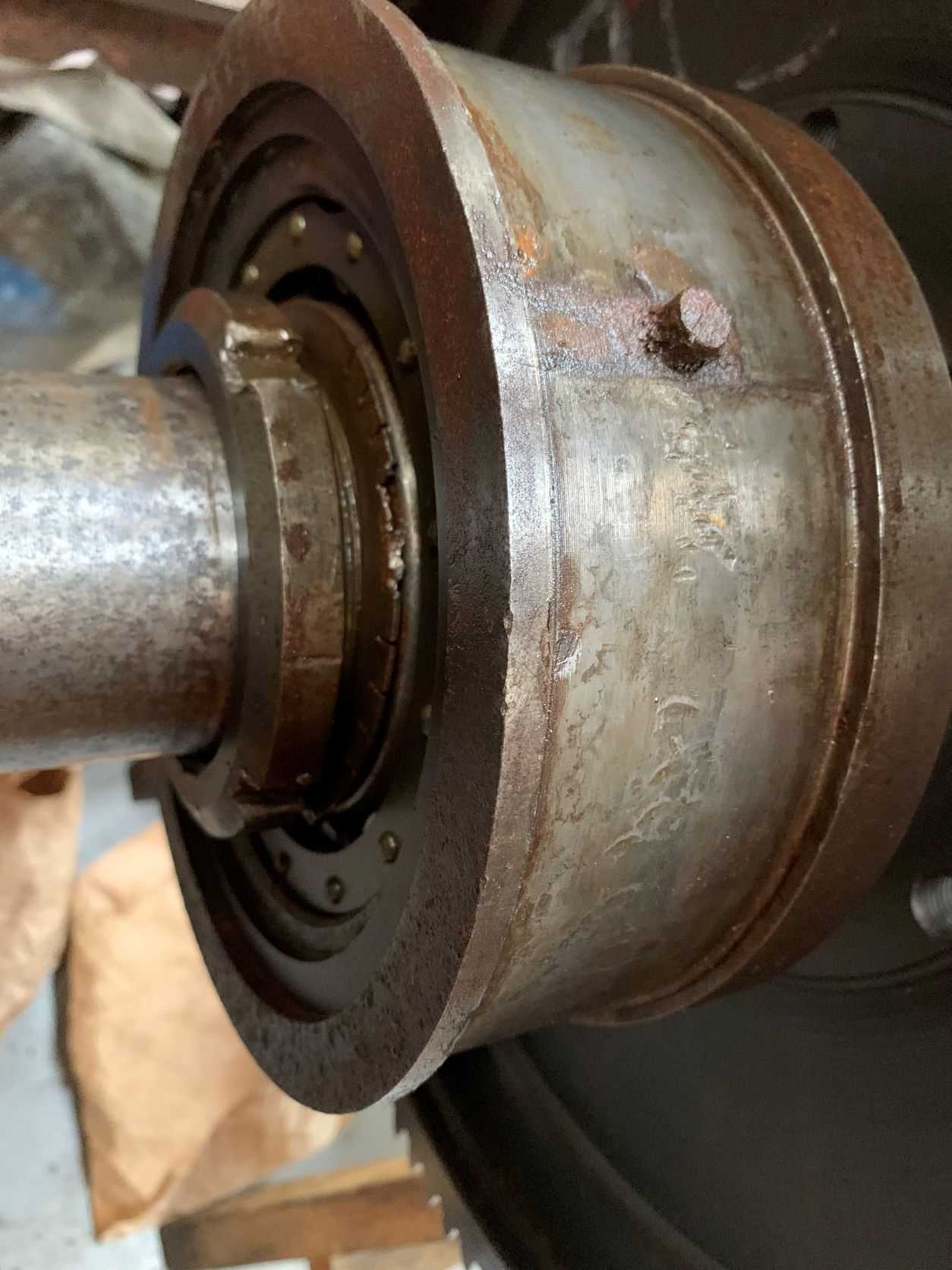 D1010 – the input shaft of 'B' transmission was prepared for disassembly at Williton and displays damage from multiple bearing changes that took place during 15 years of BR service. The housing and shaft will need a good cleanup before rebuilding once again. Pictured on 31st December 2022 by Andy Royal  © CC BY-NC 3.0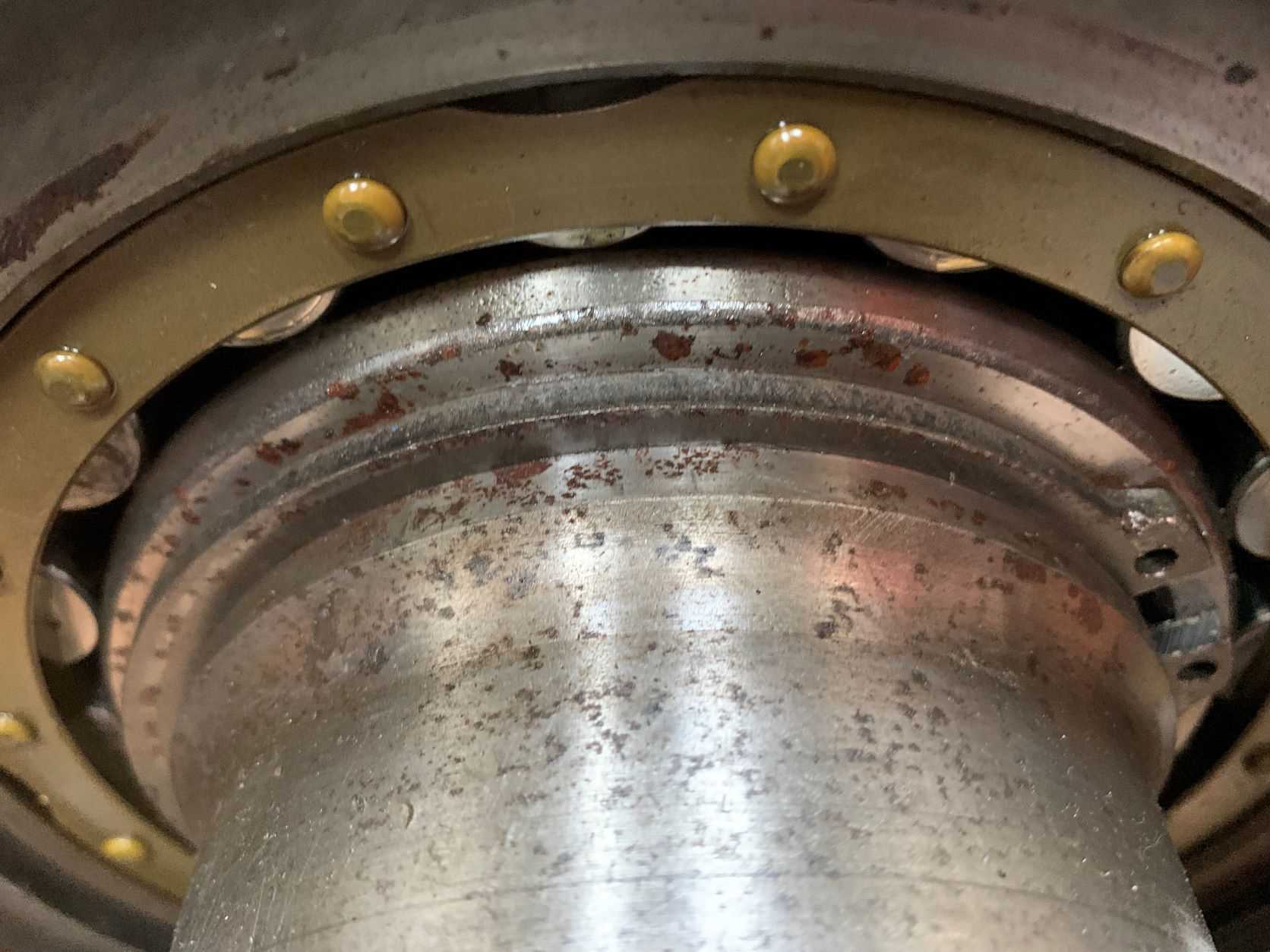 D1010 – the roller bearing of the input shaft has evidently suffered from corrosion caused by condensation. The bearing will be replaced and the corrosion removed from the shaft before rebuilding the transmission. Pictured at Williton on 31st December 2022 by Andy Royal  © CC BY-NC 3.0
To continue our rate of progress requires FUNDING and we give our thanks to everyone who has supported D1010 by sponsoring or donating during these difficult times. If you are able to do so, please SPONSOR A PATCH because there is plenty of recently-added metal that still needs engraving. Photographs and certificates of sponsorship will be sent out to all who have sponsored this phase of the restoration work, but please bear with us because our admin resources are in short supply, but we will get it done soon. Click the image further below to sponsor a patch. Thank you in advance for your support !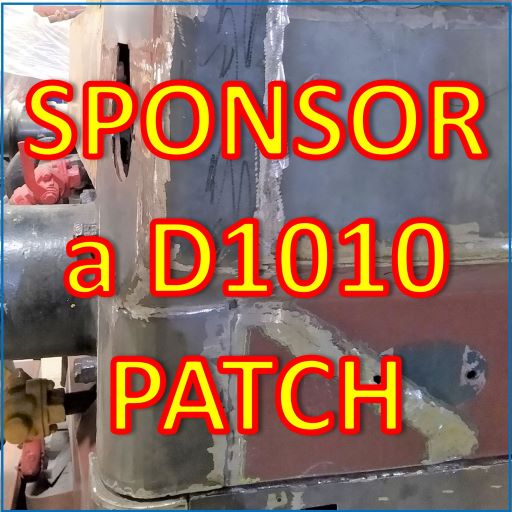 See our CAMPAIGN for CAMPAIGNER web page for more details !


We still have a lot of work to do on this massive locomotive, so PLEASE DO COME ALONG AND HELP IF YOU CAN !
Class 33 D6566 (33 048) – this loco has now taken up the role of duty loco and is available for use by the WSR.
Class 33 D6575 (33 057) – already covered.
Class 35 'Hymek' D7017 – the test run that was conducted in December 2022 went well and there are no essential tasks outstanding on this loco. The sanding gear was removed for the bogie spring change and has yet to be refitted, but this is not used in service because it is not needed, the 'Hymeks' being very sure-footed with all four axles mechanically coupled. The task remains on the 'to-do' list for completeness.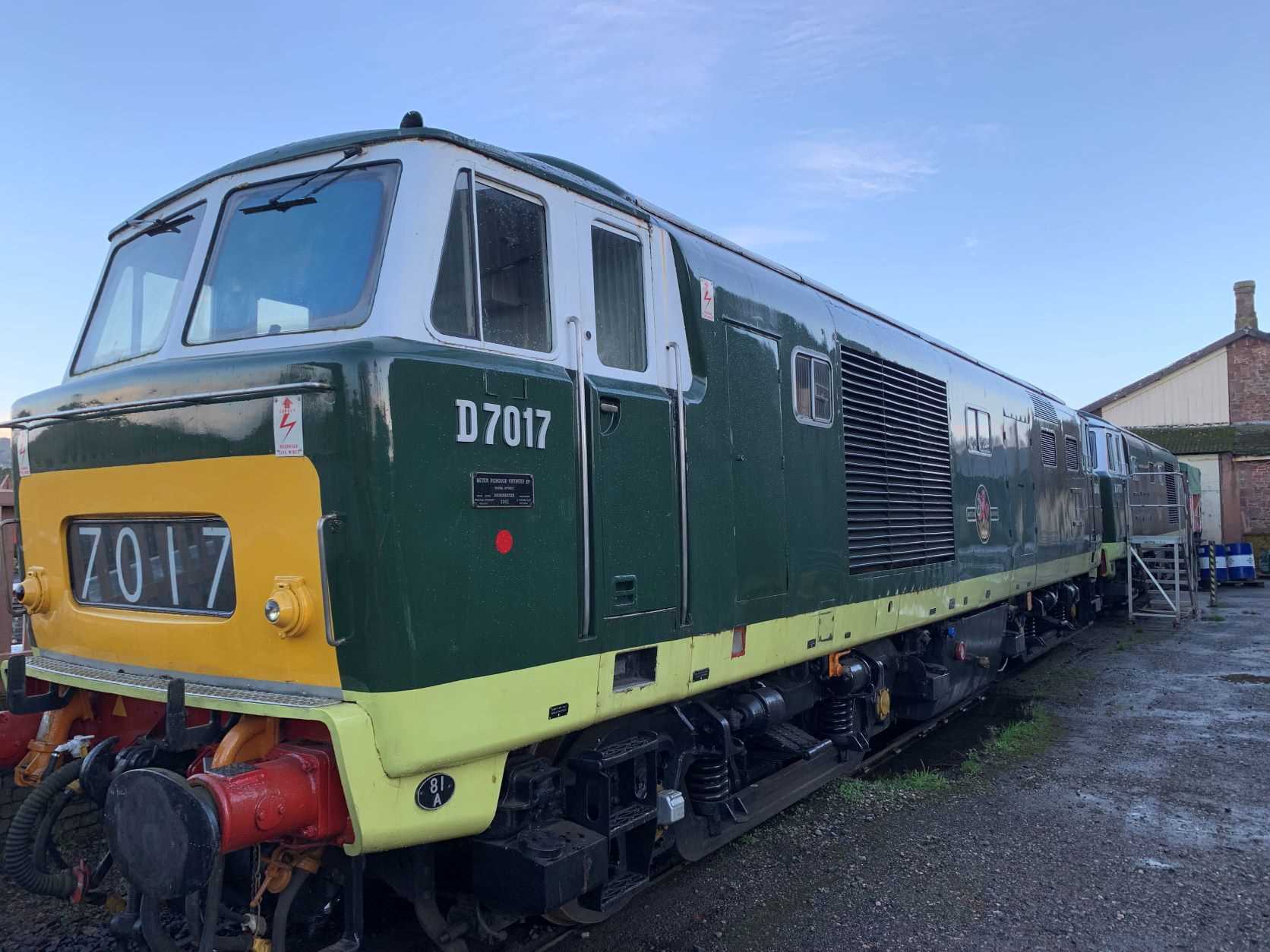 D7017 made a fine sight at Williton on the 61st anniversary of her entry into BR service at Bristol Bath Road depot. Pictured on 8th January 2023 by Andy Royal © CC BY-NC 3.0
Class 35 'Hymek' D7018 – this loco needs some adjustment to her reverser mechanism to ensure that direction changes can be performed from the cab rather than having to move the mechanism manually. There are several other maintenance tasks on the list so this loco will receive attention to resolve the issues before undertaking a repeat test run in the springtime. This loco celebrates her 61st 'birthday' on the 18th of this month.
Class 14 'Teddy Bear' D9518 – much of the work on this loco involves the careful reconditioning of original parts which are then fitted to the loco frames at the appropriate point in the rebuild process. The time taken to attach the reconditioned part to the loco may just be minutes, but the work that was involved behind the scenes to prepare the parts oftens runs to hundreds of hours. Here's some photos to give a flavour of the most recent activities: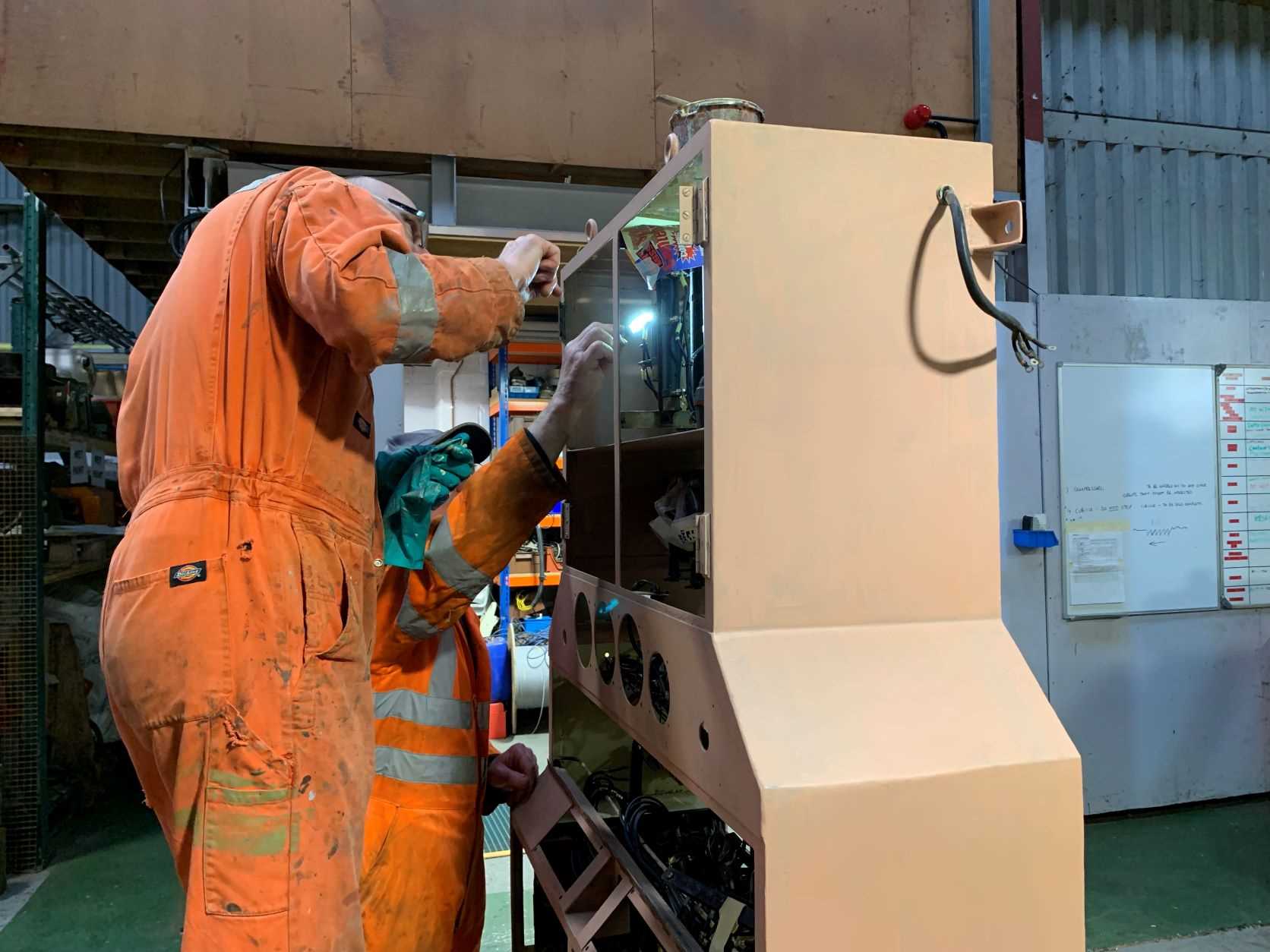 D9518 – the electrical control cubicle is receiving a careful re-paint while still partially assembled. This makes the painting task very difficult indeed, and ideal for the patience and care available from John C and Colin G. Pictured at Williton on 31st December 2022 by Andy Royal © CC BY-NC 3.0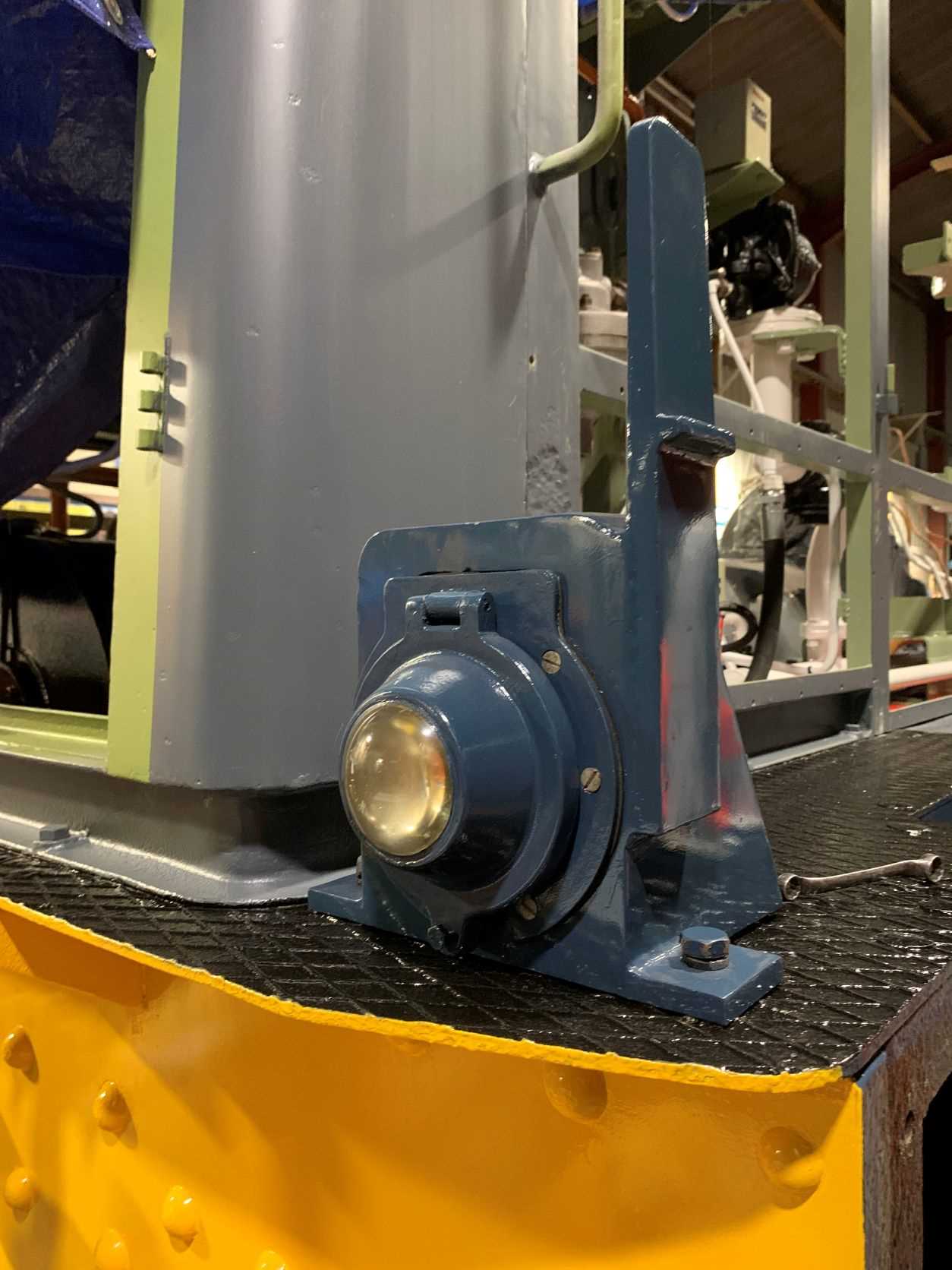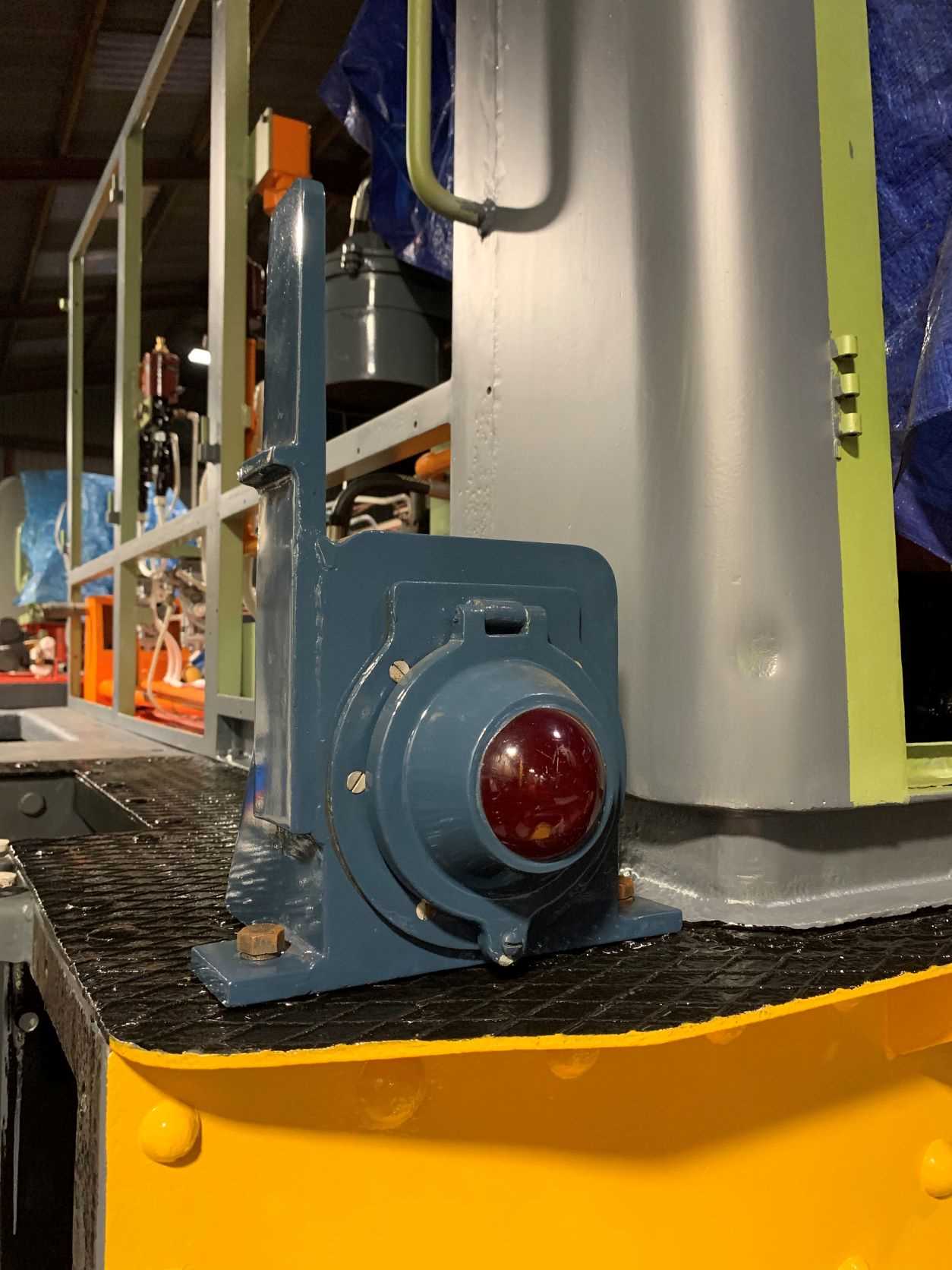 D9518 – two fully-reconditioned lamps were fitted to the 'B' end of the loco on 31st December 2022. Pictured at Williton by Andy Royal © CC BY-NC 3.0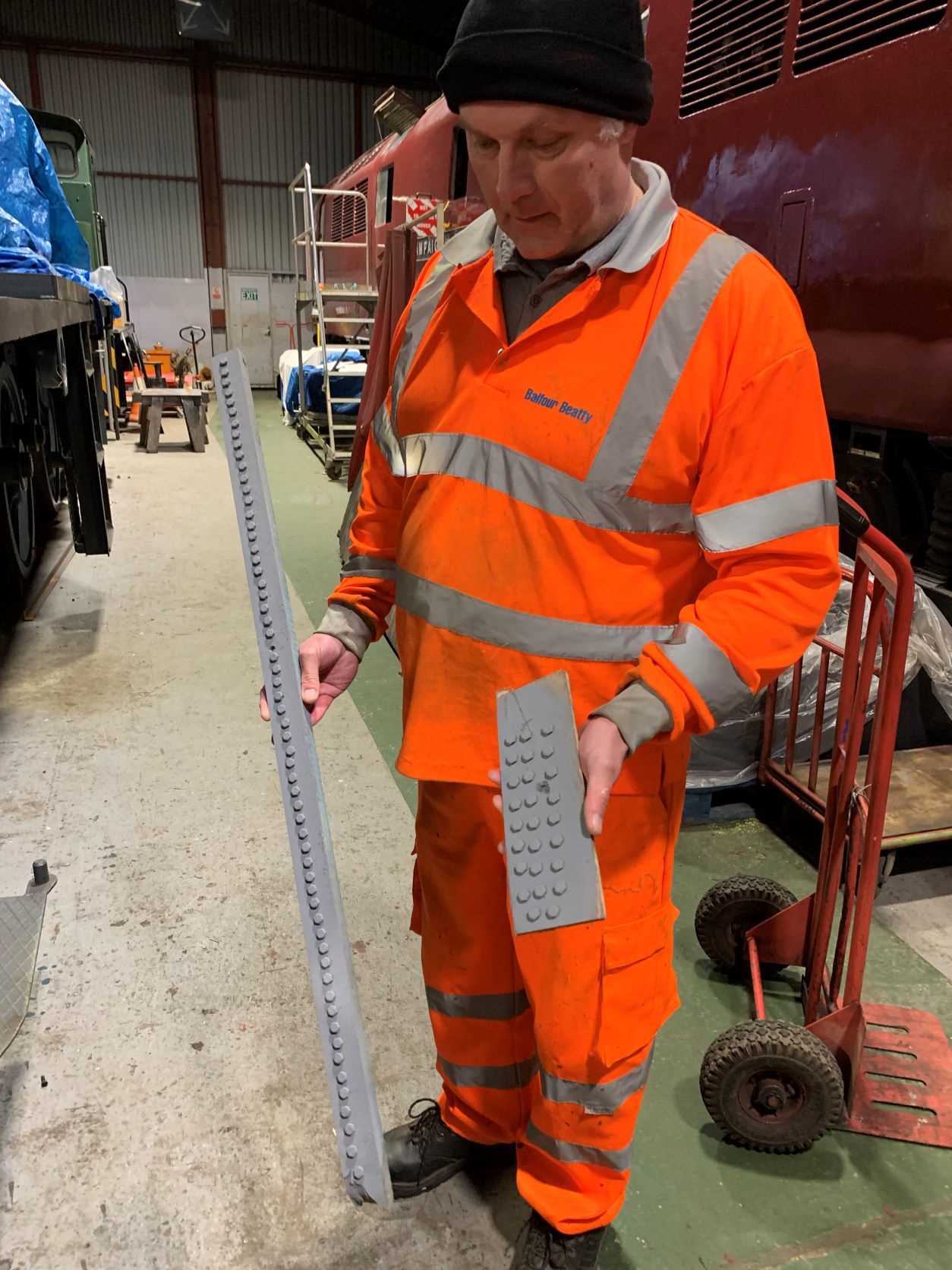 D9518 – even the bolts for the side sheets need careful preparation to avoid premature rusting. Class 14 team member Andy P has spray painted the primer on the 100+ bolts that will be needed for 'B' end. Pictured at Williton on 31st December 2022 by Andy Royal © CC BY-NC 3.0
This loco is the subject of a fundraising appeal so please follow this link to find out more. We need your help ! In addition to funds, we also need plenty of HANDS. If you love the 'Teddy Bears' and you are not already a member of the DEPG, please join us so that you can become one of the team that is going to return D9518 to fully operational condition as 'NCB No. 7'.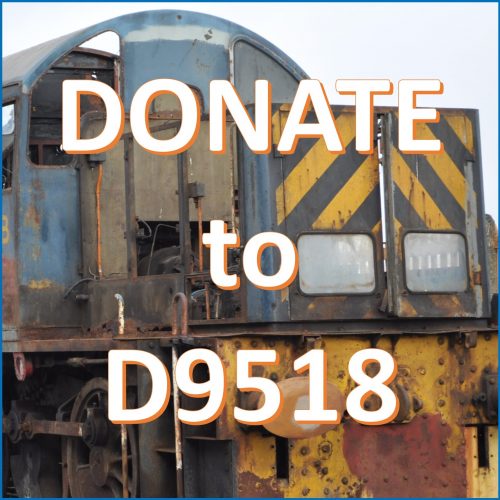 Class 14 'Teddy Bear' D9526 – another loco that celebrated her birthday earlier this month, becoming 58 years old on the 6th of January, this loco has now completed her 18-month stay at the Kent & East Sussex Railway and is expected to return to the WSR this month via road transport. The loco is likely to remain under cover at Westridge shed, Bishops Lydeard until she is able to make her way to Williton. 
Class 47 47077 'NORTH STAR' – this loco was back in action on the NYMR on a couple of occasions in December, after the replacement of her engine governor with the reconditioned part from Williton stock. On the 22nd, she shared the workload on the 'Santa' specials, and on the 31st she hauled a flat wagon carrying a reconditioned steam loco boiler from Pickering to Grosmont, resplendent in the spotlessly clean condition that is a credit to the Grosmont depot volunteers. Thank you very much for looking after 'NORTH STAR' !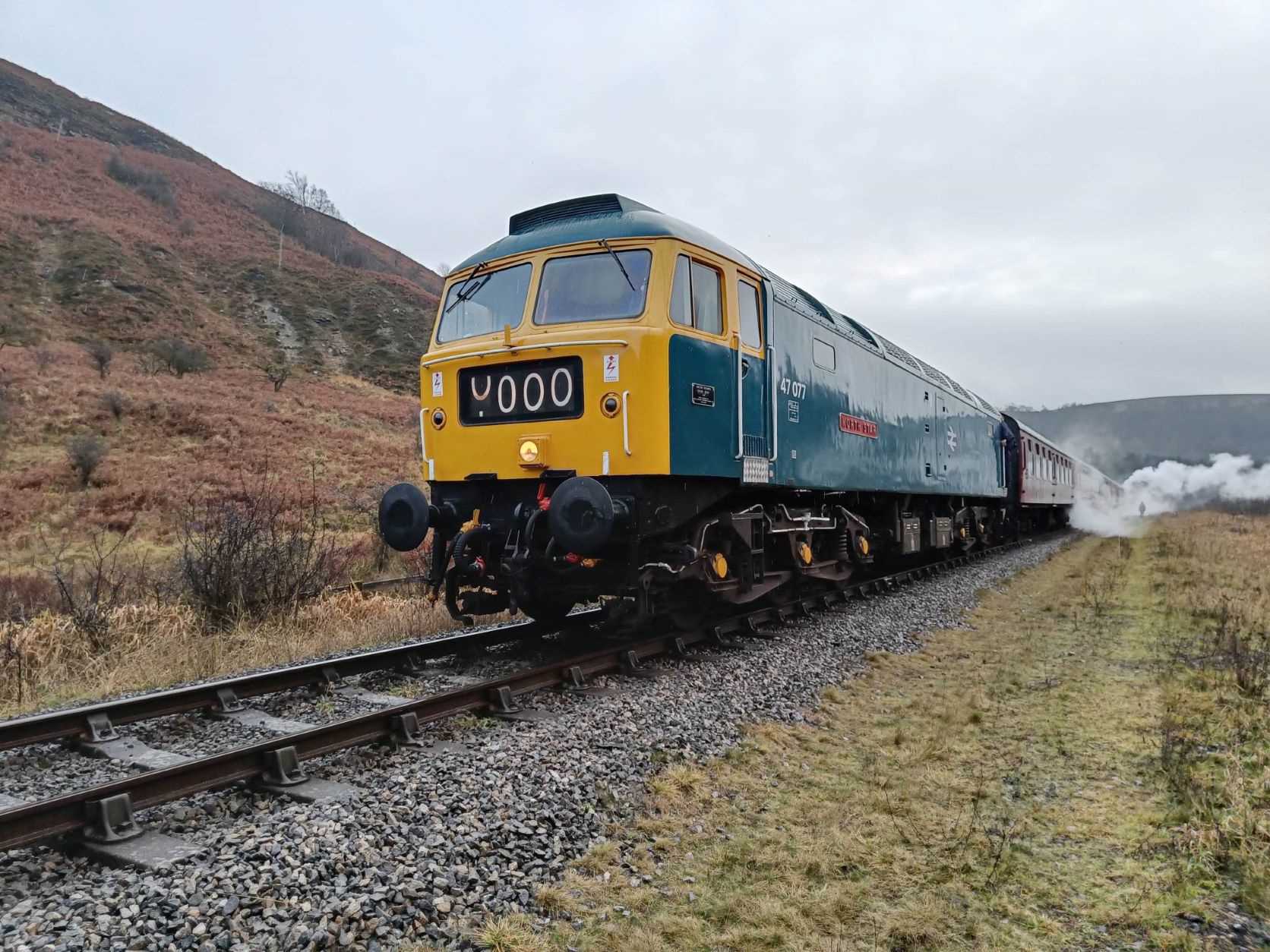 47077 joined the festivities by working in 'top-and-tail' mode with a steam engine on the 'Santa' services, on Thursday 22nd December 2022. Photo by Josh Smith © CC BY-NC 3.0
Andrew Barclay 0-4-0DH 578 – the overhauled fuel injection pump returned from Colchester Fuel Injection Ltd. in sparkling clean condition and has been re-installed on the loco along with new fuel filters of the modern 'spin-on' type. The next step is to flush the system with fresh fuel and check that the fuel remains clear. The engine oil will then be changed and everything checked over before attempting an engine start.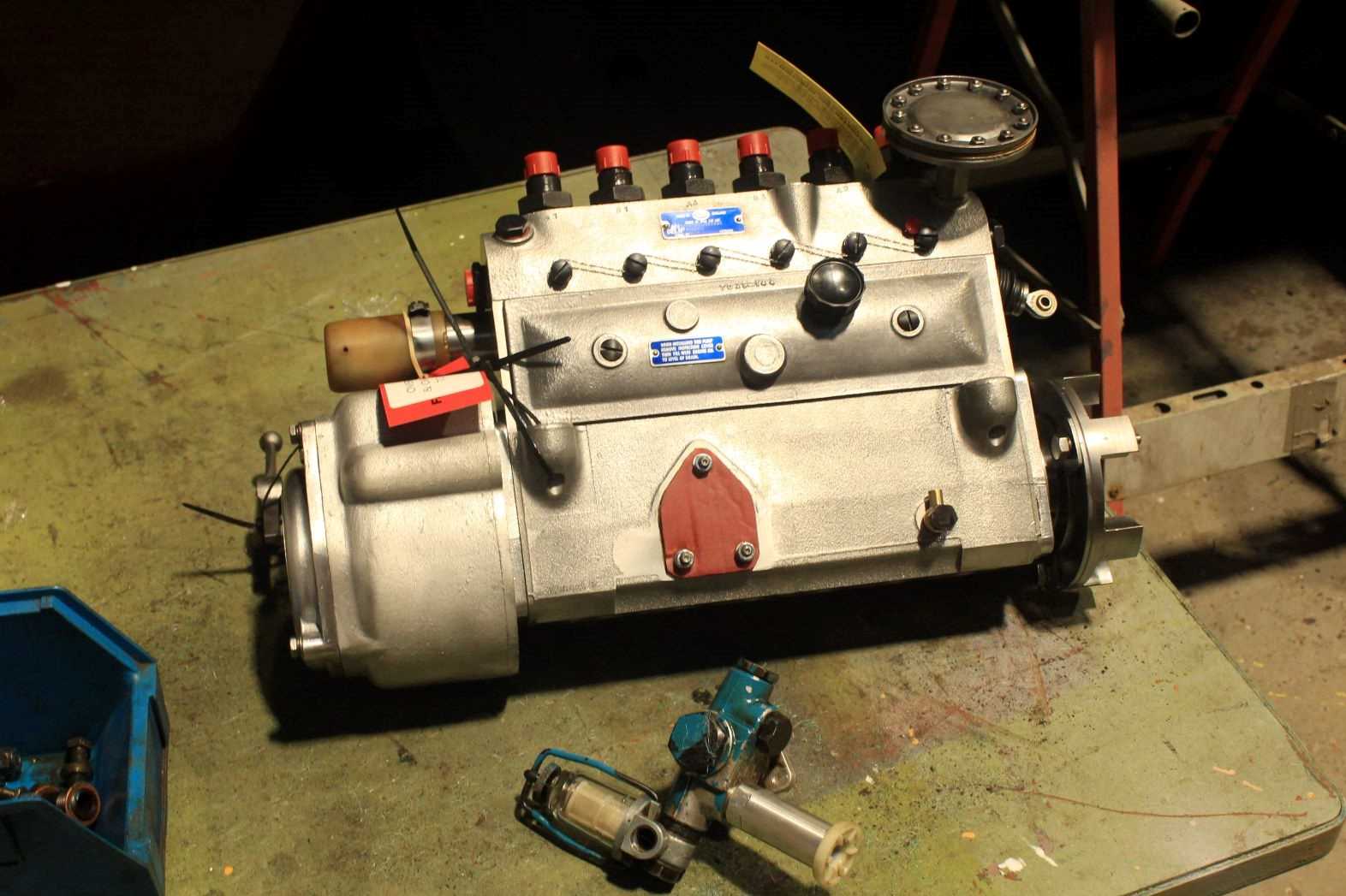 Barclay 0-4-0DH 578 'ROF 1' – the refurbished fuel injection pump looks like a new part after overhaul by Colchester Fuel Injection Ltd., but it is in fact an original part dating back to 1972. Photo by Terry Deacon © CC BY-NC 3.0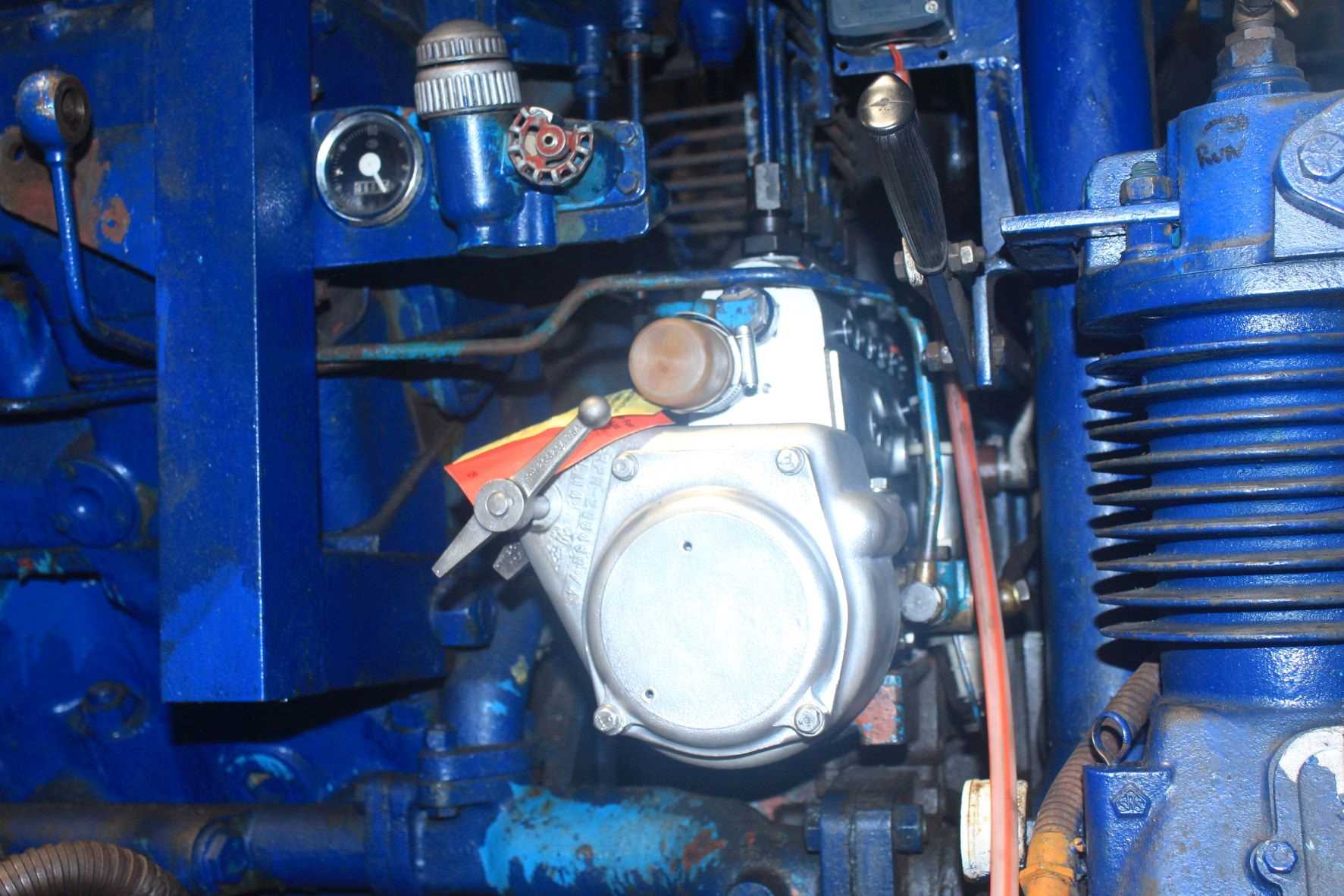 Barclay 0-4-0DH 578 'ROF 1' – the refurbished fuel injection pump was re-installed at Williton on Tuesday 3rd January 2023. Photo by Terry Deacon © CC BY-NC 3.0
If you can help by donating your time to any of these projects, then please JOIN US and come along to the depot for an introduction to what we do and how we do it. We currently have people on site from Saturday through to Tuesday and we can open on other days if we can be sure of getting at least two volunteers on site at all times, so there is plenty of scope. We have tasks of all types to suit most capabilities, both skilled and unskilled.
Many thanks to all of our volunteers who give up so much of their time to work on the cleaning, painting, maintaining, restoring, managing and fund raising for our fleet of heritage locomotives !
BOOK REVIEW – many thanks to all who have supported our sales of books both new and old during 2022. We will be adding new titles to our online store soon, but meanwhile please take a look at what we already have for sale and help us raise funds to support our restoration work. Thank you very much !
ON SHED – continuing with a series of photographs that have been provided by Kelvin Lumb, this time we have a photo of our very own Class 52 D1010 'WESTERN CAMPAIGNER' at Severn Tunnel Junction down hump marshalling yard, pictured after leaving her train and while heading for the loco servicing depot on the other side of the South Wales main line. The movements of the remaining Class 52s were closely monitored in their last years, so perhaps one of our readers could provide information about the working that had taken her to 'the tunnel'. Many thanks to Kelvin for sharing another item from his impressive collection with us all.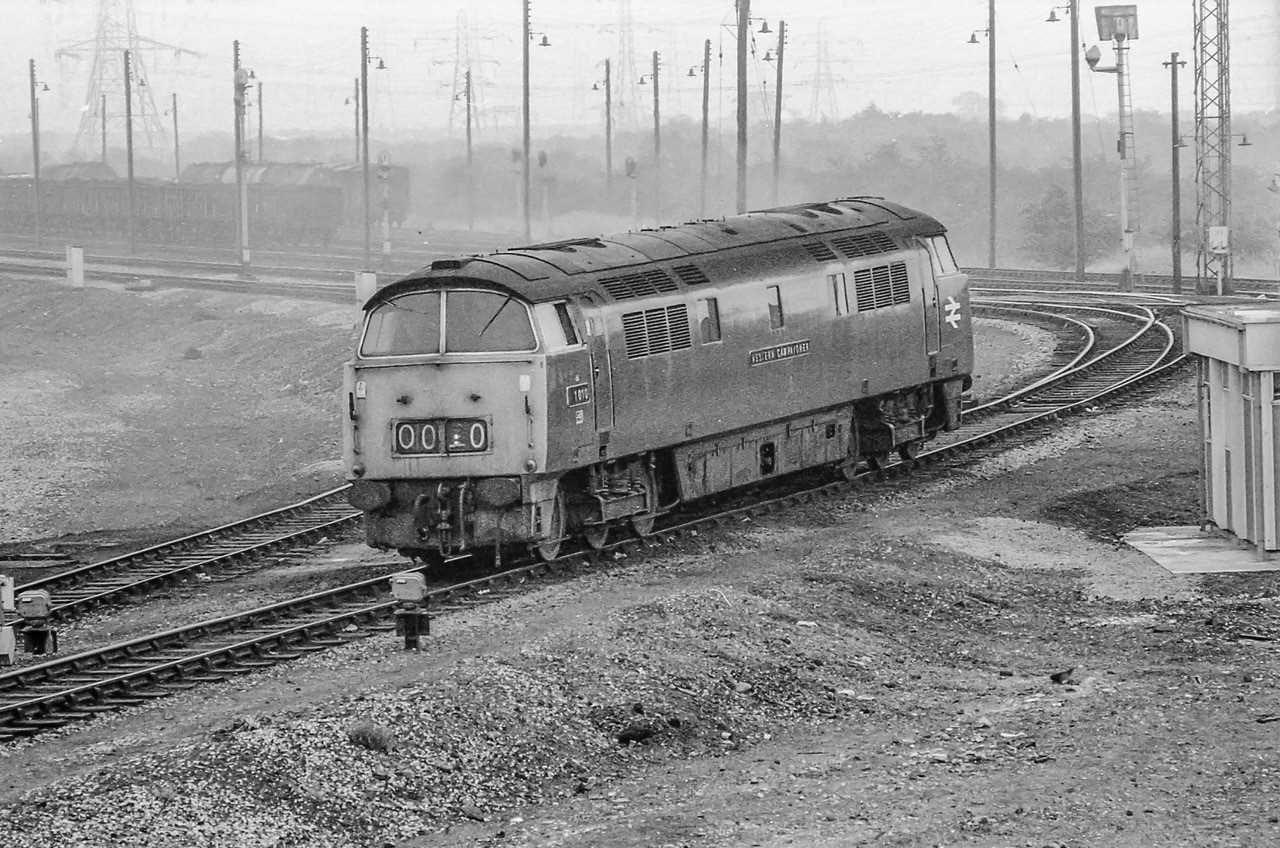 Class 52 D1010 'WESTERN CAMPAIGNER' goes over the hump at Severn Tunnel Junction after leaving her train and heads for the loco servicing depot. Pictured from the road bridge using a 200mm lens on a gloomy day in early 1976 by Kelvin Lumb © CC BY-NC 3.0
DEPG NEWS – the combined fund-raising efforts of the Williton Station staff and the volunteers at the DEPG have come together to deliver a result for the railway and for the local community by the installation of a defibrillator in the car park at Williton Station. The weatherproof housing contains a Zoll portable defibrillator that is both safe and very easy to use. The facility has been registered with the emergency services, but let's hope that it never has to be called into action.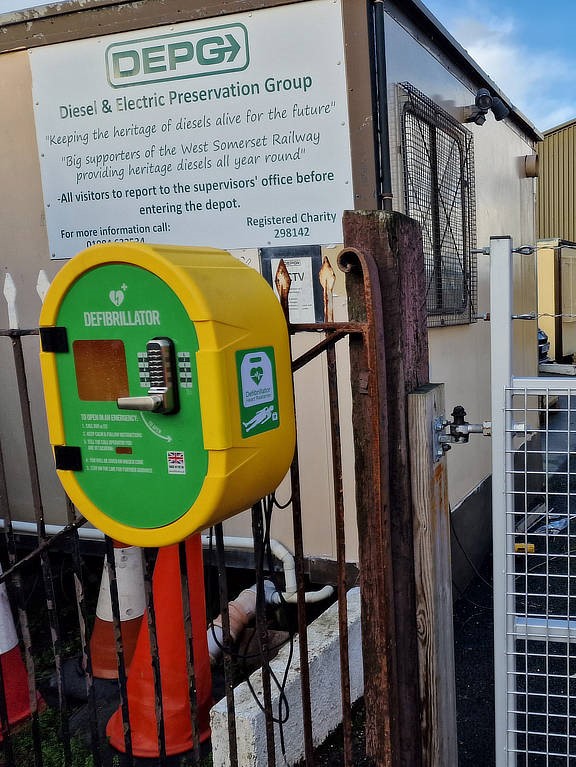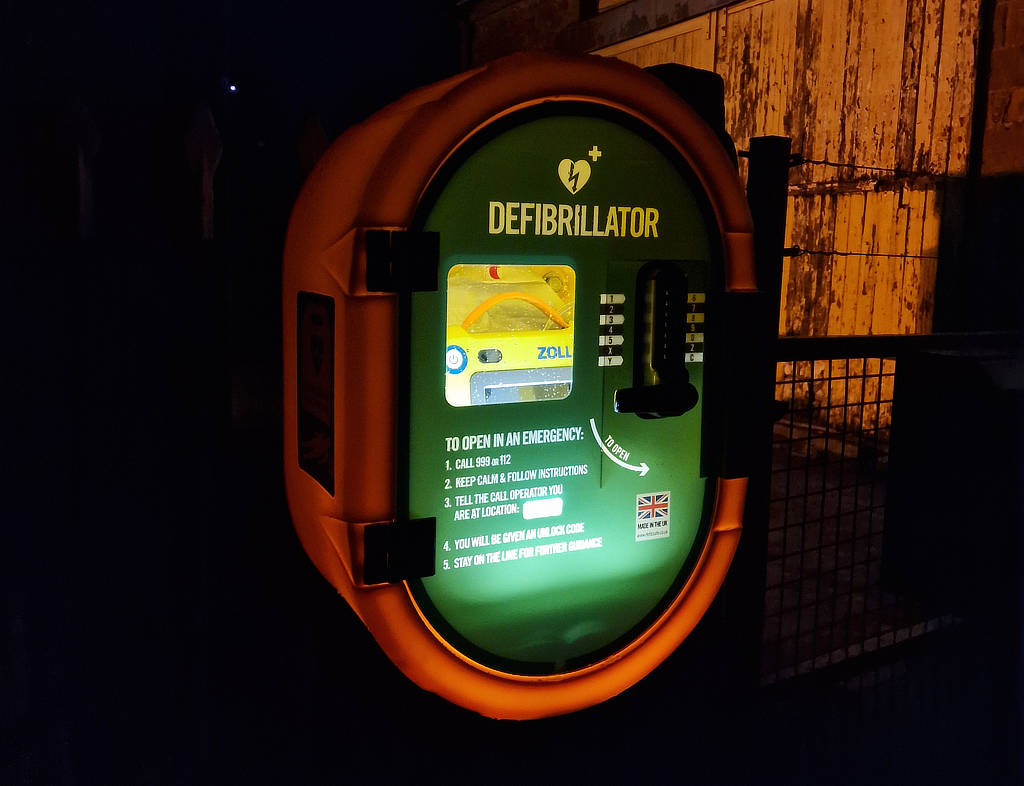 The Zoll portable defibrillator installation in the car park at Williton Station is available to the whole community. Pictured on 7th January 2023 by Martin Howard © CC BY-NC 3.0
VERY IMPORTANT DATES for 2023:
WSR DIESEL GALA : Thursday 8th through Saturday 10th June 2023
DEPG 50th ANNIVERSARY CELEBRATIONS : Friday 22nd and Saturday 23rd September 2023.
Many thanks for supporting the DEPG – your help is essential and is very much appreciated !