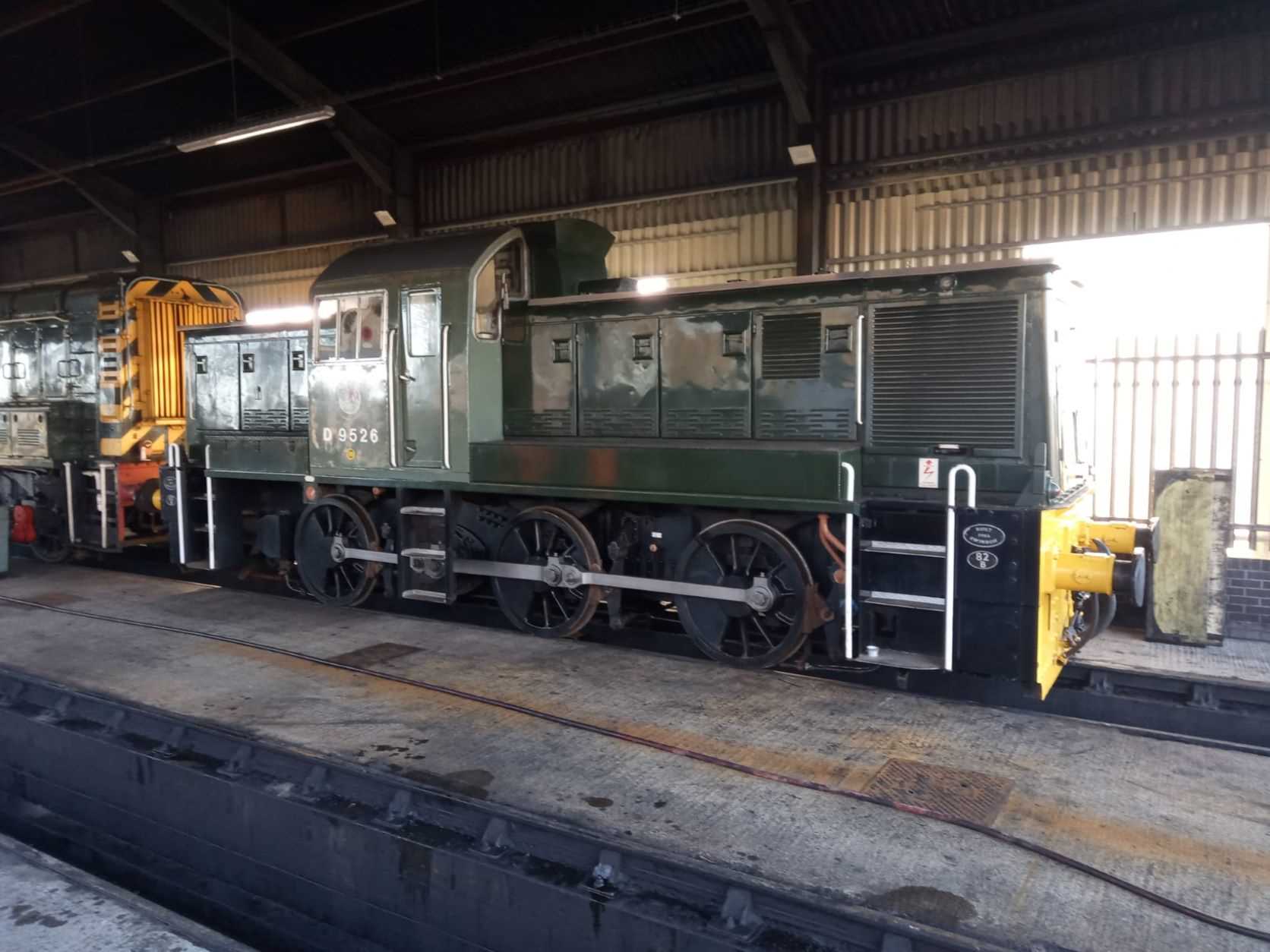 Class 14 'Teddy Bear' D9526 is back on the WSR, enjoying the company of Class 09 D4107 (09 019) at Westridge Loco Shelter, Bishops Lydeard. Pictured on Saturday 21st January 2023 by Colin Girle © CC BY-NC 3.0
Our Class 14 'Teddy Bear' D9526 has returned to the WSR after being on hire to the K&ESR for the last 18 months and has taken up residence at Westridge Shed, Bishops Lydeard where she will remain until the start of the 2023 running season. The loco arrived via road transport on Friday 20th and was inspected and tested by Colin G and Simon P on Saturday 21st, and confirmed as being in full working order and available for service, should the need arise.
After clocking up almost 750 hours of use at the K&ESR during her very successful visit, our thanks go to Mike Grimwood and the D9504 team for looking after D9526 and keeping her in such great condition. MUCH APPRECIATED !
WSR TIMETABLE NEWS:
The WSR have released the details of their 2023 timetable and we have updated our DIESEL RUNNING DATES page to show the services that will include DEPG loco haulage. Further details will be added as soon as we have agreed the allocations for the diesel-hauled services, which will now be a selection from three loco classes, namely Class 14 'Teddy Bear' or Class 33 'Crompton' or Class 35 'Hymek'.
The WSR's Class 115 Diesel Multiple Unit (DMU) will also feature in the running on several other days, the details of which can be found on the WSR's timetable page.
The WSR's Class 115 Diesel Multiple Unit (DMU) was pictured while basking in the winter sunshine at Minehead on 17th January 2023. Photo by Dave Fowler © CC BY-NC 3.0
Keep an eye on the DIESEL RUNNING DATES page and mark the days that interest you on your calendar, so that you can make a plan to come along and ride behind your favourite type of locomotive. Click on the banner below to go to the page on our website:

LOCO NEWS:
Class 52 D1010 'WESTERN CAMPAIGNER' – the continuing cold weather affected progress on the bodywork restoration, so the opportunity was taken to clean up and wire up the batteries that were removed from D7017 last week and keep them at hand for electrical circuit testing that will be necessary once the cab wiring in D1010 has been reinstated and checked. Further work on the 'B' transmission gathered pace as the turbine components were reassembled with new bearings, ready for the secondary shaft to be fitted next week. Here's some photos showing the progress: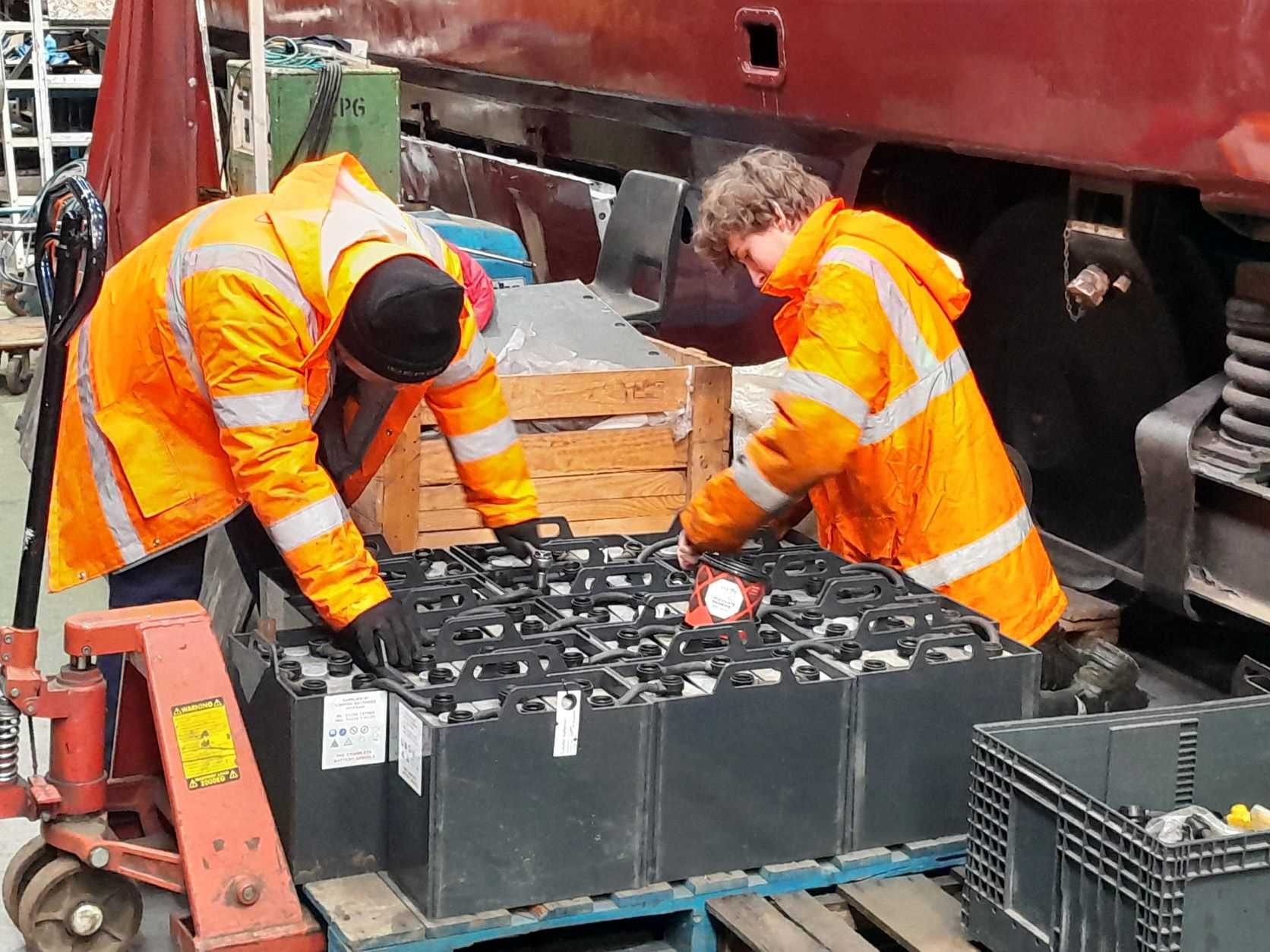 D1010 – the relatively new batteries from D1010 have been transferred to D7017 to make better use of them while D1010 is 'stopped' for overhaul. The old and tired batteries from D7017 were cleaned and wired up so that they can be used when testing the new wiring in D1010. Ian F and Tom (L-R) were pictured at work at Williton on Saturday 21st January 2023 by Jon Tooke © CC BY-NC 3.0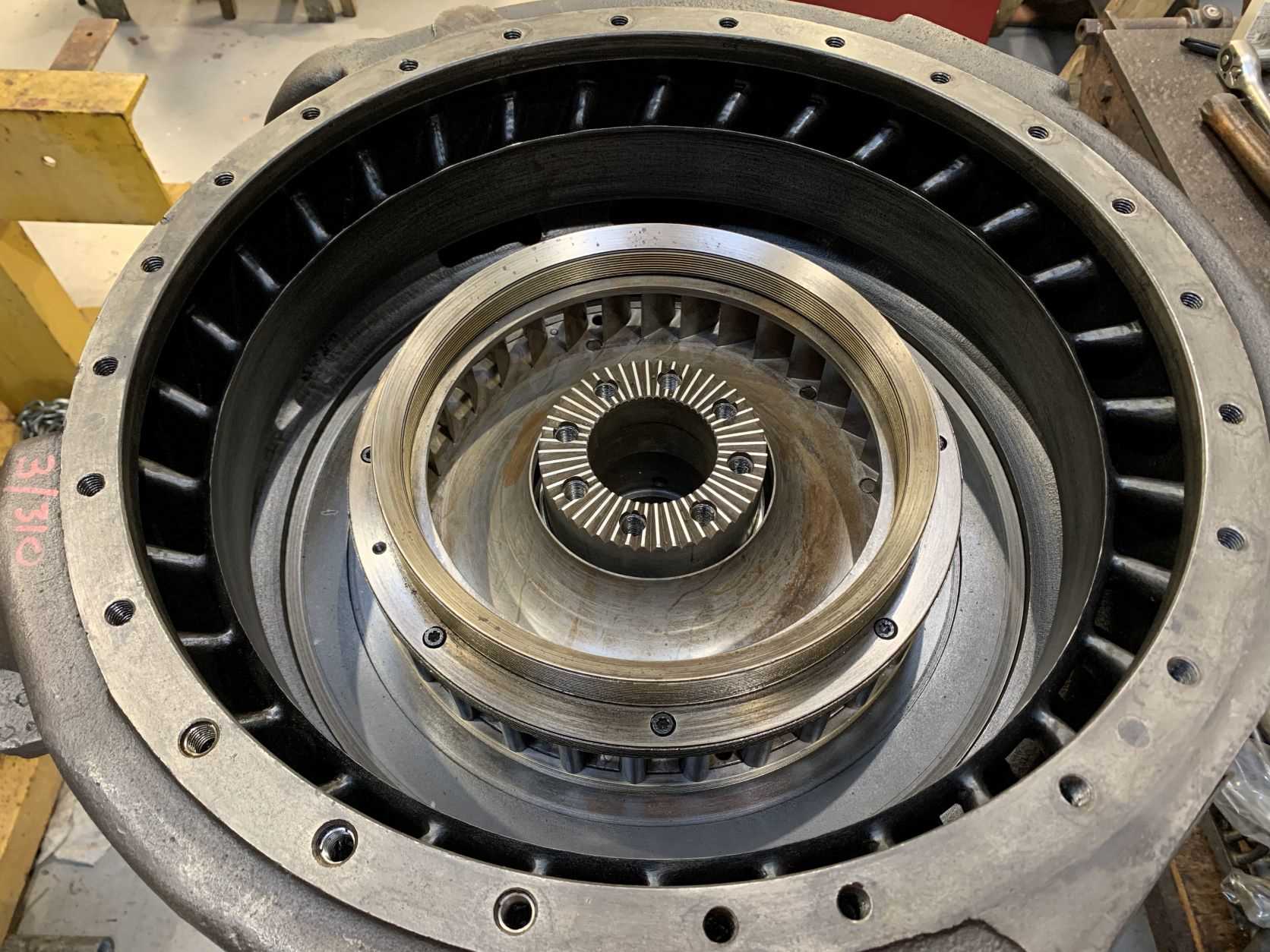 D1010 – the fixed blade rings of the first torque converter stage are clearly visible in this view taken at Williton on Tuesday 17th January 2023. The impeller will attach to the Hirth joint (radial splined joint) of the primary shaft that is visible in the centre. Photo by Andy Royal © CC BY-NC 3.0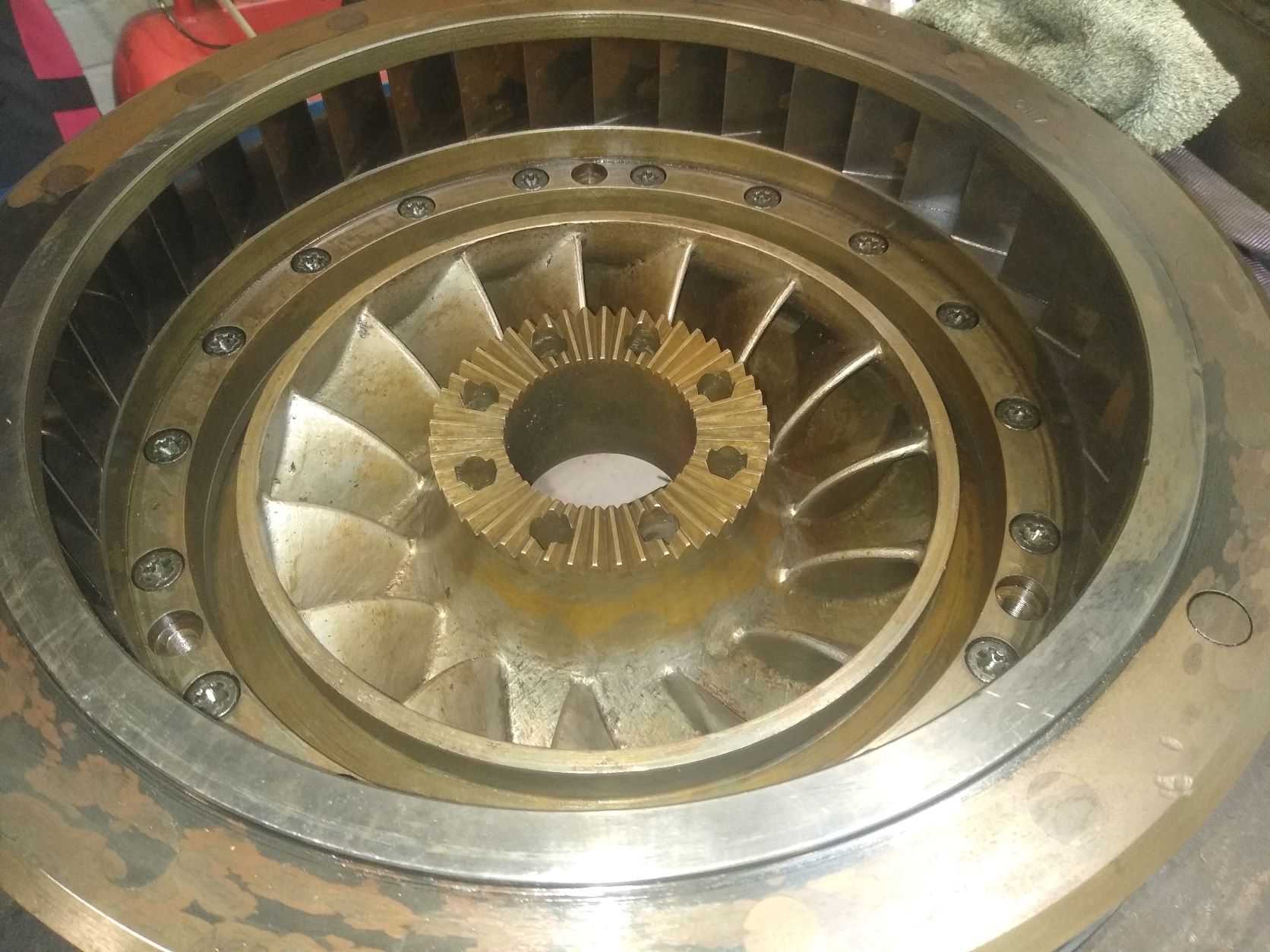 D1010 – the first stage impeller is shown in the centre of this view, taken at Williton on Tuesday 17th January 2023. The first stage turbine runner is shown in position around the impeller. The fixed guide ring (previous picture) fits between the two when the Hirth joints are mated up. Photo by Colin Foxhall © CC BY-NC 3.0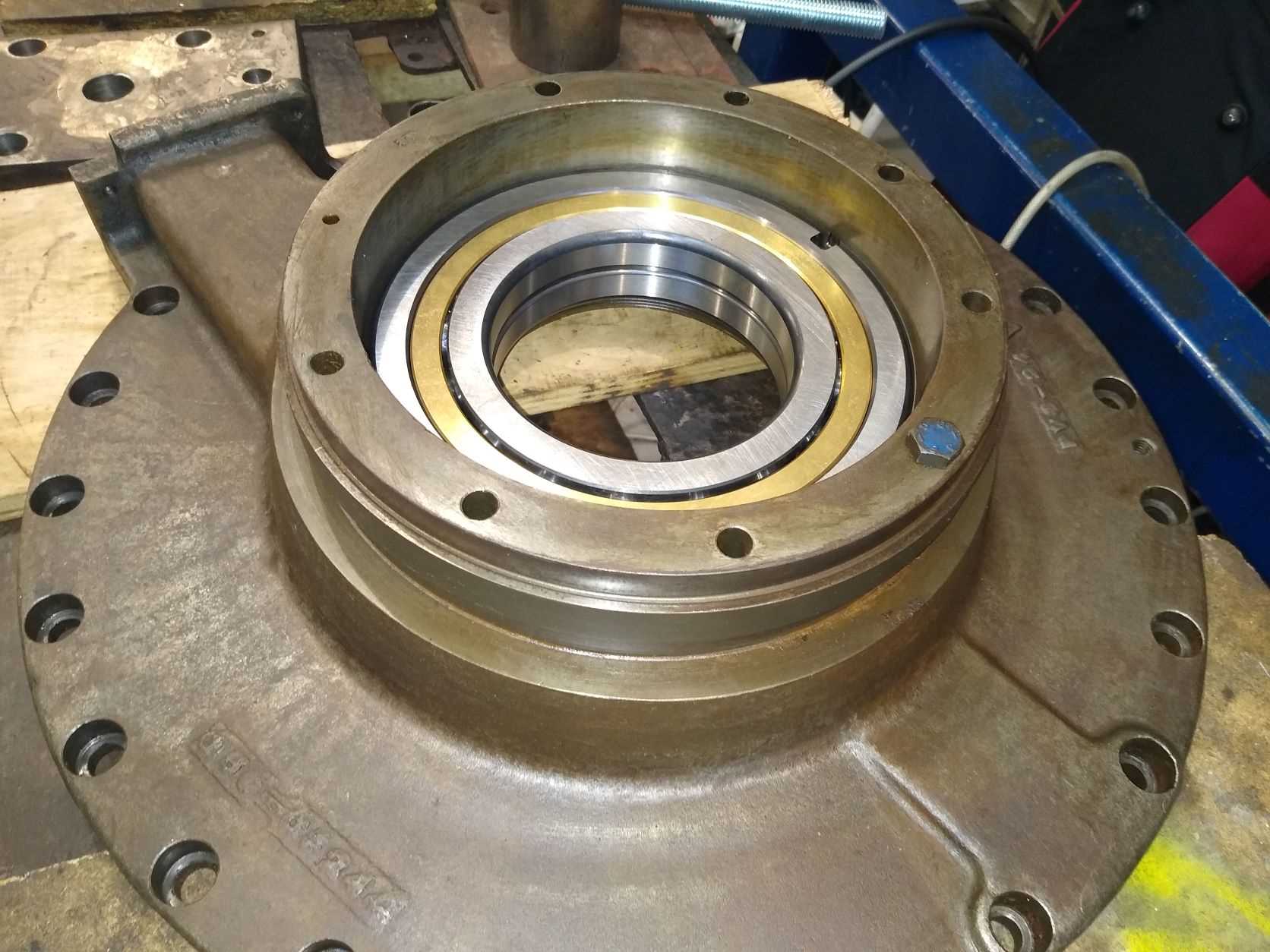 D1010 – the cover of the second stage turbine includes two of the three bearings that support the secondary shaft. The angular contact bearing (very expensive!!) is shown in position within the cover. This bearing controls the axial float or play of the secondary shaft, so it is quite important ! A roller bearing fits outboard of this and carries the radial loads. Pictured at Williton on 16th January 2023 by Colin Foxhall © CC BY-NC 3.0
To continue our rate of progress requires FUNDING and we give our thanks to everyone who has supported D1010 by sponsoring or donating during these difficult times. If you are able to do so, please SPONSOR A PATCH because there is plenty of recently-added metal that still needs engraving. Photographs and certificates of sponsorship will be sent out to all who have sponsored this phase of the restoration work, and we are applying more resources to catch up with this obligation and deliver the documents. Click the image below to sponsor a patch. Thank you in advance for your support !
See our CAMPAIGN for CAMPAIGNER web page for more details. We still have a lot of work to do on this massive locomotive, so PLEASE DO COME ALONG AND HELP IF YOU CAN !

Class 33 D6566 (33 048) – this loco has now taken up the role of duty loco and is available for use by the WSR. The loco currently stands at the head of the 'Type 3' line up at Williton, ready for action.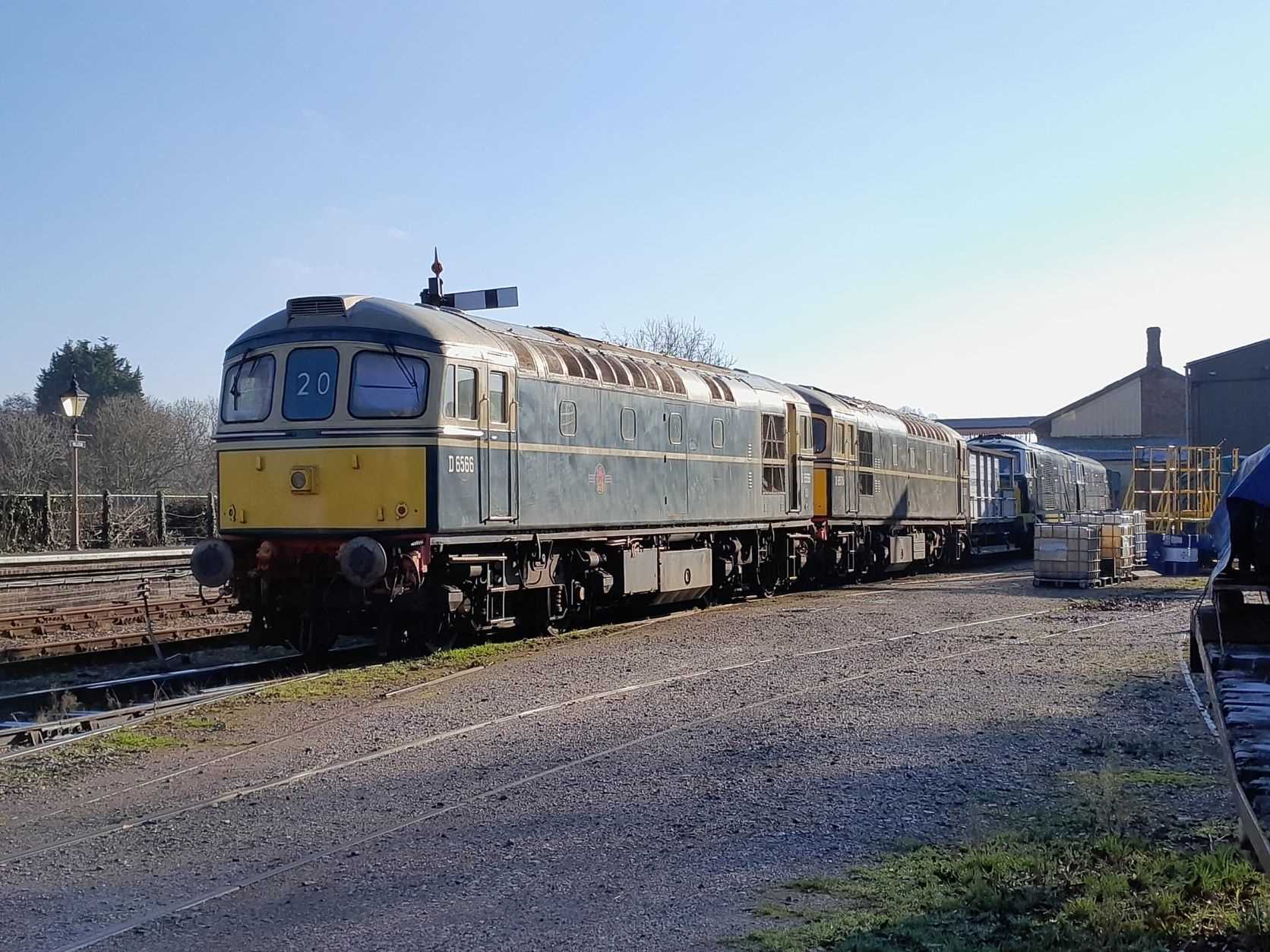 Class 33 'Crompton' D6566 (33 048) stands on number 1 road at Williton, ahead of sister D6575 (33 057). Next in the line-up is the GWR 'Toad' brake van, then Class 35 'Hymeks' D7017 and D7018. Pictured on Saturday 21st January 2023 by Jon Tooke © CC BY-NC 3.0
Class 33 D6575 (33 057) – the maintenance worklist is being tackled and this loco will be ready for service again some time during the next few weeks. The next task is to change the air and vacuum gauges for calibrated spares and send the removed gauges for calibration. Preparations for the changeover are well advanced and the work will be completed next weekend.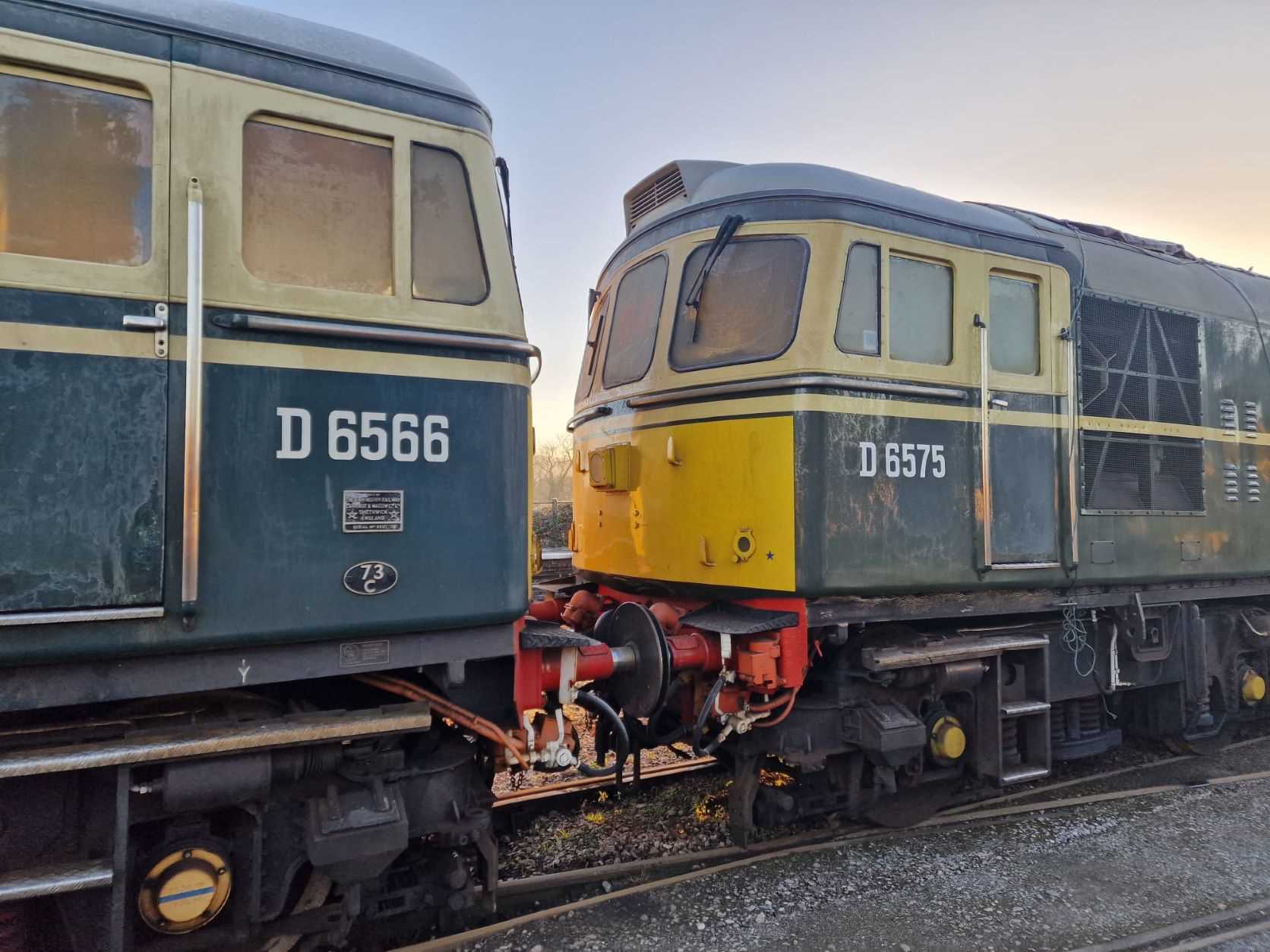 D6566 (33 048) and D6575 (33 057) show the evidence of the very cold temperatures that prevailed at Williton on Saturday 21st January 2023. Not very welcoming to volunteers, that's for sure. Photo by Martin Howard © CC BY-NC 3.0
Class 35 'Hymek' D7017 – the batteries on this loco were replaced with those from D1010 last weekend and were put on charge on Saturday 21st to get them up to the required performance level. By the end of the day, the batteries were still charging but close to completion, so the decision to move them to D7017 to put them back in use was not a moment too soon.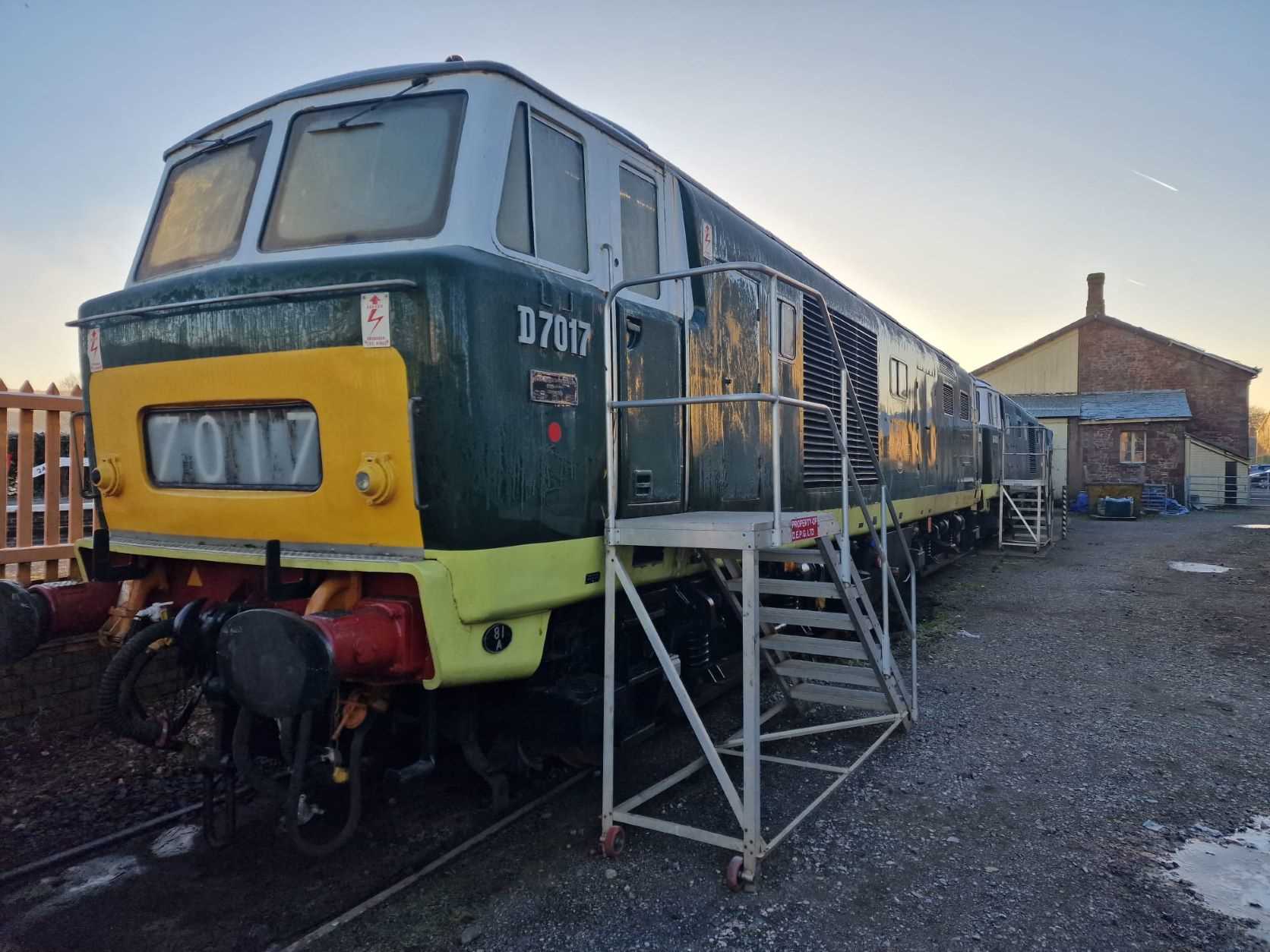 D7017 and D7018 – both locos stand together on number 1 road outside the Old Goods Shed at Williton on the very cold and frosty morning of Saturday 21st January 2023. Photo by Martin Howard © CC BY-NC 3.0
Class 35 'Hymek' D7018 – there are a number of tasks outstanding on this loco and all will be tackled in good time for the start of the new season.
Class 14 'Teddy Bear' D9518 – some great progress can be witnessed on the battery boxes, which have now been fully refurbished and are ready to go back onto the loco. Note the 'NCB Ashington Blue' colour and the high standard of finish that is characteristic of Colin G's work. Here's some photos:
D9518 – the battery boxes have been completely refurbished and are now ready to be re-installed on the loco. The colour is 'NCB Ashington Blue' because the loco will return to service in the guise of 'NCB No. 7'. Photo dated 19th January 2023 by Colin Girle © CC BY-NC 3.0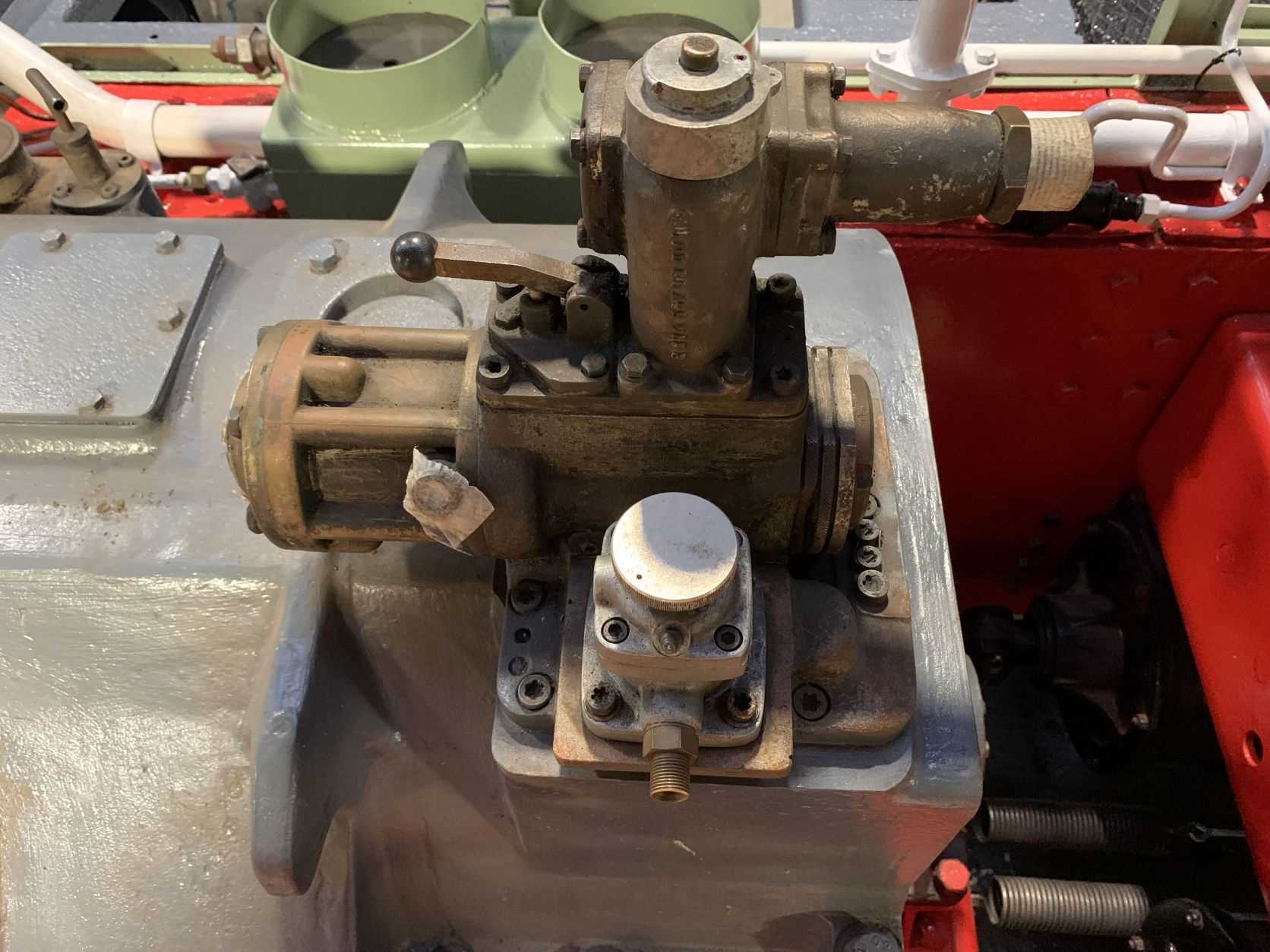 D9518 – the speed governor is mounted on the top of the Voith L217u 3-speed hydraulic transmission and includes the overspeed trip and vacuum release valve that automatically applies the brakes if excessive speed is detected. Pictured at Williton on 14th January 2023 by Andy Royal © CC BY-NC 3.0
This loco is the subject of a fundraising appeal so please follow this link to find out more. We need your help ! In addition to funds, we also need plenty of HANDS. If you love the 'Teddy Bears' and you are not already a member of the DEPG, please join us so that you can become one of the team that is going to return D9518 to fully operational condition as 'NCB No. 7'.
Class 14 'Teddy Bear' D9526 – as already reported, this loco has now returned to the WSR and will remain under cover at Westridge shed, Bishops Lydeard until the start of the 2023 running season.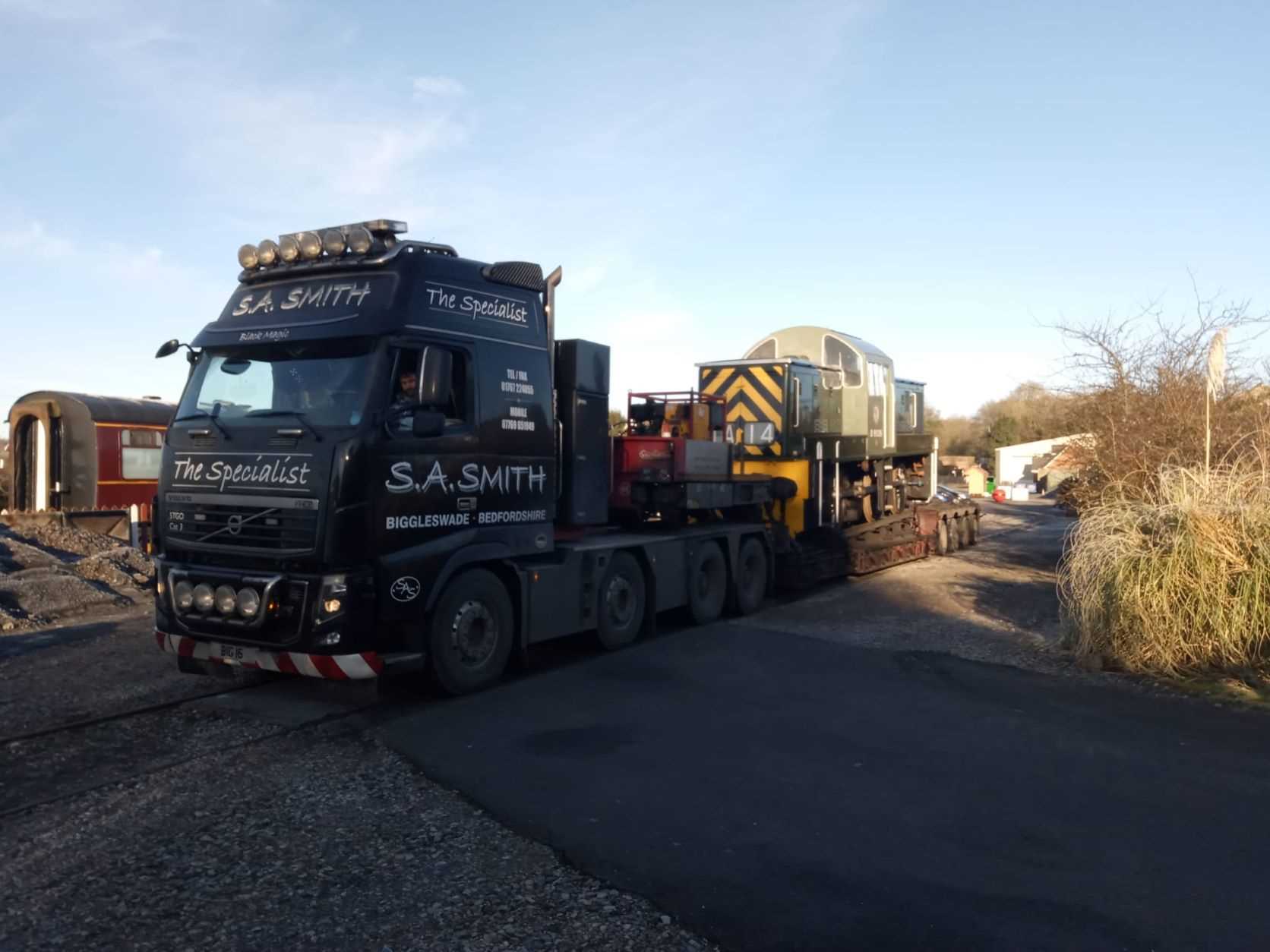 D9526 – in difficult lighting conditions that are characteristic of this time of year, the loco is pictured aboard the road transport shortly after arrival at Bishops Lydeard on Friday 20th January 2023. Photo by Colin Girle © CC BY-NC 3.0
Class 47 47077 'NORTH STAR' – this loco is currently stabled at Grosmont on the North Yorkshire Moors Railway and will undergo winter maintenance to prepare her for what should be a very busy season on the NYMR. We will provide more details about the maintenance program in a future roundup.
Andrew Barclay 0-4-0DH 578 – the oil filter was found to be unfit for further use, so a modern replacement is being identified and ordered. This will allow the winter maintenance effort to be completed. The fuel system flush and refill will then be the only task standing in the way of an engine start.
If you can help by donating your time to any of these projects, then please JOIN US and come along to the depot for an introduction to what we do and how we do it. We currently have people on site from Saturday through to Tuesday and we can open on other days if we can be sure of getting at least two volunteers on site at all times, so there is plenty of scope. We have tasks of all types to suit most capabilities, both skilled and unskilled.
Many thanks to all of our volunteers who give up so much of their time to work on the cleaning, painting, maintaining, restoring, managing and fund raising for our fleet of heritage locomotives !
BOOK REVIEW – we are trialling a different approach this week and we are offering a selection of pre-owned books that have been donated by members and supporters, but on the basis of a bid. To get started, here is a book by well-known author DAVID CABLE, comprising 198 pages covering this very popular loco class: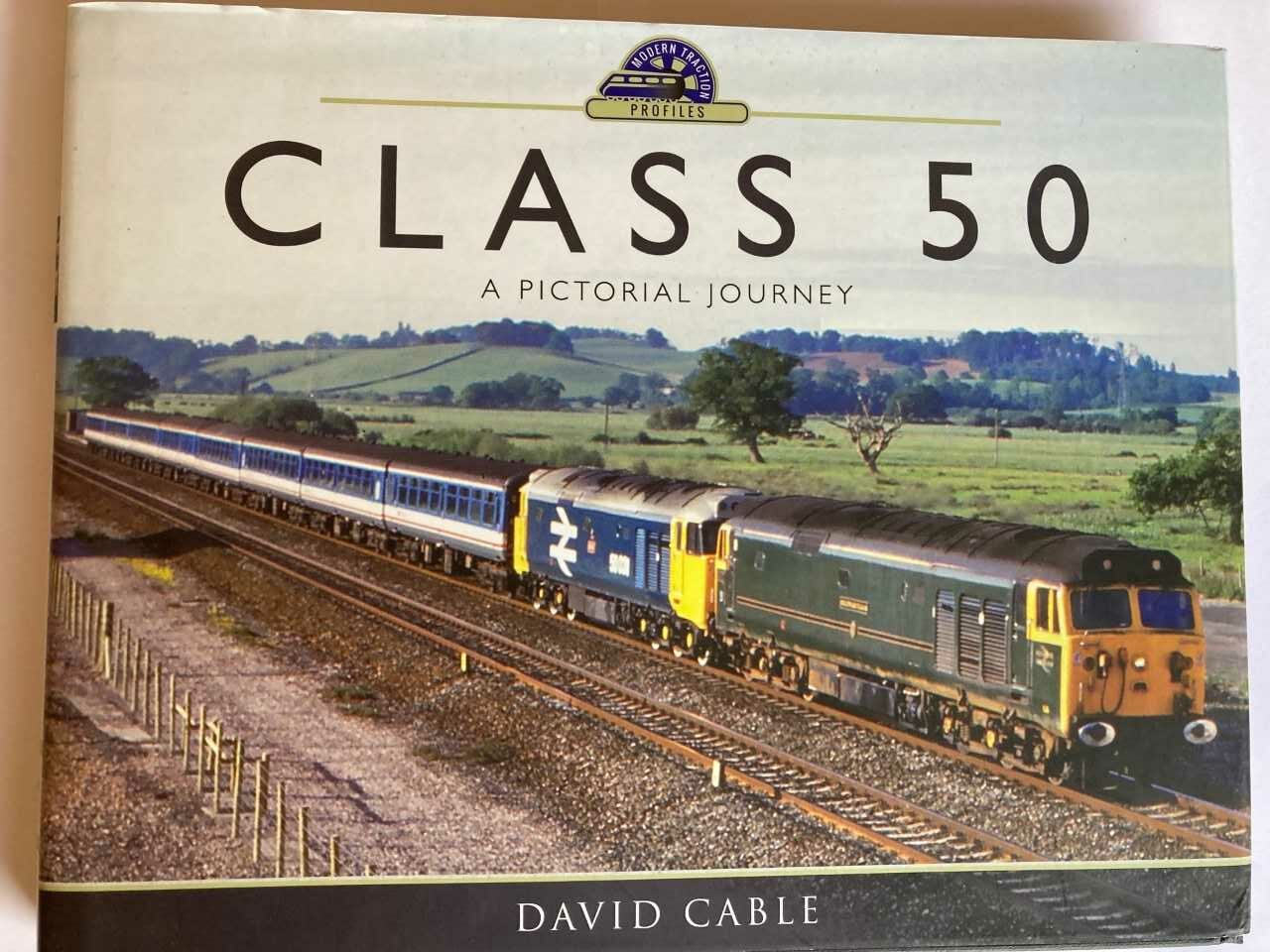 CLASS 50 – A PICTORIAL JOURNEY by David Cable ISBN 1473864410
If you want to donate to the DEPG loco of your choice and get a good book in return, use our CONTACT FORM to express your interest and make a bid. Thanks !
ON SHED – staying with the series of photos by Kelvin Lumb, this week we feature one of the seven Class 52 survivors, D1041 'WESTERN PRINCE' as she heads towards Paddington with an 'up' West Country service passing Fairwood Junction and taking the Westbury avoiding line. Happily, D1041 was saved and now resides on the EAST LANCASHIRE RAILWAY in the care of the Bury Hydraulic Group. Many thanks to Kelvin for sharing another of his photos with us all.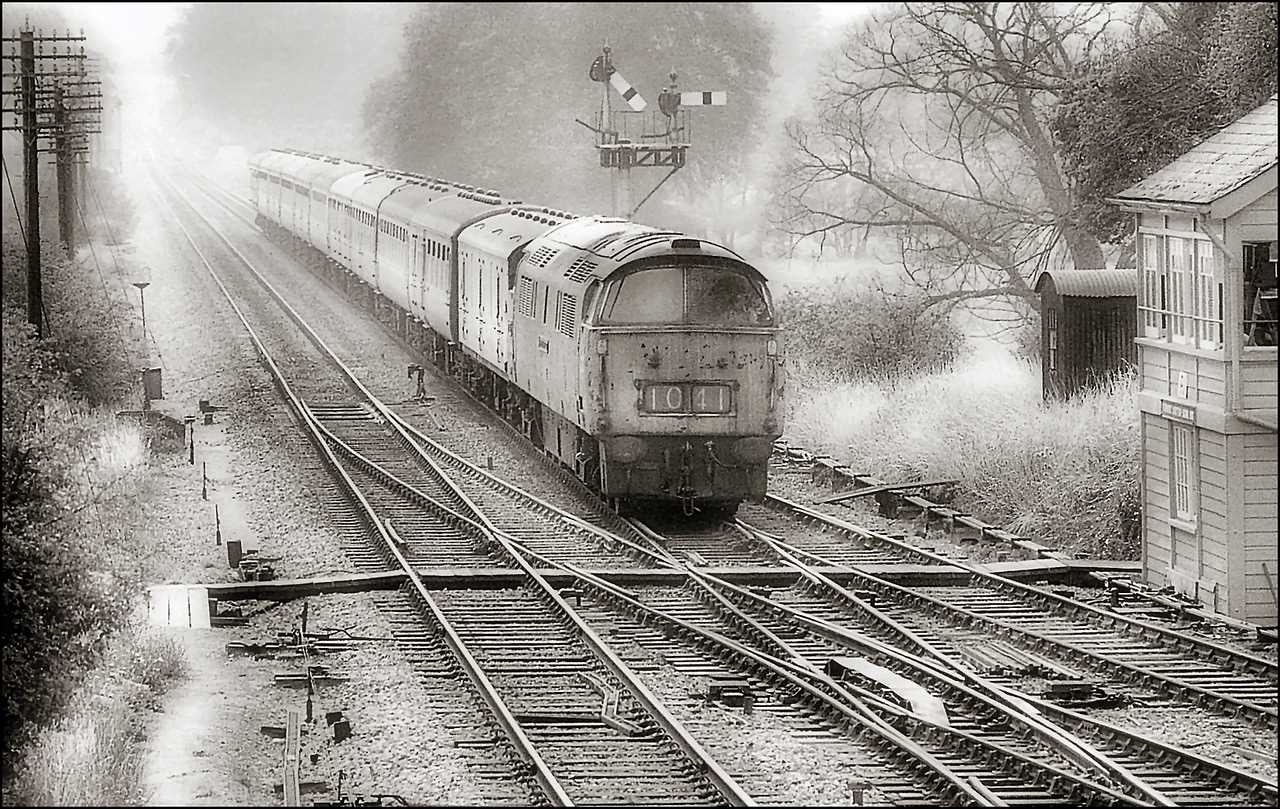 Never looking its best in its final years, Class 52 D1041 'WESTERN PRINCE' passes Fairwood Junction signal box and takes the Westbury avoiding line at speed with a West Country express to the capital on a gloomy day in 1976. D1041 was one of the few that made it into 1977, soldiering on until 22nd February of that year. Photo by Kelvin Lumb © CC BY-NC 3.0
DEPG NEWS – the next Board meeting will take place at Williton this coming Saturday 28th January, so please use our CONTACT FORM if you are a DEPG member and have a question that you would like to have submitted to the Board for consideration.
KEY DATES for your diary:
WSR DIESEL GALA : Thursday 8th through Saturday 10th June 2023
DEPG 50th ANNIVERSARY CELEBRATIONS : Friday 22nd and Saturday 23rd September 2023.