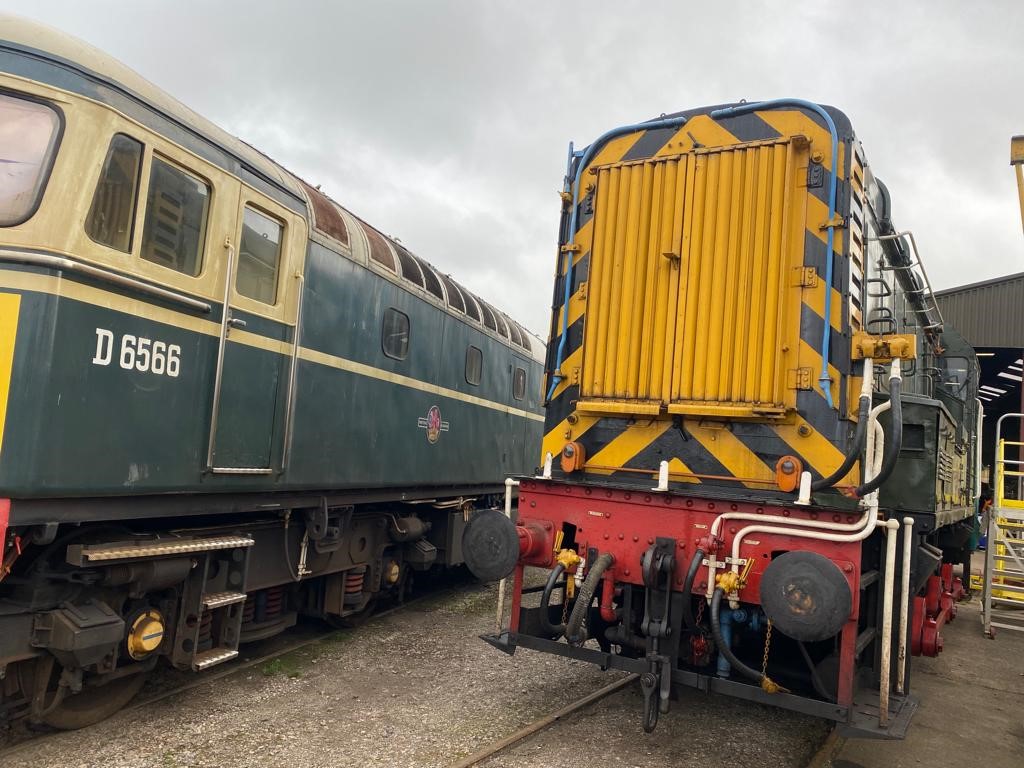 Class 33 'Crompton' D6566 (33 048) stands alongside Class 09 D4107 (09 019) at Williton on Saturday 18th February 2023. The '09' is undergoing planned maintenance in the hands of the DEPG while the '33' is the designated duty loco and is ready for action. Photo by Natalie Royal © CC BY-NC 3.0
The Class 09 shunter D4107 (09 019) has been receiving attention from Ian, Tom, John and Martin as we work through a list of maintenance tasks and deal with some minor repairs. Once completed, the loco will move to the Swindon Shed to undergo some bodywork repairs and be treated to a repaint, but she is second in line to Class 33 'Crompton' D6566 (33 048) for the paintshop and will have to wait her turn.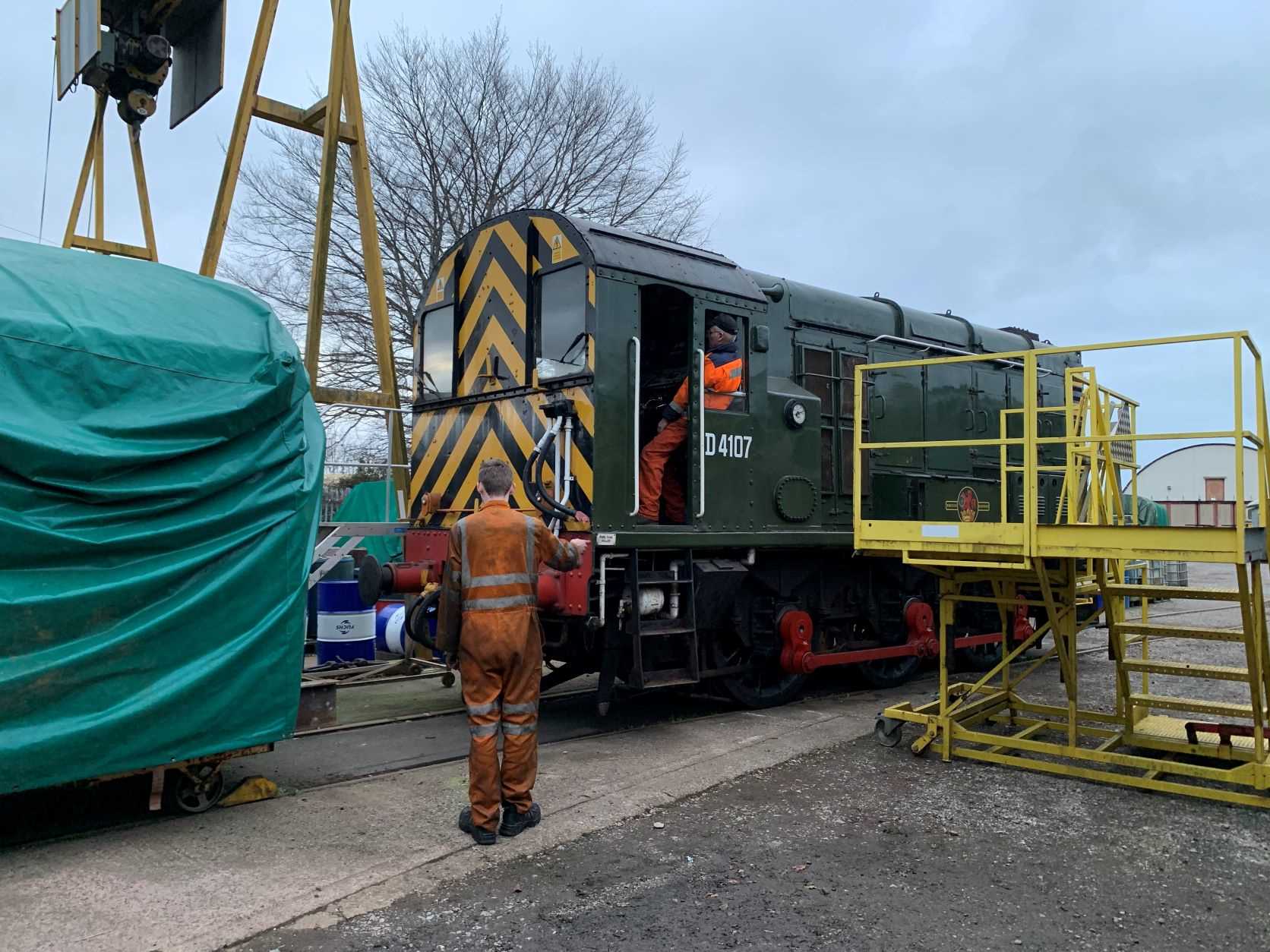 Class 09 D4107 (09 019) is moved closer to the covered-over cab of Class 14 D9518 on number 2 road at Williton on Saturday 18th February 2023. The shunting signals are being provided by Tom while DEPG Chairman Martin Howard is operating the locomotive. Photo by Andy Royal © CC BY-NC 3.0
Now, some really sad news about the loss of Jon Grimwood, son of Mike Grimwood and one of the team who looked after our Class 14 D9526 so well at the Kent & East Sussex Railway last year, who died suddenly last week at the age of 37. We send our heartfelt condolences to Mike and the whole family. Here's one of the many photos taken by Jon that provides a reminder of happier times in the recent past: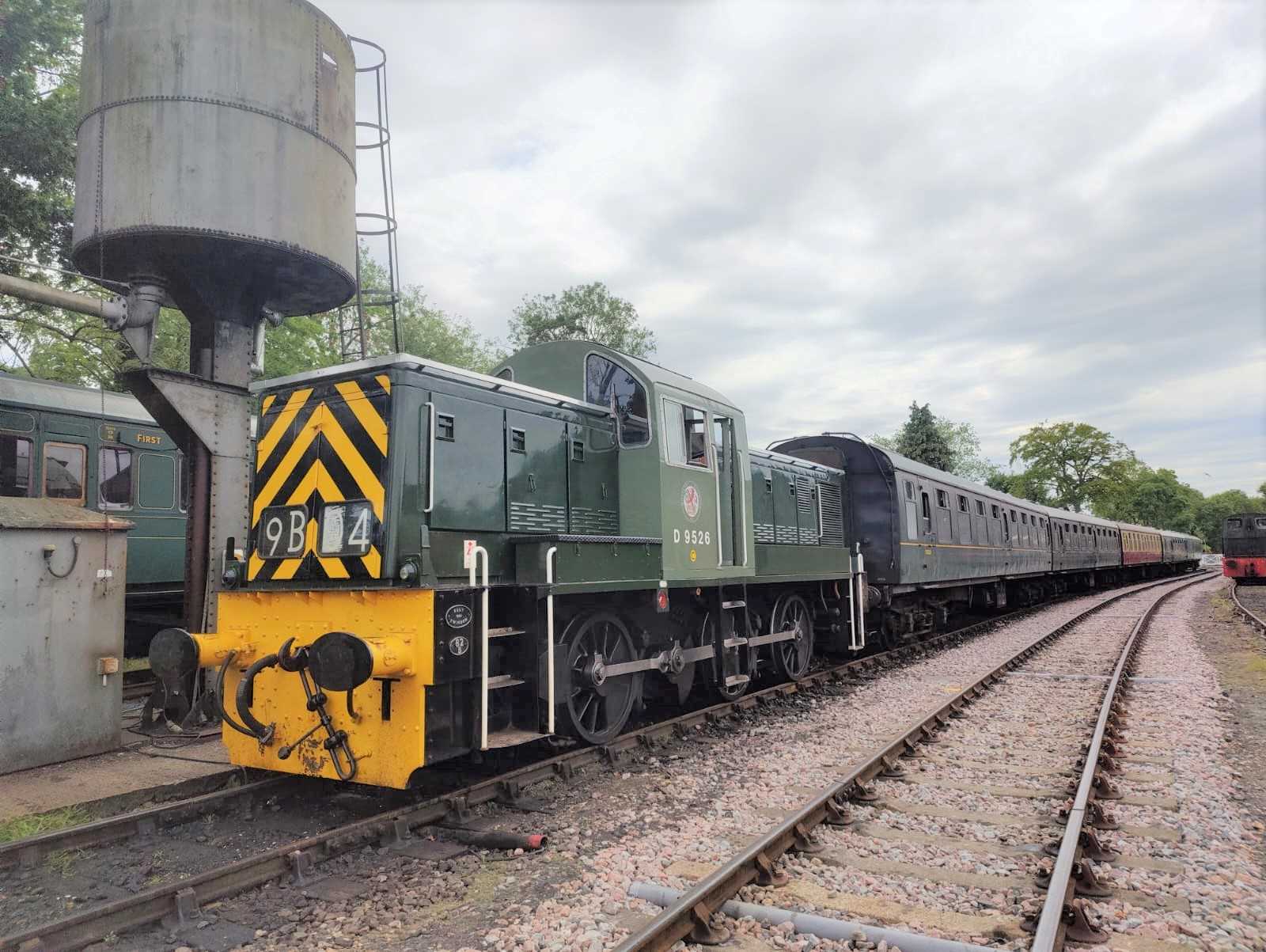 Class 14 D9526 was pictured shortly after arrival at Tenterden Town station on the Kent & East Sussex Railway on Wednesday 13th July 2022 with a 4-coach train from Bodiam. The DEPG-owned loco worked on the line for 18 months between July 2021 and December 2022 and was looked after by Mike, Jon and William Grimwood. Photo by the late Jon Grimwood © CC BY-NC 3.0
FLOOD DAMAGE UPDATE:
The survey that has been carried out on behalf of the WSR has confirmed that the embankment at Coombe Florey is safe to use, subject to a temporary speed restriction and regular monitoring. This is excellent news and will allow the railway to re-open in March as planned. The west-facing section of the embankment that slipped into the gardens of the houses below during the night of December 19th 2022 will be carefully excavated so that the retaining wall can be rebuilt and everything made good.
The trackbed still needs attention, so the West Somerset Railway Association (WSRA) have launched an appeal to raise money get this work done as quickly and efficiently as possible. The WSRA have pledged £25,000 of MATCH FUNDING to effectively double the value of donations made to this appeal, so this is a great opportunity to help make a real difference and get the trackbed sorted out with fresh ballast. Many thanks to the WSRA for this initiative ! Click here or on the image below to visit the web page and get more details: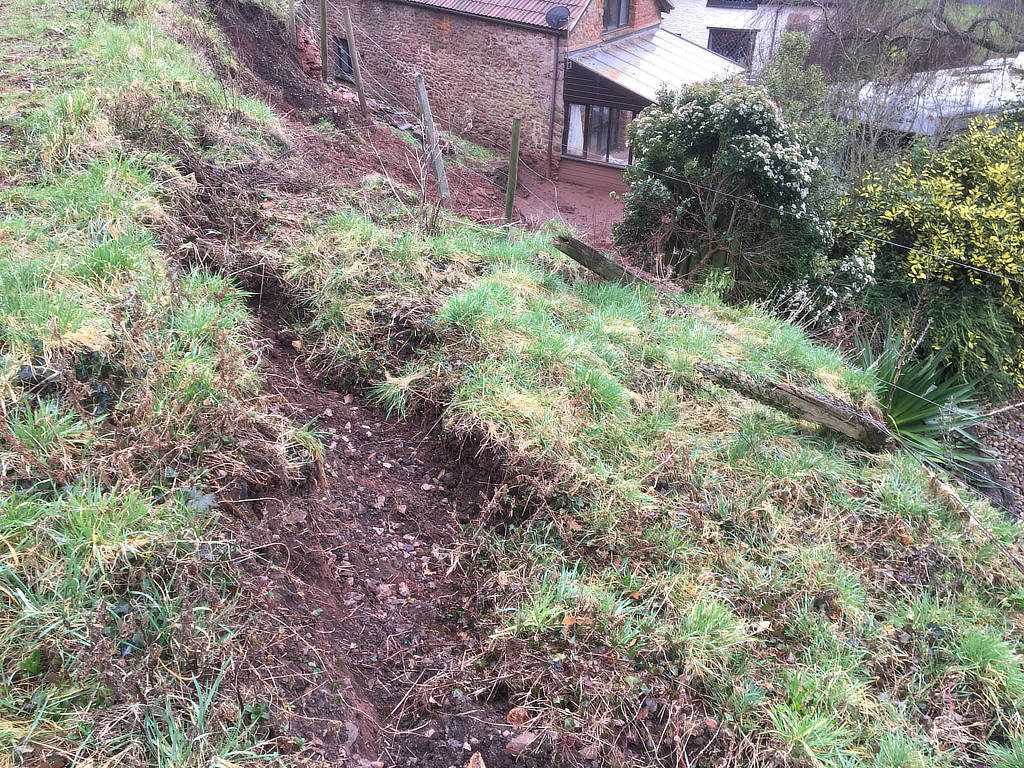 The landslip affected the western side of the embankment at Coombe Florey, just to the north of Tribble Bridge, and provided an escape route for the deluge of mud and water that ran off from the potato field on the other side of the line during the night of 19th December 2022. Pictured on 19th February 2023 by Malcolm Anderson © CC BY-NC 3.0
2023 TIMETABLE NEWS:
The WSR have updated their 2023 timetable and are now showing the planned SPECIAL EVENTS in purple colour. The details of each event are not yet shown on their events page, but are being prepared. The first event this year will be the SPRING STEAM SPECTACULAR from 28th to 30th April. More details will be available soon.
The first scheduled diesel-hauled service for 2023 is booked for Friday 7th April and will feature haulage by one of our Class 33 'Cromptons'. Keep an eye on the DIESEL RUNNING DATES page and mark the days that interest you on your calendar, so that you can make a plan to come along and ride behind your favourite type of locomotive. Click on the banner below to go to the page on our website:


LOCO NEWS:
Class 52 D1010 'WESTERN CAMPAIGNER' – work on the electrical system is progressing in the careful hands of new volunteer Steve who is diligently working through all of the terminals and contacts in the 'B' cab to clean and inspect them, renewing parts where necessary. The cab is already looking much better after receiving this attention. The other end of the loco also received attention, with Gordon working inside the 'A' cab and Natalie working between the cab and the front of the loco, in a very small space. Further progress was made on the 'B' transmission with the overhaul of the filler pump. Here are some photos: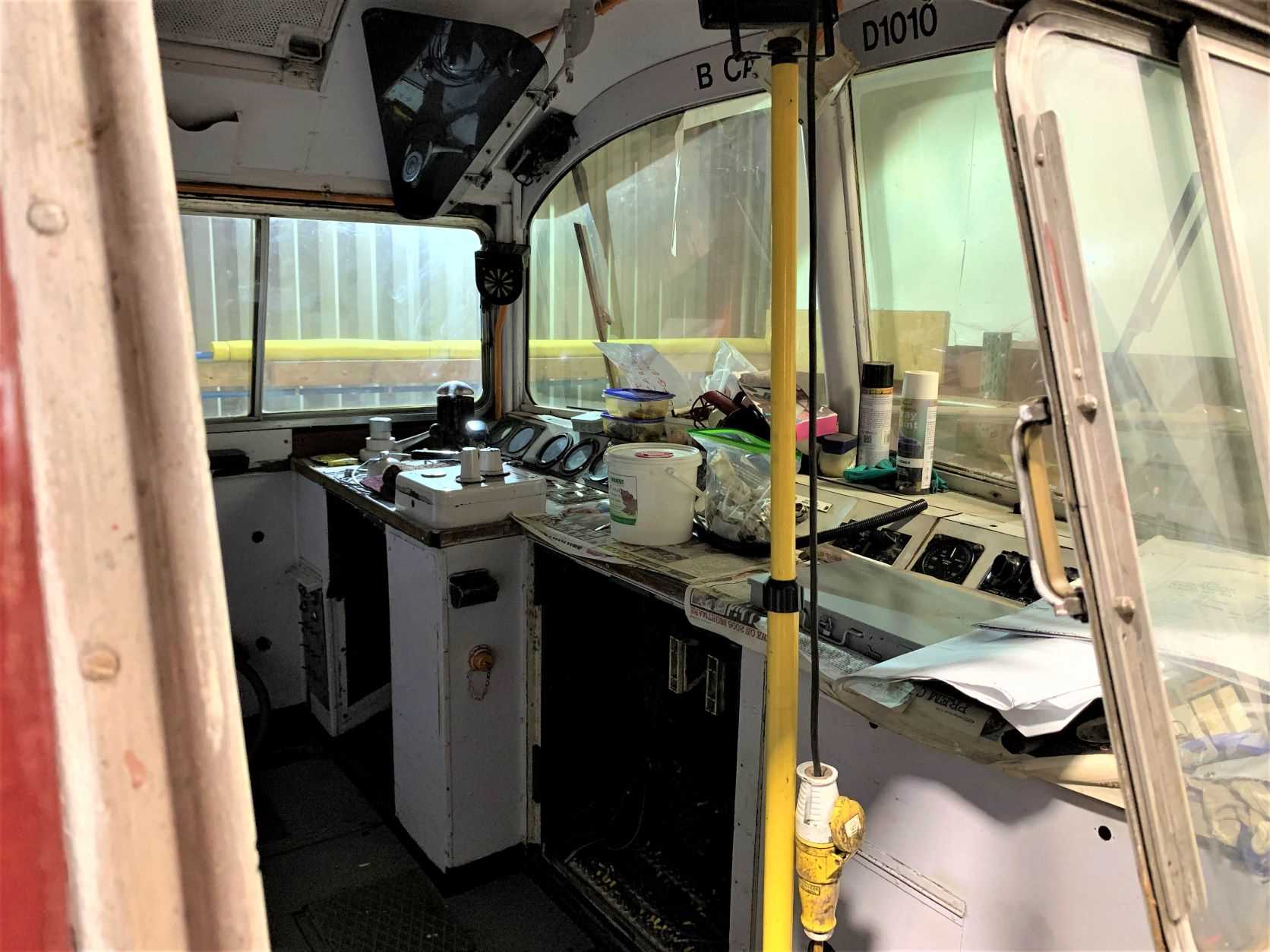 D1010 – the 'B' cab is receiving an electrical systems maintenance checkup which involves cleaning, inspecting and replacing wiring components and contacts as necessary. Pictured at Williton on Saturday 18th February 2023 by Andy Royal © CC BY-NC 3.0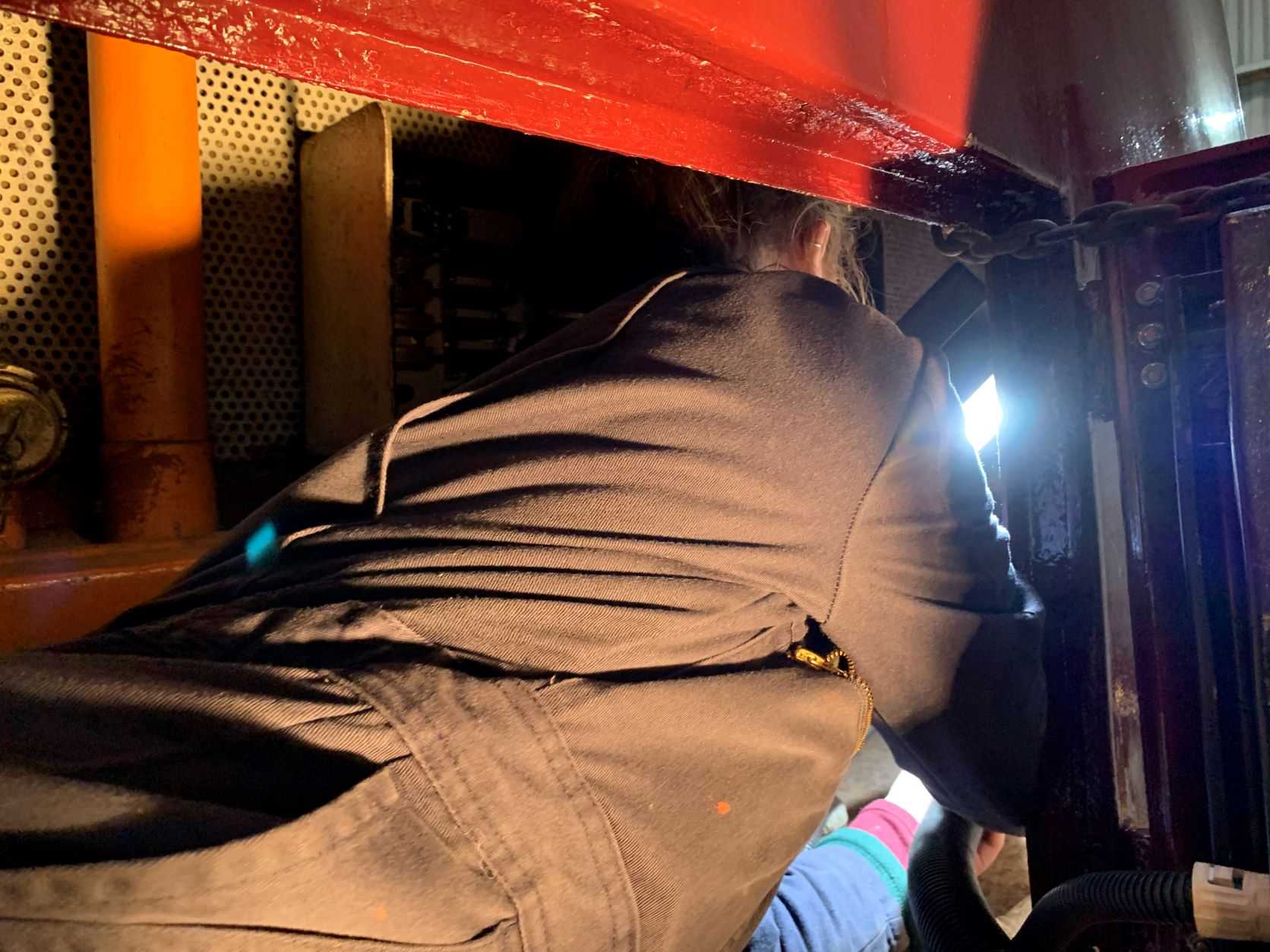 D1010 – at 'A' end, Natalie fitted into the small space behind the headcode indicators to perform a cleanup before applying a coat of paint on the inside of the recently-repaired loco skin. Pictured at Williton on Saturday 18th February 2023 by Andy Royal © CC BY-NC 3.0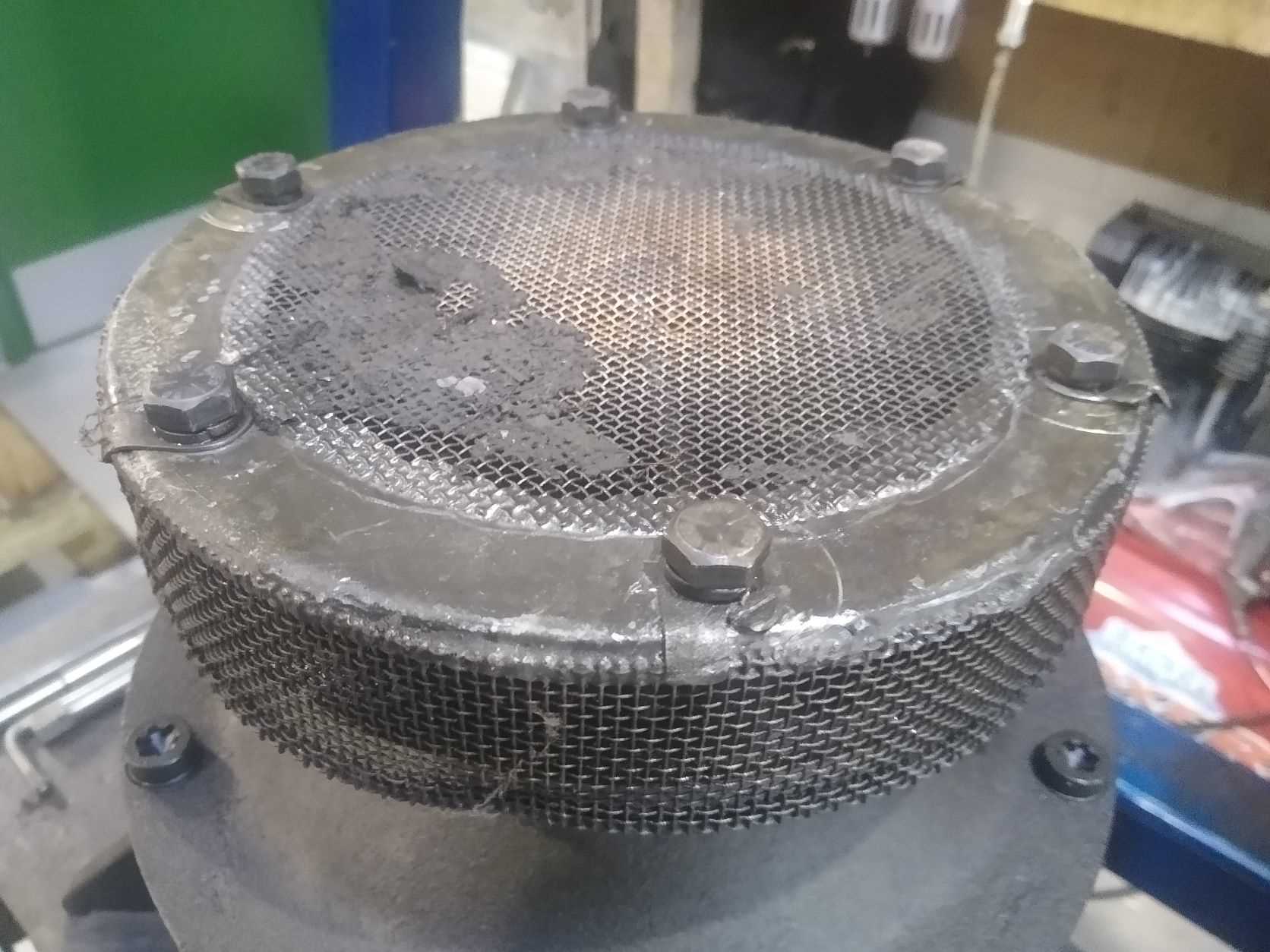 D1010 – the strainer of the filling pump from 'B' transmission shows the debris that was captured by the mesh which would otherwise have gone back through the turbines. Pictured at Williton on Tuesday 14th February 2023 by Colin Foxhall © CC BY-NC 3.0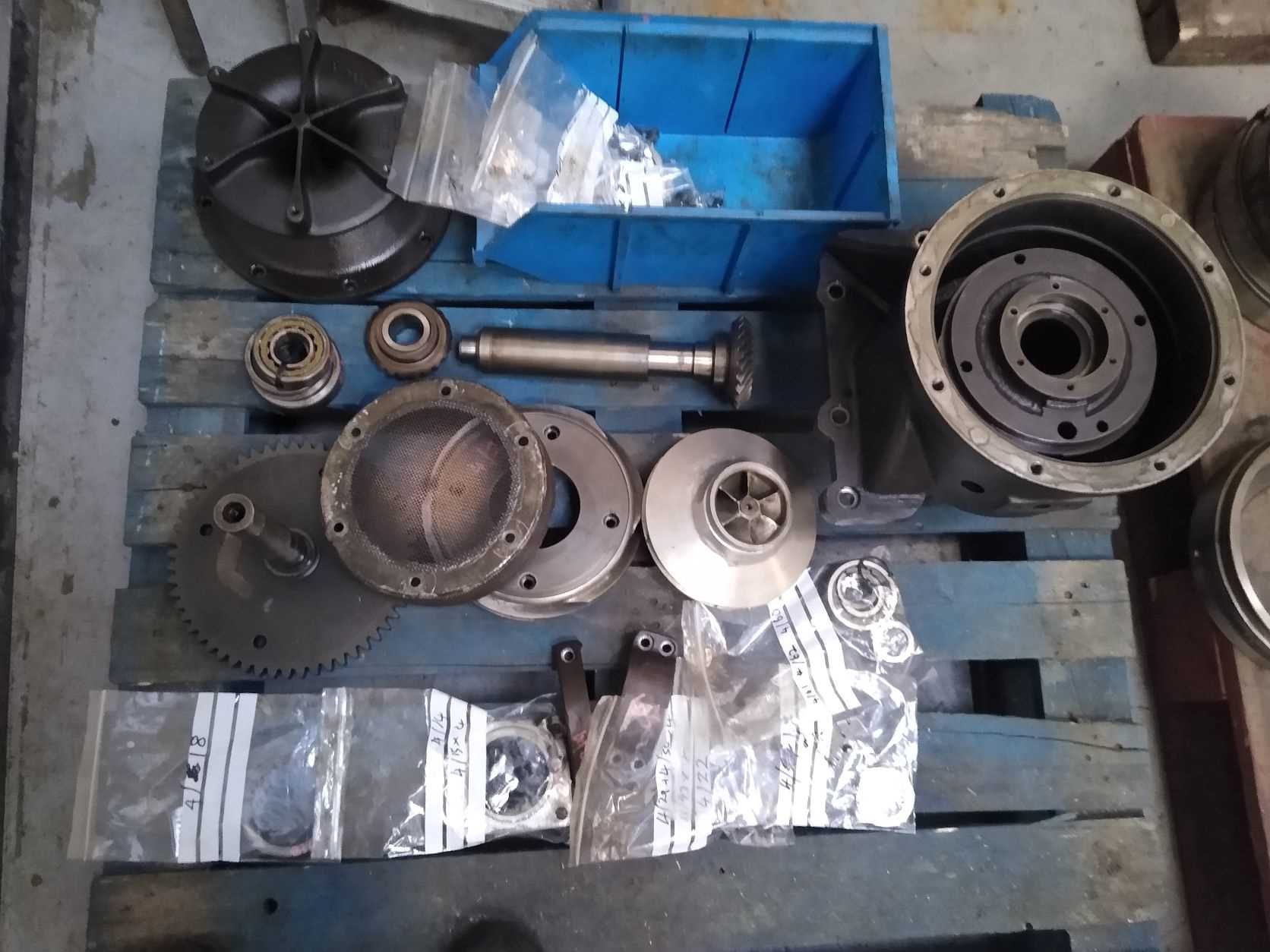 D1010 – the centrifugal filling pump from 'B' transmission has been completely disassembly and will now be cleaned, inspected and reassembled with new bearings. Pictured at Williton on Tuesday 14th February 2023 by Colin Foxhall © CC BY-NC 3.0
To continue our rate of progress requires FUNDING and we give our thanks to everyone who has supported D1010 by sponsoring or donating during these difficult times. If you are able to do so, please SPONSOR A PATCH because there is plenty of recently-added metal that still needs engraving. Photographs and certificates of sponsorship will be sent out to all who have sponsored this phase of the restoration work, and we are applying more resources to catch up with this obligation and deliver the documents. Click the image below to sponsor a patch. Thank you in advance for your support !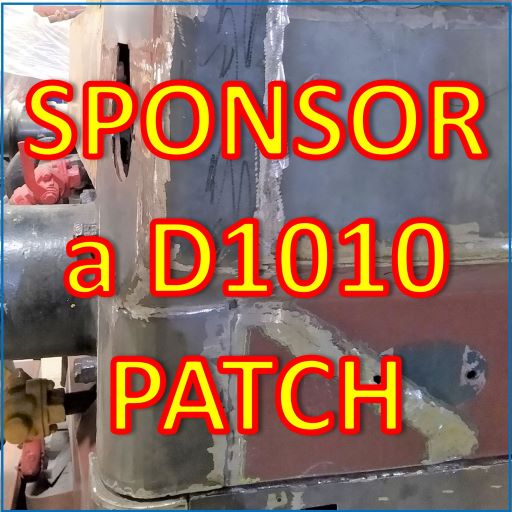 See our CAMPAIGN for CAMPAIGNER web page for more details. We still have a lot of work to do on this massive locomotive, so PLEASE DO COME ALONG AND HELP IF YOU CAN !


Class 33 D6566 (33 048) – this loco is the duty loco and is on standby at Williton. However, she is due to go into the paintshop at the Swindon Shed soon, so her role will transfer to her sister until such time as she is completely refreshed and ready for service again.
Class 33 D6575 (33 057) – this loco is fully serviceable and is also able to take up active duty on the WSR.
Class 35 'Hymek' D7017 – Terry and Nick made a start on the re-fitting of the sanding gear that had to be removed when the loco had to have her bogie springs changed last March.
Class 35 'Hymek' D7018 – this loco has a list of items requiring attention and will be allocated resources shortly.
Class 14 'Teddy Bear' D9518 – the cardan shafts have been inspected and re-filled with grease, more than 40 years since they last transmitted any power. The inspection showed that the universal joints and splined connections are in good condition, so the shafts were cleaned and painted and will be re-installed on the loco in the very near future. Other areas of progress were in preparation for the cab restoration, with the specialist materials being placed on order. Here's some photos: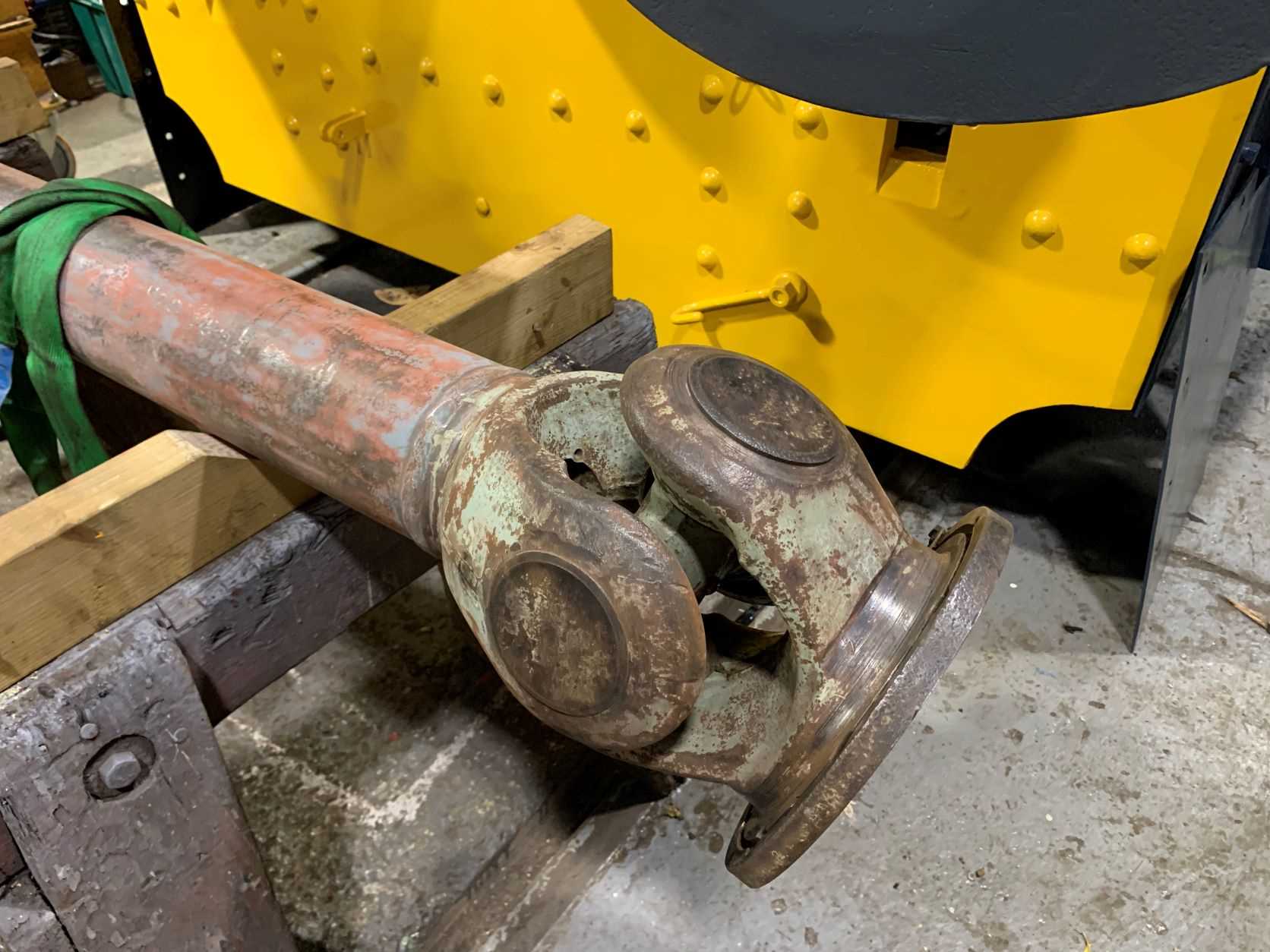 D9518 – the cardan shafts were cleaned up, inspected then filled with fresh grease and prepared for painting at Williton on Saturday 18th February 2023. Photo by Andy Royal © CC BY-NC 3.0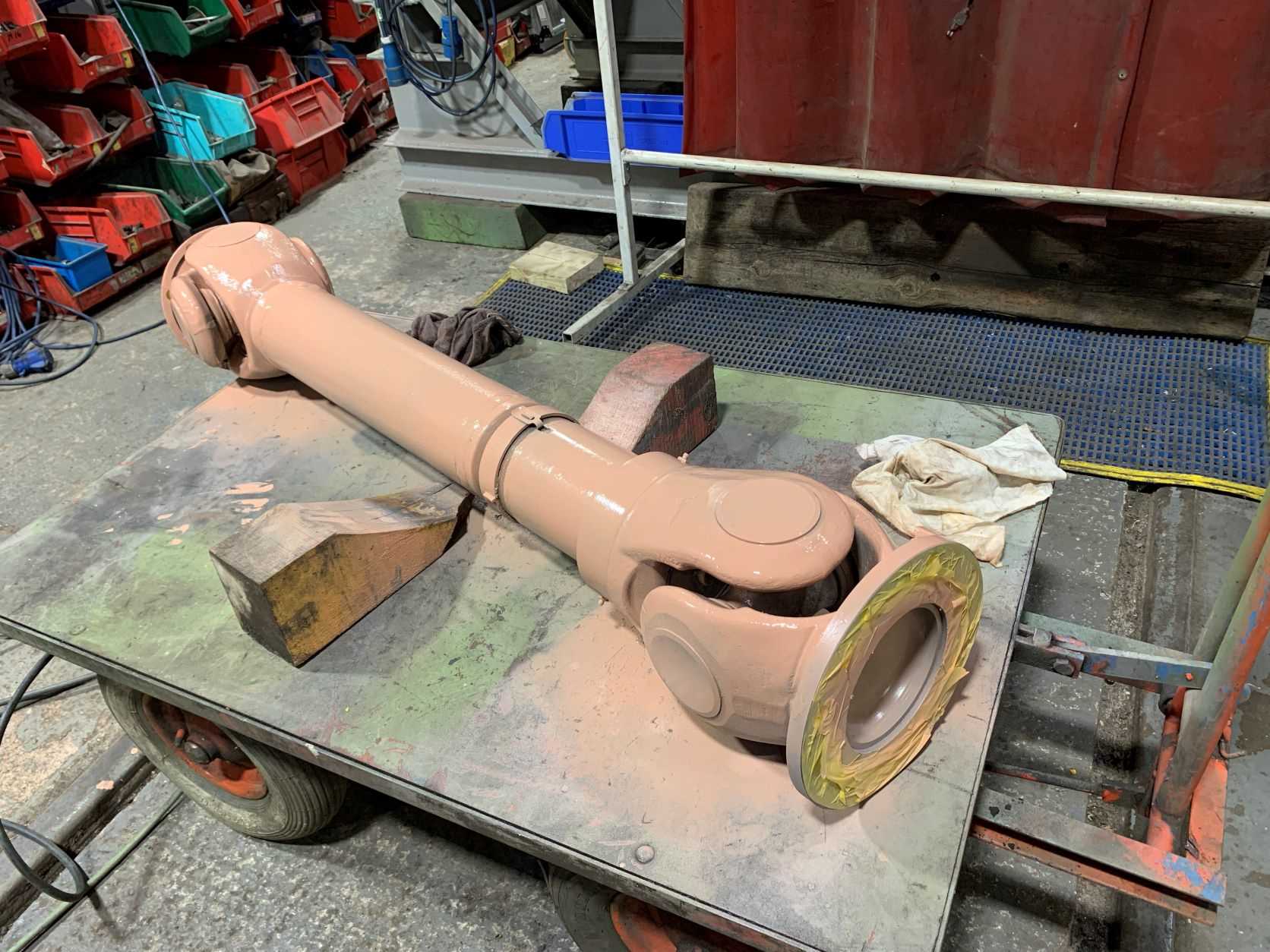 D9518 – one of the two cardan shafts received a coat of primer at Williton on Saturday 18th February 2023. Photo by Andy Royal © CC BY-NC 3.0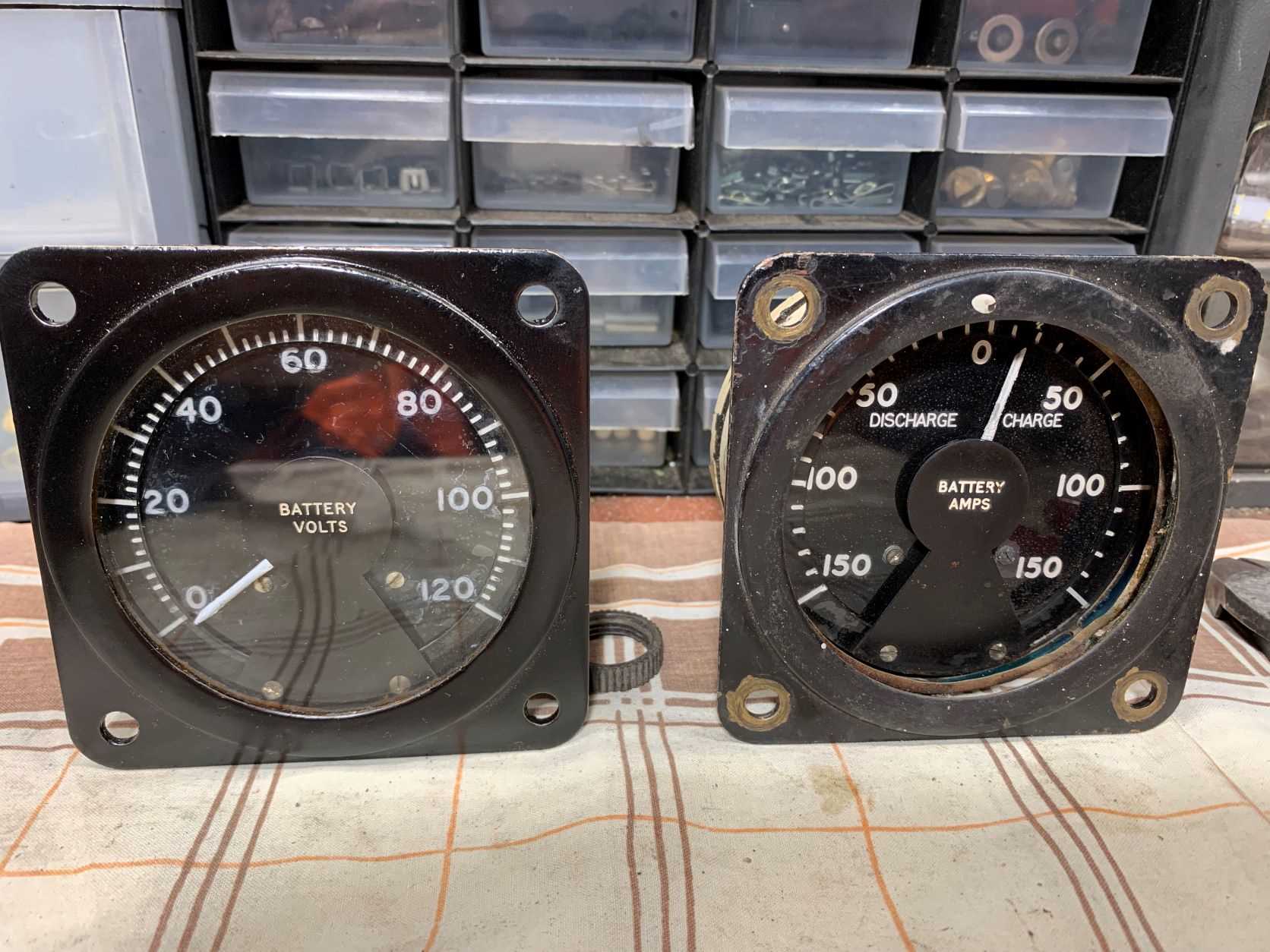 D9518 – the voltmeter and ammeter await inspection and re-calibration before being re-fitted into the electrical control cubicle. Pictured at Williton on Saturday 18th February 2023 by Andy Royal © CC BY-NC 3.0
This loco is the subject of a fundraising appeal so please follow this link to find out more. We need your help ! In addition to funds, we also need plenty of HANDS. If you love the 'Teddy Bears' and you are not already a member of the DEPG, please join us so that you can become one of the team that is going to return D9518 to fully operational condition as 'NCB No. 7'.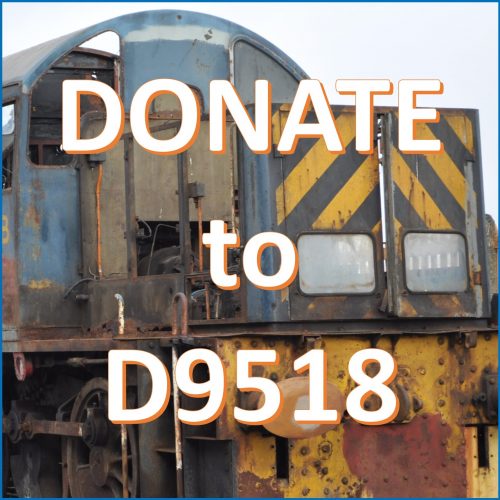 Class 14 'Teddy Bear' D9526 – this loco has been rostered to work the 80-mile 'BLUE' timetable services on the WSR on the following dates:
Sunday 16th April
Sunday 21st May
Saturday 3rd June
Sunday 4th June
More dates for later in the year will be added in the near future. Keep an eye on our DIESEL RUNNING DATES page or sign up to DIESELGEN email bullletin service to get the information as soon as it becomes available.
Class 47 47077 'NORTH STAR' – this loco is currently stabled at Grosmont on the North Yorkshire Moors Railway and is undergoing winter maintenance to prepare her for what should be a very busy season on the NYMR. We will provide more details about the maintenance program in a future roundup.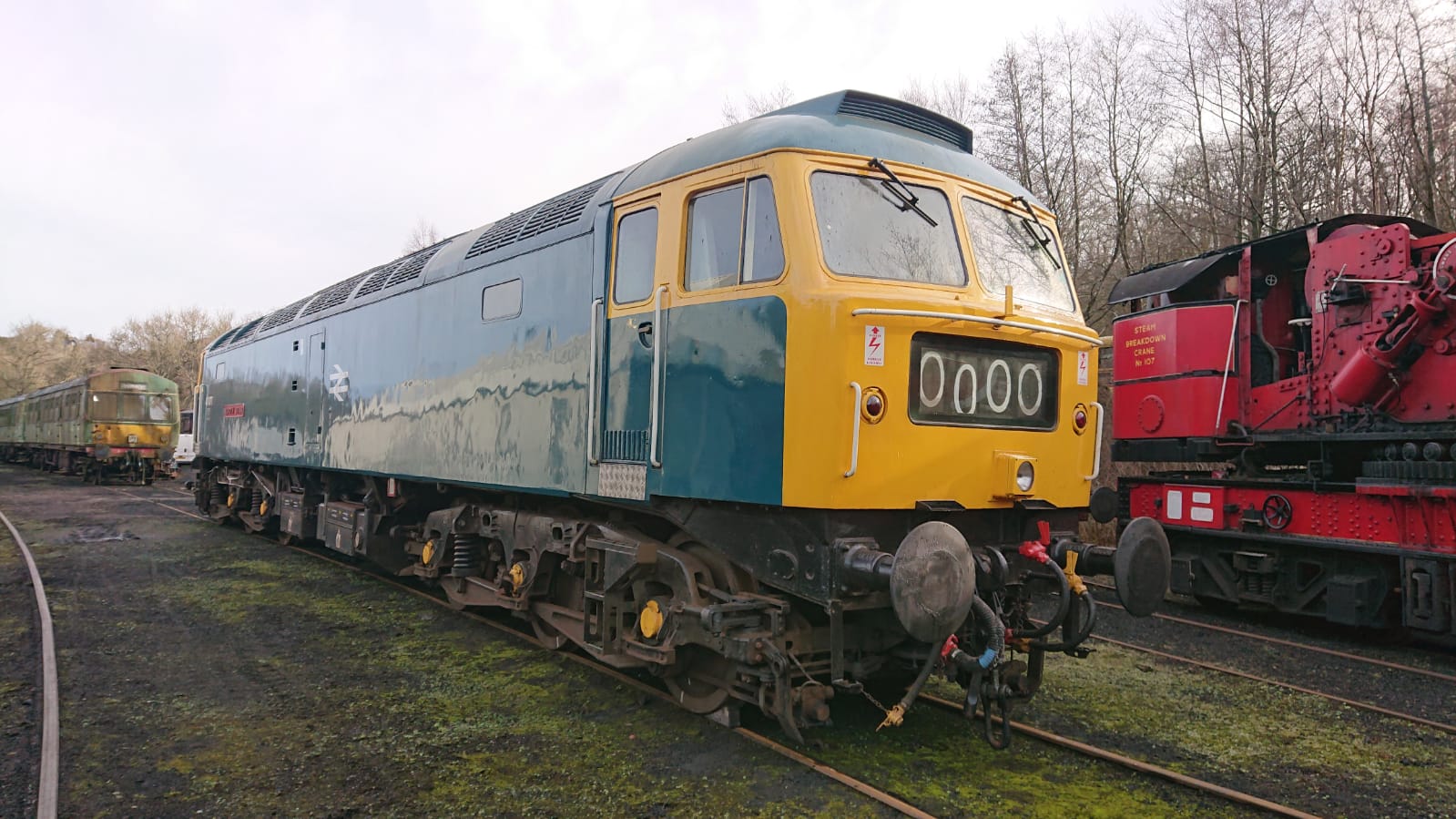 47077 (D1661, 47613, 47840) 'NORTH STAR' was pictured in the yard at Grosmont on the North Yorkshire Moors Railway on Sunday 19th February by Luke Wayman © CC BY-NC 3.0
Andrew Barclay 0-4-0DH 578 – new volunteer Tony has been making excellent progress on the maintenance of this loco and is getting very close to being able to start the engine and deal with those tasks that require the engine to be running. The new oil filter assembly is on order, being specially made by BRITISH FILTERS at Plymouth to be directly compatible with the original Vokes type and is expected in two or three weeks from now, so that is the pacing item. Many thanks to Tony for his excellent work on this loco.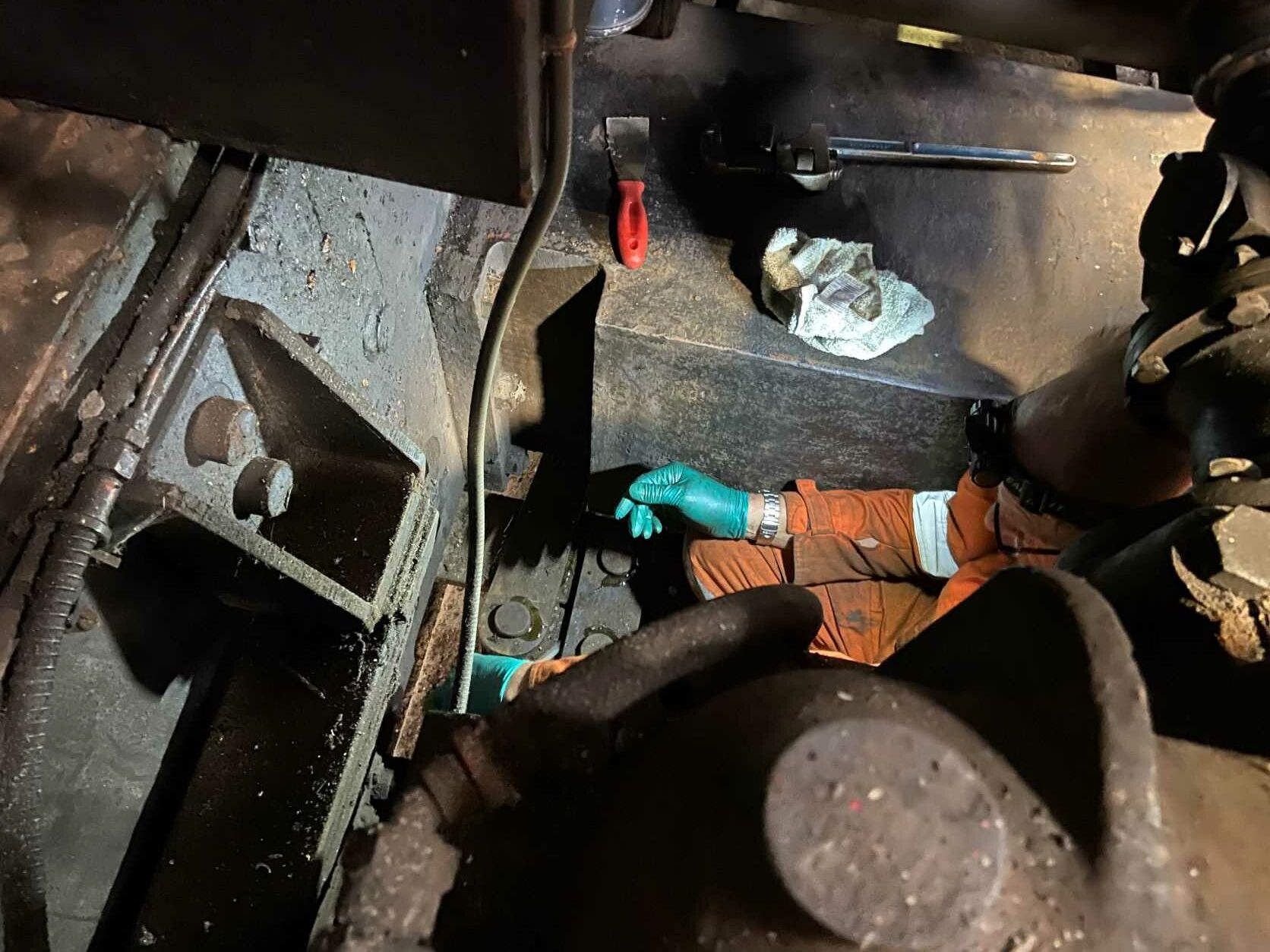 Barclay 578 (ROF No. 1) – Tony gets in between the frames to tackle the remaining maintenance tasks at Williton on 14th February 2023. Photo by Mark Bladwell © CC BY-NC 3.0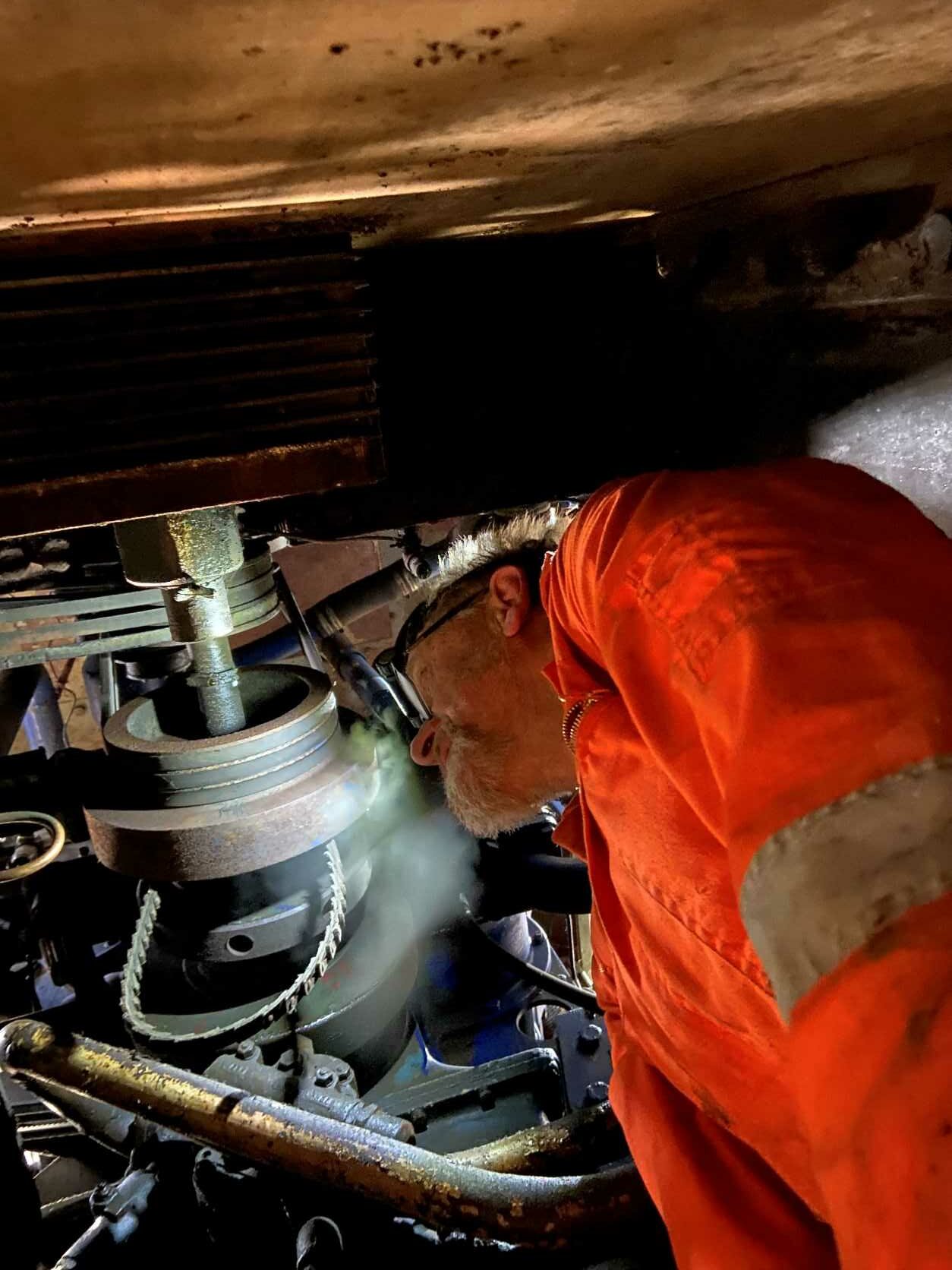 Barclay 578 (ROF No. 1) – Tony is once again between the frames on a very cold morning to conduct a close-up inspection and check the condition of the drive belts and pulleys. Pictured at Williton on 14th February 2023 by Mark Bladwell © CC BY-NC 3.0
If you can help by donating your time to any of these projects, then please JOIN US and come along to the depot for an introduction to what we do and how we do it. We currently have people on site from Saturday through to Tuesday and we can open on other days if we can be sure of getting at least two volunteers on site at all times, so there is plenty of scope. We have tasks of all types to suit most capabilities, both skilled and unskilled.
Many thanks to all of our volunteers who give up so much of their time to work on the cleaning, painting, maintaining, restoring, managing and fund raising for our fleet of heritage locomotives !
BOOK REVIEW – we will need to skip this feature this week as we are running somewhat late ! Please take a look at our webstore for NEW BOOKS and PRE-OWNED BOOKS, the profits from which will go directly towards the upkeep of our loco fleet.
ON SHED – following the succesful running of D1010 'WESTERN CAMPAIGNER' on the 'WESTERN REQUIEM RELIEF' railtour on 13th February 1977, the railtour ran again the following weekend as the 'WESTERN REQUIEM' but D1010 suffered a water leak and subsequent engine shutdown en route and was declared a failure and removed from the train at Cardiff. Her place was taken by Class 37 37179 but the sympathetic BR management had despatched D1023 'WESTERN FUSILIER' from Old Oak Common to take over the tour at Pontypridd, to the absolute delight of the fans on the fully-booked tour. D1023 was selected for the National Collection and has made the news recently by moving to the Didcot Railway Centre on a 5-year loan from the National Railway Museum. Many thanks to Kelvin for sharing another of his excellent photos with us all.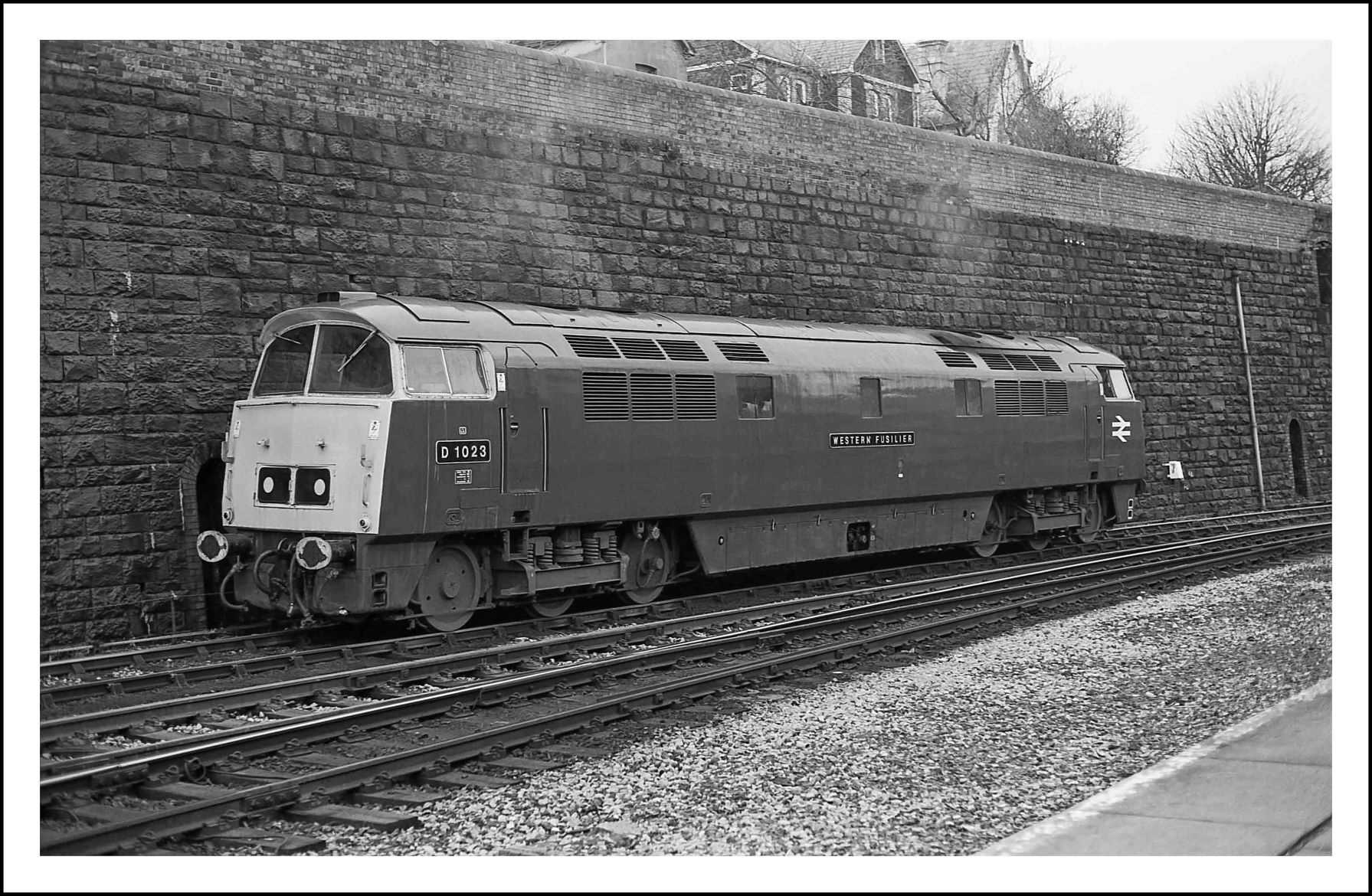 D1023 'WESTERN FUSILIER' waits at Pontypridd to take over the 'WESTERN REQUIEM' railtour to haul it up the valley of the river Taff to Merthyr Tydfil and then back to Paddington via Cardiff Queen Street. Pictured on 20th February 1977 by Kelvin Lumb © CC BY-NC 3.0
DEPG NEWS – the synopses of the recent Board Meetings were sent out by email last weekend to all members for whom we held a valid email address. Please let us know by using our CONTACT FORM if you didn't receive your copy. The next Board Meeting will take place at Williton this Saturday, 25th February, so let us know by using our CONTACT FORM if you have a question that you would like to put to the Board.
The next DEPG Newsletter is in the works and will be distributed towards the end of this month. Please make sure that your membership is up to date so that we can continue to send you a copy of this quarterly newsletter (via email or post at your choice). The newsletter will include detailed updates on the plans for our two restoration projects (D1010 and D9518), plus other information that is specific to DEPG members.
If you are not sure about your membership status, please click here or on the image below to access your membership record via MEMBERMOJO.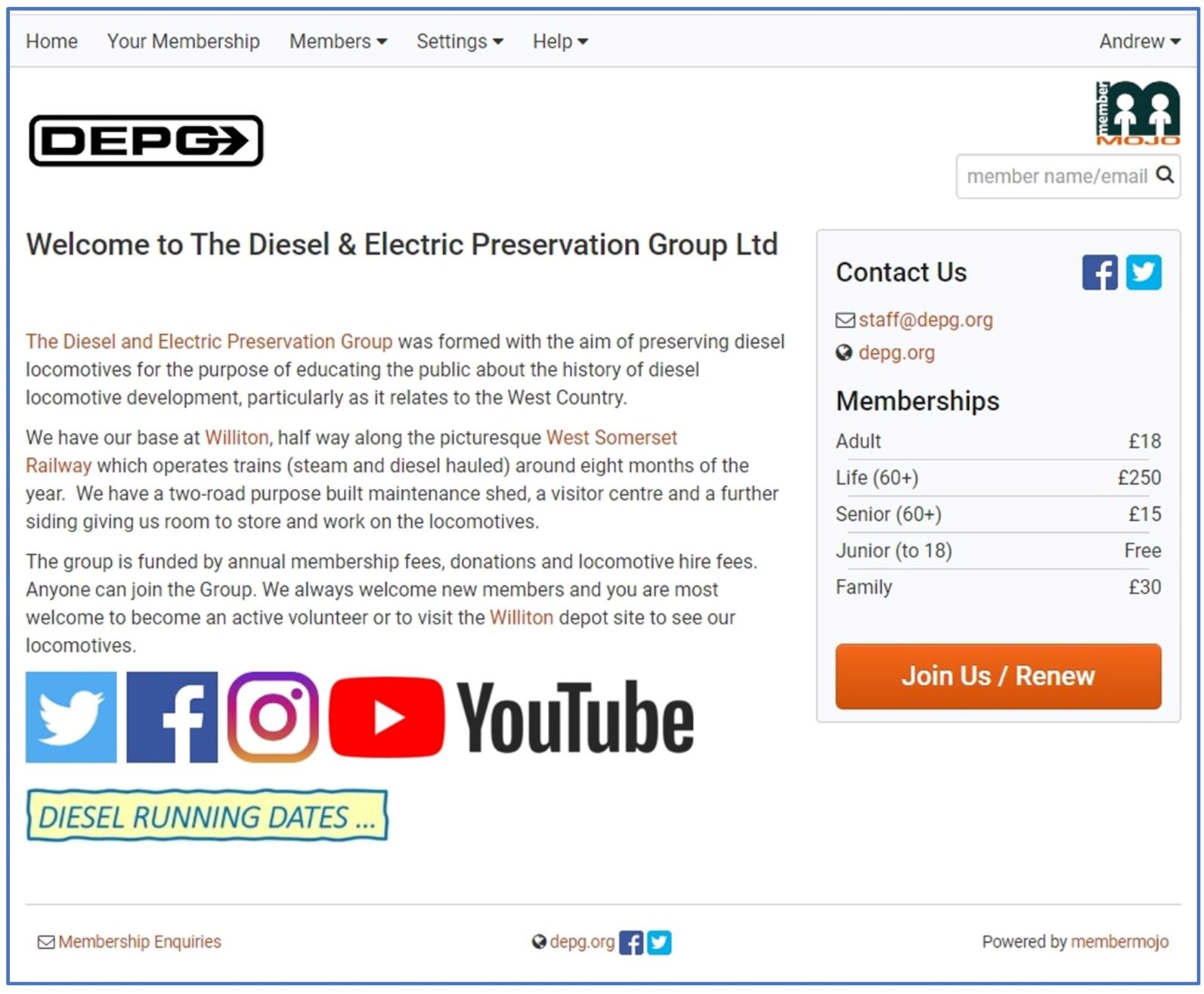 KEY DATES for your diary:
WSR DIESEL GALA : Thursday 8th through Saturday 10th June 2023
DEPG 50th ANNIVERSARY CELEBRATIONS : Friday 22nd and Saturday 23rd September 2023.
Go to previous Weekly Roundup post