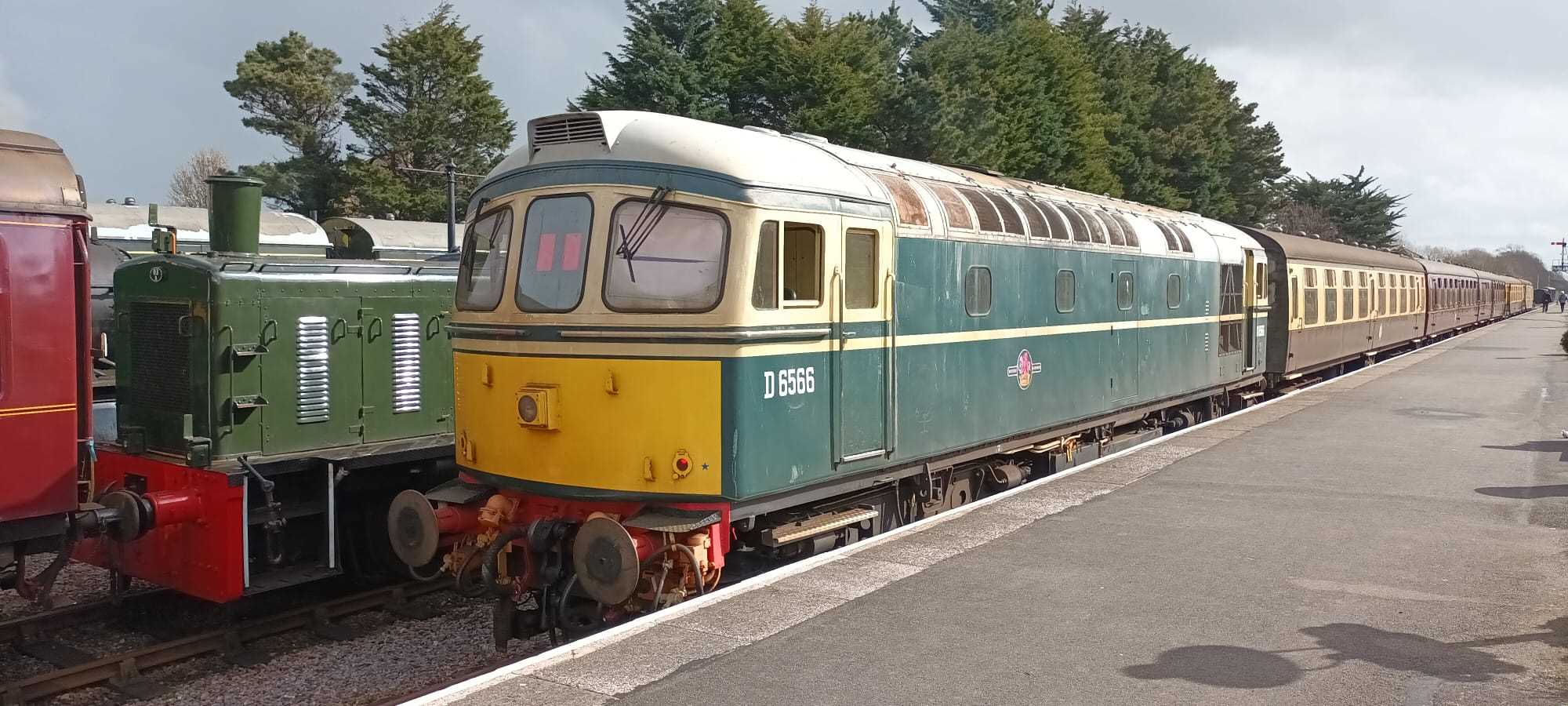 Class 33 'Crompton' D6566 (33 048) was attached to the tail end of an Empty Coaching Stock move as a convenient way to get her back to Williton on Friday 17th March 2023. Class 03 D2133 also managed to get her nose into the picture ! Photo by Tom Courtney © CC BY-NC 3.0
The railway has reopened and once again, West Somerset has come alive with the sight and sound of railway locomotives, both steam and diesel. Last Saturday saw the first public walk-up services running on the WSR since last October, with two steam locos in use on the Saturday and two plus the Class 115 Diesel Multiple Unit (DMU) in use on the Sunday. In preparation for the re-opening, Class 33 D6575 (33 057) moved from Williton to Bishops Lydeard on Tuesday 14th to take up the Duty Loco role and to handle the offloading of BR(W) 4-6-0 7822 'FOXCOTE MANOR' from road transport, in the absence of Class 09 shunter D4107 (09 019).
On the Friday (17th), sister loco D6566 (33 048) who had been stabled at Minehead in connection with crew refresher and competency checks hitched a ride back to Williton on the back of an Empty Coaching Stock train to take her place in the Swindon Shed paint tunnel, where she will receive a much-needed refresh to her early BR-era paintwork. On the same day, the Class 115 DMU moved from Minehead to Bishops Lydeard to be in position for her booked working on the Sunday.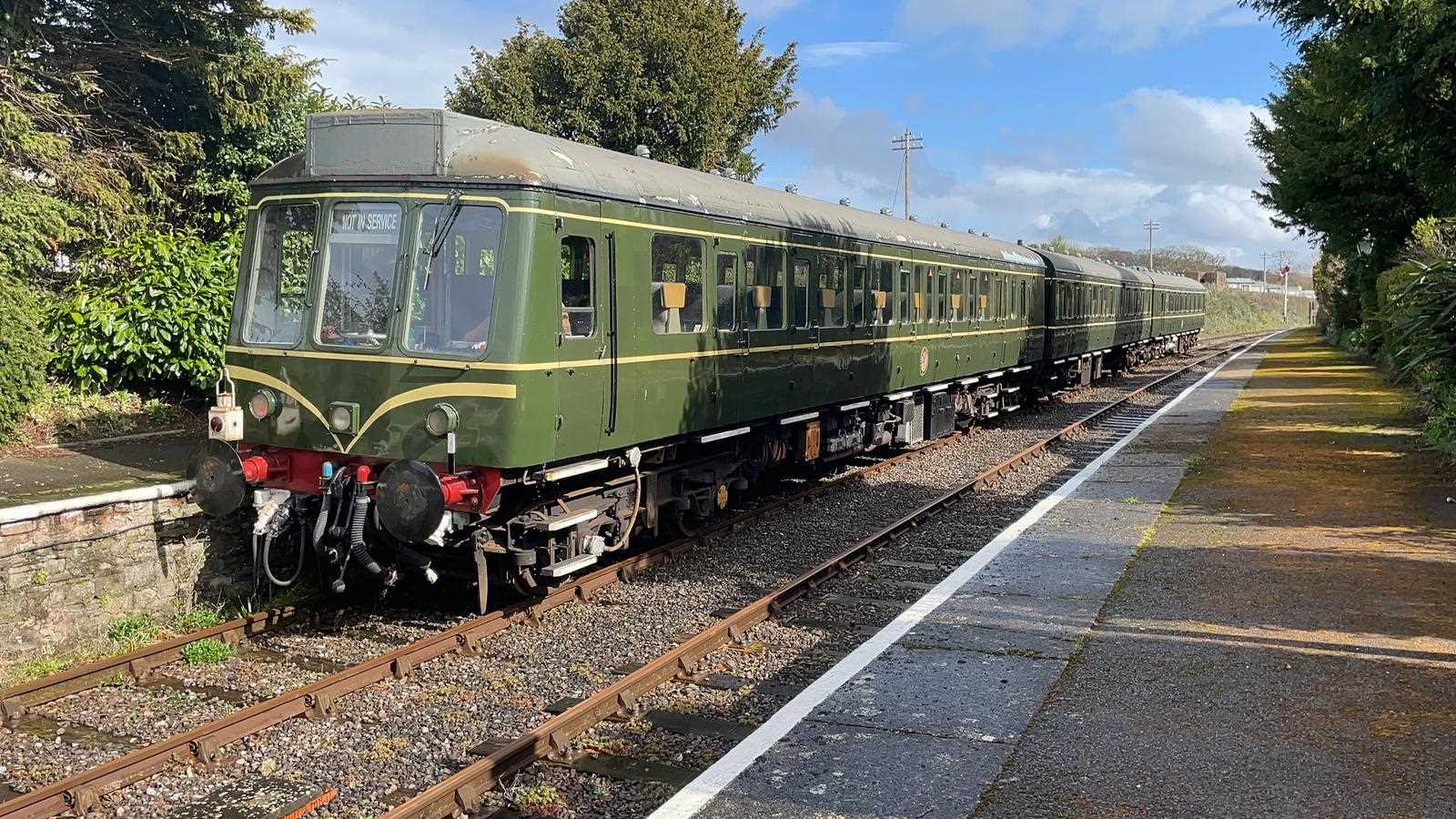 The WSR's Class 115 Diesel Multiple Unit (DMU) moved from Minehead to Bishops Lydeard on Friday 17th March 2023 to be in position for her booked service on the following Sunday. Pictured from the rear as she prepared to depart from Blue Anchor by Josh Brinsford © CC BY-NC 3.0
On the Saturday, Class 14 'Teddy Bear' D9526 was in use for crew refresher training at Bishops Lydeard, the result of which was the expansion of the pool of passed drivers to include several WSR staff drivers in addition to DEPG drivers. This will significantly expand the usefulness of this loco, especially while she stands-in for Class 09 shunter D4107 (09 019). She looked and sounded great as she headed off to Norton Fitzwarren. A short video was taken by Terry Deacon and can be viewed by clicking this link or clicking on the image below: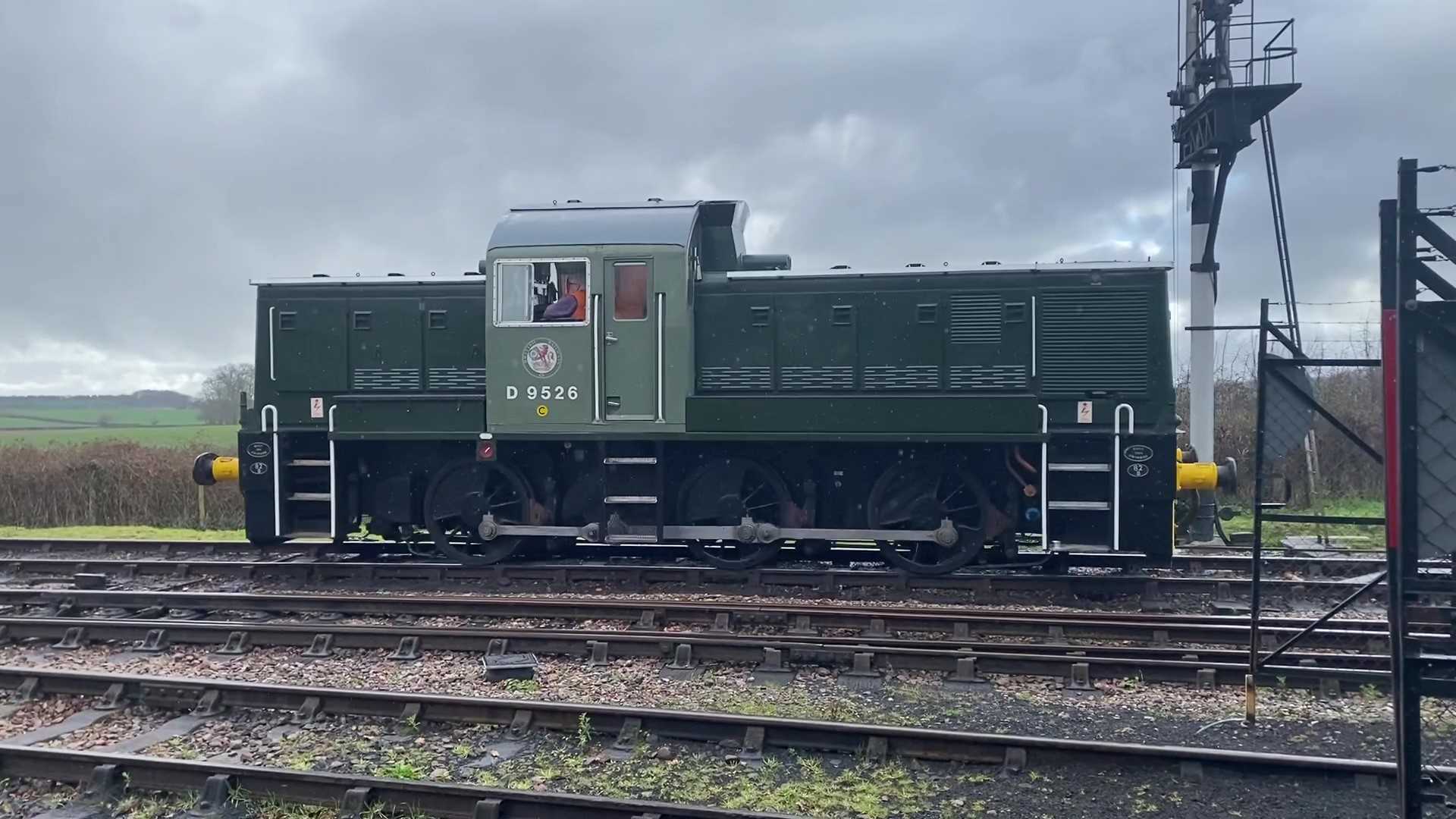 Class 14 'Teddy Bear' D9526 was back in use on the WSR for crew refresher training runs between Bishops Lydeard and Norton Fitzwarren on Saturday 18th March 2023. Image from a video by Terry Deacon © CC BY-NC 3.0
2023 TIMETABLE NEWS:
The next services on the WSR will be this coming weekend with two locos in steam under the RED ALL-STEAM timetable, then the railway is open most days throughout the first two weeks of April. The lineup for the SPRING STEAM SPECTACULAR event which will run from Friday April 28th through to Bank Holiday Monday 1st May has been further boosted with the planned appearance of GWR 4-6-0 4953 'PITCHFORD HALL' plus three 'MANORS' and a 'SAINT' plus the rest of the home-based fleet, so an absolute feast for GWR fans ! For details, click this link to the WSR website.
The first scheduled diesel-hauled service for 2023 is booked for Friday 7th April and will feature haulage by Class 33 'Crompton' D6575 (33 057) and Class 14 'Teddy Bear' D9526 is booked for Sunday 16th April. Keep an eye on the DIESEL RUNNING DATES page and mark the days that interest you on your calendar, so that you can make a plan to come along and ride behind your favourite type of locomotive. Click on the banner below to go to the page on our website:

LOCO NEWS:
Class 52 D1010 'WESTERN CAMPAIGNER' – continuous progress is being made on three and sometimes four days per week as our volunteers both new and old get stuck in with their assigned tasks and make visible progress on multiple fronts. In the background, we have been working on the restoration plan and timeline, details of which are included in the latest DEPG Newsletter that is being distributed this weekend. Here are some photos to show just some of the work that is taking place: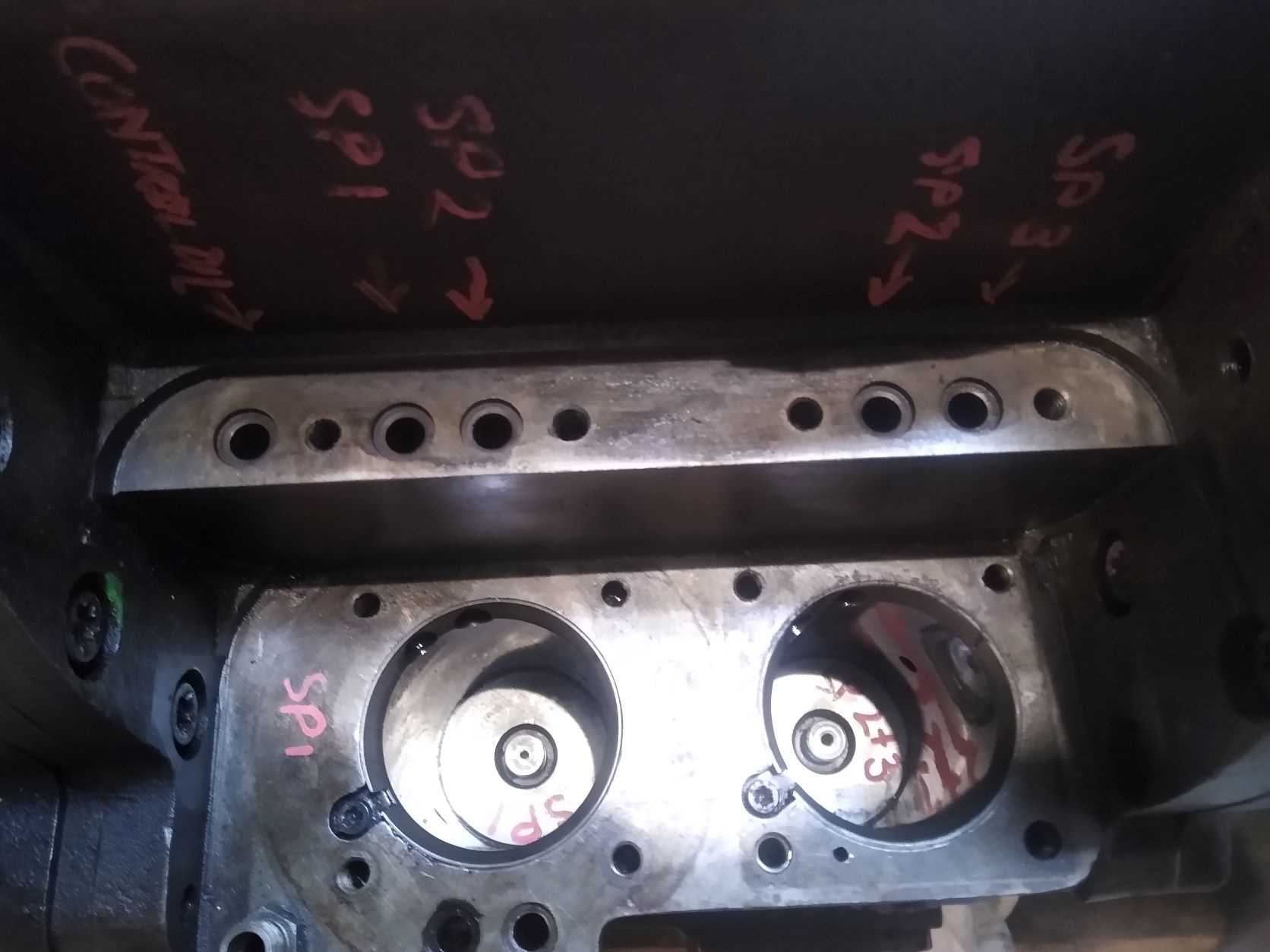 D1010 – the filling valves that control the filling and emptying of the torque converters were cleaned and inspected at Williton on 13th March 2023 and found to be in very good condition. The leftmost valve handles the first stage and the rightmost valve handles the smaller-volume second and third stages. Photo by Colin Foxhall © CC BY-NC 3.0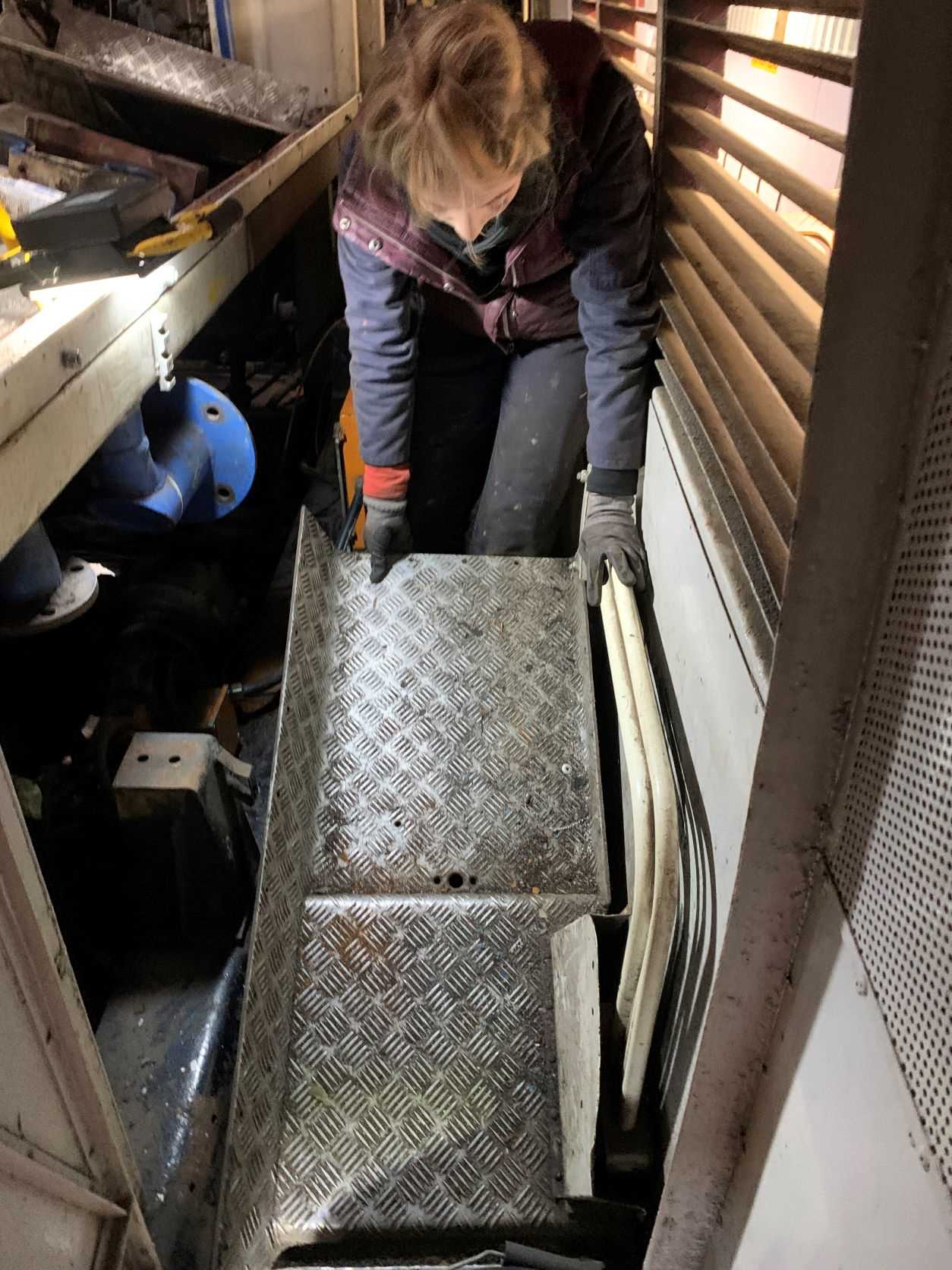 D1010 – the gangway plate alongside the cooler group at 'B' end was drilled out and lifted by Natalie at Williton on Tuesday 14th March 2023 to allow inspection of the wiring and pipework runs beneath. Photo by Andy Royal © CC BY-NC 3.0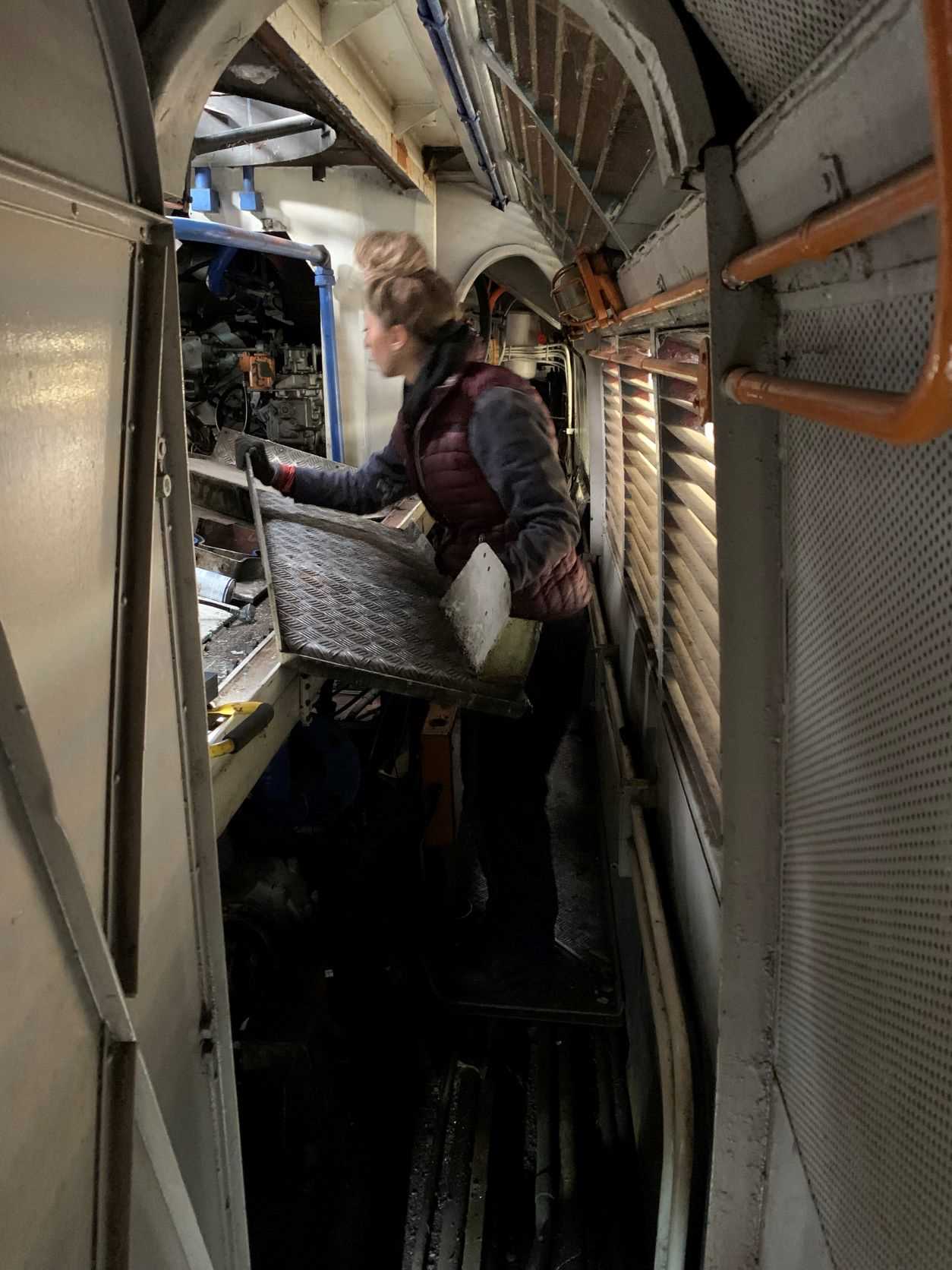 D1010 – the space made available by the removal of the cooler group elements made a convenient temporary storage place for the gangway plate. Pictured at Williton on 18th March 2023 by Andy Royal © CC BY-NC 3.0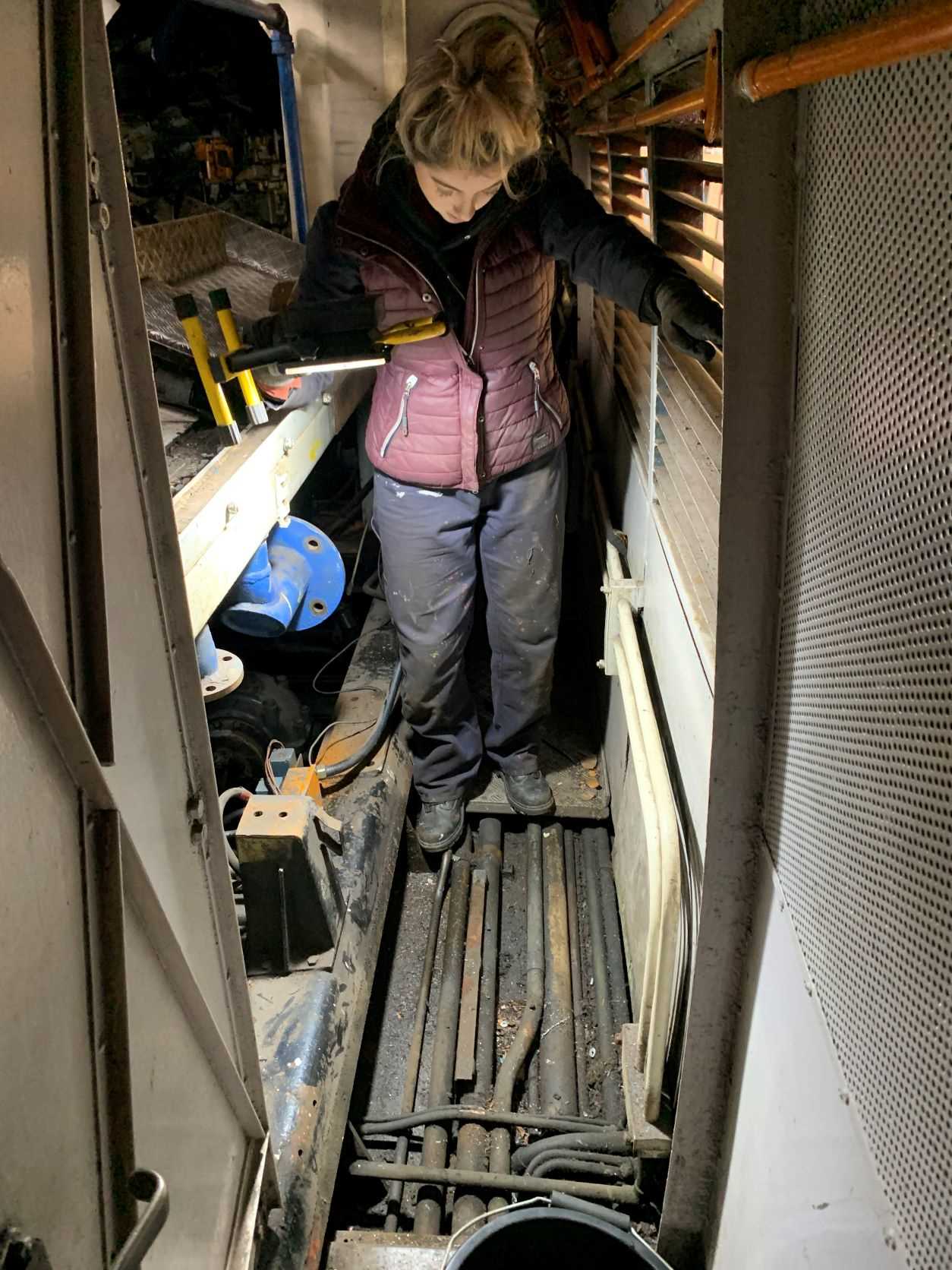 D1010 – as expected, the space underneath the gangway plate was full of dirt and oil in equal measure. The same will be true for all of the other sections of gangway plate that will need to be lifted so that the pipework and cable runs can be inspected. There is plenty of work to do, that's for sure. Pictured at Williton on 18th March 2023 by Andy Royal © CC BY-NC 3.0
To continue our rate of progress requires FUNDING and we give our thanks to everyone who has supported D1010 by sponsoring or donating during these difficult times. If you are able to do so, please SPONSOR A PATCH because there is plenty of recently-added metal that still needs engraving. Photographs and certificates of sponsorship will be sent out to all who have sponsored this phase of the restoration work, and we are applying more resources to catch up with this obligation and deliver the documents. Click the image below to sponsor a patch. Thank you in advance for your support !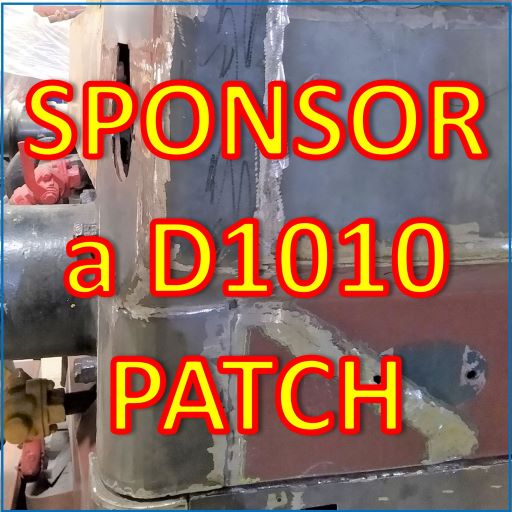 See our CAMPAIGN for CAMPAIGNER web page for more details. We still have a lot of work to do on this massive locomotive, so PLEASE DO COME ALONG AND HELP IF YOU CAN !


Class 33 D6566 (33 048) – this loco has been in use for crew training at Minehead and has now returned to Williton for a paintwork refresh. The loco is expected to be out of traffic until late April.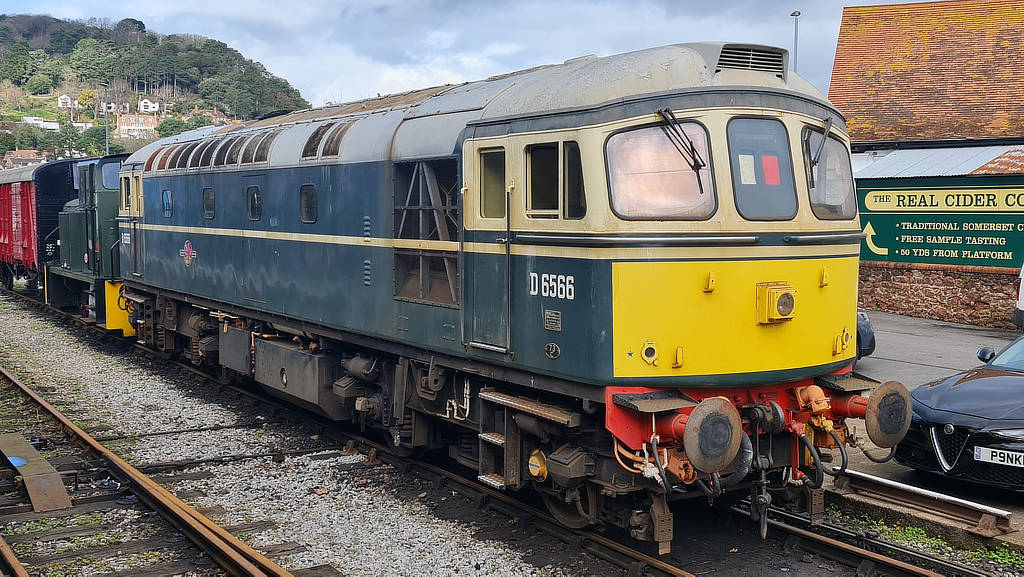 Class 33 'Crompton' D6566 (33 048) was stabled at Minehead between Saturday 25th February and Friday 17th March 2023 in support of crew refresher training and competency checks. Photo dated 17th March by Mark Ireland © CC BY-NC 3.0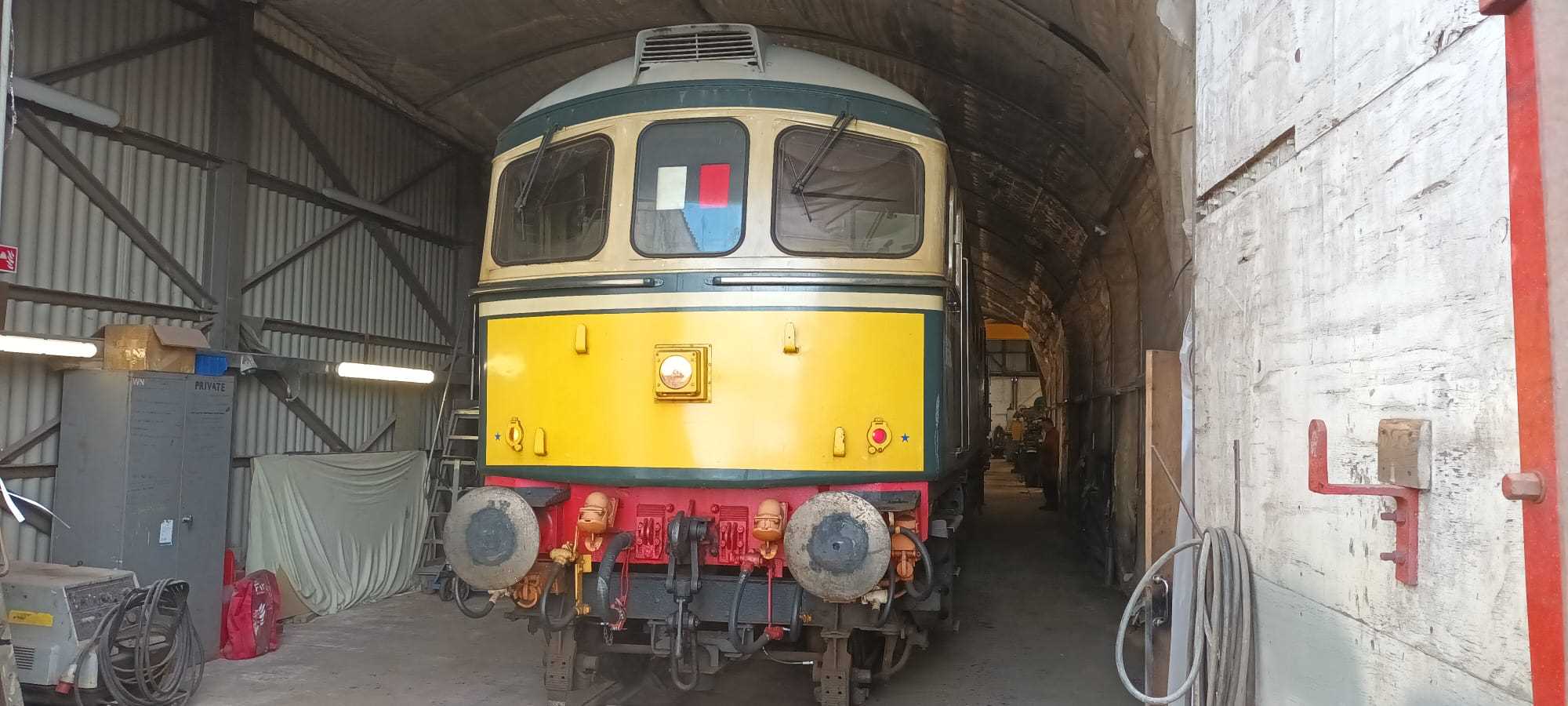 Class 33 'Crompton' D6566 (33 048) shunted herself into the paint tunnel of the Swindon Shed via Williton North Yard on Friday 17th March 2023. The loco was pictured while still displaying shunting signals (white and red). Photo by Tom Courtney © CC BY-NC 3.0
Class 33 D6575 (33 057) – this loco took up the Duty Loco role at Bishops Lydeard on Tuesday 14th March.
Class 35 'Hymek' D7017 – this loco is waiting for the results of the engine oil drain sampling before a decision can be taken on arranging an oil change. The loco is otherwise ready for service, apart from a post-wintering tidy-up.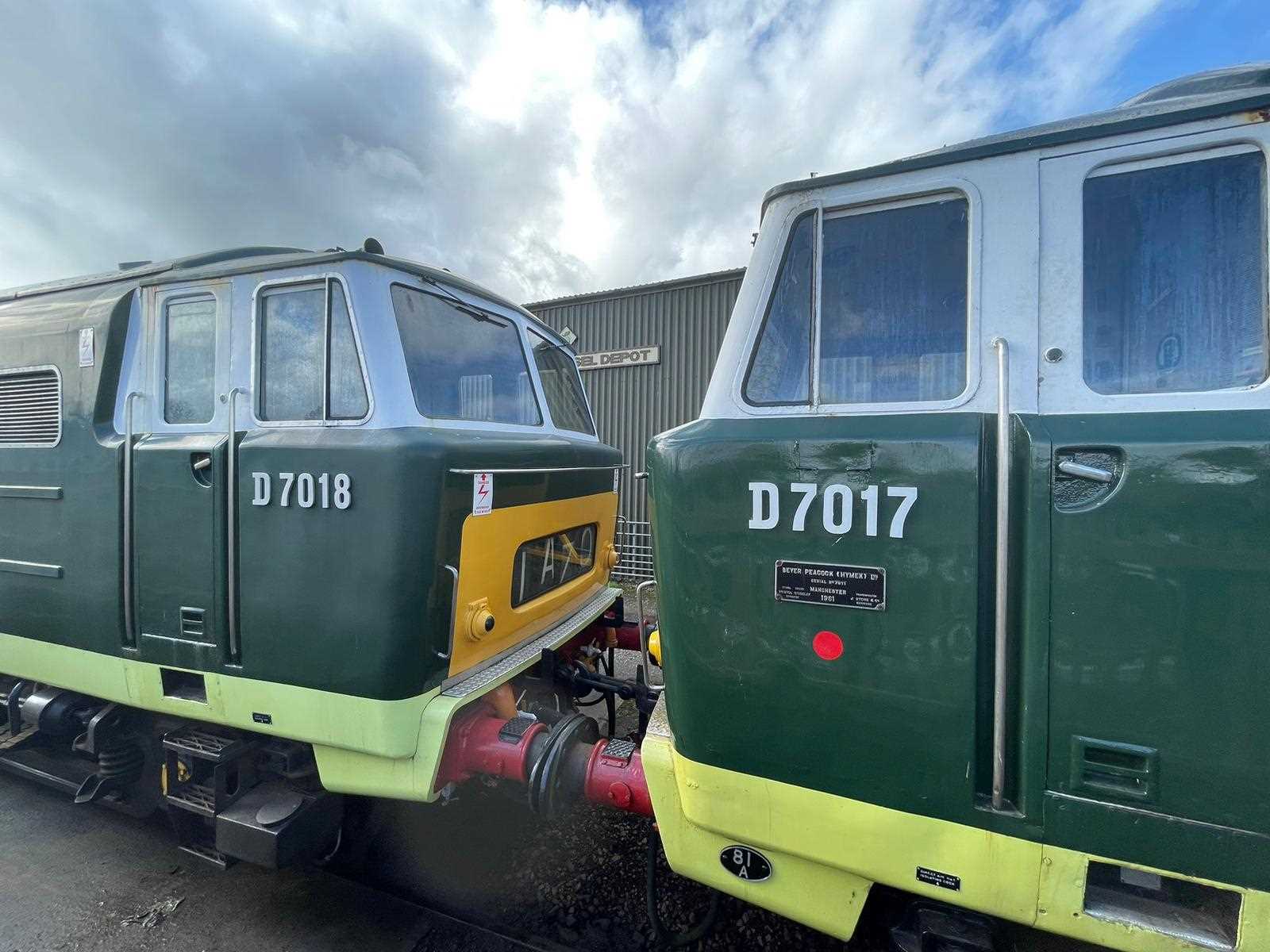 Class 35 'Hymeks' D7017 and D7018 are stabled outdoors on number 1 road at Williton. They were pictured from the platform of Williton Station on Friday 17th March 2023 by Josh Brinsford © CC BY-NC 3.0
Class 35 'Hymek' D7018 – this loco is awaiting attention to a short list of issues that were identified during the loaded test run that took place in December 2022. Work is expected to start on this loco in late April and the issues addressed in time for the Diesel Gala on June 8th through 10th.
Class 14 'Teddy Bear' D9518 – the preparatory work on the cardan shaft safety bows and transmission tunnel continued in the hands of Colin G and Andy P, while John made more progress with the re-wiring. Terry and Nick prepared the brake hangers for re-bushing on the Tuesday and Tony worked on replacing the skins on the nose end doors. Here's some photos (we will have more photos in the next roundup):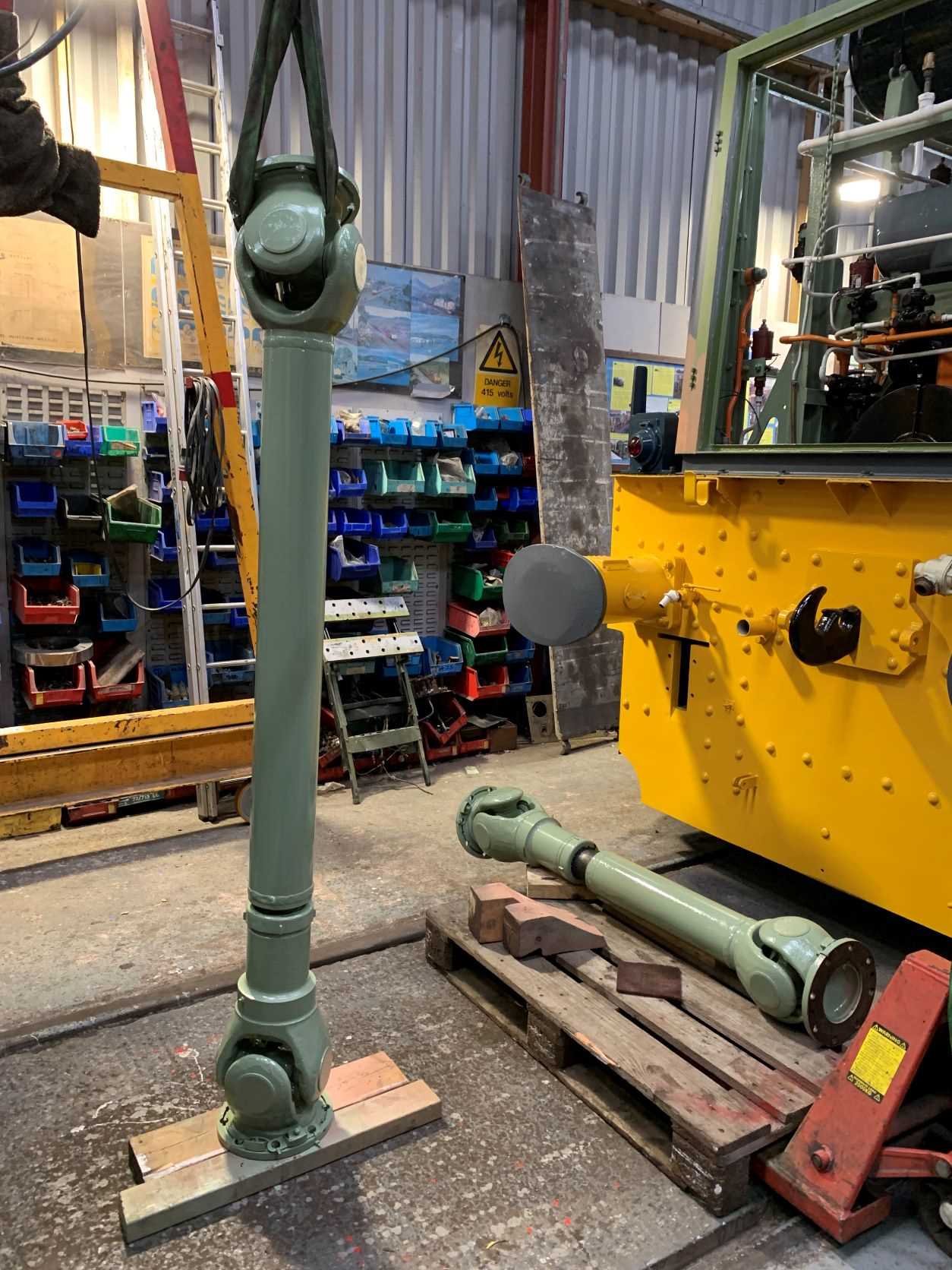 D9518 – the two cardan shafts are now fully painted and are ready for re-installation. Pictured at Williton on Tuesday 14th March 2023 by Andy Royal © CC BY-NC 3.0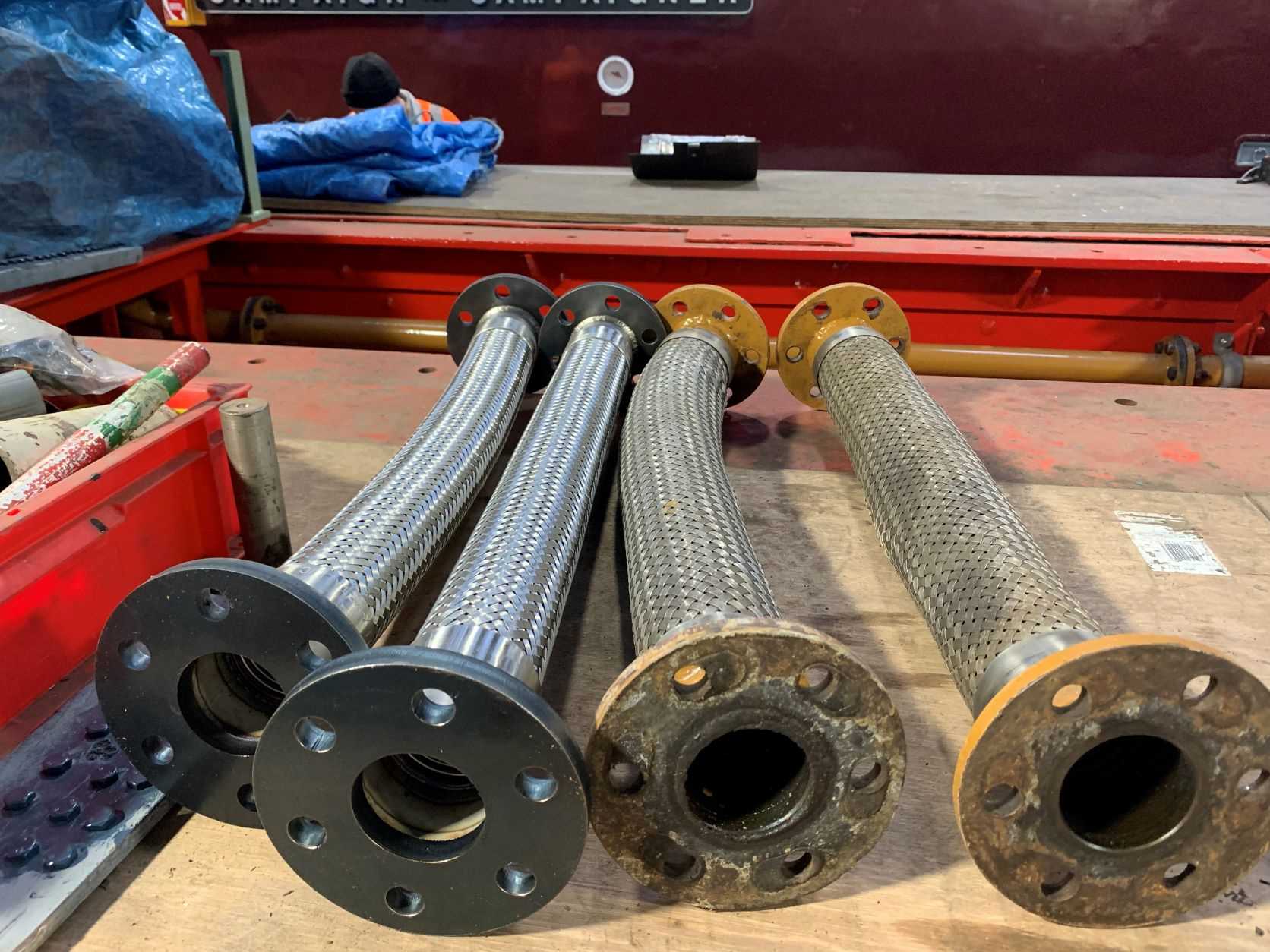 D9518 – the new stainless steel armoured flexible hoses for the transmission heat exchanger are shown alongside the old parts at Williton on Saturday 11th March 2023. These hoses carry transmission oil that is both hot and under high pressure, so the integrity of these pipes is vital, justifying their replacement with new parts. Photo by Andy Royal © CC BY-NC 3.0
This loco is the subject of a fundraising appeal so please follow this link to find out more. We need your help ! In addition to funds, we also need plenty of HANDS. If you love the 'Teddy Bears' and you are not already a member of the DEPG, please join us so that you can become one of the team that is going to return D9518 to fully operational condition as 'NCB No. 7'.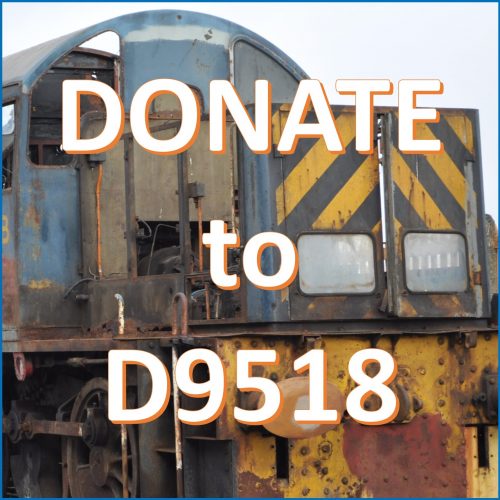 Class 14 'Teddy Bear' D9526 – this loco was in use in the Bishops Lydeard to Norton Fitzwarren section on Saturday 18th March for driver refresher training under the guidance of Colin G. This loco has been rostered to work the 80-mile 'BLUE' timetable services on the WSR on the following dates:
Sunday 16th April
Sunday 21st May
Saturday 3rd June
Sunday 4th June
More dates for later in the year will be added in the very near future. Keep an eye on our DIESEL RUNNING DATES page or sign up to DIESELGEN email bullletin service to get the information as soon as it becomes available.
Class 47 47077 'NORTH STAR' – this loco is currently stabled at Grosmont on the North Yorkshire Moors Railway and is rostered for crew training duties during the next few weeks.
Andrew Barclay 0-4-0DH 578 – the new oil filters have been delivered by BRITISH FILTERS in Plymouth and will be fitted to the loco ASAP so that the oil change can be completed. More on this in the next roundup.
If you can help by donating your time to any of these projects, then please JOIN US and come along to the depot for an introduction to what we do and how we do it. We currently have people on site from Saturday through to Tuesday and we can open on other days if we can be sure of getting at least two volunteers on site at all times, so there is plenty of scope. We have tasks of all types to suit most capabilities, both skilled and unskilled.
Many thanks to all of our volunteers who give up so much of their time to work on the cleaning, painting, maintaining, restoring, managing and fund raising for our fleet of heritage locomotives !
BOOK REVIEW – we have started shipping copies of the latest in the DIESEL DAWN series of booklets that are published by Mortons Media Group, VOLUME 7: WESTERN REGION CLASS 14 DIESEL-HYDRAULICS so order your copy now ! This book is on sale via our website for the benefit of the D9518 restoration fund. PLEASE BUY A COPY to support D9518 !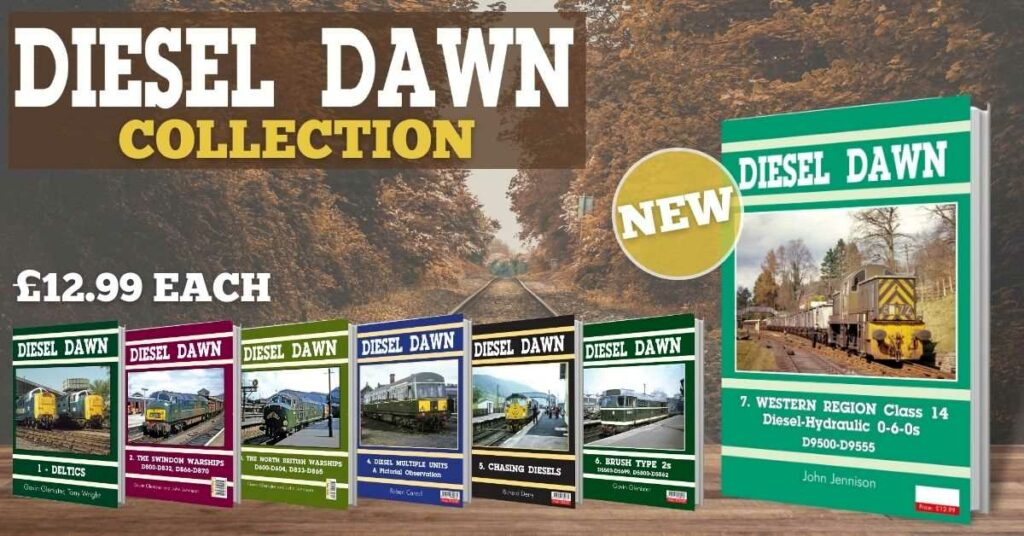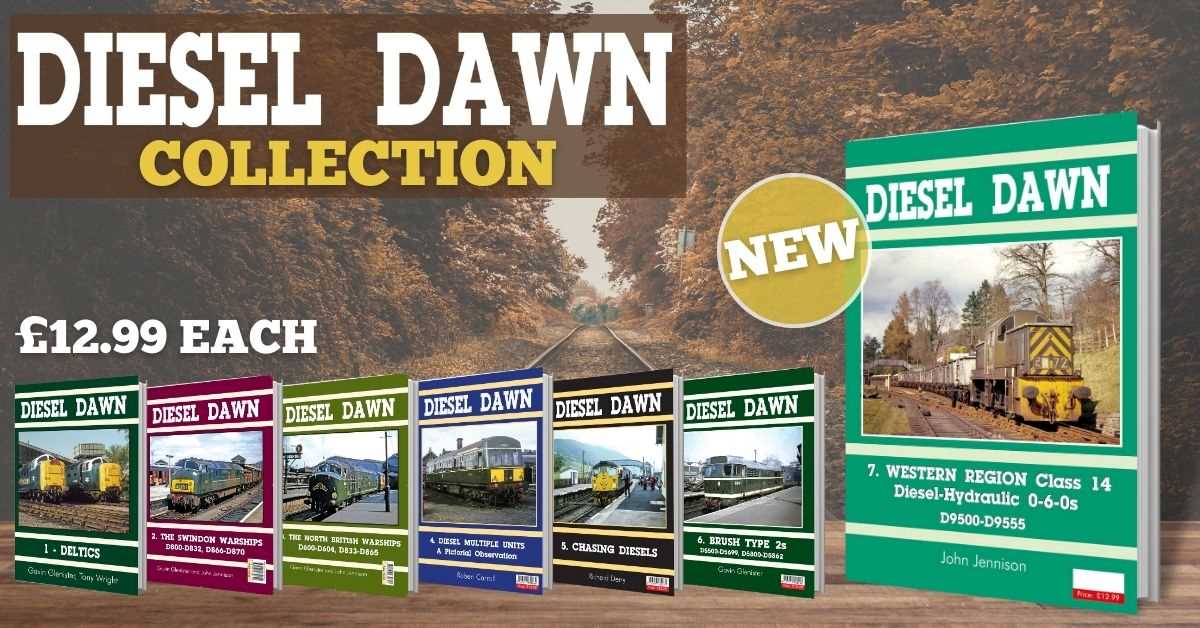 We can also supply any of the previous six volumes, so please let us know if you would like to purchase any of the volumes in this interesting series. Please also take a look at our webstore for NEW BOOKS and PRE-OWNED BOOKS, the profits from which will go directly towards the upkeep of our loco fleet. Thank you very much for your support !
Just as a reminder, we can also supply PLATFORM 5 publications either from stock or against a special order, the profits from such sales going towards our general loco maintenance funds.
ON SHED – last week, we featured a photo by Kelvin Lumb showing 47 229 (formerly D1905) hauling a Ford Motor Co train loaded with brand new Mark II Ford Escorts eastwards through Bridgend station on Saturday 26th February 1977 and we asked for help in identifying the origin and destination of the train.
As it turns out, Brian Ringer (one of our founding members) had the ideal background to be able to provide the detail that we needed, and his response is shared below: 
   "Great shot of 47229 on a train heading east through Bridgend and the mystery of the Cartic loaded with Ford Escorts.
   During my career with BR, I was Ford Motor Co. marketing manager in the Railfreight sector in the early 1980s, so these traffics were part of my "bailiwick". At the time Ford had a complex set of train movements to move finished cars and parts between its various production plants. The Escort was produced at Halewood (Merseyside) and were moved by rail to a distribution depot at Severn Tunnel Junction (STJ) that was owned by Silcock and Colling – it was on the site of 86E STJ steam depot, just east of the station.
   The same train also brought axles from the Ford plant at Swansea (adjacent to Burrows Sidings) to Halewood (and later had a portion from the Bridgend engine plant, when it opened in 1980). The cars and component vans were conveyed on the same train between Halewood and STJ and vice versa, with a feeder trip to/from STJ and Swansea Burrows sidings.
   The most likely scenarios are either:
   a/ there was a problem on the section of line between Maindee Junction and STJ meaning that the whole train went through to Swansea Burrows sidings and the photo shows the working from Swansea back to STJ for the Escorts to be unloaded at Silcock and Colling's depot.
   b/ the Cartic wagon had a maintenance problem and it went to Marcroft Wagon Repairs at Swansea to be fixed. It was highly unusual for a wagon to go for repairs whilst still loaded with 25 cars worth in excess of £100k.
   The comment about imports via Fishguard sounds improbable as in my time, Ford never used Fishguard for imports or exports and the only other plant that produced Escorts in Europe was Koln (Cologne) in Germany. These cars were imported via Dagenham Dock (Essex).
   All in all a very unusual photo with no obvious explanation, but splendid none the less."
Many thanks to Brian for providing us with this interesting response. Here's the photo again as a reminder: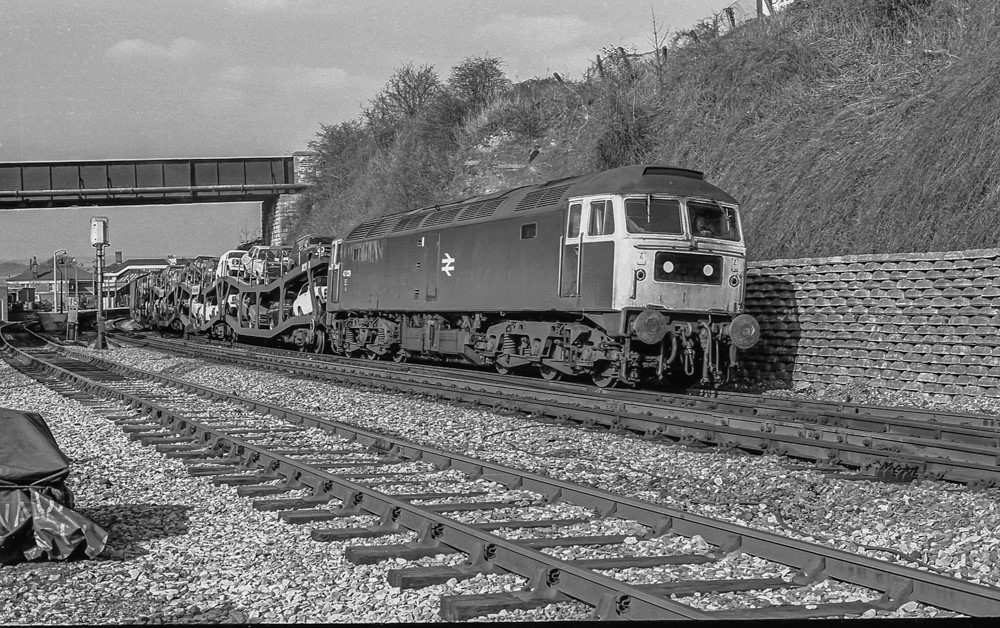 47 229 (D1905) hauled a Ford Motor Co train loaded with Mk II Ford Escorts through Bridgend heading east on Saturday 26th February 1977, on the same day as the 'WESTERN TRIBUTE' railtour … which was the working that our photographer was really waiting for, if the truth be told. Photo by Kelvin Lumb © CC BY-NC 3.0
The below photo by Kelvin Lumb happens to show the old 86E steam shed at Severn Tunnel Junction, just visible beyond the footbridge in this view of an unidentified Class 25 standing on the down goods relief line. MANY THANKS to Kelvin for continuing to provide us with more great photos from his vast collection.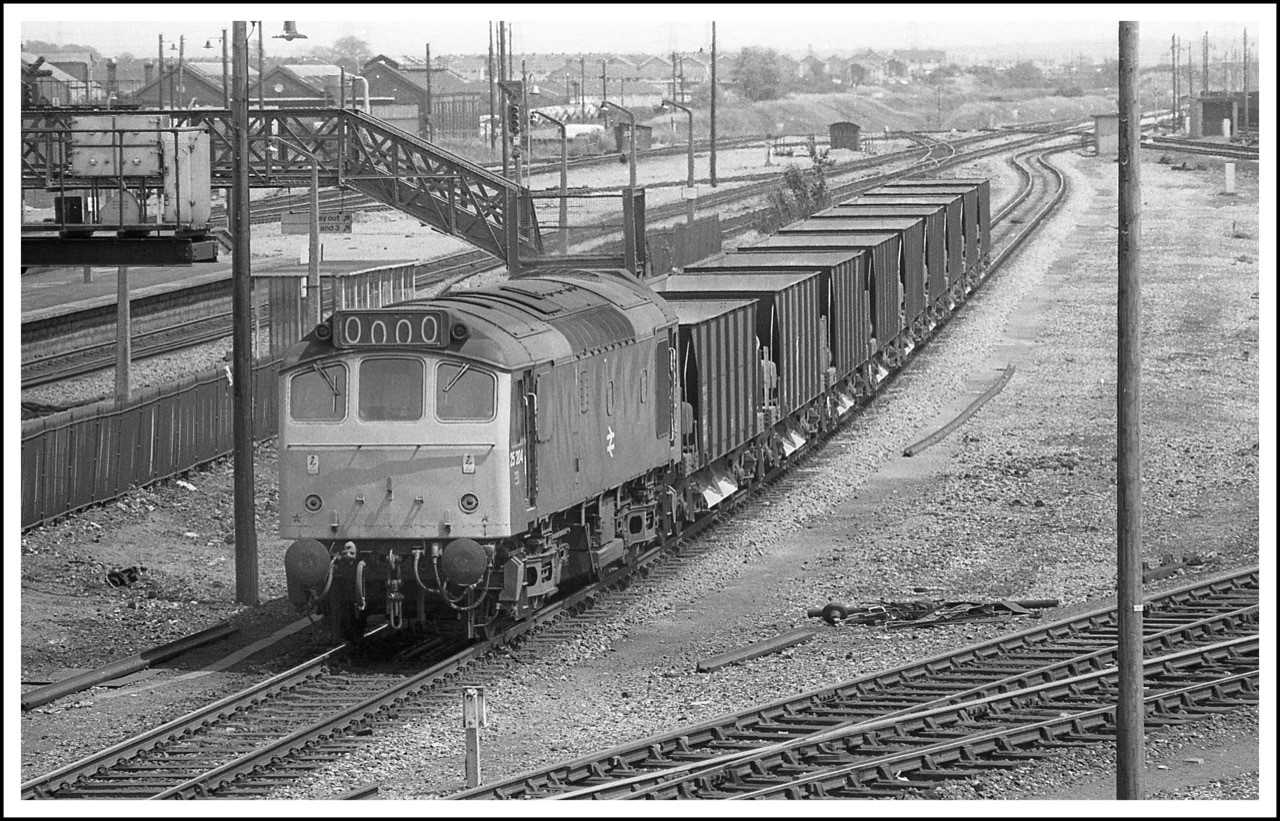 An unidentified Class 25 was pictured standing on the down goods relief line at Severn Tunnel Junction, waiting for access to the South Wales Main Line with a train of empty ballast hoppers. The old steam shed (86E) can be seen beyond the footbridge. Photo dated summer 1976 by Kelvin Lumb © CC BY-NC 3.0
DEPG NEWS – a Board Meeting will be held at Williton on Saturday 25th March, so please let us know if you have a question that you would like to have tabled at this meeting.
The SPRING 2023 DEPG Newsletter (issue #63) is being distributed this weekend, so keep an eye out for it and let us know if you haven't received it by the end of this month.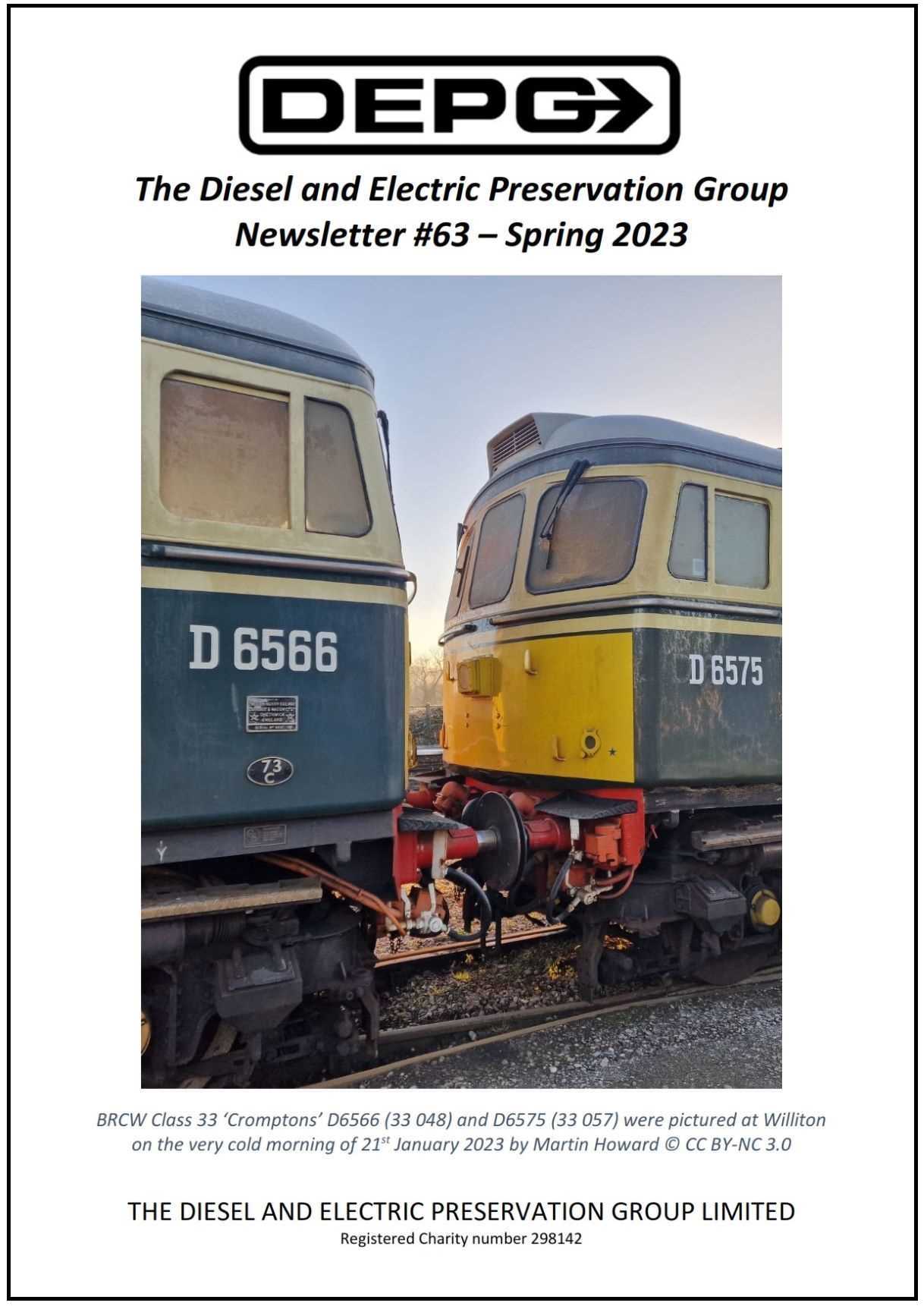 Please make sure that your membership is up to date so that we can continue to send you a copy of this quarterly newsletter (via email or post at your choice). The newsletter includes detailed updates on the plans for our two restoration projects (D1010 and D9518), plus other information that is specific to DEPG members.
If you are not sure about your membership status, please click here or on the image below to access your membership record via MEMBERMOJO.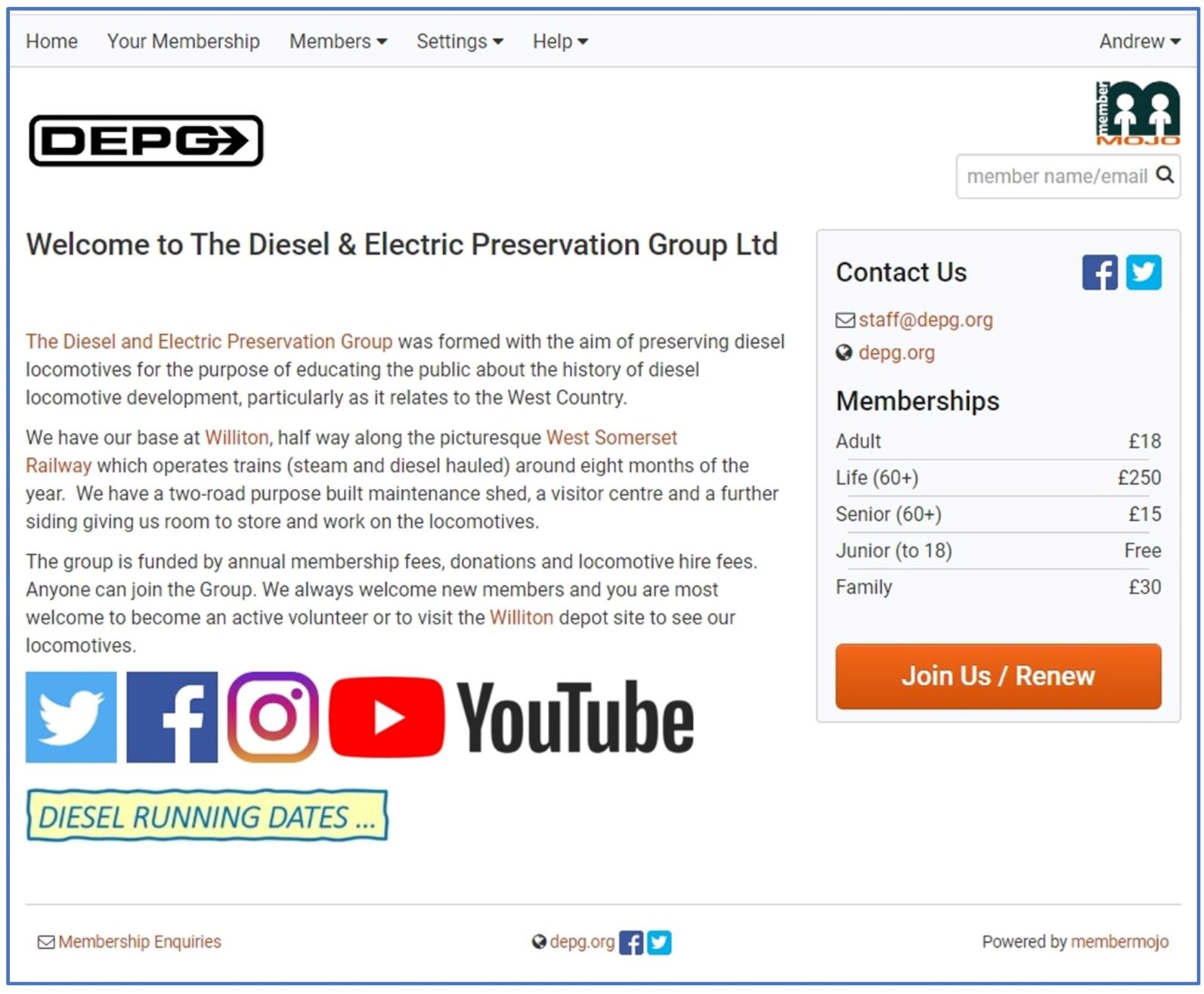 KEY 2023 DATES for your diary:
WSR SPRING STEAM SPECTACULAR : Friday 28th April through Monday 1st May
WSR DIESEL GALA : Thursday 8th through Saturday 10th June
WSRA STEAM RALLY : Saturday 5th and Sunday 6th August
DEPG 50th ANNIVERSARY CELEBRATIONS : Friday 22nd and Saturday 23rd September