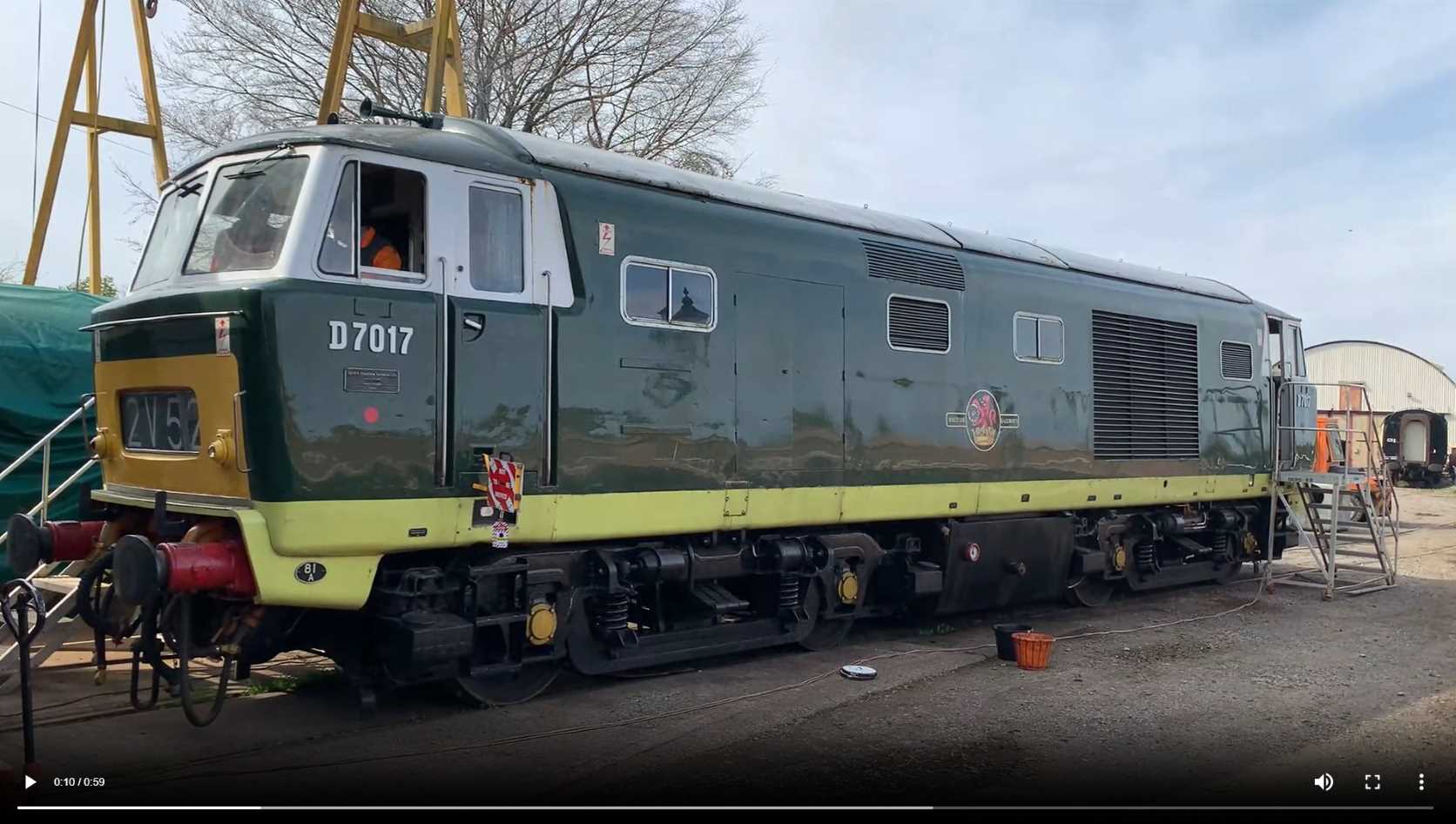 D7017 was started up at Williton on Saturday 8th April 2023 for her return to service checks. The clean start (the first of this year) shows the benefit of an engine pre-heater. The above image is an extract from a short video clip  – click here or on the photo to launch the video. Andy Royal © CC BY-NC 3.0
After progress made with maintenance and engine oil checks at Williton last weekend, Class 35 'Hymek' D7017 has been rostered for use on Saturday 20th and Sunday 21st May on the 10:00 Minehead (MD) to Bishops Lydeard (BL) 80-mile diagram.
NOTE: this is a CHANGE from the previously published running dates of 13/14 May (those dates will be Class 33 hauled instead). The change has become necessary because of crew rostering constraints and we apologise for any inconvenience this change may have caused.
The BLUE timetable will apply and booked times are as follows (Saturday 20th may differ slightly but details are not available as yet):
     Depart MD 10:00 arrive BL   11:30
     Depart BL   12:30 arrive MD 13:50
     Depart MD 14:30 arrive BL   15:55
     Depart BL   16:35 arrive MD 1800
Other public services are also scheduled – see the WSR timetable page for the latest details.
Please come along if you can and enjoy the 80-mile ride behind D7017 !
Sister loco D7018 is now receiving attention to minor tasks, all of which will be completed in time for her to return to service for the 2023 SUMMER DIESEL FESTIVAL that takes place on the WSR from Thursday 8th June through to Saturday 10th June.
Our DIESEL RUNNING DATES page has been updated and now carries the list of the diesel-hauled public services for 2023. This page is used in conjunction with DIESELGEN to provide a complete picture of diesel locomotive activities on the WSR:

The webcams provide a very good way of watching the action from afar. Click this link: http://www.wsr.org.uk/cams.htm or click on the image below to go to the webcams via wsr.org.uk: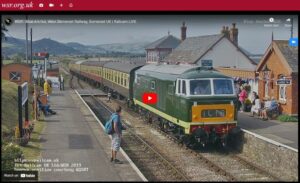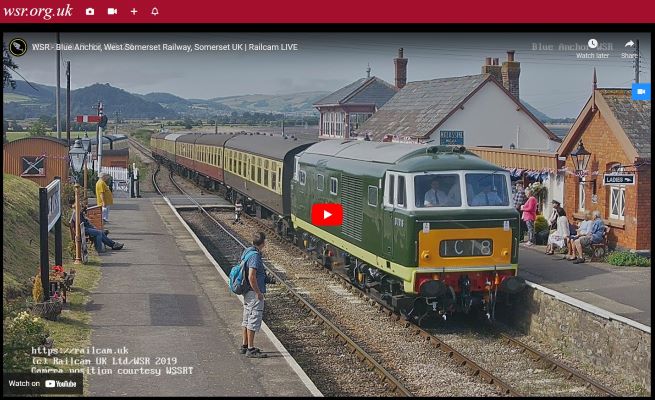 Webcams are available at Bishops Lydeard, Crowcombe Heathfield, Williton, Blue Anchor, Minehead Seaward Way and Minehead Station. Select the appropriate webcam by clicking on the blue button on the webcam page. Many thanks to Railcam UK and the WSR for providing these webcam services.
Many thanks to Railcam UK and the WSR for providing these webcam services.
Have you considered joining the WEEKLY ROUNDUP e-newsletter list? Click here for details.
Social media channels:


---