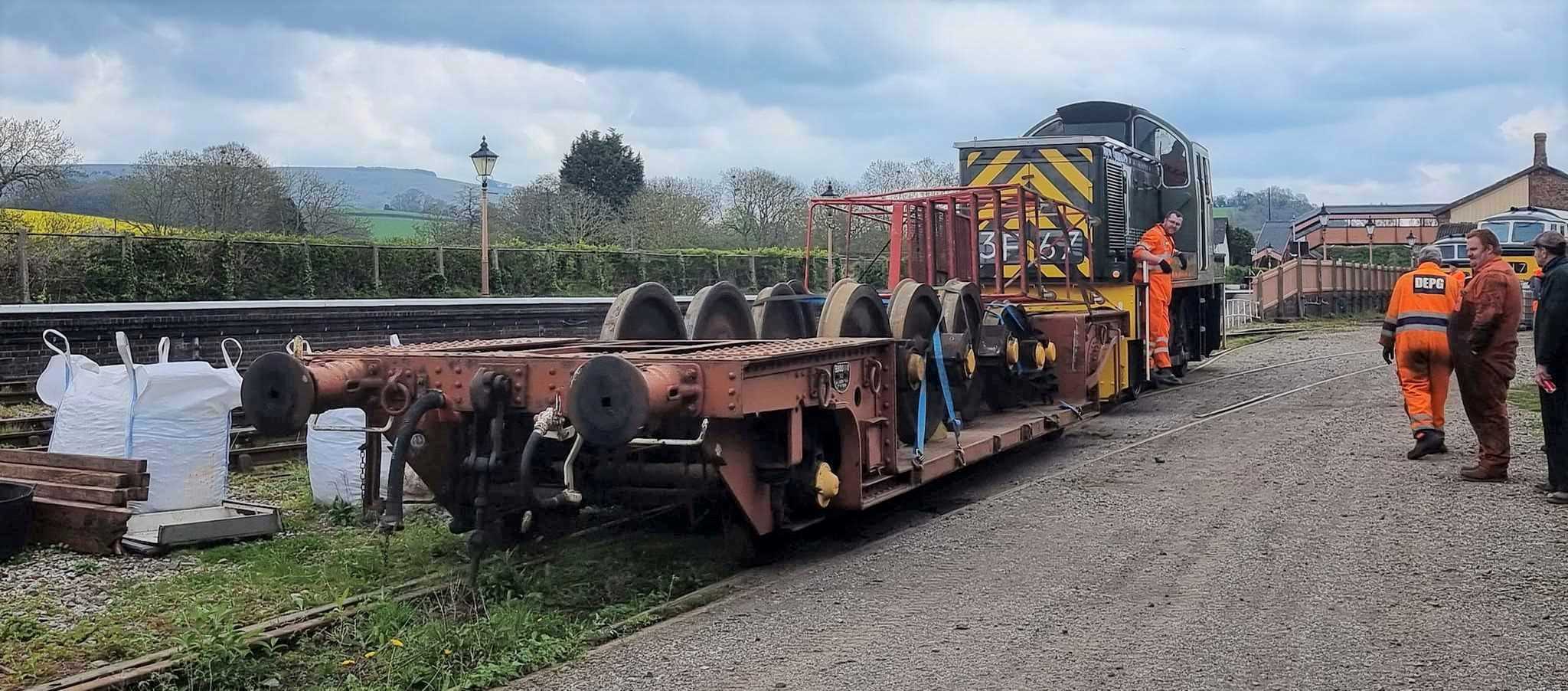 Class 14 'Teddy Bear' D9526 was in use on Saturday 22nd April 2023, shunting the South Yard at Williton to re-position a well wagon loaded with carriage axles so that it could be easily attached to an Empty Coaching Stock (ECS) train destined for Minehead. Photo by Harry Spencer © CC BY-NC 3.0
Last weekend, preparations were being made for the SPRING STEAM SPECTACULAR event that starts on Friday 28th April and runs right through to Monday 1st May, featuring an intensive timetable (click here for the timetable) based on the home fleet plus several high-profile visitors including the unique GWR 4-6-0 'Saint' 2999 'LADY of LEGEND' plus GWR 4-6-0 'Manor' 7812 'ERLESTOKE MANOR' and SR 4-6-2 'Rebuilt West Country' 34072 (21C127) 'TAW VALLEY'. This high-profile collection will be augmented by BR(W) Class 9400 0-6-0 Pannier Tank 9466 which was outshopped from WSR Restorations on Saturday 22nd April and hauled the ECS working from Williton to Minehead. Taken altogether, this has the feel of a great steam gala and we hope for some good weather to help make it the commercial success it deserves to be.
The DEPG depot will be OPEN FOR VISITORS on each day of the gala, allowing close-up viewing of our two major restoration projects D1010 'WESTERN CAMPAIGNER' and Class 14 'Teddy Bear' D9518 along with the four locos in the yard, namely 'Hymeks' D7017 and D7018, 'Teddy Bear' D9526 and Barclay 578 (ROF 1).
In the loco shed on each of the four days of the gala will be ROD'S MODEL RAILWAY SALES stand along with our own DEPG sales stand, so please come along and visit us if you can. You don't have to buy anything, but it helps us pay our bills if you do.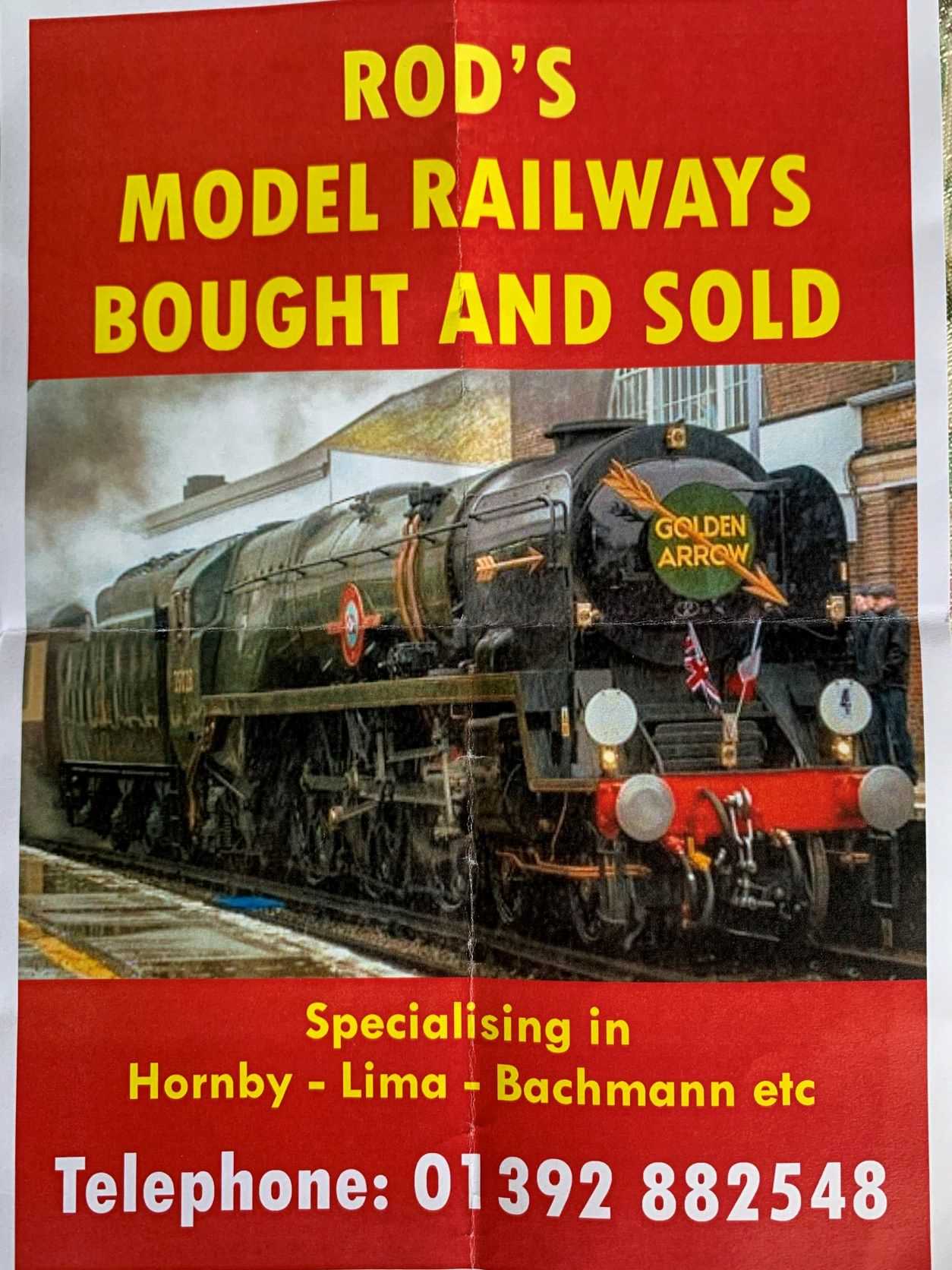 The BLUE timetable returns after the gala and runs throughout May, featuring diesel haulage each weekend, initially with Class 33 'Crompton' D6575 and later with Class 35 'Hymek' D7017. For details of planned DIESEL-HAULED public services, click on the banner below to go to the DIESEL RUNNING DATES page.

LOCO NEWS:
Class 52 D1010 'WESTERN CAMPAIGNER' – the team are marching forward on several fronts as we tackle the work list on this giant locomotive. Some of the work is highly specialised and therefore dependent on some of our experienced volunteers, but most of the work just requires 'common sense' and we welcome more volunteers to join this team and get the work done as soon possible. The timeline further below shows how much there is to do and we want to be ahead of the game, not playing catch-up, so please CONTACT US and arrange for a volunteering taster day.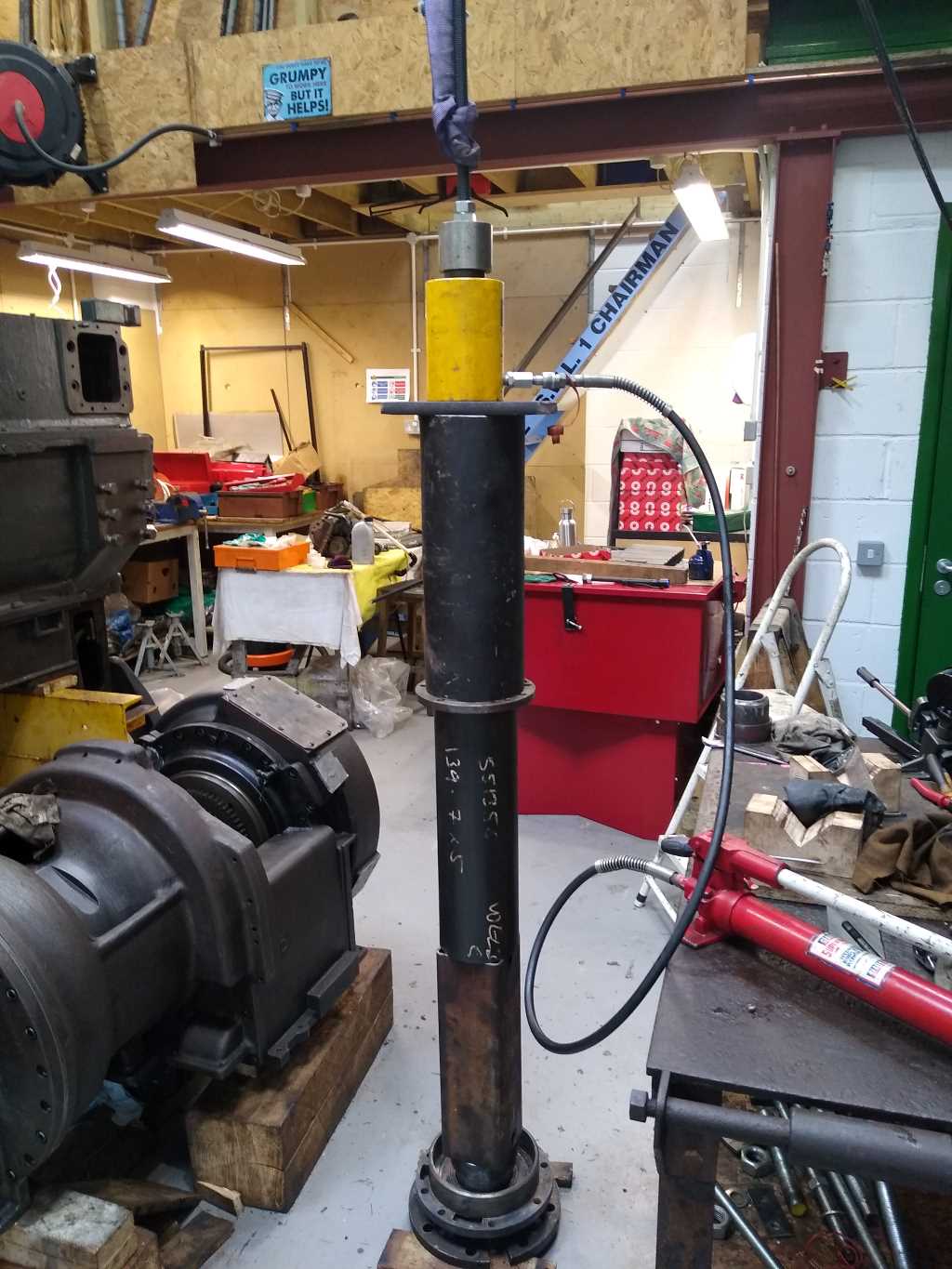 D1010 – the input shaft assembly was the target of the 'transmission team' at Williton on Monday 17th April 2023. The length of the input shaft is apparent from this view, showing the overhead crane being used to stabilise the assembly while preparing to press the lower bearing race into position. Photo by Colin Foxhall © CC BY-NC 3.0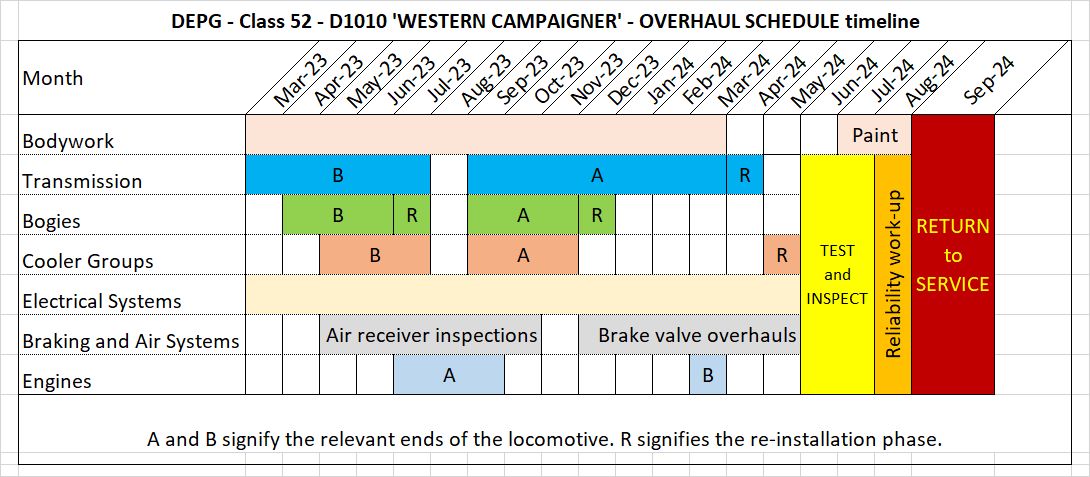 D1010 – the timeline for this restoration project has been published in the DEPG Spring 2023 Newsletter that has been sent to all registered DEPG members. The narrative that goes with this timeline will be published on our website ASAP and covered in a future roundup. DEPG © CC BY-NC 3.0
To continue our rate of progress requires FUNDING and we give our thanks to everyone who has supported D1010 by sponsoring or donating during these difficult times. If you are able to do so, please SPONSOR A PATCH because there is plenty of recently-added metal that still needs engraving. Photographs and certificates of sponsorship will be sent out to all who have sponsored this phase of the restoration work, and we are applying more resources to catch up with this obligation and deliver the documents. Click the image below to sponsor a patch. Thank you in advance for your support !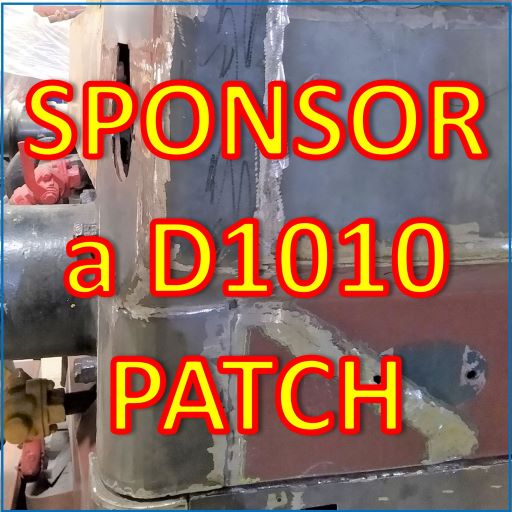 See our CAMPAIGN for CAMPAIGNER web page for more details. We still have a lot of work to do on this massive locomotive, so PLEASE DO COME ALONG AND HELP IF YOU CAN !


Class 33 D6566 (33 048) – this loco is now inside the paint tunnel in the Swindon Shed at Williton for a paintwork refresh in the hands of WSR Restorations. The photos below show the progress that is being made by Harry and the team, and the quality of the work is evident: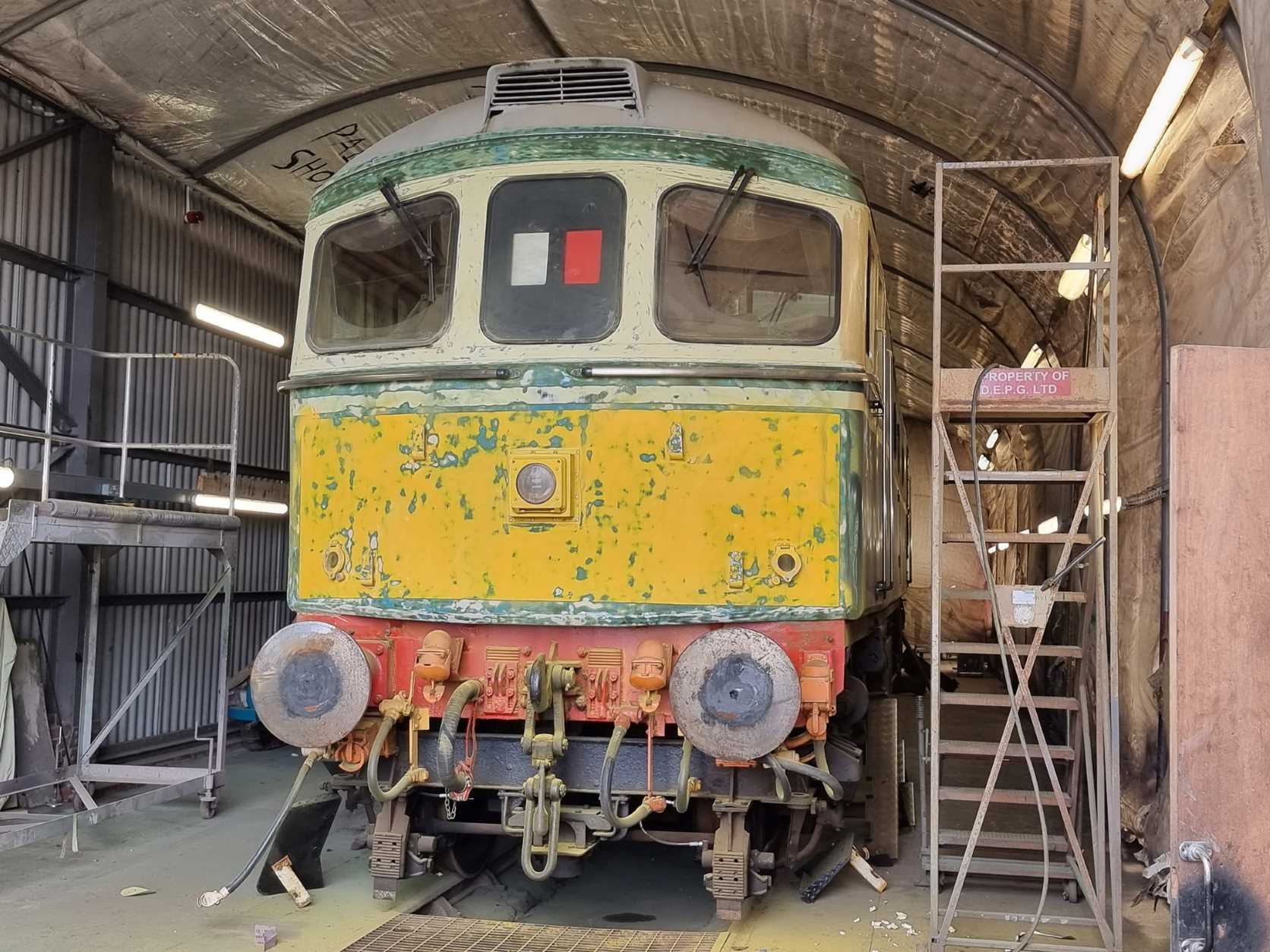 Class 33 'Crompton' D6566 (33 048) was pictured in the WSR Restorations paint tunnel in the Swindon Shed, Williton on 15th April 2023 as she cast off her old paint in readiness for her new paint. Photo by Harry Spencer © CC BY-NC 3.0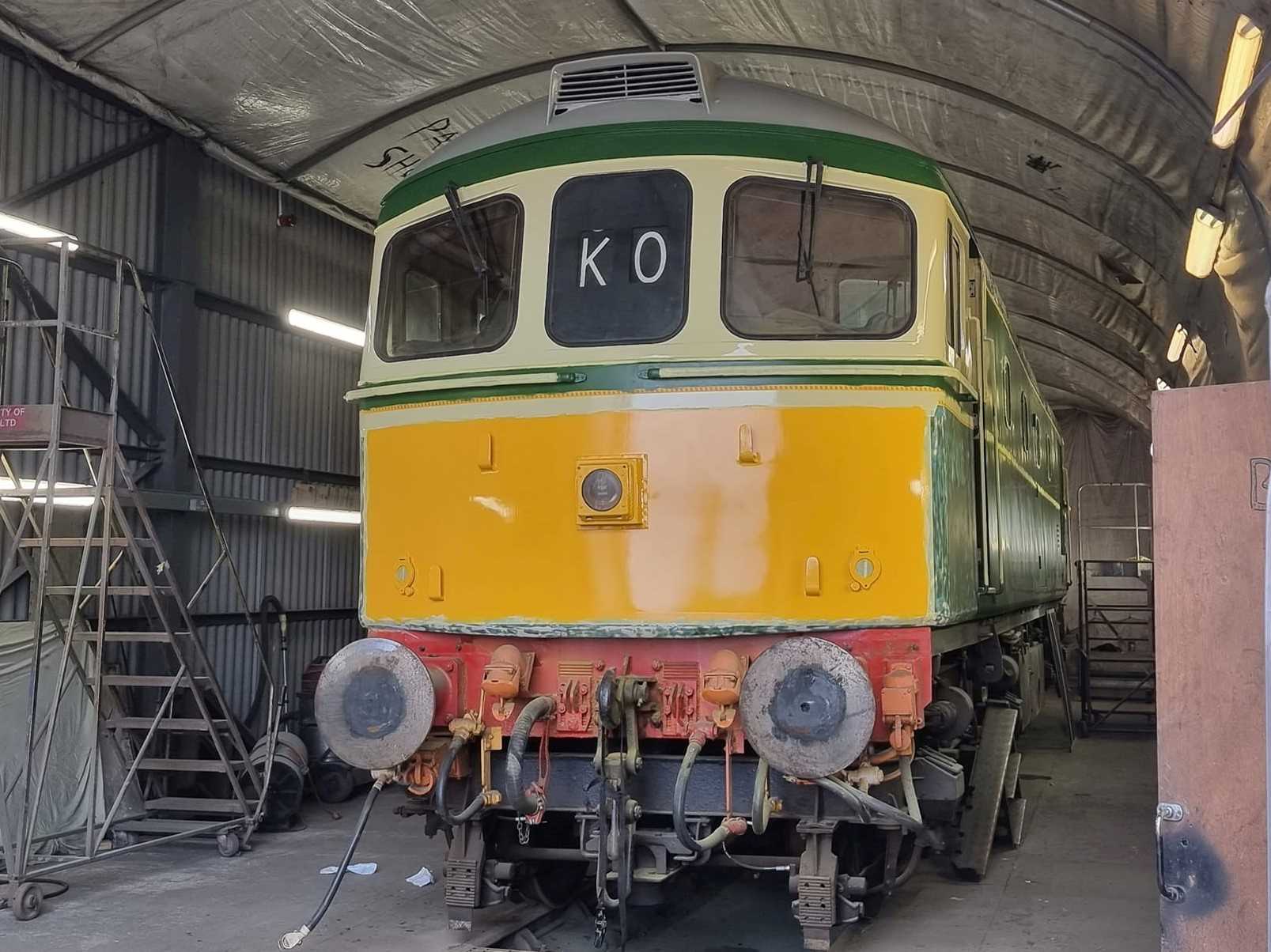 Class 33 'Crompton' D6566 (33 048) was pictured in the WSR Restorations paint tunnel in the Swindon Shed, Williton on 24th April 2023, now carrying gloss yellow and cream ('Swanage Sand', actually). Photo by Harry Spencer © CC BY-NC 3.0
Class 33 D6575 (33 057) – this loco is on standby in case she is needed during the steam gala (hopefully not), and will next be working her BLUE timetable duties on Saturday, Sunday and Monday 6/7/8th May.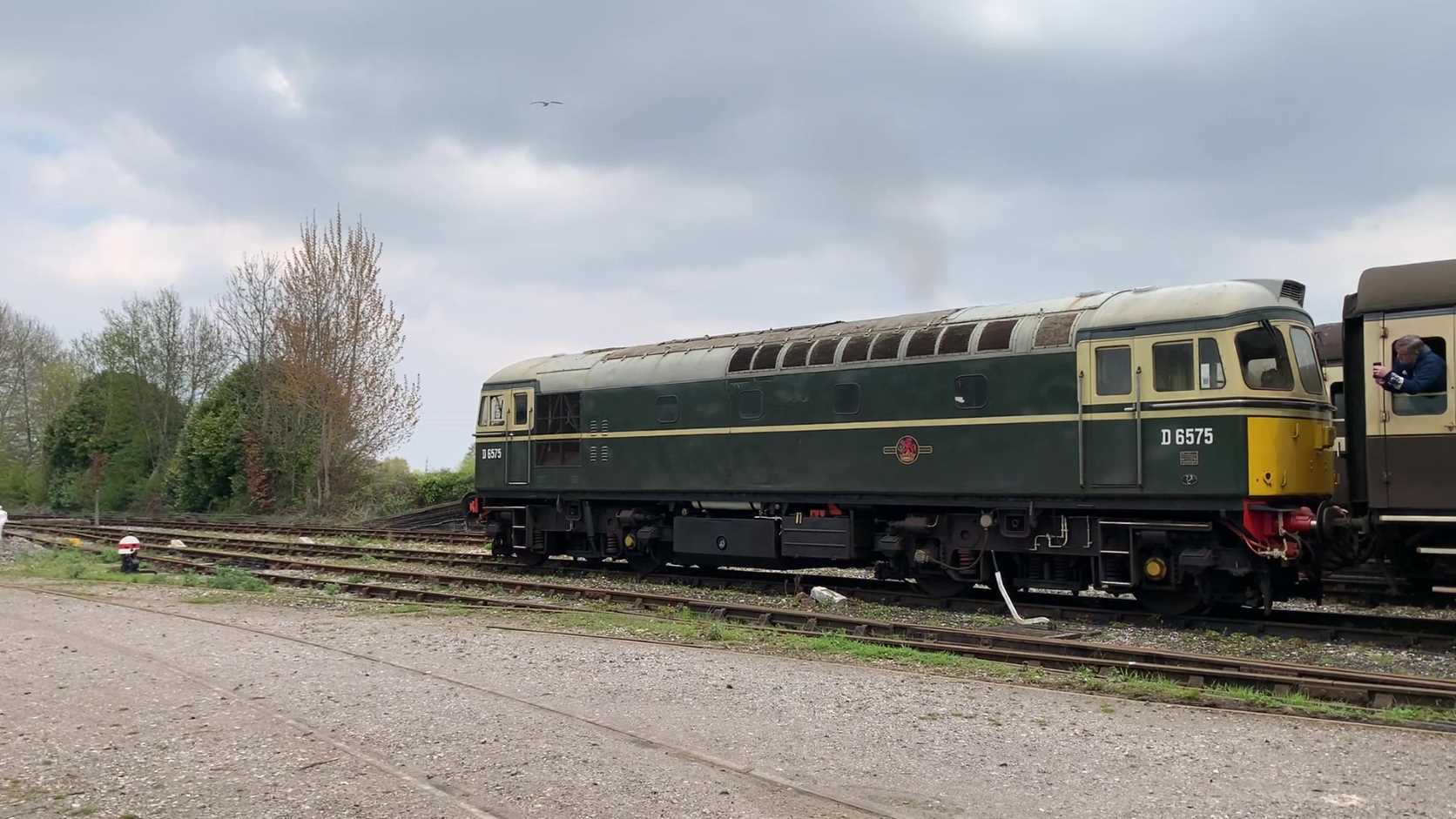 Class 33 'Crompton' D6575 (33 057) stepped in to cover for GWR 2-6-2 'Prairie Tank' 5199 on the 19th April 2023, pictured departing from Williton with the 12:30 Bishops Lydeard to Minehead service. Photo by Andy Royal © CC BY-NC 3.0
Class 35 'Hymek' D7017 – this loco has been confirmed as OK to take up duties subject to the usual inspection checks, her next rostered duties being on Saturday and Sunday 20/21st May under the BLUE timetable. See our DIESEL RUNNING DATES page for information about this season's diesel-hauled services.
D7017 shared her corner of the south yard with a Mark 1 coach that had just come out from maintenance at WSR Restorations and was soon to be moved to Minehead in preparation for the steam gala. Pictured on Saturday 22nd April 2023 by Jon Tooke © CC BY-NC 3.0
Class 35 'Hymek' D7018 – the tasks that are lined up on this loco were reviewed at the Board Meeting and confirmed as being minor in nature and easy to deal with in the time remaining before her next duty. This loco is therefore expected to be available in good time for the Diesel Gala on June 8th through 10th.
Class 14 'Teddy Bear' D9518 – more progress has been made on several fronts, with John working on reinstatement of the electrical system, Terry on the brake rigging, Nick on the engine, while Tony and Andy P worked on the bodywork parts. Colin G covered multiple bases but scored a bonus point by getting the cab assembly brought into the loco shed so that restoration of this major assembly can commence. Here are some photos:
D9518 – the cab assembly is now inside the loco shed so that the restoration of this major item can commence under the guidance of Colin G. Pictured at Williton on Saturday 22nd April 2023 by Jon Tooke © CC BY-NC 3.0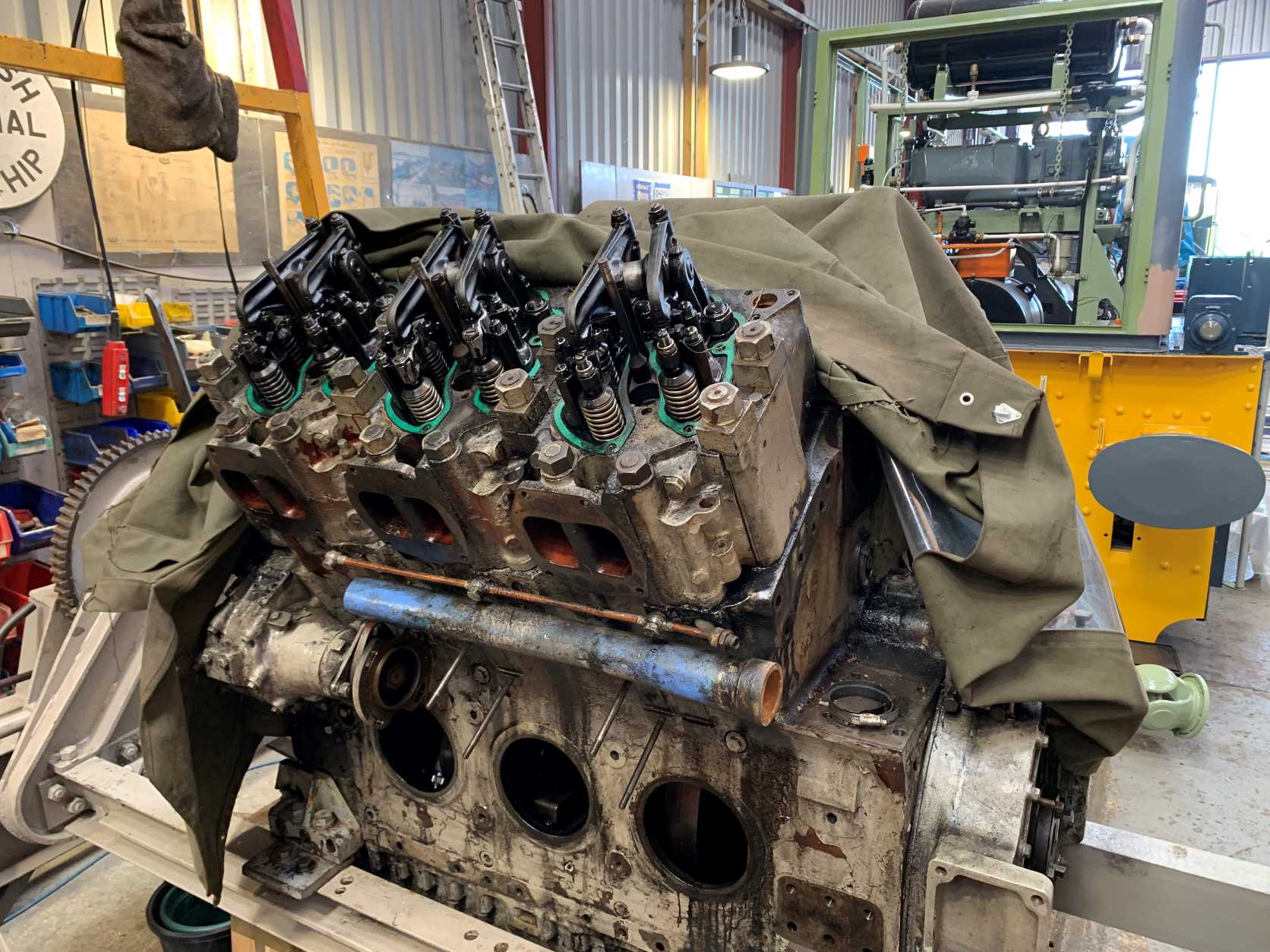 D9518 – the Paxman V6 diesel engine that once powered sister D9526 is being dismantled for cleaning and inspection prior to rebuilding with new bearings and seals. One bank of three cylinders was pictured at Williton on Saturday 15th April 2023 by Andy Royal © CC BY-NC 3.0
This loco is the subject of a fundraising appeal so please follow this link to find out more. We need your help ! In addition to funds, we also need plenty of HANDS. If you love the 'Teddy Bears' and you are not already a member of the DEPG, please join us so that you can become one of the team that is going to return D9518 to fully operational condition as 'NCB No. 7'.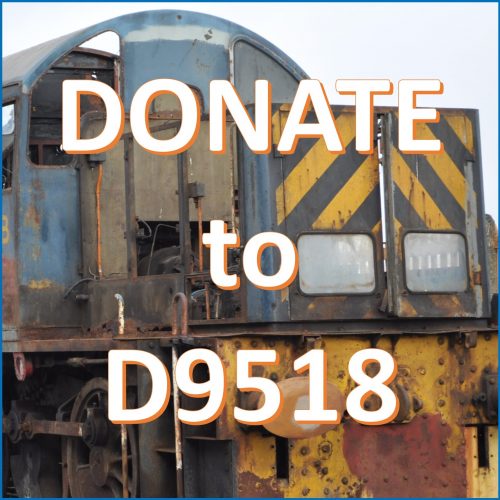 Class 14 'Teddy Bear' D9526 – this loco is fully serviceable and ready for use as soon as suitable opportunities arise. As previously reported, she was used for a yard shunt at Williton on the morning of Saturday 22nd April and remains on standby in case she is needed.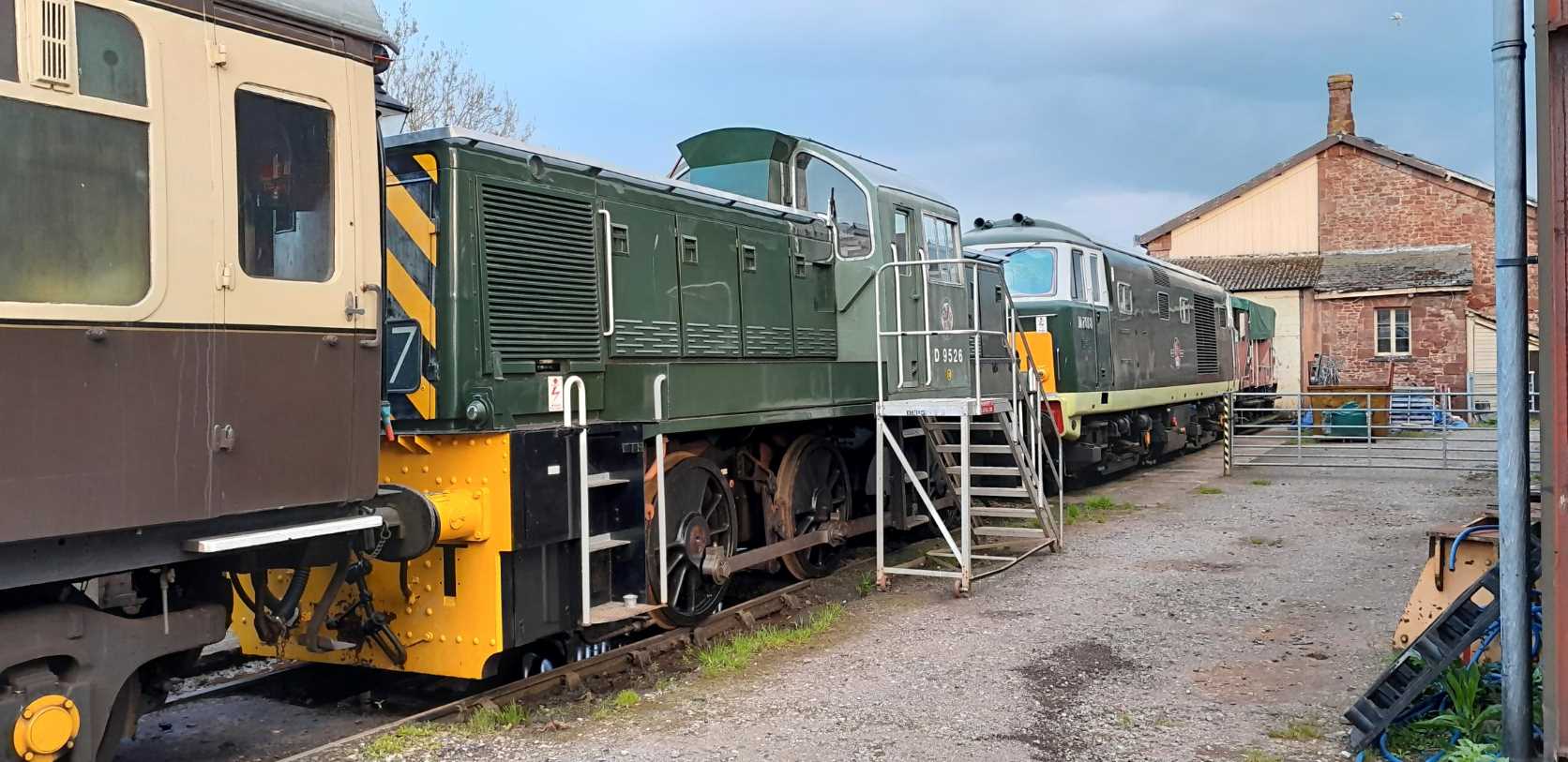 D9526 was sandwiched between the Mark 1 coach and 'Hymek' D7018 at Williton on Saturday 22nd April 2023. The coach was moved to Minehead later that day, giving the 'Teddy Bear' some free space. Photo by Jon Tooke © CC BY-NC 3.0
Class 47 47077 'NORTH STAR' – this loco is now back in regular use on the North Yorkshire Moors Railway and is performing well. We hope to include details of her exploits in a future roundup.
Andrew Barclay 0-4-0DH 578 – this loco was moved out of the loco shed on Saturday 22nd April and will remain outdoors throughout the running season. The paintwork detailing will be completed when the weather permits and the cabside transfers will then be applied, hopefully in time for her 1972 look to be perfected before the diesel gala.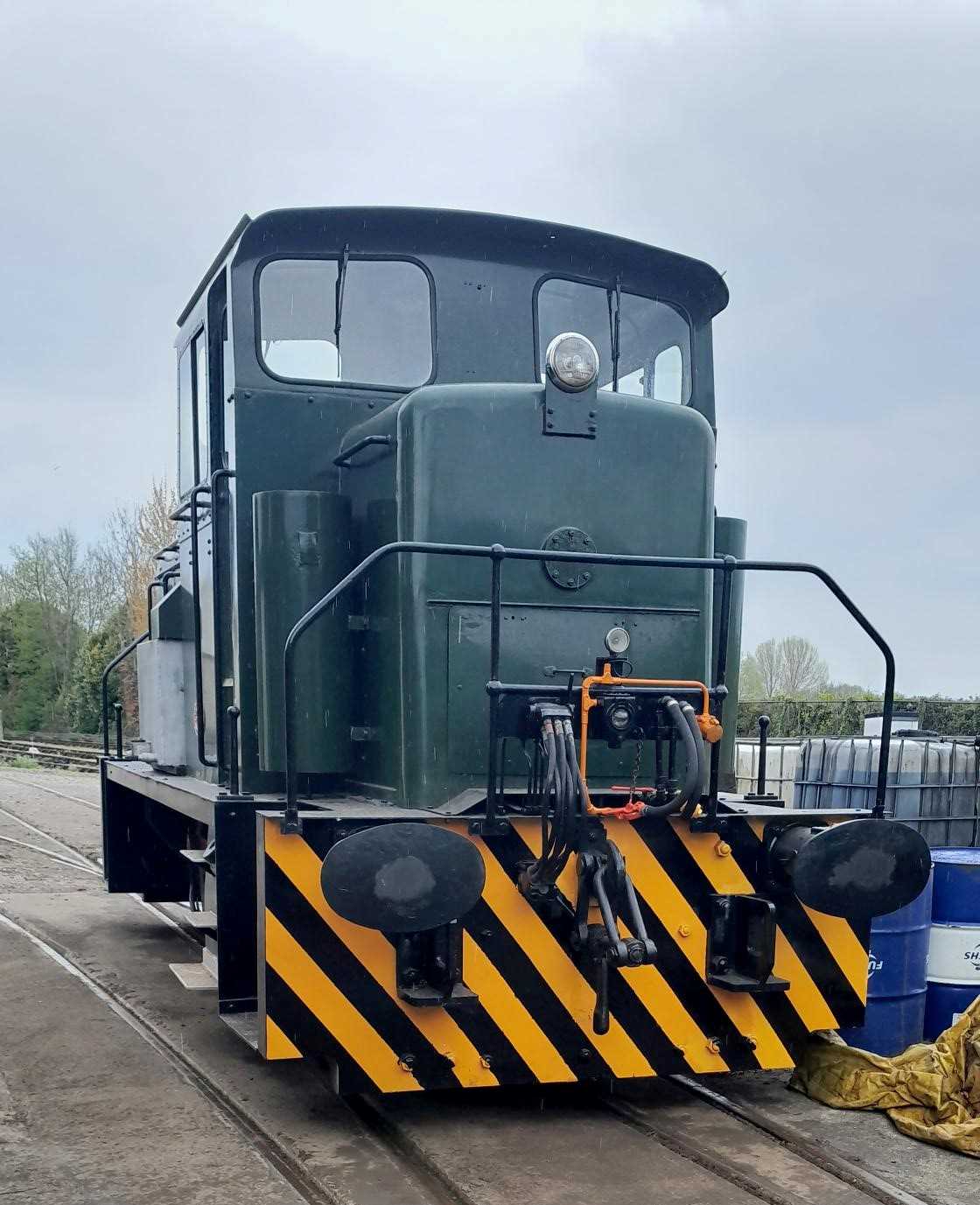 Barclay 0-4-0DH 578 (ROF 1) has now been moved out of the loco shed and awaits some paintwork detailing and her cabside transfers to be applied before we can call the job complete. Pictured at Williton on Saturday 22nd April 2023 by Jon Tooke © CC BY-NC 3.0
If you can help by donating your time to any of these projects, then please JOIN US and come along to the depot for an introduction to what we do and how we do it. We currently have people on site from Saturday through to Tuesday and we can open on other days if we can be sure of getting at least two volunteers on site at all times, so there is plenty of scope. We have tasks of all types to suit most capabilities, both skilled and unskilled.
Many thanks to all of our volunteers who give up so much of their time to work on the cleaning, painting, maintaining, restoring, managing and fund raising for our fleet of heritage locomotives !
BOOK REVIEW – we have now published Neale Long's book review on DIESEL DAWN – VOLUME 7: WESTERN REGION CLASS 14 DIESEL-HYDRAULICS so click here to read the review or visit our NEW BOOK REVIEWS PAGE on our website. This book is on sale via our website for the benefit of the D9518 restoration fund. PLEASE BUY A COPY to support D9518 !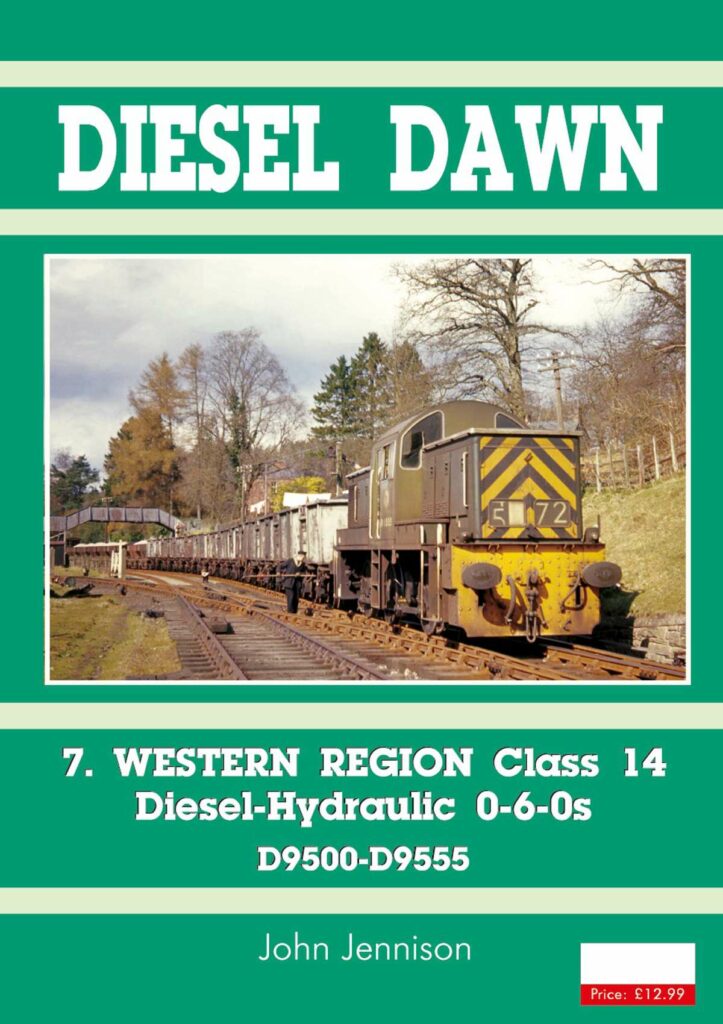 Many thanks to Neale for providing this book review.
We can also supply any of the previous six volumes of DIESEL DAWN, so please let us know if you would like to purchase any of the volumes in this interesting series. Please also take a look at our webstore for NEW BOOKS and PRE-OWNED BOOKS, the profits from which will go directly towards the upkeep of our loco fleet. Thank you very much for your support !
Just as a reminder, we can also supply PLATFORM 5 publications either from stock or against a special order, the profits from such sales going towards our general loco maintenance funds.
ON SHED – after a very succesful year of running in the guise of D1040 'WESTERN QUEEN', the Western Locomotive Association's (WLA's) 1963 Crewe-built 'Thousand' is now back to being D1062 'WESTERN COURIER', in good time to celebrate her 60th birthday on Saturday 6th May. This hard working loco is rostered to perform on the Severn Valley Railway on both the Saturday and the Sunday, 6/7th May and we wish her all the best for her 60th birthday !.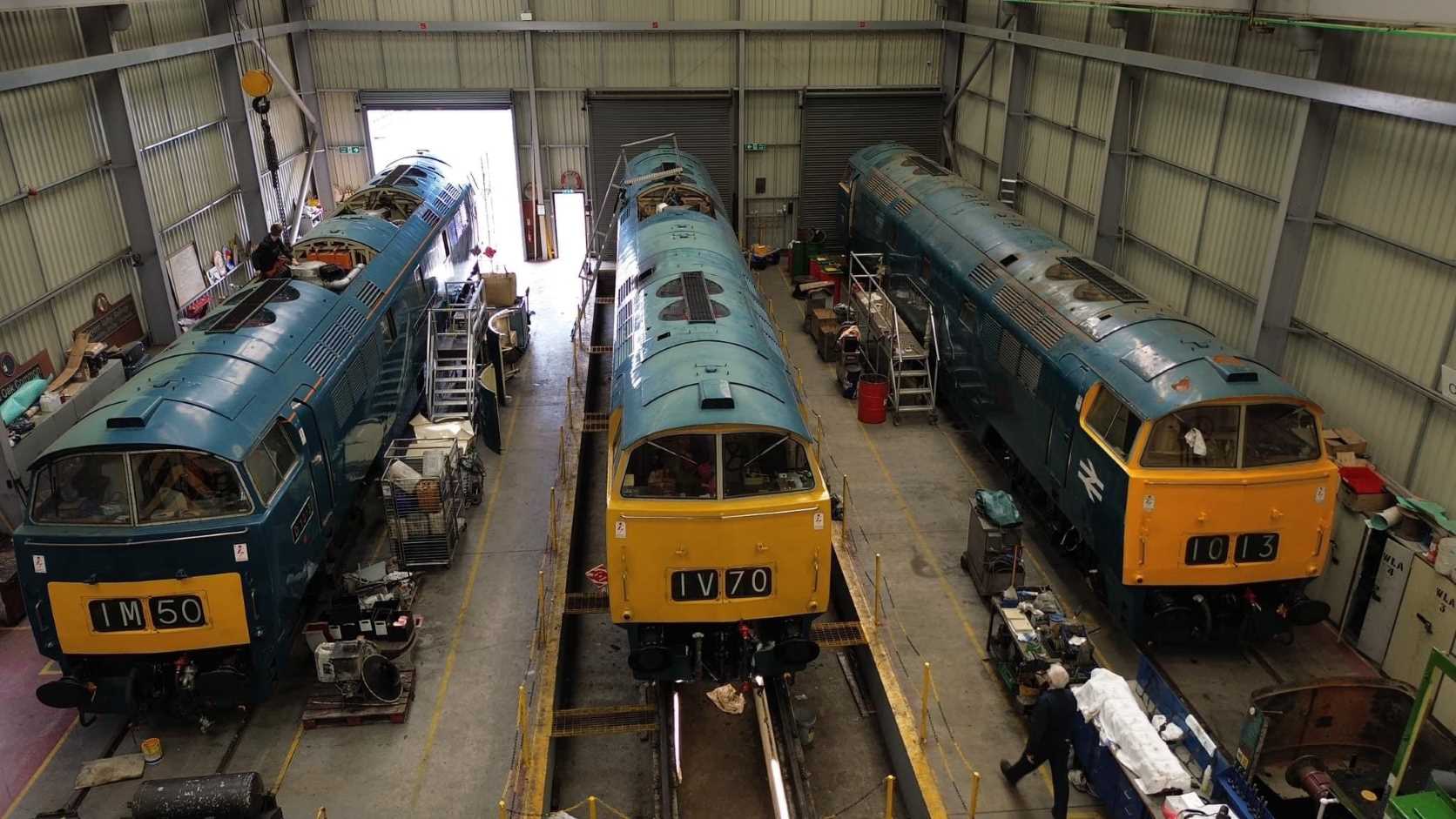 Three Class 52 'Westerns' alongside each other, 46 years after the Class was withdrawn from mainline service. From left to right, D1015 'WESTERN CHAMPION', D1062 'WESTERN COURIER' and D1013 'WESTERN RANGER' filled one end of the diesel shed at Kidderminster in April 2023. Photo by Paul Finch © CC BY-NC 3.0
DEPG NEWS – a Board Meeting was held at Williton on Saturday 22nd April, and a synopsis is being prepared and will be shared ASAP with all DEPG members for whom we hold a valid email address.
Top marks to Graham, Tony and Paul T for their efforts on construction of the covered oil store in the yard at Williton, the first half of which was completed on Sunday 23rd April after another full weekend of hard labour. The gates for the other section have been ordered and will be installed during the next few weeks. Well done guys, the heroes of countless unsung infrastructure improvement projects !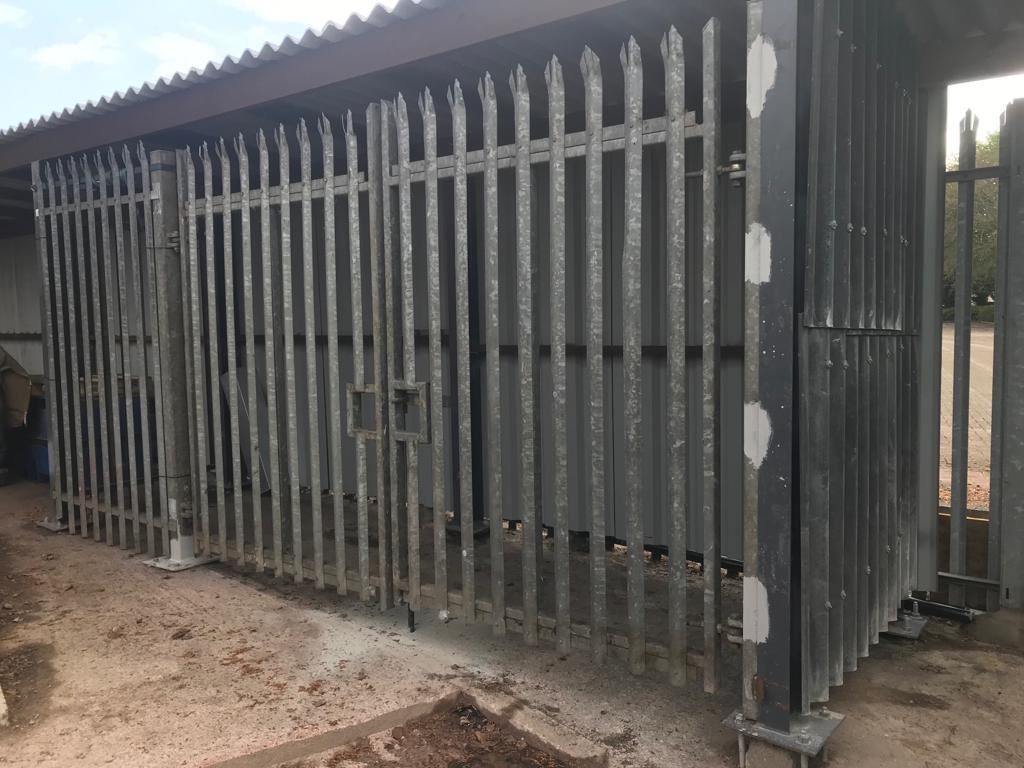 The covered oil store in the yard at Williton will be used to store new and used oil and will include bunds to capture any spillage and prevent pollution. Pictured on Sunday 23rd April 2023 by Graham Perry © CC BY-NC 3.0
The DEPG depends on the support of all of our members so please make sure that your membership is up to date. If you are not sure about your membership status, please click here or on the image below to access your membership record via MEMBERMOJO.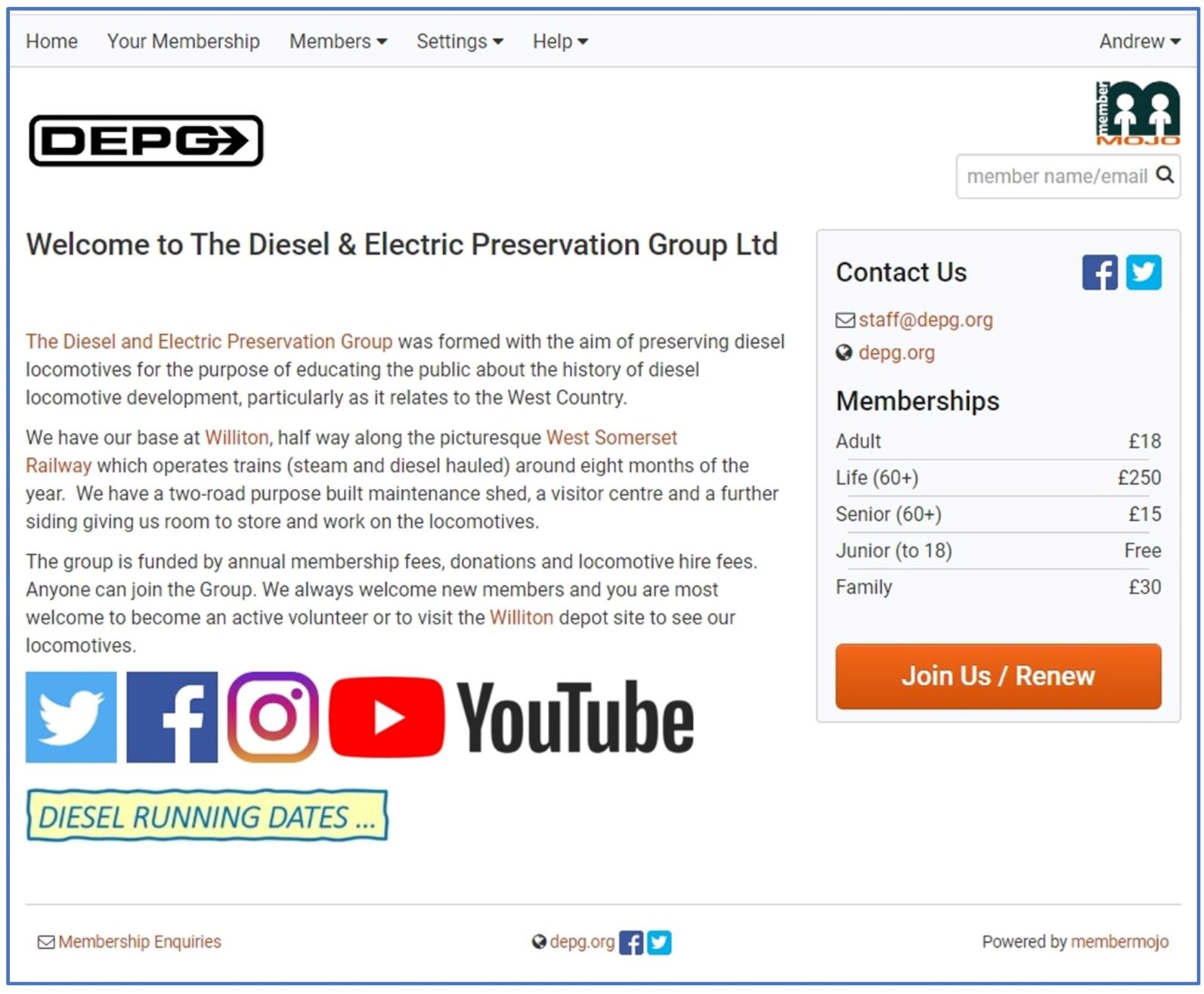 KEY DATES for your diary:
WSR SPRING STEAM SPECTACULAR : Friday 28th April through Monday 1st May 2023
WSR SUMMER DIESEL FESTIVAL: Thursday 8th through Saturday 10th June 2023
DEPG 50th ANNIVERSARY CELEBRATIONS : Friday 22nd and Saturday 23rd September 2023.
Go to previous Weekly Roundup post