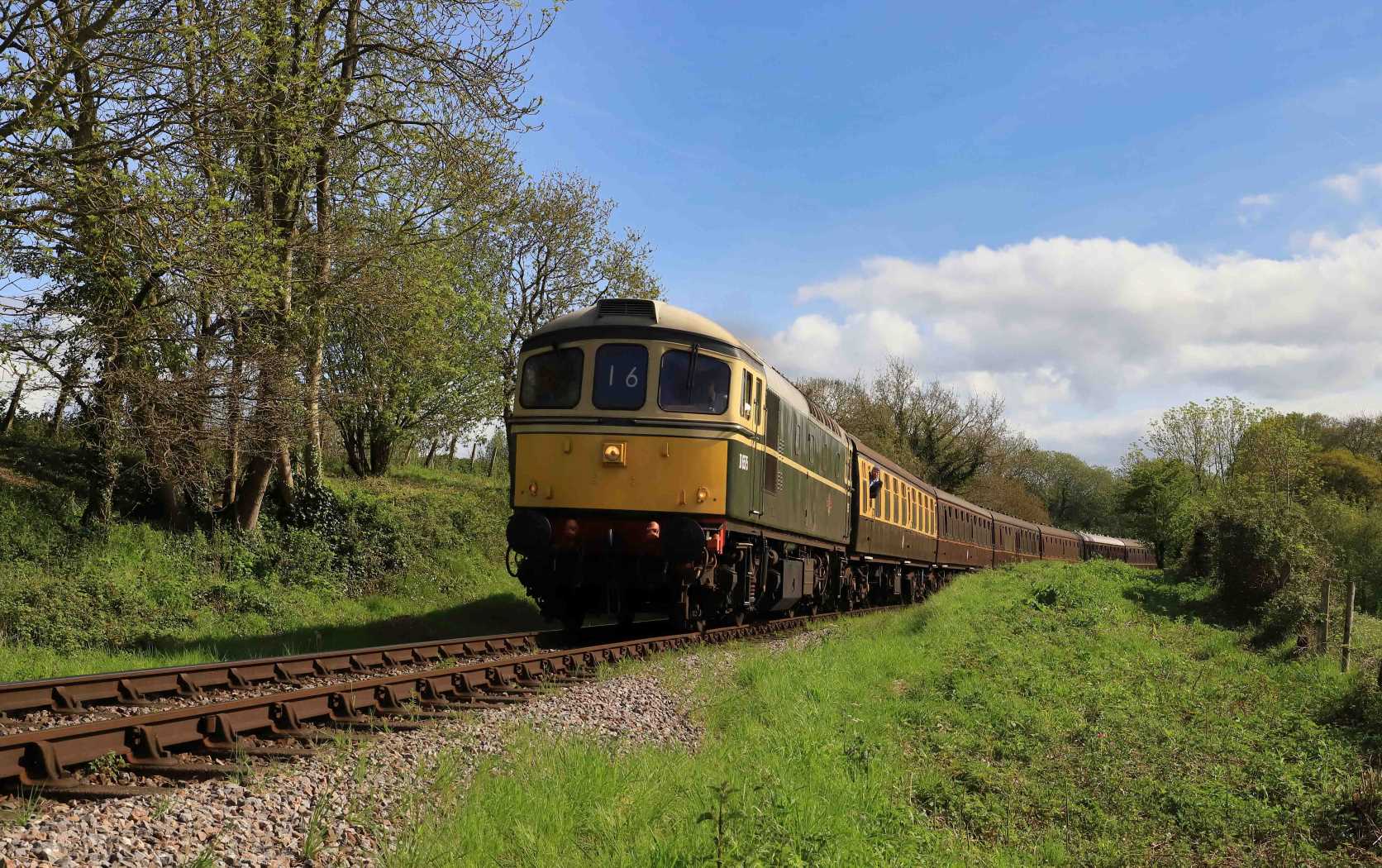 Class 33 'Crompton' D6575 (33 057) was in use throughout the Bank Holiday weekend, pictured at Nethercott while hauling the 1635 service from Bishops Lydeard to Minehead on Sunday 7th. Photo by Bernard Bates © CC BY-NC 3.0
Just before the coronation of King Charles III on Saturday 6th May 2023, our yard fell silent for one minute as a mark of respect for our much-loved fellow volunteer SIMON PURVIS who passed away on Friday 28th April at the age of 61. We were privileged to have the company of Simon's wife, son and daughter at Williton as we gathered around Class 14 D9518 so that DEPG Chairman Martin Howard could address those present. Martin's comments were heartfelt and echoed those of so many who have responded to our social media post, and Martin gave a committment to ensure that D9518 would be completed in Simon's memory.
Class 33 'Crompton' D6575 (33 057) had arrived from Minehead and was at the platform at Williton waiting to pass the train that was due in from Bishops Lydeard, but an issue with the token release meant a delay was inevitable, so the STOP button was pressed by driver Neil Collyer and the 8-cylinder Sulzer also fell silent at that important moment.
Separately, we were also reminded that on this same date 50 years previous, our Class 35 'Hymek' D7017 had been withdrawn from traffic as a step toward the rundown of the 'Hymek' fleet. Luckily, she was reprieved because of a misfortune that affected a sister loco. DEPG founder member Clive Burrows provides us with the following information: 
   "As well as the King's Coronation, the 6th of May 2023 will mark the 50th anniversary of D7017 being withdrawn from service at Old Oak Common, together with half* the fleet of operational Hymeks that were still in service on that day.  The future for D7017 looked very bleak until D7031 was withdrawn five days later with a transmission defect and D7017 was reinstated on 11th May 1973 to become one of the ten surviving Hymeks.  D7031's last duty was to tow D7018 back to Old Oak Common from Worcester on 8th May 1973.  D7031's fate was to be broken up at Swindon Works in September 1975, but the outcome for both D7017 and D7031 could have been very different had it not been for that transmission failure at such a critical time, ironically when D7031 was assisting D7018 home to Old Oak Common!  Fortunately for us, D7017 continued in service from 11th May 1973 until its second and final withdrawal from service on 13th March 1975, five days before D7018 brought the curtain down on main line Hymek operations."
   *D7017, D7023, D7030, D7032, D7044, D7075, D7076, D7089, & D7093 (D7055 had been taken out of service on 16-Apr-73 after failing at Basingstoke on 08-Apr-73 when working the diverted 1O68 10:40 Cardiff-Portsmouth service – D7055 had been scheduled to be the tenth Hymek to be withdrawn at the start of the Summer timetable on 06-May-73. This is when all the Bristol based Portsmouth-Cardiff and Bristol-Weymouth services were handed over to WR DMMU and SR DEMU operation).
Many thanks to Clive for reminding us of the history of the 'Hymeks' and particularly of D7017.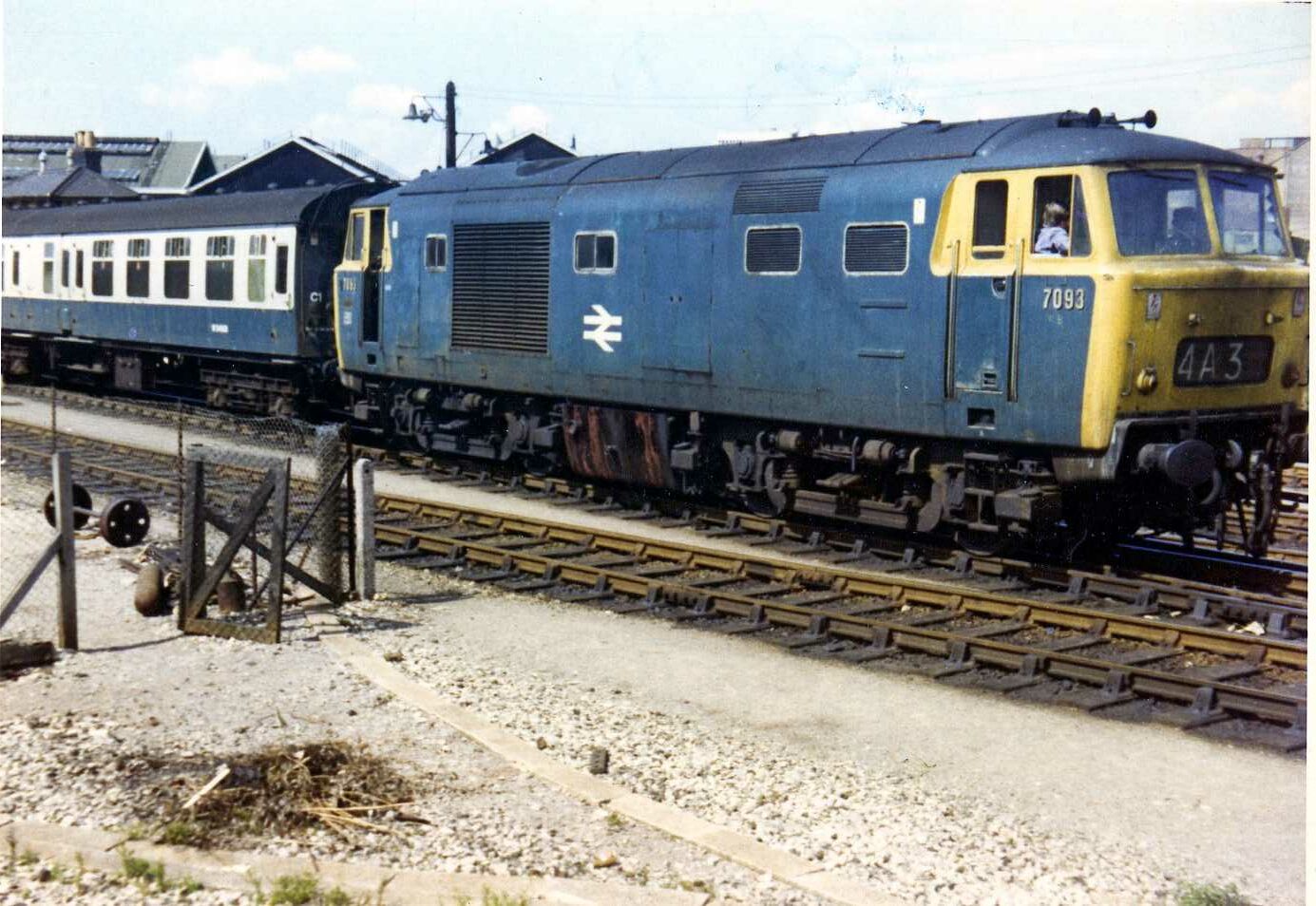 Class 35 'Hymek' D7093 was also withdrawn from service on 6th May 1973 and also had another lease of life when reinstated in August of that year due to a motive power shortage. This loco was not as lucky as our D7017 and was withdrawn again in November 1974 and sent to the scrapyard. Pictured at work in Bristol during August 1974 by Gary Lemon © CC BY-NC 3.0
Yet another happening on the 6th of May was the 60th birthday of the Western Locomotive Association's (WLA's) Class 52 D1062 'WESTERN COURIER', and the loco was out and about on the Severn Valley Railway, performing faultlessly on both the Saturday and Sunday, making five round trips in total. Congratulations to D1062 and the WLA for getting the loco ready in time for her birthday celebrations.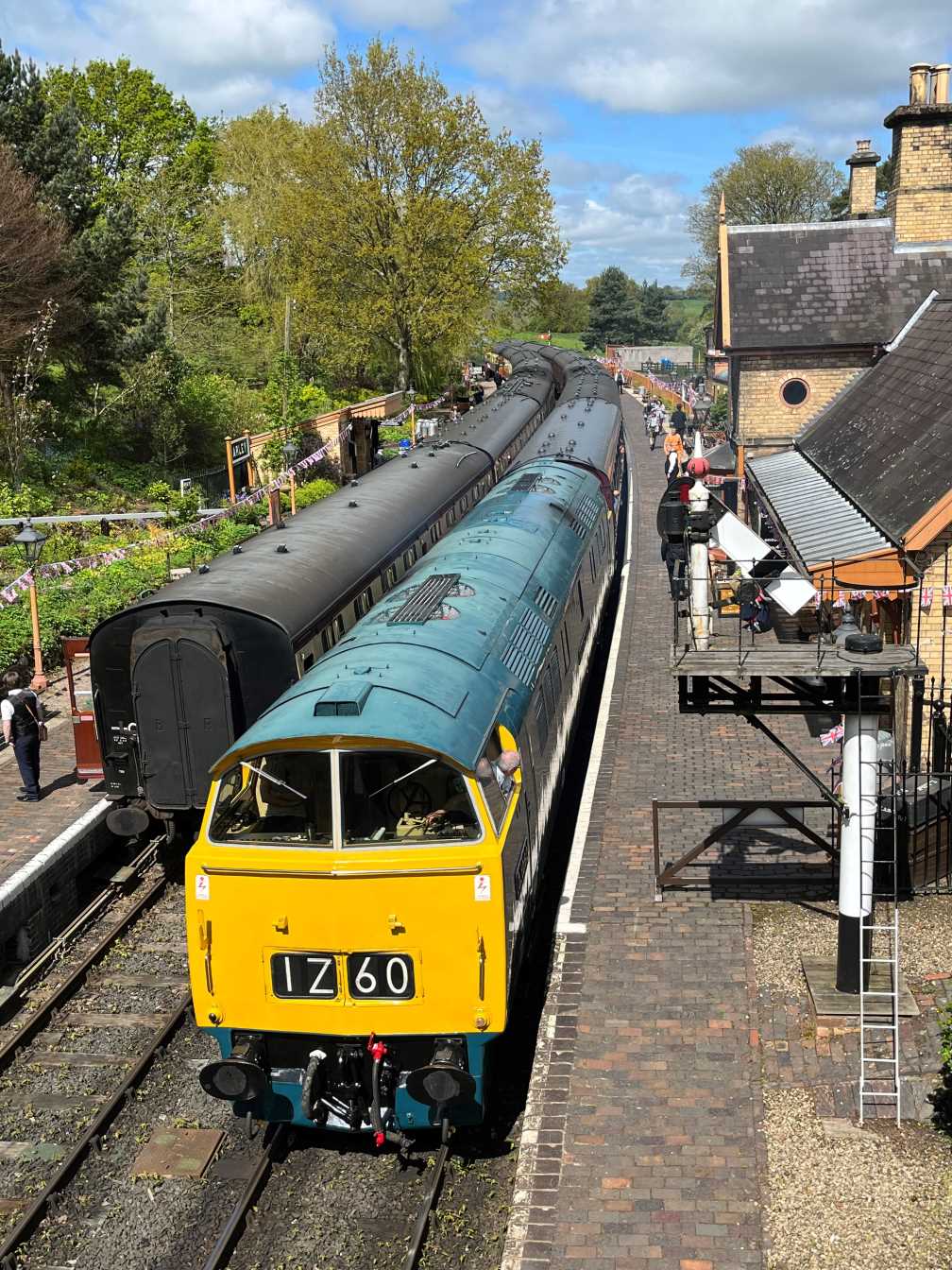 Class 52 D1062 'WESTERN COURIER' was celebrating her 60th birthday in real style on Saturday 6th May by working hard on the Severn Valley Railway ! Both the Saturday and Sunday featured 'Western' haulage with both D1062 and D1015 'WESTERN CHAMPION' in use. Photo taken at Arley on Sunday 7th May 2023 by Peter Bamber © CC BY-NC 3.0
Back on the WSR, the BLUE timetable runs throughout May, featuring diesel haulage each weekend, with Class 33 'Crompton' D6575 working on 13/14th May and Class 35 'Hymek' D7017 working on 20/21st May For details of planned DIESEL-HAULED public services, see the DIESEL RUNNING DATES page on our website.


STOP PRESS !!!!
Just before releasing this edition of roundup, we have been advised that the WSR's 'SUMMER DIESEL FESTIVAL' is now going to be blessed with FOUR visiting locomotives with a combined total of almost 9,000 hp, all of whom will be making their first ever visit to the WSR. This is going to be an AMAZING event so GET YOUR TICKETS NOW and enjoy the early discount. Here's the list of visiting locos:
Click here or on the ticket image below to get the details and/or buy a ticket. Hope to see you at the WSR for what is shaping up to be an excellent event !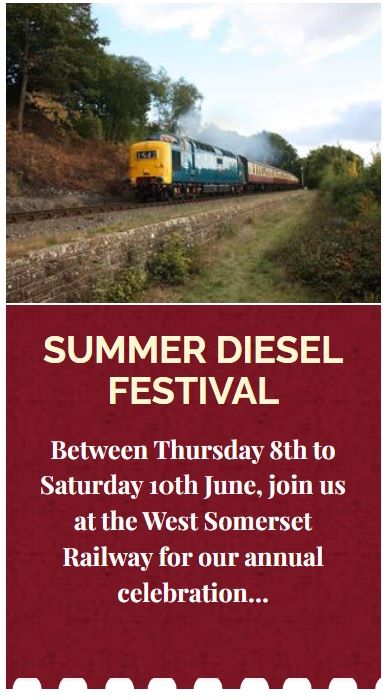 LOCO NEWS:
Class 52 D1010 'WESTERN CAMPAIGNER' – the pace picked up again with work taking place in multiple areas as we try to keep to schedule. So far so good, but challenges are coming and we need to plan carefully to achieve the most at the minimum expense (which is not an easy task!). Gordon and Leroy completed their work on the preparations for the removal of the 'A' cooler group and stowed the radiator elements from the 'B' end awaiting pressure testing and repair as required.
The transmission team stormed ahead with the re-installation of some major sub-assemblies. Only the peripherals remain to be re-installed after this, so this activity is definitely running to plan. Here are some photos: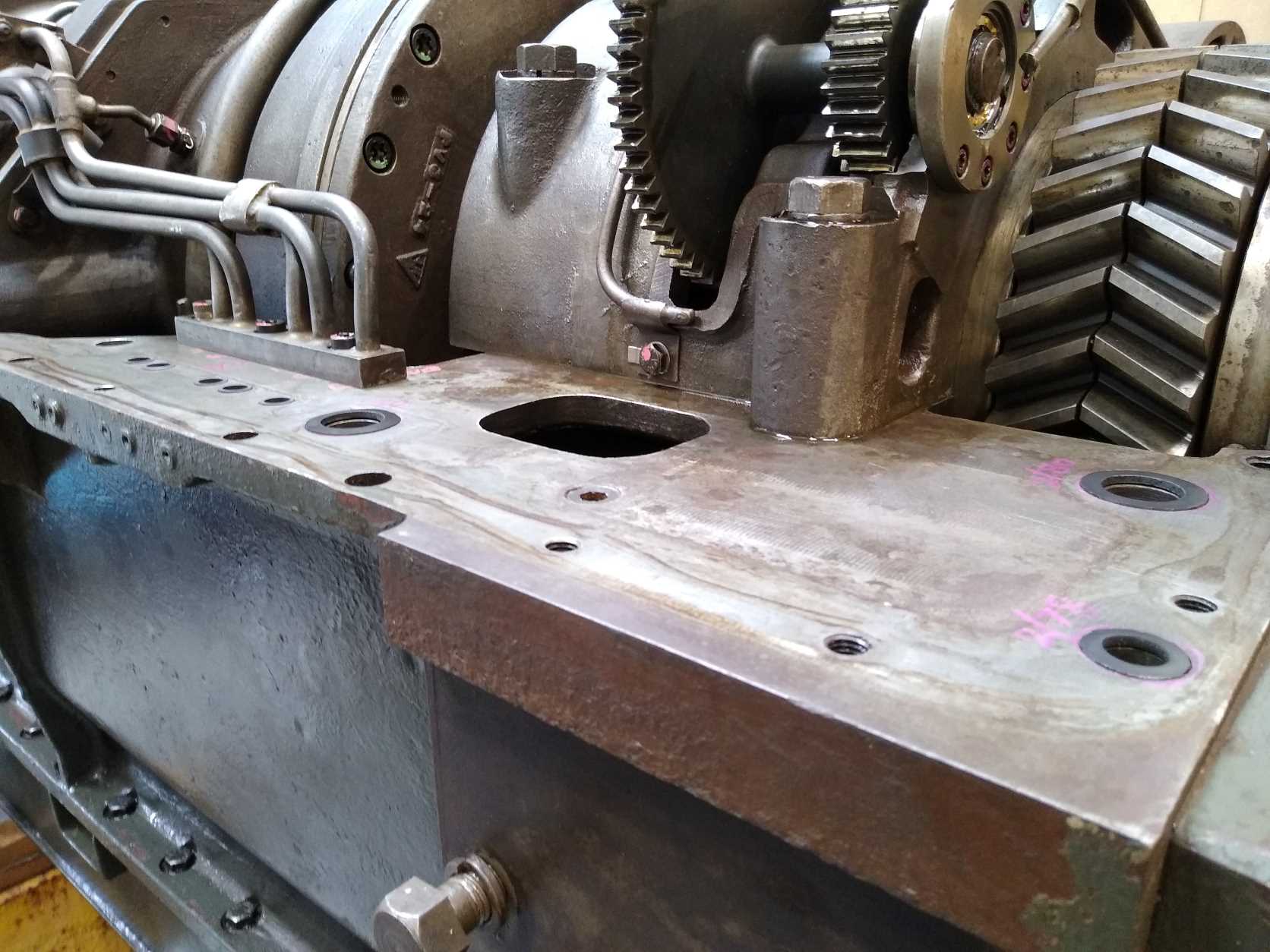 D1010 – replacement oil seals were fitted to the 'B' transmission casing at Williton on Tuesday 2nd May 2023. These seals are essential to prevent leakage of the hydraulic fluid that is not only used for power transmission, but also for lubrication and control purposes. Photo by Colin Foxhall © CC BY-NC 3.0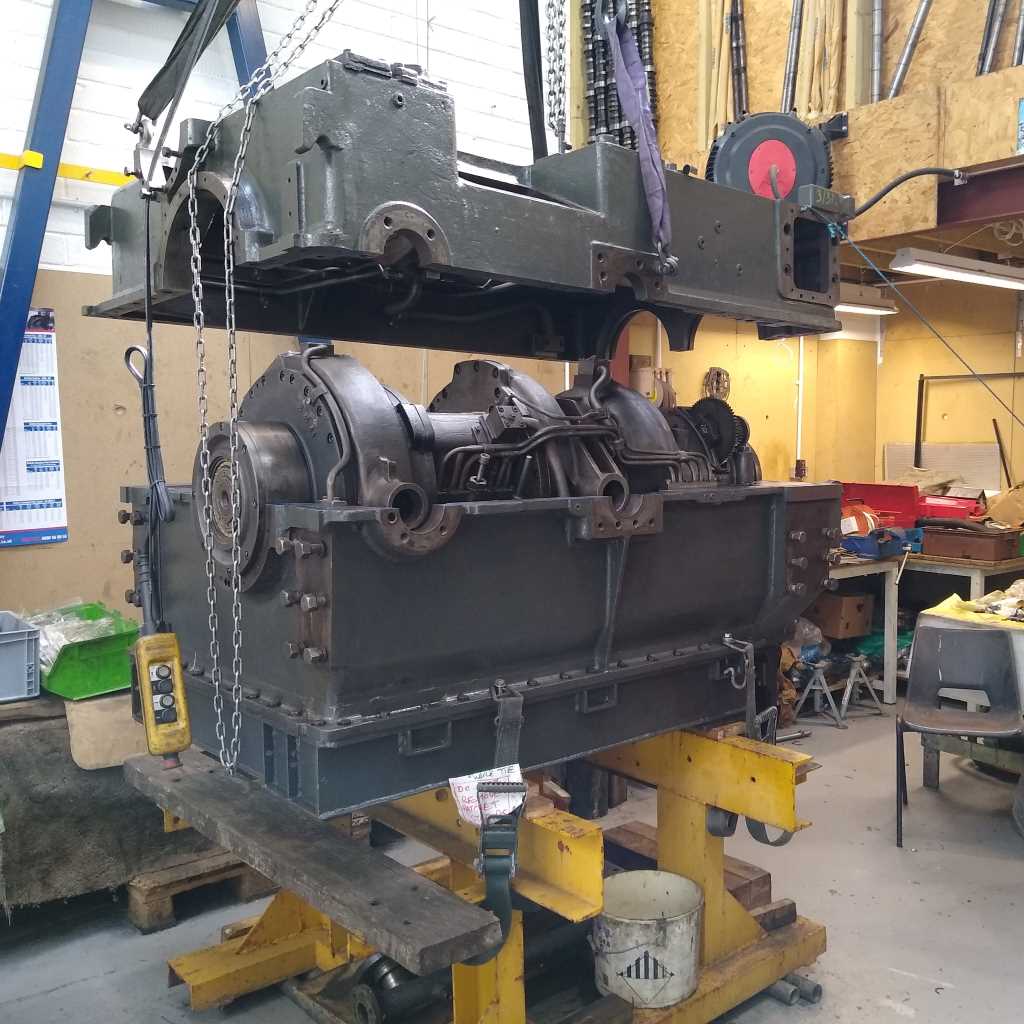 D1010 – the upper section of the 'B' transmission casing was lowered onto the centre section at Williton on Wednesday 3rd May 2023, bringing together the major parts that had been separated when work first started, back in 2019. Photo by Colin Foxhall © CC BY-NC 3.0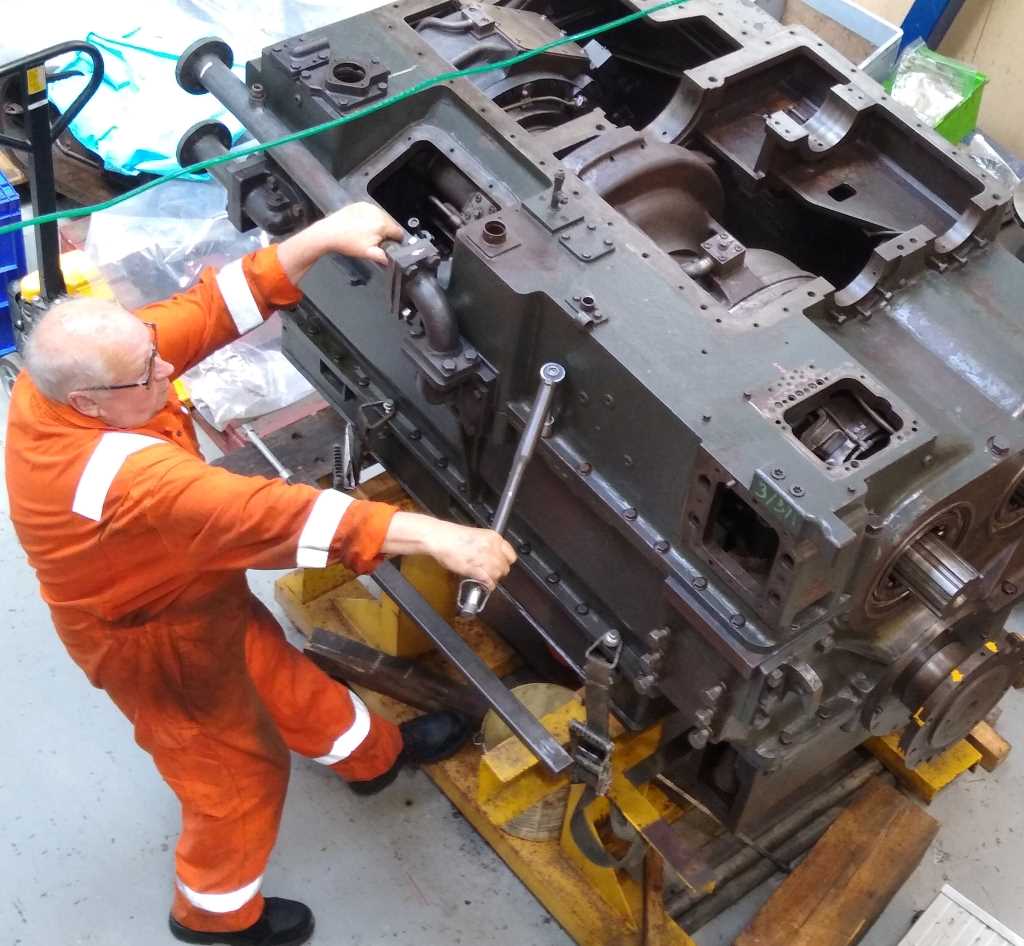 D1010 – the upper section of the 'B' transmission casing was bolted to the centre section and all of the bolts tightened to the defined torque setting by Geoff at Williton on Wednesday 3rd May 2023. Photo by Colin Foxhall © CC BY-NC 3.0
To continue our rate of progress requires FUNDING and we give our thanks to everyone who has supported D1010 by sponsoring or donating during these difficult times. If you are able to do so, please SPONSOR A PATCH because there is plenty of recently-added metal that still needs engraving. Photographs and certificates of sponsorship will be sent out to all who have sponsored this phase of the restoration work, and we are applying more resources to catch up with this obligation and deliver the documents. Click the image below to sponsor a patch. Thank you in advance for your support !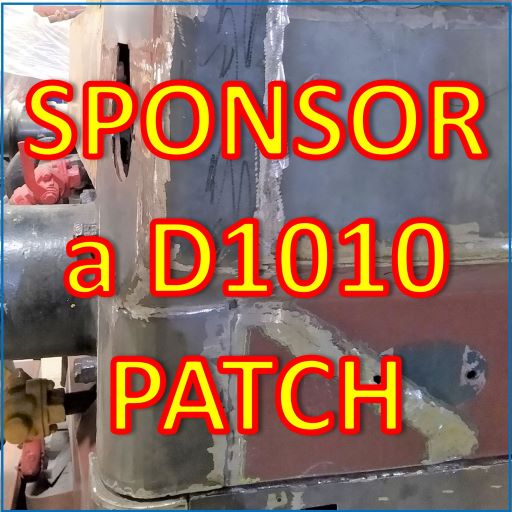 See our CAMPAIGN for CAMPAIGNER web page for more details. We still have a lot of work to do on this massive locomotive, so PLEASE DO COME ALONG AND HELP IF YOU CAN !


Class 33 D6566 (33 048) – this loco is getting closer to completion in the Swindon Shed at Williton where she is undergoing a paintwork refresh in the hands of WSR Restorations. Sister loco D6575 (33 057) was used as source of key information to help make sure that the transfers get fitted in the correct positions.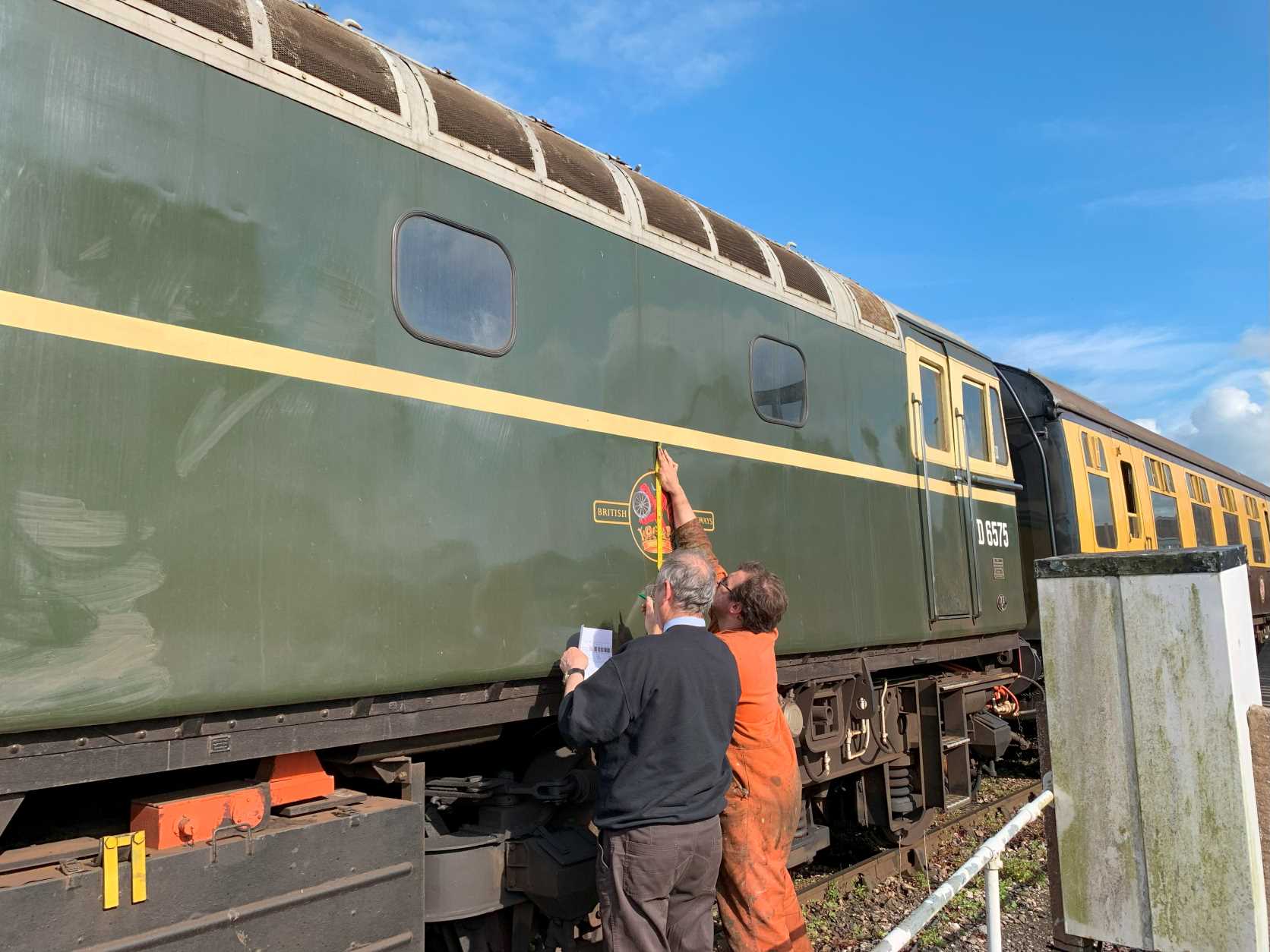 Class 33 'Crompton' D6575 (33 057) provided essential measurement information when she called at Williton on Saturday 6th May 2023 on her way back to Minehead. Harry took the measurements and Terry recorded them, for subsequent use when applying the transfers to sister loco D6566 (33 048). Photo by Andy Royal © CC BY-NC 3.0
Class 33 D6575 (33 057) – this loco is stabled at Minehead in between periods of use and will be back at work this coming weekend, performing her BLUE timetable duties on Saturday and Sunday 13/14th May.
Class 35 'Hymek' D7017 – this loco is ready for action, her next rostered duties being on Saturday and Sunday 20/21st May under the BLUE timetable. See our DIESEL RUNNING DATES page for information about this season's diesel-hauled services.
Class 35 'Hymek' D7018 – this loco has now become the priority task and the efforts of several teams rounded on her during the week as we work towards the Diesel Gala on June 8th through 10th. The engine started easily and was run for a while on Saturday 6th May. The reverser trouble has been narrowed down to a mechanical adjustment and the work on this will take place during this coming weekend. An unexpected and annoying issue was an air leak that developed on a steel pipe that runs under the cab floor and among a maze of other pipes and conduits. This was an ideal job for the smaller members of our team, so Natalie go the job !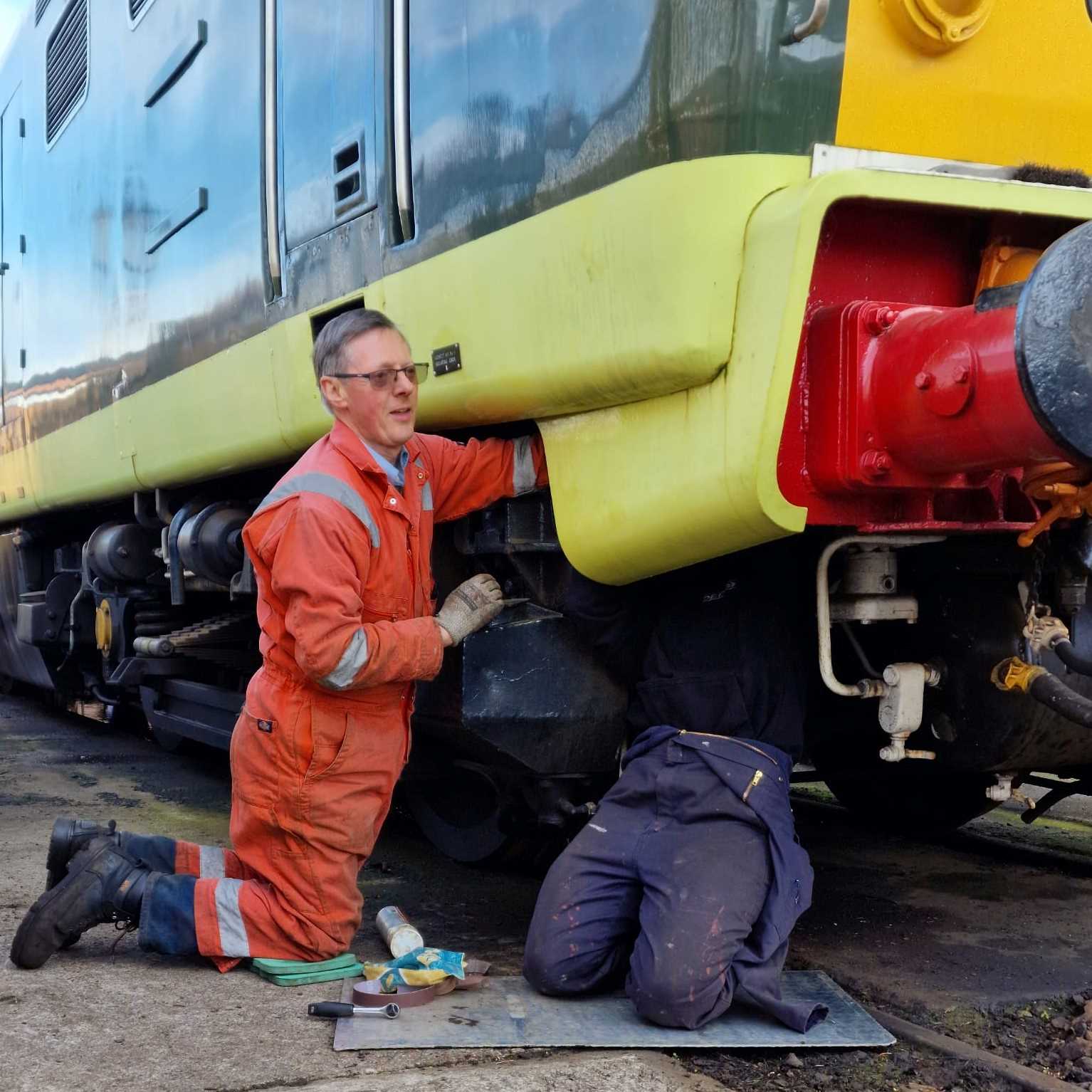 D7018 – on Saturday 6th May 2023, attention had to be given to a leaking air pipe beneath the cab floor where access was extremely limited, so Andy R and Natalie volunteered for the job. And yes, Natalie is in there somewhere ! Photo by Martin Howard © CC BY-NC 3.0
Class 14 'Teddy Bear' D9518 – work resumed on the control cubicle and on the cab components that are going to be needed at a later stage. In parallel, Tony continued his work on the re-fabrication of the nose end doors (more on that next week) while Terry and Nick worked on the brake rigging.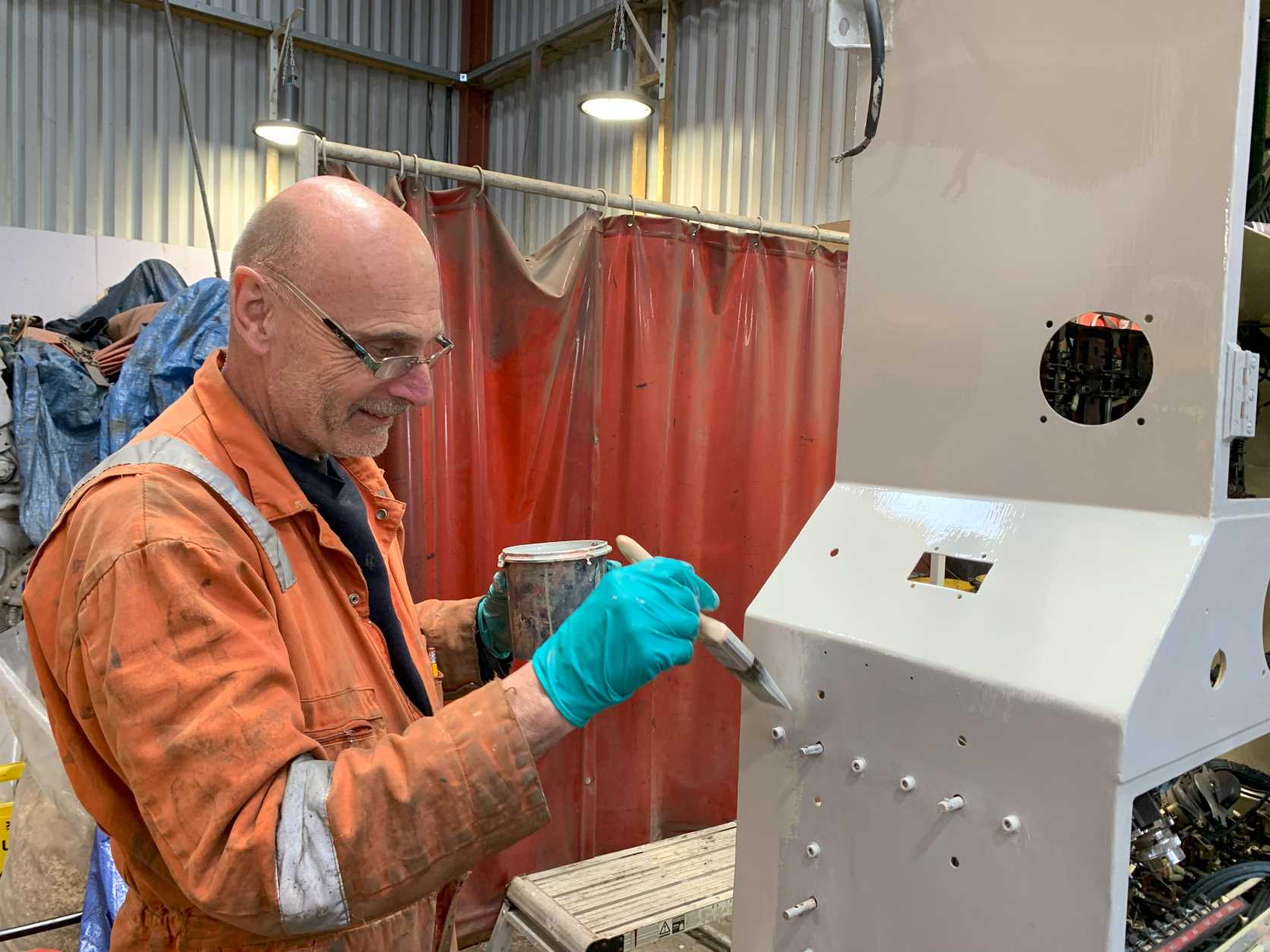 D9518 – the electrical control cubicle received a coat of grey gloss from Colin G at Williton on Saturday 6th May 2023. Photo by Andy Royal © CC BY-NC 3.0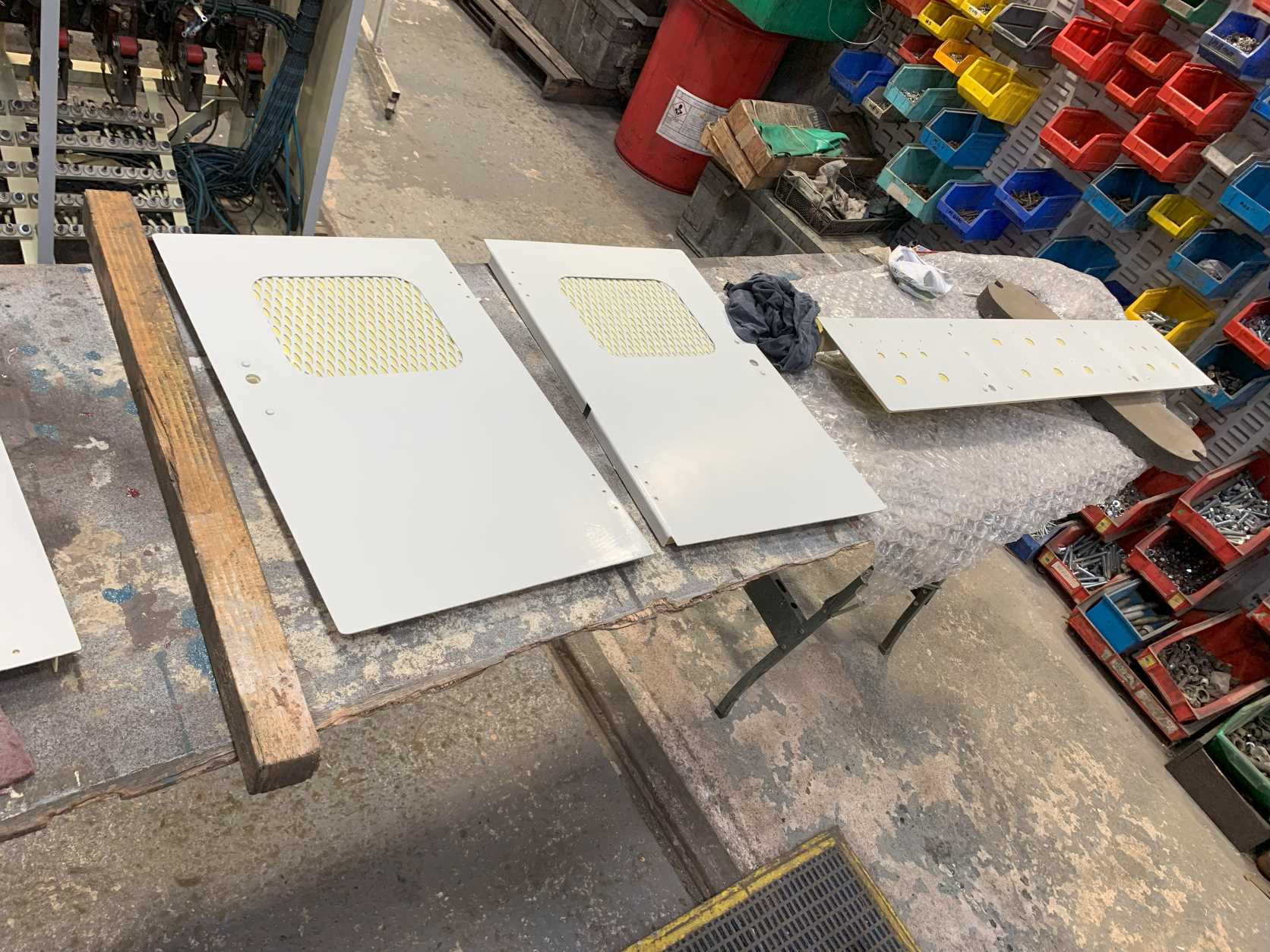 D9518 – the electrical control cubicle doors also received a coat of grey gloss from Colin G at Williton on Saturday 6th May 2023. Photo by Andy Royal © CC BY-NC 3.0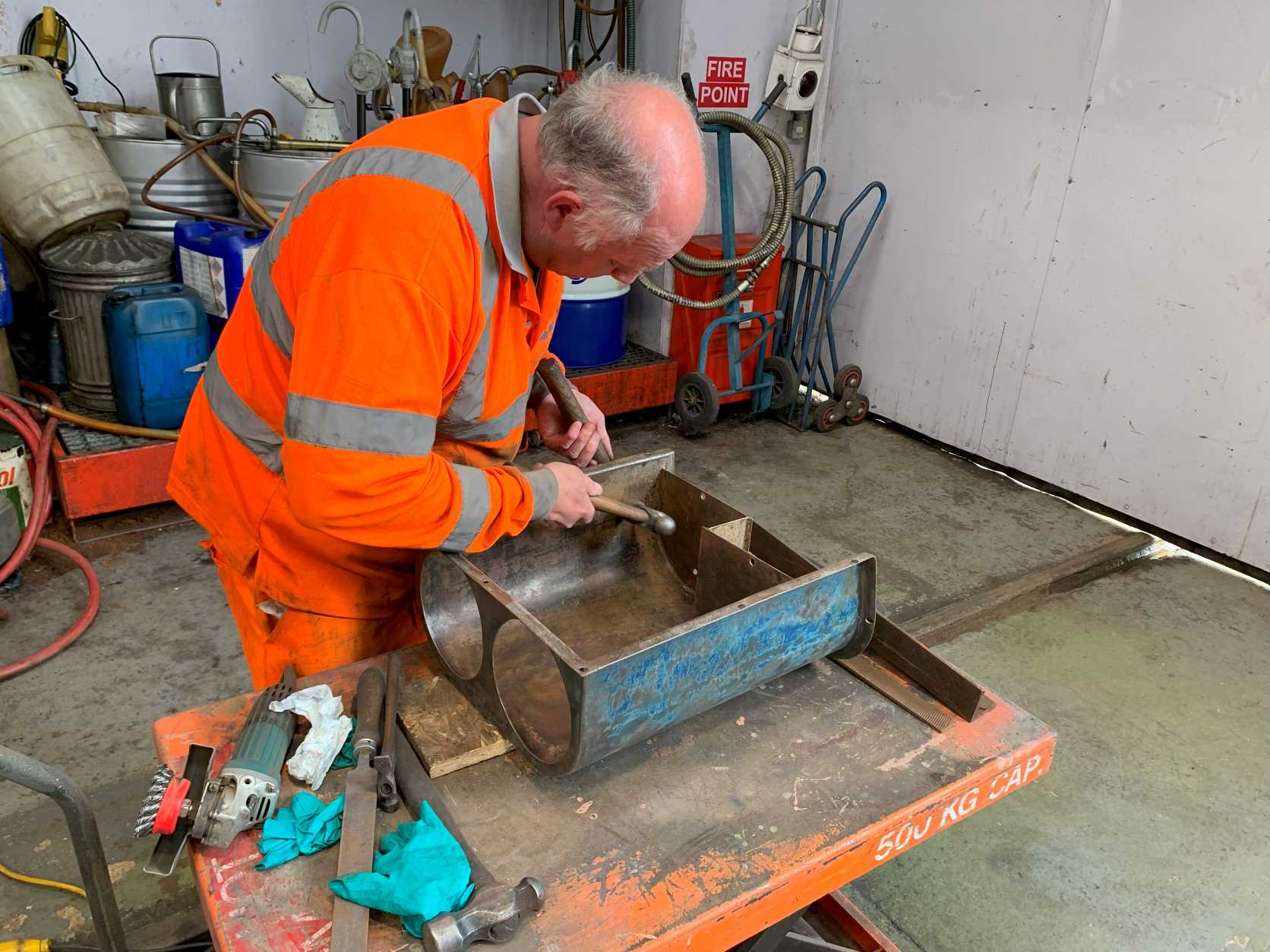 D9518 – one of the two horn enclosures underwent dent removal and restoration in the careful hands of Andy P at Williton on Saturday 6th May 2023. Photo by Andy Royal © CC BY-NC 3.0
This loco is the subject of a fundraising appeal so please follow this link to find out more. We need your help ! In addition to funds, we also need plenty of HANDS. If you love the 'Teddy Bears' and you are not already a member of the DEPG, please join us so that you can become one of the team that is going to return D9518 to fully operational condition as 'NCB No. 7'.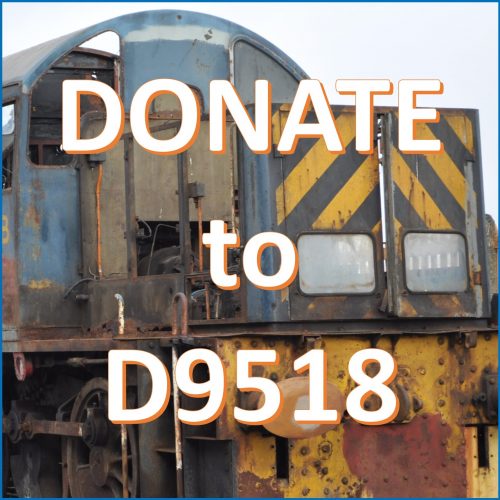 Class 14 'Teddy Bear' D9526 – this loco is fully serviceable and ready for use as soon as suitable opportunities arise. We hope to be able to use this loco on a WSR service train in the near future.
Class 47 47077 'NORTH STAR' – this loco is now back in regular use on the North Yorkshire Moors Railway and is performing well. We hope to include details of her exploits in a future roundup.
Andrew Barclay 0-4-0DH 578 – this loco is in full working order and is stabled in the South Yard, ready for action. We hope to apply her cabside lettering during the coming weeks to complete her '1972 makeover'.
If you can help by donating your time to any of these projects, then please JOIN US and come along to the depot for an introduction to what we do and how we do it. We currently have people on site from Saturday through to Tuesday and we can open on other days if we can be sure of getting at least two volunteers on site at all times, so there is plenty of scope. We have tasks of all types to suit most capabilities, both skilled and unskilled.
Many thanks to all of our volunteers who give up so much of their time to work on the cleaning, painting, maintaining, restoring, managing and fund raising for our fleet of heritage locomotives !
BOOK REVIEW – we will need to skip this feature again this week due to having so many other items to cover (it's a nice problem to have).
ON SHED – a surprise feature this week, because we were advised that one of our supporters had been sampling haulage from 7017 and 7018 so we couldn't resist asking more questions. Here's the reply that we received from Des Langham:
   "I am currently in Oz, and was visiting friends on the Stony Point line.  On arrival I saw 7017 was one of the units for my service, went for a coffee and saw they had attached 7018, so I had 7018 and 7017 for haulage from Frankston to Bittern, sadly Sprinters and not Hymeks.  Photos of the pairing attached: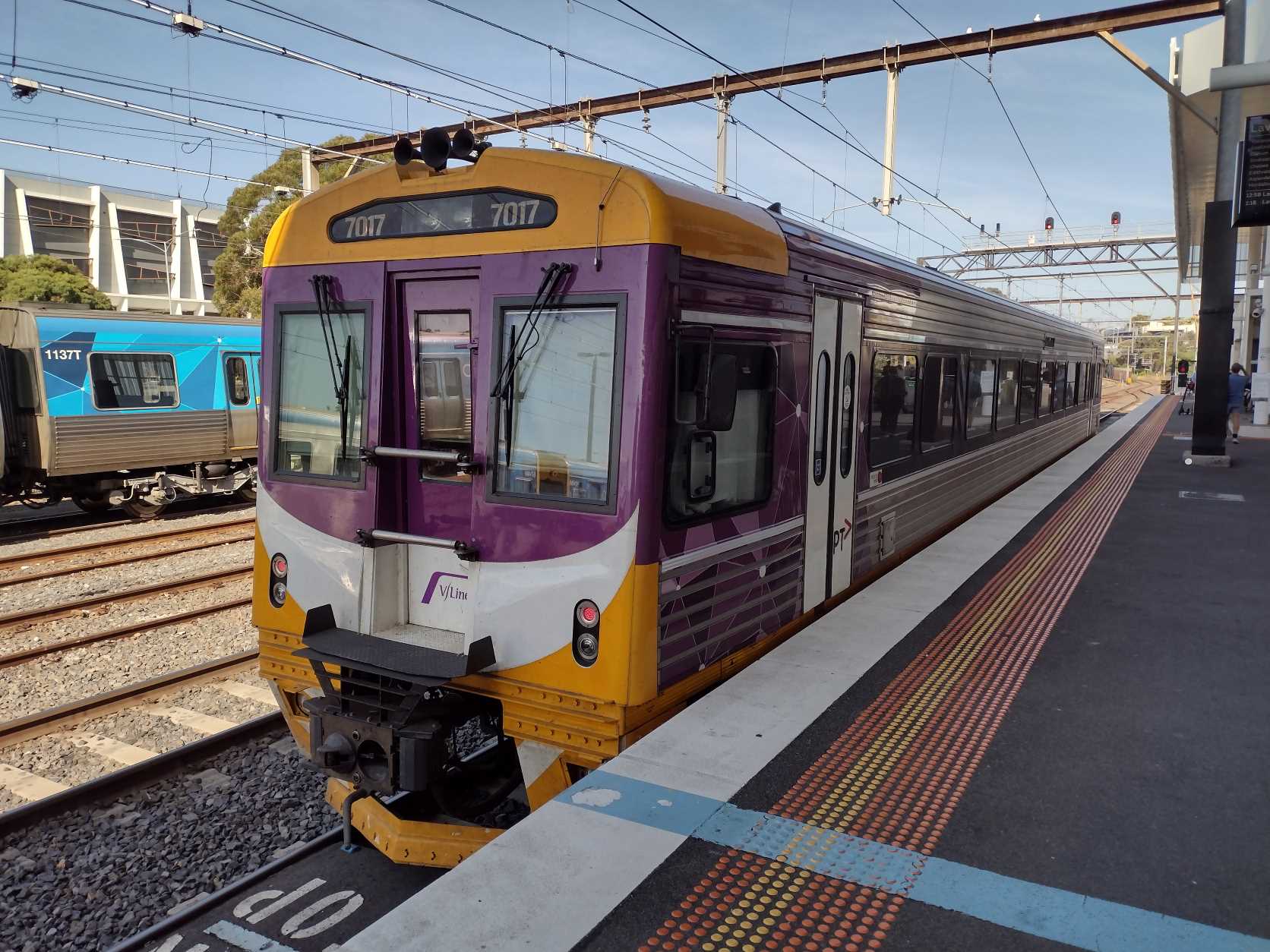 Diesel-hydraulic 'Sprinter' 7017 was waiting in the platform at Frankston, Australia, to form the 1256 Frankston to Stony Point service on Wednesday 26th April 2023. Photo by Des Langham © CC BY-NC 3.0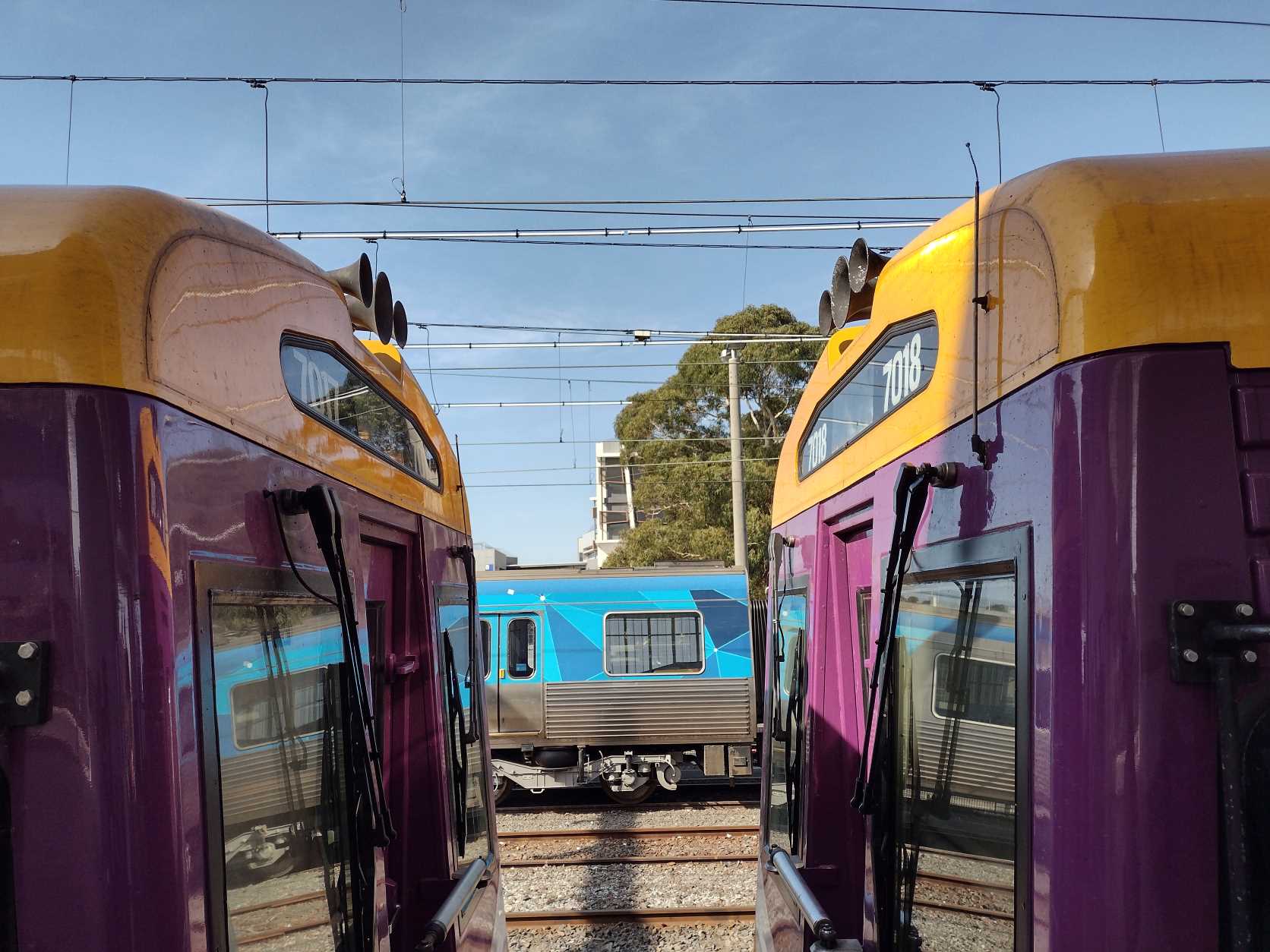 Diesel-hydraulic 'Sprinter' 7017 is coupled up to 7018 to form the 1256 Frankston to Stony Point service on Wednesday 26th April 2023. Photo by Des Langham © CC BY-NC 3.0
Some more details:
   The Sprinters were built in New South Wales by Goninan in the mid 1990s for V Line, the Victorian regional rail operator.  22 single car sprinters were built, and numbered 7001-7022.  Today they are used on only one V Line route from Melbourne Southern Cross to Seymour, typically in two to four car formations.  However, two Sprinters are hired by (Melbourne) Metro to operate their diesel-only section, from Frankston to Stony Point (on the Mornington Peninsular), EMU connections running at 10 minute intervals from Melbourne.  Operating with Metro crew and in either one or two car formation depending on demand, 10 services operate Monday to Thursday, 12 services on Friday, 8 on Saturday and 7 on Sunday.  Sprinters are swapped out for routine maintenance twice per week, running ECS from Melbourne to Frankston. 
   On Wednesday 26 April, upon arrival at Frankston from Melbourne, 7017 was observed in the platform for the next Stony Point service.  Never risking the last booked connection (just 2 minutes!), there was time to get a coffee at Frankston, upon returning, it was amusing to find that DEPG's other Hymek, 7018, had arrived with the 1209 service from Stony Point, and had coupled up with 7017 to form the 1256 Frankston – Stony Point.  If I have calculated correctly, finding 7017 and 7018 working on the Stony Point line is a 1 in 210 times chance!
   Latest rumours are the Sprinters have a further 20 year in service.  V Line currently has a fleet of 25 N class locomotives (similar to Irish Rail Class 071), but usage is gradually reducing with new Velocity DMUs being introduced.  As of April 2023, 16 weekday loco hauled departures leave Melbourne Southern Cross on four routes.  It is envisaged that V Line will replace their loco hauled services in 2024-2025, and new driver training has thus stopped on the N class."
Many thanks to Des for providing this information and for sharing his interesting experience with us all.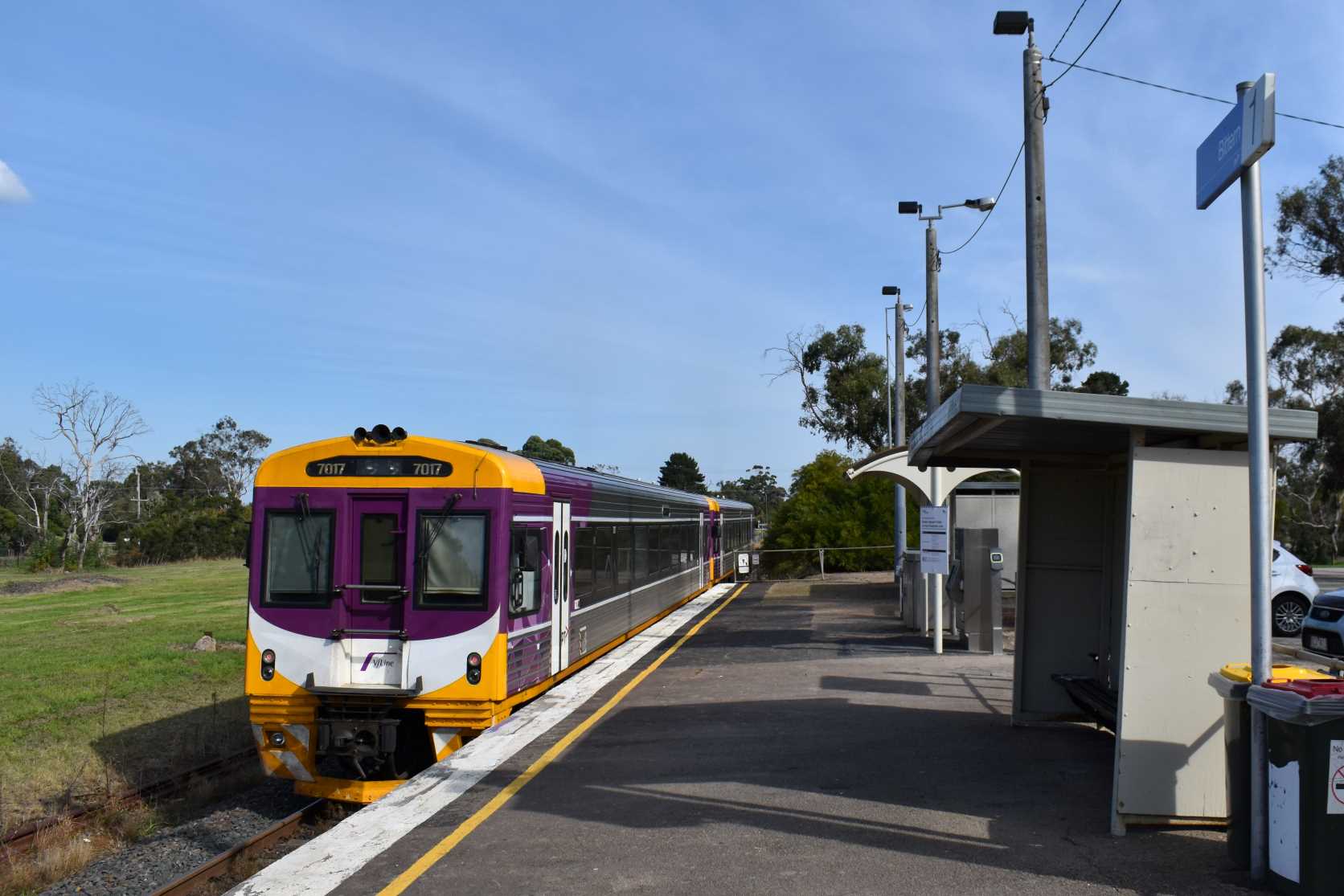 Diesel-hydraulic 'Sprinter' 7018 leads 7017 out from Bittern, Australia, on the 1256 Frankston to Stony Point service on Wednesday 26th April 2023. Photo by Des Langham © CC BY-NC 3.0
DEPG NEWS – the synopsis of the Board Meeting that was held at Williton on Saturday 22nd April is being prepared and will be shared ASAP with all DEPG members for whom we hold a valid email address. Apologies for the delay.
The DEPG depends on the support of all of our members so please make sure that your membership is up to date. If you are not sure about your membership status, please click here or on the image below to access your membership record via MEMBERMOJO.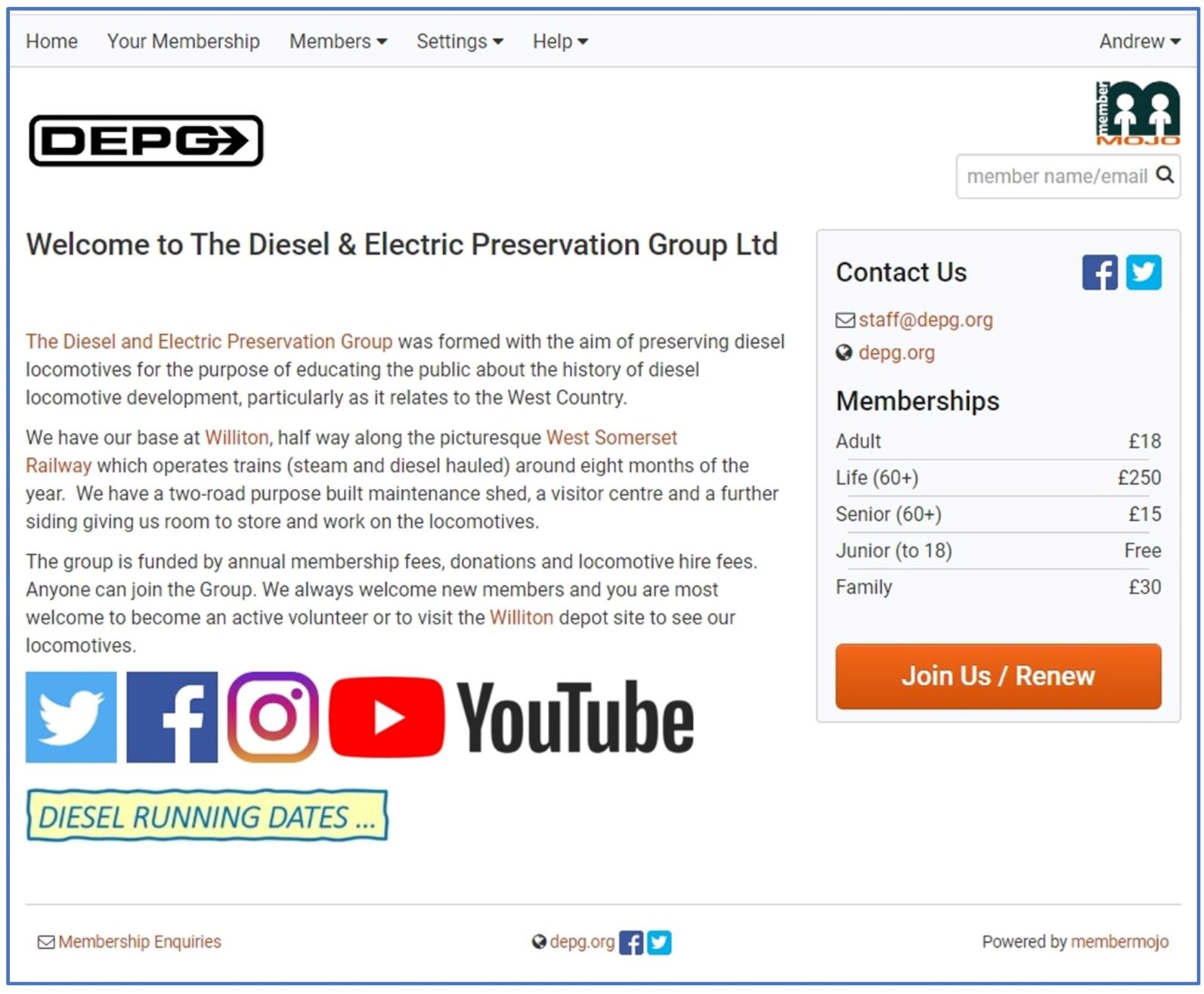 KEY DATES for your diary:
WSR SUMMER DIESEL FESTIVAL: Thursday 8th through Saturday 10th June 2023
DEPG 50th ANNIVERSARY CELEBRATIONS : Friday 22nd and Saturday 23rd September 2023.