The repaint of Class 33 'Crompton' D6566 (33 048) was completed by WSR Restorations last week and the loco returned to the DEPG's South Yard on Saturday 20th May 2023 looking as good as new. Photo by Paul Clark © CC BY-NC 3.0
Following the completion of her re-paint in the hands of WSR Restorations at the Swindon Shed, Williton, Class 33 'Crompton' D6566 (33 048) is scheduled to take over the role of duty locomotive from her hard-working sister D6575 (33 057) during the late afternoon of Saturday 27th May 2023. The details of the planned changeover are as follows:
D6566 (33 048) : Depart WN at 1540, arrive BL at 1603, attach at the head of the 1635 BL-MD service.
D6575 (33 057) : Depart MD at 1430, arrive BL at 1555, remain attached to the rear of the 1635 BL-MD as far as WN, then detach and run to the DEPG yard.
Where BL=Bishops Lydeard, MD=Minehead, WN=Williton
The BLUE timetable will apply for Saturday, Sunday and Monday 27-29th May, and the booked diesel-hauled times are as follows:
     Depart MD 10:00 arrive BL   11:30
     Depart BL   12:30 arrive MD 13:50
     Depart MD 14:30 arrive BL   15:55
     Depart BL   16:35 arrive MD 1800
Other public services are also scheduled – see the WSR timetable page for the latest details.
Please come along if you can and enjoy the 80-mile ride behind one of our Class 33 'Cromptons'!
Our DIESEL RUNNING DATES page is regularly updated and carries the list of diesel-hauled public services for 2023. This page is used in conjunction with DIESELGEN to provide a complete picture of diesel locomotive activities on the WSR:

Click here or on the banner above to obtain timetables for the 2023 SUMMER DIESEL FESTIVAL that takes place on the WSR from Thursday 8th June through to Saturday 10th June.
The webcams provide a very good way of watching the action from afar. Click this link: http://www.wsr.org.uk/cams.htm or click on the image below to go to the webcams via wsr.org.uk: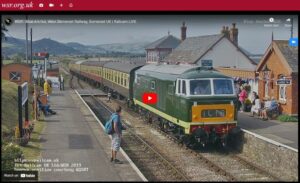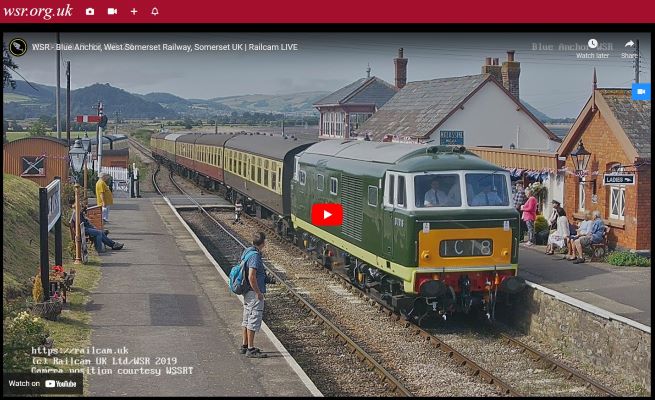 Webcams are available at Bishops Lydeard, Crowcombe Heathfield, Williton, Blue Anchor, Minehead Seaward Way and Minehead Station. Select the appropriate webcam by clicking on the blue button on the webcam page. Many thanks to Railcam UK and the WSR for providing these webcam services.
Many thanks to Railcam UK and the WSR for providing these webcam services.
Have you considered joining the WEEKLY ROUNDUP e-newsletter list? Click here for details.
Social media channels:


---