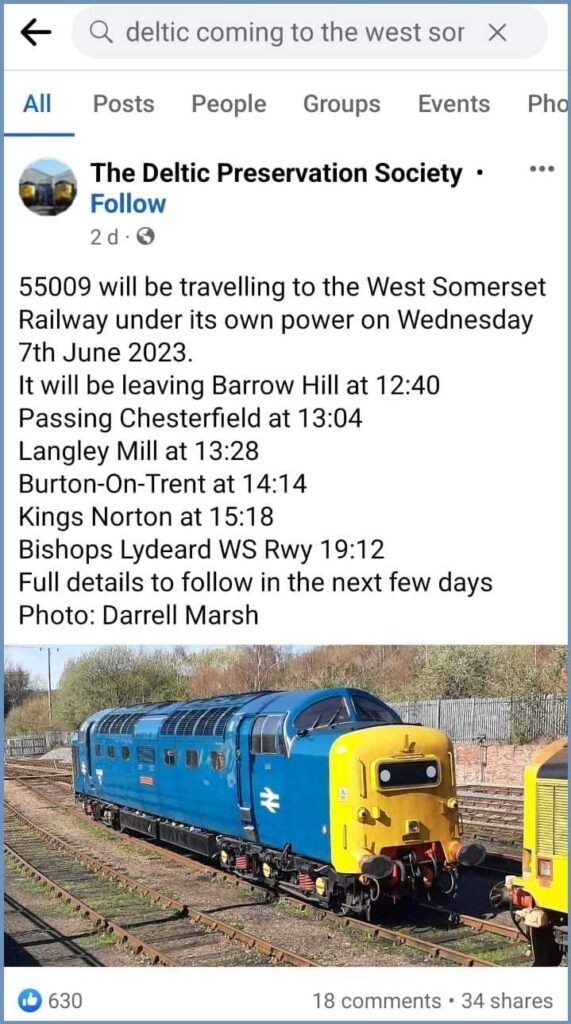 Click here for a link to RealTimeTrains for route details and timings of 55009's move from Barrow Hill.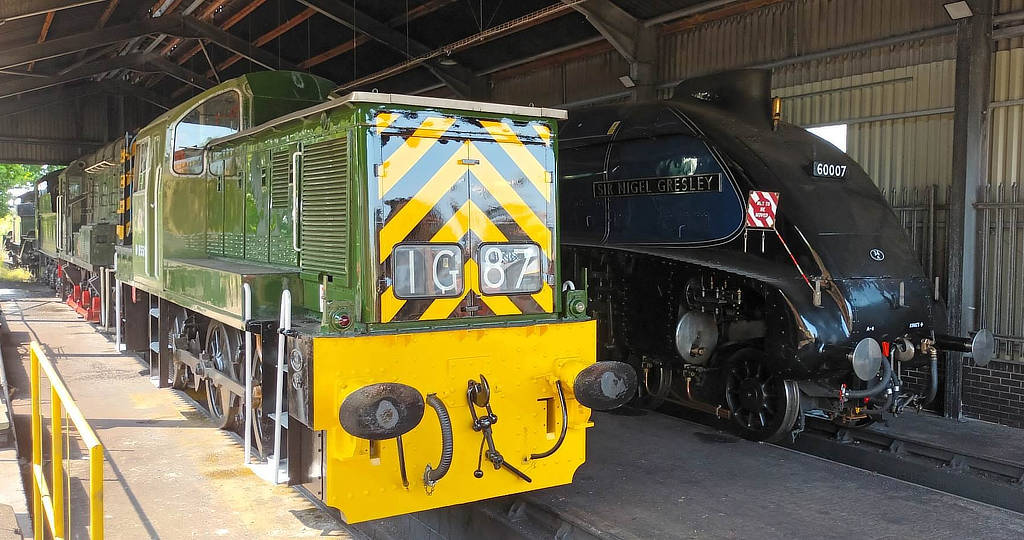 Class 14 'Teddy Bear' D9551 has arrived at Bishops Lydeard ! Pictured on 7th June 2023 by Tom Courtney © CC BY-NC 3.0
In preparation for the WSR's SUMMER DIESEL FESTIVAL that runs from Thursday 8th June through Saturday 10th June, the following loco positioning moves will be taking place:
D6566 (33 048) : Depart BL at 1520 towing D7659, arrive WN at 1600, D6566 to shed.
D6575 (33 057) : Depart WN at 1615 towing D7659, arrive MD at 1701
D9526 :               Depart WN at 1430, arrive MD at 1511
Where BL=Bishops Lydeard, MD=Minehead, WN=Williton
Other public services are also scheduled – see the WSR timetable page for the latest details.
See our home page for the latest gala news updates.
Our DIESEL RUNNING DATES page is regularly updated and carries the list of diesel-hauled public services for 2023. This page is used in conjunction with DIESELGEN to provide a complete picture of diesel locomotive activities on the WSR:

Click here or on the banner above to obtain timetables for the 2023 SUMMER DIESEL FESTIVAL that takes place on the WSR from Thursday 8th June through to Saturday 10th June.
The webcams provide a very good way of watching the action from afar. Click this link: http://www.wsr.org.uk/cams.htm or click on the image below to go to the webcams via wsr.org.uk: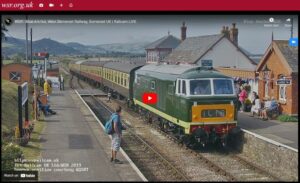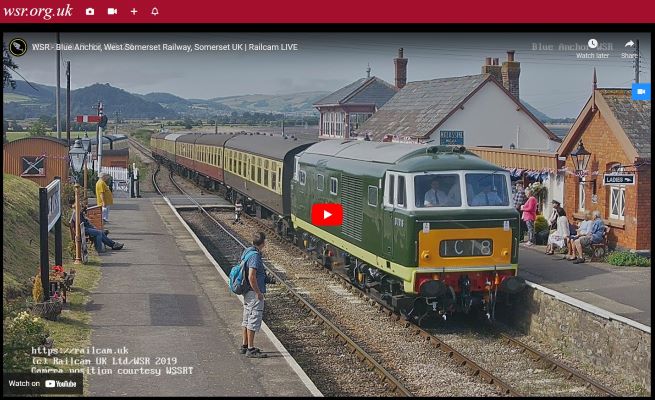 Webcams are available at Bishops Lydeard, Crowcombe Heathfield, Williton, Blue Anchor, Minehead Seaward Way and Minehead Station. Select the appropriate webcam by clicking on the blue button on the webcam page. Many thanks to Railcam UK and the WSR for providing these webcam services.
Many thanks to Railcam UK and the WSR for providing these webcam services.
Have you considered joining the WEEKLY ROUNDUP e-newsletter list? Click here for details.
Social media channels:


---