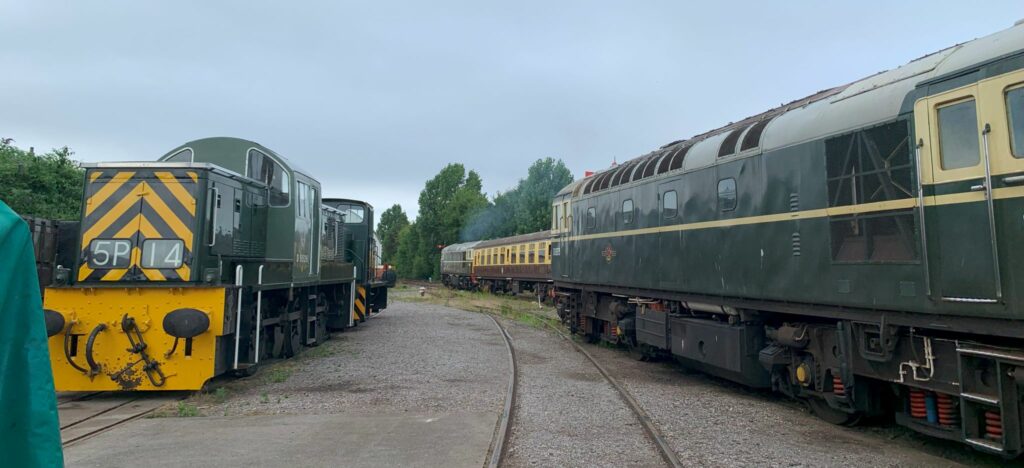 Class 33 'Crompton' D6566 (33 048) worked the diesel diagram of the BLUE timetable on both days of the 'SIXTIES WEEKEND EVENT' 8th/9th July 2023 and was pictured when departing from Williton for Minehead on the Saturday with Class 14 'Teddy Bear' D9526 and Barclay 0-4-0DH 578 (ROF1) on the left, and sister D6575 (33 057) on the right. Photo by Andy Royal © CC BY-NC 3.0
The 'SIXTIES WEEKEND' diesel diagram of the BLUE timetable was worked by Class 33 'Crompton' D6566 (33048), herself a child of the 'Sixties' having been introduced to traffic in August of 1961 – and is still hard at work 62 years later.
The BLUE Timetable features two steam or one steam and one diesel loco, and runs through to the third week in July before changing to the YELLOW timetable from the 25th onwards. The YELLOW timetable features two steam locos and one diesel, and although it was planned for the WSR's Class 115 Diesel Multiple Unit (DMU), the ongoing maintenance work on the DMU is likely to result in a shift to a loco-hauled coaching set, which will feature haulage by our Class 14 'Teddy Bear' D9526 on several occasions and by one of our Class 33 'Cromptons' on other days. Keep an eye on our DIESEL RUNNING DATES page for details of which loco will be rostered for which service.
Although the additional loco running opportunities are welcomed, we look forward to the return of the DMU as soon as possible because DMUs were the mainstay of the Minehead branch throughout the 'Sixties' and right up to the end of BR services in December of 1970, so they are an important part of the WSR's heritage.
The next major event taking place on the WSR will be the WSRA's ANNUAL STEAM RALLY that takes place at Norton Fitzwarren during the first weekend in August. Although the event has steam in the title, it includes a vast range of exhibits from horses to tractors to vintage cars, trucks and buses. The DEPG will also be participating with one of our locos providing brake van rides over the truncated remains of the Barnstaple branch line, and we will also have a loco on static display. This event is lots of fun and is WELL WORTH A VISIT. There will be a frequent FREE shuttle service from Bishops Lydeard to Norton Fitzwarren and a FREE bus connection from Silk Mills Park & Ride.
Click here or on the images below to go to the Steam Rally website: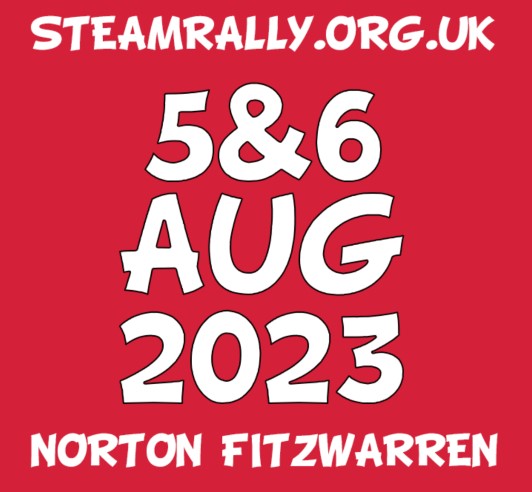 Our DIESEL RUNNING DATES page is updated several times per week and is kept as accurate as we can make it. The loco allocations are subject to availability (of course), but we do try to field the allocated loco wherever possible. Click on the banner below to go to the website page:


The DIESEL RUNNING DATES pages is supplemented by our DIESELGEN bulletin service which captures non-public running such as special trains and engineering workings (where we have sufficient notice to publish such workings). Sign up for DIESELGEN emails or keep an eye on our website homepage.
LOCO NEWS:
Class 52 D1010 'WESTERN CAMPAIGNER' – some excellent news was received last week from the Western Locomotive Association (WLA), owners of D1013 'WESTERN RANGER' and D1062 'WESTERN COURIER', when they provided their 'CLASS 52 BOGIE – TECHNICAL REQUIREMENTS FOR OVERHAUL' document for the DEPG to use a guide when arranging the overhaul of the bogies of D1010.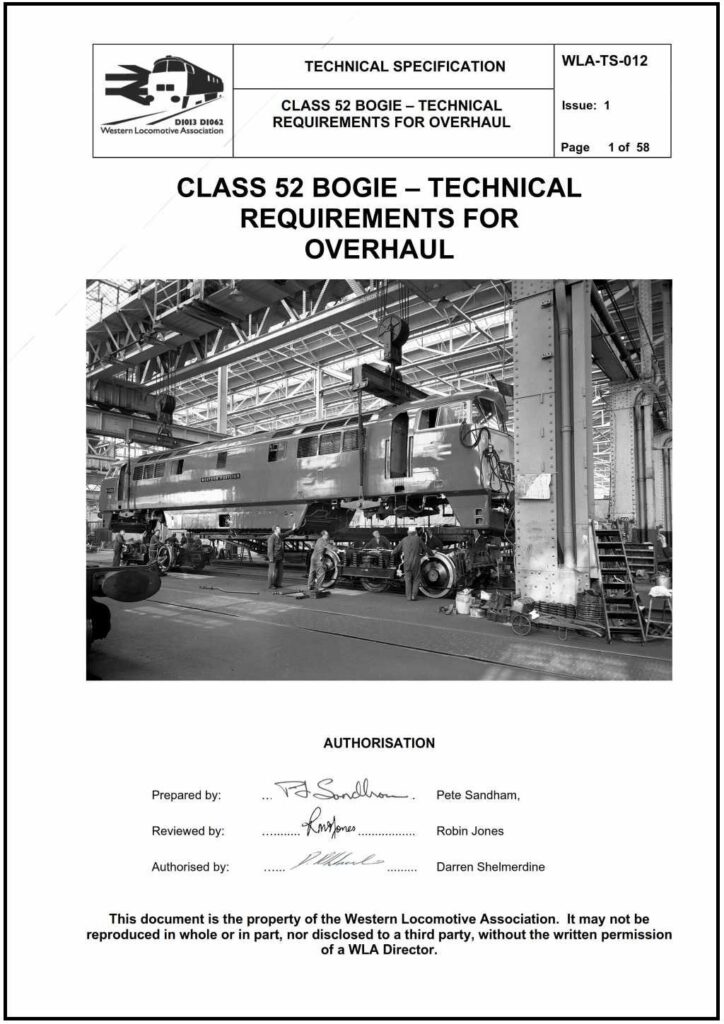 Having this highly professional document available to use as a guide for our own project has allowed us to accelerate the production of our own Statement of Work that will be specific to D1010, and we are very grateful indeed.
The WLA have also offered their help and support with the lifting of D1010 and the assessment of her bogies, which is also very helpful because the DEPG have never lifted a Class 52 and will need to have guidance from those who have the experience that they gained from lifting D1062 some years ago.
MANY THANKS to the WLA for supporting the preservation of all Class 52s ! 
The next step in the restoration of D1010 is the lifting of her cooler groups and the removal of her 'A' transmission using a road crane positioned alongside the loco at our Williton Depot. This is tentatively planned for Tuesday 18th July, subject to permission and subject to the weather. There are lot of detailed logistical arrangements to be made when lifting out major assemblies, and they also take up a lot more space outside than when they were neatly incorporated inside the body of the locomotive.
Having the loco outdoors during such changeable weather also makes it challenging for the bodywork team, but progress is still being made in between the showers. The loco will be back inside the shed ASAP and the pace will quicken again. Meanwhile, attention is being given to the leaking Serck pumps that drive the roof fans. Both pumps will be overhauled and fitted with new seals and gaskets and the tanks will be pressure tested while the cooler groups are out of the way.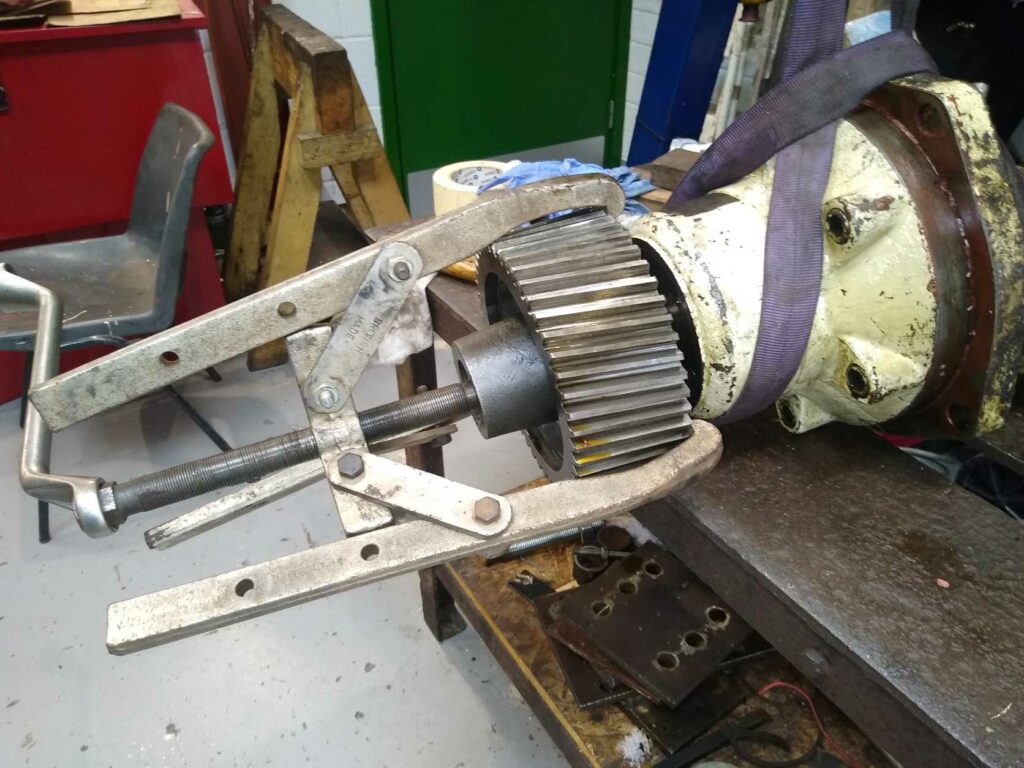 D1010 – the 'A' end Serck pump was removed from the loco for overhaul at Williton on Tuesday 4th July 2023 and was pictured while the drive gear was being removed from the shaft. This pump provides the hydrostatic driving force for the radiator fans at 'A' end. Photo by Colin Foxhall © CC BY-NC 3.0
Having the loco outdoors has generated an increased interest in our SPONSOR A PATCH scheme, with several more patches being engraved with their sponsor's names or messages. This initiative remains the single most successful fund-raising activity and has allowed us to make significant progress with the restoration work. PLEASE CONTINUE TO HELP US FUND THIS PROJECT.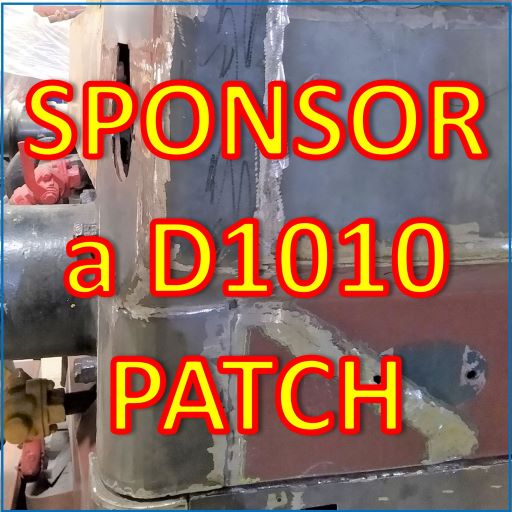 Photographs and certificates of sponsorship will be sent out to all who have sponsored the restoration work, and we are applying more resources to catch up with this obligation and deliver the documents. Click the image below to sponsor a patch. Thank you in advance for your support and your patience!
See our CAMPAIGN for CAMPAIGNER web page for more details. We still have a lot of work to do on this massive locomotive, so PLEASE DO COME ALONG AND HELP IF YOU CAN !


Class 33 D6566 (33 048) – this loco is the WSR Standby Loco and is stabled at Minehead, ready for her next duties under the BLUE timetable. See our DIESEL RUNNING DATES page for details.
Class 33 D6575 (33 057) – this loco is stabled at Williton and is also fully operational and available for use at short notice.
Class 35 'Hymek' D7017 – with the loco back at Williton, the search began for the insulation issue that is causing so many problems for the electrical switchgear. The first step was to isolate the batteries and test the wiring, and when this checked out OK, the next step was to isolate the dynostarter (the combined starter motor and generator). Work is proceeding and the rogue machine or cable will soon be discovered and the issue rectified. Here are some photos that give an idea of the work that is being performed by John and Neil at Williton: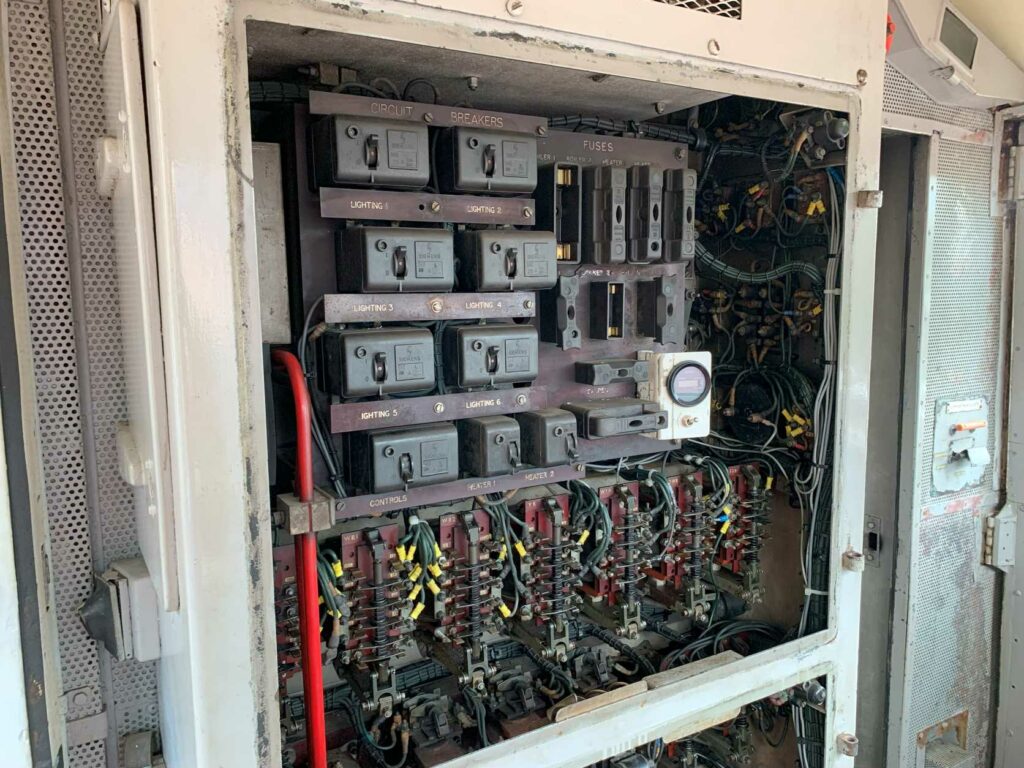 D7017 – the interior of the upper part of the electrical control cubicle that is installed in the 'A' cab shows just some of the control switchgear that manages the electrical systems of the locomotive. Pictured at Williton on 8th July 2023 by Andy Royal © CC BY-NC 3.0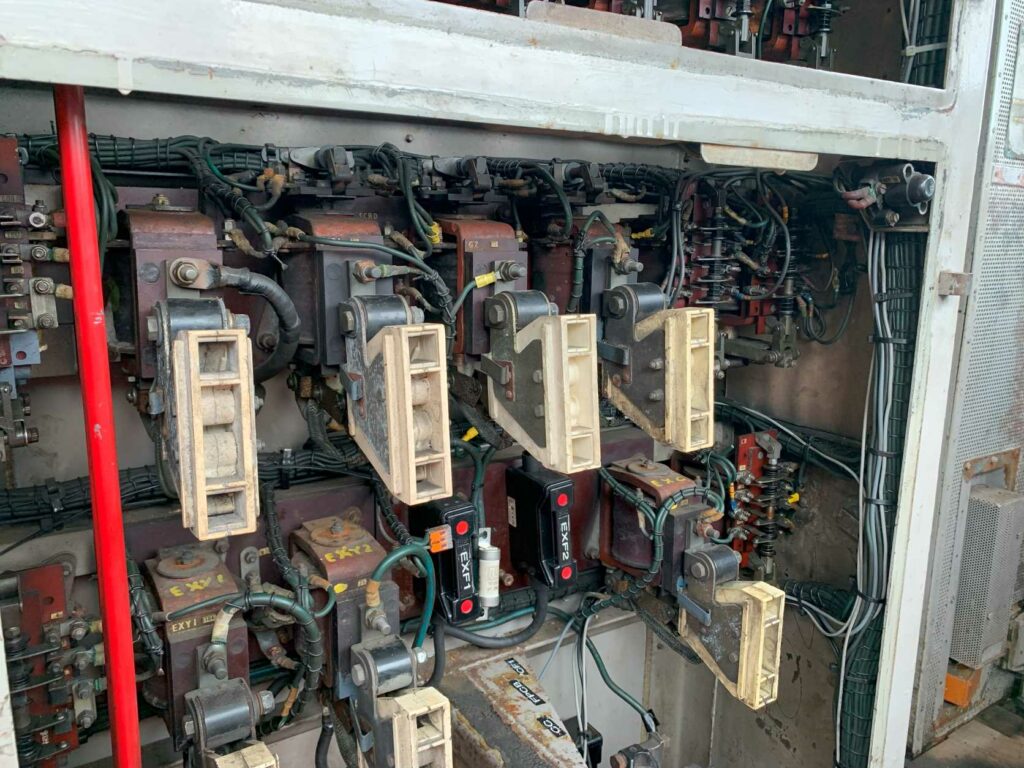 D7017 – the interior of the lower part of the electrical control cubicle includes the heavy-duty contactors that control the larger machines such as the vacuum exhausters. Pictured at Williton on 8th July 2023 by Andy Royal © CC BY-NC 3.0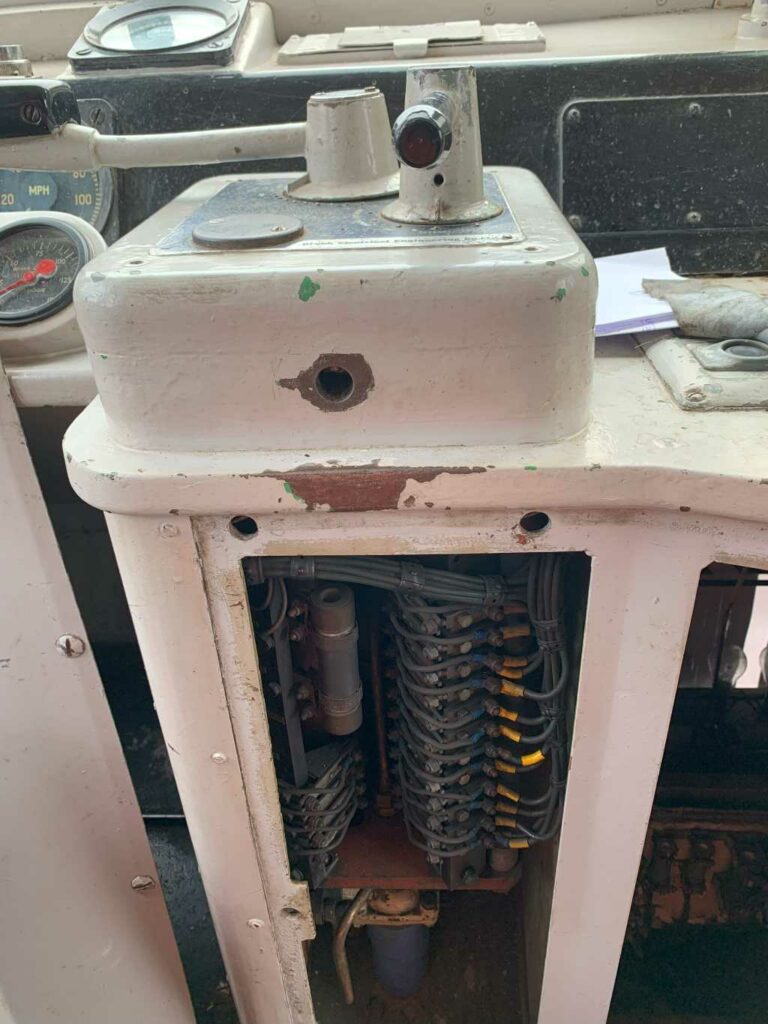 D7017 – the switchgear on the 'Hymeks' was supplied by Brush Electrical Engineering, so the driver's controller will be very familiar to owners of classes 31, 47 and 52 amongst others. Pictured at Williton on 8th July 2023 by Andy Royal © CC BY-NC 3.0
Class 35 'Hymek' D7018 – also at Williton for ongoing investigations into her 'Mekydro' hydraulic transmission, the loco underwent maintenance of her transmission oil strainer on Saturday 8th July, in preparation for another round of testing before deciding the next steps for the investigation. Here are some photos of this 62-year old piece of equipment, still in perfect working order after all this time: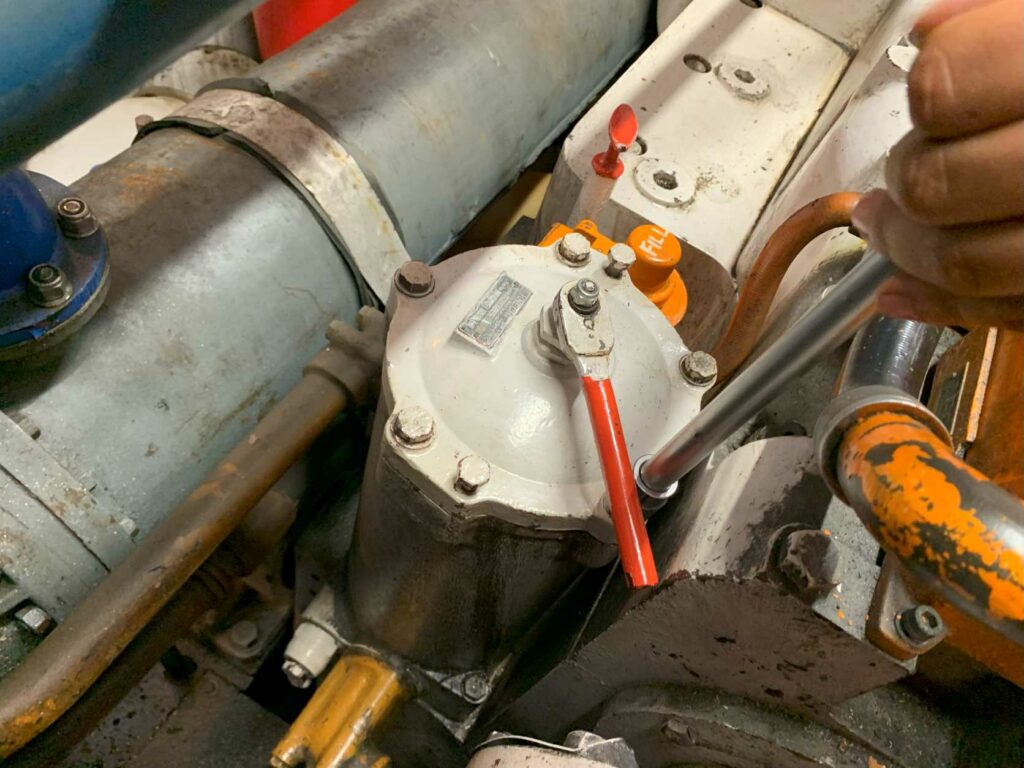 D7018 – the transmission oil strainer is housed in a cylindrical casting and is fitted with a red ratchetting handle that only permits rotation in one direction to allow the outer surface of the internal fine mesh strainer to be 'wiped' clean. Pictured at Williton on 8th July 2023 by Andy Royal © CC BY-NC 3.0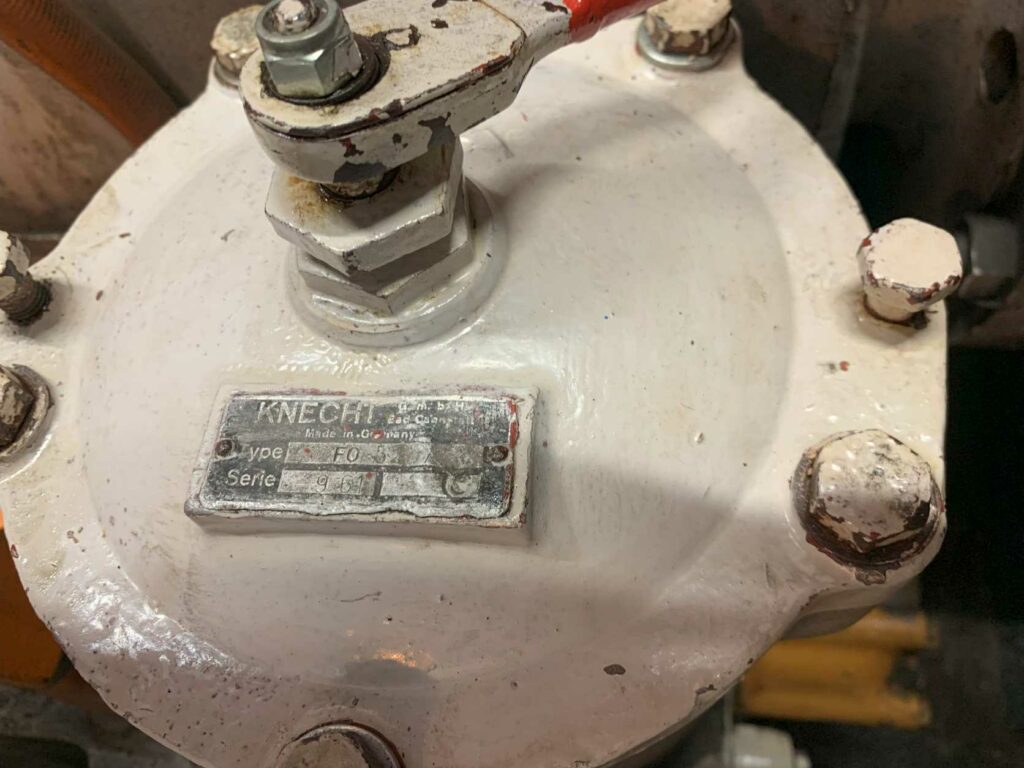 D7018 – the transmission oil strainer was supplied by Knecht of Germany in September of 1961 and is still in perfect working order. Pictured at Williton on 8th July 2023 by Andy Royal © CC BY-NC 3.0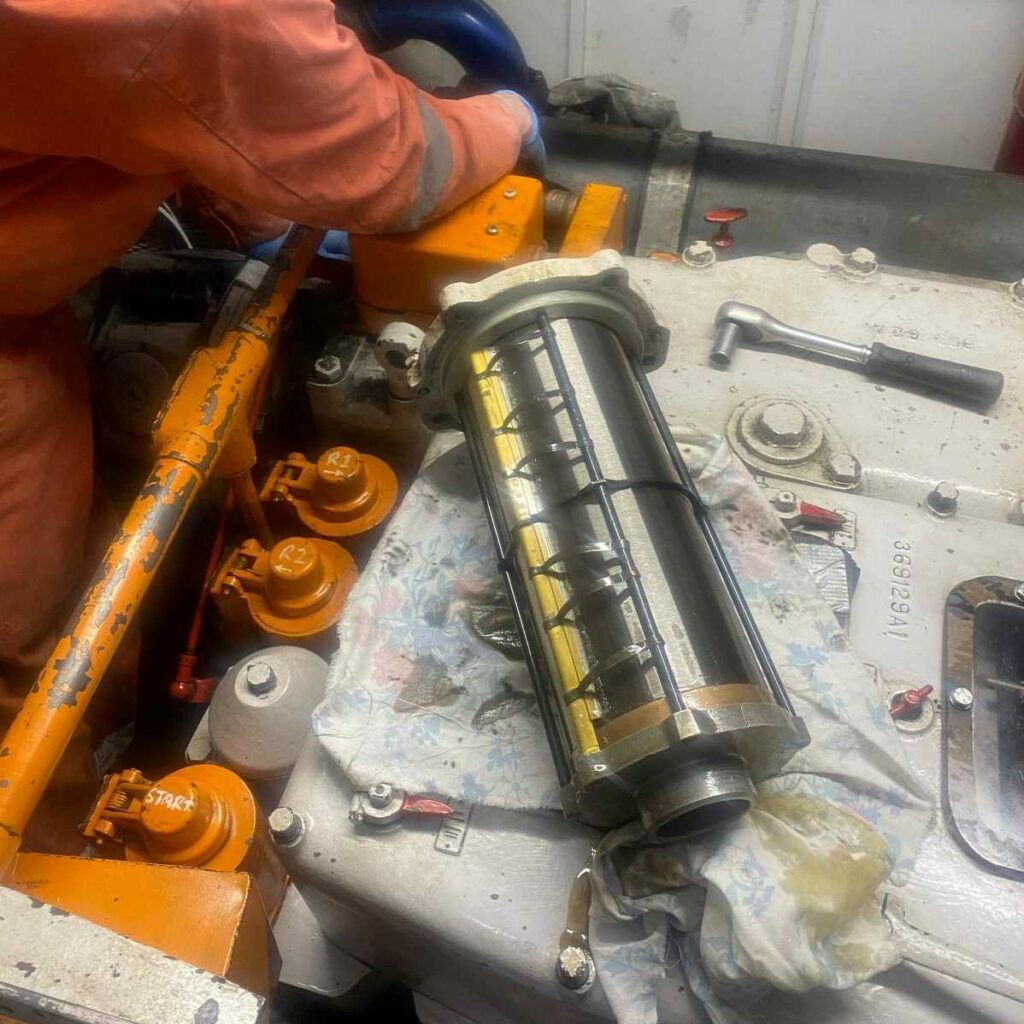 D7018 – the internal components of the Knecht transmission oil strainer are visible in this view. The oil flows from the outside to the hollow core and the delivery pipe via the fine mesh cylinder, which is rotated against the fine wire brush once per running day to 'wipe' the surface clean. Pictured at Williton on 8th July 2023 by Natalie Royal © CC BY-NC 3.0
Class 14 'Teddy Bear' D9518 – work continued on the dismantling of the driver's desk in preparation for sandblasting and painting of the framework before the individually-restored components can be re-fitted. The various panels and doors were removed and despatched to a specialist firm for glass bead blasting and priming, and will then be spray painted by Colin G at Williton.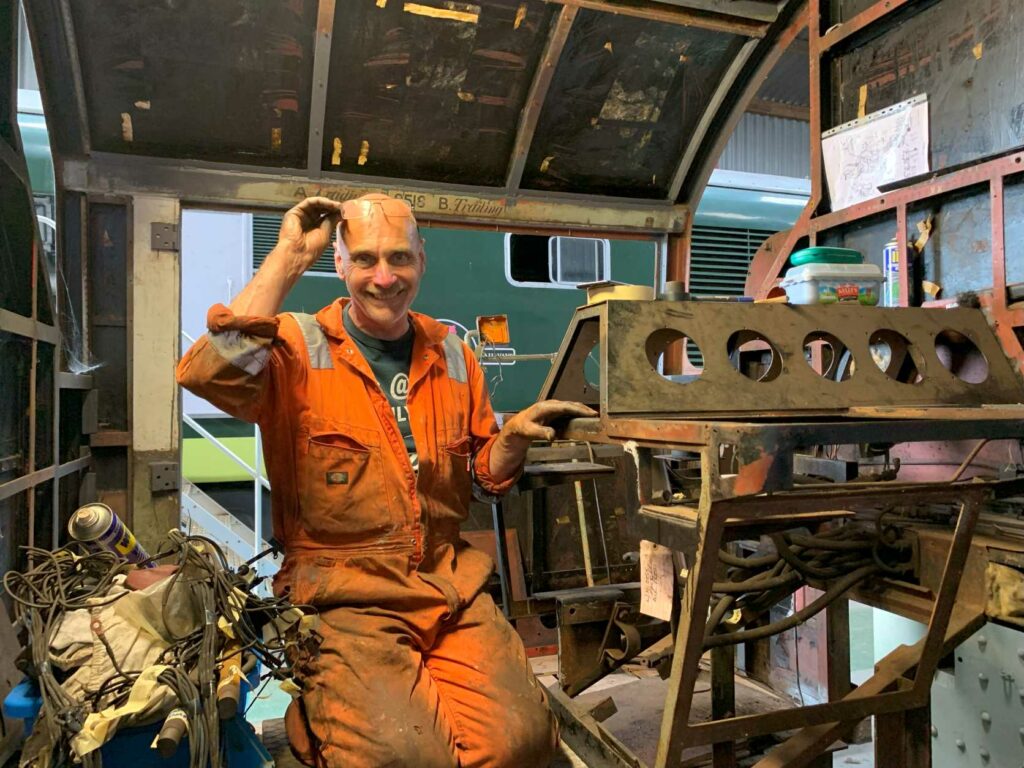 D9518 – the thorough approach to the restoration of this loco is apparent from this view of Colin G at work in the cab at Williton on Saturday 8th July 2023. Photo by Andy Royal © CC BY-NC 3.0
This loco is the subject of a fundraising appeal so please follow this link to find out more. We need your help ! In addition to funds, we also need plenty of HANDS. If you love the 'Teddy Bears' and you are not already a member of the DEPG, please join us so that you can become one of the team that is going to return D9518 to fully operational condition as 'NCB No. 7'.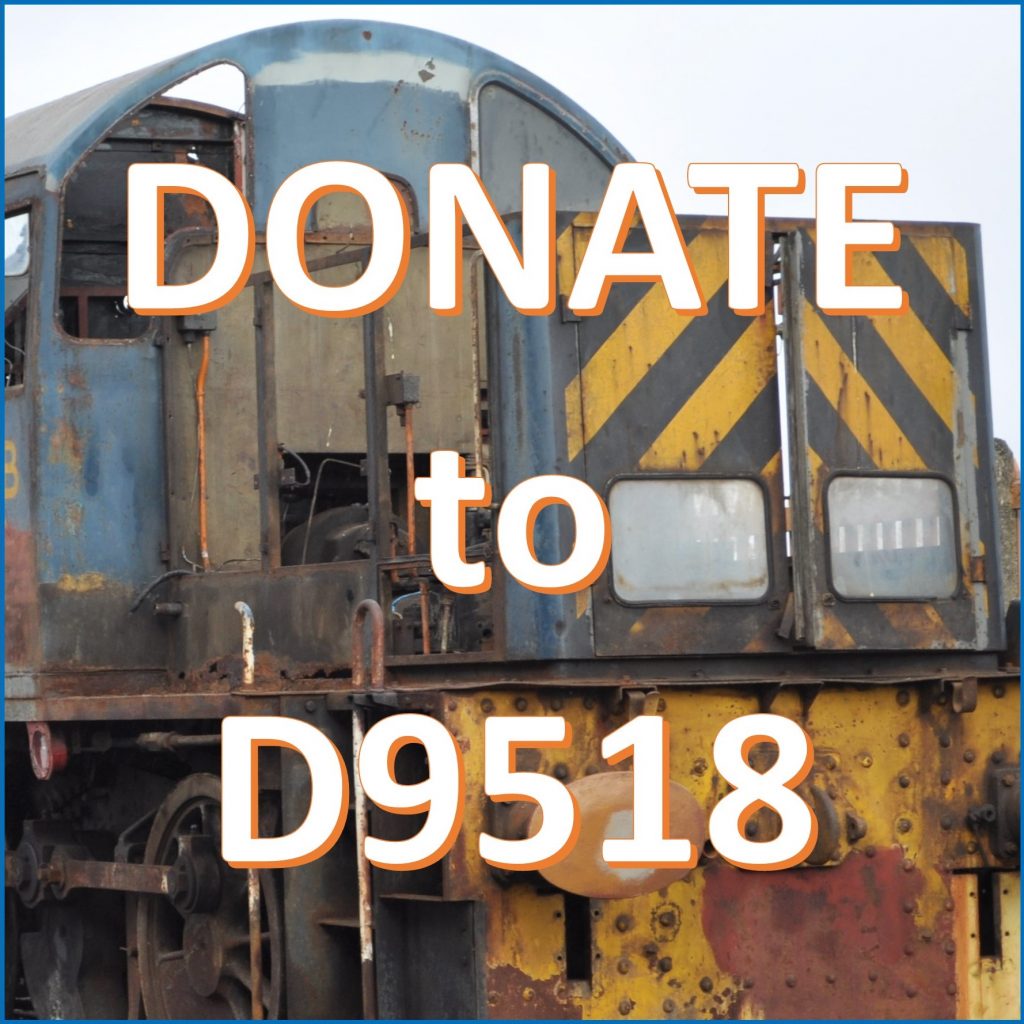 Class 14 'Teddy Bear' D9526 – this loco is fully serviceable and ready for use. We hope to be able to use D9526 in support of the DMU on some of the YELLOW timetable services during the summer. Keep and eye on our DIESEL RUNNING DATES page for additional running dates, as they get released.
Class 47 47077 'NORTH STAR' – this loco is undergoing a cylinder head overhaul at Grosmont Works on the North Yorkshire Moors Railway. Good progress is being made, and current expectations are that the loco will be returned to service towards the end of this month.
Andrew Barclay 0-4-0DH 578 – this loco is in full working order and is stabled in the South Yard. The cab is undergoing a repaint, but the loco remains serviceable and ready for action.
If you can help by donating your time to any of these projects, then please JOIN US and come along to the depot for an introduction to what we do and how we do it. We currently have people on site from Saturday through to Tuesday and we can open on other days if we can be sure of getting at least two volunteers on site at all times, so there is plenty of scope. We have tasks of all types to suit most capabilities, both skilled and unskilled.
Many thanks to all of our volunteers who give up so much of their time to work on the cleaning, painting, maintaining, restoring, managing and fund raising for our fleet of heritage locomotives !
ON SHED – here's another of Mark Bladwell's collection from his 'spotting' days, this time a view within Laira depot showing two 'thousands' along with an unidentified Class 08 shunter. The 'thousand' on the left is none other than D1062 'WESTERN COURIER', shut down after her last working in BR service just a few days previously, but happily still extant in preservation today. The other loco is D1022 'WESTERN SENTINEL', a loco that managed to hold on for another few months before she also fell silent, and with a less fortunate outcome. Many thanks to Mark for sharing his photo with us all.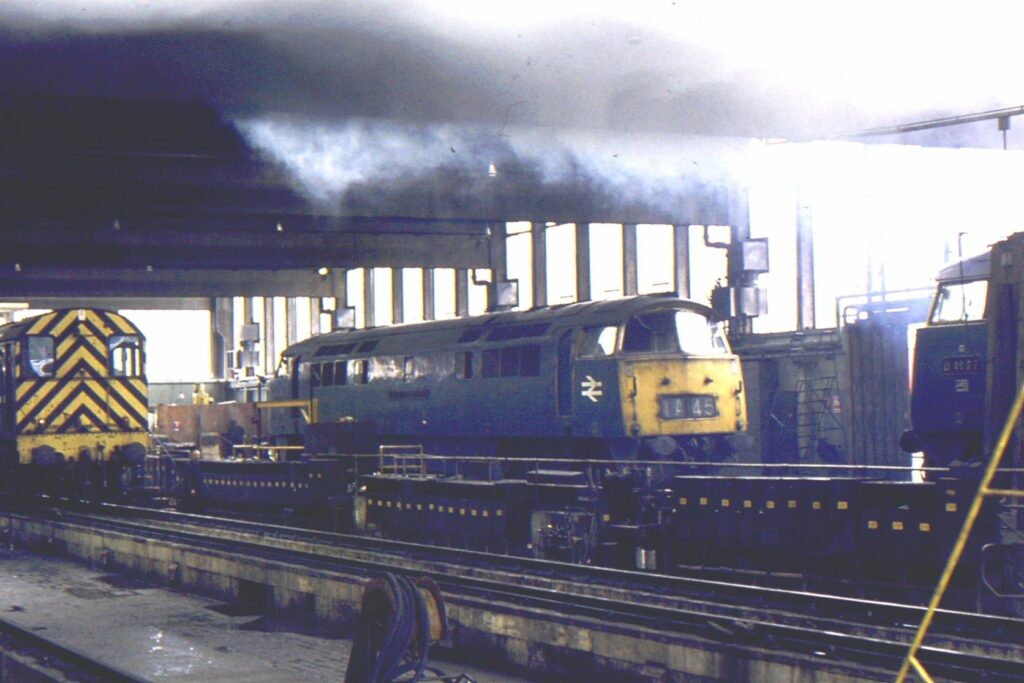 An unidentified Class 08 shunter shares the smoke-filled air at Laira Motive Power Depot with Class 52s D1062 'WESTERN COURIER' (left) and D1022 'WESTERN SENTINEL'. Picture dated 29th July 1974 by Mark Bladwell © CC BY-NC 3.0
DEPG NEWS – a Board Meeting was held at Williton on Saturday 24th June and a synopsis will be prepared and will be shared ASAP with all DEPG members for whom we hold a valid email address.
The DEPG depends on the support of all of our members, so please make sure that your membership is up to date. If you are not sure about your membership status, please click here or on the image below to access your membership record via MEMBERMOJO. Thank you very much !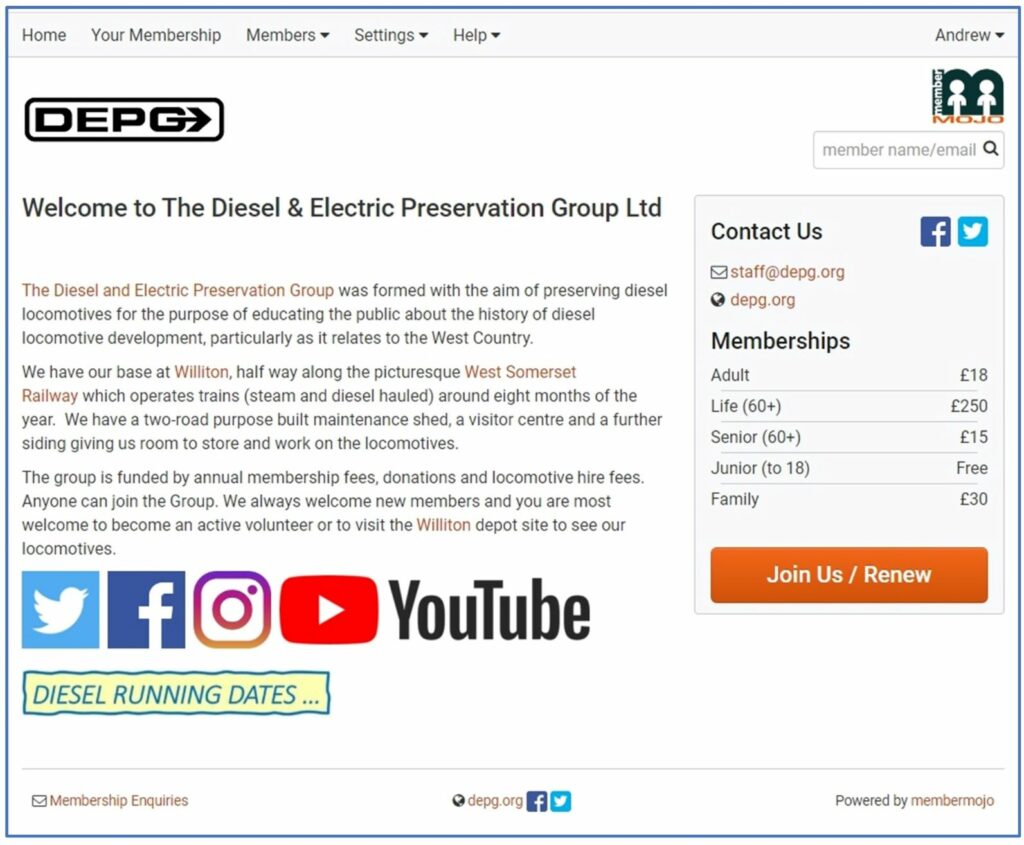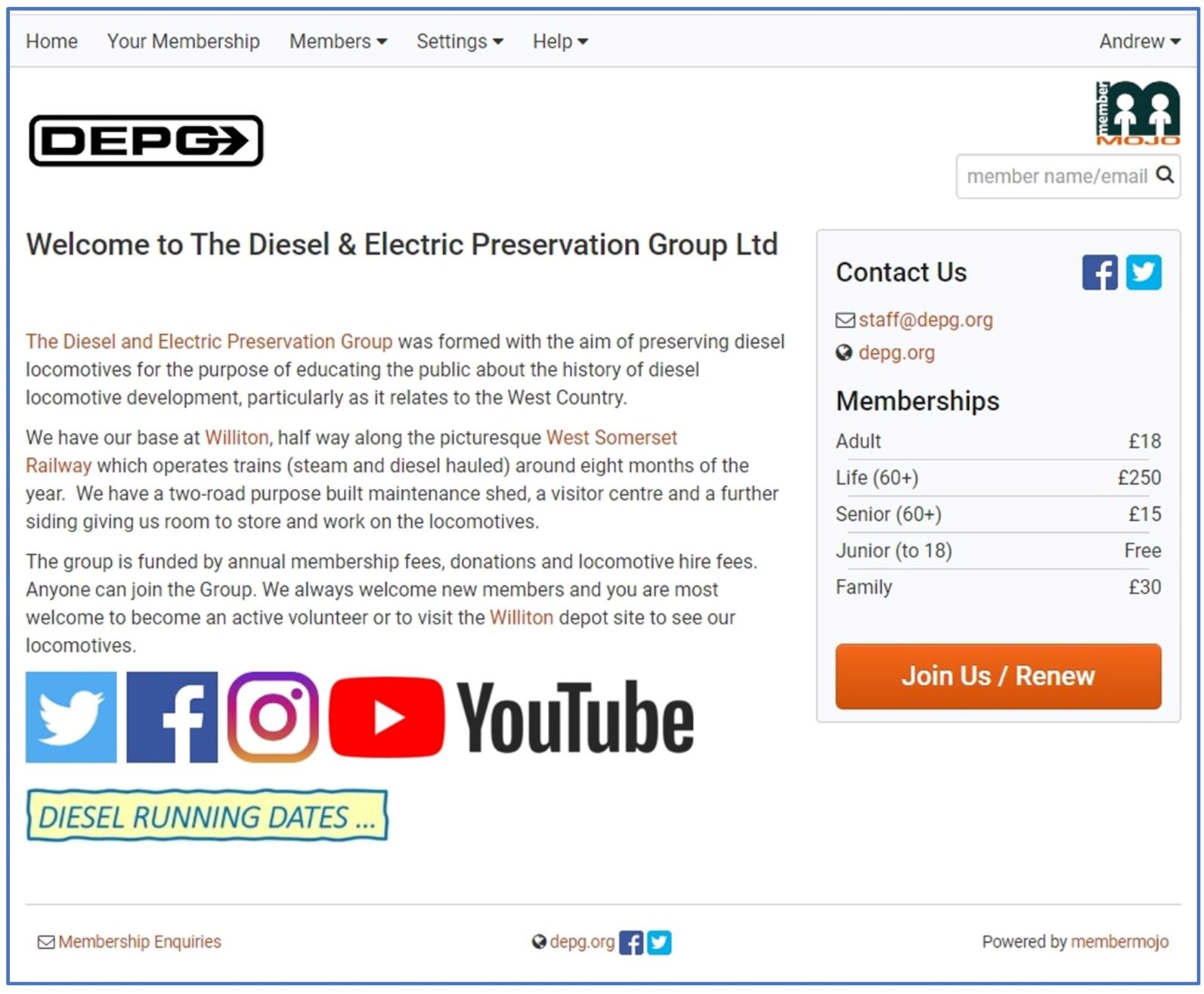 KEY DATES for your diary:
WSRA STEAM RALLY: Saturday 5th and Sunday 6th August at Norton Fitzwarren
WSR FORTIES WEEKEND: Saturday 9th and Sunday 10th September
DEPG 50th ANNIVERSARY CELEBRATIONS : Friday 22nd and Saturday 23rd September 2023.