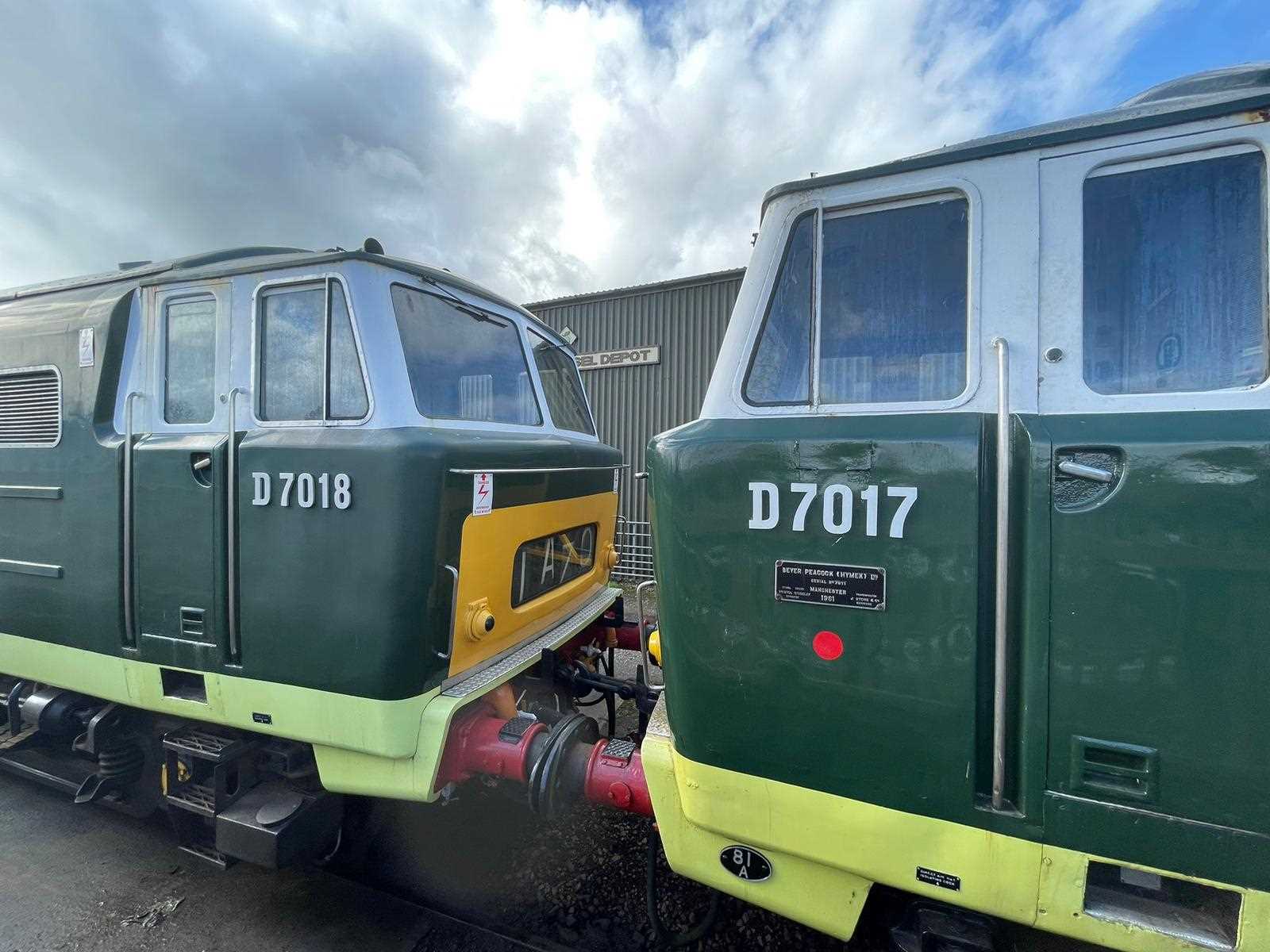 Beyer-Peacock 'Hymek' Class 35 sisters D7017 and D7018 were pictured together at Williton on 17th March 2023. Photo by Josh Brinsford © CC BY-NC 3.0
PRESS RELEASE – dated 14th August 2023
On Friday 4th August 2023, preparations were underway at Williton for a static test of 'Hymek' D7018 after some adjustments and checks had been made to the transmission. Following the engine start and while the preparations for the actual test were still in progress, the locomotive started to move uncommanded. This was against the parking brakes and included riding over scotches (or wheel chocks). The movement was only stopped by shutting down the engine. Some minor damage resulted, both to the locomotive and to some of DEPG's equipment and spares. Thankfully, no-one was hurt in this incident. The Rail Accident Investigation Branch (RAIB) and the Office of Rail & Road (ORR) were informed routinely.

As an immediate consequence, an extraordinary meeting of the DEPG Board of Trustees has taken the decision to cease all operational 'Hymek' activities until further notice while we review the cause of the incident and develop additional controls to ensure that these precious locomotives remain safe to use.

This regrettably means that the planned 'DEPG at 50' celebrations at the end of September must be postponed until a later date. We particularly regret that neither 'Hymek' D7017 or D7018 will be able to attend the Severn Valley Railway's 'Magnificent Seven' event in the Autumn as working locomotives. We recognise that this will disappoint many of our fans and followers, but it will be appreciated that the safety of both the public and our own volunteers cannot be put at risk.
Martin Howard
Chairman, DEPG Board of Directors and Trustees
We apologise for this unexpected and disappointing situation and for any inconvenience resulting from it. We are looking for additional engineering help to look after our fleet of elderly locomotives, so if you have such skills and would like to join the DEPG and come along to Williton for a 'taster day', then please use our CONTACT FORM so that we can get in touch with you.
Our DIESEL RUNNING DATES page is regularly updated and carries the list of diesel-hauled public services for 2023. This page is used in conjunction with DIESELGEN to provide a complete picture of diesel locomotive activities on the WSR:

The webcams provide a very good way of watching the action from afar. Click this link: http://www.wsr.org.uk/cams.htm or click on the image below to go to the webcams via wsr.org.uk: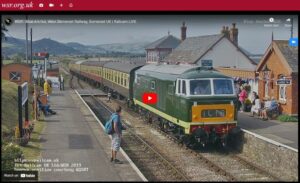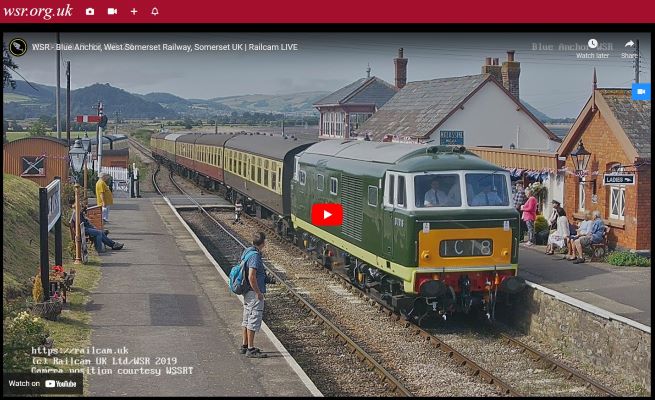 Webcams are available at Bishops Lydeard, Crowcombe Heathfield, Williton, Blue Anchor, Minehead Seaward Way and Minehead Station. Select the appropriate webcam by clicking on the blue button on the webcam page. Many thanks to Railcam UK and the WSR for providing these webcam services.
Many thanks to Railcam UK and the WSR for providing these webcam services.
Have you considered joining the WEEKLY ROUNDUP e-newsletter list? Click here for details.
Social media channels:


---