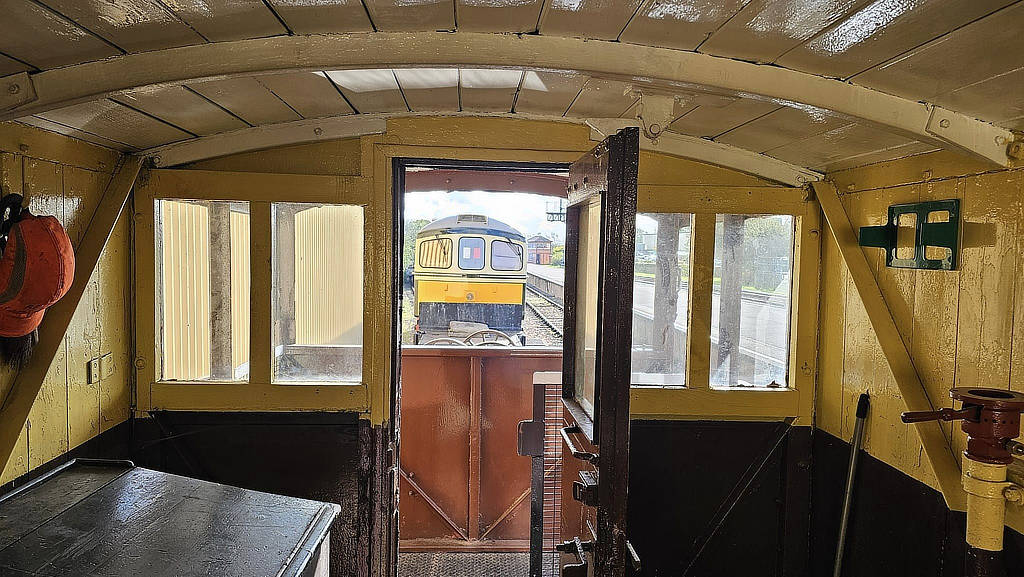 Class 33 'Crompton' D6566 (33 048) worked a short freight train from Minehead to Williton on Saturday 14th October 2023. This very unusual view was captured from within the brake van while the consist was being prepared at Minehead. Photo by Seb Welsh © CC BY-NC 3.0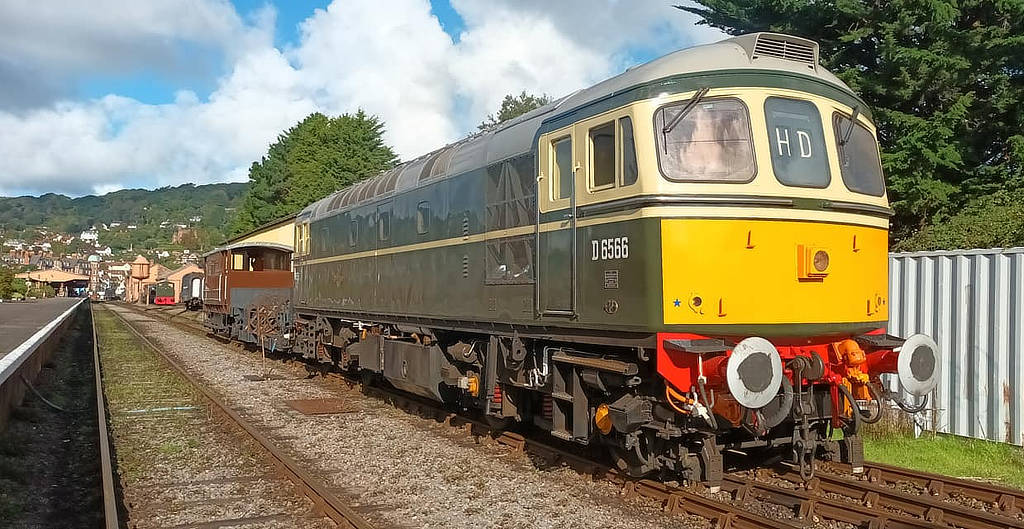 Class 33 'Crompton' D6566 (33 048) was put to work on Saturday 14th October 2023 to move a flat wagon loaded with tender wheelsets from Minehead to the Swindon Shed at Williton for restoration. This photo was taken by secondman Tom Courtney while the train was being prepared at Minehead. © CC BY-NC 3.0 
Although the scheduled diesel running of the 2023 season is behind us, there are still occasions when our diesels are in use, such as last Saturday, when a flat wagon loaded with steam loco tender wheelsets needed to be moved from Minehead to Williton. As we needed the loco back at Williton to support the planned test running of Class 35 'Hymek' D7017 and Class 14 'Teddy Bear' D9526 (Saturday 21st October, see our DIESELGEN posting), the obvious choice for the job was Class 33 'Crompton' D6566 (33 048) and several interesting photos resulted from this working, two of which are above. Follow this link to wsr.org.uk for more photos of this and other October workings.
The RED timetable is in force for the coming weekend (21/22 October) then the BLUE timetable runs for most of the following week, bringing the season to a close on Sunday 29th. Christmas services begin on Friday November 24th with the return of the very popular 'WINTERLIGHTS' specials. Click here for a link to the events page on the WSR website.
CHRIS SHIELDS 1959-2023 R. I. P.
Sadly, on the morning of Saturday 14th October, we lost CHRIS SHIELDS at the age of 64 due to Motor Neurone Disease (MND), a degenerative condition that had affected him for several months and had caused him to gradually have to give up his many DEPG roles, of which there was quite a list – Membership Secretary, Sales team member, Online Storekeeper, D1010 team volunteer and trainee secondman.
Following retirement from his 40-year career with Lloyds Bank, Chris dedicated himself to supporting the many railway-oriented causes that he loved, the list including the Western Locomotive Association (WLA), the Deltic Preservation Society (DPS), the A1 Steam Locomotive Trust (owners of 60163 'TORNADO'), the Lynton & Barnstaple Railway (where he was a passed firemen) and of course the DEPG, where Chris always carried out his duties to the fullest extent and always went the extra mile to raise money for the group or to take on a task that just needed to be done. When considering that Chris worked for so many other groups, including several model railway clubs, it is remarkable that he had any free time at all – but that was just the way he wanted it to be.
With sincere thanks for his tireless work for so many railway causes, Rest In Peace.
Here are just a few of the many images showing Chris at work for the benefit of the DEPG. He will certainly be missed.
| | |
| --- | --- |
| | |
| Above: Chris at work on D1010 'WESTERN CAMPAIGNER' on 19-Mar-22 (JB) | Above: Chris (in black) at the Bristol Model Railway Exhibition with Mark T and John K on 01-May-22 (MB) |
| | |
| Above: Chris at work on Class 09 D4107 (09 019) on 11-Mar-23 (AR) | Above: Chris (furthest from camera) participating in secondman training on 04-Feb-23 (AR) |
| | |
| Above: Chris minding the store at Williton on 29-Apr-23 (MI) | And as we remember him best, happy and smiling, Chris in the cab of D1062 'WESTERN COURIER' on 07-May-23 (PB) |
Photos by Josh Brinsford, Mark Bladwell, Andy Royal, Mark Ireland and Peter Bamber © CC BY-NC 3.0
Bristol Siddeley Maybach MD870 exhibit
The DEPG have just taken delivery of a wonderful exhibit that was previously on display in the ROLLS-ROYCE HERITAGE TRUST museum in Coventry, showcasing the fine work that was done in the 1960s by Bristol Siddeley Engines Limited when they took on the licence manufacture of the Maybach high-speed diesel engine family, in support of British Rail's Class 35, 42 and 52 locomotive programmes. The engines were produced at the former Armstrong Siddeley factory in Ansty, Coventry and were renowned for their quality and performance. The licenced designs were also supplied to marine and power generation users, in addition to their more well-known railway applications.
We are very grateful to the ROLLS-ROYCE HERITAGE TRUST for donating this  engine to the DEPG. Former DEPG Chairman BOB TILLER was instrumental in securing this marvellous exhibit for the DEPG and he also very kindly donated the considerable transportation cost of moving this 6-ton artefact from Derby to Williton. We hope to repay his kindness by having the engine on display in our future Williton museum area, for the benefit of future generations.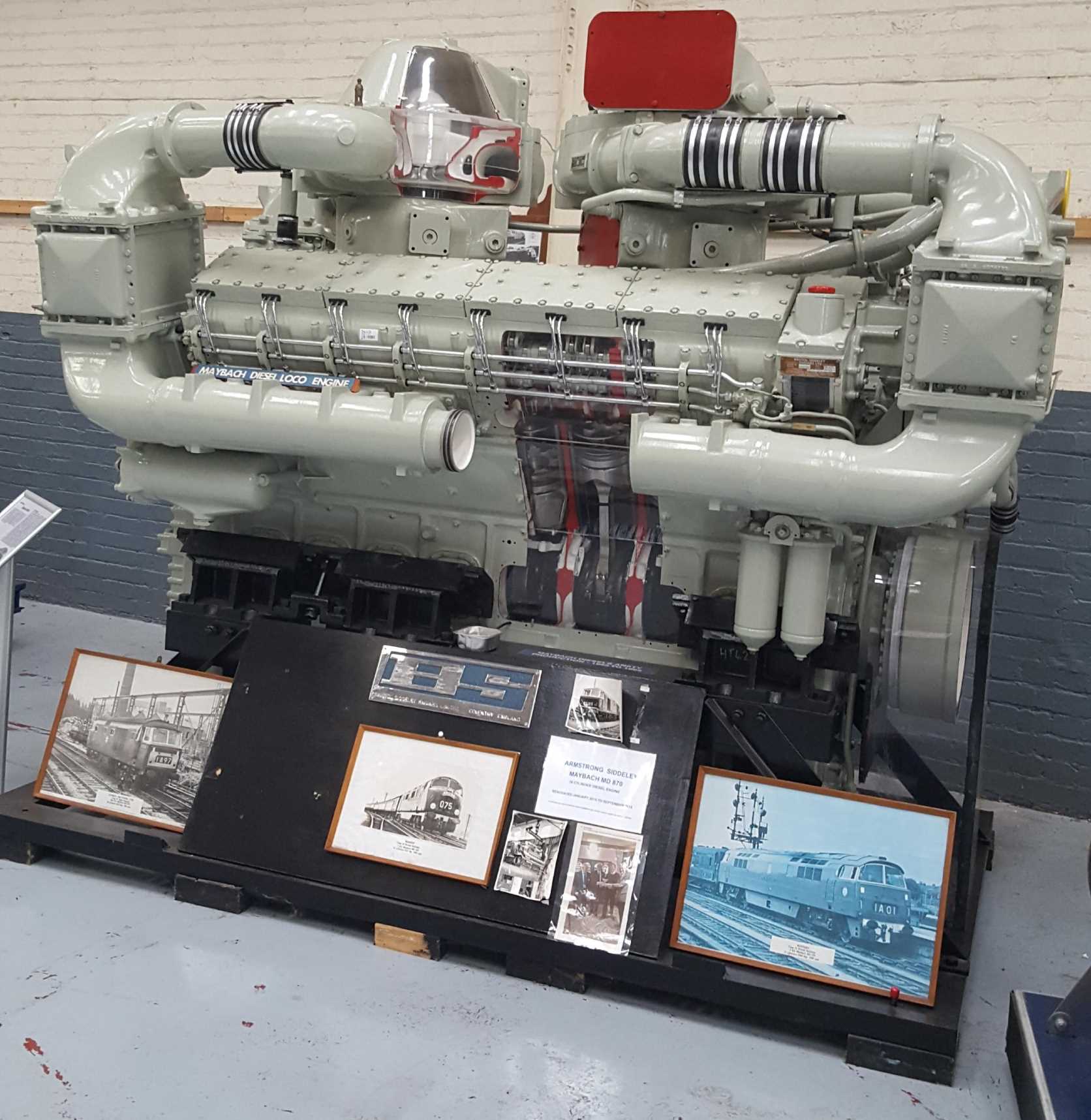 Possibly the cleanest diesel engine ever seen, this Bristol Siddeley Maybach MD870 diesel engine has cutaway sections and is motor driven to show the key principles and the major components. This wonderful 6-ton exhibition piece has been very kindly donated to the DEPG by the Rolls-Royce Heritage Trust thanks to the efforts of BOB TILLER, who also kindly donated to cover the transportation cost from Derby to Williton. Photo by Bob Tiller © CC BY-NC 3.0
LOCO NEWS:
Class 52 D1010 'WESTERN CAMPAIGNER' – further progress on the overhaul of the 'A' transmission has allowed the team to move on to the reverser assembly, where condensation and the subsequent corrosion damage have rendered the large diameter and very expensive bearings as beyond further use. This was expected and had been budgeted, but we had been hoping for some good luck to conserve funds. Several ideas have come forward to find ways of preventing or reducing internal condensation and extending the lives of the new bearings that are now being fitted, and all such ideas will be thoroughly evaluated.
Elsewhere on the loco, Ian F continues his painstaking work on filling and smoothing the bodysides of this giant loco. His quiet and careful approach has resulted in significant progress and he can justly feel great satisfaction with the work that he been doing. Thank you Ian !
Steve has been busy in 'B' cab with the overhaul of the driver's desk and associated wiring, while Gordon has been working on the auxiliary shafts and has been dismantling the universal joints of the cardan shafts to find out why they were feeling 'sticky'. Some of the needle roller bearings were found to be well past their best and will need to be replaced. These shafts are difficult to get at when in normal use, so now is the time to overhaul them, while access is easy.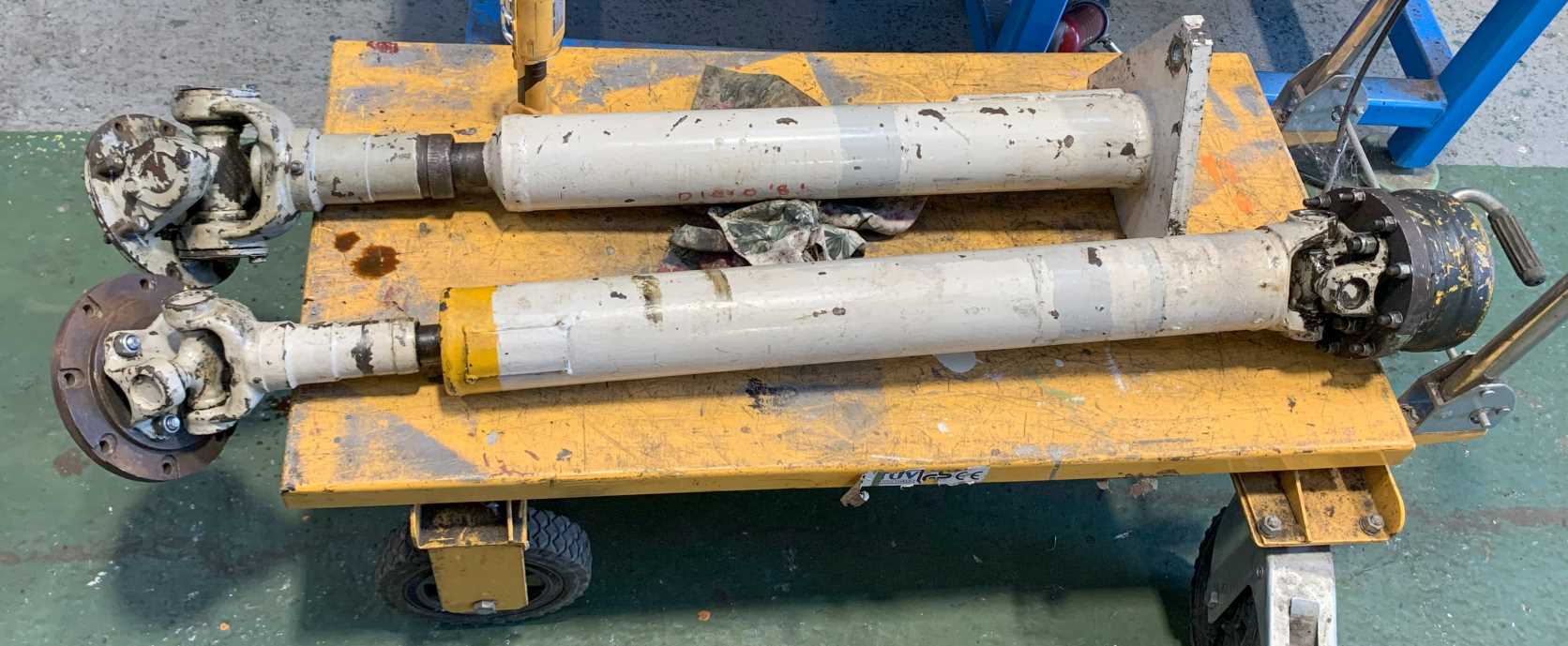 D1010 – the auxiliary cardan shafts from the 'B' end were retrieved from the container and will be stripped down for cleaning and inspection. Pictured at Williton on Saturday 14th October 2023 by Andy Royal © CC BY-NC 3.0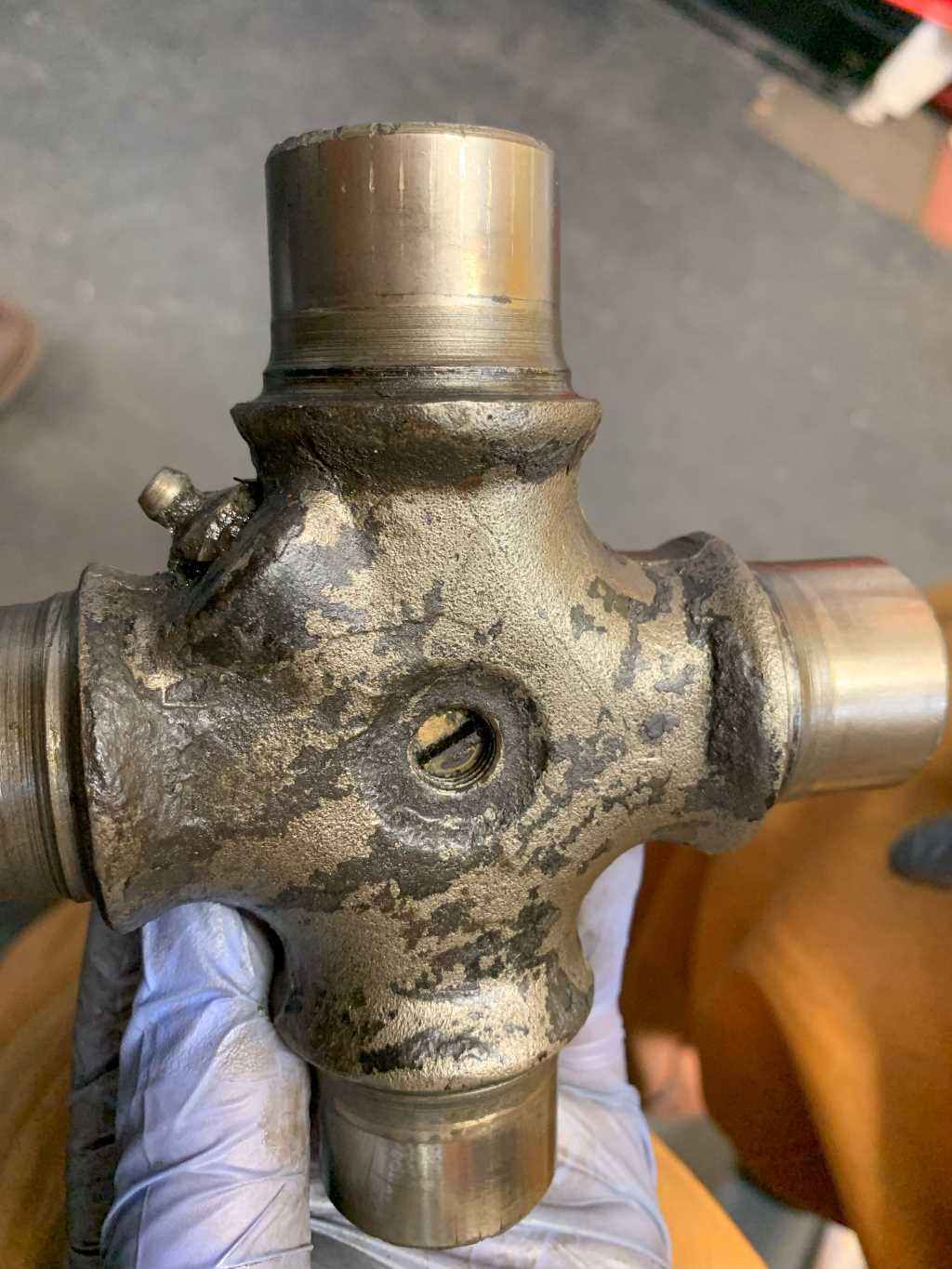 D1010 – the disassembly of the 'A' end auxiliary cardan shafts by Gordon revealed that the universal joints were not fit for further service and will need to be replaced. Pictured at Williton on Saturday 14th October 2023 by Andy Royal © CC BY-NC 3.0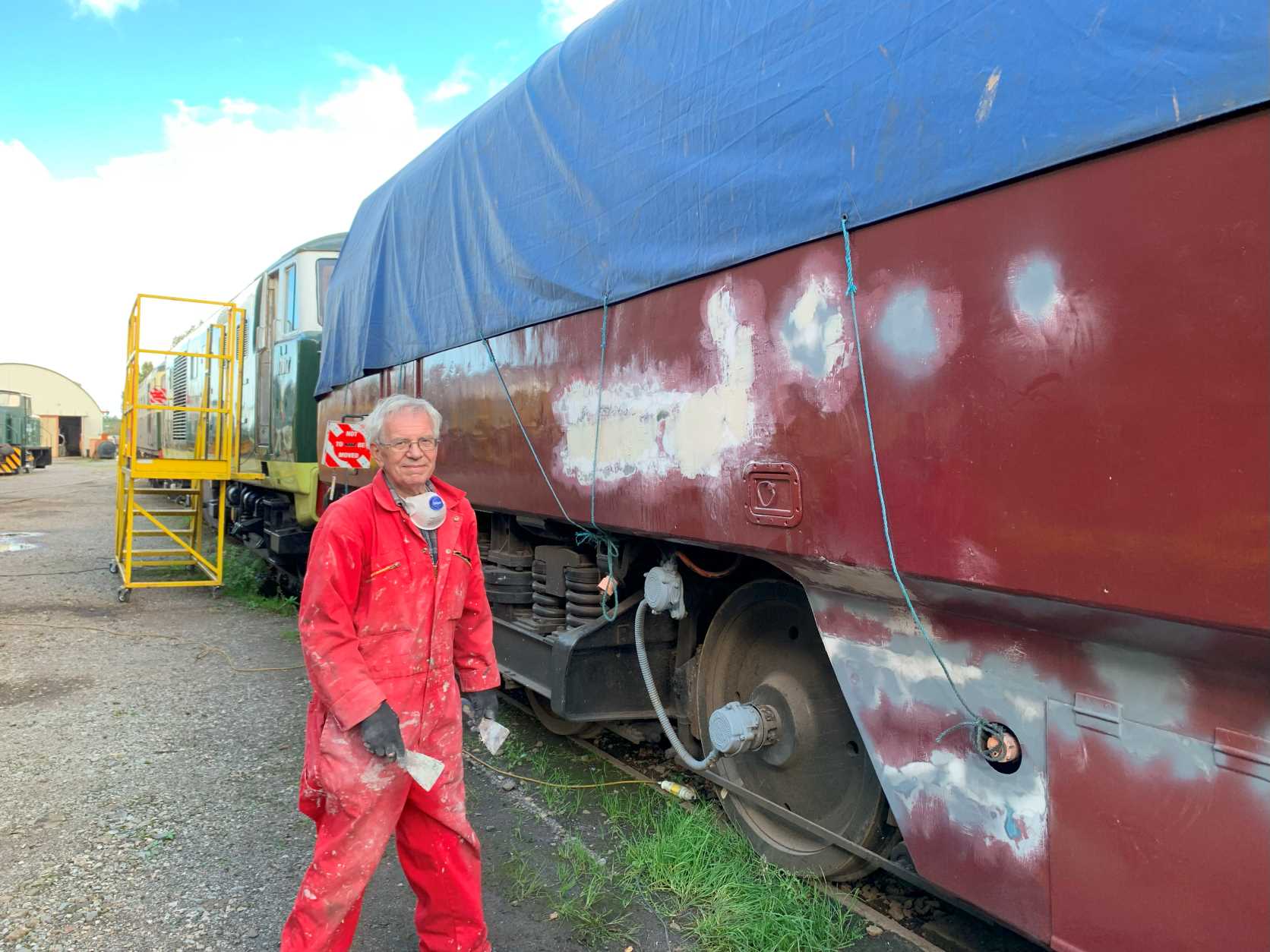 D1010 – Ian F, the volunteer who has done most of the work on the surface finish of this giant loco, was pictured while filling and smoothing at Williton on Saturday 14th October 2023. Photo by Andy Royal © CC BY-NC 3.0
There are still some patches waiting for sponsors at the 'B' end of the loco, so GET IN QUICK TO HAVE YOUR NAME ENGRAVED before Roy and Ian reach this end. Many thanks to those who placed their orders during the last few weeks.
Having the loco outdoors has generated an increased interest in our SPONSOR A PATCH scheme, with several more patches being engraved with their sponsor's names or messages. This initiative remains the single most successful fund-raising activity and has allowed us to make significant progress with the restoration work. PLEASE CONTINUE TO HELP US FUND THIS PROJECT.
Photographs and certificates of sponsorship will be sent out to all who have sponsored the restoration work, but we are still short of volunteer resources and have not yet been able to catch up with this obligation and deliver the documents. Apologies for the delay, we will get it done ASAP. Click the image below to sponsor a patch. Thank you in advance for your support and your patience!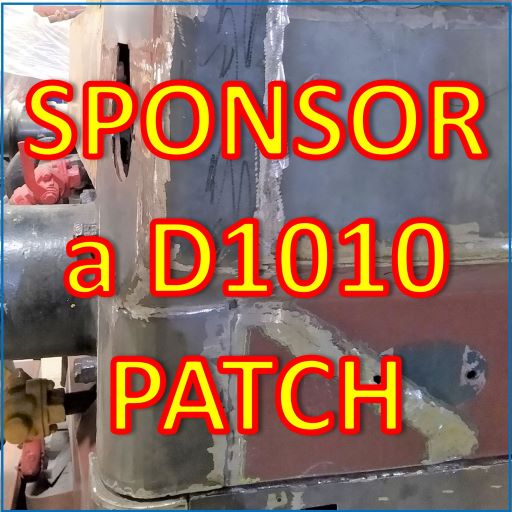 See our CAMPAIGN for CAMPAIGNER web page for more details. We still have a lot of work to do on this massive locomotive, so PLEASE DO COME ALONG AND HELP IF YOU CAN !
Class 33 D6566 (33 048) – this loco is currently stabled at Williton but will move to Bishops Lydeard on Saturday 21st October to cover the Christmas workings.
Class 33 D6575 (33 057) – this loco will move to Williton on Saturday 21st October to undergo winter maintenance, including an overhaul of her exhaust system.
Class 35 'Hymek' D7017 – a test run has been arranged for this loco on Saturday 21st October. See our DIESELGEN posting for details.
Class 35 'Hymek' D7018 – this loco is waiting patiently for work to be completed on sister D7017.
Class 14 'Teddy Bear' D9518 – work continues on the restoration of the cab assembly and the replacement of the electrical wiring loom that runs inside the driver's 'desk'. The Class 14 team is currently sharing its time between this project and the 1000-hour service on sister D9526, so we would welcome additional help to keep both sets of tasks moving along. Just respond to this email if you feel that you could help. Thanks !
This loco is the subject of a fundraising appeal so please follow this link to find out more. We need your help ! In addition to funds, we also need plenty of HANDS. If you love the 'Teddy Bears' and you are not already a member of the DEPG, please join us so that you can become one of the team that is going to return D9518 to fully operational condition as 'NCB No. 7'.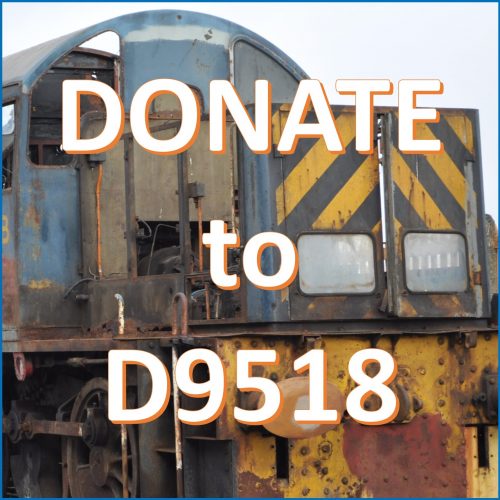 Class 14 'Teddy Bear' D9526 – this loco is inside the shed at Williton where work on the 1000-hour service has now been completed. The loco will undergo inspection at Williton on Saturday 21st October and will then go out on a test run to Bishops Lydeard and back, to bed in her new brake blocks and ensure that everything is as it should be.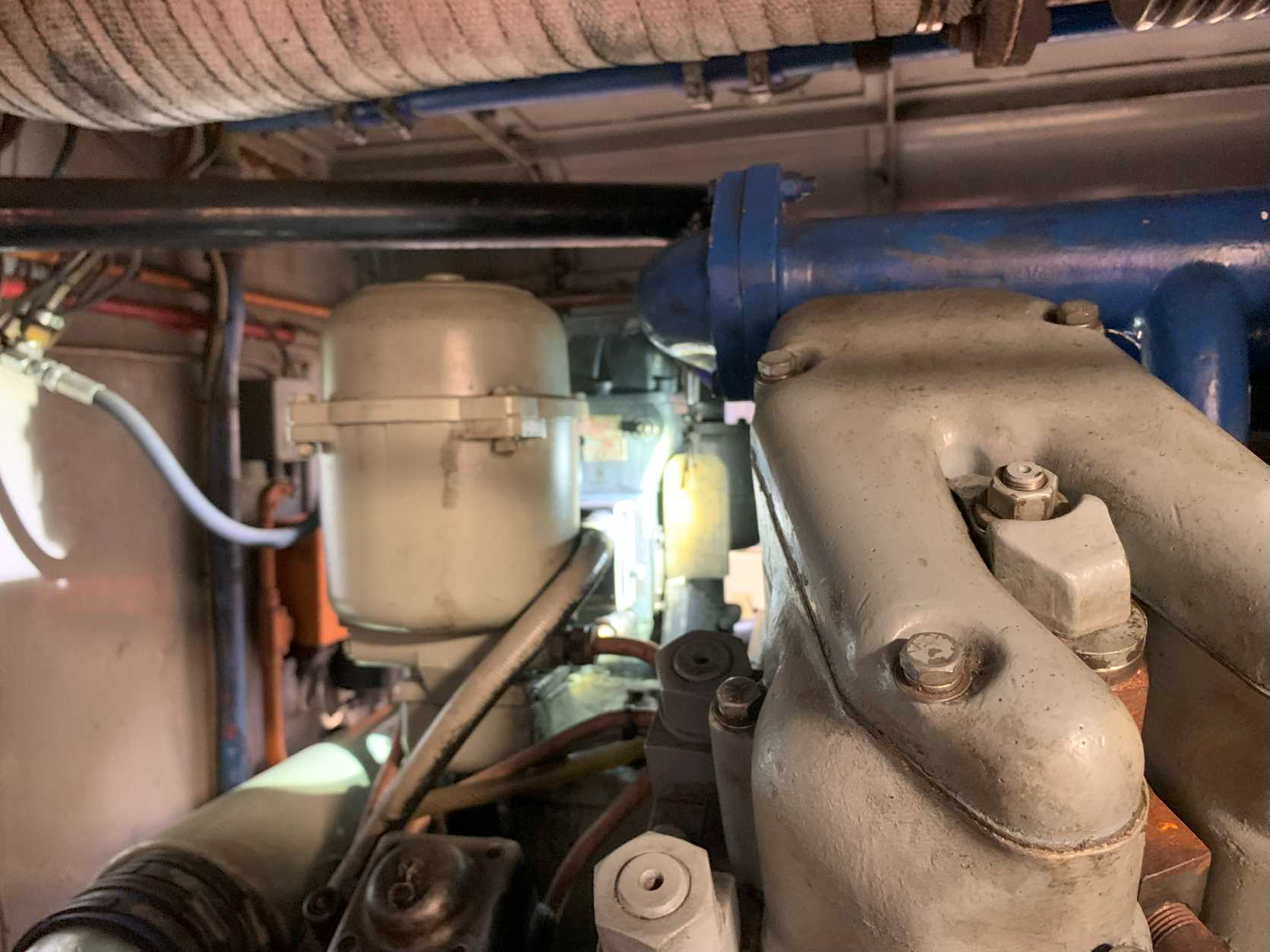 D9526 has had a 1000-hour service performed and is now ready for a test run. Attention was being given to replacing a cable conduit on the governor assembly (the brightly lit region) while inside the loco shed at Williton on Saturday 14th October 2023. Photo by Andy Royal © CC BY-NC 3.0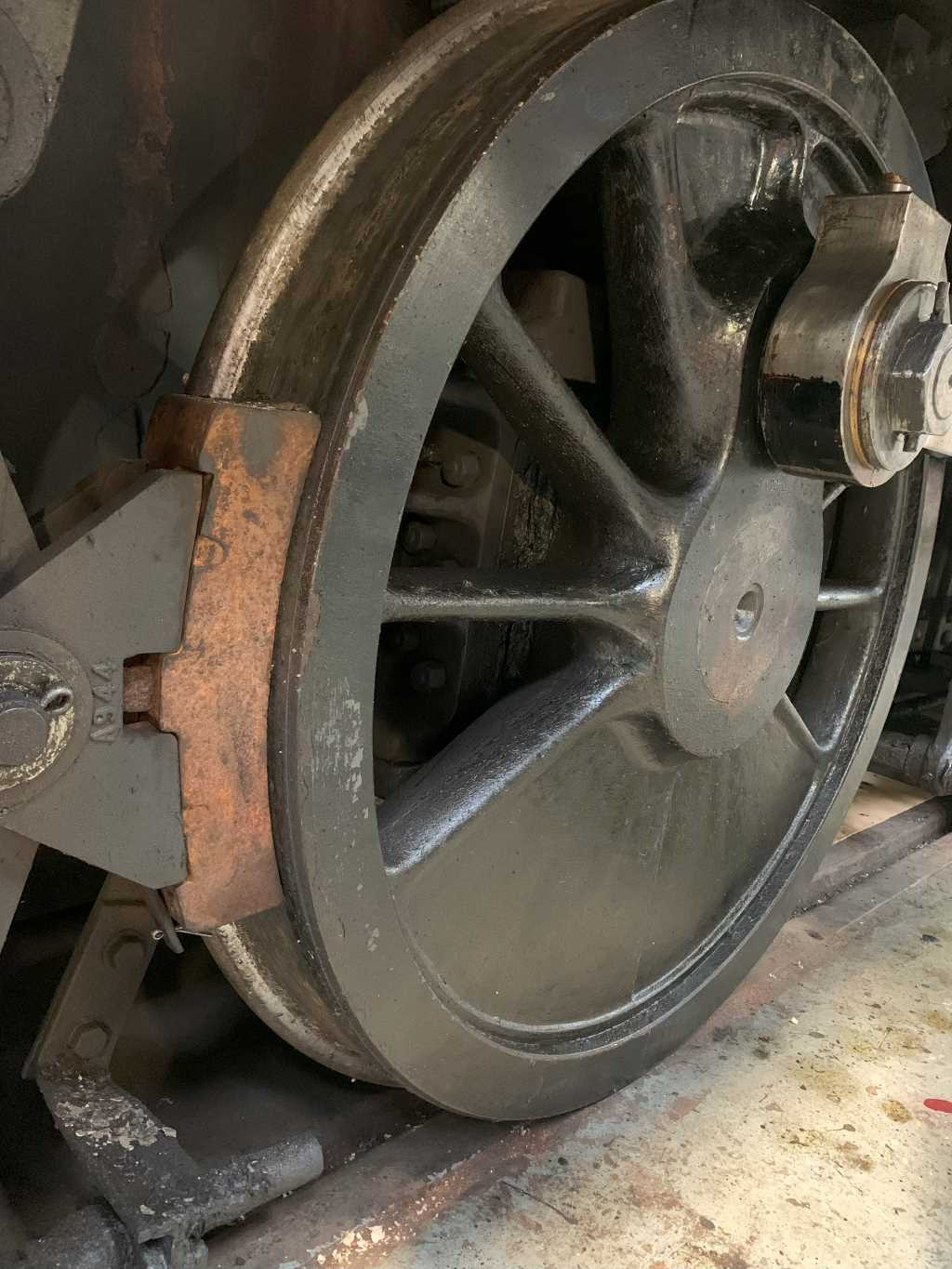 D9526 has been fitted with a set of new brake blocks while undergoing her 1000-hour service at Williton. Pictured on Saturday 14th October 2023 by Andy Royal © CC BY-NC 3.0
Class 47 47077 'NORTH STAR' – this loco is undergoing a 'top end' engine overhaul at Grosmont Works on the North Yorkshire Moors Railway. Photos will be provided ASAP.
Andrew Barclay 0-4-0DH 578 – this loco is currently undergoing an internal cab repaint in the hands of volunteer Jon Tooke. Photos will be provided ASAP.
If you can help by donating your time to any of these projects, then please JOIN US and come along to the depot for an introduction to what we do and how we do it. We currently have people on site from Saturday through to Tuesday and we can open on other days if we can be sure of getting at least two volunteers on site at all times, so there is plenty of scope. We have tasks of all types to suit most capabilities, both skilled and unskilled.
Many thanks to all of our volunteers who give up so much of their time to work on the cleaning, painting, maintaining, restoring, managing and fund raising for our fleet of heritage locomotives !
BOOK REVIEW – we have just added a new title to our online store and we now have stock available of the THIRD VOLUME in the very successful 'THE BEATEN TRACK' series by Andy Chard, published by Platform 5. These popular books are very interesting, very well produced and are selling quickly. Click here or on the image below to buy this book from our online store.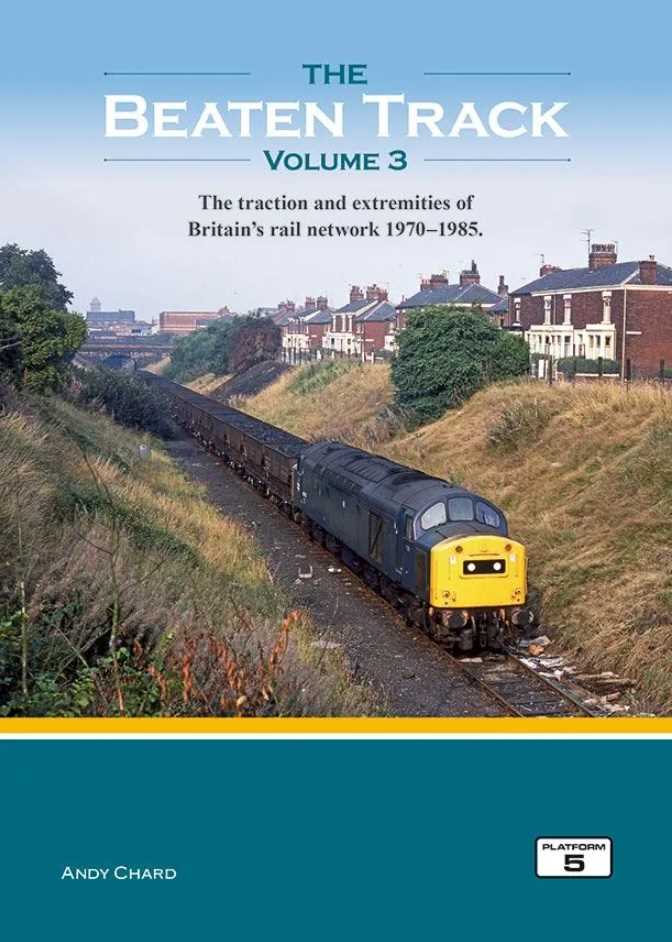 Also available via the DEPG ONLINE STORE is this sought-after new book by former BR apprentices Mike Woodhouse and Graham Howell describing the 'PYRAMID OF DIESEL HYDRAULICS' that comprise the D600, D800, D1000, D6300, D7000 and D9500 series of locomotives (classes 41, 42/43, 52, 22, 35 and 14). This book has been selling like hot cakes and has already had to be reprinted to meet the demand !
Available now from the DEPG  for £15 plus £3.50 P&P. Click here or on the image below to order this book.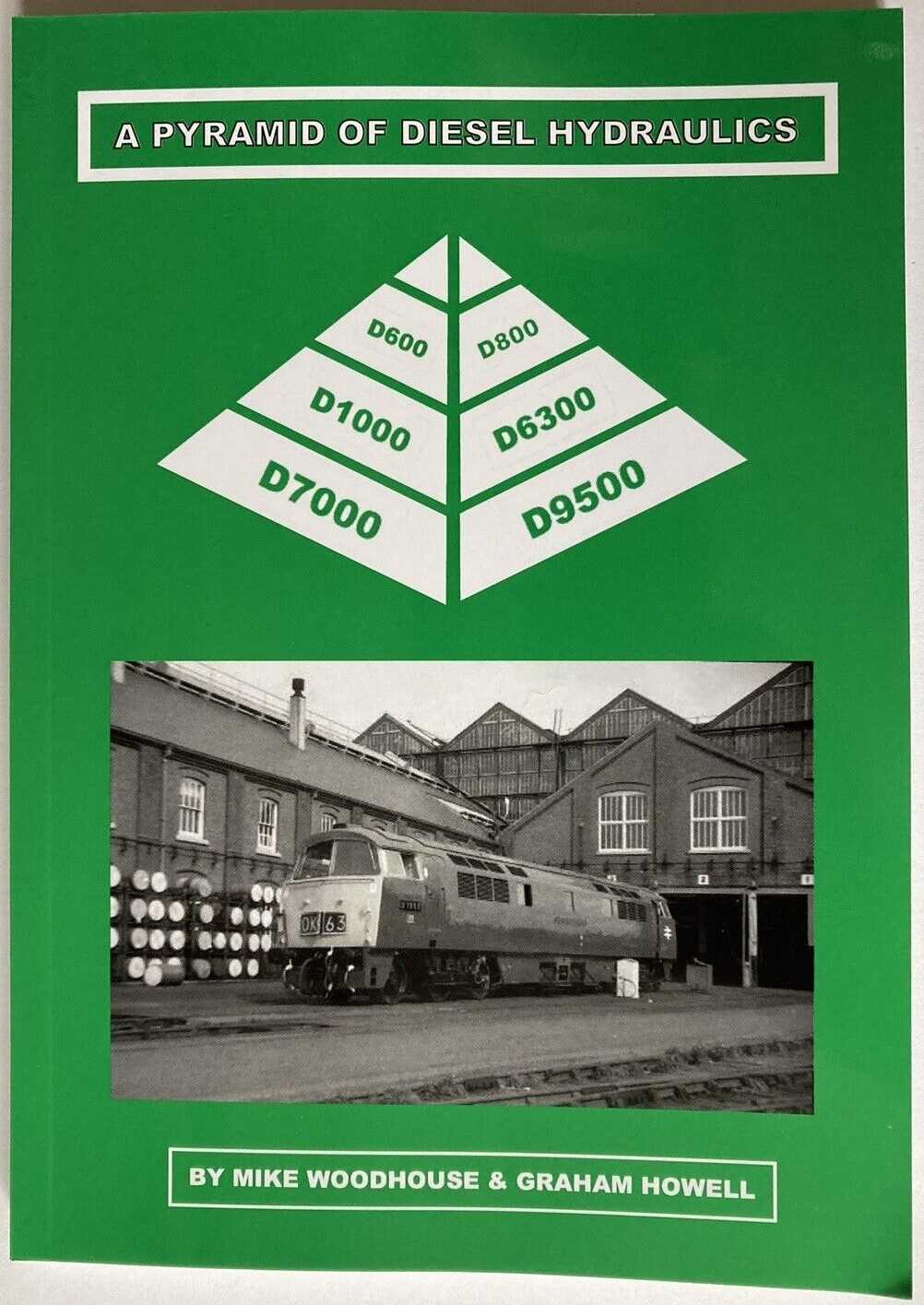 ON SHED – last week, we featured a photo of D1041 'WESTERN PRINCE' that had been brought to our attention by Paul Fleet, and it resulted in a flurry of information from a number of regular correspondents including Andrew Royle and Paul Mear, all of whom quickly identified the location as being Westbury. Thank you to all who replied !
We can't include all of the responses, but here is the information received from long-time DEPG member Brian Ringer, based on his experiences when based at Westbury in BR days:
     "In answer to the question of the location of D1041 'WESTERN PRINCE' photographed in 1976 is almost certainly Westbury, the shot being taken from the platform looking west towards the yard, with the servicing shed just visible in the background. D1041 appears to have been uncoupled or about to be coupled to a train of MSV aggregate tipplers in the background. I spent some time at Westbury in 1975/76 at the start of my railway career and remember these scenes well. Happy days!"
Well-known railway author Roger Geach provided the following information, along with a photo of 'PRINCE' bearing similar battle scars, taken in October 1976:
     "1041 is at Westbury, photographed from the up side platform clearly 1976, I would say late summer or autumn time. It is hard to know what the working might be as 1041 was at Westbury quite a bit during January 1977 alone. As it is light loco in the picture, it makes it harder to identify as several stone trains worked out of here. I think its possibly coming on or off the depot at this point.
     I've enclosed a picture you can use of 1041 also showing the rusty front. It is on the 4B08 1050 Plymouth to Penzance vans at Moorswater, Liskeard, on 19th October 1976."
 MANY THANKS to Brian and Roger and to all who responded to this challenge !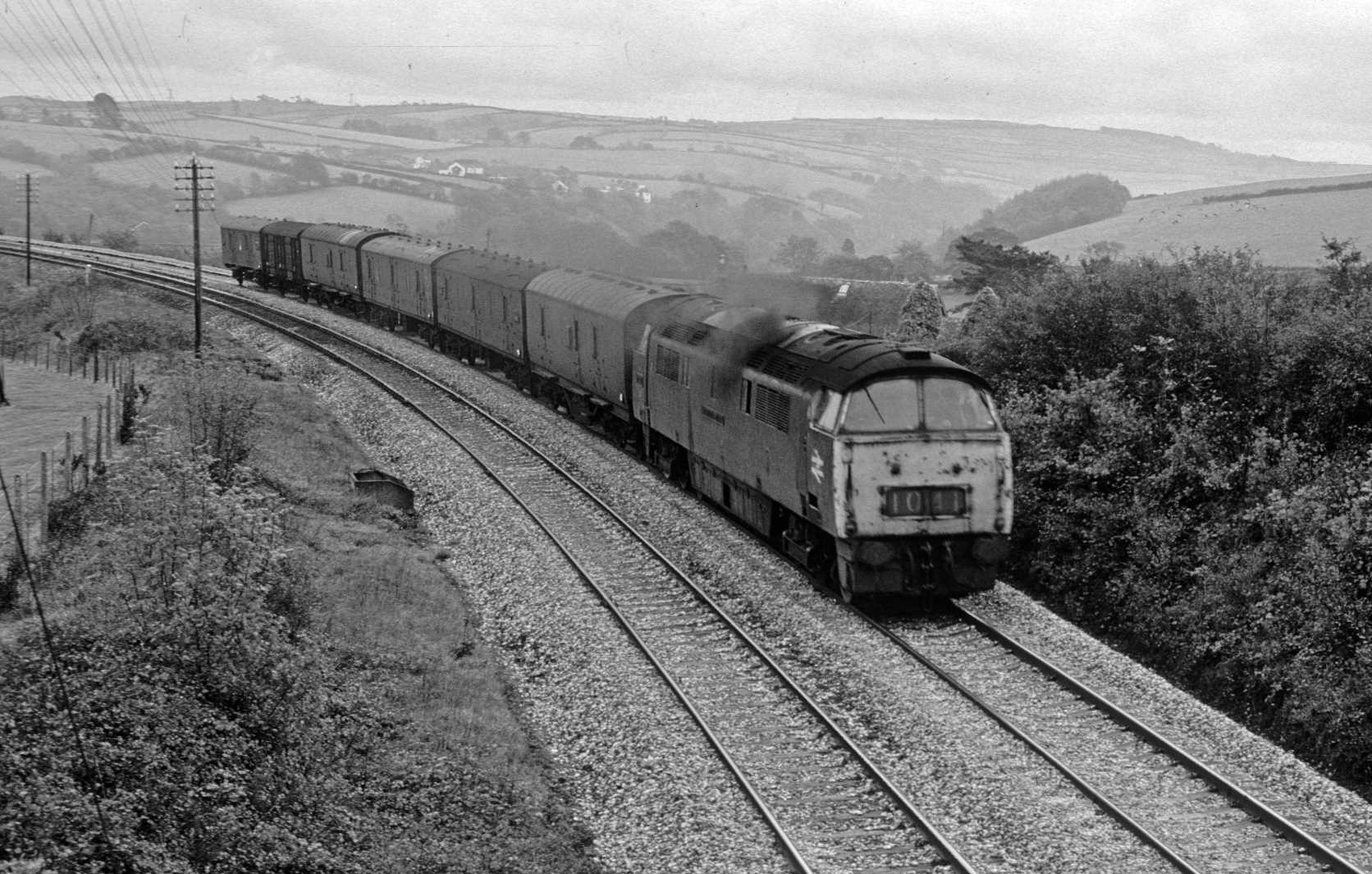 D1041 'WESTERN PRINCE' was looking very rough but still fully active when photographed at Moorswater near Liskeard while working the 4B08 1050 Plymouth to Penzance vans on 19th October 1976. Photo by Roger Geach © CC BY-NC 3.0
DEPG NEWS – we have sadly lost several fine and capable volunteers this year, so we have to say that we are feeling the pressure. The activities at the DEPG continue to place significant demands on our volunteers and we need to share the load among more hands. This does not just apply to the maintenance and restoration of our locos, but it also applies to the hidden background tasks such as running the online store, producing the newsletters, publishing booklets, handling the pre-owned books and selling them to raise funds. If you have some time and feel able to help, please let us know by responding to this email or by clicking this link to use our online CONTACT form. We look forward to hearing from you !
The DEPG depends on the support of all of our members, so please make sure that your membership is up to date. If you are not sure about your membership status, please click here or on the image below to access your membership record via MEMBERMOJO. Thank you very much !