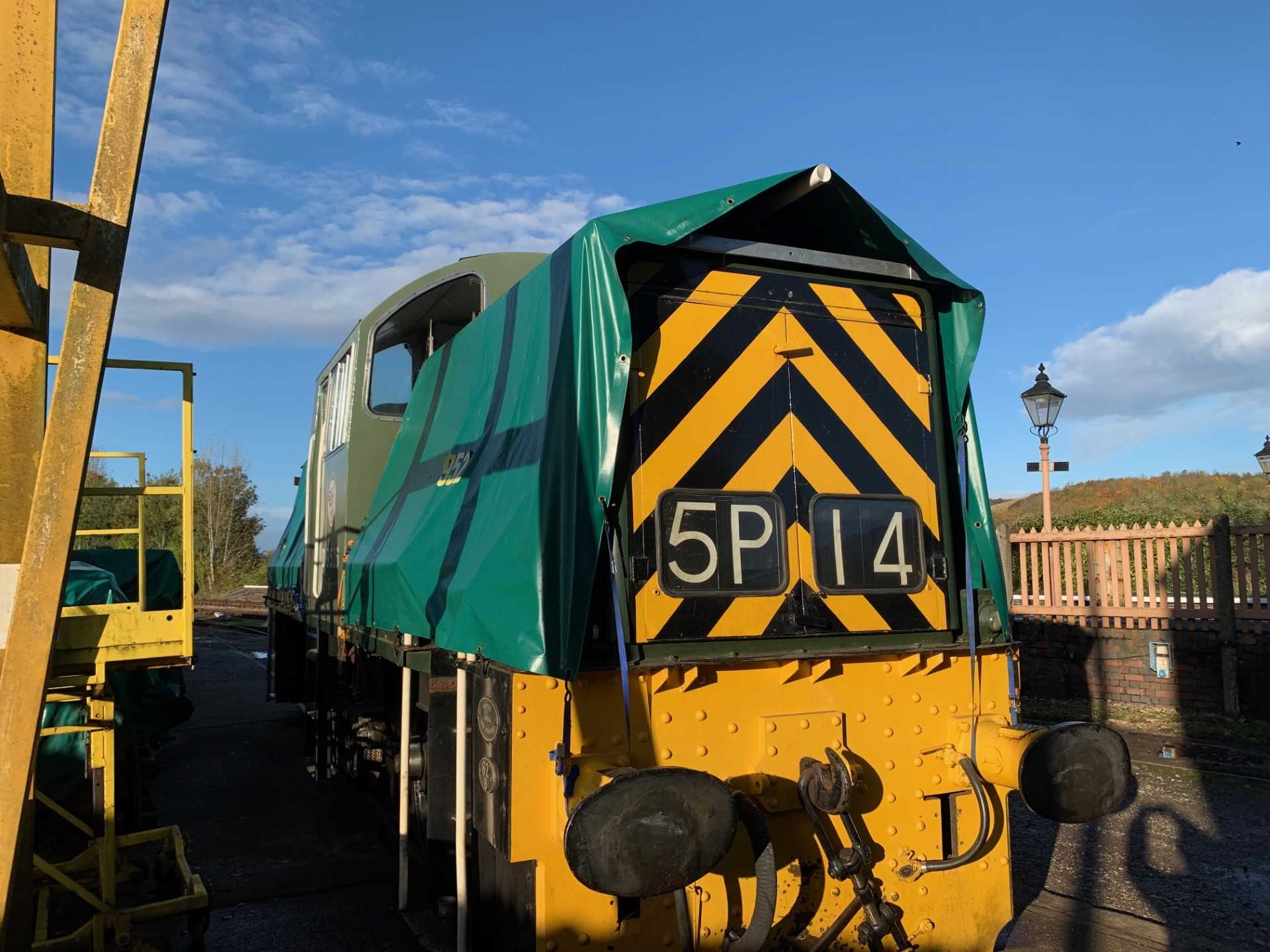 Class 14 'Teddy Bear' D9526 was pictured in the South Yard at Williton on 4th November 2023, enjoying the late afternoon sun. This 58-year-old loco is wearing her tarpaulins because she is destined to spend the winter outdoors. Photo by Andy Royal © CC BY-NC 3.0 
The public services on the West Somerset Railway came to their seasonal end on Sunday 29th October, marking the start of an almost 4-week gap until the first day of the 'WINTERLIGHTS' illuminated services, on the evening of Friday 24th November. These very popular trains are 'top and tailed' with a steam loco at one end and a diesel at the other. The loco tasked with this diesel duty this year is Class 33 'Crompton' D6566 (33 048) and the loco is ready and waiting at Bishops Lydeard.
The steam-hauled 'SANTA EXPRESS' services run on Saturdays and Sundays from Bishops Lydeard to Williton and back, and this year there is one day where the 'SANTA EXPRESS' runs from Minehead to Williton instead.
Intermingled with these services are CAROL TRAINS, DINING TRAINS, FESTIVE AFTERNOON TEA TRAINS and the invariably fully booked 'DUNSTER BY CANDLELIGHT' trains (book now if you want a chance of a seat), so take a look at the WSR's EVENTS page for more details.
The DEPG depends on the WSR as our home base and primary running line, so please support and enjoy these seasonal services and in doing so, support the DEPG !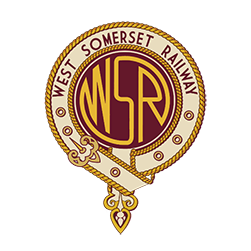 LOCO NEWS:
Class 52 D1010 'WESTERN CAMPAIGNER' – the team are taking advantage of having the loco back under cover, with Ian F and Roy hard at work on the 'A' side of the loco, doing the filling, sanding and painting. This loco is going to look fabulous when all of the work is done and a complete top coat of the original carriage maroon is applied. Great job guys !
Meanwhile, Gordon has been overhauling the auxiliary cardan shafts and replacing the needle roller bearings where necessary, and Colin F and his team are hard at work on the reassembly of the 'A' transmission, complete with a new set of bearings and the necessary attention to oilways. The 'A' transmission presented a different set of challenges compared to the 'B' transmission that was completed earlier this year. The 'A' turbine rail was in perfect internal condition except for the overheated bearing 3/152, but the auxiliary shafts and the cast steel housings needed to be carefully restored for further service. Almost the exact opposite applied at the 'B' end, where the turbine rail had suffered the worst damage following the seizure of bearing 3/152, but the housings were in good condition. Soon, we will have two good transmissions ready and waiting to be re-installed into the locomotive. Here are some photos: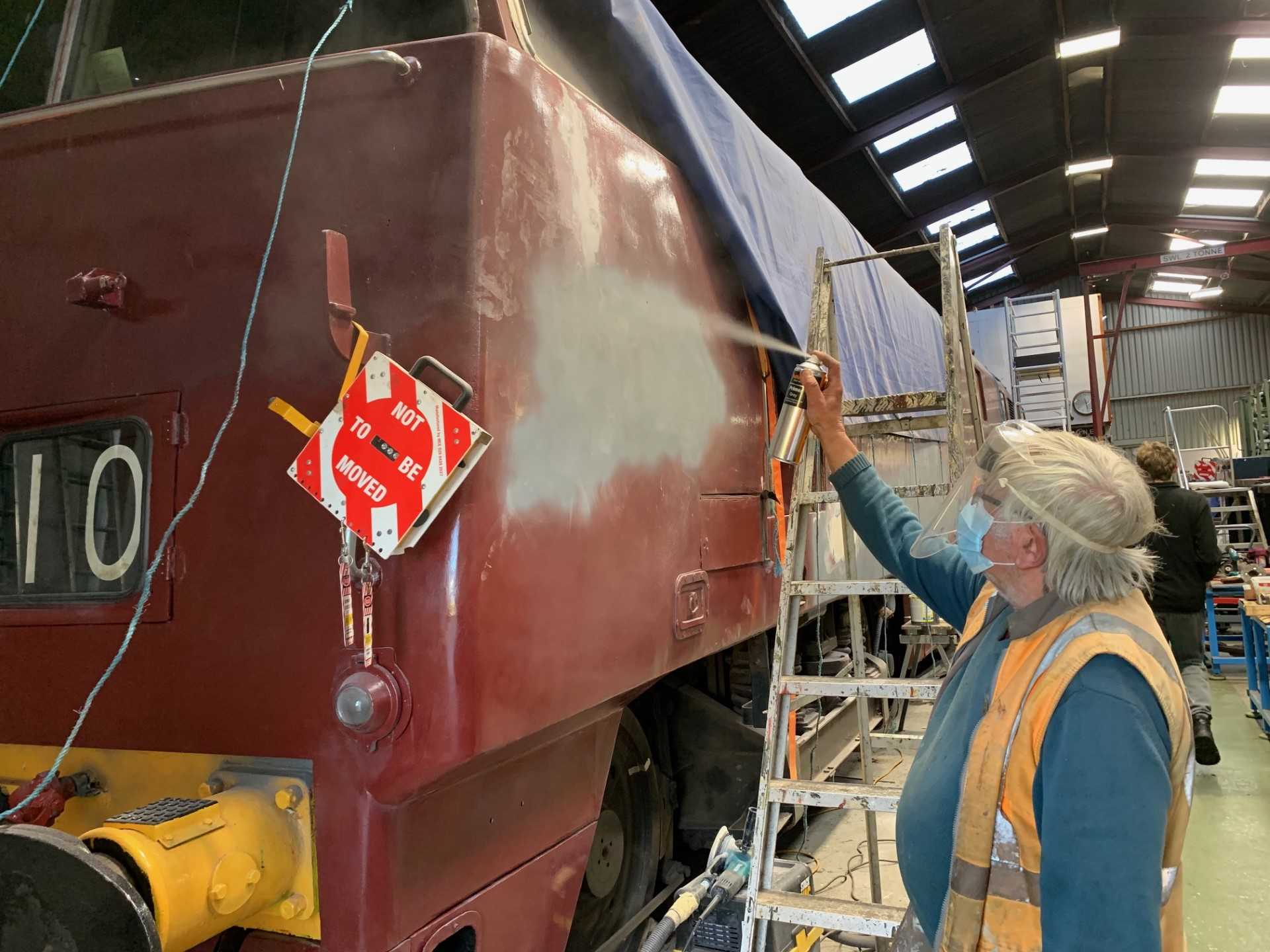 D1010 – above and below – the 'A' side of the 'A' end of the locomotive received attention from Roy and Ian F at Williton on Saturday 4th November 2023. The sanded areas have been sprayed with primer to prevent corrosion pending another weekend of sanding and the application of multiple coats of paint. Photo by Andy Royal © CC BY-NC 3.0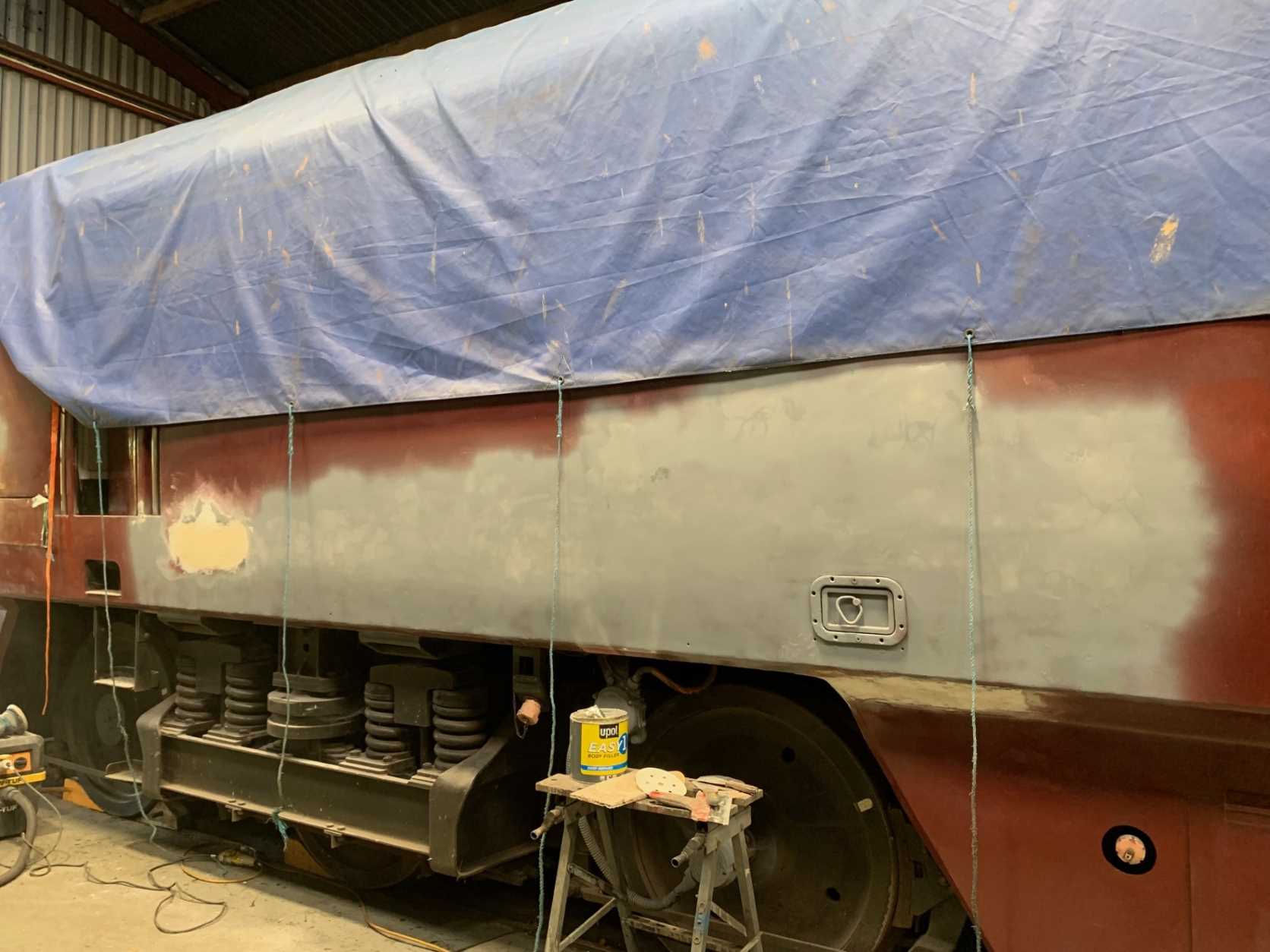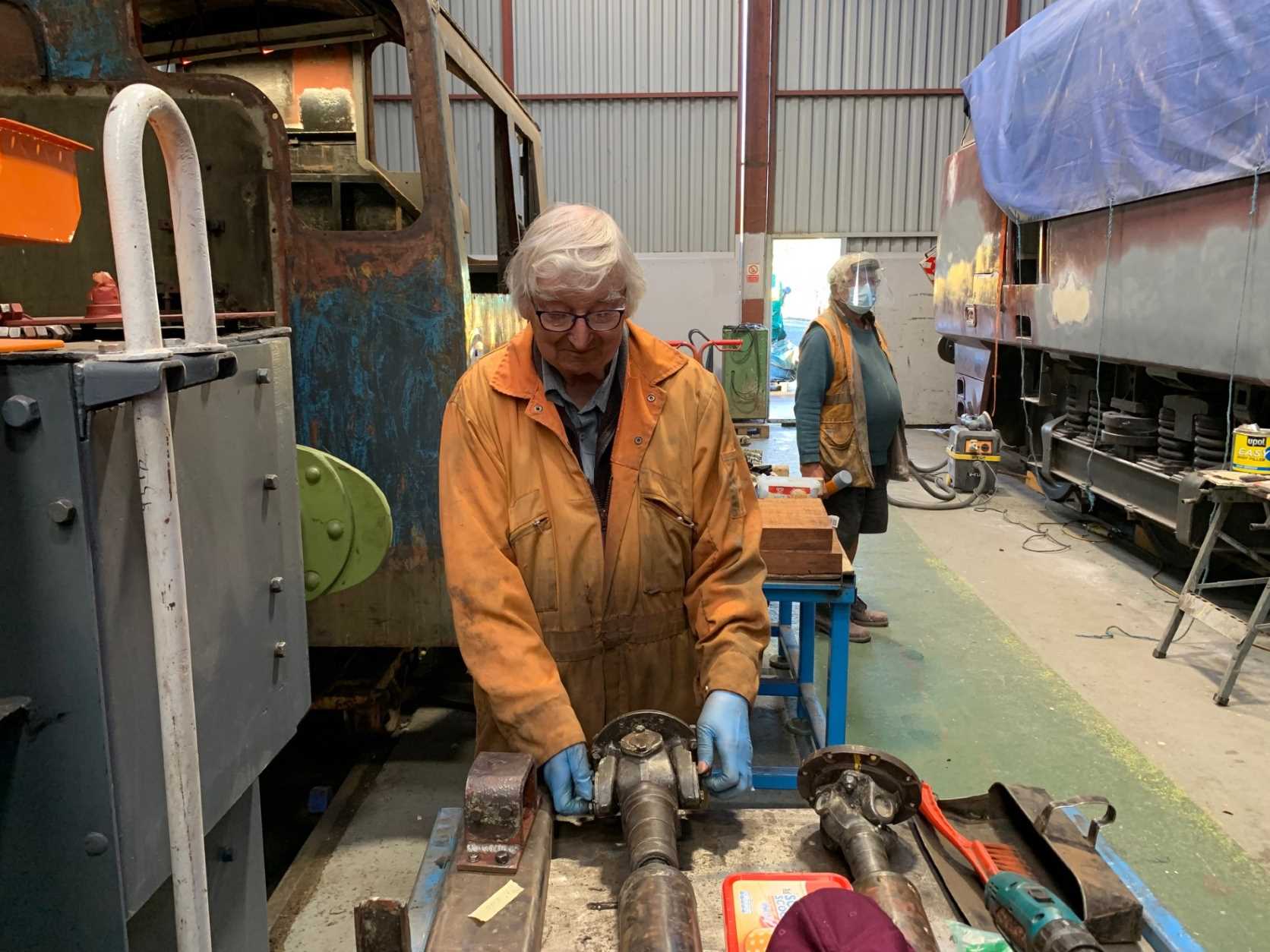 D1010 – the auxiliary cardan shafts received attention from Gordon at Williton on Saturday 4th November 2023. There are two shafts at each end of the loco, one being the dynastarter shaft (for engine starting and power generation) and the other being the Serck pump shaft (for the cooling fans). Photo by Andy Royal © CC BY-NC 3.0 
D1010 – the cast steel transmission housing sections needed careful remediation work to restore damaged threads, but time spent now will make the re-assembly task that much easier. Geoff was obviously enjoying his work when photographed at Williton on Monday 30th October 2023. Photo by Colin Foxhall © CC BY-NC 3.0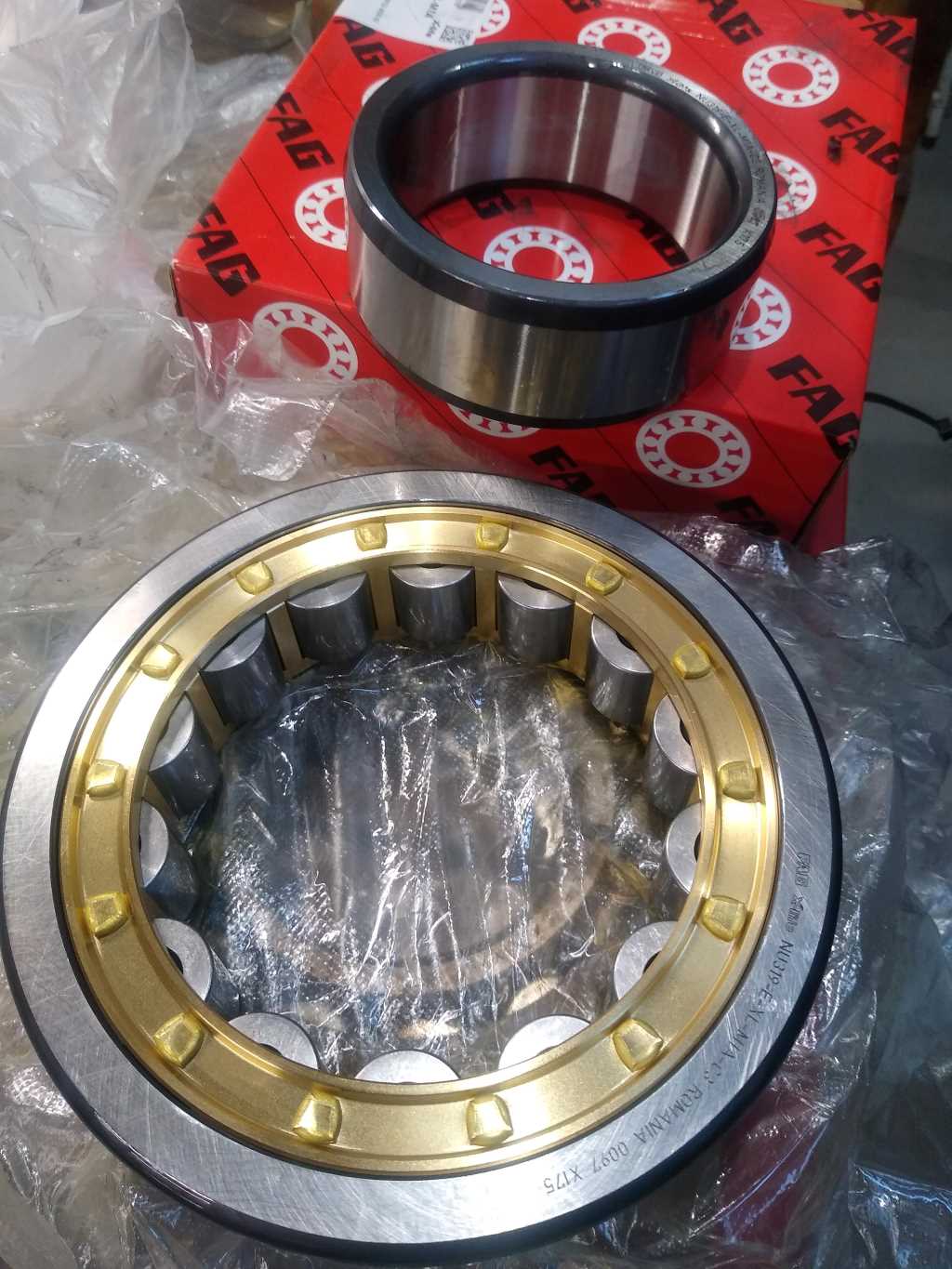 D1010 – one of the many large and expensive bearings that have been purchased for the overhaul of the 'A' transmission. Pictured at Williton on Tuesday 1st November 2023 by Colin Foxhall © CC BY-NC 3.0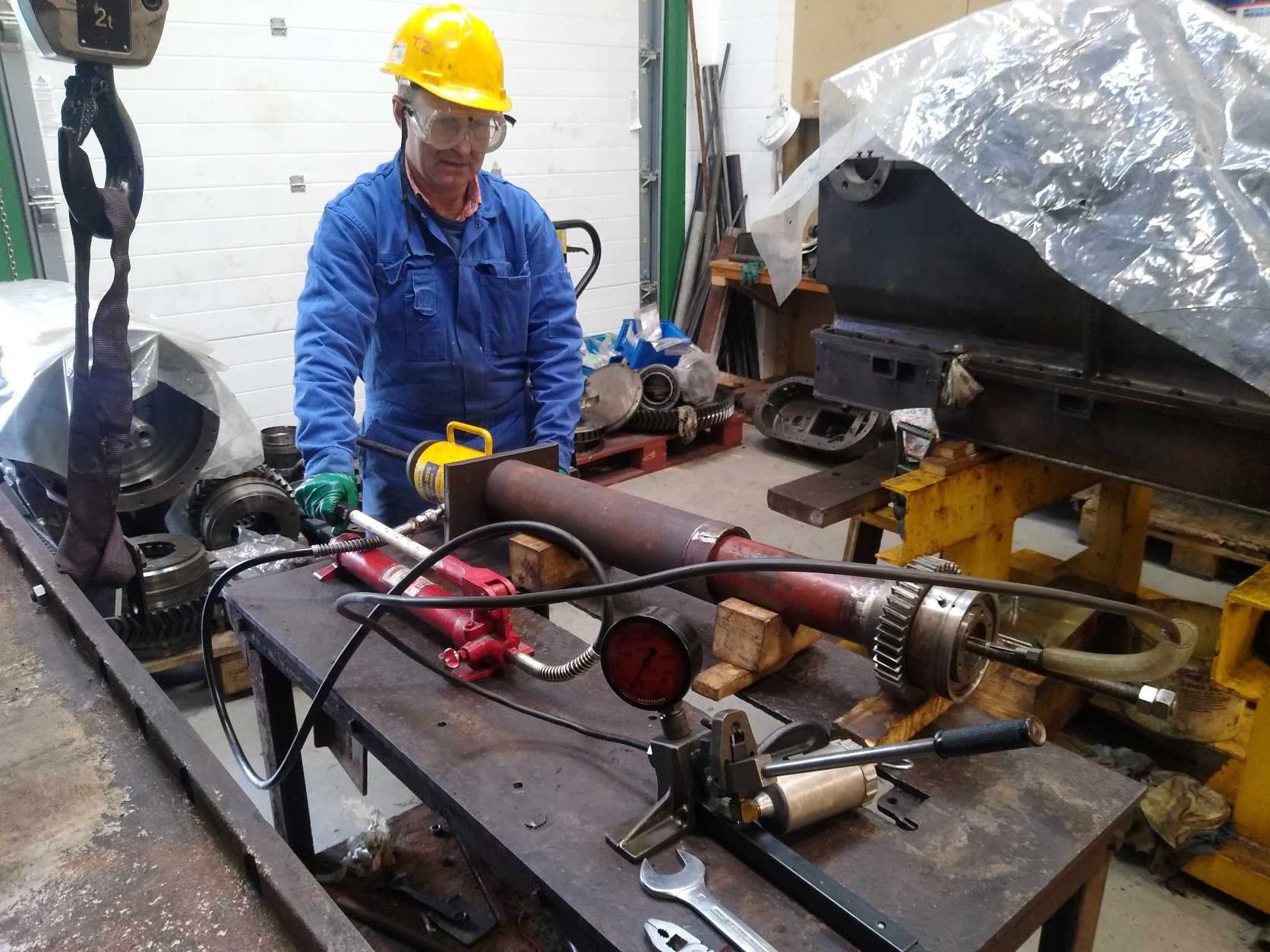 D1010 – Tim installs the spur gear onto the auxiliary shaft (Group 8) by using a combination of oil injection at the shaft taper and gentle pressure from the hydraulic cylinder. The pressure controls are basic and manual so that Tim can maintain a close feel for the progress as the two parts slide into place. Pictured at Williton on Tuesday 1st November 2023 by Colin Foxhall © CC BY-NC 3.0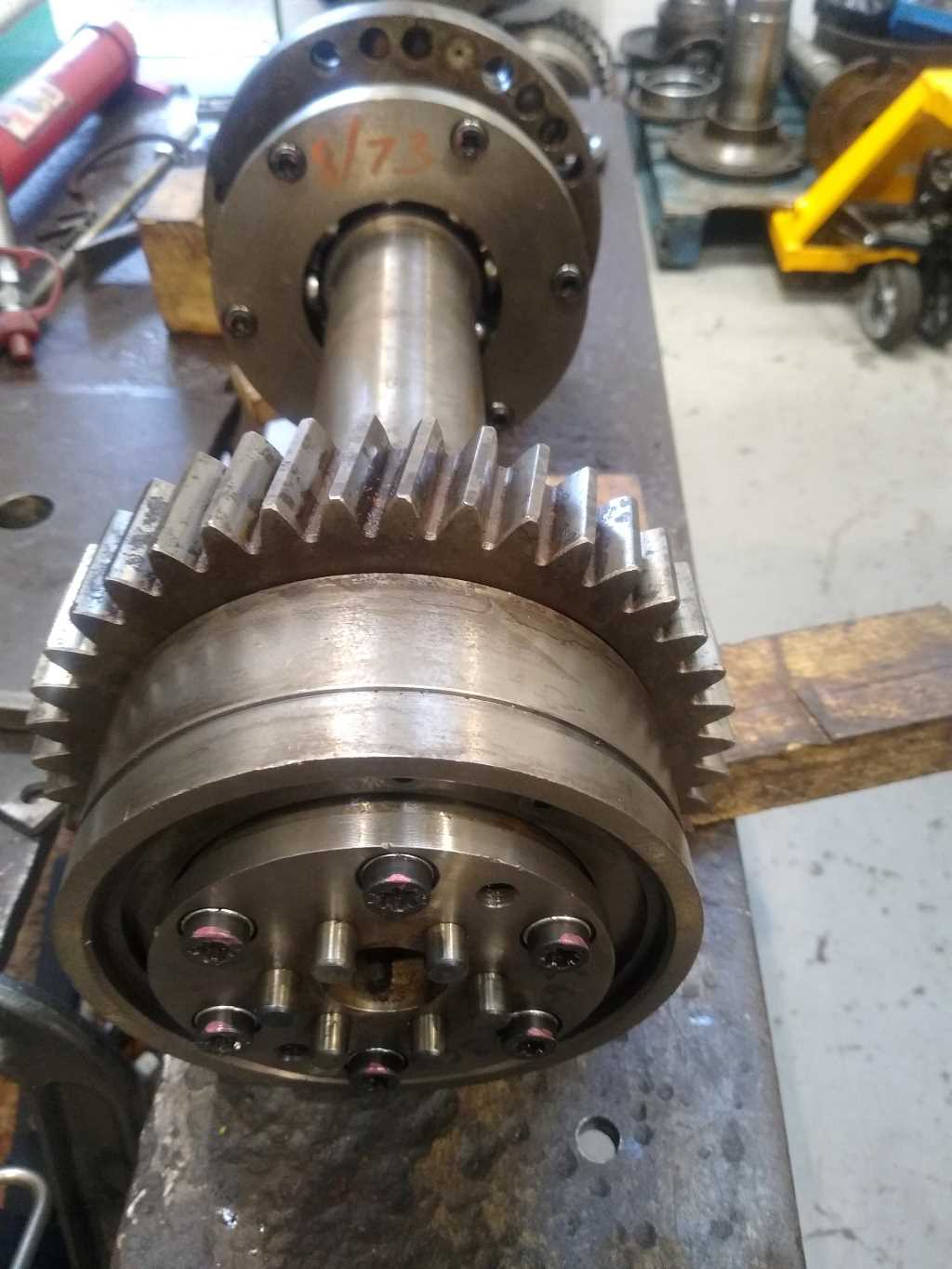 D1010 – The completed auxiliary shaft (Group 8) now runs smoothly and silently in new bearings. Pictured at Williton on Tuesday 1st November 2023 by Colin Foxhall © CC BY-NC 3.0 
We engraved 20 patches on the 'B' end of the locomotive last Saturday and we still have another 60 patches to engrave on the loco this coming weekend, starting at the 'B' side at the 'B' end. There is still plenty of new metal to be marked, so please keep up this amazing level of support and help get D1010 back to working order ASAP. Many thanks to those who placed their orders during the last few weeks.
Photographs and certificates of sponsorship will be sent out to all who have sponsored the restoration work, but we are still short of volunteer resources and have not yet been able to catch up with this obligation and deliver the documents. Apologies for the delay, we will get it done ASAP. Click the image below to sponsor a patch. Thank you in advance for your support and your patience!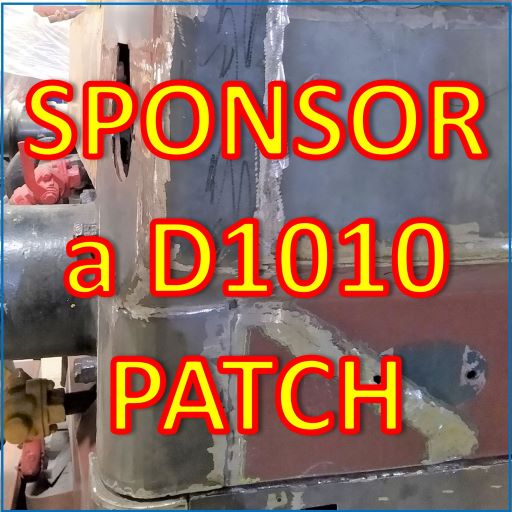 See our CAMPAIGN for CAMPAIGNER web page for more details. We still have a lot of work to do on this massive locomotive, so PLEASE DO COME ALONG AND HELP IF YOU CAN !


Class 33 D6566 (33 048) – this loco is now stabled at Bishops Lydeard to take on the role of 'Duty Loco' and will be covering the 'WINTERLIGHTS' services that start on Friday 24th November. Test runs for staff training will be carried out on 22nd and 23rd November.
Click here or on the ticket icon below to go to the WSR's 'WINTERLIGHTS' page: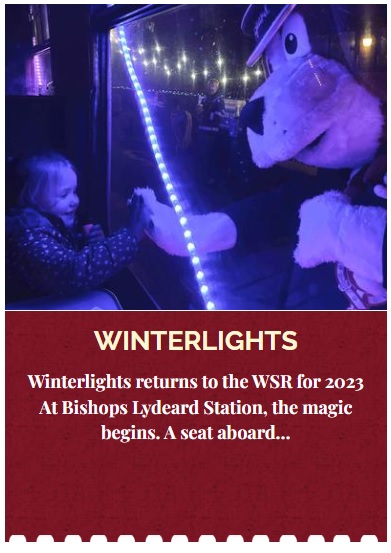 Class 33 D6575 (33 057) – this loco returned to Williton on Saturday 21st October to undergo winter maintenance, including an overhaul of her exhaust system. The loco will remain available for service until December and is scheduled to go into the loco shed on 23rd December, and will probably remain there for two months while the work is being done.
Class 35 'Hymek' D7017 – apart from some minor details that will be sorted out during the coming weeks, this loco is ready for action and will be sent out for a loaded test run as soon as possible when the line re-opens in the spring. Meanwhile, the loco will be 'winterised' to protect her from the elements, as far as possible, while she rides out the winter in the yard at Williton.
Class 35 'Hymek' D7018 – the Root Cause Analysis has identified several probable causes for the uncommanded engagement of the torque converter and each has been ranked for probability, based on the available evidence. Some additional testing will need to be performed to focus in on the most probable cause. Meanwhile, several other maintenance tasks are outstanding on this locomotive and will be progressed during the winter.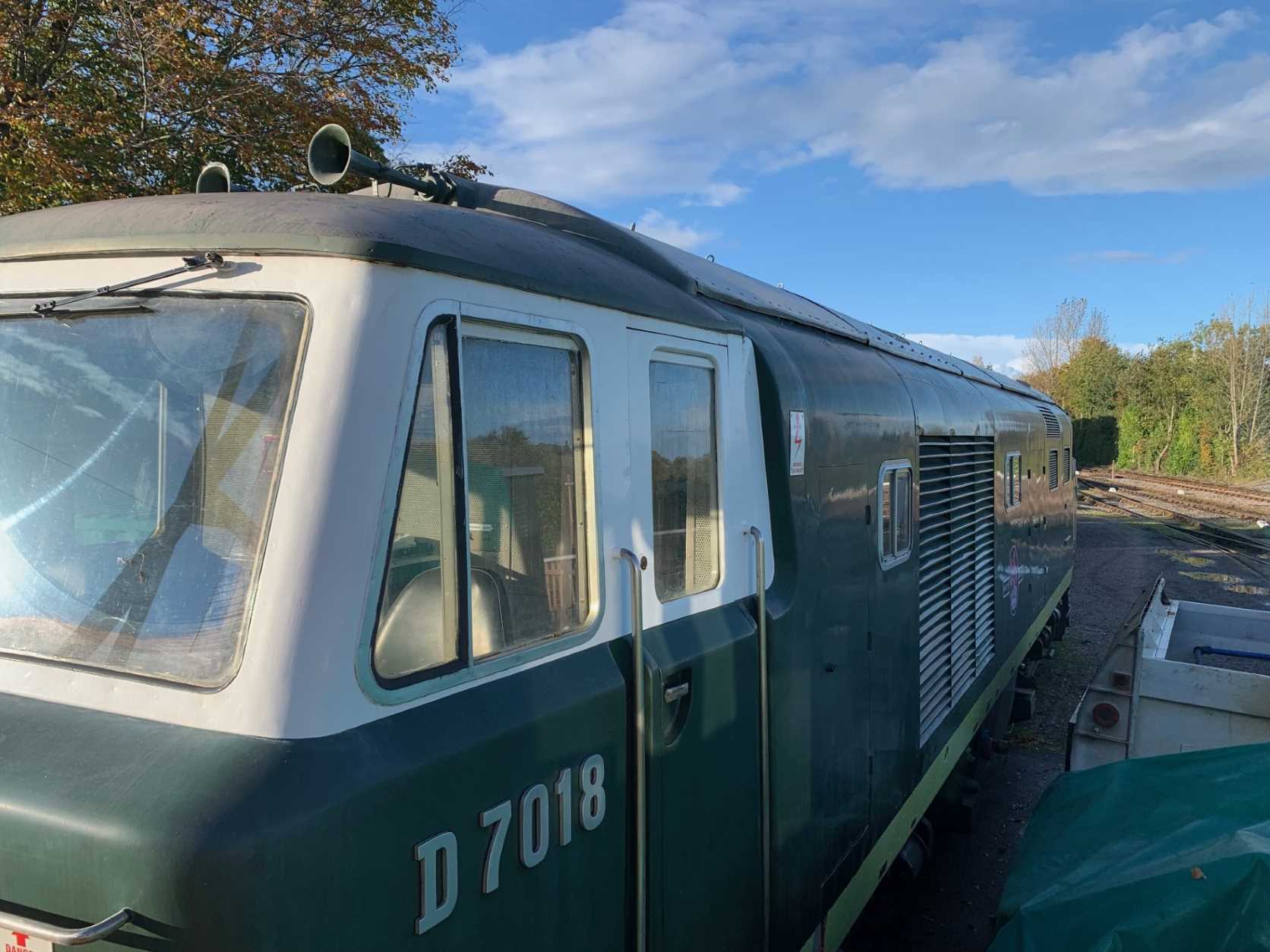 D7018 – this loco was enjoying the peace and quite on Number 3 road outside the loco shed in Williton when pictured on the calm and sunny afternoon of Saturday 4th November 2023. Photo by Andy Royal  © CC BY-NC 3.0
Class 14 'Teddy Bear' D9518 – the focus is now switching to the installation of the electrical control cubicle and the refurbishment of the driver's desk, complete with the new wiring and overhauled controllers. There are many parts that have to be cleaned, inspected and restored in the background before major steps forward can be reported. All of this work takes a huge amount of time and effort and is often unsung. The following five photos amount to a lot of volunteer hours !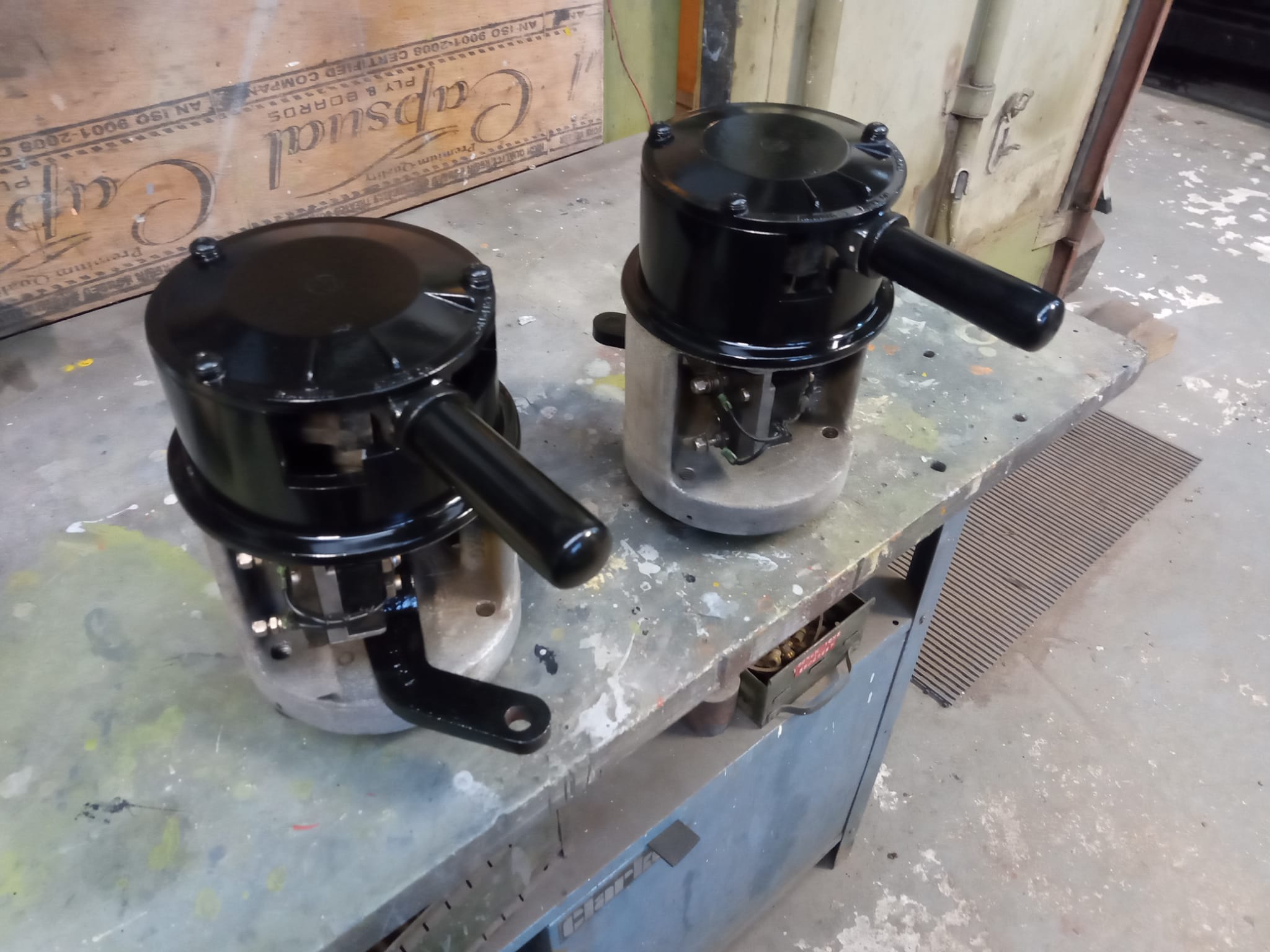 D9518 – the vacuum brake controllers have been carefully restored and are ready to be re-installed onto the driver's desk when that subassembly is ready for them. Photo by Colin Girle © CC BY-NC 3.0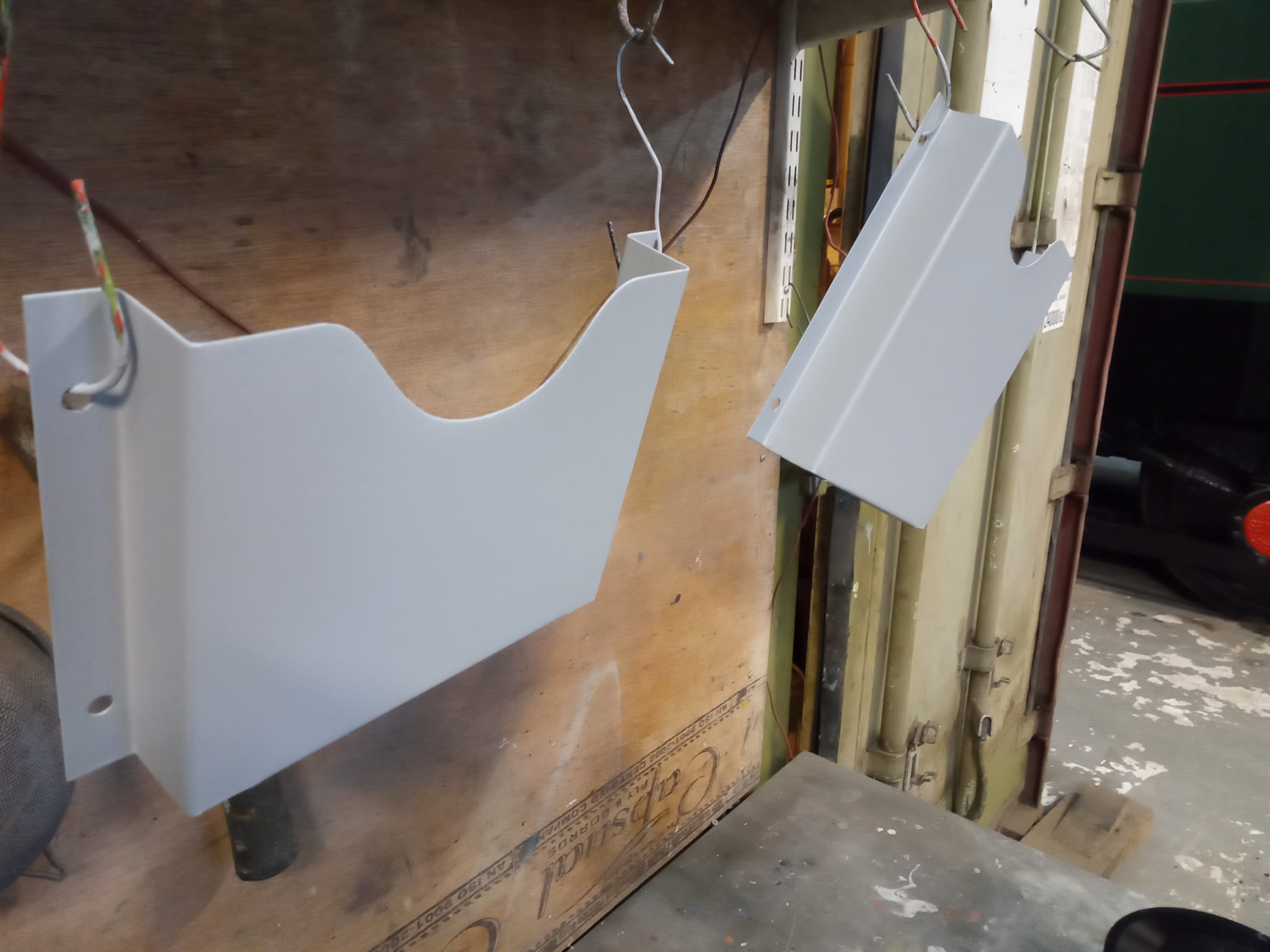 D9518 – above and below (x3) – the various sheet steel components from the cab assembly have been restored and spray painted in grey undercoat. Photo by Colin Girle © CC BY-NC 3.0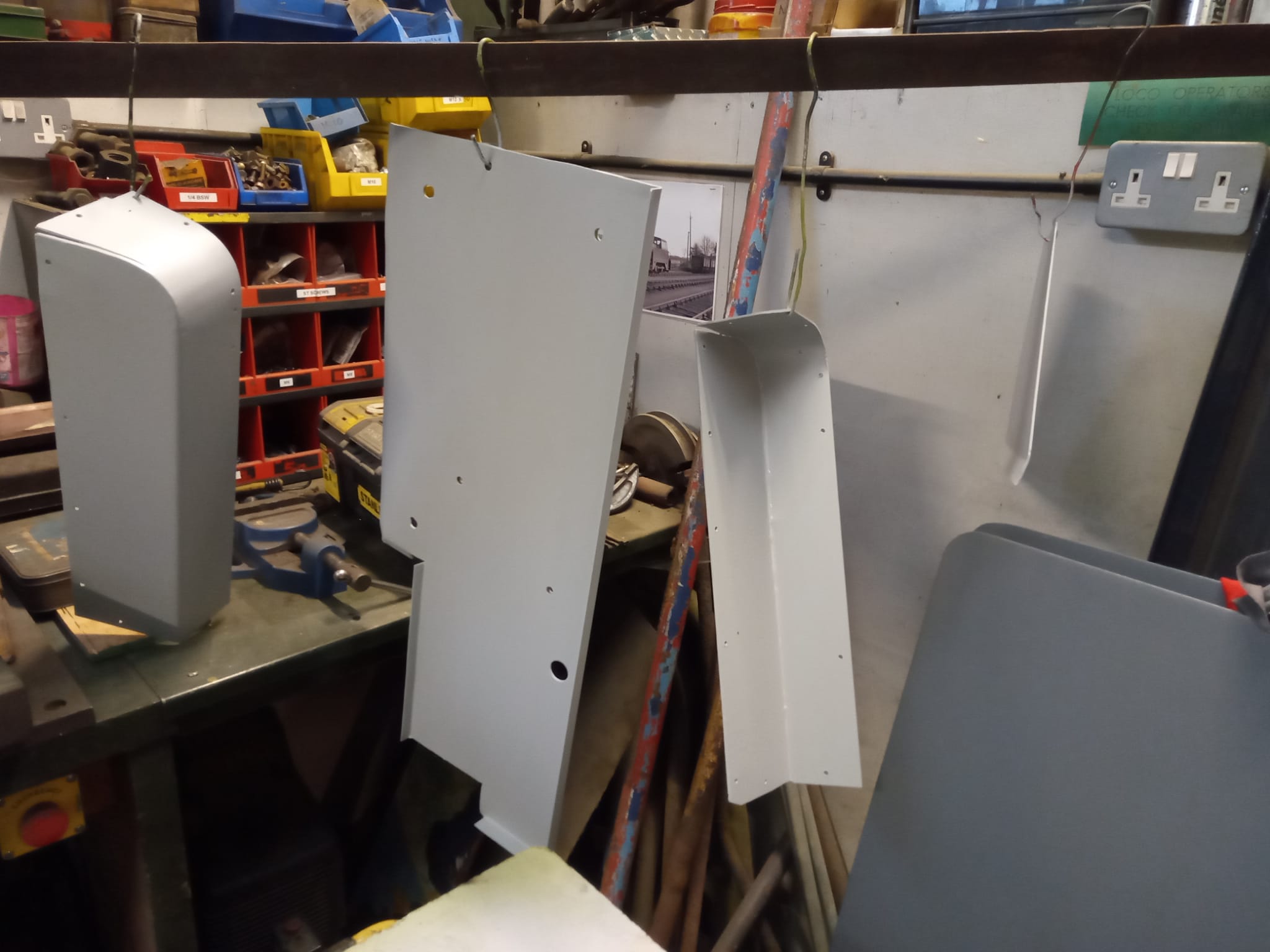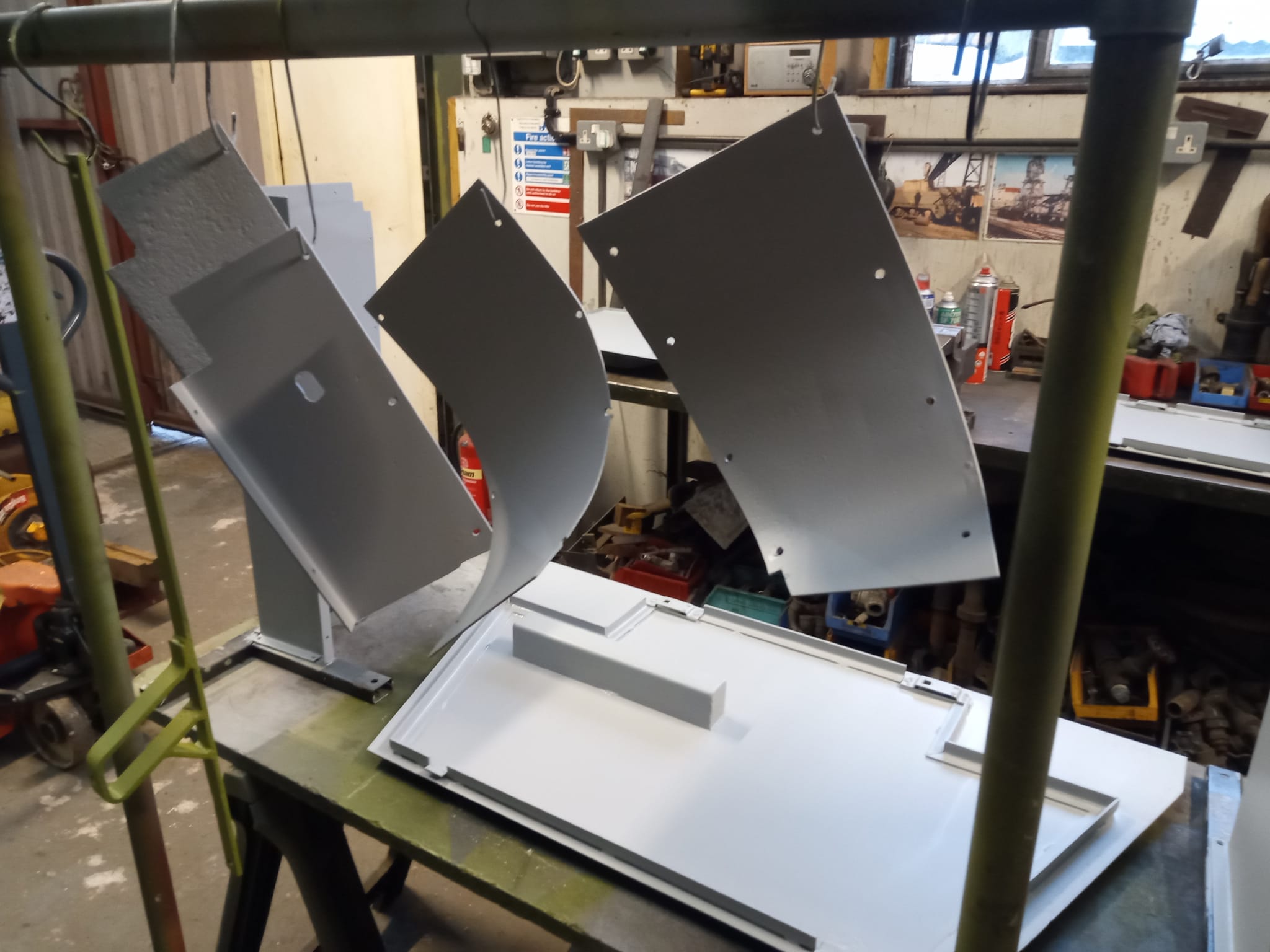 This loco is the subject of a fundraising appeal so please follow this link to find out more. We need your help ! In addition to funds, we also need plenty of HANDS. If you love the 'Teddy Bears' and you are not already a member of the DEPG, please join us so that you can become one of the team that is going to return D9518 to fully operational condition as 'NCB No. 7'.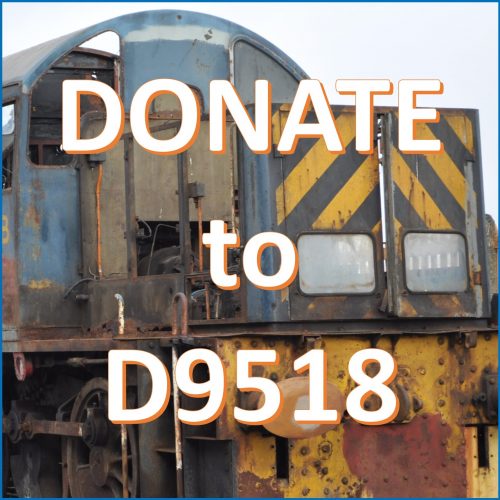 Class 14 'Teddy Bear' D9526 – this loco is stabled at Williton and is fully serviceable. As reported earlier, her covers have been applied to try and keep the worst of the weather out of her more delicate workings.
Class 47 47077 'NORTH STAR' – this loco is undergoing a 'top end' engine overhaul at Grosmont Works on the North Yorkshire Moors Railway. The progress on 'NORTH STAR' continues in between having to work on the other diesel locos in their care. We look forward to her being back out and about again.
Andrew Barclay 0-4-0DH 578 – to correct last week's report, the two drivers who were evaluated at Williton on Saturday 28th October were Colin G and Martin, both undergoing their re-certification. Neil and Paul T will get their turn soon !
If you can help by donating your time to any of these projects, then please JOIN US and come along to the depot for an introduction to what we do and how we do it. We currently have people on site from Saturday through to Tuesday and we can open on other days if we can be sure of getting at least two volunteers on site at all times, so there is plenty of scope. We have tasks of all types to suit most capabilities, both skilled and unskilled.
Many thanks to all of our volunteers who give up so much of their time to work on the cleaning, painting, maintaining, restoring, managing and fund raising for our fleet of heritage locomotives !
BOOK REVIEW – we will continue to promote these three best selling titles this week, partly because we have them in stock and partly because we don't have time left this week to include the next book review from NEALE LONG (thanks again Neale !).
Click on the images below to buy these books from our online store and in doing so, support the DEPG.
Also available via the DEPG ONLINE STORE is this sought-after new book by former BR apprentices Mike Woodhouse and Graham Howell describing the 'PYRAMID OF DIESEL HYDRAULICS' that comprise the D600, D800, D1000, D6300, D7000 and D9500 series of locomotives (classes 41, 42/43, 52, 22, 35 and 14). This book has been selling like hot cakes and has already had to be reprinted to meet the demand !
Available from the DEPG for £15 plus £3.50 P&P. Click here or on the image below to order this book.
We are grateful to regular contributor NEALE LONG for providing a very thorough and detailed book review, an extract from which is reproduced below. Click here to go to the full review on our website.
     "Of the many books published about British Rail's foray into diesel-hydraulic traction over the years, very few have featured any account by staff involved in either the operation or maintenance of the fleet. This handily sized A5, 146-page softback by two ex-British Railways Engineering Limited apprentices, Mike Woodhouse and Graham Howell, sets out to redress this particular imbalance. The book tells the fascinating story from within British Rail from the planning of the diesel-hydraulic pyramid as part of the 1955 Modernisation Plan, to its final collapse in 1977. This story is presented ….." click here to read more.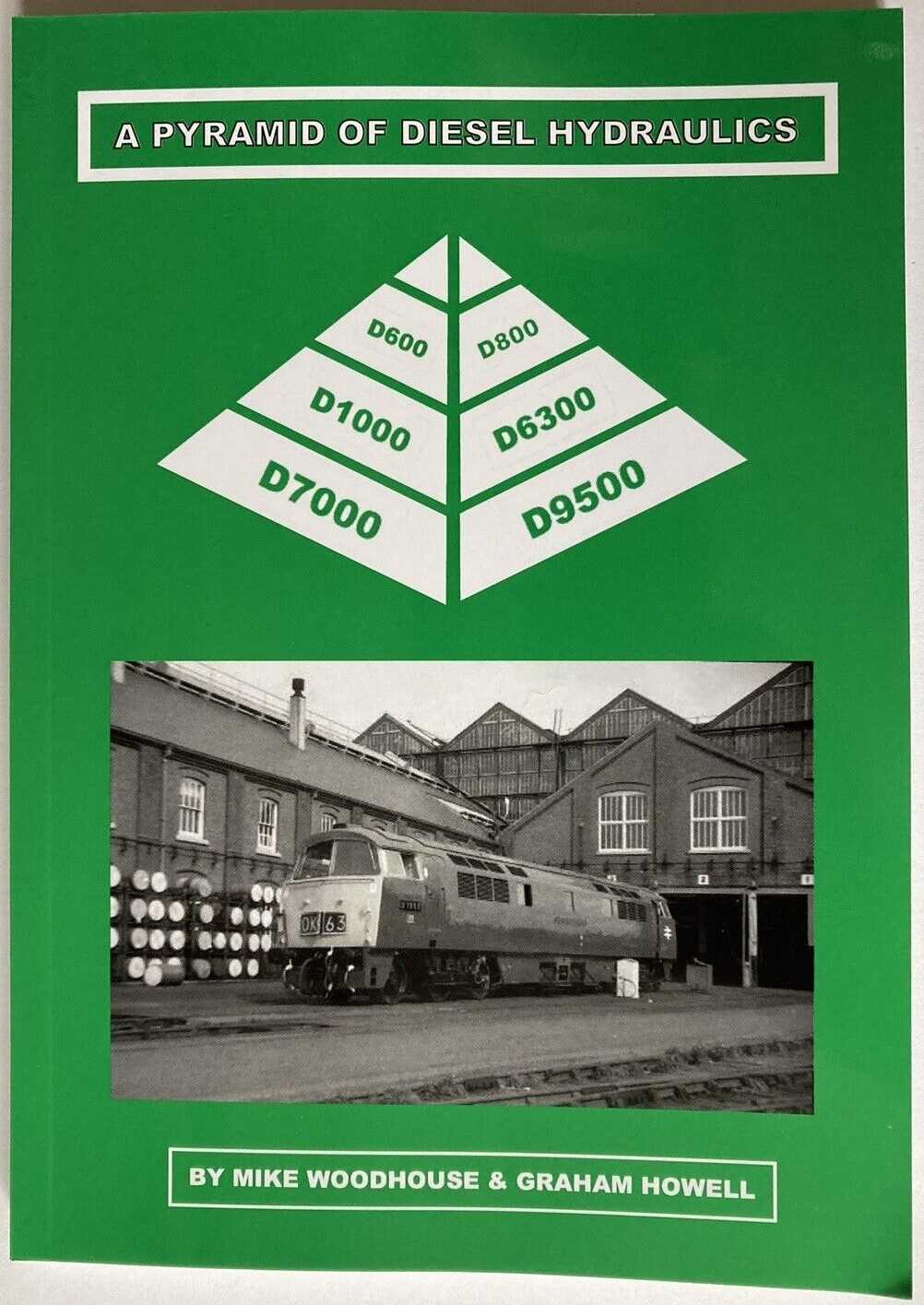 Many thanks to Neale for putting so much time and effort into this book review to help prospective buyers decide. Much appreciated !
ON SHED – a few weeks ago, we featured this photo of D1041 'WESTERN PRINCE' on the Midland Main Line (MML) near Luton: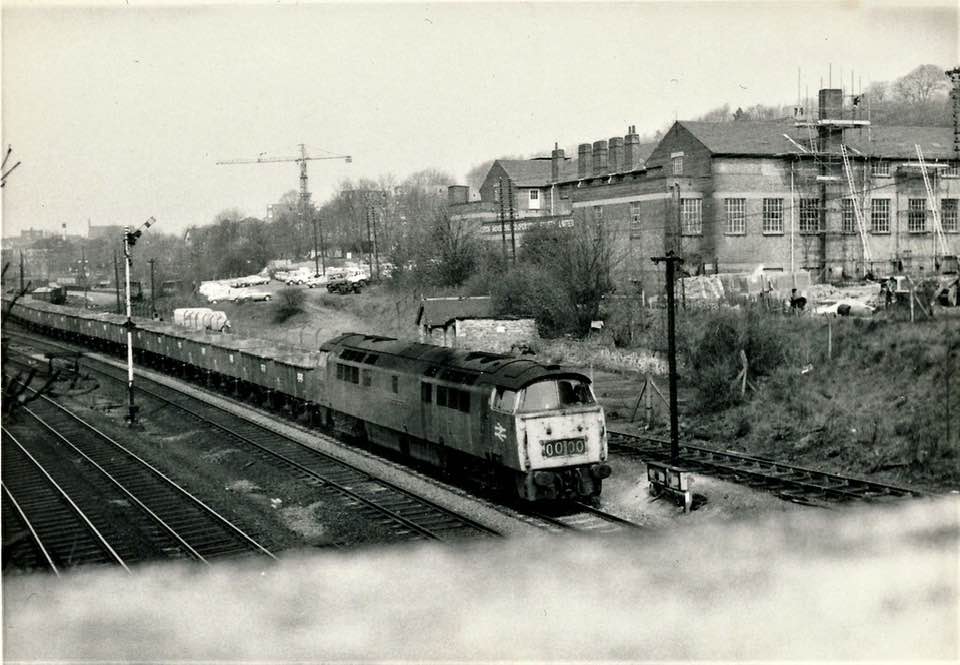 D1041 'WESTERN PRINCE' was pictured far from home on 15th April 1976, working the 6V76 Luton Crescent Road Yard to Westbury stone empties. This loco survived in service to the very end of the diesel-hydraulic era and is now cared for by the Bury Hydraulic Group on the East Lancashire Railway. Photographer unknown.
This photo was brought to our attention by PAUL FLEET and he reports below on the workings that took the 'WESTERNS' onto the MML in the late days of their careers:
     "During my (many) years working on the Midland Main Line, we had a period where we were privileged to two 'WESTERN' workings on a regular basis! From memory starting late '75 through to late '77 we had a freight flow from ARC Tytherington through to Hendon, north London which used the same route as the Westbury-Leagrave workings ie via Oxford, Bletchley and Bedford. 
     A 'WESTERN' plus 30 or so MSV's, the aggregate was used to complete the southern end of the M1 Motorway through to Staples Corner – and getting lorries off the road is a new concept ???
     The 'WESTERNS' on this working seemed to be even more unkempt than those from Westbury, but it was an opportunity to see them in 'full flight' as their southbound (through Luton) path was after the evening peak almost guaranteeing a clear run – and spectacular they always were!
     Having access to TOPS we were able to see which loco was working the train and of course there was always disappointment if a 47 was 'subbed ' for a 'WESTERN', a permanent situation after February 77 of course! However pictures of this working seem to be extremely rare – unless anyone out there knows better ? "
Does anyone else have photos of the Class 52s working on the MML ? Many thanks to PAUL FLEET for sharing this information with us.
DEPG NEWS – the exceptional workload of 2023 has taken a toll on some administrative and editorial tasks, the delivery of the Board Meeting Synopses and the Newsletter to name but two. These important items are 'in the works' and will be distributed as soon as possible. Apologies for these delays.
The DEPG is entirely run by volunteers and we need to expand our volunteer numbers if we are going to be able to continue making progress on so many fronts simultaneously. If you have some time and feel able to help, please let us know by clicking this link to use our online CONTACT form. We look forward to hearing from you !
The DEPG depends on the support of all of our members, so please make sure that your membership is up to date. If you are not sure about your membership status, please click here or on the image below to access your membership record via MEMBERMOJO. It is very quick and easy, and does not require you to remember yet another password. Thank you very much !