This week, we have plenty of 'action' photos showing the team back at work at Williton, hard at work on our several of our locomotives. We are still restricting the number of people on site at any one time, but we were able to operate on four days out of the last seven and we have made progress on multiple fronts. Here goes:
Saturday 17th April – Ian led the electrical work on 47077 which included inspections and scheduled maintenance on the electrical auxiliary machines (compressors, exhausters, blowers, pumps) and Gordon led the work on the refitting of the 'NORTH STAR' nameplates, which look very good indeed after careful restoration by Graham. Meanwhile, the Class 14 team comprising Simon, Colin and Terry made progress on the major subassemblies of D9518.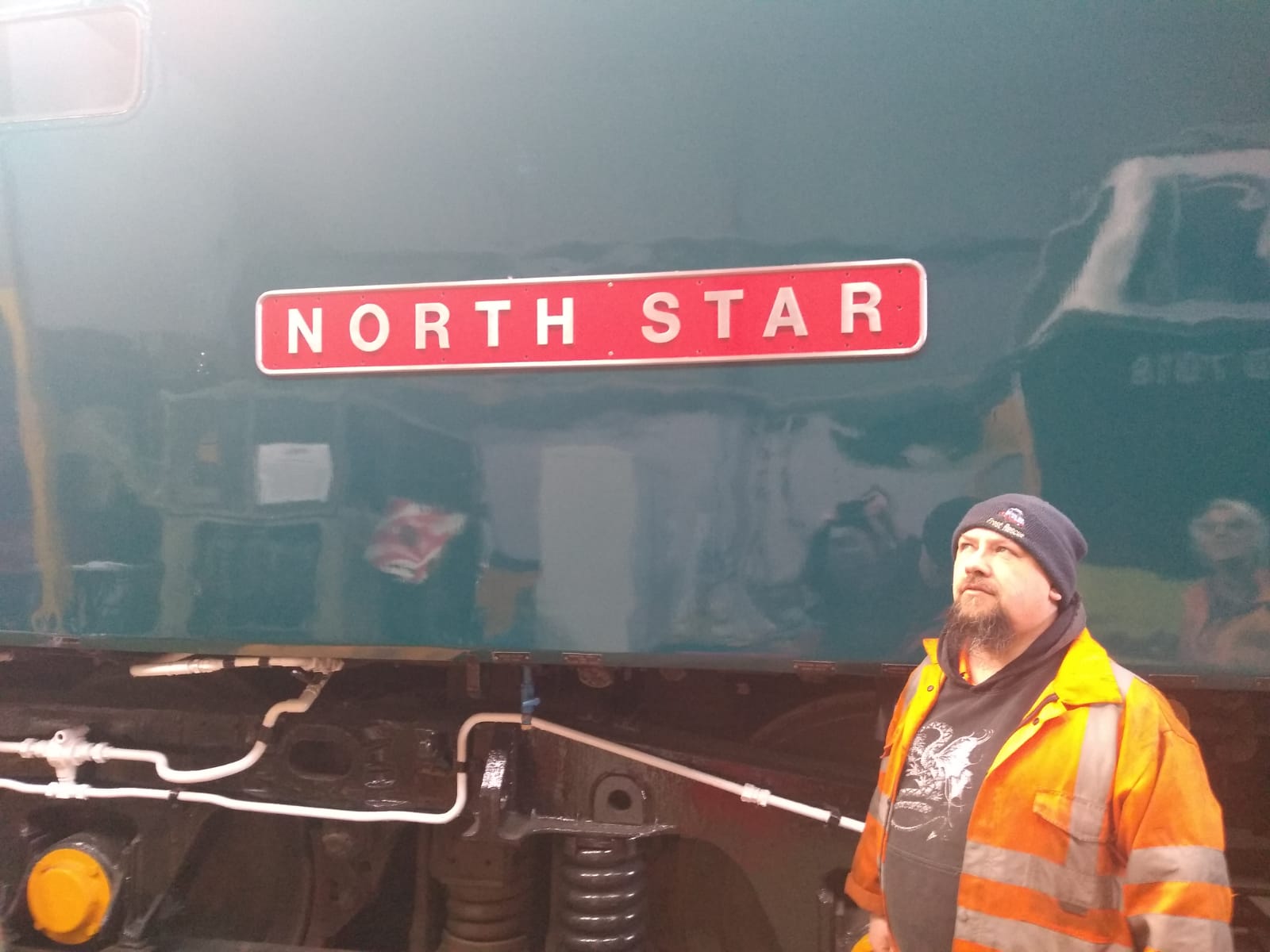 Class 47 47077 'NORTH STAR' gets reunited with her nameplates at Williton on 17th April 2021, modelled by Warren. The nameplates have been painstakingly restored by Graham and now carry the red background that was typical of the 1970s. A reflection of Gordon and 'Hymek' D7018 can be see in the glossy rail blue paintwork that was applied by WSR Restorations at the Swindon Shed in October 2019. Photo by Ian Robins © CC BY-NC 3.0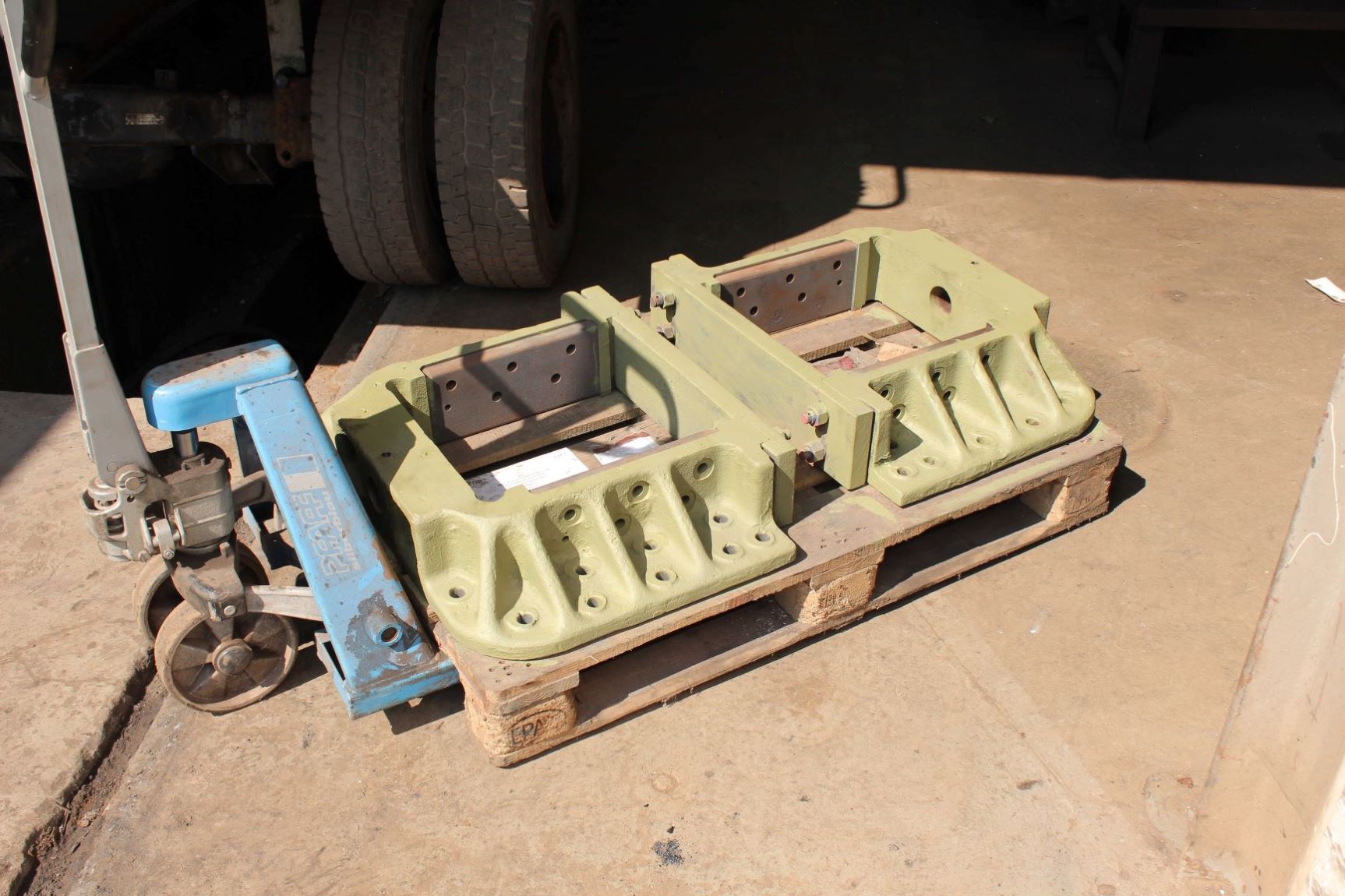 One pair of D9518's hornguides seen here at Williton on 17th April 2021, being prepared by Simon and Terry before re-fitting to the loco. Photo by Terry Deacon © CC BY-NC 3.0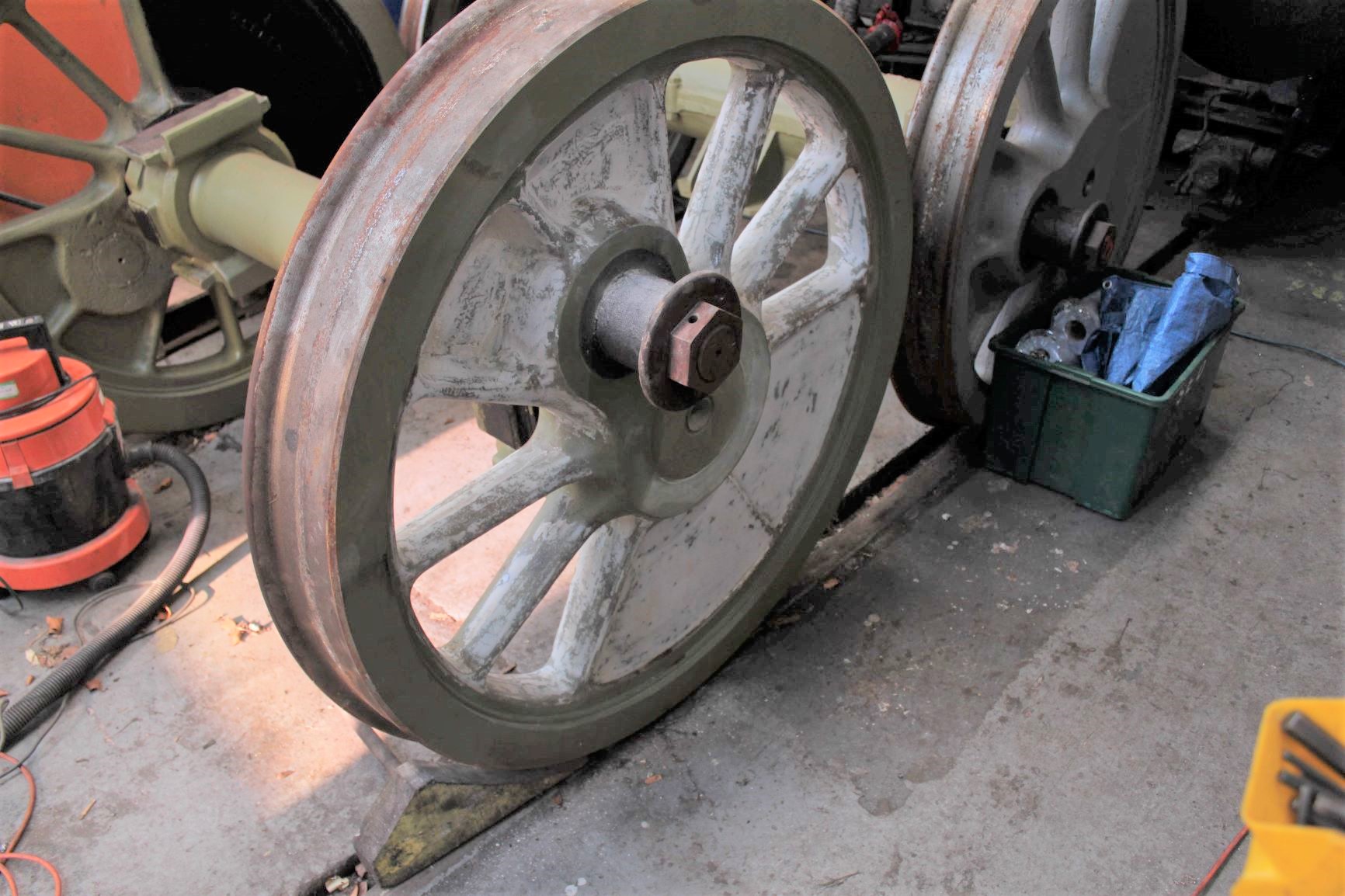 Meanwhile, D9518's wheelsets get special treatment from Colin at Williton on 17th April 2021. The rough cast surface finish of the wheel hubs and spokes have been filled and will be sanded to provide a smooth finish before painting. A smooth finish on the wheels is much easier to keep clean compared to rough cast finish. Photo by Terry Deacon © CC BY-NC 3.0 
Sunday 18th April – Ian made a temporary focus shift to the diesel-hydraulics and was captured on the depot CCTV cameras washing 'Hymek' D7017, the local seagulls having been using the loco for target practice. The faded paintwork of D7017 certainly needed some TLC.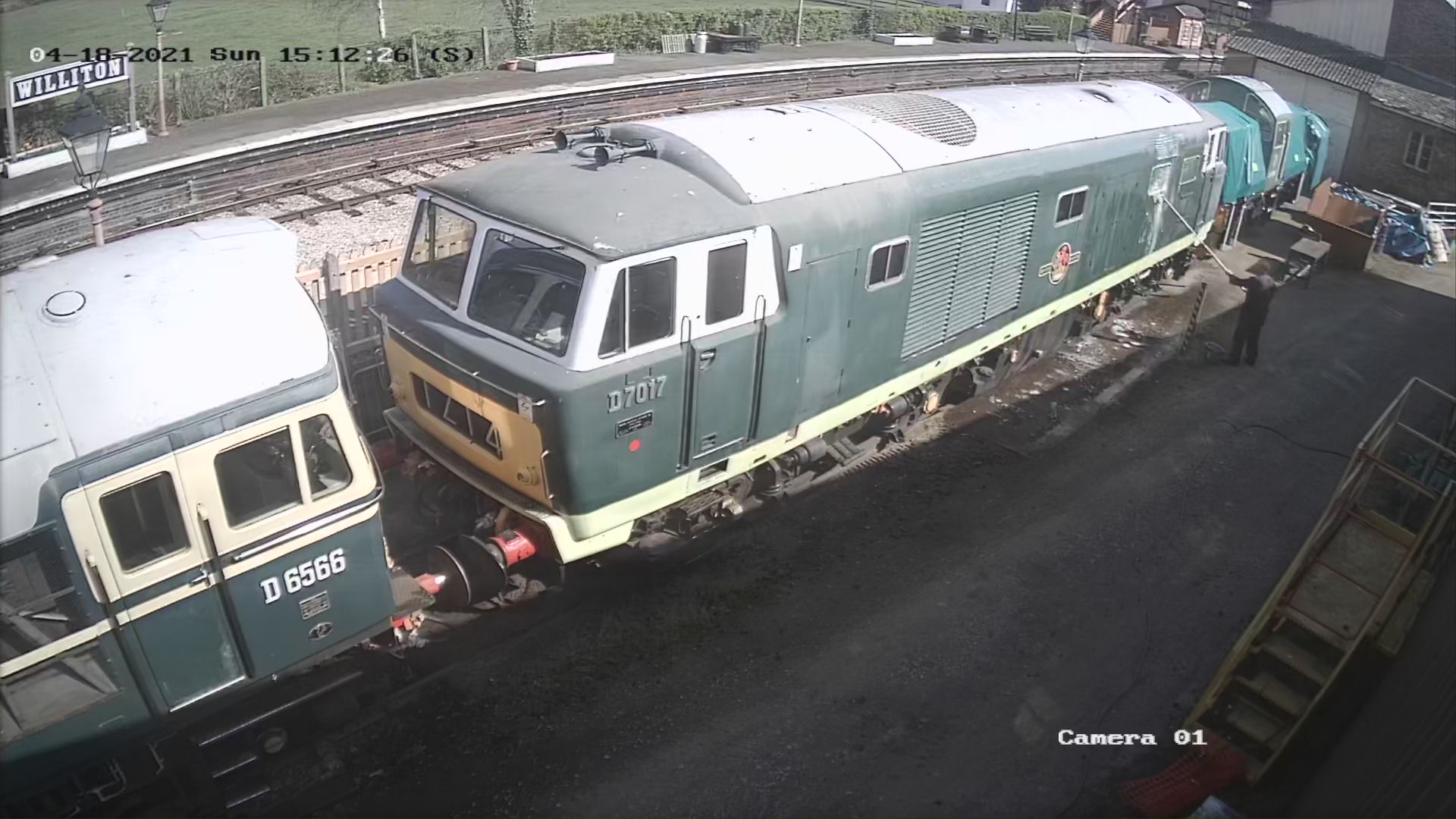 Captured by the Williton depot CCTV system, Ian can be seen washing the sun-bleached and weathered paintwork of 'Hymek' D7017 on 18th April 2021. This loco is out of service and is waiting to be lifted so that her bogie springs can be replaced, hopefully some time this summer. Photo DEPG © CC BY-NC 3.0
Tuesday 20th April – a team of four led by Terry made progress on the main frames and horn guides of Class 14 D9518 and also started repairs to the sand boxes. We welcome new members and volunteers Colin Foxhall and Chris Lawton to the DEPG team and we hope to see them at Williton on Tuesdays in future, along with our new Publicity Officer and long-time member Mark Bladwell. All three are seen in the photos below, hard at work on the sand box restoration. Sand is used to provide extra grip if the wheels start to slip on a greasy rail. The delivery of the sand to the rail is carefully controlled by a valve to ensure that the minimum amount of sand is used. This basic and simple method of maintaining traction is still used on mainline locomotives today.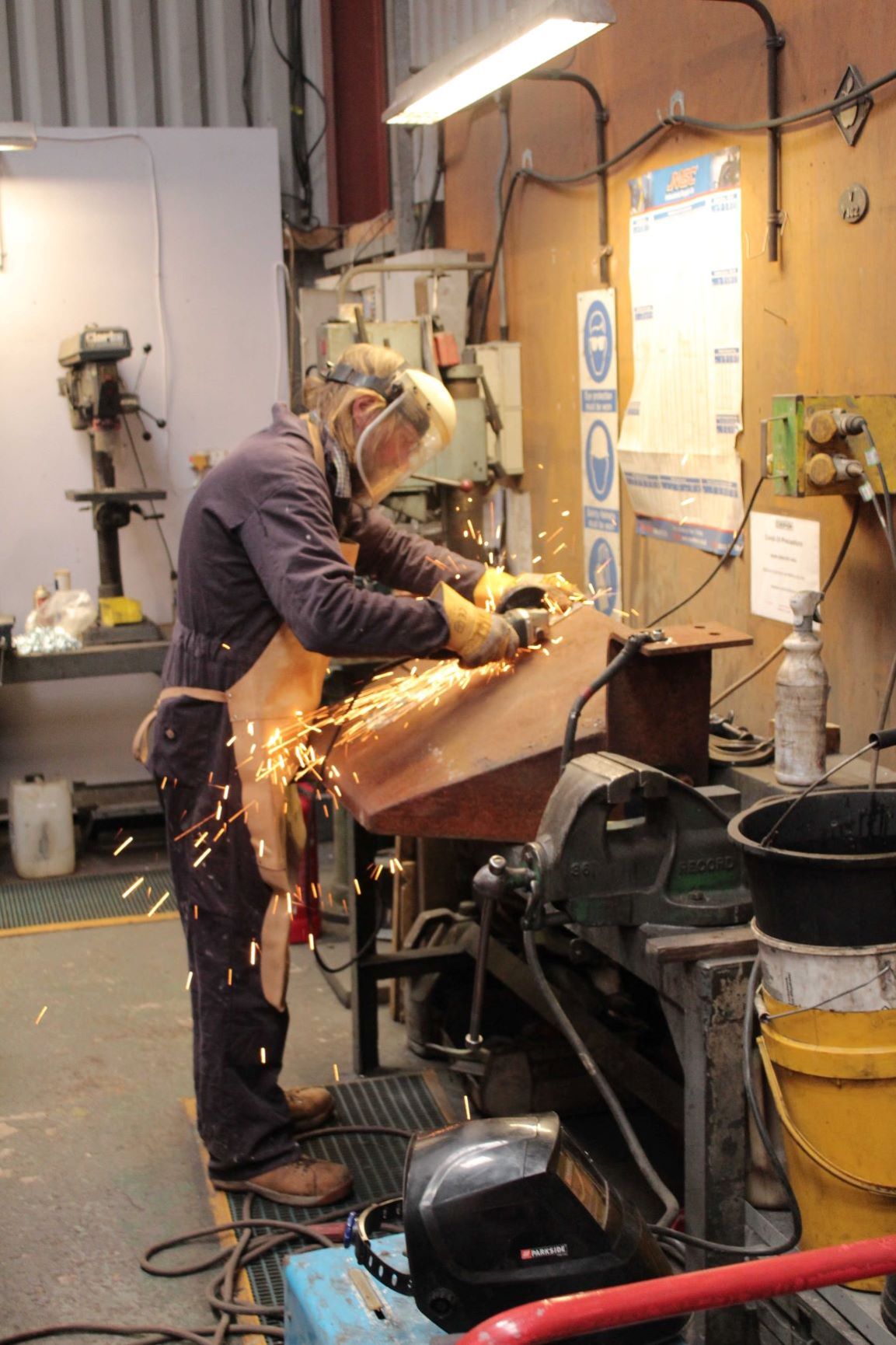 New member and volunteer Colin uses his restoration skills to attend to an area of thin metal on one of the sand boxes for D9518. Photo taken at Williton on 20th April 2021 by Terry Deacon © CC BY-NC 3.0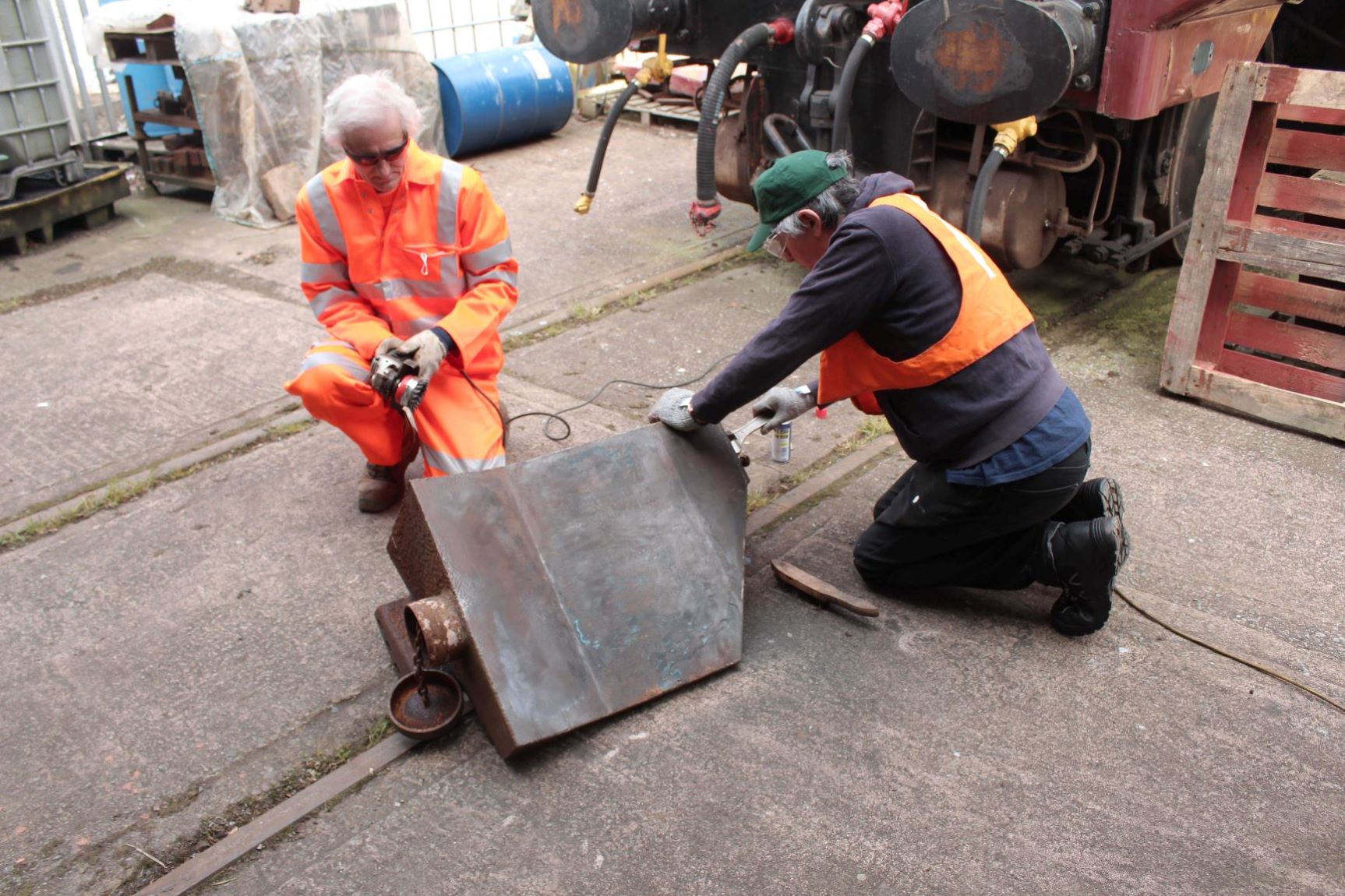 New member and volunteer Chris (left) is no stranger to the WSR because he is also a member of the WSR volunteer PW gang. He is seen working on one of the sand boxes for D9518 along with long-time DEPG member and Publicity Officer Mark at Williton on 20th April 2021. Photo by Terry Deacon © CC BY-NC 3.0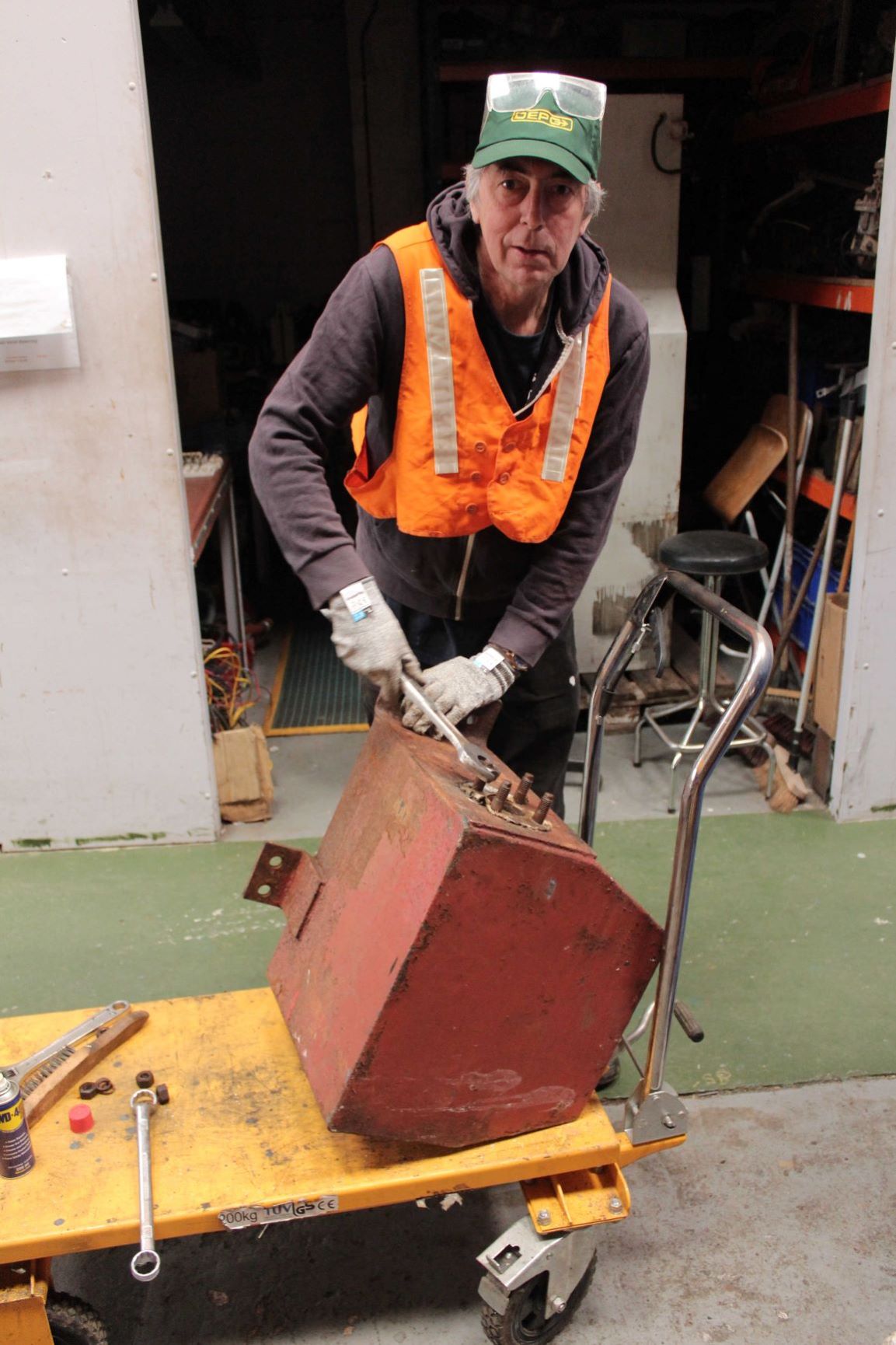 Another picture of Mark, this time at work freeing-up the threads on one of the sand boxes for D9518 at Williton on 20th April 2021. Photo by Terry Deacon © CC BY-NC 3.0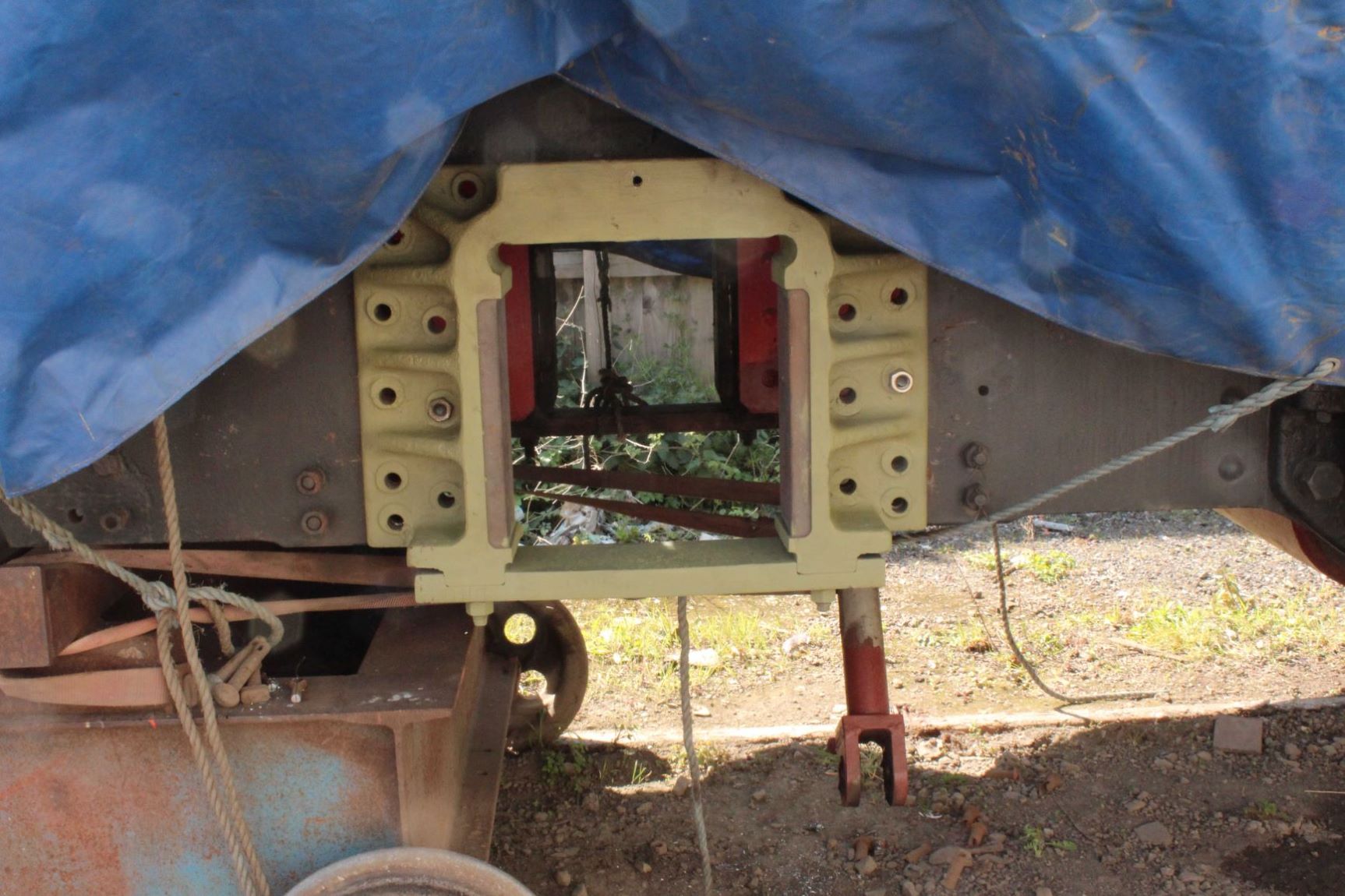 The first of six hornguide assemblies has been offered up to the frames of D9518 as a trial fitment. After careful positioning, the hornguides will be rivetted to the loco frames using techniques that are exactly the same as those used for steam locos, so the task will be subcontracted to WSR Restorations at the Swindon Shed. Photo taken at Williton on 20th April 2021 by Terry Deacon © CC BY-NC 3.0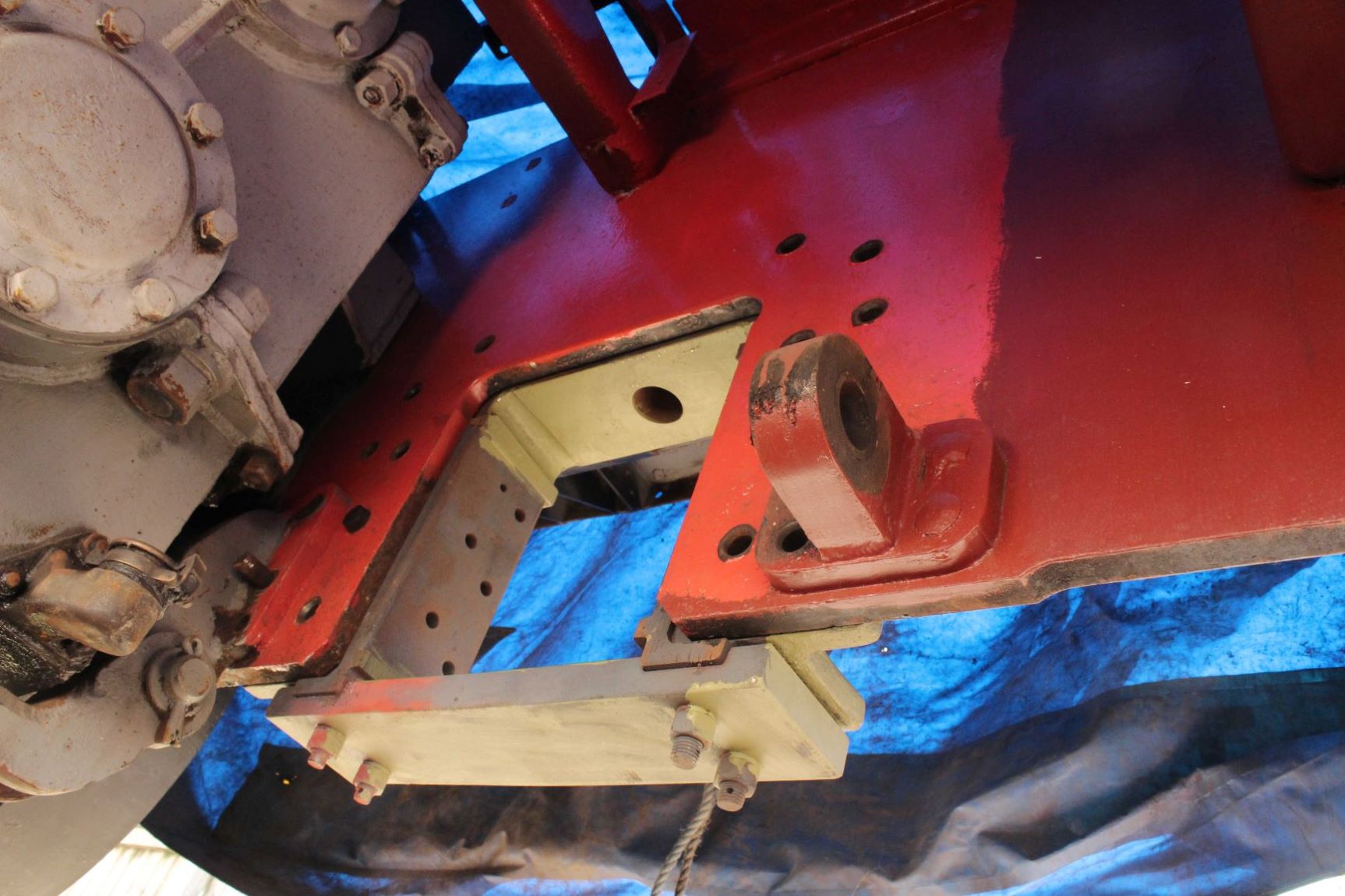 A view of the temporary fitment, this time from inside the frames of D9518. Photo taken at Williton on 20th April 2021 by Terry Deacon © CC BY-NC 3.0
Wednesday 21st April – Andy and Natalie progressed the re-paint in the former boiler room and engine room of 47077 'NORTH STAR', getting to some of the areas that are difficult to access. There is plenty more cleaning and painting work to do inside the loco, so more help would be much appreciated!
OTHER LOCO NEWS:
Class 33 'Crompton' D6575 was in action last week on engineering trains that covered the whole length of the line, gathering permanent way materials and delivering them to various places along the line. This running was briefed via our DIESELGEN email bulletin service. The next rostered working will be next Saturday but the line remains under the control of the WSR Infrastructure Engineering department so additional workings could take place without notice. The line is to be treated as 'live' at all times. We will send out another DIESELGEN bulletin as soon as we have details of the weekend workings.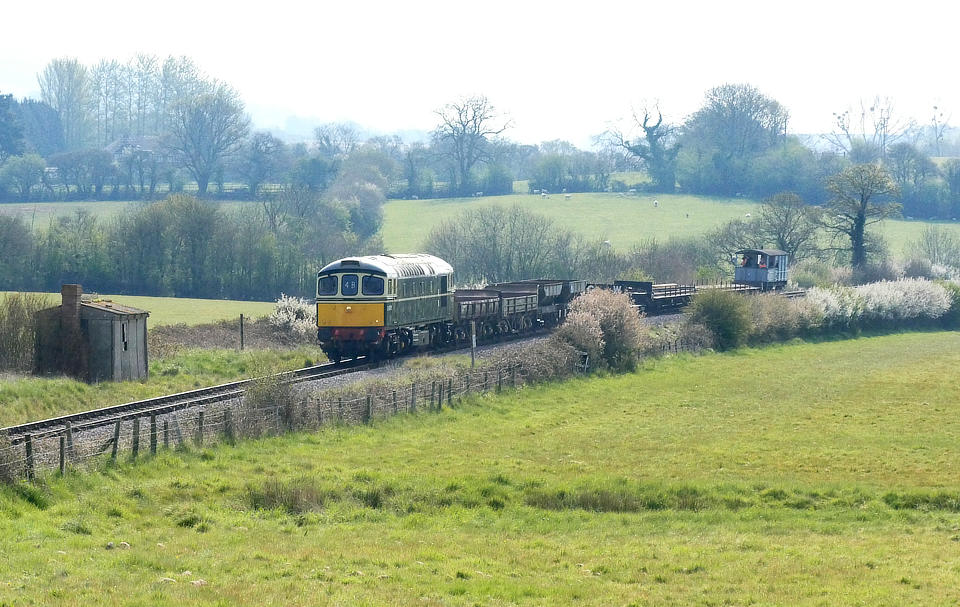 Class 33 'Crompton' D6575 (33 057) was seen approaching Cottiford Bridge with an Infrastructure Engineering train on 21st April 2021. Photo by Steve Edge © CC BY-NC 3.0
Class 47 number 47077 'NORTH STAR' – Last week, we gave some reasons as to why this loco has gained 'celebrity' status, the first reason being that she was one of a small number of 'standard Type 4' locomotives that were adorned with names by the Western Region of BR in March 1965. Our loco carried the running number D1661 at the time and she was named on the same day as sister loco D1662 'ISAMBARD KINGDOM BRUNEL'.
The giant-sized nameplate fitted to D1662 continued a legacy that was established by the GWR in 1938 when 'Castle' class 4-6-0 steam loco number 5069 was named 'ISAMBARD KINGDON BRUNEL', with Swindon Works having to use a smaller character size than usual, just to get all of those letters into the available space on the nameplate!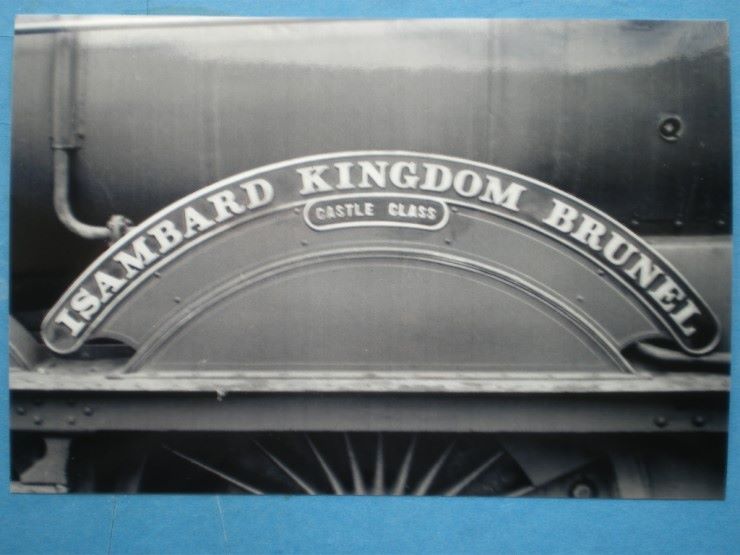 The nameplate of GWR 'Castle Class' 4-6-0 No 5069 'ISAMBARD KINGDOM BRUNEL' in the traditional position above the centre driving wheel of the locomotive. This loco, one of 171 members of this famous class, entered service on the GWR in June 1938 and worked until February 1962 when she was withdrawn and sent to the scrapyard (no doubt minus her nameplates). Photo by Wikipedia CC0
The Western Region of BR battled to continue some of the traditional practices of the old GWR and we can see that this practice was successful and continues to this day. That most famous engineer 'IKB' has been commemorated through the ages, first with Castle Class 5069 then with Class 47 D1662 (later 47 484) then with HST power car 43003 and most recently with 'flying cucumber' Class 800 number 800004, all of which are pictured below. The sad decline in grandeur of the nameplate is obvious – and its ultimate form, the vinyl transfer, has definitely lost some of the old panache !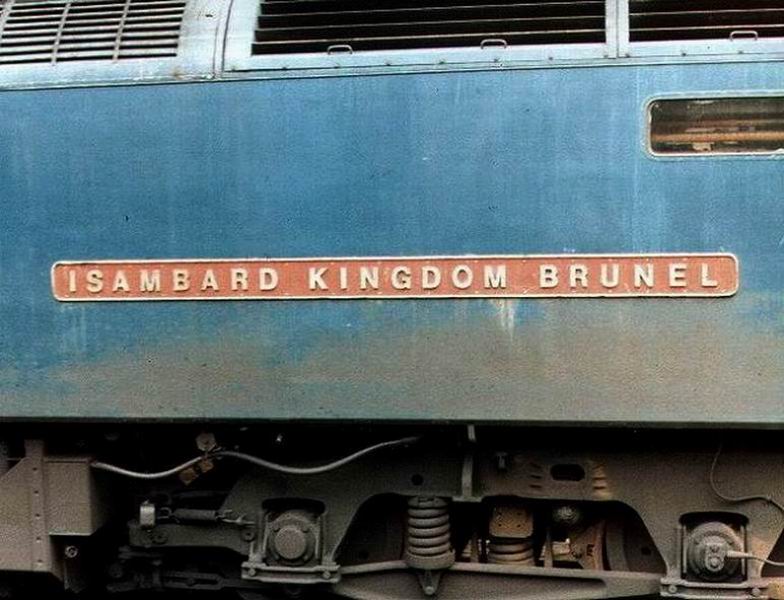 Class 47 number D1662 'ISAMBARD KINGDOM BRUNEL' became 47484 when modified for ETH in 1973 and changed from two-tone green to BR blue livery with a red background applied to her very long nameplate! Photo by Graham Turner © CC BY-NC 3.0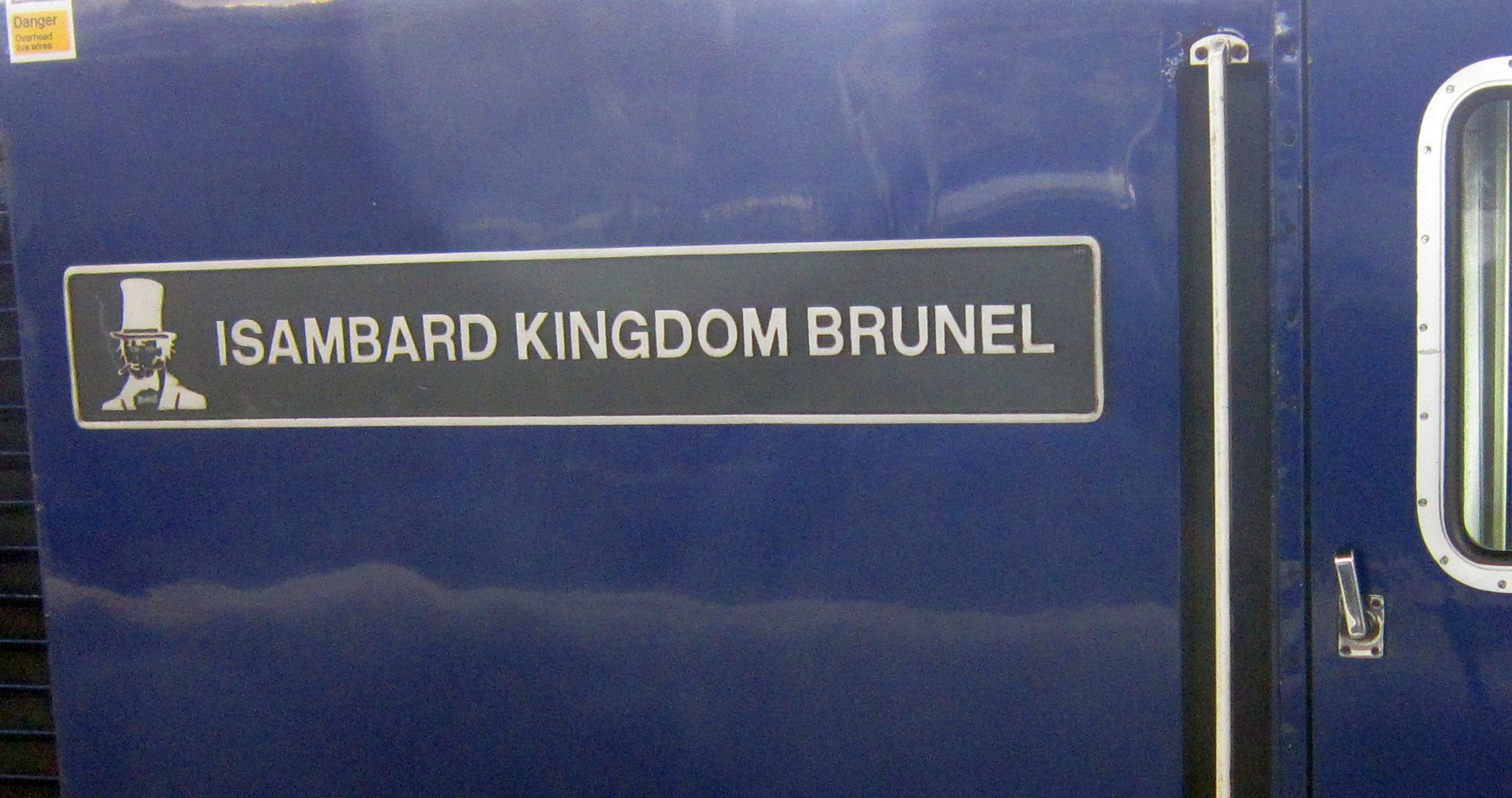 First Great Western Class 43 HST power car number 43003 carrying its 'modernised' IKB nameplate. Photo by Wikipedia CC0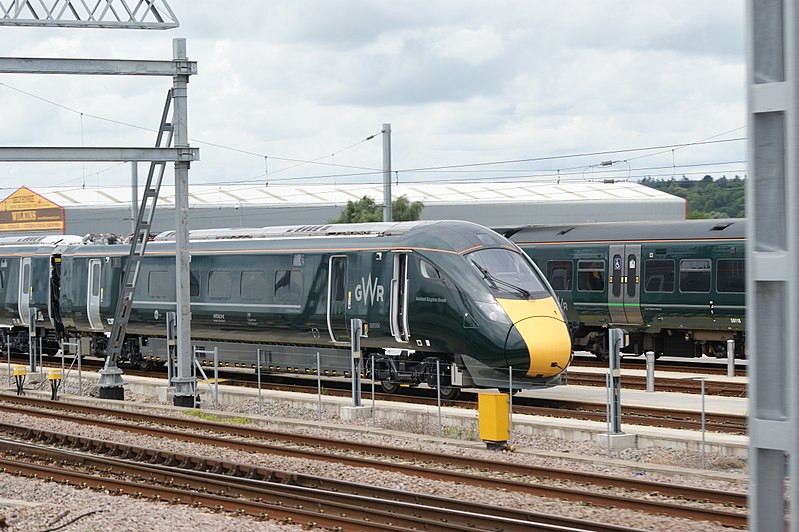 GWR Class 800 'IET' number 800004 carries a small vinyl transfer just below the driver's side window commemorating 'Isambard Kingdom Brunel', as seen at Reading Train Care Depot in 2016. Photo by Wikipedia CC0
As mentioned last week, the nameplate on D1662 was not the longest in length – because that accolade went to sister loco D1664 when the name of that famous GWR Chief Mechanical Engineer 'GEORGE JACKSON CHURCHWARD' was applied to her at Swindon Works on 8th May 1965.
DEPG Staff Rep Andy recounts a story from way back when he was aged 10 or 11, when he got home from a hard day's trainspotting on the platform of Cardiff General Station (now Cardiff Central) and told his steam-loving (and diesel-loathing) father that he had seen a loco with the most massive nameplate, starting with 'George' but he couldn't remember the rest. To his complete surprise, and without even looking up from what he was doing, his father replied '"George Jackson Churchward, perhaps?".
Class 47 D1664 'GEORGE JACKSON CHURCHWARD' waits at Reading station on 9th August 1971, in original two-tone green livery but with full yellow ends and BR-corporate numerals with no 'D' prefix. Photo by Bryan Johnson © CC BY-NC 3.0
Many thanks to the website Class47.co.uk and to Wikipedia and their contributors for providing the details and photos for this feature.
BOOKS for SALE – This week, we have two more pre-owned books to offer via our online store, both from Bradford Barton publishing and both dated 1974. These books form part of a well-known series and although old and faded on the outside, the black-and-white content of these 21 x 22 cm books remains in very good condition.
BR DIESELS IN CLOSE-UP by Norman E. Preedy and H. L. Ford, published by Bradford Barton in 1974
BR DIESELS IN ACTION by G. Weekes, published by Bradford Barton in 1974
These books have been donated to the DEPG for the purpose of fund raising, so we are offering each book at £10, the proceeds of which will go to the D1010 restoration fund.
If you have railway books that you want to donate to us, please let us know by return email or by using this contact form so that we can work out an economic way of getting them from you. We appreciate your efforts to give us more items to sell to raise funds for the DEPG fleet.
DEPG NEWS: By way of clarification of what was written last week, it has been pointed out that the Diesel Traction Group (DTG) have already installed their spare heat exchanger into D1015 'WESTERN CHAMPION' so the ex-class-56 heat exchanger that is being provided by the DEPG is going to be stripped and the core cleaned and tested before installing it into a Class 52 housing, and this will then become the spare for D1015. Many thanks to Bob Clegg for straightening that out.
Membership – is your DEPG membership up to date ? If not, please renew by going to our Join Us page and selecting the appropriate membership 'product'. This is a quick and easy way to keep your membership current. It doesn't matter if you don't remember your membership number – we will sort that out for you.
DEPG WEBSITE: Our ONLINE SHOP IS NOW LIVE so go ahead and visit our store!
Our new booklet, 'D1010 – FROM MEREHEAD TO MINEHEAD' is in stock so get your copy now! This booklet covers our Class 52 D1010 'WESTERN CAMPAIGNER' and its life in preservation, from Foster Yeoman's quarry at Merehead to the West Somerset Railway to Minehead plus some interesting stories from the days when the loco was still working on the mainline. All proceeds go to the D1010 restoration fund.
WSR NEWS: The WSR are continuing their traincrew training activities with steam haulage being provided by WSR 'Mogul' number 9351, running between Bishops Lydeard and Williton on weekends. The priority is to ensure that everything is ready for the return of public services on Saturday 22nd May 2021. These 'excursion style' services will run between Bishops Lydeard and Williton and must be pre-booked via the WSR website. It is really important to support the WSR to ensure that these Covid-safe services are a commercial success, so please buy some tickets if you can. Thanks !
Go to previous Depot News post