Class 47 47077 'NORTH STAR' gleaming in the sun on number 1 road at Williton on 13th June 2021 after completion of her VIBT exam. Photo by Martin Howard © CC BY-NC 3.0
The loco passed her Vehicle Inspection & Brake Test (VIBT) examination last Sunday and this will allow the loco to move to Bishops Lydeard at the appropriate time so that she can be loaded onto an Allelys low-loader for the long road trip to Grosmont on the NYMR, a distance of over 300 miles. We have arranged some banners that will be attached to cab ends of the loco when she is 'on the road' so that anyone spotting the loco as she moves northwards will know that she is 'one of ours'.

Upon arrival at the NYMR, the loco will run to Grosmont where she will undergo another inspection and receive some attention to bring her up to the standard required for possible mainline running to Whitby. We look forward to reporting more as the story develops.
Last Friday (18th), Class 14 'Teddy Bear' D9526 was in action on the Route Refresher working from Williton to Duster and back, propelling the WSRA's Hawkworth-designed Taunton Inspector's Observation Saloon W80976W on the outward journey so that the trainees could get a clear view of the track ahead. This duty is normally covered by one of the Class 33s but on this occasion, the Class 14 team jumped in and grabbed the opportunity for the 16-mile round trip, adding some diversity to these workings.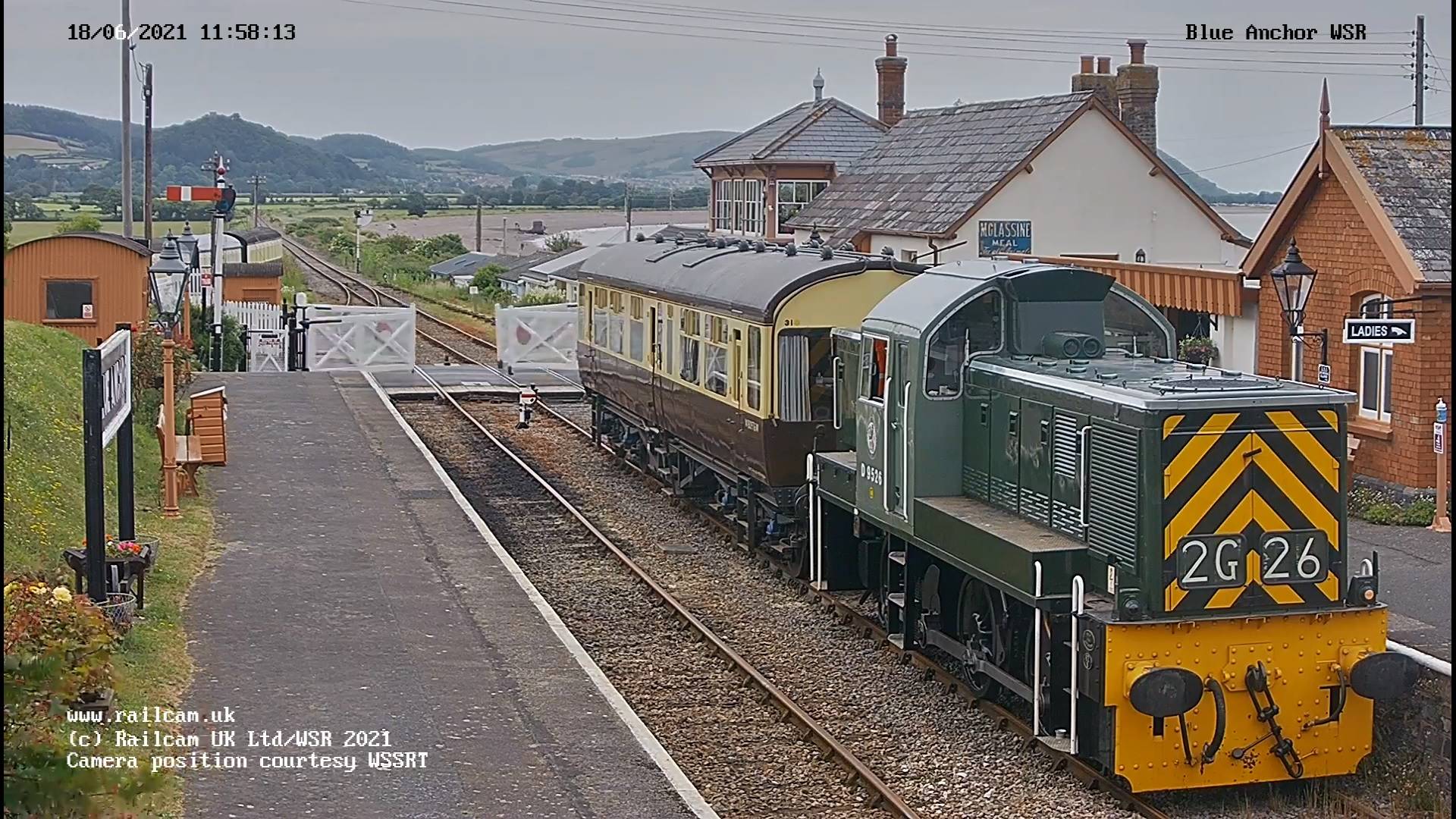 Class 14 D9526 arrives at Blue Anchor with the return leg of the Route Refresher working on 18th June 2021. Image courtesy of Railcam UK and the WSR ©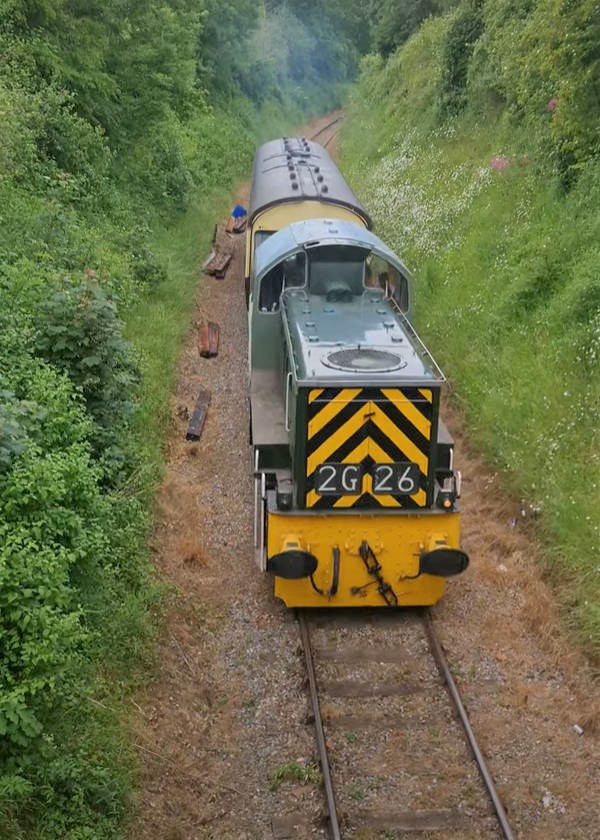 Class 14 D9526 climbs the 1 in 65 section of Washford Bank with the route refresher special on 18th June 2021. Photo by Mark Ireland © CC BY-NC 3.0
Not to be outdone, Class 33 'Crompton' D6575 (33 057) grabbed the baton back from the audacious 'Teddy Bear' the following day. This loco will cover the remainder of the workings on Monday and Friday this coming week.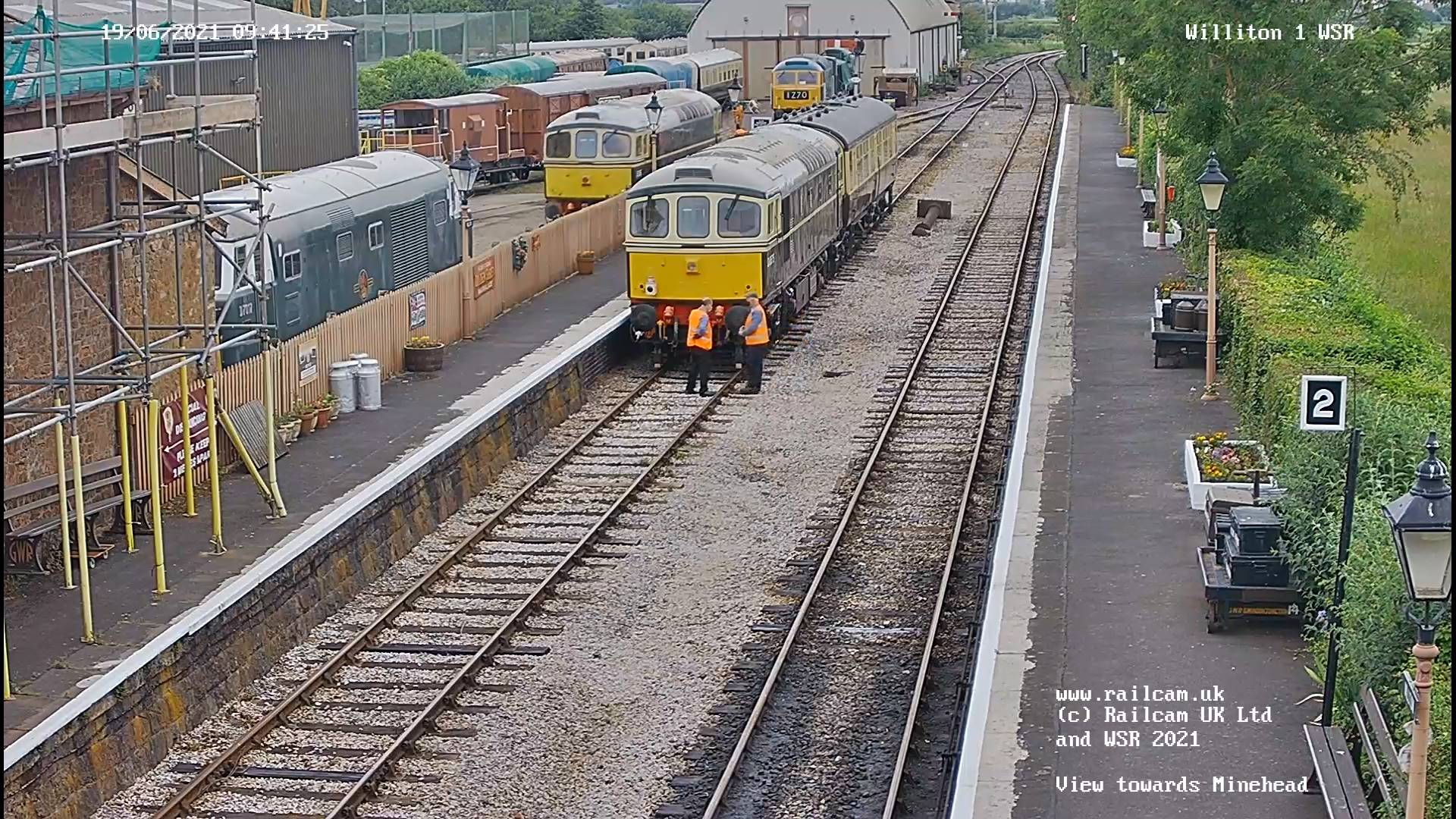 Class 33 'Crompton' D6566 (33 048) has handed over the 'duty loco' role to sister D6575 after working the route refresher specials and supporting the service trains since the beginning of May. She remains fully operational at Williton and ready for service if required, but being back at Williton will allow her to get a much-needed wash and some additional TLC from Ian and Tom. A shunting move on Saturday saw the loco reposition from number 2 road (directly in front of the loco shed) to number 1 road, and in the process, the loco passed over a dusty area. The powerful blower that provides cooling air to the traction motors did a fine job of kicking up a dust cloud around the loco as it moved slowly toward the exit road, as can be seen in this photo taken by Martin: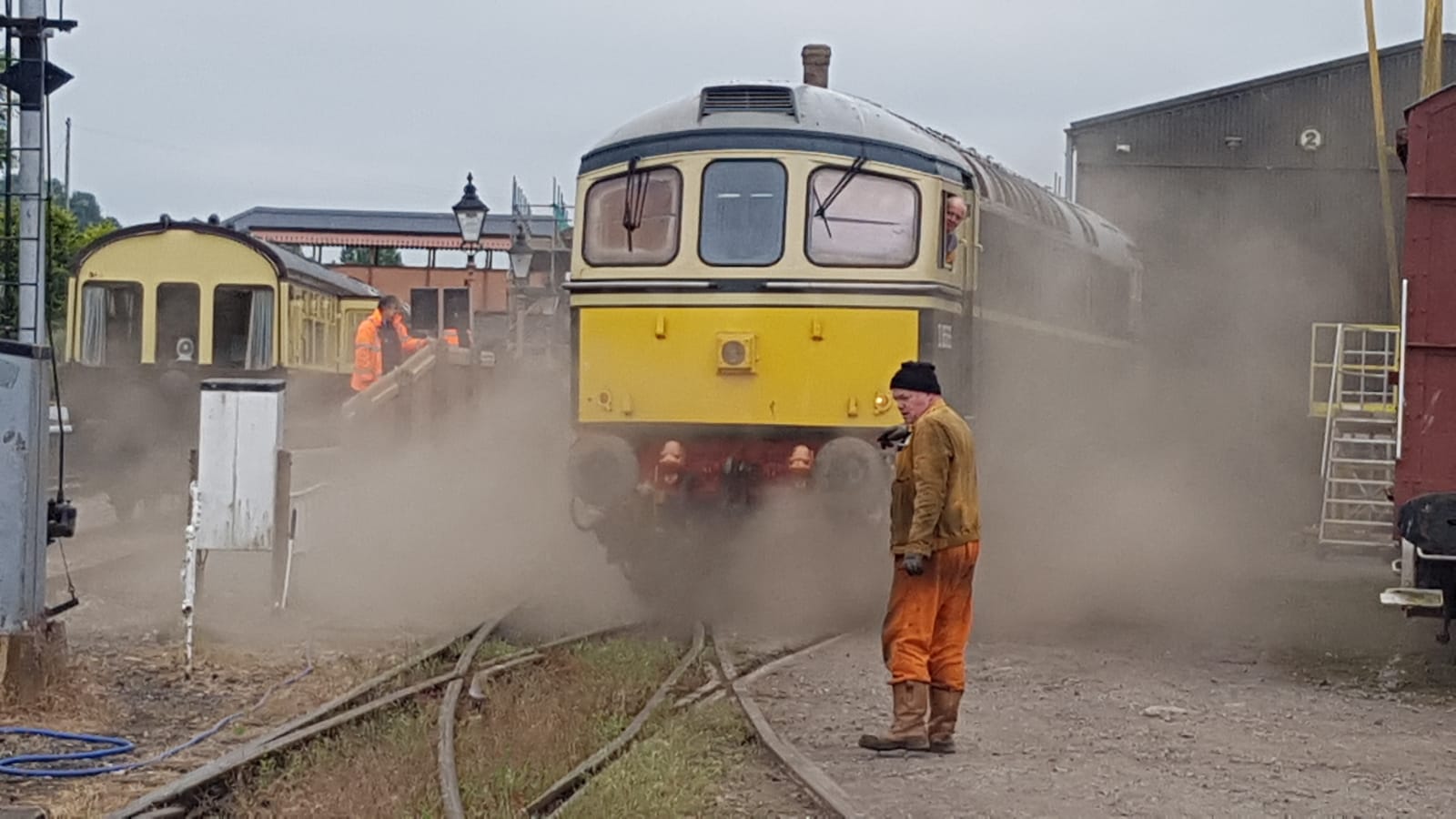 The traction motor blower of Class 33 'Crompton' D6566 (33 048) kicks up a dust storm in the yard at Williton on 19th June 2021. Photo by Martin Howard © CC BY-NC 3.0
Class 52 D1010 'WESTERN CAMPAIGNER' – now resident in the loco shed on number 3 road, work on this loco will commence with rectification of the fault in the Run Oil Pressure Switch (ROPS) circuit that prevented the engine from running during the 'big shunt' of 5th June. This will allow the 'A' engine to remain operable for use when moving the loco out of the shed to position under the 10-tonne crane to lift large assemblies such as the 'B' end cooler group. Eventually, as bodywork repairs progress, the 'A' engine will also have to be decommissioned so that its cooler group can be refurbished, but that is some way down the line. For the time being, it will be kept serviceable.
This loco is the subject of an article in the latest edition of the DEPG Newsletter that is being distributed to members next week. The article describes the restoration project and outlines the funding requirements that will allow this loco to return to service in a reasonable period of time. If you love the 'Westerns' and you are not already a member of the DEPG, please JOIN US  so that you can become one of the team that is going to save D1010 from rusting away before our very eyes.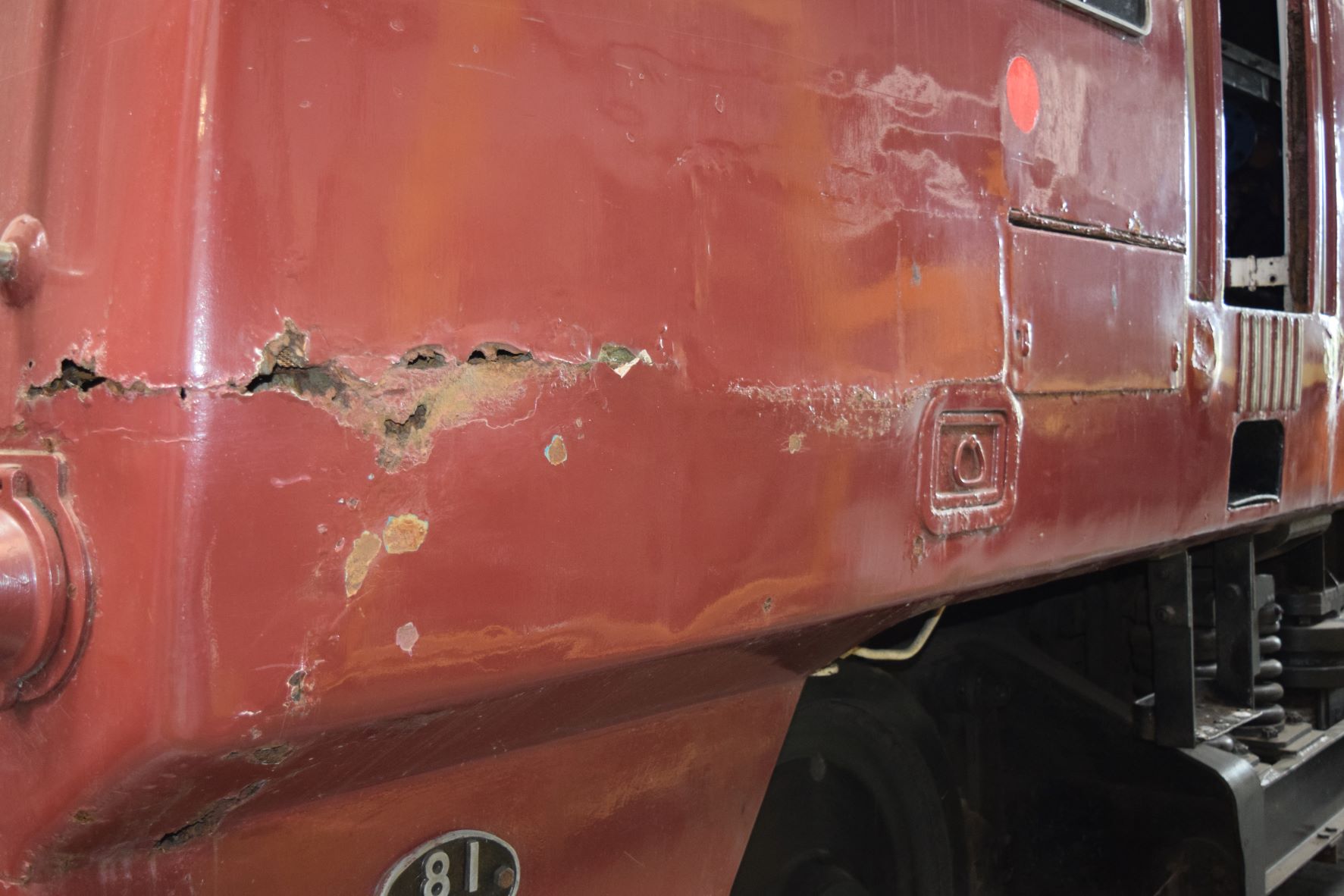 Corrosion affecting the nose end of Class 52 D1010 'WESTERN CAMPAIGNER' is clearly visible in this photo dated 9th August 2019. Photo by Gordon Crook © CC BY-NC 3.0
Our fund-raising efforts have already commenced with the recent publication of our booklet "D1010 WESTERN CAMPAIGNER – FROM MEREHEAD TO MINEHEAD". All of the revenue from the sales of this booklet will go into the D1010 restoration fund, along with revenue from sales of pre-owned books, so please help the fund grow by buying from our online store. Thanks !
Class 35 'Hymek' D7017 – no change this week.
Class 35 'Hymek' D7018 – no change this week.
Class 14 'Teddy Bear' D9518 – more progress from the 'Tuesday team' as they turn their attention away from the six sets of steps and instead focus on electrical junction boxes and trunking, along with other items from the vast array of bodywork parts that are awaiting restoration. The photo below shows the brand new set of steps, now wearing a nice coat of green primer. The cab steps of a Class 14 are provided with a mesh backing, which is a safety feature that was necessary in the days when the person designated as the 'Shunter' used to ride on the steps while the loco was moving. The mesh prevents one's feet from entering the area in which the connecting rods are rotating, so this important design feature has also been added to the assembly.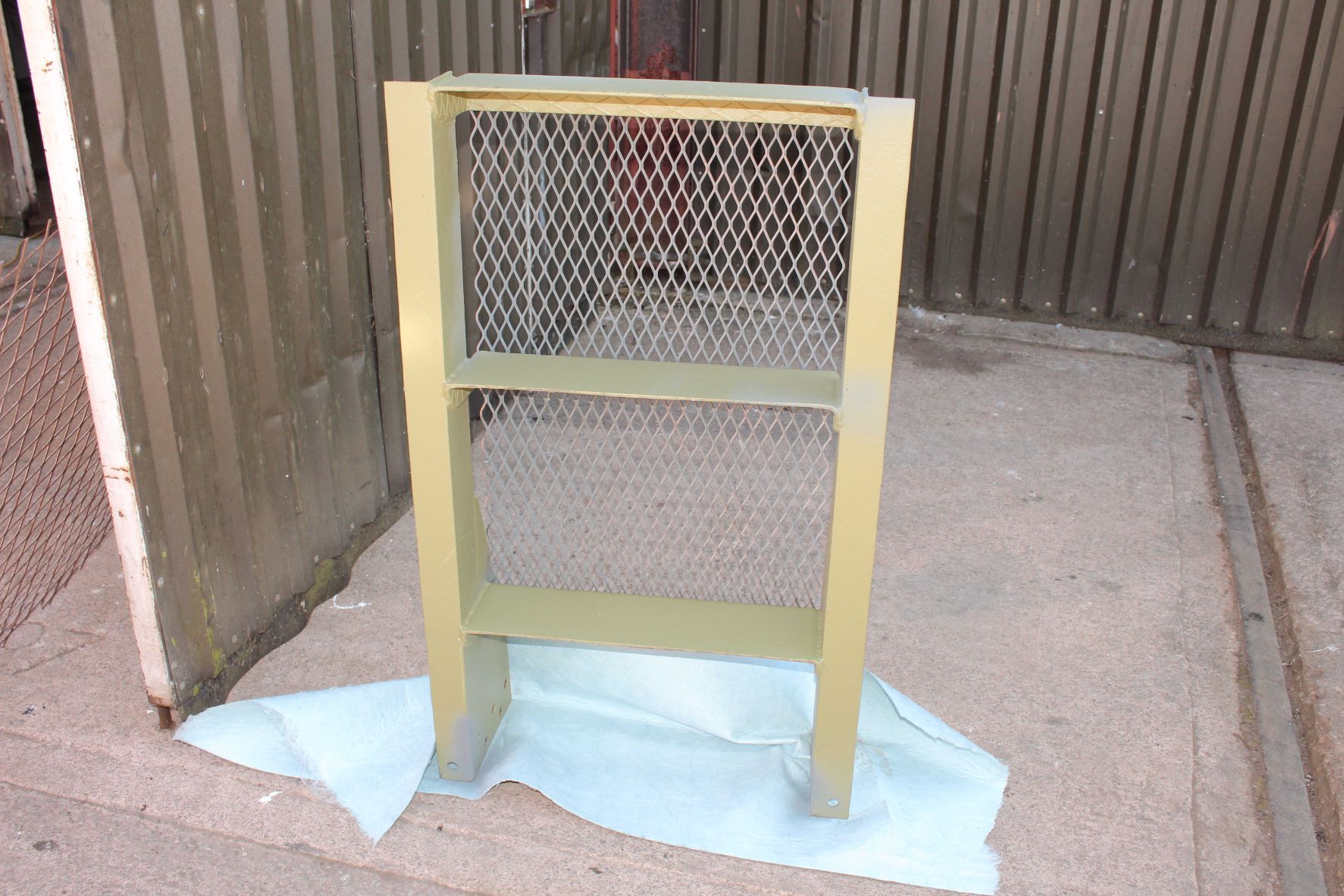 The new set of steps for D9518 get a mesh backing at Williton on 15th June 2021. Photo by Terry Deacon © CC BY-NC 3.0
Even more of a challenge than making a sturdy set of steps from new steel, is the repairing of old, corroded thin metal sections such as those encountered in electrical enclosures and junction boxes. The photo below show the extent of the corrosion that has beset this thin metal section. First, the corroded materials has to be cut back to reveal good metal, then new sheet metal has to be fabricated to shape and size and welded into place. Not easy, but watch this space !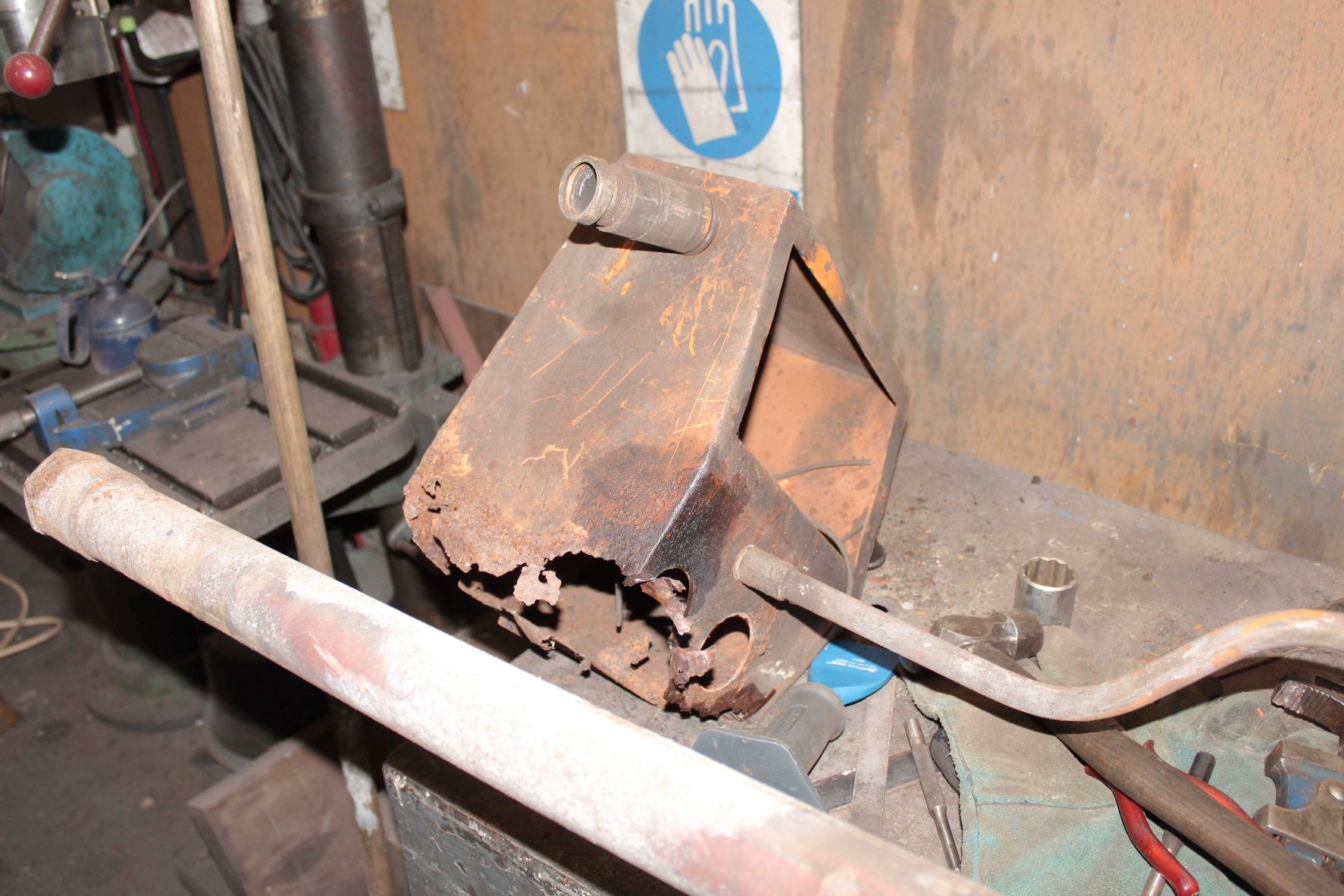 Heavily corroded electrical junction box from D9518 on the bench and ripe for renovation at Williton on 15th June 2021. Photo by Terry Deacon © CC BY-NC 3.0
Andrew Barclay 578 (ROF 1) – our latest addition to the DEPG fleet has already proven her worth as Yard Pilot and was again in action on Saturday 19th June during a minor shunt that repositioned 47077 at the head of the line on number 1 road. It is only fair that 'the ROF' gets its fair share of TLC, so a suspicious area of corrosion was investigated and what was found underneath shows what happens to locos that are outdoors for almost all of their lives …. they dissolve !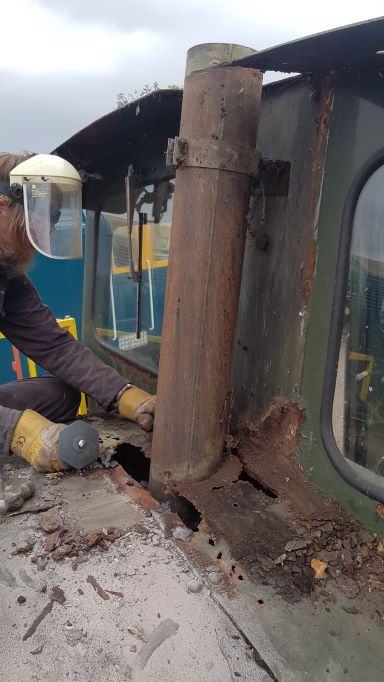 Heavily corroded metal revealed after removing the exhaust shroud on Andrew Barclay 0-4-0 diesel-hydraulic number 578 (ROF 1) in the yard at Williton on 19th June 2021. Photo by Martin Howard © CC BY-NC 3.0
Again, as on D9518 and D1010, this damage will be rectified by cutting out the bad metal and welding new metal in its place. The skilled members of our volunteer team make it look easy, but it isn't. It takes many years of practice to develop such skills so why not START NOW by joining our volunteer team !
If cutting and welding metal is not your thing, then don't despair, because we have tasks to suit all at Williton, from archiving our historical artefacts through to pulling weeds in the yard. There is work for all.
Many thanks to all of our volunteers who are hard at work cleaning, painting, maintaining, restoring, managing and fund raising for our fleet of heritage locomotives !
BOOK REVIEW – last week, we featured another book by well-known author and photographer Roger Geach entitled 'Back to the Old Days WESTERNS'. Our single brand-new copy of this out-of-print 2010 publication had been donated by the author for sale in support of the D1010 restoration fund, and it was snapped up in double-quick time by a D1010 supporter. What we didn't know at the time was that this copy was the very last brand-new copy that Roger had in his stock, so the buyer had a real bargain there !
Staying with the obvious popularity of Roger's publications, we have reached agreement for a batch of his 2016 publication 'PLYMOUTH TO PENZANCE' to be offered for sale on our website, with a sizeable contribution to the D1010 restoration fund for every copy sold.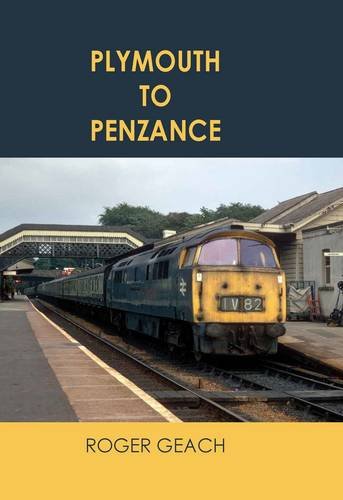 New copies of this book are in stock and ARE AVAILABLE FROM OUR ONLINE STORE. The entire proceeds from sales of this title will go into the D1010 restoration fund and we are very appreciative of the support being offered by the author.
This is a new book, but remember to also take a look at the pre-owned books on our DEPG ONLINE STORE, the entire proceeds of which will go to the D1010 restoration fund.
To help our sales of pre-owned books, please let us know if you have railway books that you want to donate to us. Contact us by replying to this email or by using this contact form so that we can work out an economic way of getting them from you. We appreciate your efforts to give us more items to sell to raise funds for the DEPG fleet.
ON SHED: Two weeks ago, we featured a photo showing three 'Warships' passing through Exeter St Davids on their way to Plymouth Laira shed. That rare sighting showed 842 'ROYAL OAK' towing 808 'CENTAUR' towing 868 'ZEPHYR' and was captured by Barry Gay on 14th April 1971. We appealed for further information about this unusual working and we received the following from Mark Alden via Neale Long:
D842 on 13/04/1971 worked the 1530 Padd-Paignton then ECS to Newton Abbot.
At 2359 the ASLEF work to rule and overtime ban ended.
D808 worked in the London area on 03/04/1971 and on the 15/04/71 worked the 7A08 St Blazey-Acton assisted by 6339 to Exeter.
D868 on 13/04/1971 worked 1V19 1900 Waterloo-Exeter then taking the ECS to Newton Abbot arriving in the early hours of 14/04/71.
D842 on 15/04/1971 worked the 1230 Paddington-Penzance.
All three may have required attention/exams at Laira
What is clear is that they were used from the Plymouth area following that particular move.
Many thanks to Mark for yet more information freely given for the benefit of all.
This week, we feature a photo of our very own Class 14 D9518 at Radyr, in the northwest of Cardiff, taken just six weeks before the class was withdrawn from service on BR. The loco was only four years old when withdrawn from service and was quickly snapped up by the National Coal Board (NCB) and sent to their Ashington colliery, north of Newcastle, where she worked for 17 years before becoming redundant (again) when the pit closed. Photographs of the class are rare and it is great to receive a photograph of one of our own locos, courtesy of Alan Walker.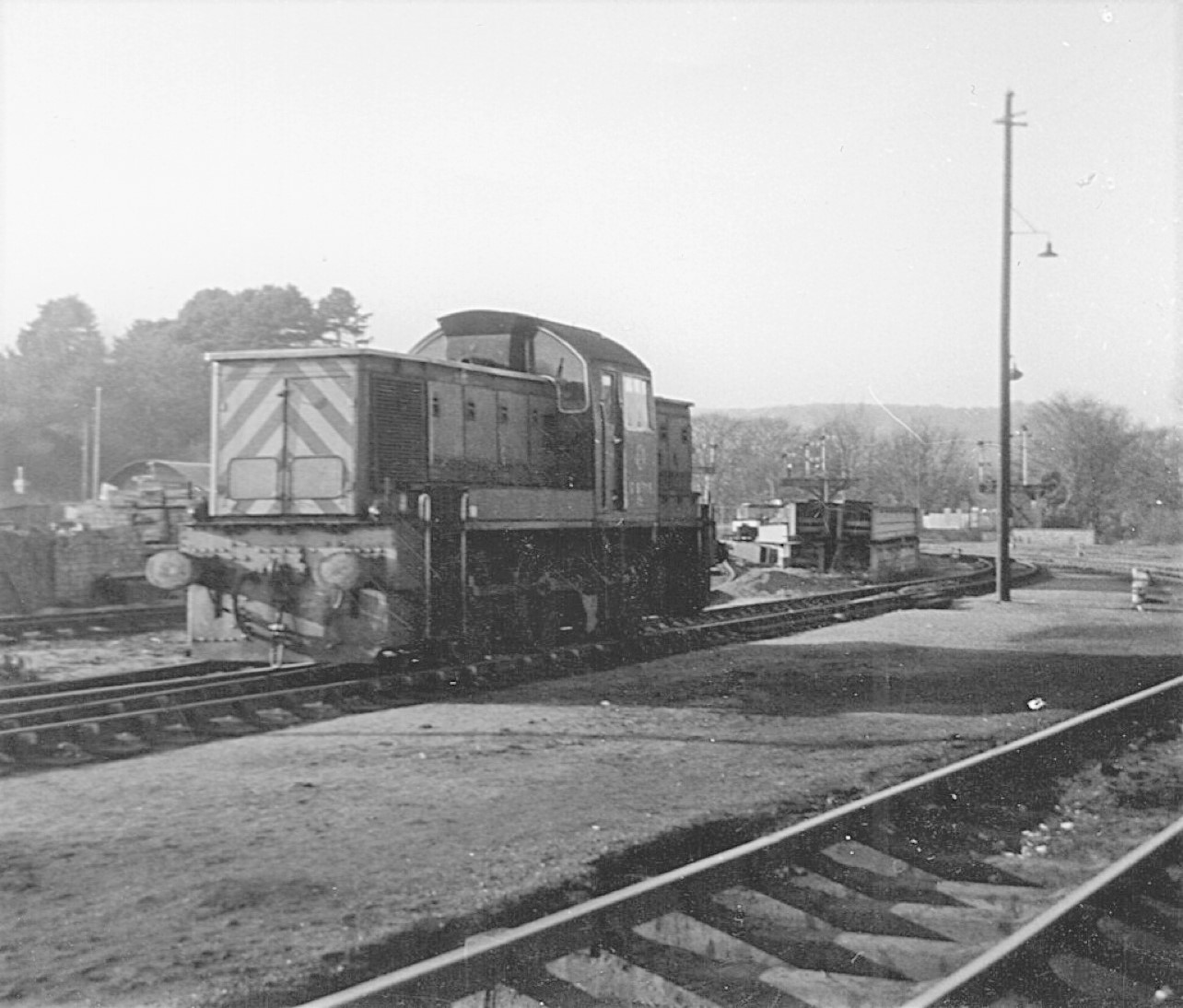 Class 14 'Teddy Bear' D9518 is seen at Radyr yard in the northwest of Cardiff on 8th March 1969. This loco holds the distinction of being the last of the class to operate on BR, working trip freight between Radyr and several other yards in the city until Saturday 19th April 1969. Photo by Alan Walker © CC BY-NC 3.0
Many thanks to Alan for sharing his photographs with us all.
DEPG NEWS: Last week, we announced that the DEPG and the WSR had been working on opportunities for diesel running under the RED (high season) timetable on the following dates:
17 July            ('Hymek' D7018)
31 July            ('Hymek' D7018)
14 August        ('Hymek' D7018)
21 August        (Crompton pair)
25 September  ('Hymek' D7018)
Since then, several readers have contacted us, because they were unable to book tickets on these services. This is because the online timetable has not yet been updated to take account of the diesel-hauled service. Furthermore, the range of 'excursion' tickets being offered by the WSR needs to be expanded to allow out-and-back diesel-hauled journeys.
While Covid-19 rules remain in force, there are many factors involved in changing the timetable, so a meeting will be held by Zoom during this coming week where the WSR and the DEPG will work out the details. We will then be able to share the details and the WSR will be able to start taking bookings. Please bear with us while we work on this.
The best way to keep informed is to watch our website home page or SIGN UP FOR DIESELGEN email bulletins.
The June edition of the DEPG member's Newsletter has been printed and will be distributed before the end of this month. It will be mailed to all members who are registered and current at the time of mailing, so THIS IS A GREAT TIME TO JOIN US and be certain of getting your copy !
DEPG WEBSITE: Our ONLINE SHOP IS NOW LIVE so go ahead and visit our store!
Our website is updated at least weekly (usually more frequently) with the latest news plus any DIESELGEN postings that may have arisen. We have a programme of continuous development for the website, with the two most recent pages providing additional information:
WSR NEWS: The WSR have successfully restarted public services to Blue Anchor so we now need to support these services by buying tickets to ride!
As already mentioned, we are working on the timetabling for the diesel-hauled services and we will then be making a big effort to ensure that all of the tickets get sold. This is the BEST WAY to ensure that we get more running opportunities on the WSR. Let's make the most of the opportunity that is currently available to us.
Don't forget to read about the WSR appeal by clicking this link.
All members of the WSR family have to do what we can to help and one easy way is to make a donation via the WSR website. Another way is to ensure that the timetabled services are a commercial success, so please buy a ticket if you can.
Go to previous Depot News post