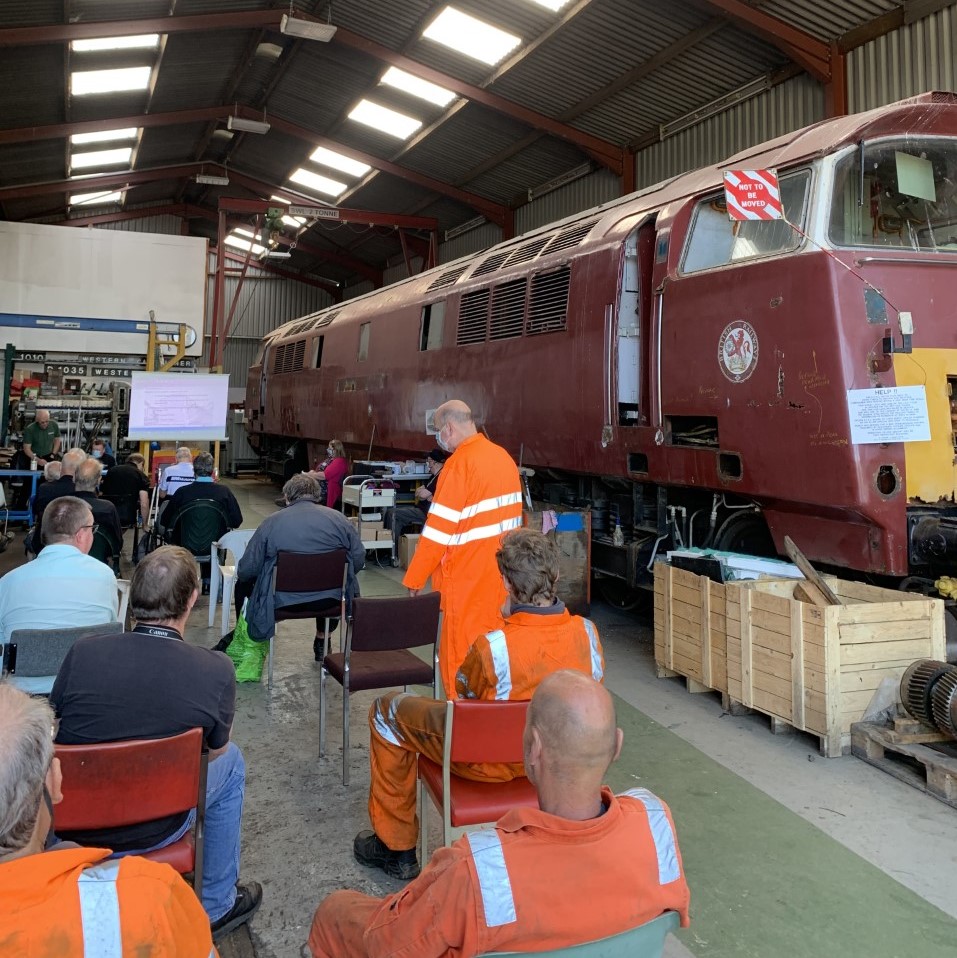 DEPG members gather for the AGM at Williton on 4th September 2021 in the presence of WSR Assistant General Manager Kerry Noble while restoration work is paused on our flagship Class 52 D1010 'WESTERN CAMPAIGNER'. Photo by Andy Royal © CC BY-NC 3.0
The Annual General Meeting (AGM) of the DEPG took place as planned on 4th September 2021 at Williton Diesel Depot, where members gathered for the formal presentation by Chairman Martin Howard, Treasurer Julien Weston and Company Secretary Ian Robins. WSR Assistant General Manager Kerry Noble also attended to provide a very useful update of WSR news and progress, further cementing the close relationship between the railway and the DEPG.
Martin delivered his Chairman's report which started by telling members about the almost total collapse in mileage income in the year 2020, caused by the lack of running during that year and the subsequent impact on DEPG activities. He explained that the group had continued to make progress on several projects in between lockdowns and as a result, two locomotives have been hired out to other heritage railways for the 2021 season, with Class 14 D9526 on hire to the Kent & East Sussex Railway and Class 47 47077 'NORTH STAR' due to go out on hire to the North Yorkshire Moors Railway (but temporarily stranded at Bishops Lydeard waiting for permission for onward transportation).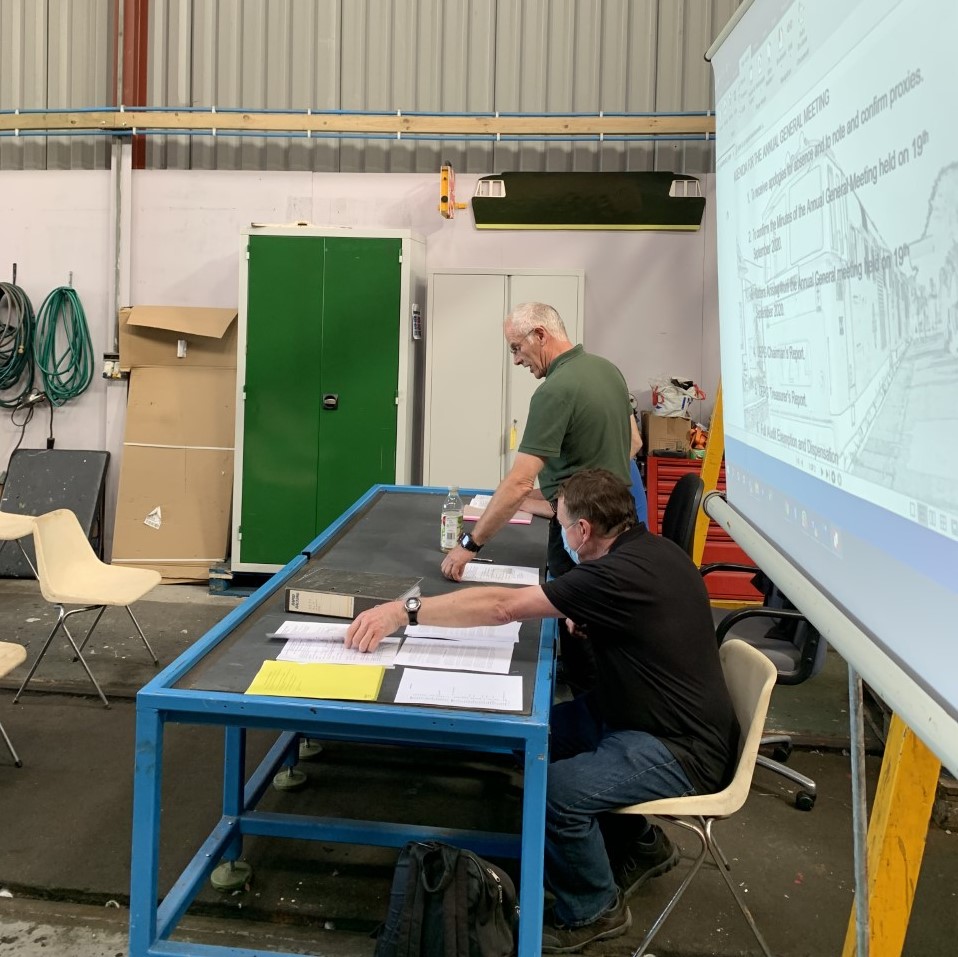 DEPG Chairman Martin Howard addresses the AGM at Williton Diesel Depot on 4th September 2021. Photo by Andy Royal © CC BY-NC 3.0
This left the DEPG with three operational locomotives, namely the two Class 33 'Cromptons' D6566 (33 048) and D6575 (33 057) and Class 35 'Hymek' D7018 and three locomotives undergoing overhaul, namely Class 52 D1010 'WESTERN CAMPAIGNER', Class 35 'Hymek' D7017 and Class 14 D9518.
The DEPG had also reached agreement with the WSR for a 10-year custodianship of their Andrew Barclay 0-4-0DH number 578 (ROF Puriton No. 1) which was operational but undergoing bodywork repairs and a repaint into the deep bronze green livery that she carried when she entered service with the Royal Ordnance Factory at Puriton, Bridgwater in 1972. This loco will be used as the 'yard pilot' at Williton.
Martin also explained about our current shortage of drivers and secondmen and gave news of a training course that had just started with 6 more volunteers to continue the flow of trainees to support diesel workings in future years.
In his summary, Martin gave thanks to all of our volunteers, including those who work in the background providing all kinds of support to ensure that our primary activities can move forward. 
Next to speak was Treasurer Julien, and he walked through the numbers and explained that although income from loco running fell to just over £1,000 in 2020, the group had raised £11,567 in donations and memberships, plus £20,000 from Grants, the total being sufficient to support overheads and allow selective spending on projects such as new springs for D7017. The Group had also been awarded a £15,000 bounce-back loan that was not being used but was being kept in reserve.
Julien made the point that the DEPG has to cover all of its own costs by itself, unlike many other similar organisations on other railways, where the diesel facility running costs are covered by the railway. This means that if the WSR does not use the DEPG, then the DEPG has no cost impact on the WSR. This is good for the WSR at a time when they are seeking economies, but the DEPG still has to keep going somehow.
The appeals that are running for D1010 and D9518 are essential to allow continued progress on these projects, and the hire income from D9526 and soon also 47077 will allow the DEPG to reduce its dependency on the WSR by diversification of income. The online store is another example of progress in this direction.
The gathered members responded with a vote of thanks to Julien and the Board for keeping the Group on an even keel throughout the most difficult circumstances.
It was then Ian's turn to guide the formal processes of nominations for Board members, which resulted in the current Board members retaining their positions, leaving the Board unchanged as follows:
| | | |
| --- | --- | --- |
| Position | Appointed | Tenure |
| Chairman | Martin Howard | Appointed for 1 year tenure |
| Vice-Chairman | Neil McCannon | Appointed for 1 year tenure |
| Treasurer | Julien Weston | Appointed for 1 year tenure |
| Company Secretary | Ian Robins | Appointed for 1 year tenure |
| Staff Representative | Andy Royal | Appointed for 3 year tenure |
| Without Portfolio | Paul Tucker | Appointed last year for 3 years |
With the formal business concluded, it was time for the WSR's Kerry Noble to give a talk on the issues that have been faced by the WSR over the past year and the positive results being achieved from this summer's running, where revenue has exceeded targets and, on some days, has exceeded loadings achieved in 2019 (when a lot more services were being provided).
The forthcoming events being organised by the WSR will include DEPG diesels, starting with the 1940's event next weekend, followed by the Mixed Traction event and the Steam Gala in October. The diesel-hauled excursion specials were also seen as a success, which bodes well for the future.
Kerry ended by thanking the DEPG for their support and looked forward to working on the 2022 timetabling with the help and involvement of the DEPG. The gathered members responded with a round of applause and appreciation.

The final act of the day was the auctioning of a painting that was donated by Wendy Howard and from which the DEPG is now offering a greeting card on its online store. The painting in acrylic was based on a photograph taken by Josh Brinsford and shows Class 33 'Crompton' D6575 (33 057) approaching Williton Bridge with a crew refresher training special, on 1st May 2021.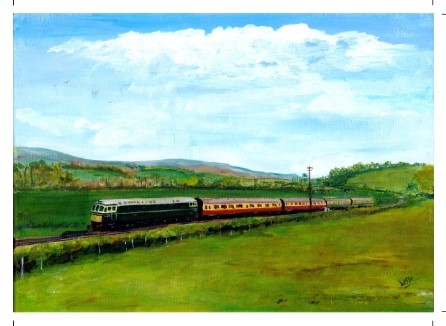 'D6575 down train approaching Williton in May 2021' painted by Wendy Howard © CC BY-NC 3.0 from a photograph by Josh Brinsford © CC BY-NC 3.0
DEPG Publicity Officer Mark Bladwell took the role of auctioneer and after some entertaining bidding, the painting was handed over to a member in return for a £50 donation to DEPG funds. Well done to Wendy and Josh for their roles in generating this useful contribution, both as a one-off and as an ongoing sales item.
The usual weekly roundup will be a little late this week due to the need to cover the AGM, but please remember that this coming weekend will see the return of the the very popular '1940s weekend' events on the WSR and as in previous years, the DEPG are delighted to be able to play a small part, even though our locos were just a glint in their respective designer's eyes during WW2. This year, the event will be supported by our two Class 33 'Crompton' diesel-electrics, D6566 (33 048) and D6575 (33 057) so please do try and get along to this event if you can. Click here for timetable details.
Also don't forget to book in advance for the MIXED TRACTION WEEKEND that will take place on Friday 17th and Saturday 18th of September. This will be the WSR's first true 'hop-on-hop-off' event since 2019 and will feature our two 'Cromptons' plus 'Hymek' D7018 and will include running to Norton Fitwarren in the afternoons. The timetabling is quite intense and has plenty of interest for fans of both types of traction, so please do try and come along to support the event if you can.
A very big THANK YOU to all who have bought and are buying tickets in support of our 2021 diesel-hauled services, and an equally big thank you to all of the volunteers who have been and are involved in putting on the shows !
If you have a question, please reply to this email or fill in the contact form on our website. Thanks ! Please help us and help the WSR make these diesel-hauled services a success by buying a ticket to ride !
That's all for this special report from the DEPG AGM, but keep a lookout for this week's roundup!
---