This coming weekend is the AUTUMN STEAM GALA and we are delighted to be able to support this event by providing our Beyer-Peacock 'Hymek' D7018 on all three days, Friday 1st, Saturday 2nd and Sunday 3rd October. The 'Hymek' will be working in 'top-and-tail' mode with WSR 2-6-0 'Mogul' 9351 and the 'Hymek' will be hauling the train from Bishops Lydeard to Dunster (with bus connection to Minehead) with the 'Mogul' attached at the rear for hauling the train back to Bishops Lydeard. The 'top-and-tailed' service will extend to Norton Fitzwarren once on Friday afternoon and twice per day on Saturday and Sunday.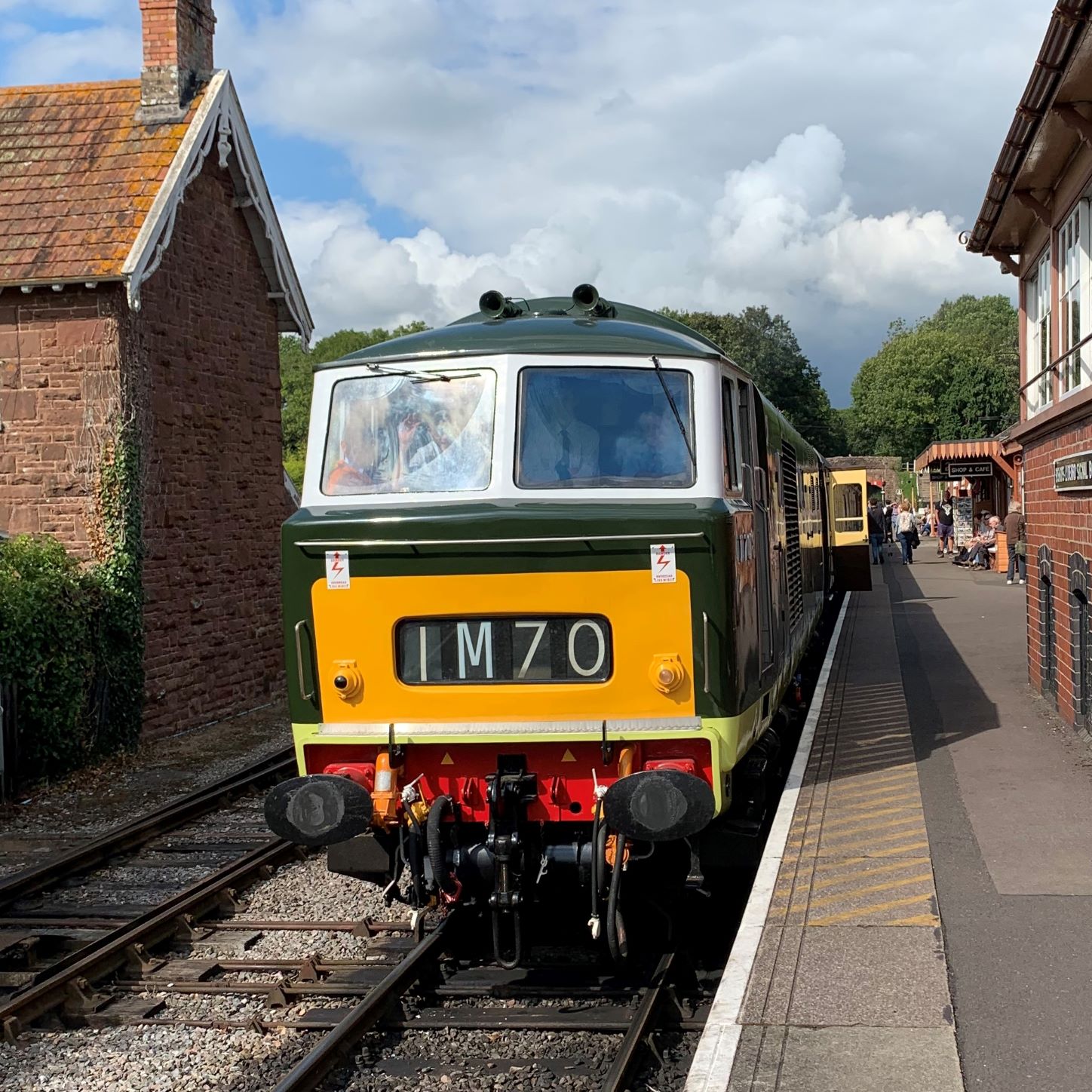 Beyer-Peacock 'Hymek' D7018 stands at Bishops Lydeard station with a service for Norton Fitzwarren on Saturday 18th September 2021. Photo by Andy Royal © CC BY-NC 3.0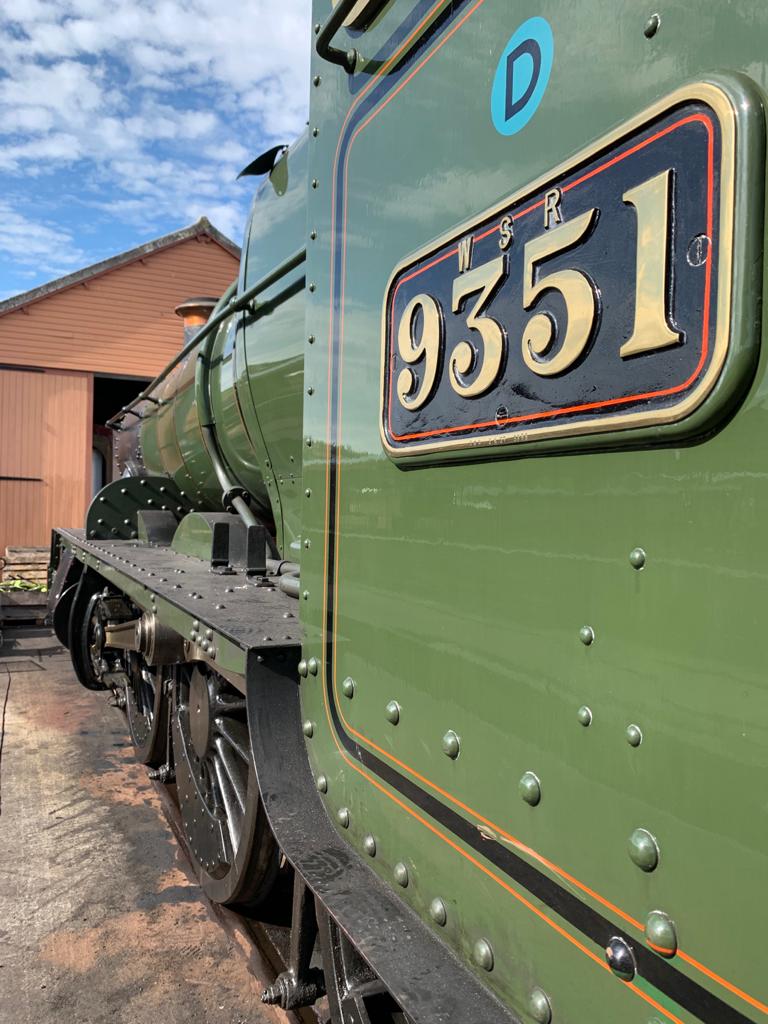 The RAILCAM UK team have been busy posting videos on their YouTube channel using material that they gathered during the recent Mixed Traction Weekend. Their camera was mounted on the lamp bracket of the leading locomotive, so the journey from Bishops Lydeard to Dunster was filmed from the bufferbeam of BR(W) 4-6-0 7828 'ODNEY MANOR'. The return journey and the extension to Norton Fitzwarren was filmed from Class 33 'Crompton' D6575 (33 057) and some very rare footage was filmed from sister loco D6566 (33 048) during her trip around the East Chord while she ran around her train at Norton Fitzwarren.
Their videos have been separated into bite-sized chunks and are being released on a progressive basis between now and Friday 1st October. Visit their YouTube video page and choose the section of the line that interests you the most, then take a virtual ride by clicking on the relevant video.
Some of their videos have already received more than 10,000 views and this is providing excellent exposure for the WSR and the supporting groups. DID YOU KNOW that the RAILCAM UK operation is entirely funded by subscribers, with no corporate sponsorship at all ? These webcams have to be bought, installed, maintained, managed and in many cases, the internet data service has to be provided as well, so hats off to these guys and their colleagues for making it all happen. JOIN THEM and subscribe to help them expand their activities for our further enjoyment.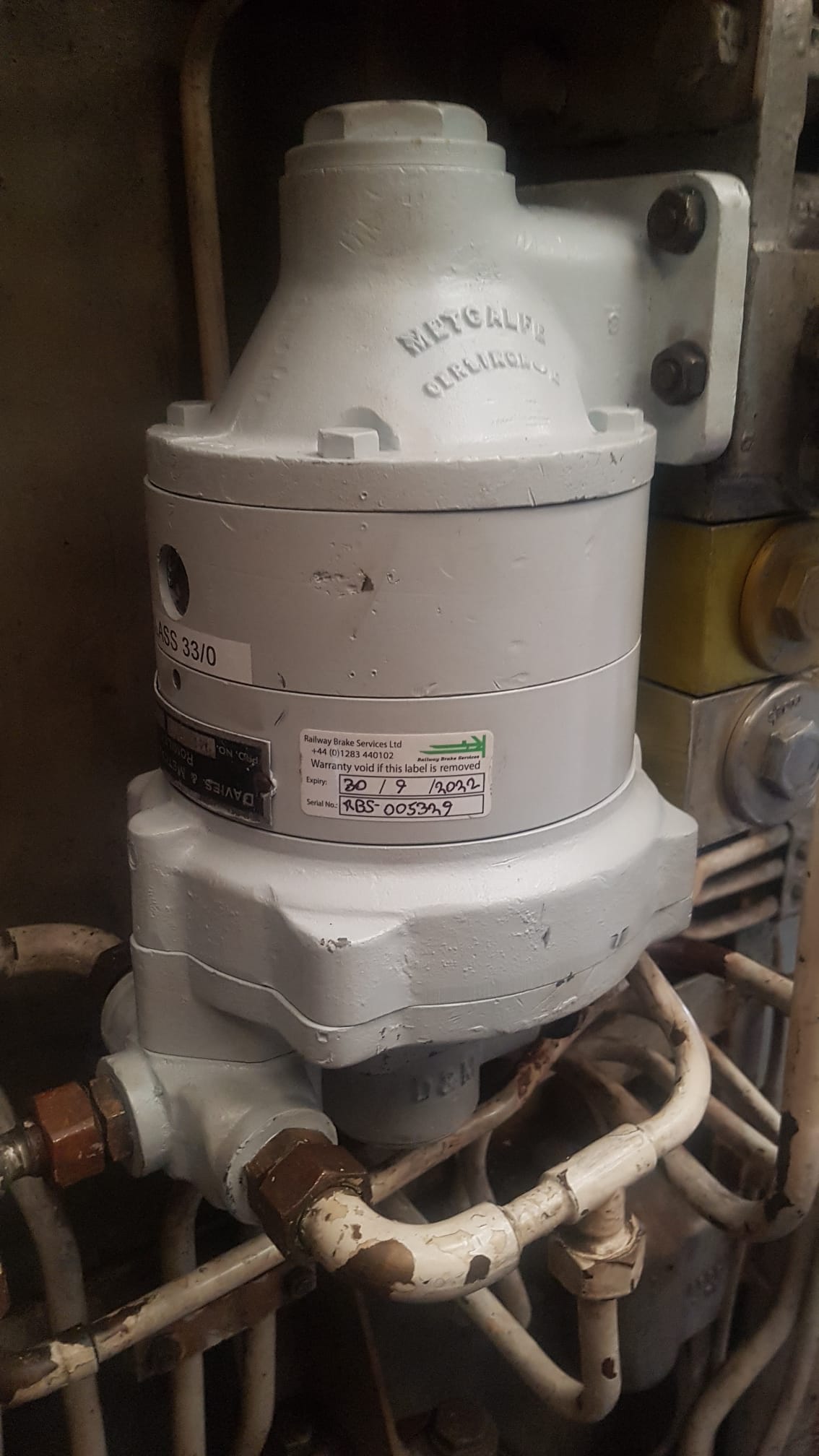 D6566 (33 048) automatic brake valve (sometimes referred to as the 'triple valve') replaced with a refurbished part at Williton on 25th September 2021. Photo by Martin Howard © CC BY-NC 3.0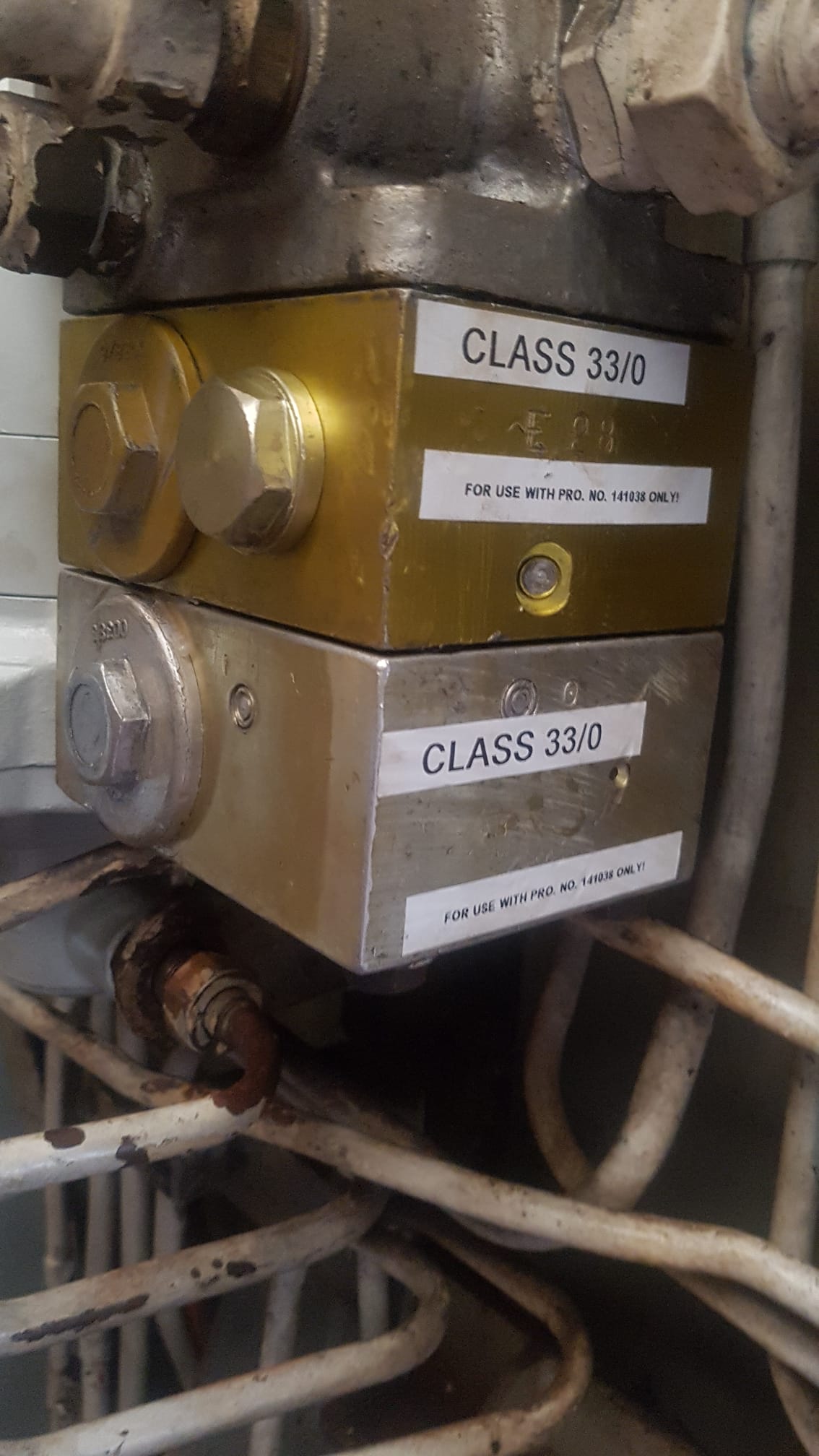 D6566 (33 048) brake valve timing blocks were replaced with refurbished parts at Williton on 25th September 2021. Photo by Martin Howard © CC BY-NC 3.0
Class 33 'Crompton' D6575 (33 057) – this loco also performed really well during the Mixed Traction Weekend and remains at Bishops Lydeard as the 'Thunderbird' loco, on standby in case of any difficulties with the rostered locos.
Class 35 'Hymek' D7017 – this loco is waiting patiently for her turn in the 'Swindon Shed' where she needs to go over the pit for the bogies to be disconencted before the body gets lifted. This work is pencilled-in for the 'work week' that will take place in the first week of November, subject to space being available in the 'Swindon Shed'.
Class 35 'Hymek' D7018 – this loco has been racking up the miles and bringing visitors from far and wide as she has performed on the 'excursion' specials and during the Mixed Traction Weekend already this year. Her next appearance is at the Autumn Steam Gala and she is also booked for the last 'excursion' special of the season that will run on Saturday 16th October. Please do try to come along for that event if you can. Tickets are available via this link or by clicking on the relevant ticket graphic below (these links are to the WSR website):
Class 14 'Teddy Bear' D9518 – work continues apace on the restoration of this loco, with volunteers working on the frames and the cab structure in parallel. The repairs to the battery box have moved along to the stage where the extensively repaired box has now been bead blasted and painted in primer, allowing the team to move on to the second box and the various other parts.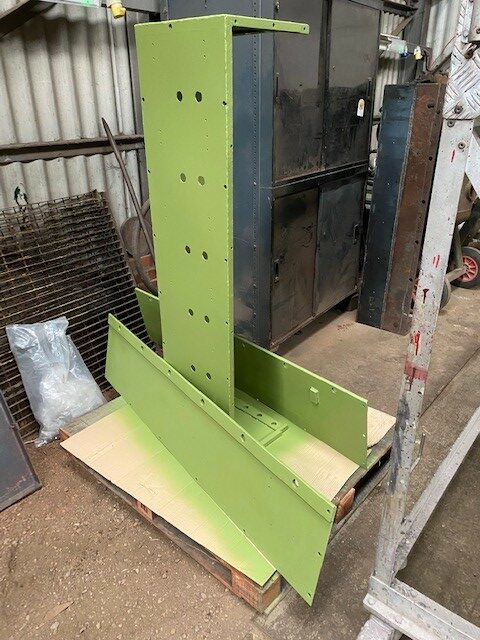 The rebuilt battery box for D9518 receives a coat of primer at Williton on 14th September 2021. Photo by Terry Deacon © CC BY-NC 3.0
This loco is the subject of a fundraising appeal so please follow this link to find out more. We need your help ! In addition to funds, we also need plenty of HANDS. If you love the 'Teddy Bears' and you are not already a member of the DEPG, please join us so that you can become one of the team that is going to return D9518 to full operational condition as 'NCB No. 7'.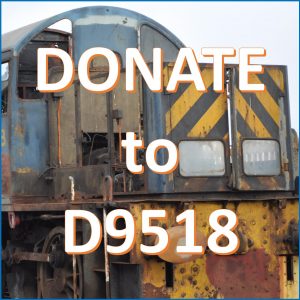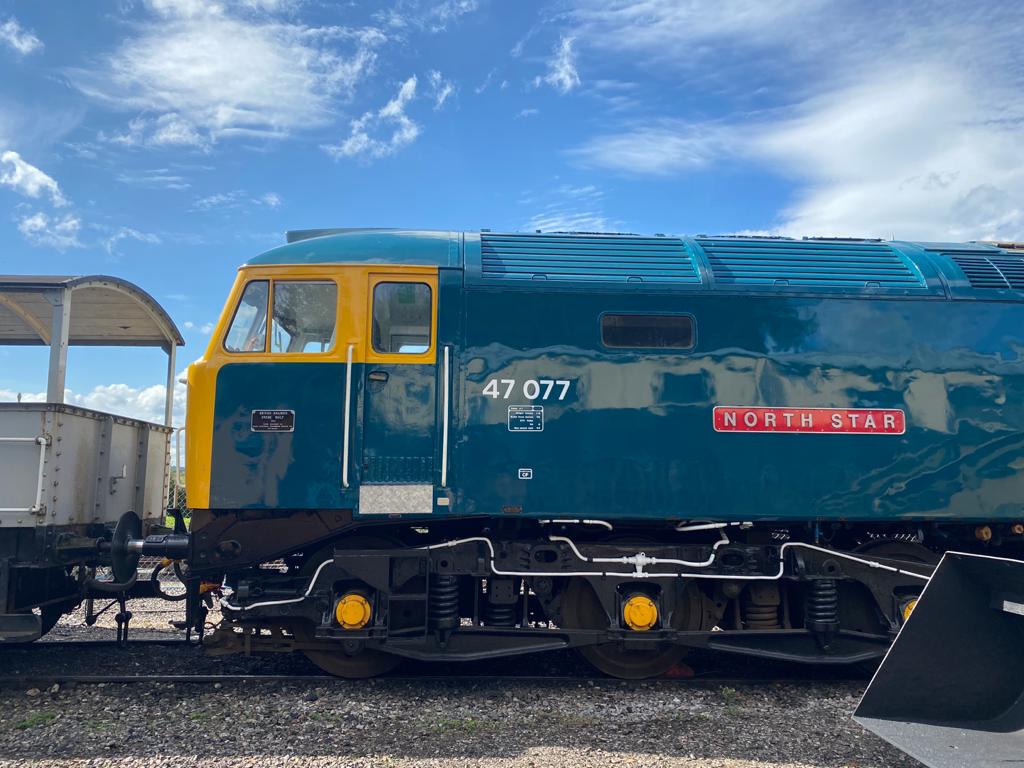 BR-Brush Class 47 47077 (D1661, 47613, 47840) 'NORTH STAR' remains at Westridge Shed, Bishops Lydeard pending her move to the NYMR. Pictured on 17th September 2021 by Andy Royal © CC BY-NC 3.0
Andrew Barclay 0-4-0DH 578 – last but not least, this little diesel-hydraulic loco developed an air leak that needed to be repaired before the loco could be used again, so this was dealt with on Saturday. Attention then moved to the engine governor override lever that is used when starting the engine. This lever is used to command the governor to admit more fuel, so it is basically a hand throttle that is used when getting the engine started from cold. At the far end of the lever, there is a pin that has sheared off, preventing the lever from functioning, so Neil and John C set about repairing it. This will take some time because it is quite inaccessible!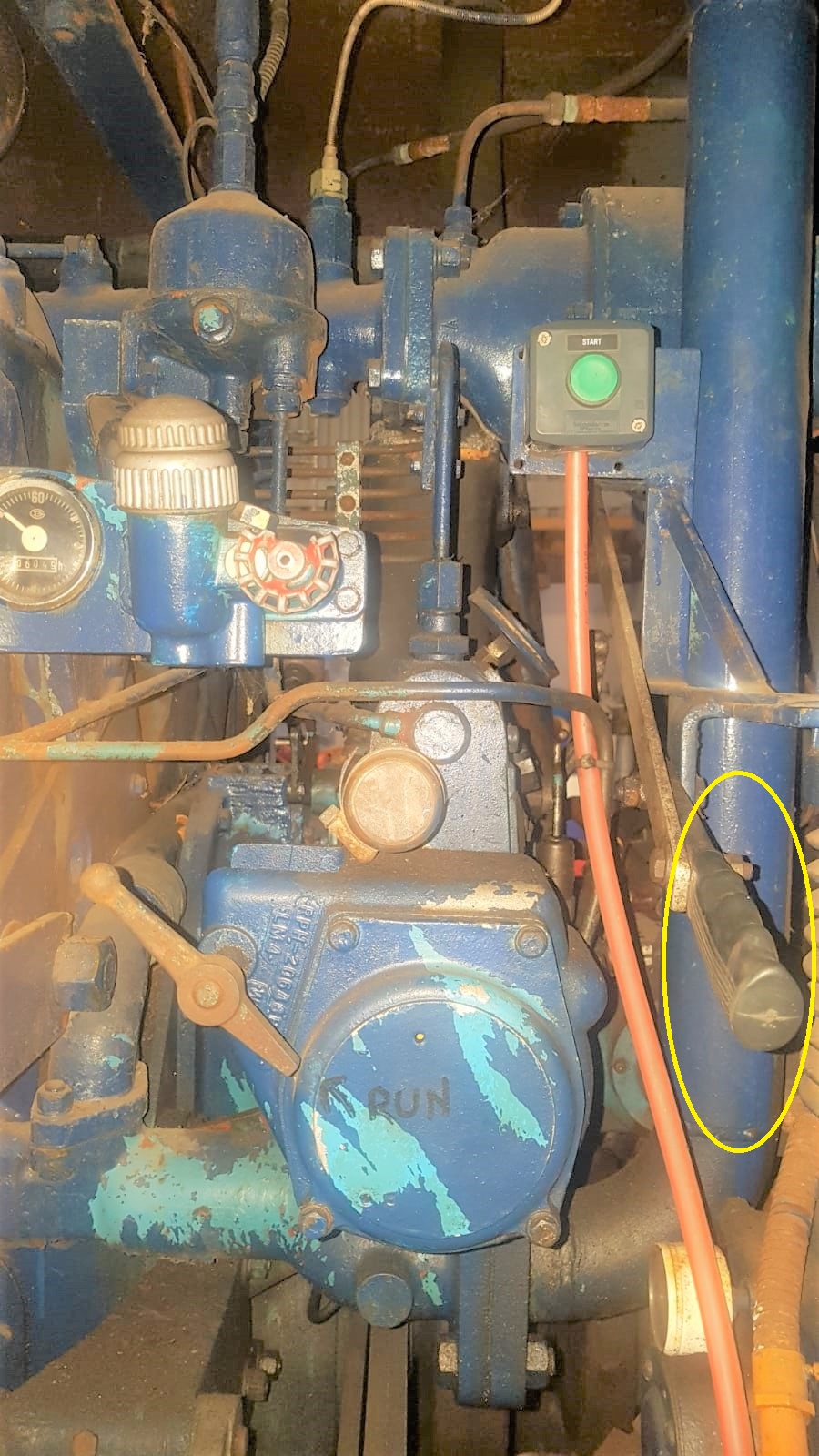 Andrew Barclay 578 engine governor override lever can be seen inside the yellow oval. The green START button is above and these two controls are used when starting the engine from cold. Photo taken at Williton on 25th September 2021 by Martin Howard © CC BY-NC 3.0
BOOK REVIEW – this week, we have a book review report that has been provided by longtime member and regular contributor Neale Long, covering a new book entitled Liveries of The WR Diesel Hydraulics by Russell Saxton, published by Key Publishing (Britain's Railways Series Volume 21).
Here is Neale's report:
"In the latest of Key Publishings' Britain's Railways Series, Russell Saxton explores in detail all the liveries carried by British Rail's Diesel Hydraulic fleet from 1958 to 1977. Illustrating all major and most minor variations in this 96 page A5 format book. 
Russell has brought together an eclectic mix of mainly unpublished photographs to tell the story of the many livery variations found on all the Diesel Hydraulic locomotives. A short introduction sets the scene for six chapters:
D600 'Warships'
D800 'Warships'
The 'Westerns'
Class 22
The 'Hymeks'
Class 14
Essentially the author succeeds in providing a detailed and accurate study of the many liveries carried by these much admired and missed locomotives. This being achieved through the use of 150 images and informative captioning, all of which make for a most useful reference for railway modeller and historian alike. Inevitably the classes which had greater livery variations i.e. classes 42/43 and 52 receive more detailed attention than those that didn't, i.e. class 14, but that is a reflection of which classes lasted longer than others. The photographs pleasingly, for this reviewer, are wide ranging in location, so it's good to see some images of D800's in South Wales, an area not normally associated with the class, and on the Southern Region. The author's efforts in searching out many previously unpublished photographs is to be commended and will surely be appreciated by the many diesel hydraulic enthusiasts. Just to whet the appetite, a  couple of gems I've picked out are the photograph of a maroon half yellow D1042 Western Princess backing on to 1V95 1725 Manchester Piccadilly – Cardiff, a service viewed at Gloucester by the reviewer on many occasions, and a Derek Jones photograph of four class 22's lined up on Gloucester Horton Road Depot, again something this reviewer well recalls.
It would of course be remiss of me not to mention a couple of illustrations of the Group's locomotives, there are cabside close up photographs of both D7017 and D7018, the former illustrating the removed alloy numbers and their replacement by vinyl numbers and the latter illustrating the chalked 'NB' indicating an inactive train heating boiler. Additionally, D9518 is illustrated behind fellow class member D9514 on Gloucester Horton Road Depot .
Overall, I can recommend this publication to all modern traction enthusiasts whether diesel hydraulic enthusiasts or not. Noticeable too is the general improvement in photographic reproduction from earlier volumes. Retailing at £15.99, this represents good value and a worthy addition to any modern traction enthusiasts library."
Many thanks to Neale for providing us with this review.
While on the subject of publications, the DEPG 2022 CALENDAR is now available in our trademark glossy A3 landscape format. Here's a summary of the 12 high-resolution photos that have been so kindly donated by our members and supporters this year: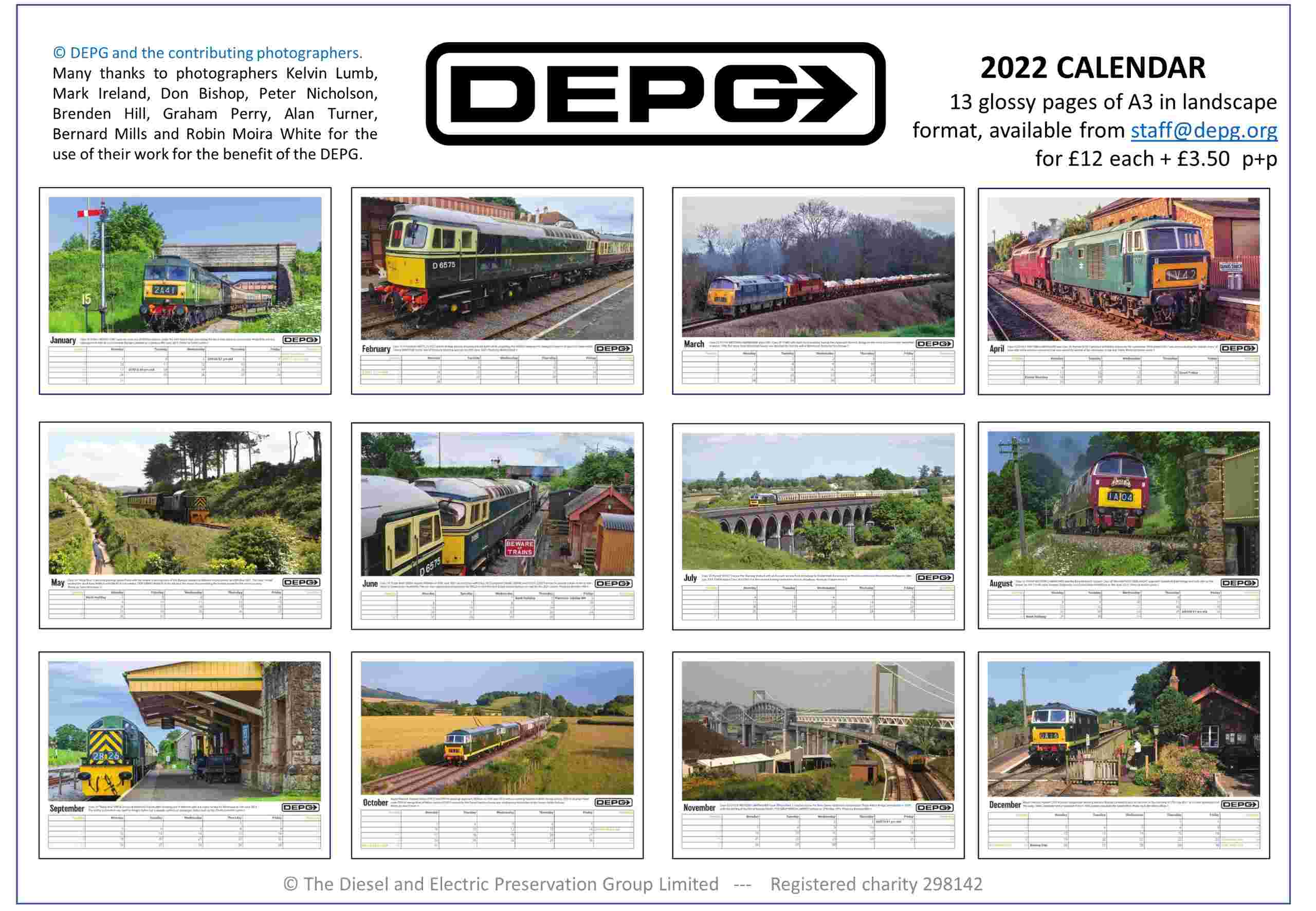 There is an animated video on our website that steps through the calendar month-by-month so CLICK HERE to view the animation.
We have been able to keep the price the same as last year, so the calendar will again cost the princely sum of £1 per month, so we think that is a bargain that is not to be missed. Click here to order your copy while stocks last.
DEPG NEWS – we are very pleased to announce that a new secondman course has started under the expert guidance of John Leach, and we currently have all six available places filled and training is in progress. We have been short of train crew all year so it is very encouraging to see new faces learning the route and studying the rule book with a view to becoming passed secondmen then training for driving positions. Many thanks also to John for his willingness to share his vast knowledge for the benefit of others.
DEPG WEBSITE: We have to report that online sales in the month of September have been DISMAL, maybe because of the number of galas at which the various preservation groups were busy selling their wares for their own fundraising purposes, all of which is commendable. However, it leaves us with little income from our store this month, so please TAKE A LOOK and BUY SOMETHING so that we can have some income as well. Apologies for being blunt, but we now have our new 2022 CALENDAR and the newly-added PRE-OWNED BOOKS (there are plenty more yet to be added so keep an eye on this product category) and much more. Thanks in advance !
WSR NEWS: The latest edition of the WSR's 'THE PLATFORM' newsletter has been released and includes plenty of news from all around the railway, including information about the Seaward Way Level Crossing project. It was also great to read that Ryan Pope and Rich Hiscox have both been promoted in recognition of their knowledge, skills and hard work on all kinds of projects over the years, so well done guys !
Here's a link to 'THE PLATFORM' on the WSR website (click on the image below):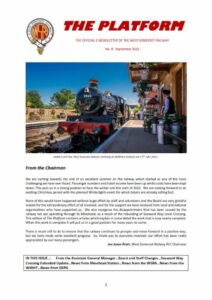 Go to previous Weekly Roundup post