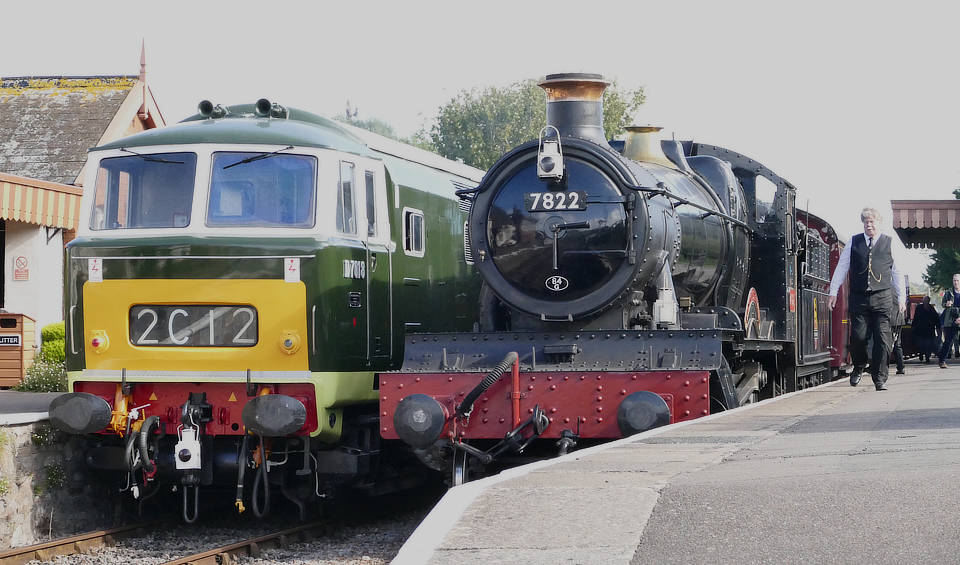 Class 35 'Hymek' D7018 at Blue Anchor at the tail end of an 'up' service from Dunster to Norton Fitzwarren on Friday 1st October 2021 while BR(W) 4-6-0 7822 'FOXCOTE MANOR'  waits with a 'down' service to Dunster (for Minehead). Note the tail lamp hanging from the drawbar hook of the diesel. Photo by Steve Edge © CC BY-NC 3.0
Apologies to 'Hymek' followers, but after two succesful days of supporting the home steam fleet at the AUTUMN STEAM GALA, Class 35 'Hymek' D7018 has to give up her turn today due to an operational issue. Her place will be taken by Class 33 'Crompton' D6575 (33 057) on the top-and-tail steam-diesel working covering the full length of the line between Norton Fitzwarren and Dunster, as per the timetable below.
The working timetable for SUNDAY 3rd OCTOBER 2021 is: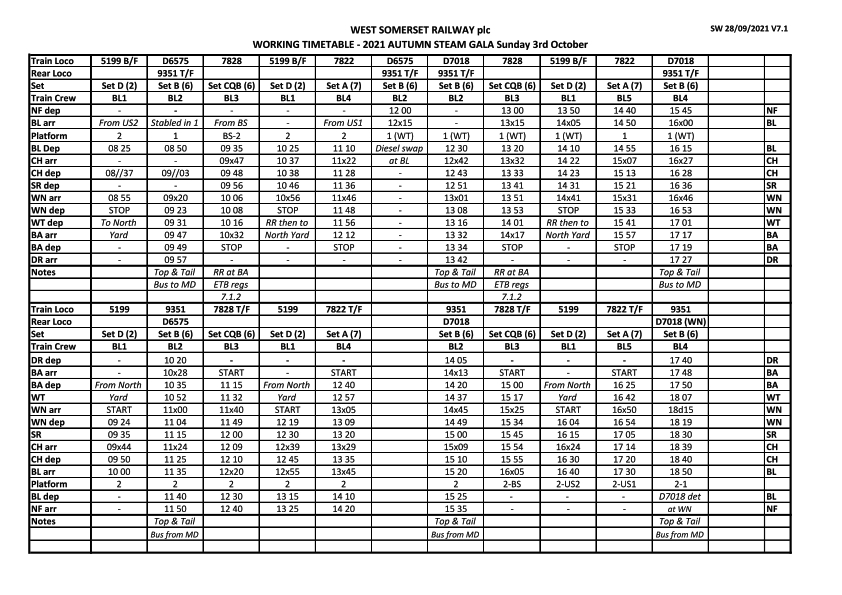 Note: B/F and T/F refer to 'Bunker First' and 'Tender First' in the case of the steam locos.
The next (and last planned for this season) running opportunity for D7018 will be the 'excursion' special on Saturday 16th October 2021 where she will haul a service from Bishops Lydeard to Dunster, returning with an extension to Norton Fitzwarren. Both pre-booked and walk-up tickets are available for this event.
We apologise for the disappointment today, but the good news is that the loco is OK and will run again on the 16th.
If you are unable to attend, the webcams provide a very good way of watching the action from afar. Here are the links:
BL: http://www.wsr.org.uk/r-cam-bl2.htm
CH: http://www.wsr.org.uk/r-cam-ch1.htm
WN: http://www.wsr.org.uk/r-cam-wn2.htm
BA: http://www.wsr.org.uk/r-cam-ba1.htm
Many thanks to Railcam UK and the WSR for providing these webcam services.
Have you considered joining the WEEKLY ROUNDUP e-newsletter list? Click here for details.
---