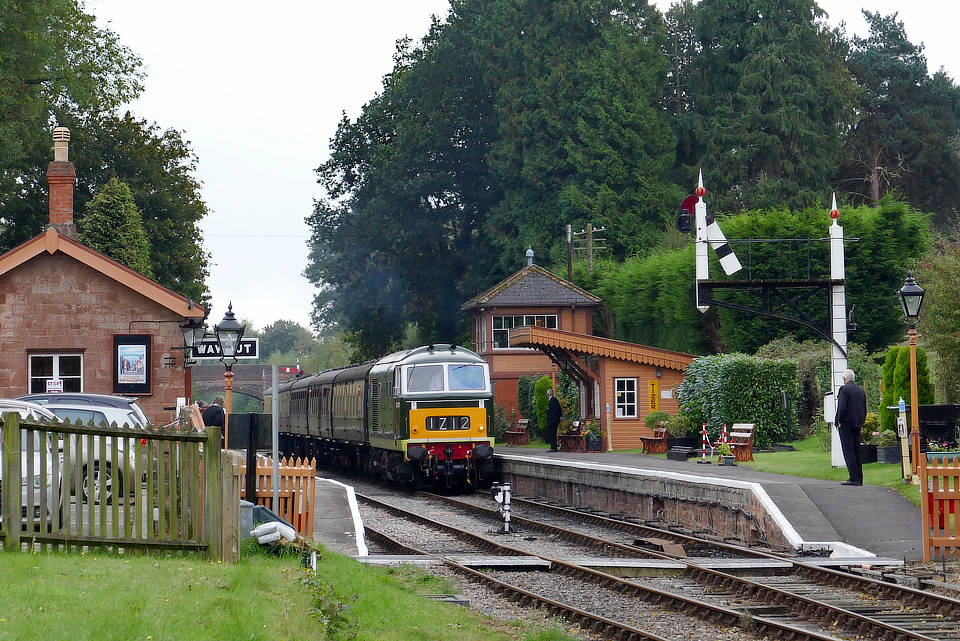 Beyer-Peacock 'Hymek' D7018 runs non-stop through the delightful Crowcombe Heathfield station while heading for Dunster on 16th October 2021 with the last 'excursion special' of the 2021 season. Photo by Tim Edmonds © CC BY-NC 3.0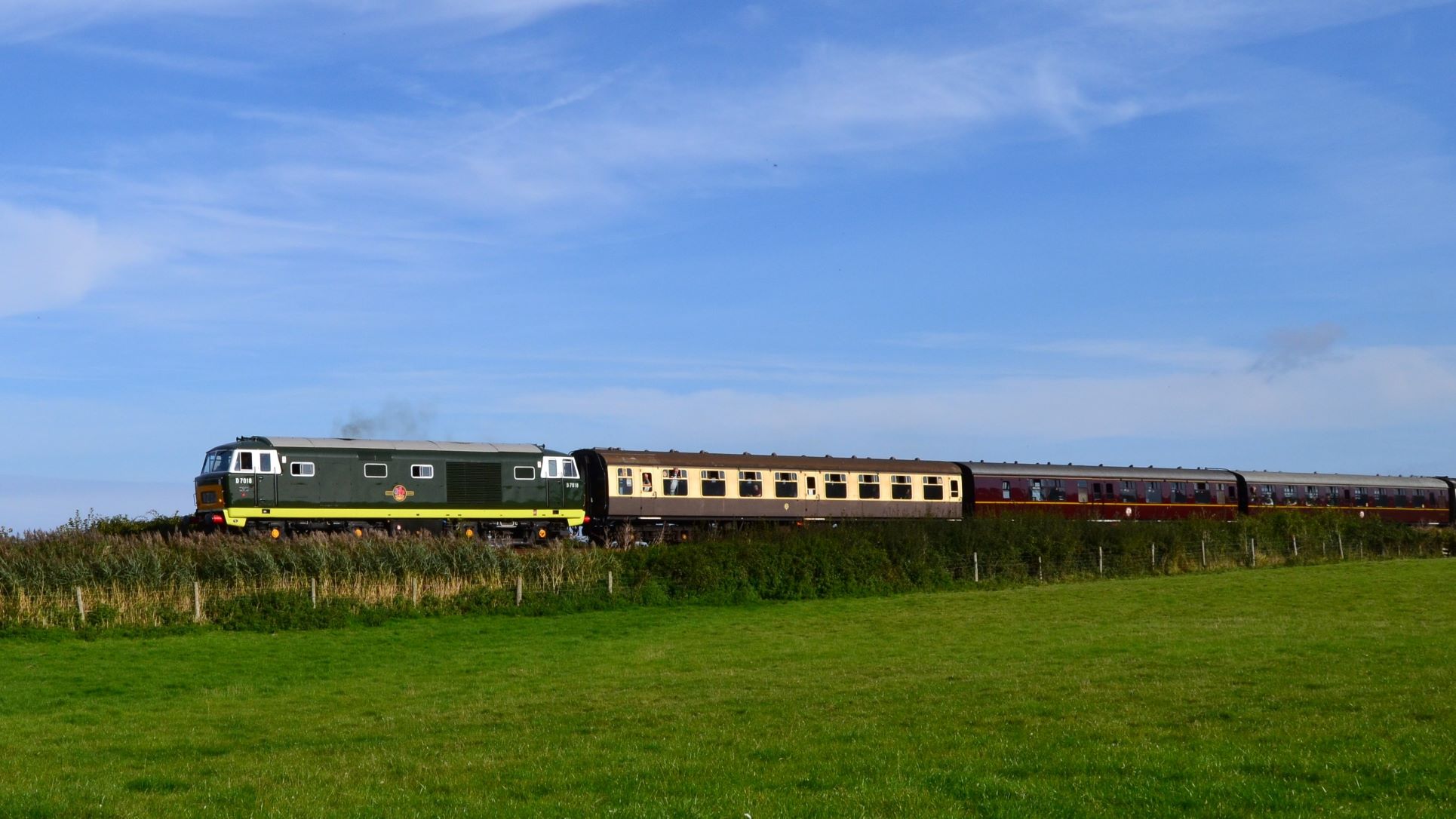 Beyer-Peacock 'Hymek' D7018 crosses Ker Moor, heading for Dunster with the 1135 Bishops Lydeard to Dunster excursion service, enjoying blue skies and warm sunshine on Saturday 16th October 2021. Photo by Tony Latham © CC BY-NC 3.0
The last of the diesel-hauled 'excursion' specials for the 2021 season ran yesterday, Saturday 16th October 2021 and haulage was provided by Beyer-Peacock Class 35 'Hymek' D7018 including an extension to Norton Fitzwarren on the return leg of the journey. The weather was excellent with blue skies and warm sunshine for most of the journey, marking a great end to a sucessful season.
The 59-year-old loco performed admirably and provided some great sights for photographers along the length of the line, including Norton Fitzwarren. We only have space to include some of the many excellent photos that we have been sent, and more can be found on the wsr.org.uk website by clicking this link. Many thanks to all who sent photos of this event !
'Hymek' D7018 stands at Blue Anchor as BR(W) 4-6-0 7828 'ODNEY MANOR' approaches with a return working from Dunster. Video by Martin Howard © CC BY-NC 3.0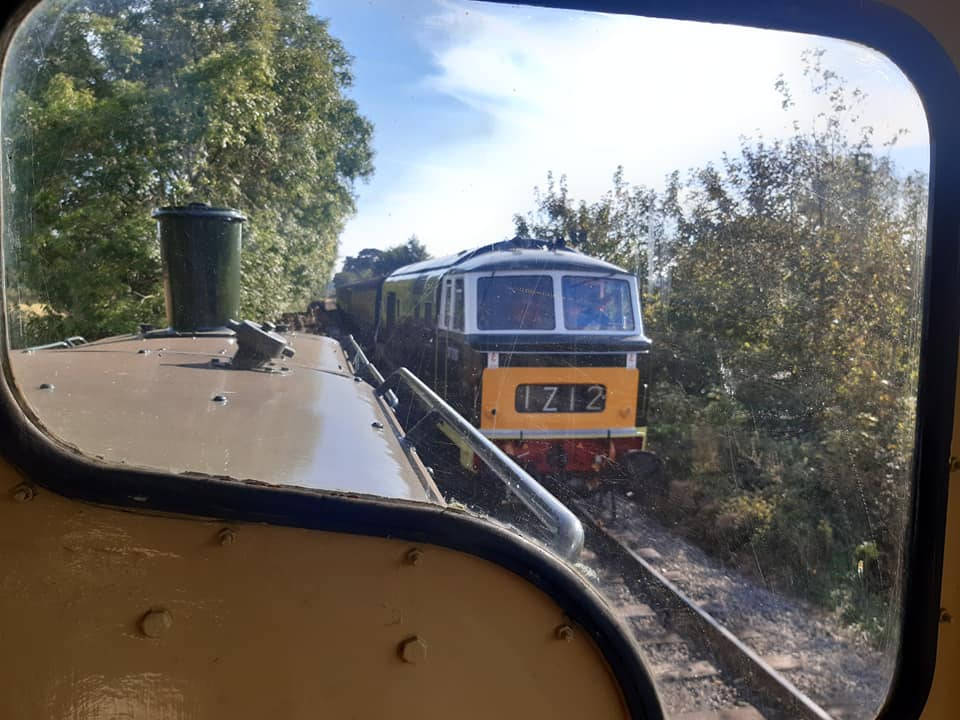 Beyer-Peacock 'Hymek' D7018 prepares for the shunt-release operation at Dunster West on Saturday 16th October 2021. Photo taken from the cab of Class 03 D2133 while at standstill by driver Robin Fisher © CC BY-NC 3.0

D7018 captured just after departure from Blue Anchor with the 1325 return service from Dunster to Norton Fitzwarren, heading for Horse Parks and the climb to Washford, on Saturday 16th October 2021. Photo by Tony Latham © CC BY-NC 3.0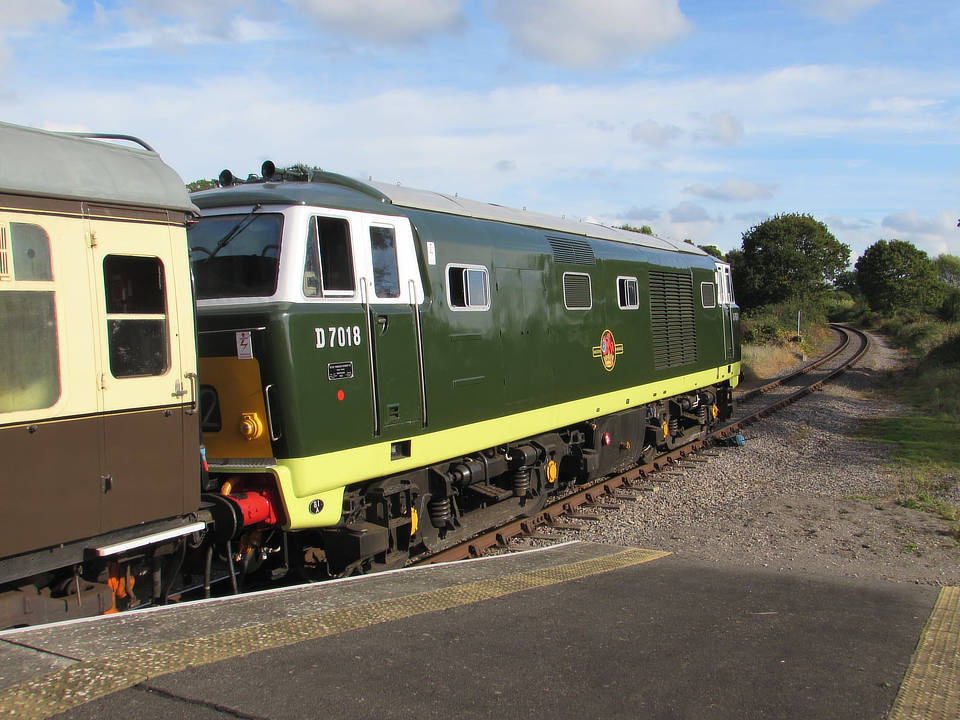 D7018 stands at Norton Fitzwarren platform before uncoupling and running around her train via Barnstaple Junction and the East Chord for the last leg of the 'excursion special' on Saturday 16th October 2021. Photo by Ian Monkton © CC BY-NC 3.0
MANY THANKS to all who have worked so hard to deliver this running program and also to those who bought a ticket or merchandise during this 2021 running season, and in doing so contributed to making the case for more diesel-hauled services on the WSR next year !
LOCO NEWS:
Class 52 D1010 'WESTERN CAMPAIGNER' – some great news this week – the VERY FIRST brand new parts were fabricated for the body repairs, using steel that has been purchased using the funds raised by the D1010 RESTORATION APPEAL. Thank you very much !
The photos below show the progress that has been made in making a replacement valance for the buffer beam of the loco. The heavily corroded original part can be seen in the first photograph. Each end of the loco carries two such valances, each a mirror image of the other.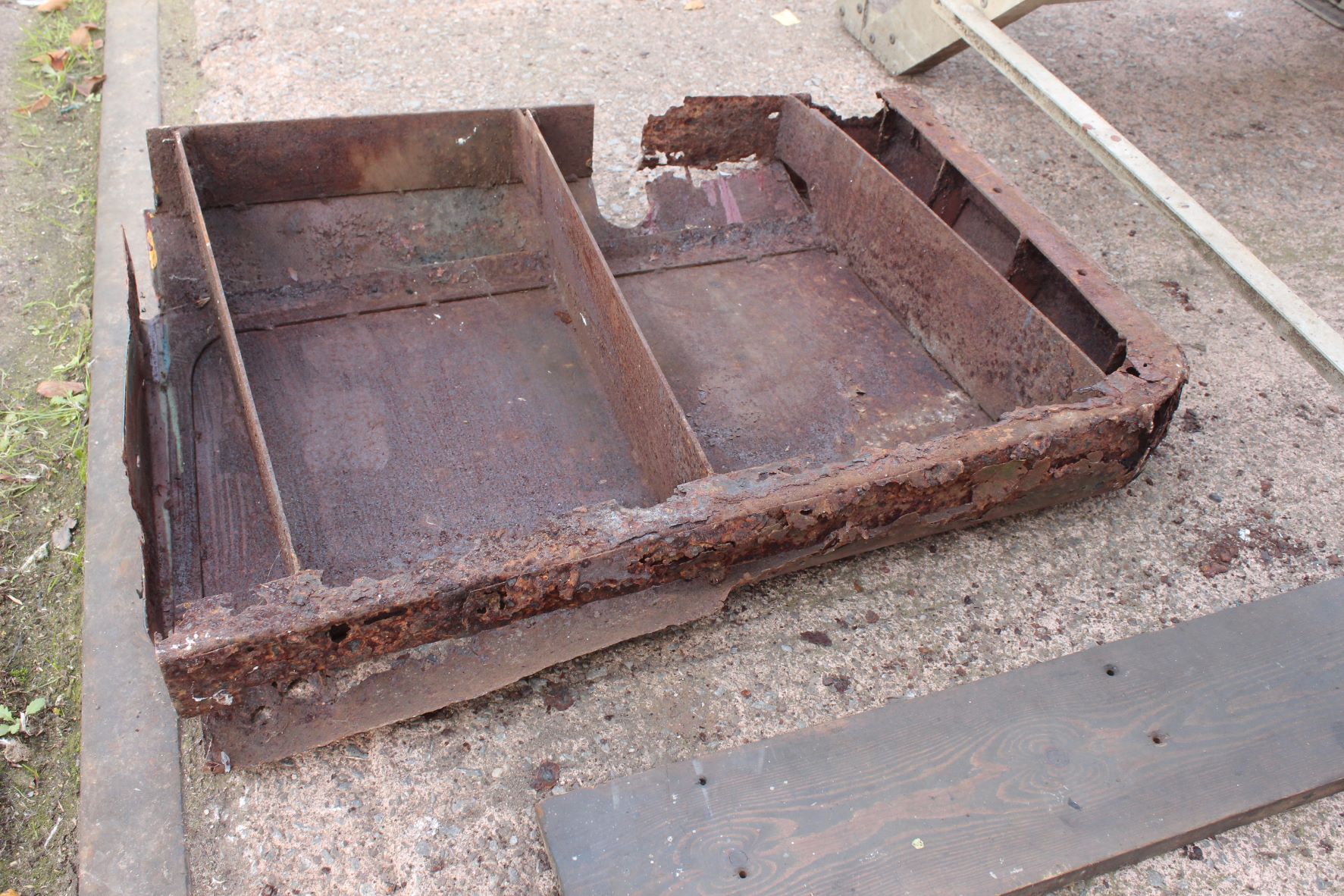 D1010 – inside view of one of the heavily corroded buffer beam valances. Pictured at Williton on 16th October 2021 by Terry Deacon © CC BY-NC 3.0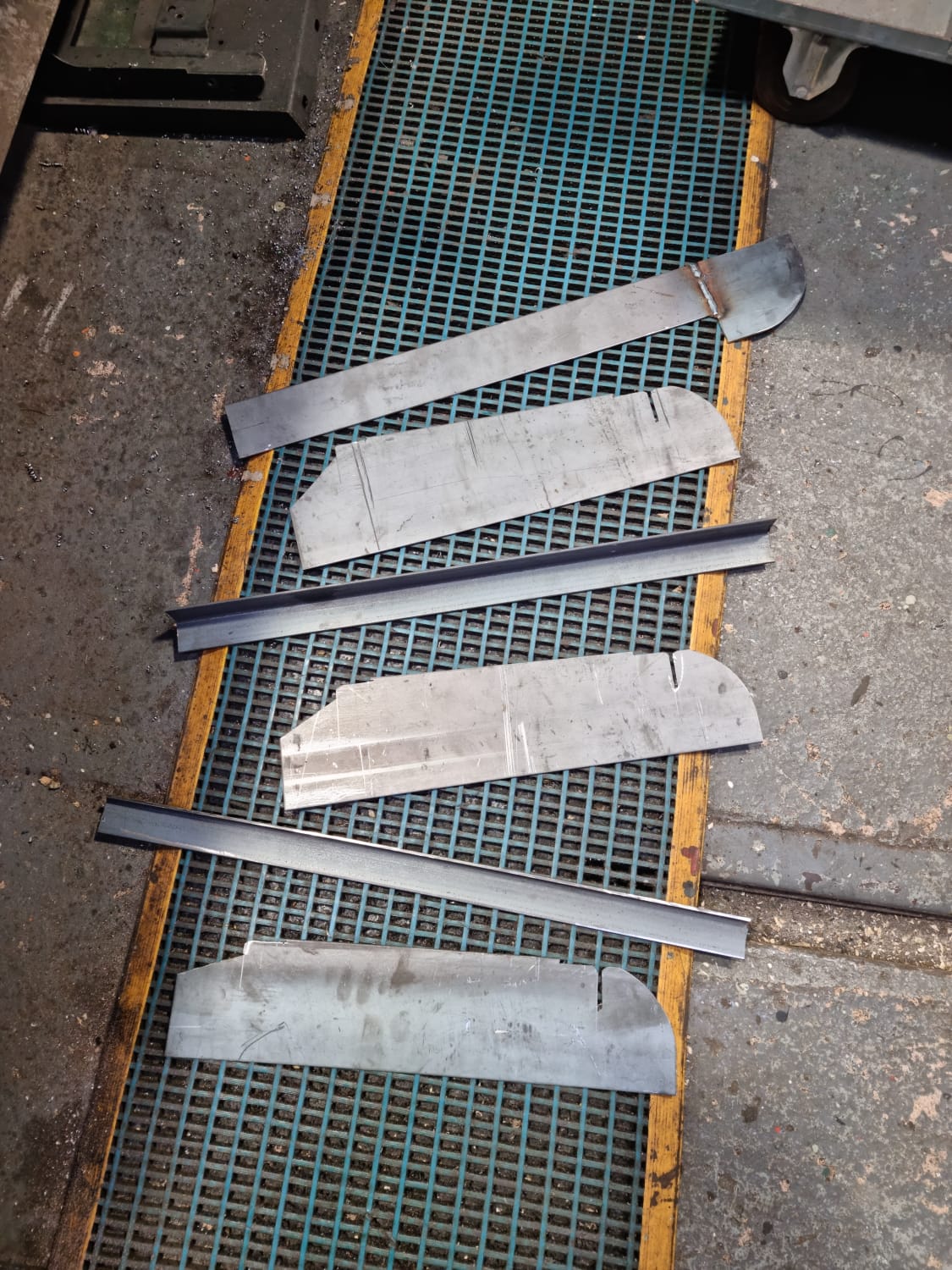 D1010 – buffer beam valance components being prepared by Colin F at Williton on 16th October 2021. Photo by Leroy Ford © CC BY-NC 3.0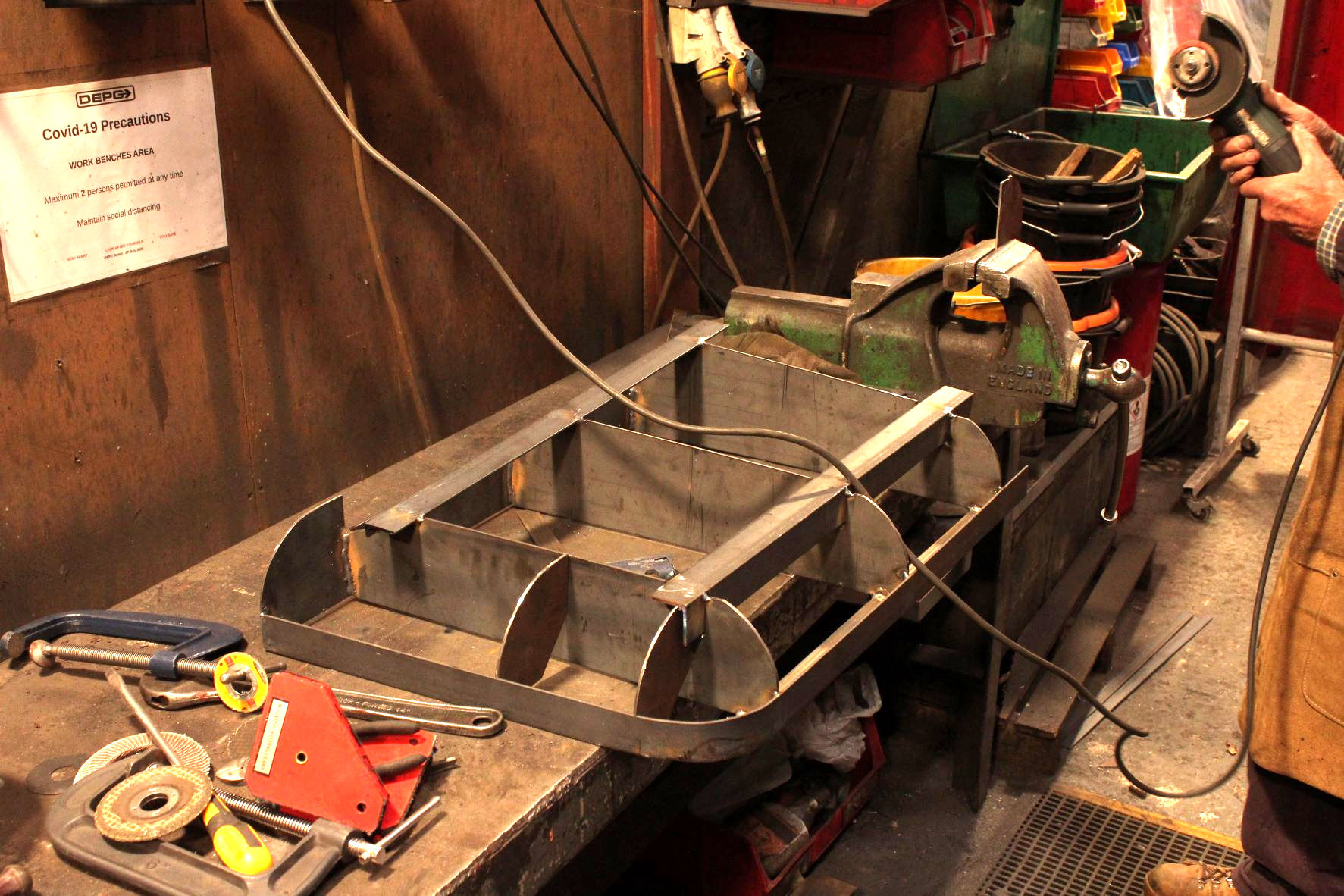 D1010 – the replacement buffer beam valance framework assembly has been created on the bench with authentic shape and detail by Colin F at Williton on 16th October 2021. Photo by Terry Deacon © CC BY-NC 3.0
Some readers have expressed concern after seeing last week's photos of heavily corroded parts in the cab floor structure of D1010, but please be reassured that the corrosion affects some small parts of what is a very large locomotive, and all such parts can be restored or replaced as part of the project.
Here is another area that will be receiving attention – the horns are mounted in the cab roof and water ingress over the years has corroded the horn enclosure so that rainwater was getting into the cab. This repair will involve some more cutting and welding, but this is straightforward repair work that is to be expected in a loco of this vintage. It's another task that needs to be done, but it is nothing to worry about.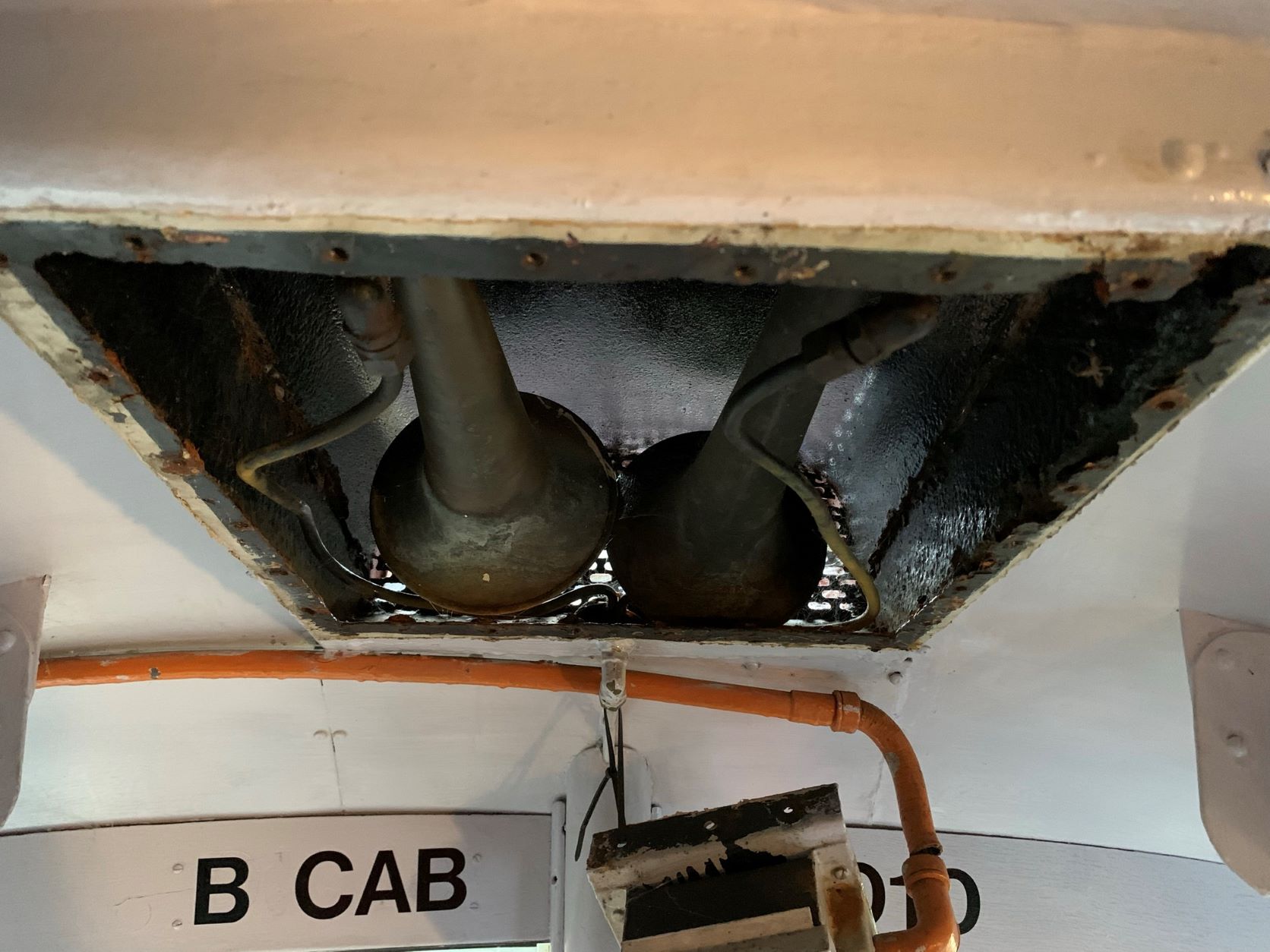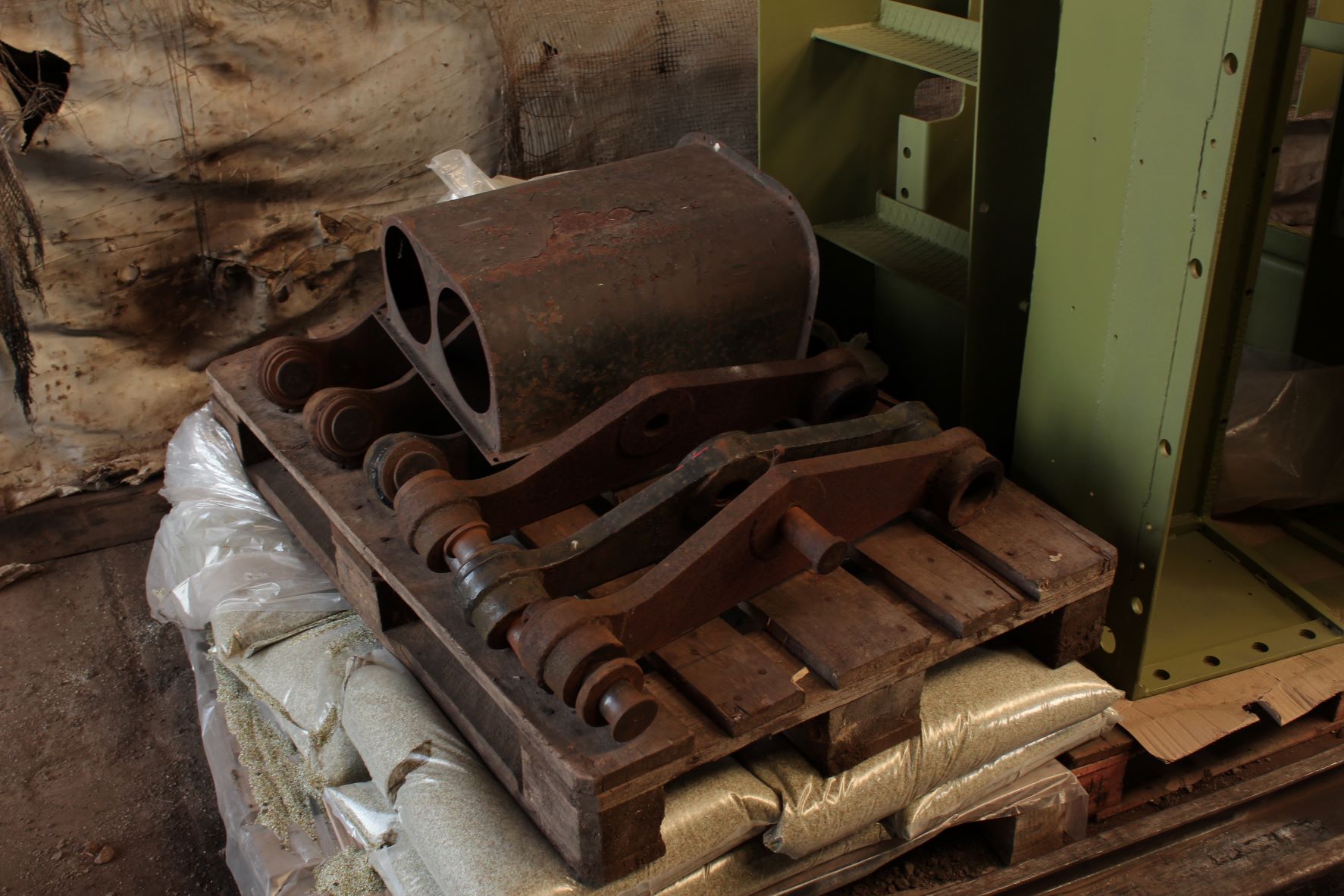 D9518 brake components awaiting glass bead blasting and painting before being re-fitted to the loco frames. Photo taken at Williton on 16th October 2021 by Terry Deacon © CC BY-NC 3.0
This loco is the subject of a fundraising appeal so please follow this link to find out more. We need your help ! In addition to funds, we also need plenty of HANDS. If you love the 'Teddy Bears' and you are not already a member of the DEPG, please join us so that you can become one of the team that is going to return D9518 to full operational condition as 'NCB No. 7'.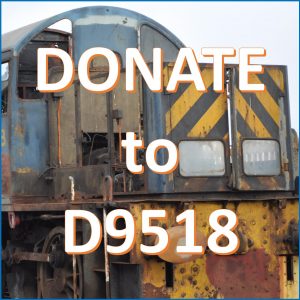 Class 14 'Teddy Bear' D9526 – this loco is based at the Kent & East Sussex Railway for the rest of this year and is now back in action after receiving attention to her engine governor.
Class 47 47077 'NORTH STAR' – this loco remains stuck at Bishops Lydeard waiting for instructions for her move to the North Yorkshire Moors Railway. Unfortunately this running season has passed us by and the loco hasn't been able to work (or earn). We really hope that this issue is resolved soon and the loco can move to the NYMR as planned.
Andrew Barclay 0-4-0DH 578 – no change this week.
Many thanks to all of our volunteers who are hard at work cleaning, painting, maintaining, restoring, managing and fund raising for our fleet of heritage locomotives !
BOOK REVIEW – we have been made aware of several new books that have been announced recently, the subjects of which are likely to be highly relevant to our supporters. The titles are:
| | | |
| --- | --- | --- |
| Subject | Publisher | Expected date |
| BR Class 15 and 16 diesel-electric locos  | Pen & Sword | 30-Dec-2021 |
| BR Class 14 diesel-hydraulic locos – Vol. 1 | Pen & Sword | 30-Mar-2022 |
| Preserved diesel-hydraulic locos | Author – Fred Kerr | Early 2022 |
Many thanks to Neale Long for making us aware of these forthcoming publications. We will provide more information ASAP.
And speaking of new publications, our DEPG 2022 CALENDAR is now IN STOCK in glossy A3 landscape format. Here's a summary of the 12 high-resolution photos that have been so kindly donated by our members and supporters this year: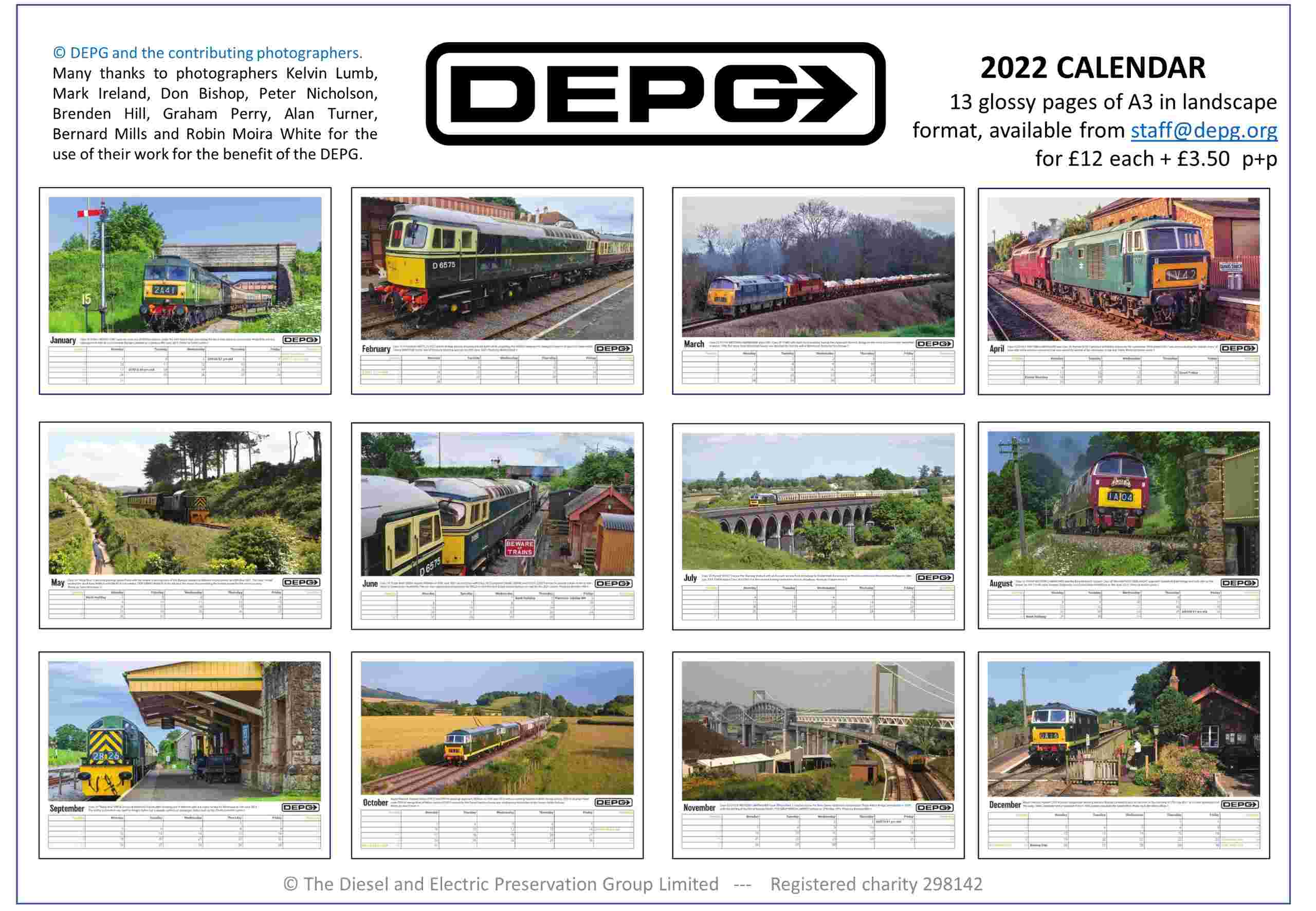 There is an animated video on our website that steps through the calendar month-by-month, so CLICK HERE to view the animation.
We have been able to keep the price the same as last year, so the calendar will again cost the princely sum of £1 per month, so we think that is a bargain that is not to be missed. Click here to order your copy while stocks last.
ON SHED – staying with the theme of last week's photo by Alan Walker showing two Class 14s and a Class 37 on a mixed freight from Healey Mills to Hull, we have another very rare photo that was also captured by Alan, this time on 1st September 1967 in which two Class 14s are clearly working very hard on the climb from Featherstone (Yorkshire) in the direction of Hull: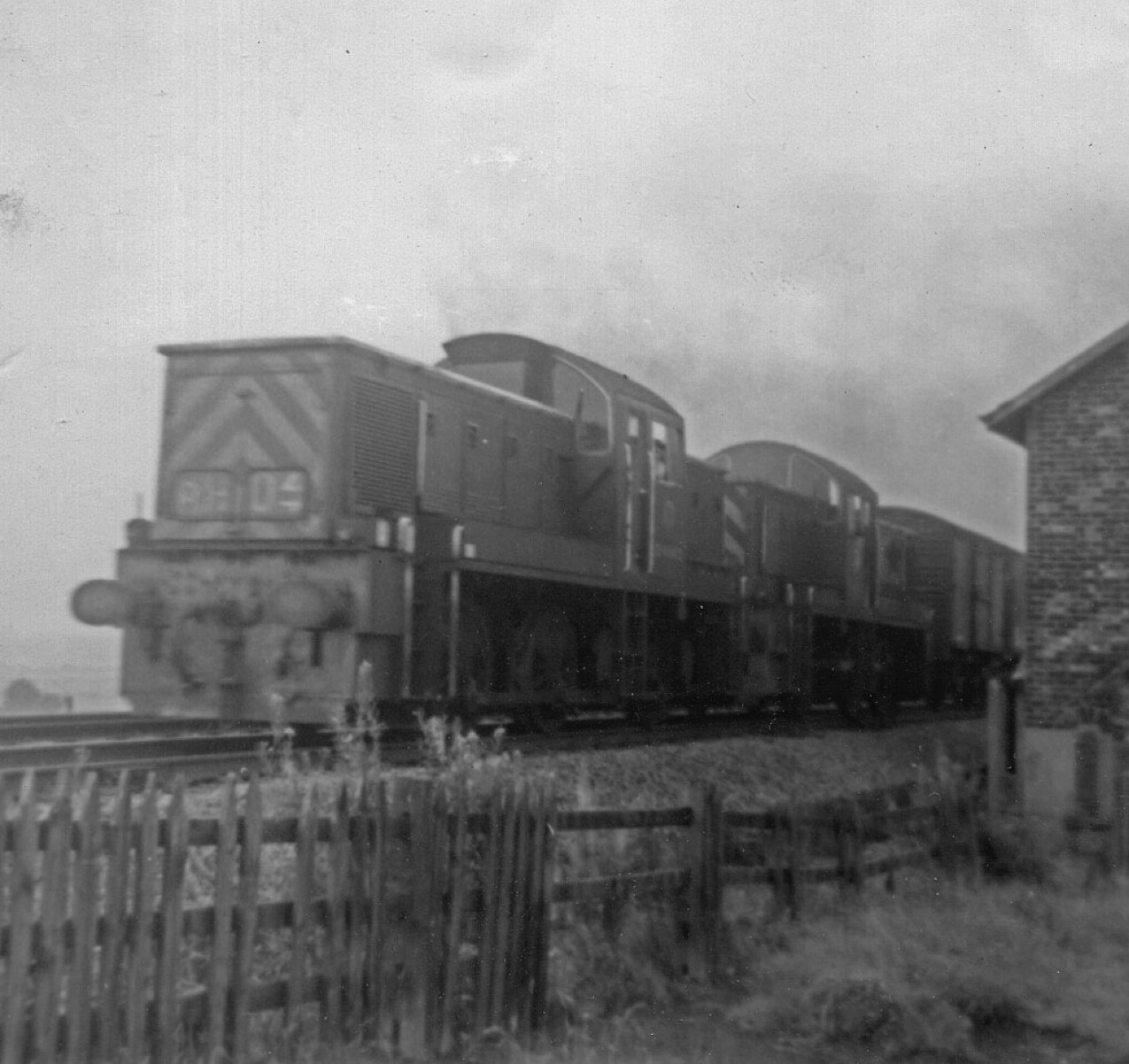 Class 14 'Teddy Bears' D9543 and D9549 haul a mixed freight in the direction of Hull on 1st September 1967, while these two locos were based at Hull Dairycoates depot. Photographed at Featherstone, Yorkshire by Alan Walker ©
Many thanks to Alan for sharing these very rare photos with us; it is much appreciated.
DEPG NEWS – The Autumn 'work week' starts on Saturday 30th October and runs until Sunday 7th November, so we welcome volunteers old and new to come along during that week and help us with tasks that are both loco-related and infrastructure-related. We look forward to seeing you.
We are gathering information and articles for the next edition of the DEPG Newsletter, so please let me know if you have a story to contribute or if you have suggestions for content that you would like to see included. We have a DEPG Board Meeting scheduled for next Saturday 23rd October, so if you have questions that you would like to put to the Board, please let me have your questions ASAP.
DEPG WEBSITE: Please take a look at our online store – we now have our new 2022 CALENDAR and the newly-added PRE-OWNED BOOKS (there are plenty more yet to be added so keep an eye on this product category) and much more. Thanks in advance ! We intend to add DEPG beanie hats and DEPG fleece jackets soon, but please let us know if there is something else that you think we should be offering.
WSR NEWS: There has been some highly visible progress on the Seaward Way Level Crossing and several photos have appeared on wsr.org.uk including the following: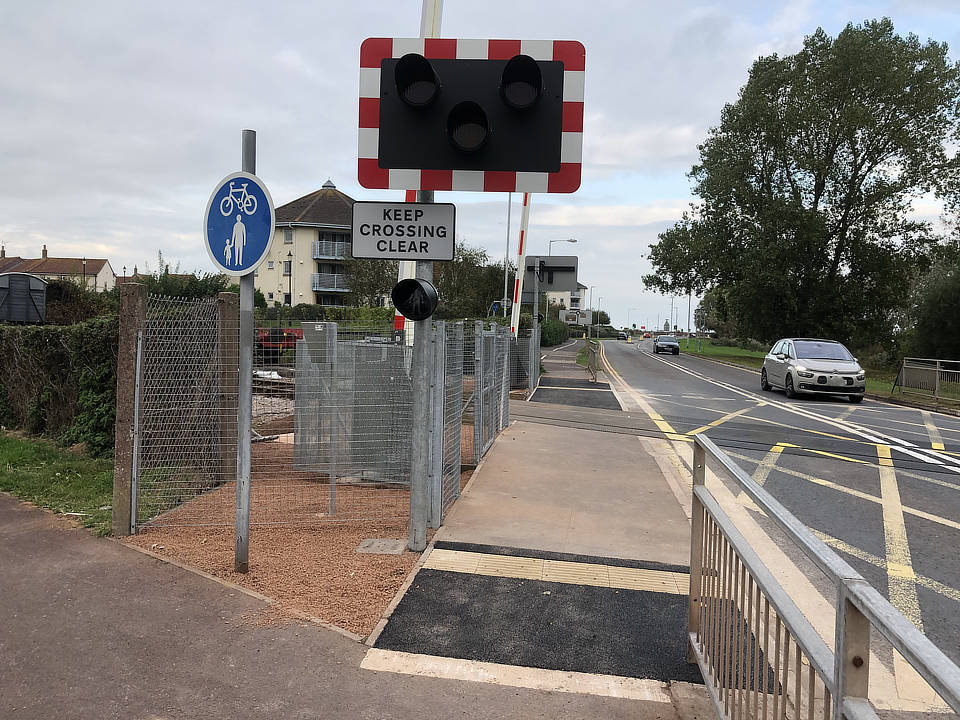 The new level crossing equipment has been installed at Seaward Way, providing tangible evidence of the progress that has been made in the background over the preceeding months. We hope to see Minehead re-connected in the very near future. Photo taken on 15th October 2021 by Keith Sanders © CC BY-NC 3.0
No doubt the good people of Minehead will be very pleased to see the progress and will be looking forward to through services being restored for the opening of the 2022 season. We have certainly missed being able to run to Minehead this year and we are ready to play our part in providing 'diesels to the seaside' in 2022.
Go to previous Weekly Roundup post
---