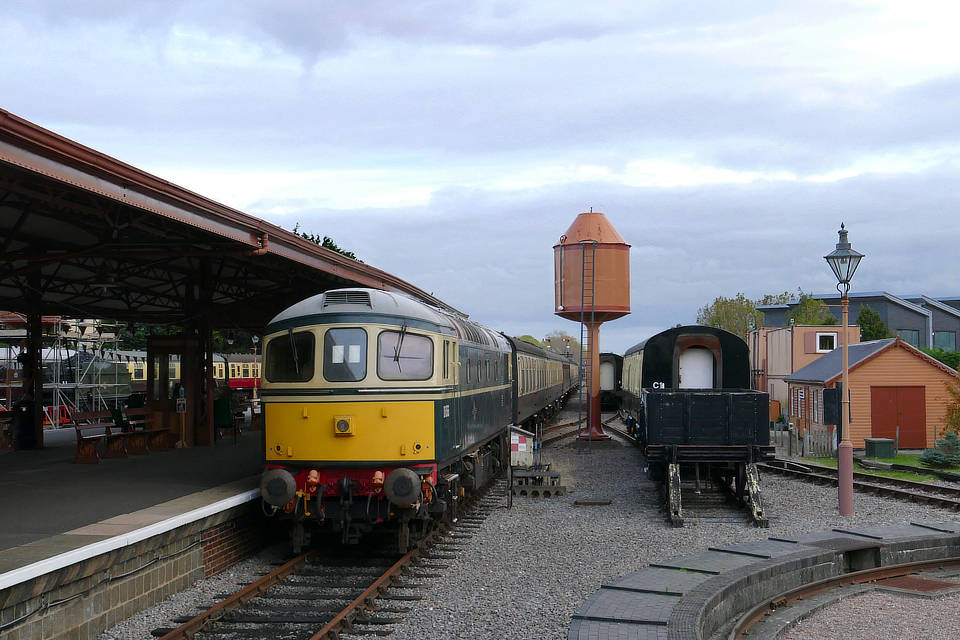 Birmingham Railway Carriage & Wagon Co (BRCW) Class 33 'Crompton' D6566 (33 048) arrived at Minehead station on Friday 5th November with an Empty Coaching Stock (ECS) working from Bishops Lydeard. Photo by Tim Edmonds © CC BY-NC 3.0
In preparation for the 'Winterlights' workings that start on Friday 19th November, the WSR Operations Department arranged for Class 33 'Crompton' D6566 (33 048) to perform some Empty Coaching Stock (ECS) moves so that the appropriate vehicles could be prepared for fitment of the many thousands of lights that will be illuminated along the length of the train. The power will be provided by two self-contained generator sets that have been temporarily housed within former Southern Railway 'Parcels & Miscellaneous Van' (PMV) vehicle number 1464, which has been repainted for the occasion by the WSR wagon team: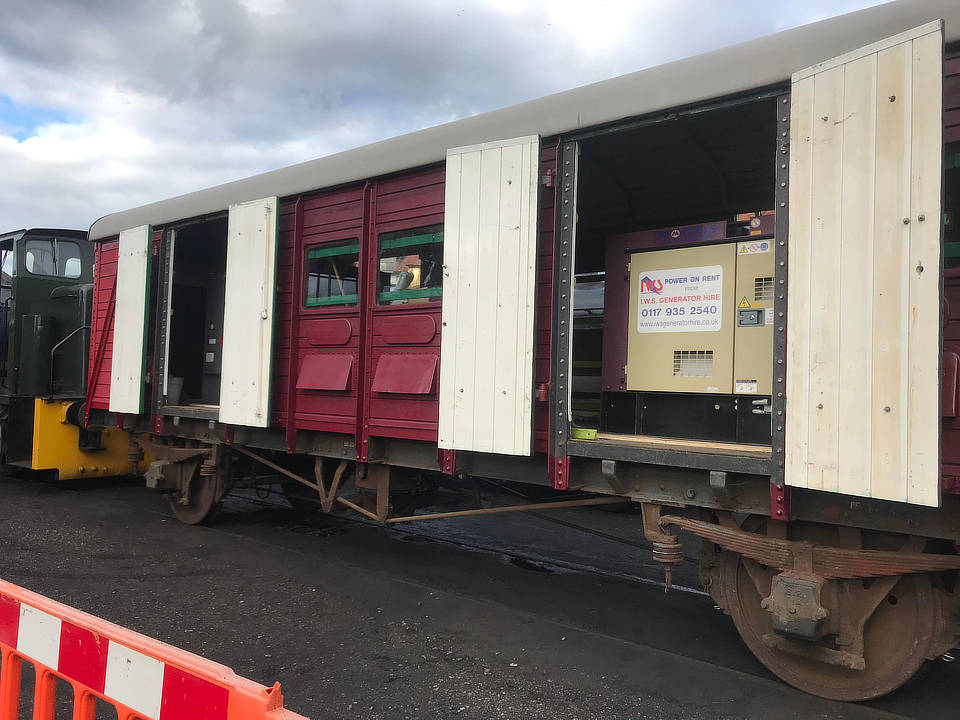 Ex-Southern Railway 'Parcels and Miscellaneous Van' (PMV) number 1464 has been repainted and fitted with temporary self-contained generator packages at Minehead in preparation for the 'Winterlights' trains that start on Friday 19th November 2021. Photo by Rich Hiscox © CC BY-NC 3.0
The 'Winterlights' trains will be 'top and tailed' with a steam loco on the Minehead end and a diesel on the Taunton end, to simplify operations and avoid the need for the loco to run around at Crowcombe Heathfield. The duty diesel loco will be Class 33 'Crompton' D6566 (33 048) while sister loco D6575 (33 057) takes a well-earned break for planned maintenance at Williton.
The appeal of the 'Winterlights' trains has been such that the WSR have added more services, including dates between Christmas and New Year to increase the number of available tickets from 5000 to 9000, so this is great news and we are proud to be able to play our part. We will also be supporting the (daytime) 'Santa Express' workings in the same way as we did last year. These services have also been highly appealing to a hungry market, with all tickets sold out already. It's going to be a busy season !
On Friday 22nd October, the DEPG hosted a visit to Williton by 28 members of the THE RAILWAY CORRESPONDENCE and TRAVEL SOCIETY (RCTS), a group that was established in 1928 and now boasts more than 3000 members and can safely claim to be the most senior of the railway societies in the UK. In connection with that visit, we would like to share the following feedback from former WSR chairman Mark Smith as follows:
"I enjoy keeping up to date with what you are up to at Williton, and on Friday 22nd October that all became very useful indeed.
The Railway Correspondence and Travel Society held their annual weekend in Taunton this year, and on Friday afternoon the first formal visit of the weekend was to Williton, first to the DEPG and then to the WS Restorations depot down the yard.
28 participants assembled and were made welcome by your chairman Martin Howard and assisted by Mark Bladwell and Leroy Ford.
I would describe the RCTS as a long established, serious minded organisation. 
I attended to oversee their transfer from DEPG to WS Restorations and because I was to be guest speaker at their formal evening dinner the following night.
I knew from the conversations that afternoon that they really appreciated having four locomotive cabs accessible to view, with the DEPG team on hand to answer their questions and explain the Groups ambitions and something of the work that is required to keep the fleet in working order.
This was confirmed the following evening by numbers of people who queued up at the end of the proceedings to say their own thank yous. The preparations and access made possible by the DEPG were mentioned and contributed to their enjoyment immensely.
I understand there was a decent contribution to DEPG funds, but importantly a good deal of goodwill was also generated.
Thank you.
Best regards
Mark
Hon member DEPG, WSR plc (retired)"
Many thanks to Mark for supporting the RCTS visit and for providing this very useful feedback. We are really pleased to hear that the event went well and we thank all those involved with organising it. Much appreciated !
LOCO NEWS:
Class 52 D1010 'WESTERN CAMPAIGNER' – the Autumn Work Week at Williton presented an opportunity to make more progress on D1010 and that opportunity was grabbed with both hands !
Throughout the last week, our restoration volunteer Colin F has been hard at work on the restoration of the eight valance sections that form the skirt around the buffer beams at each end of the loco and contribute to the style and grace of the iconic design. Where possible, Colin has used the original metalwork and repaired it as necessary, but in some cases, there was not enough 'good' metal remaining, so Colin fabricated new sections by copying the original build methods.
The result is a complete set of eight authentic valances with eight footholds, all awaiting glass bead blasting and painting. Well done and many thanks to Colin for his hard work and diligence !
Leroy was also on hand throughout the week, making steady progress on the removal of the 'Prestolith' filler on the loco bodyside, but on Thursday 4th November, he prepared the 'A' end engine for a run to exercise the loco systems and ensure that all was well before preparing the engine for the winter. NOTE – the engine at 'B' end is operational but cannot be started because the transmission has been removed from the loco for repairs, and the dynastarter couples to the engine via the transmission.
The photos below show the progress, and there are links to two short video clips from Leroy that show the 'A' end engine running (best played LOUD!):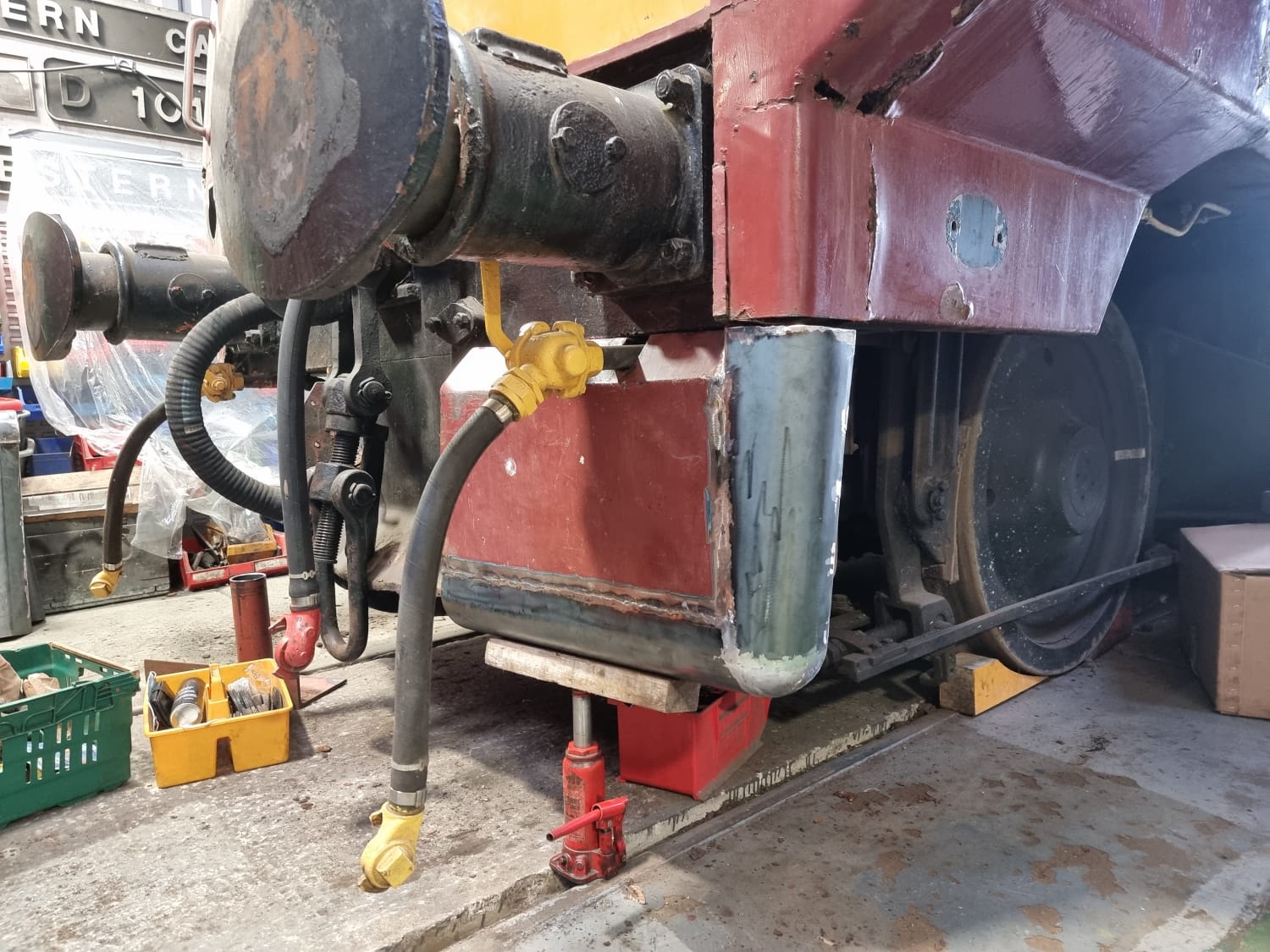 D1010 – a restored front valance was trial fitted to 'B' end to check that the new metal profiles matched up with the original lines. More trial fitment work will take place and adjustments made where necessary, before glass bead blasting, priming and painting. All of the restoration work has been painstakingly performed by volunteer Colin F. Pictured at Williton on 1st November 2021 by Leroy Ford © CC BY-NC 3.0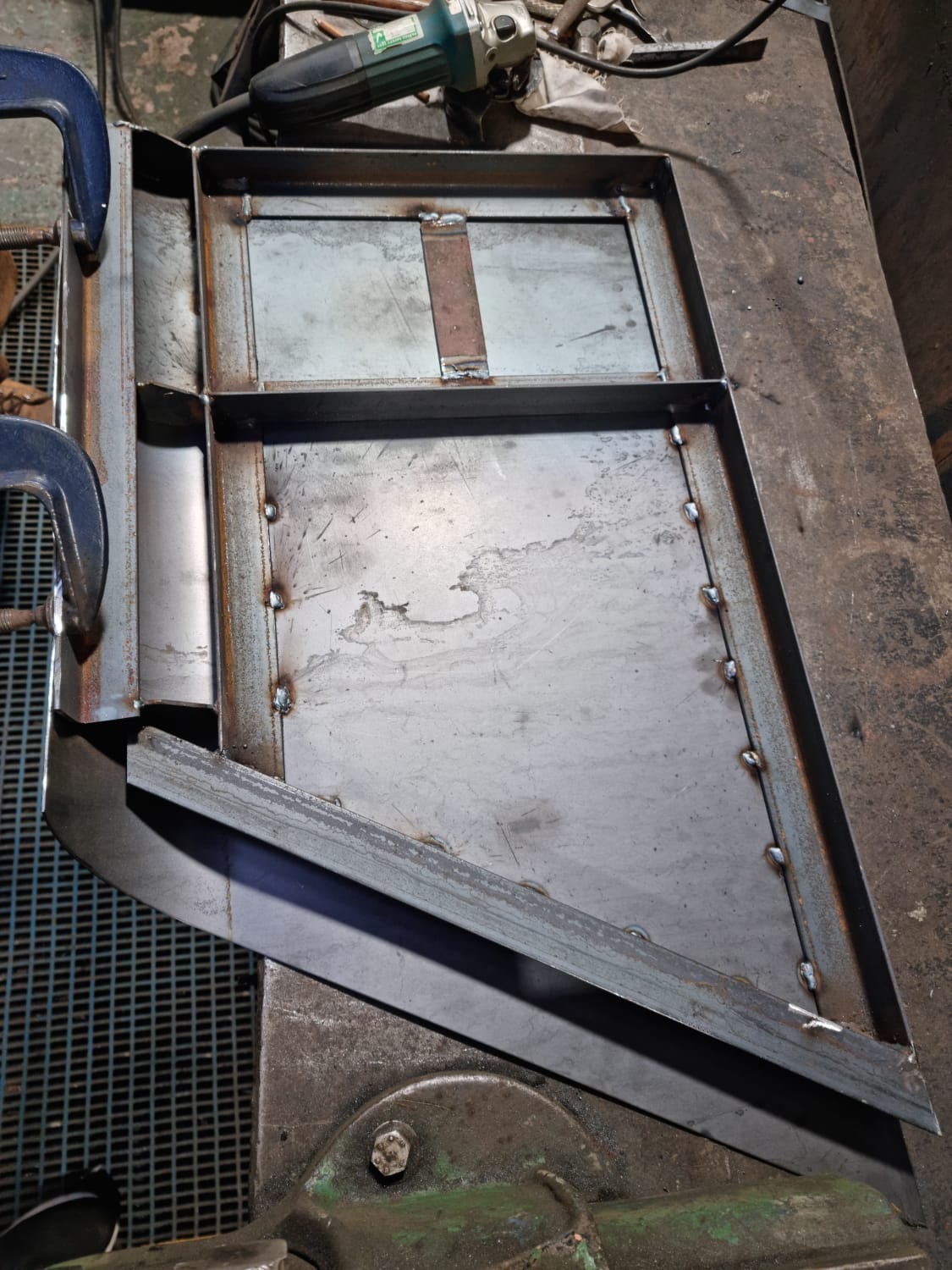 D1010 – a brand-new front side valance undergoing fabrication at Williton on 6th November 2021. This new part has been built to the authentic design of the original part by Colin F and will replace the non-standard part that was fitted to 'A' end in 1986. Photo by Leroy Ford © CC BY-NC 3.0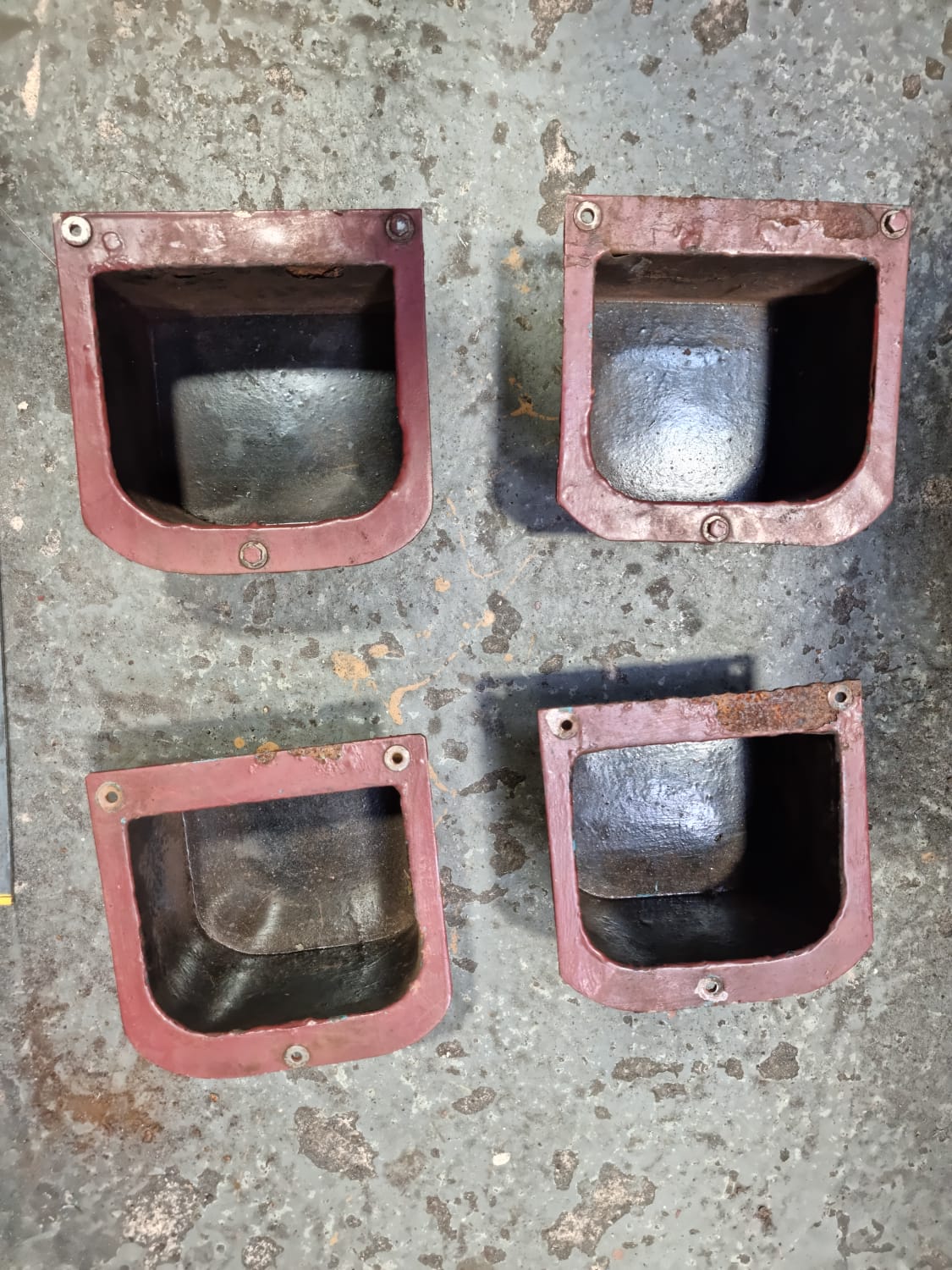 BOOK REVIEW – this week, we include a detailed report by long-term member and regular contributor Neale Long, who has purchased the book from our online store and reports as follows:
'WESTERN VENTURE' by Roger Geach and Michael Mercer, published by Budleigh, October 2021.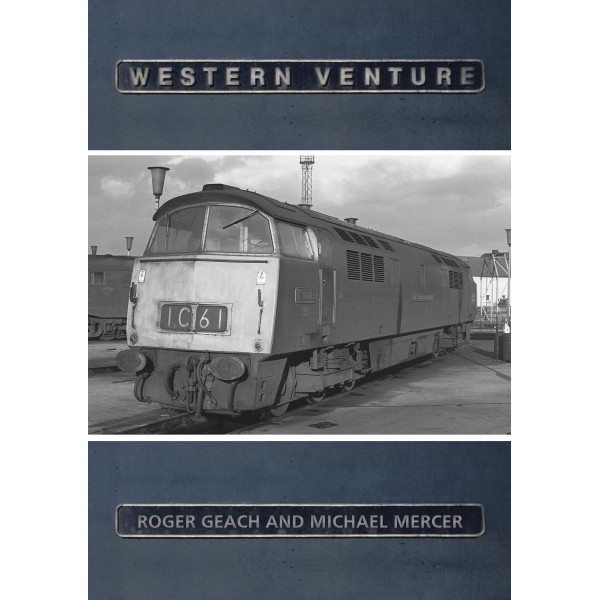 "The latest in the long line of books published on 'Western' Class 52 Diesel Hydraulic locomotives is this fine 75-page soft back album, dedicated to these hugely popular machines by Roger Geach and Michael Mercer. Featuring monochrome images of all 74 class members at work throughout the region on a wide range of duties, the album is based upon the photographs taken by well-known railway photographer Barry Nicolle, supplemented by additional  images by photographers Roger Geach, Leslie Riley, Eric Bullen and Mike Martin. Consisting of eight chapters preceded by introductions and acknowledgement, the book aims to portray the Class 52's as mixed traffic locomotives and does so with a fine selection of photographs of the Class in action in the 1970's. The album consists of eight chapters and over 120 images. The chapters are:                            
The 74 'Westerns'

Swindon Works

Early memories of the 'Westerns' by Steve Marshall

My perspective, by Michael Mercer

Sunday morning to Penzance, by Roger Geach

Western Rover 1975, by John Harvey

My last Western Summer, by Steve Philpot

The Survivors
The bulk of the images are contained in the first two chapters and are largely previously unpublished, mainly from the lens of railway photographer Barry Nicolle. The second part of the book consists of five articles from well-known enthusiasts, describing their particular memories of 'Wizzos', be it from the photographic, haulage or spotting perspective. All the articles are well written and provide a sense of what presence these superb locomotives had (and still have!) and very much complement the fine selection of images published.
The images perfectly illustrate the varied nature of work that the class undertook during the 1970s, with increasing use on freight as passenger work was slowly lost during their final years. All the usual locations are featured, ie Paddington, Reading, Exeter, Plymouth and Cornwall, but what makes this selection of images stand out are that a good number of them are taken around Barry Nicolle's then home town of Cheltenham and nearby Gloucester, which makes a change from the more usual views of London, Devon & Cornwall. It is often forgotten that the Class 52's worked over all parts of the Western Region, not just in the usually depicted areas.
The reviewer, who was born and raised in Gloucester, can testify to this, and to this day the Class are fondly remembered by enthusiasts in the area. Your reviewer remembers the sight of many a Class 52 stabled on Horton Road, and pleasingly this album features this location, plus a picture of D1016 'WESTERN GLADIATOR' leaving the now-closed Gloucester Eastgate station on a train that I became very familiar with, the Sundays-Only (SuO) 1515 Paddington – Cheltenham, was particularly nostalgic.
The chapter on Swindon Works is somewhat depressing with the images of locomotives awaiting scrapping, but as the authors quite rightly state, it was how things were at the time. The album ends on a positive note, however, with images of all seven of the fortunate survivors. All the photographs are accompanied by accurate and concise captions  which help the reader to further understand how the class managed their remaining years.
Overall, authors Roger Geach and Michael Mercer have done an excellent job in compiling a fine photographic album  which meets its aim of depicting the class as a mixed traffic locomotive that put in many years of hard work on British Rail's Western Region. The reminiscences complement the photographs very well and will appeal to not only admirers and modellers of the Class 52s, but also to those interested in the British Rail Western Region in general. The album does what it says and helps those who were not fortunate to see the Class 52's in service to see what they were actually like and to remind those who were fortunate, what great days they were and what a presence these wonderful locomotives had.
I would unhesitatingly recommend this album without any reservation."
Many thanks to Neale for providing us with this book review.
All proceeds from the sale of this book go to the D1010 Restoration Fund, as per the agreement with Roger Geach. Please get your copy while stocks last.
And speaking of new publications, experts are predicting that our DEPG 2022 CALENDAR is GOING TO BE OUT OF STOCK SOON so ACT NOW to avoid PANIC BUYING and get your copy WHILE STOCKS LAST !
Here's a summary of the 12 high-resolution photos that have been so kindly donated by our members and supporters this year and are now presented in this 12-page A3-size glossy heavyweight calendar: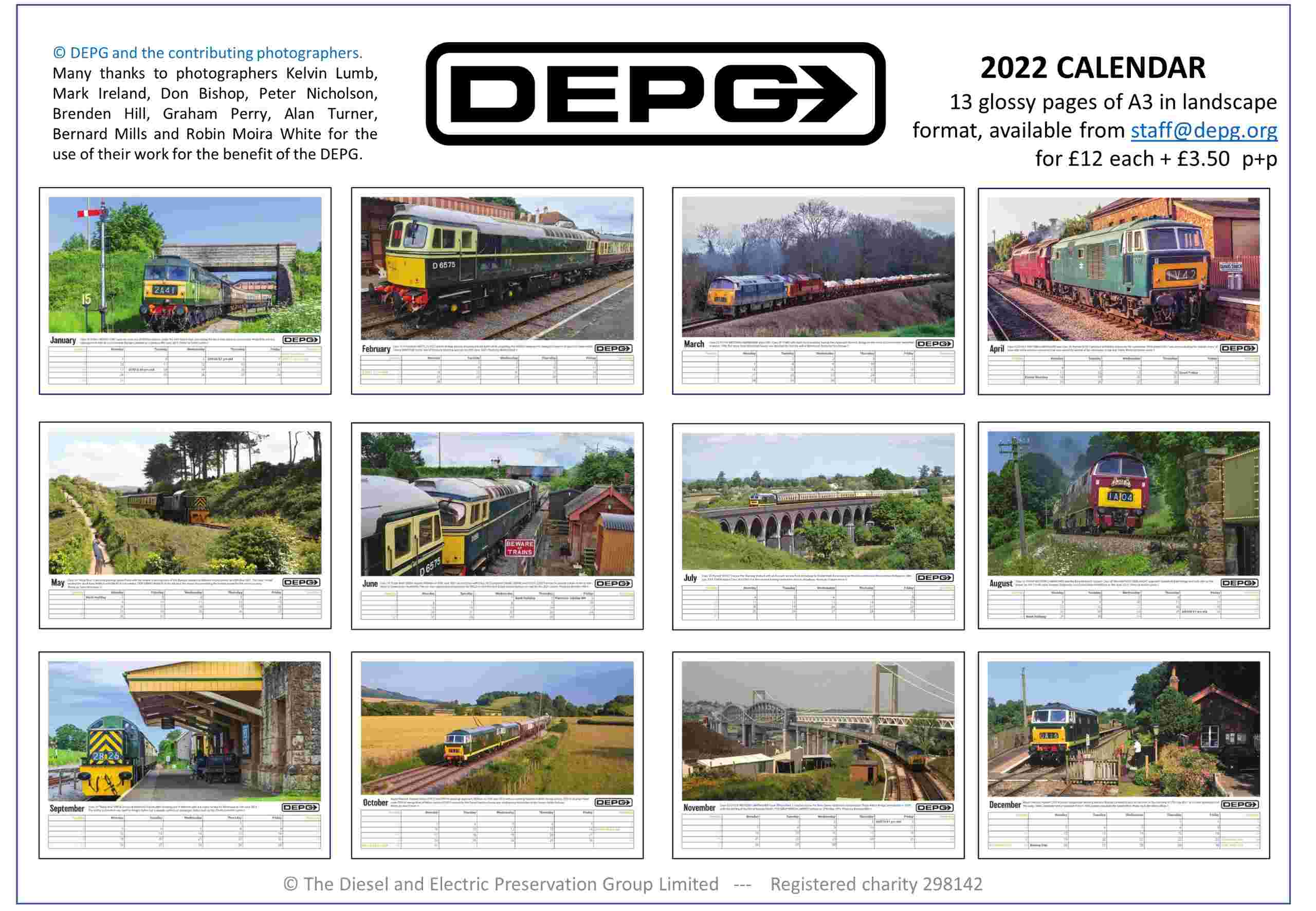 There is an animated video on our website that steps through the calendar month-by-month, so CLICK HERE to view the animation.
We have been able to keep the price the same as last year, so the calendar will again cost the princely sum of £1 per month, so we think that is a bargain that is not to be missed. Click here to order your copy while stocks last.
ON SHED – this week, we feature a photo of our Class 47 taken by Roger Geach 47 years ago. Our loco, 47 077 'NORTH STAR' (D1661, 47613, 47840) was based at Old Oak Common depot (in Kensal Green, NW London, alongside the mainline to Paddington) and was often rostered for the express services to the far south-west. In this photo, 'NORTH STAR' is hauling the 1B25 0930 Paddington to Penzance service through Dobwalls, 3 miles west of Liskeard, Cornwall, 47 years ago. Many thanks to Roger for sharing this image with us.
BR Crewe-built Class 47 47 077 'NORTH STAR' (D1661, 47613, 47840) heads the 1B25 0930 service from Paddington to Penzance as it heads south-west passing Dobwalls, Cornwall on 10th October 1974. Photo by Roger Geach ©
DEPG NEWS – The Autumn 'work week' ran from Saturday 30th October through to Saturday 6th November, welcoming volunteers both old and new, and getting things done in the spirit of the occasion. The weather was a reasonable mix that allowed tasks to be conducted outdoors most days, as already pictured above. Another benefit of work week is that it allows infrastructure tasks to be undertaken, with improvements to facilities taking place alongside the loco-related project work.
A full report will be included in the next issue of the DEPG Newsletter, which will be distributed to DEPG members during the first week of December, so JOIN NOW to ensure that you get your copy.
MANY THANKS to all who attended 'work week' and contributed to getting so much work done. Great job all !
OTHER NEWS – last week, we featured the 45th anniversary of the 'WESTERNS SOUTH WESTERN' railtour that made its way to Meldon Quarry, just beyond Okehampton on the remains of the old LSWR line from Exeter to Plymouth, and we mentioned that the line was due to re-open to passengers on 20th November 2021, after a gap of almost 50 years.
Member and regular volunteer Mike Evans was working in the area of Okehampton and grabbed this photo of a GWR Class 166 'Networker Turbo' diesel-hydraulic multiple unit making a call at the station, perhaps for training purposes or platform clearance checks. If you know why it was there, please let me know so that I can share the story. Many thanks to Mike for keeping us informed.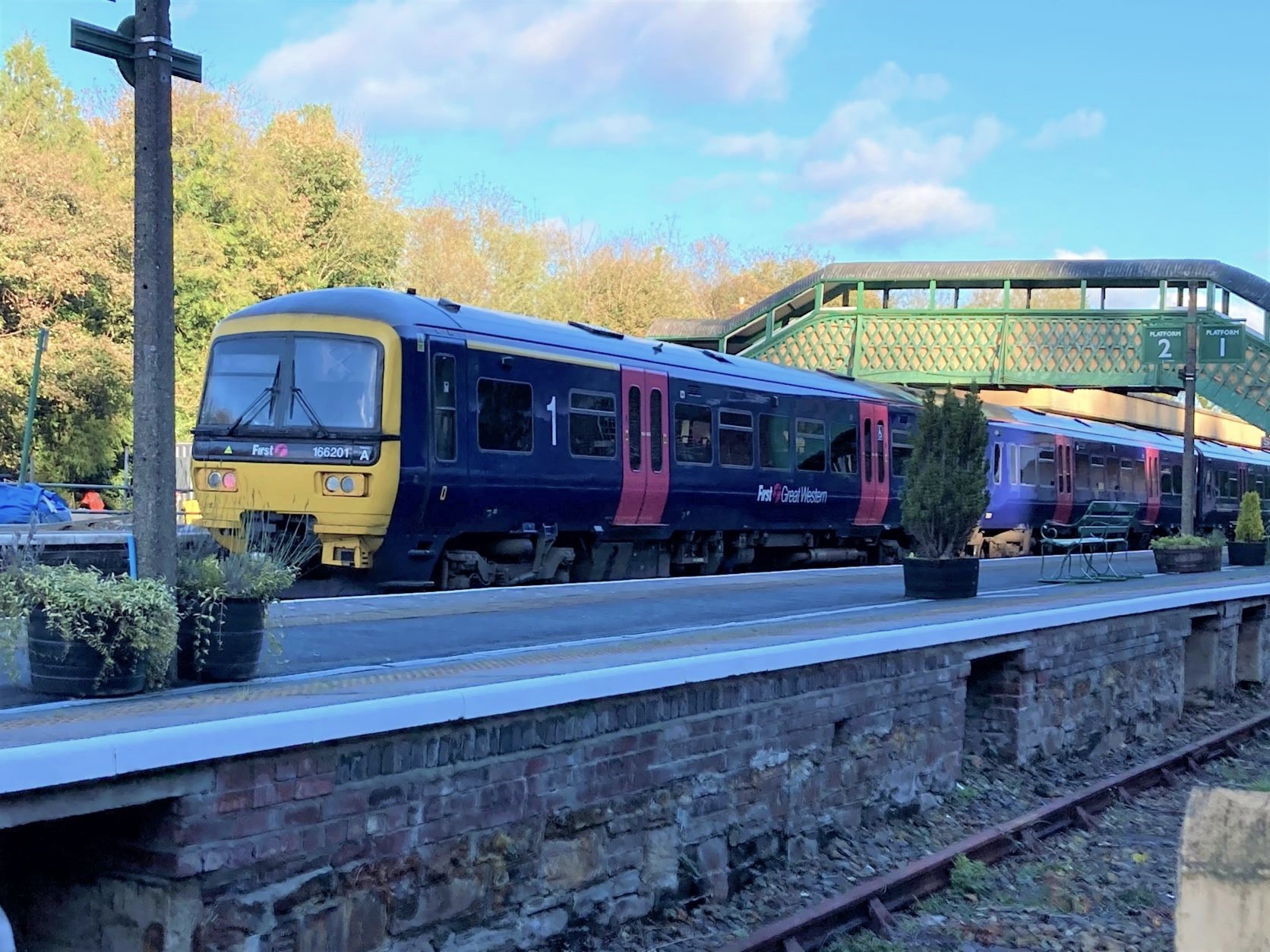 GWR Class 166 'Networker Turbo' diesel-hydraulic multiple unit number 166 201 stands at the soon-to-be-reopened Okehampton station on 4th November 2021. Photo by Mike Evans © CC BY-NC 3.0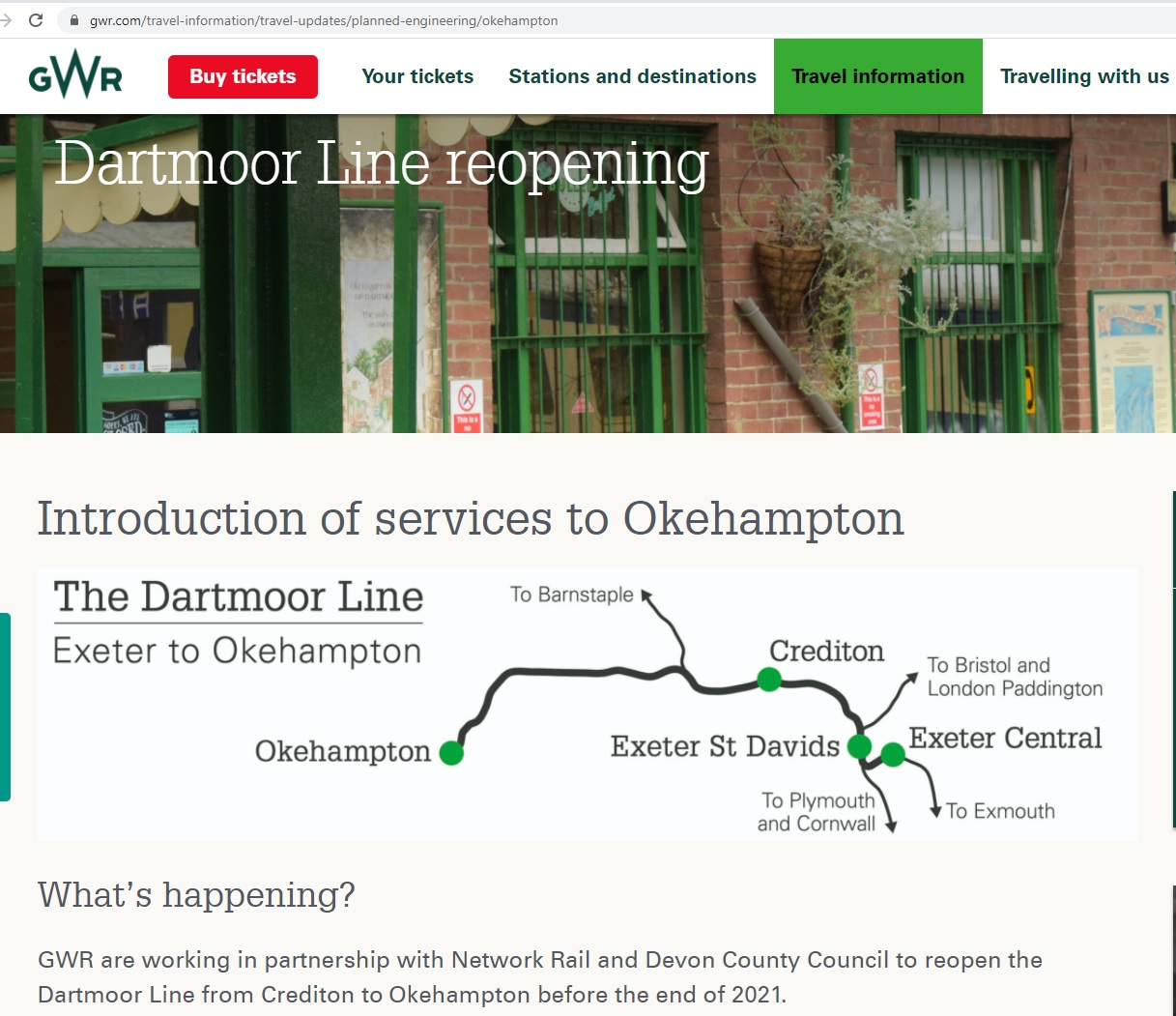 WSR NEWS: preparations are well underway for the new 'Winterlights' services, the first of which is scheduled to run on Friday 19th November. Prior to that, there will be several training runs to make sure that all of the staff and volunteers are fully prepared and ready to ensure that everything goes to plan. Then, two weeks later, the 'Santa Express' daytime services restart, so it really is going to be a busy time for all involved. We wish the WSR every success with these services and we are very happy to be involved with them.
Go to previous Weekly Roundup post