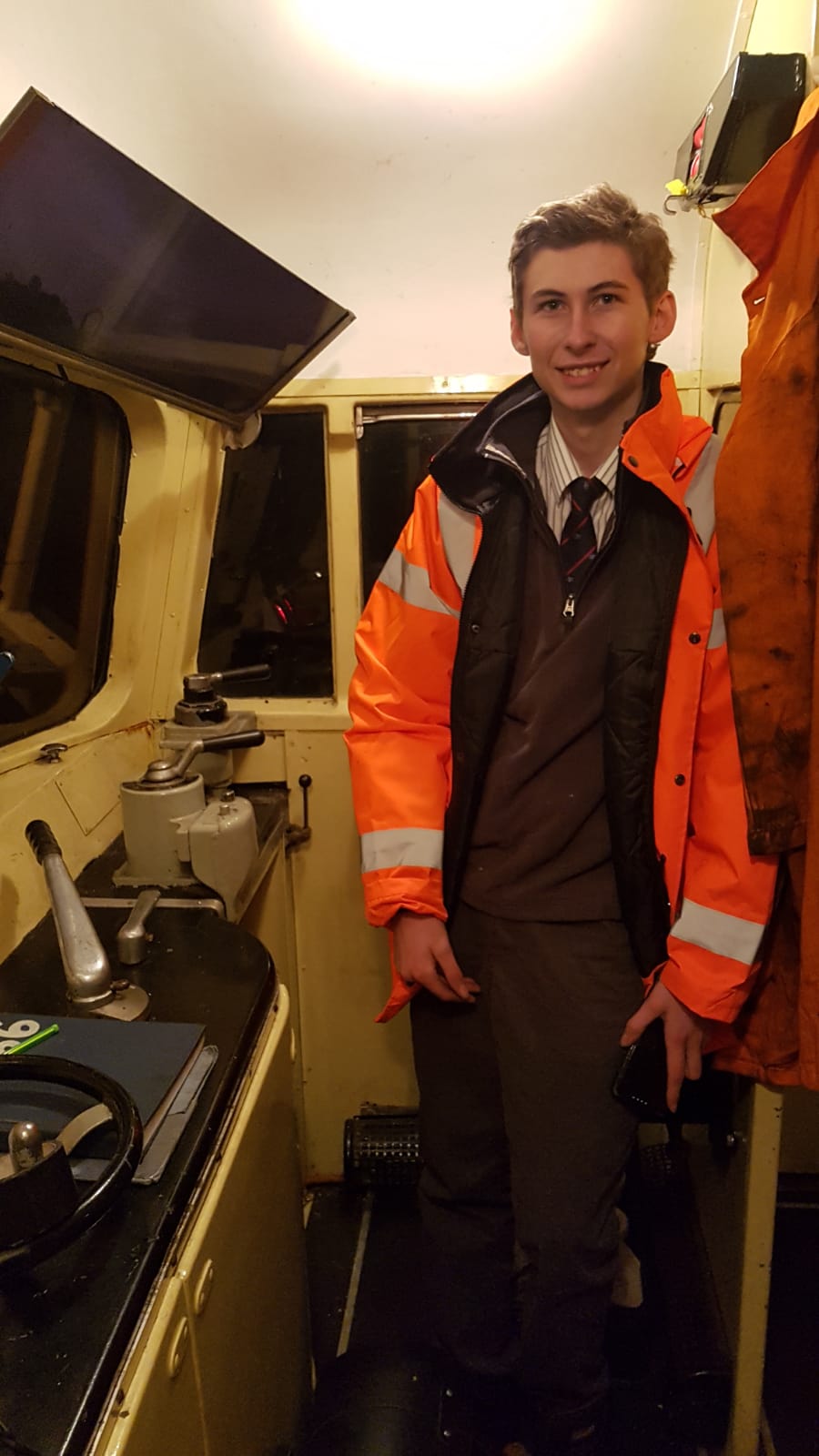 Class 33 'Crompton' D6566 (33 048) is supporting the 'WINTERLIGHTS' services and qualified DEPG secondman Tom Courtney was also on duty on the cold and wintry evening of Friday 26th November 2021, pictured while the loco waited between turns at Bishops Lydeard by DEPG Chairman and loco driver Martin Howard © CC BY-NC 3.0
The WSR's 'WINTERLIGHTS' services are evidently a big success and those that have already taken the journey have been delighted with the brightly coloured illuminations combined with the lineside displays that appear at nine locations along the route between Bishops Lydeard and Crowcombe Heathfield. The train, which is steam-hauled to Crowcombe Heathfield and diesel-hauled on the return leg, slows to walking pace as it passes the lineside features, so that passengers can take a good look and enjoy the sights.
The train crews need to observe special rules for operating these trains during their one-hour out-and-back running time, balancing the need to allow passengers to get the benefit of the displays with the need to maintain punctuality while running at night. The crew of the diesel locomotive are also responsible for travelling 'light engine' along the route before and after the public services, to activate and deactivate the remotely-sited lineside displays, so MANY THANKS TO ALL OF THE VOLUNTEERS AND STAFF WHO ARE WORKING LATE TO MAKE THESE EVENTS POSSIBLE ! Well done all !
VERY IMPORTANT NEWS THIS WEEK is that the WSR have announced the dates for their 2022 gala events, with the 2022 Diesel Gala taking place from Thursday 9th through Saturday 11th June 2022, so keep these dates free and make a plan to attend ! Click this link to wsr.org.uk to view the dates for other gala events that are planned for 2022.
LOCO NEWS:
Class 52 D1010 'WESTERN CAMPAIGNER' – more progress was made on the bodywork of D1010 this weekend, with Gordon and Ian F working on opposite sides of the loco, removing many layers of paint and uncovering areas that need repair before repainting can begin. The photo below shows a gash and a scrape on the bodyside near the 'B' end that dates back to BR days and was repaired at Swindon in 1972. Maybe a reader could throw some light on this and provide us with information as to what caused the damage, where and when ?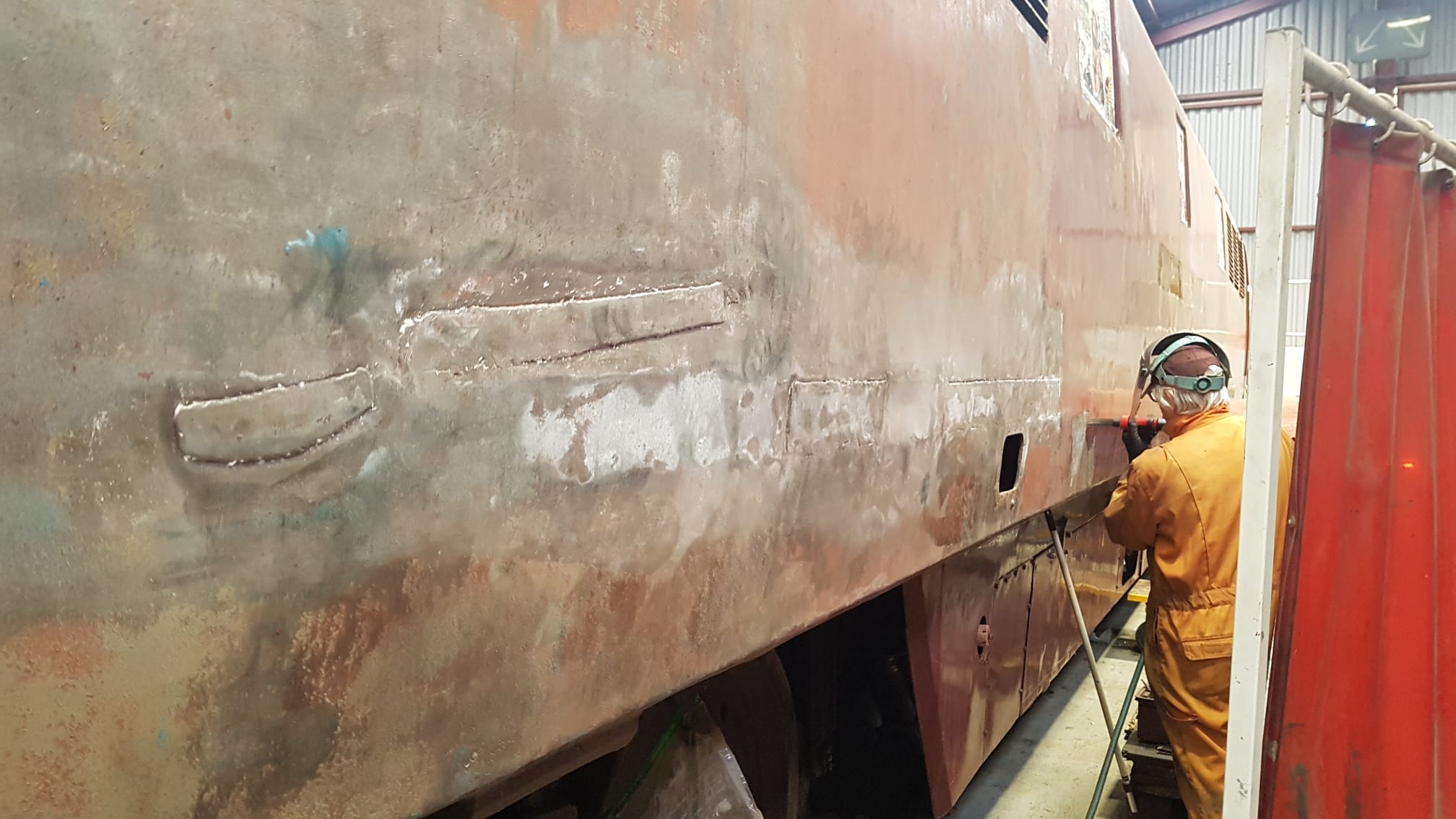 D1010 – the very thorough work by Ian F with the needle gun has revealed a diagonal gash near the 'B' end and a longitudinal scrape that dates back to BR days. The repairs are sound but unsightly, so they will be dressed and filled before the loco is repainted. Pictured at Williton on 27th November 2021 by Martin Howard © CC BY-NC 3.0
Meanwhile, with ear defenders in place, Colin F and Paul C were hard at work with the trial fitment of the valances at the 'A' end of the locomotive, dealing with some complications that resulted from damage that occurred at Merehead Quarry back in the late 1970s, when the loco was pushed into the buffer stops by a loaded stone train that was being shunted into the same siding. The loco was repaired at Merehead before she made the journey to Didcot in 1986, and has stood the test of time except for the non-standard valances that were fabricated at Merehead and have recently been replaced by brand new items made by Colin F using the original authentic valances from 'B' end as a pattern.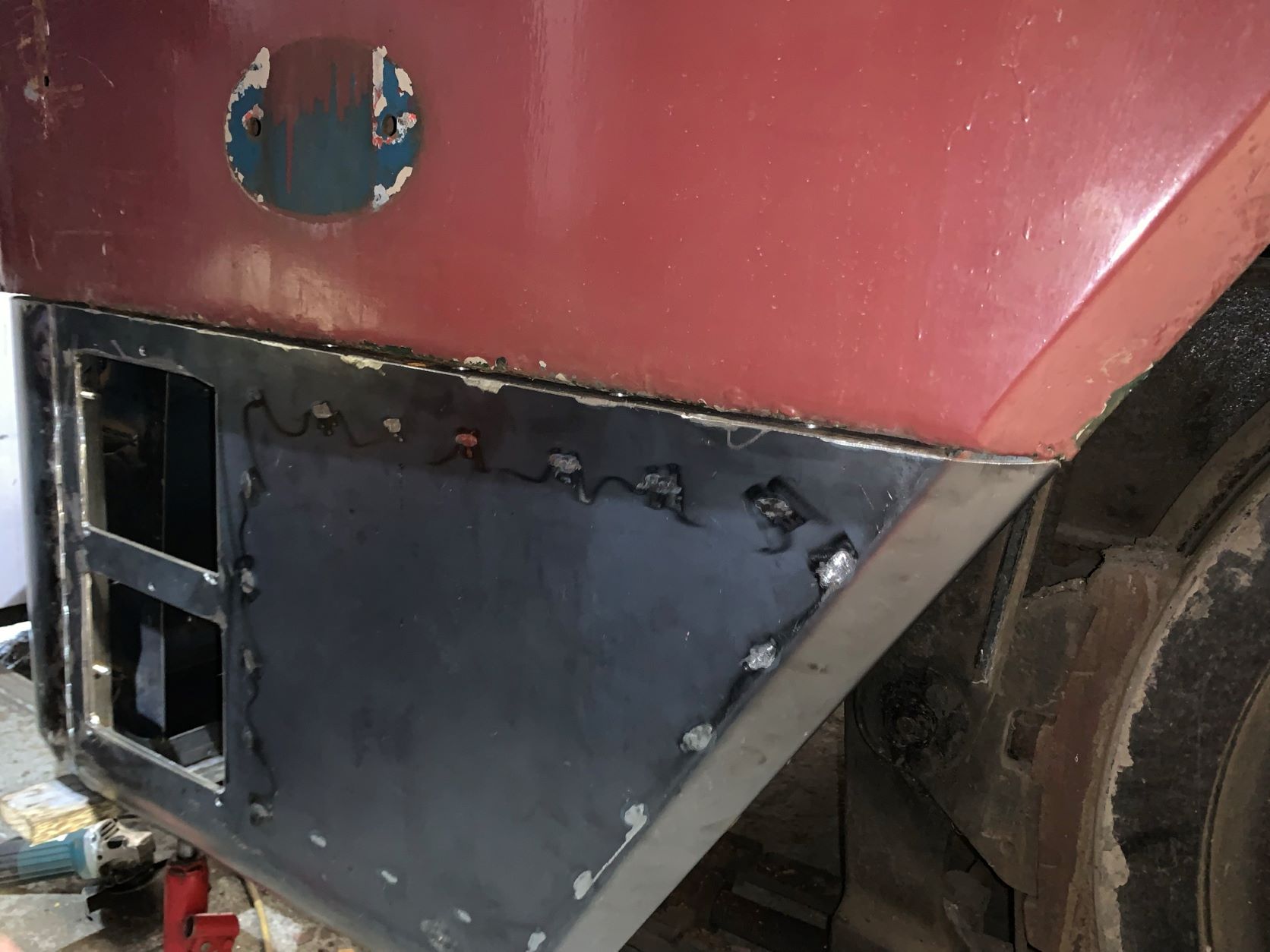 D1010 – brand new but authentic valances have been made by Colin F and trial fitted on the driver's side of 'A' end, and after some adjustment, they line up very nicely. Pictured at Williton on 27th November 2021 by Andy Royal © CC BY-NC 3.0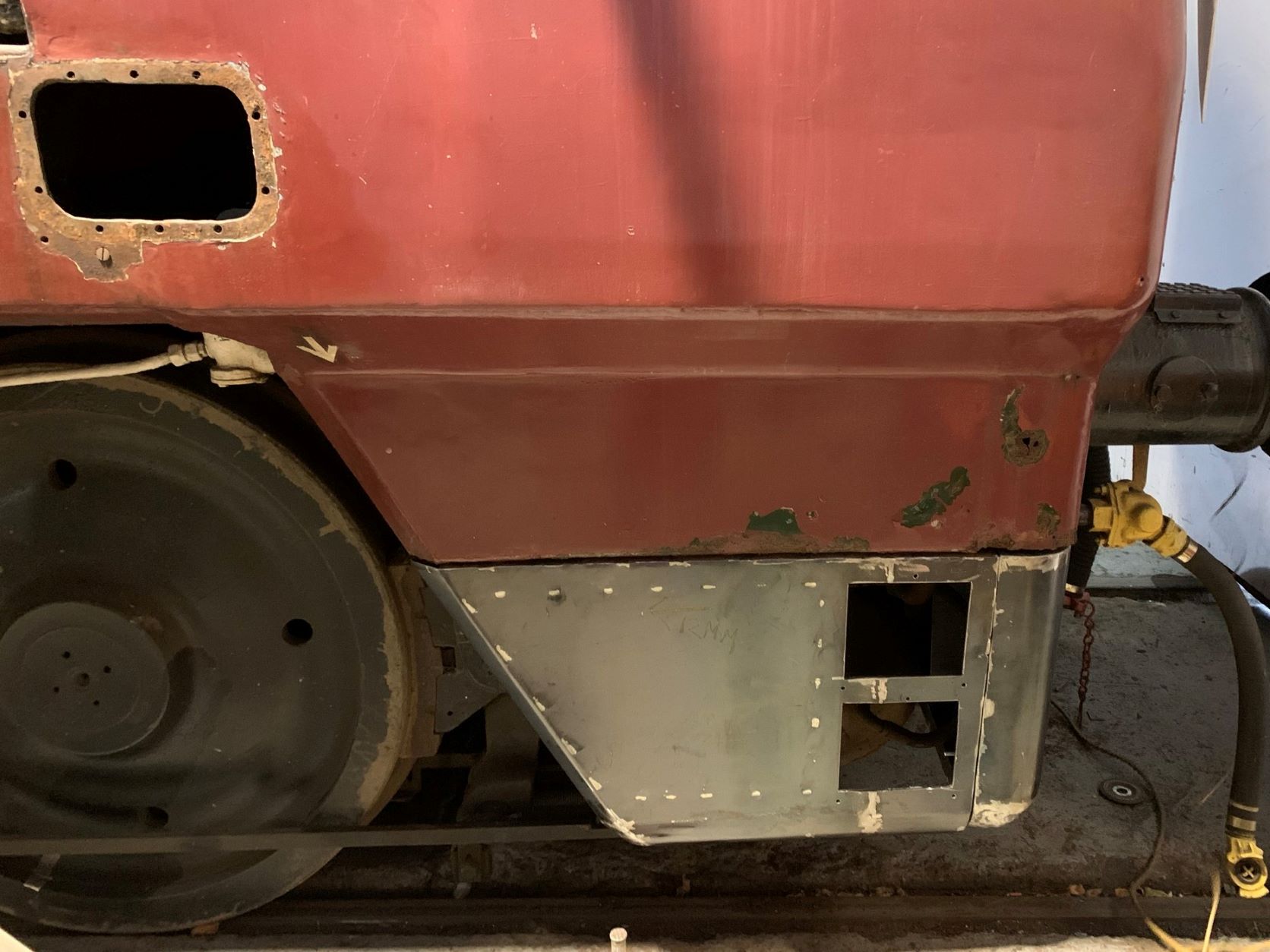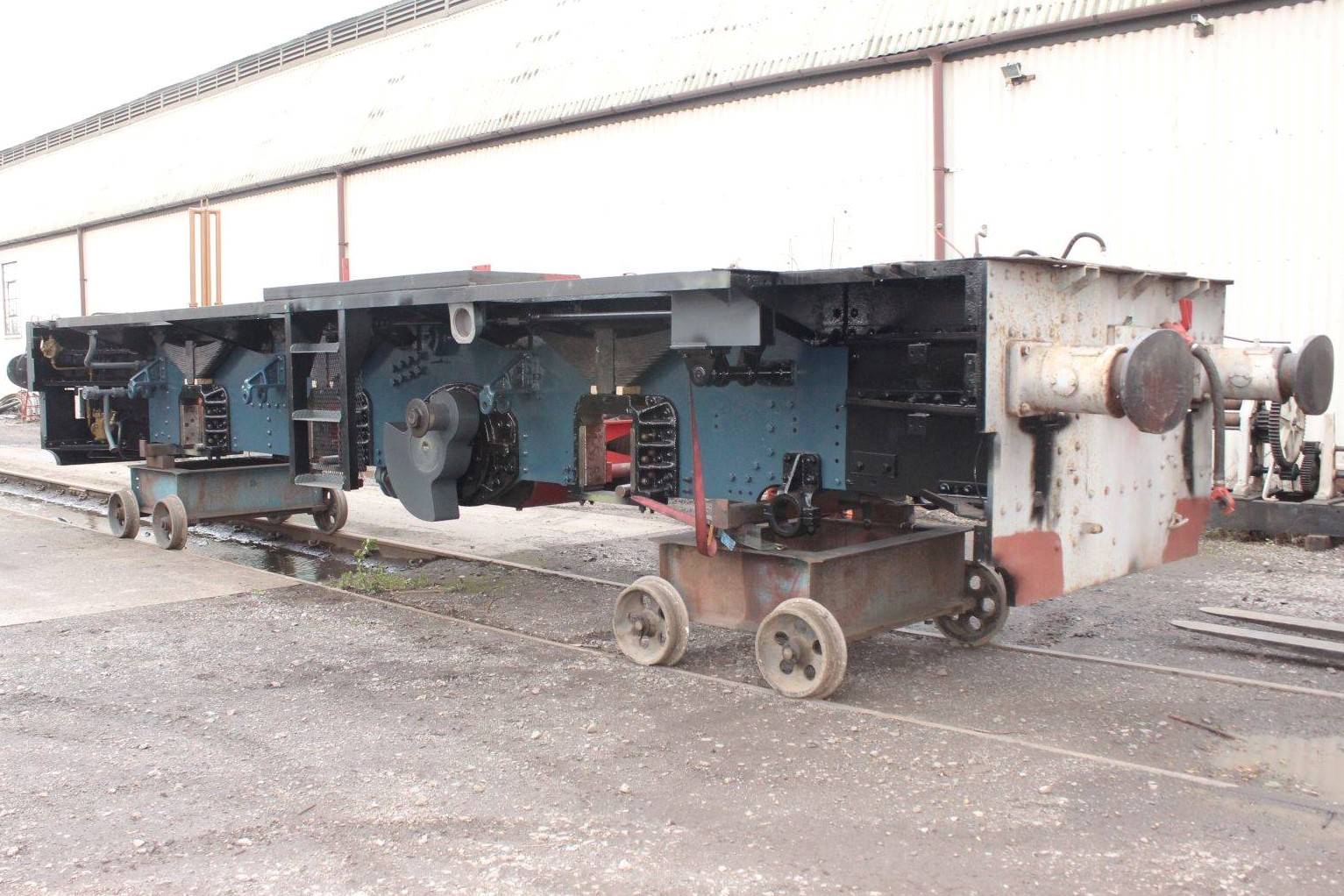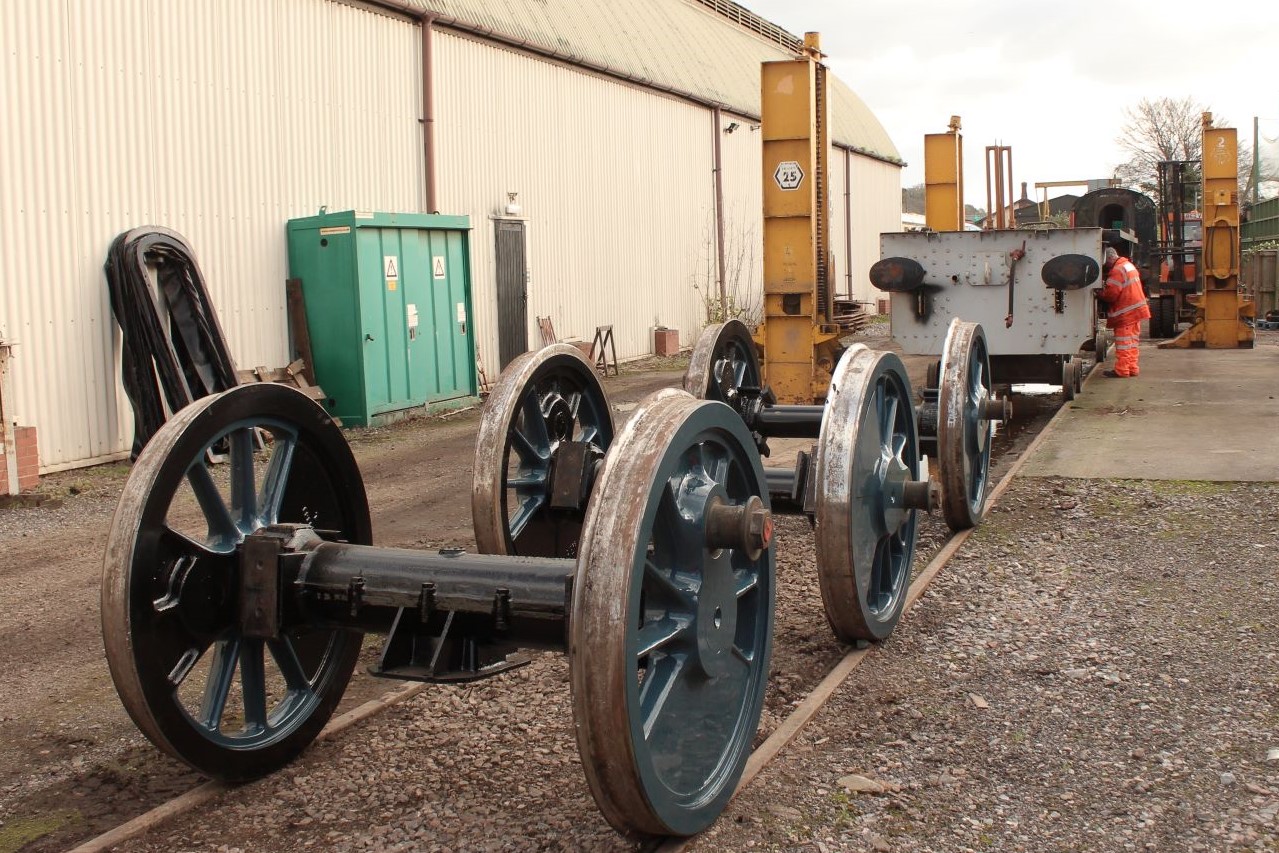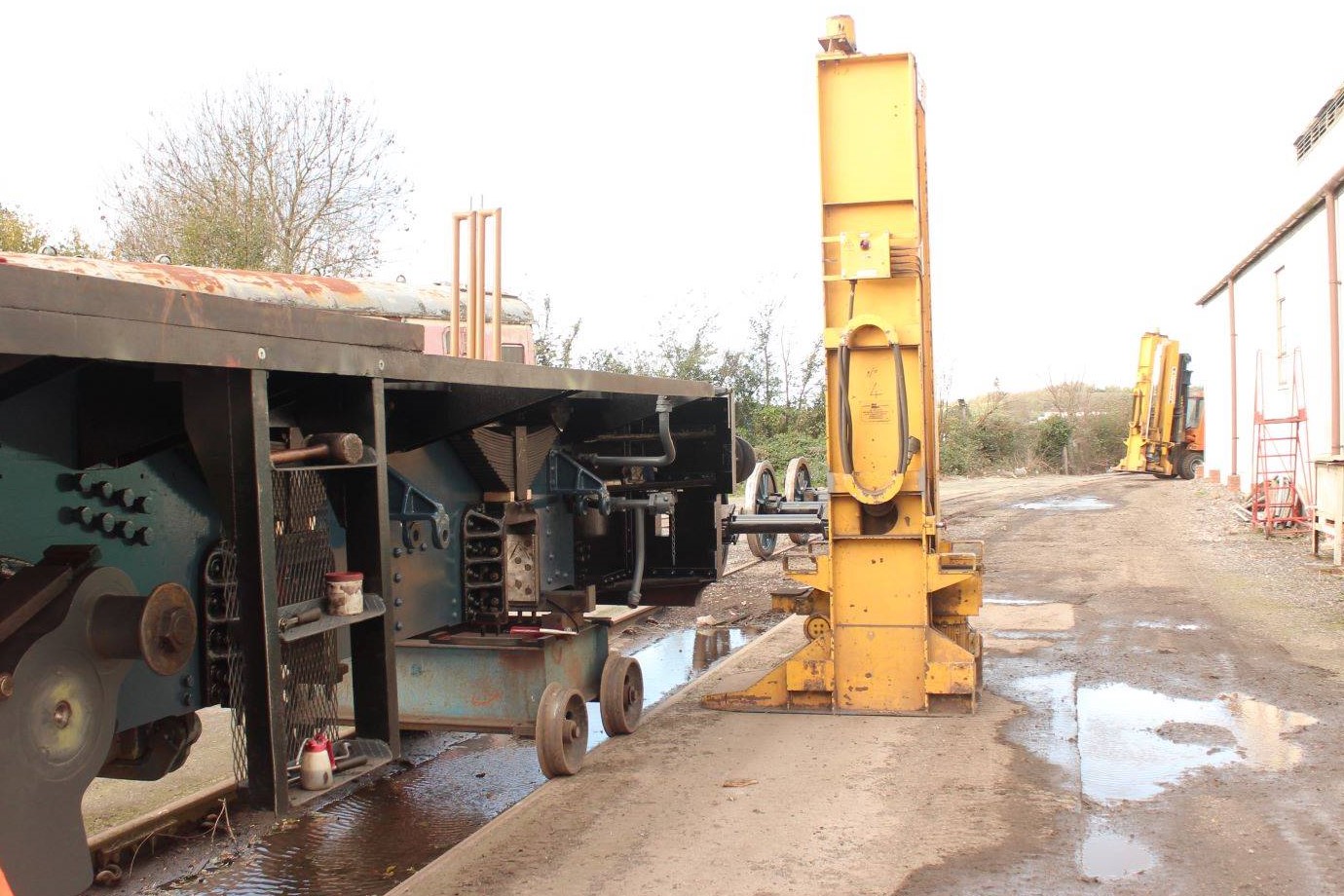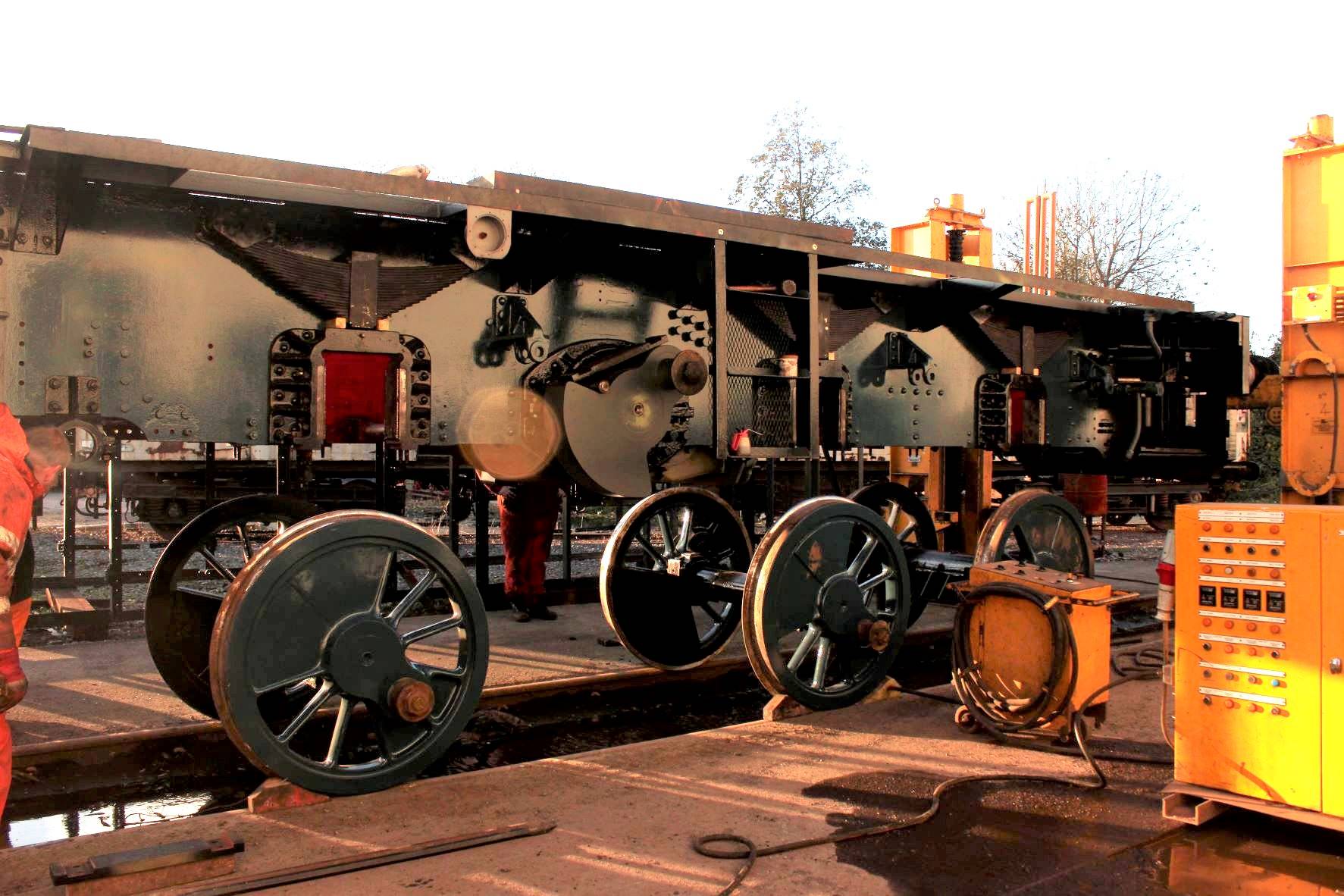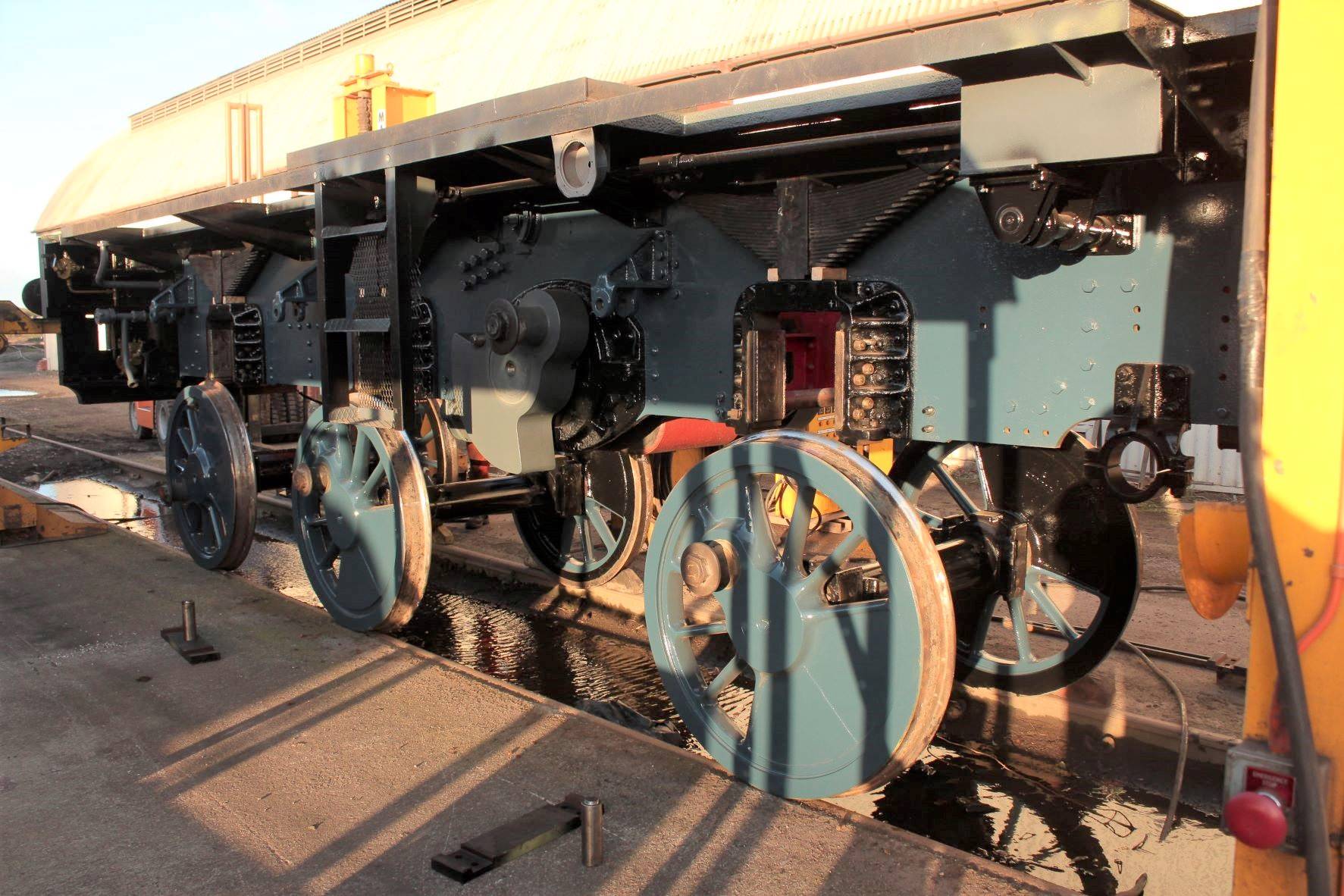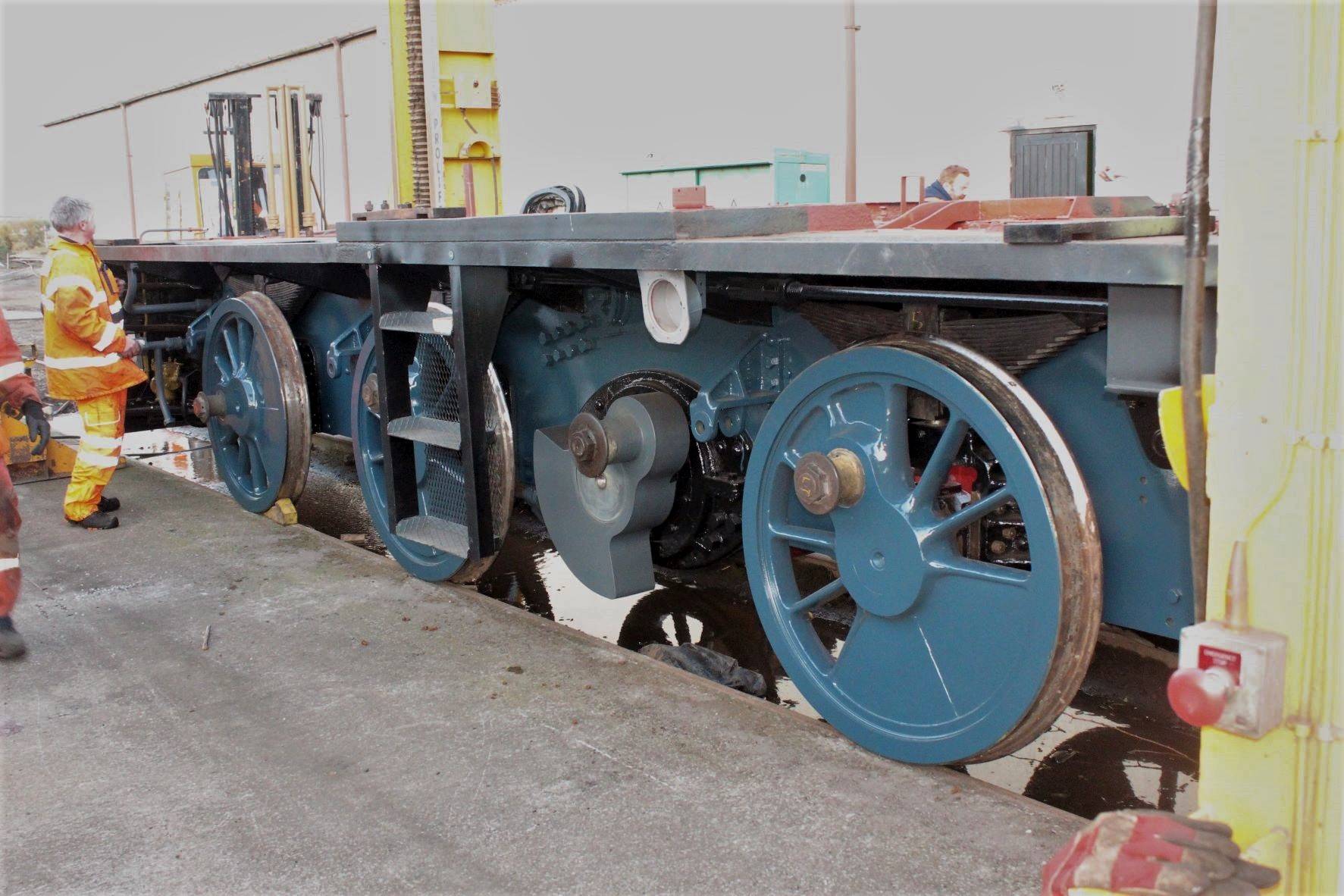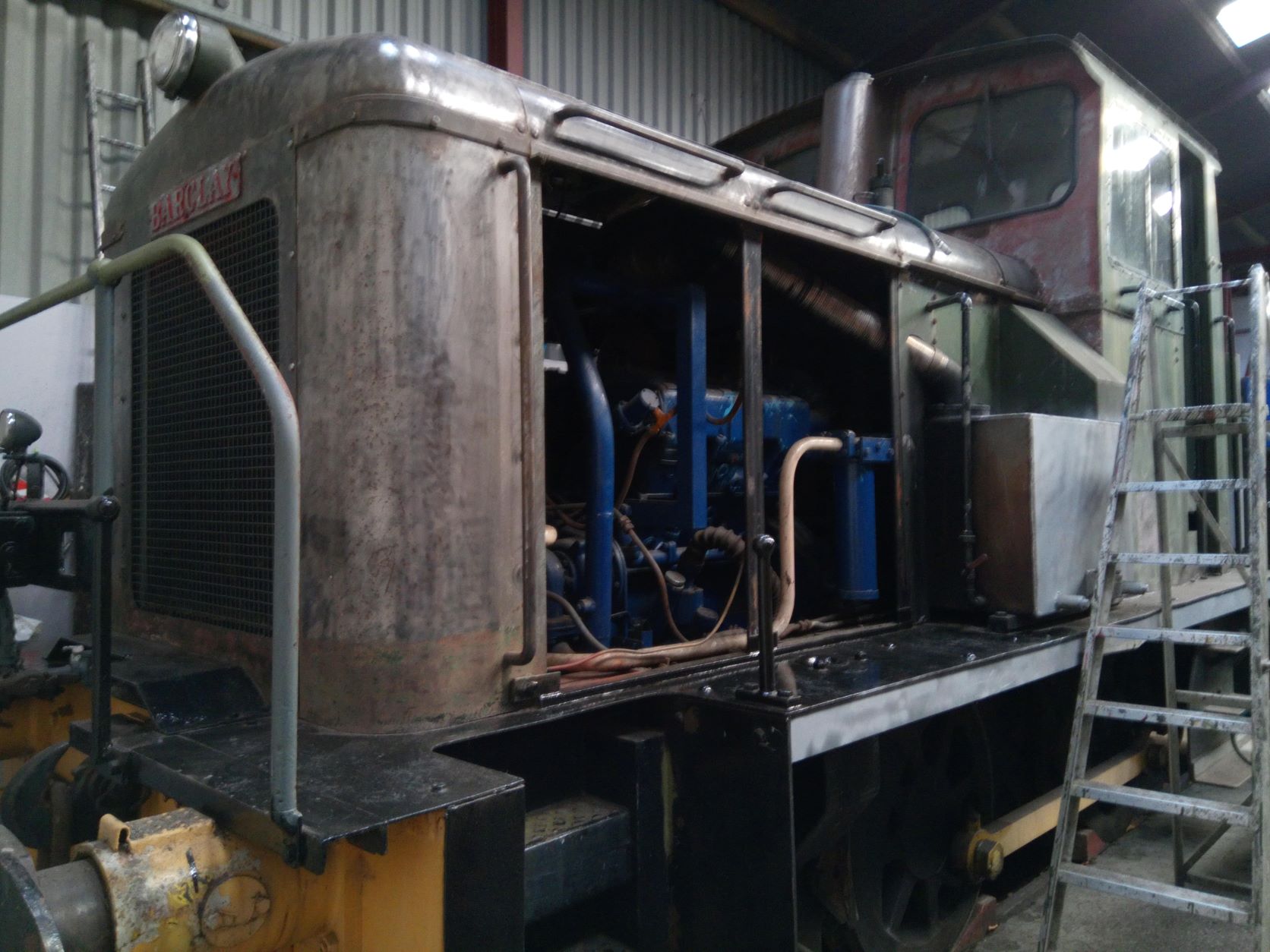 BOOK REVIEW – we do have a book review that has been kindly provided by Neale Long for the recent 128-page book by Andrew Vines entitled 'DIESEL HYDRAULICS – a colour retrospective' and published by Wild Swan, but we don't have space for it today so we will defer this to next week. Meanwhile, if you can't wait for that, go ahead and grab a copy from the Western Locomotive Association by clicking this link.
And speaking of new publications, if you haven't obtained your copy already, experts are predicting that our DEPG 2022 CALENDAR is GOING TO BE IN SHORT SUPPLY so ACT NOW to get your copy WHILE STOCKS LAST !
Here's a summary of the 12 high-resolution photos that have been so kindly donated by our members and supporters this year and are now presented in this 12-page A3-size glossy heavyweight calendar:
There is an animated video on our website that steps through the calendar month-by-month, so CLICK HERE to view the animation.
We have been able to keep the price the same as last year, so the calendar will again cost the princely sum of £1 per month, so we think that is a bargain that is not to be missed. Click here to order your copy while stocks last.
ON SHED – On Saturday 4th December, the DEPG will participate in the RAILWAY STUDIES AND MODELLERS SHOW that takes place at Newton Abbot library, during which their extensive collection of railway photographs and documents will be showcased. The show is aimed at widening the awareness of their Railway Studies Collection and we are pleased to confirm that the DEPG will be in attendance !
Over the next few weeks, we are going to feature some very interesting photographs of Newton Abbot from the diesel-hydraulic period, but first let's return to the photo that we shared last week, for which we have now received a lot more information from the photographer, Prof. Will Powrie.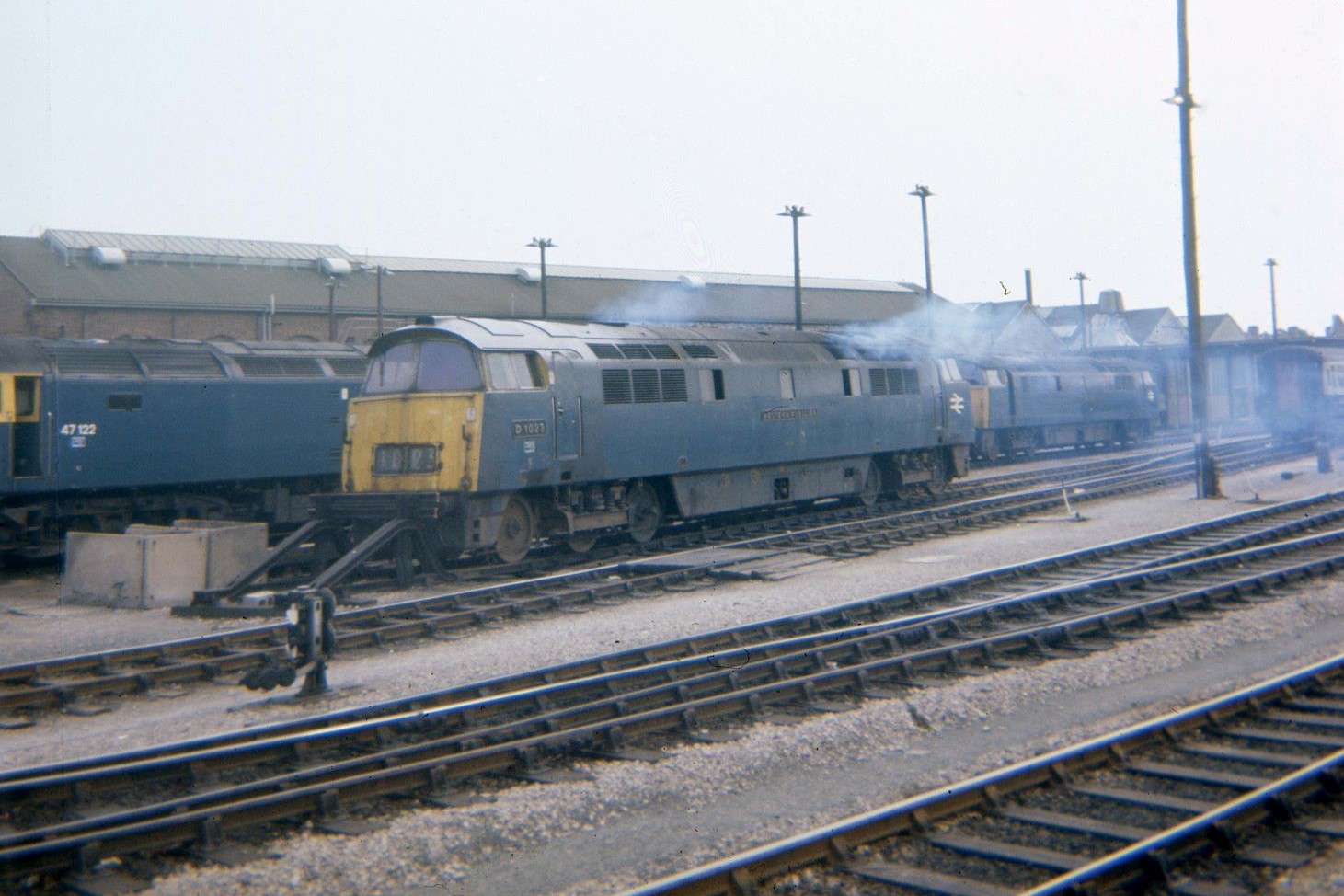 Class 52 1023 'WESTERN FUSILIER' stands at the stabling point at Newton Abbot on 8th August 1976 with engines that were probably long overdue for attention, with BR-Brush Class 47 47122 behind and to the left and Class 52 1010 'WESTERN CAMPAIGNER' visible to the right. Photo by Will Powrie © CC BY-NC 3.0
Will has provided us with the background to his photograph, as follows:
"Regarding the photo of D1023 on Newton Abbot shed on Sunday 8th August 1976, the Class 52 in shot behind / to the right of 'WESTERN FUSILIER' is none other than D1010 'WESTERN CAMPAIGNER'. We had arrived into Newton Abbot behind D1001 'WESTERN PATHFINDER' on 1B05, the 08.45 Paddington-Plymouth; and after about an hour's wait at Newton Abbot returned as far as Reading with D1054 'WESTERN GOVERNOR' on 1A45, the 13.40 Plymouth-Paddington.
On that Sunday (5 August), D1010 worked 1B93, the 09.00 Bristol Temple Meads-Paignton and 1B99, the 19.30 Paignton-Bristol Temple Meads (22.15). This train was a Sunday special organised by the Bristol division of the Western Region – it was not in the all-line public timetable. It seems that D1010 ran light diesel from Paignton to Newton Abbot, and must have spent much of the middle part of the day there before heading back to Paignton to pick up the return working to Bristol.
The next day (Monday 9 August), D1010 took over 1A25 (the 1800 [Sunday] Penzance-Paddington overnight), from Bristol Temple Meads (00.51) to Paddington. It then worked 1M10 0645 Paddington-Birmingham New Street and 1V28 10.25 Birmingham New Street-Paddington (the only Class 52 to work a Paddington-Birmingham train that week), and the 1A82 18.03 Paddington-Oxford before then spending most of the rest of the week on freight or newspaper trains.
On the Friday (August 13th), however, D1010 worked a 'Troopex' heading north from the west of England – this has been reported as starting at either Plymouth or Okehampton, destination either Crewe or Bolton, with D1010 working to Bristol, Birmingham or Crewe! D1010 was noted passing Taunton at 19.52 that evening heading southwest with the empty stock, by an observer who was told that D1010 had brought the train all the way from Crewe. This seems unlikely, but maybe one of your readers can shed some light on it?
D1023 went light diesel from Newton Abbot to Paignton later that afternoon (Sunday 8 August) to work 1A85 17.10 Paignton-Paddington. Monday 9 August saw D1023 on the 1A97 07.49 Radley-Paddington then 1B65 13.30 Paddington-Penzance; and on Tuesday 10 August it worked 1A19, the 10.55 Penzance-Paddington Cornish Riviera Limited to Plymouth, before going forward on 1A35 13.45 Plymouth-Paddington. From Paddington, D1023 made its way to Acton via Old Oak Common, where it took over the overnight 6V65 Sittingbourne-Burngullow Clayliner empties. After working 1A45 12.20 Penzance-Paddington as far as Plymouth on Wednesday 11 August, D1023 spent most of the rest of the week on Clayliner duties between St Blazey and Bescot."
Many thanks to Will for this detailed account of the workings of these two celebrity locomotives !
Put the date of Saturday 4th December 2021 in your diary if you are within travelling distance of Newton Abbot, and come along to the show and also explore the resources of the Railway Studies Collection.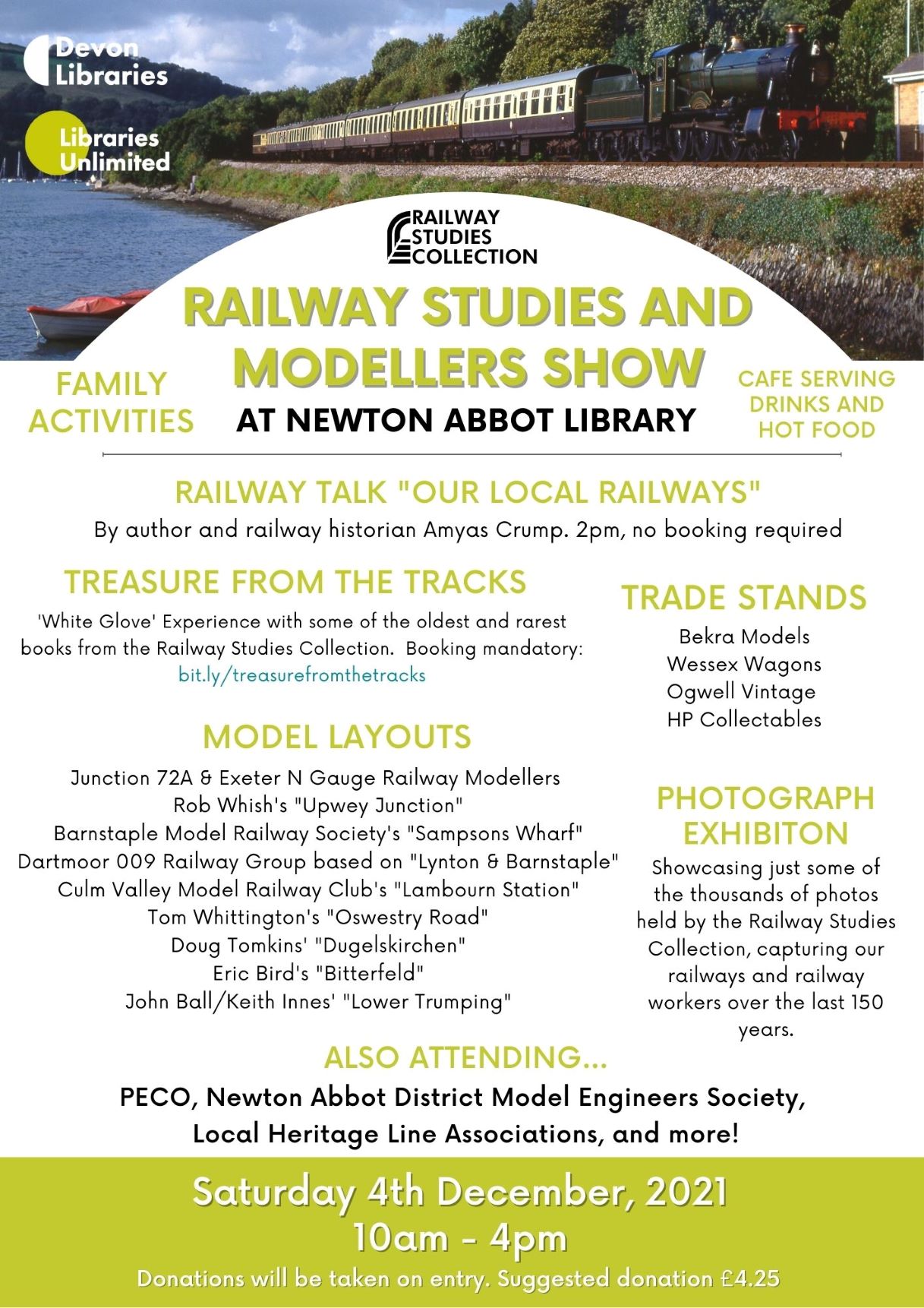 DEPG NEWS – the delayed synopsis of the October Board Meeting was emailed to those members for whom we hold email addresses. Please let me know if you are a member but didn't received your copy of the synopsis. The Board held the November meeting last Saturday 27th and a synopsis will be prepared and shared with members ASAP.
DEPG WEBSITE – we have added three new products to our webstore, all of which have a seasonal bias, so click the photos or the links below to find out more !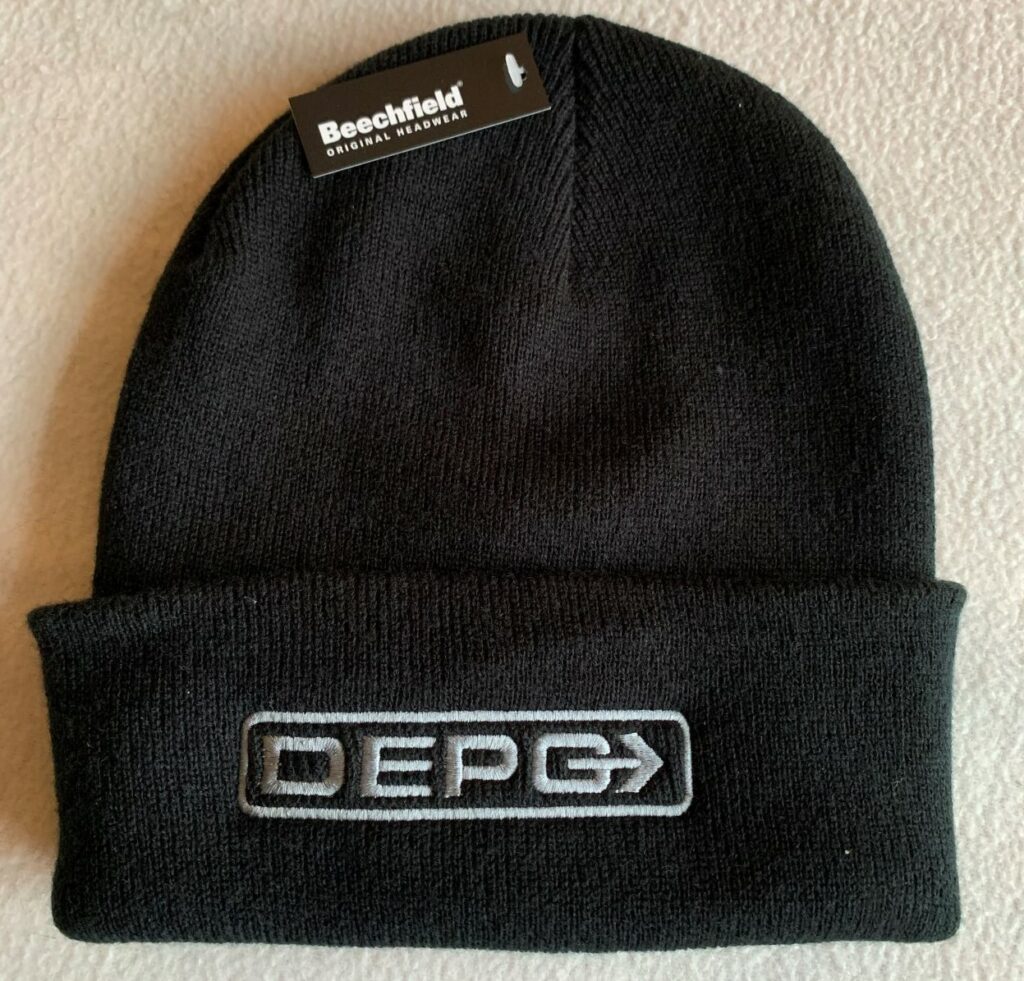 DEPG beanie hat, one size, silver embroidery on black – a good quality and warm hat for £12.50 incl VAT plus P&P.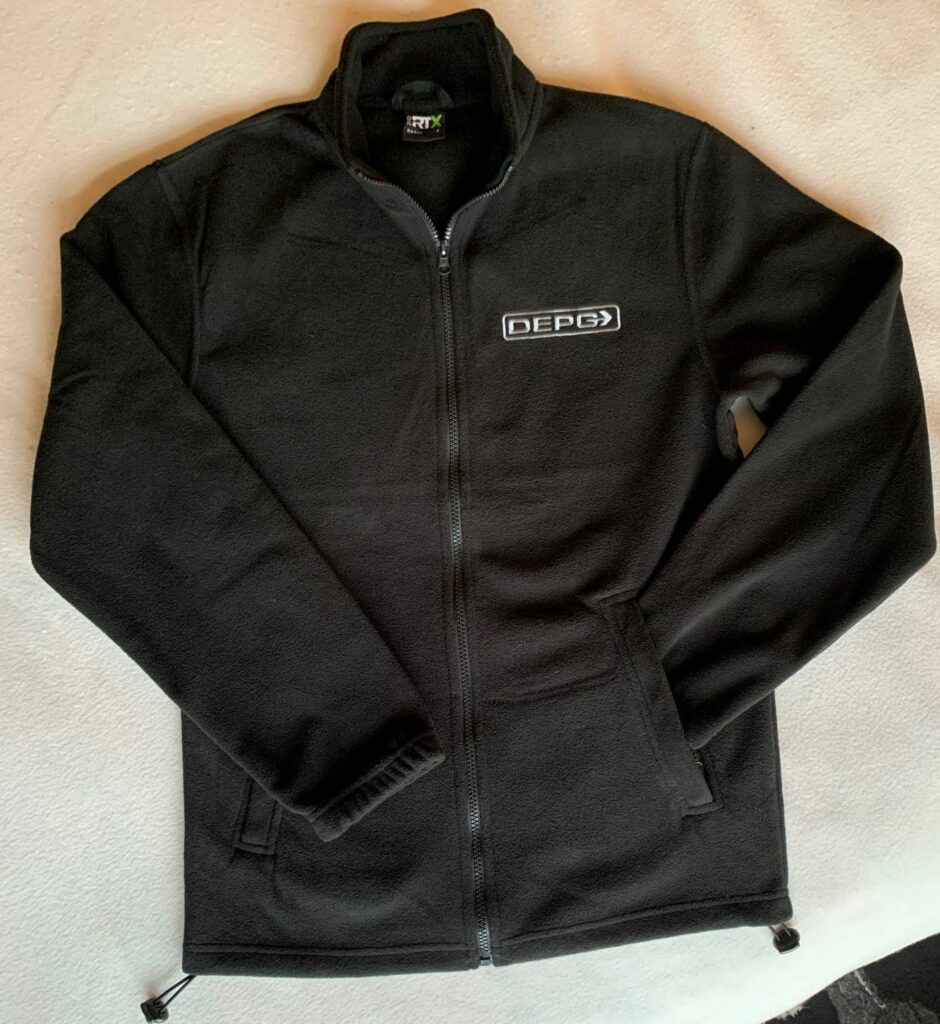 DEPG fleece jacket with collar, unlined, zip pockets, black with silver DEPG logo, £25 incl VAT plus P&P.
DEPG Christmas Card, A5 size, £1.50 each or get a pack of 5 for the price of 4. All proceeds to the D1010 Restoration Fund.
WSR NEWS: The announcement of the 2020 gala dates is great news and allows the railway press to spread the word and allows supporters to make plans to attend, all of which will result in higher attendances and the enjoyable feel of a well-supported event. Meanwhile, the 'WINTERLIGHTS' services continue to earn valuable winter income, with BR(WR) 4-6-0 7828 'ODNEY MANOR leading the train and Class 33 'Crompton' D6566 (33 048) at the rear on the climb from Bishops Lydeard to Crowcombe Heathfield, where the train reverses. Tickets are available for services that run between Christmas and New Year.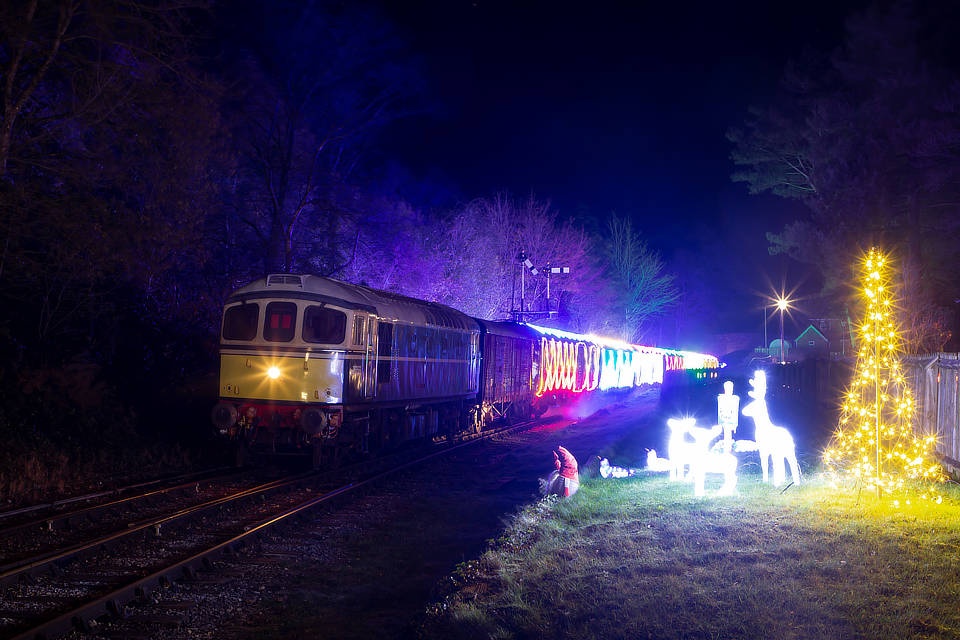 Class 33 'Crompton' D6566 (33 048) stands at the rear of the 'WINTERLIGHTS' special just beyond Crowcombe Heathfield station and is preparing to haul the train on the return leg to Bishops Lydeard. Pictured on Saturday 27th November 2021 by Adam Snow © CC BY-NC 3.0