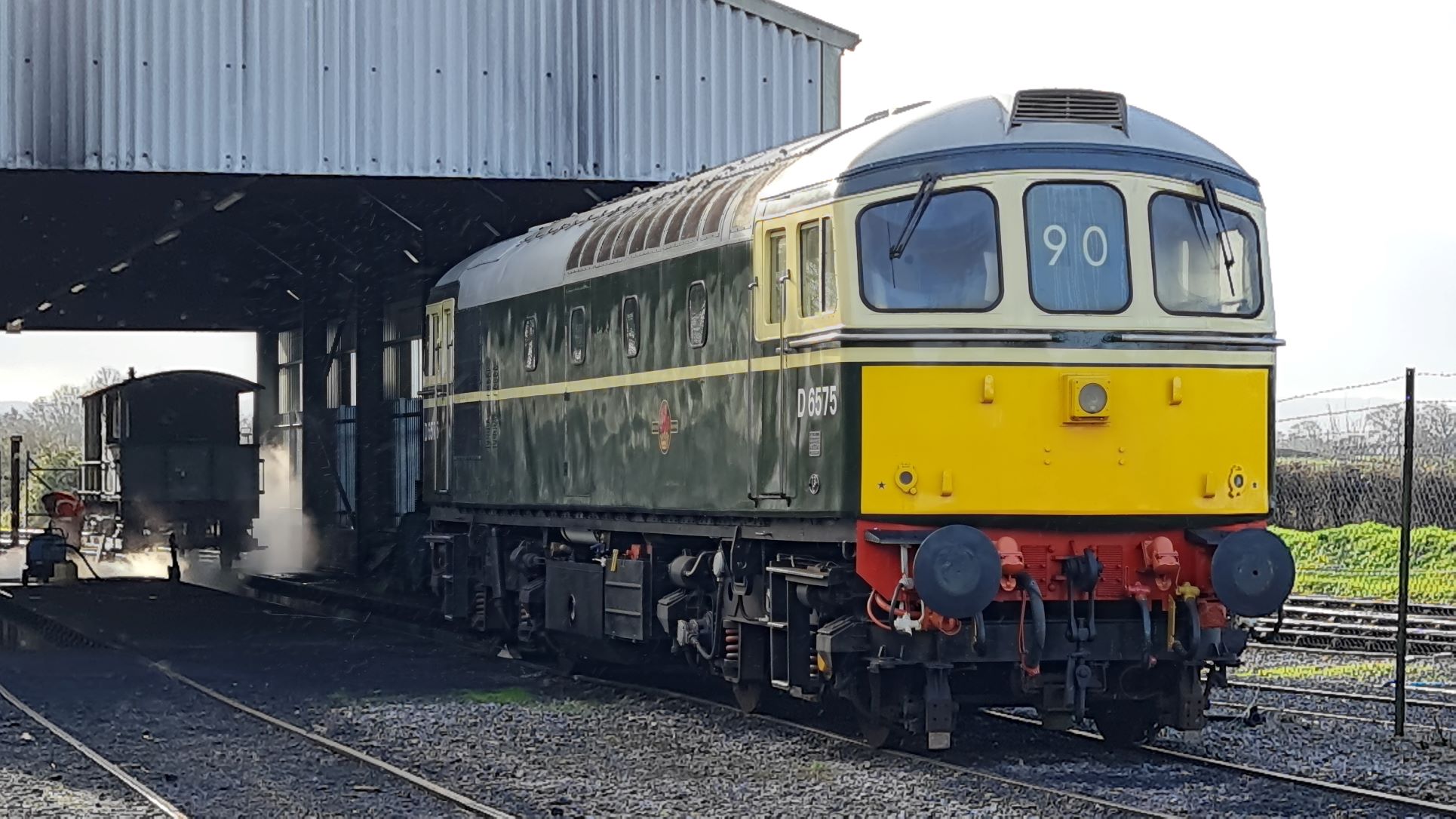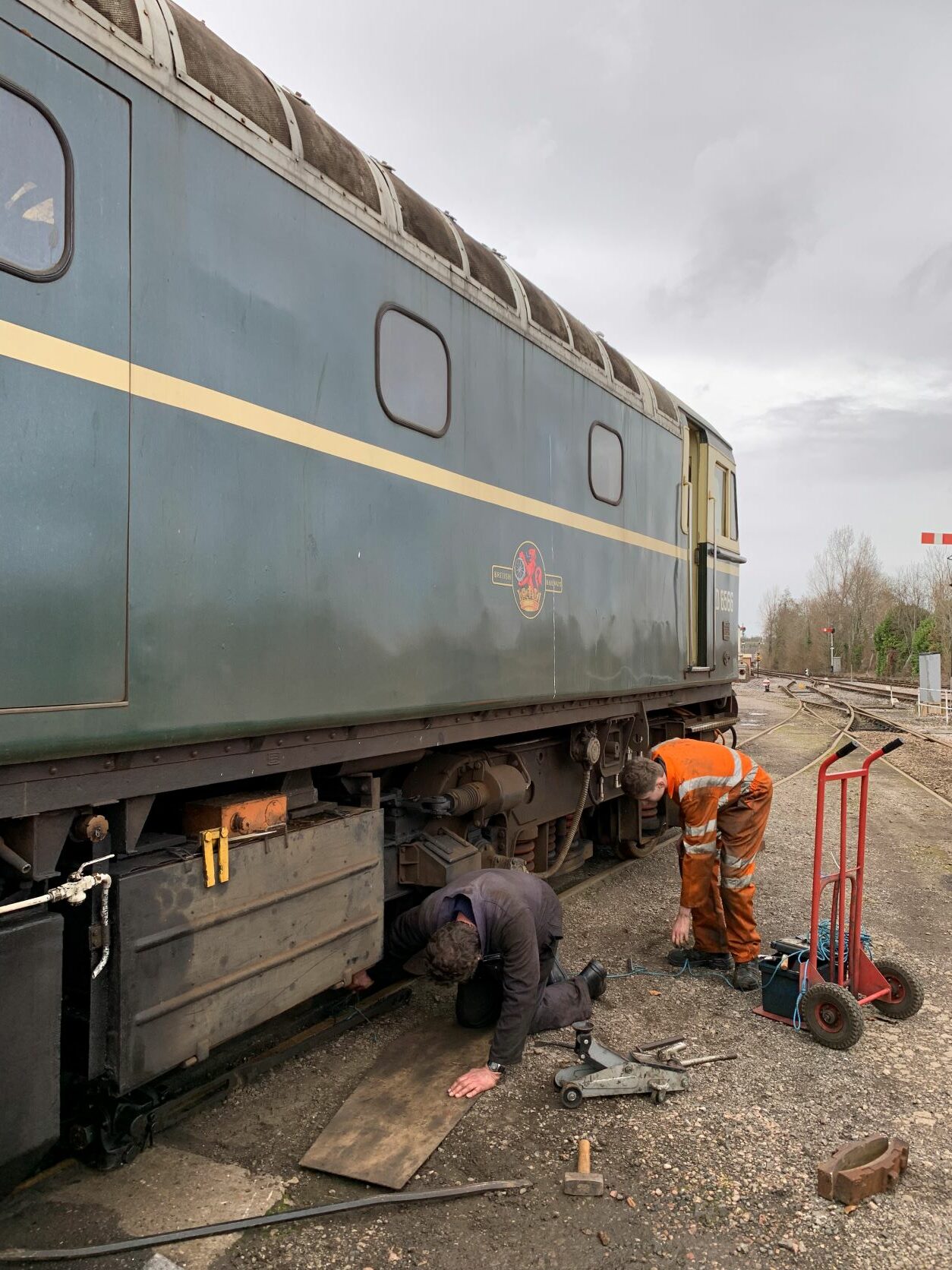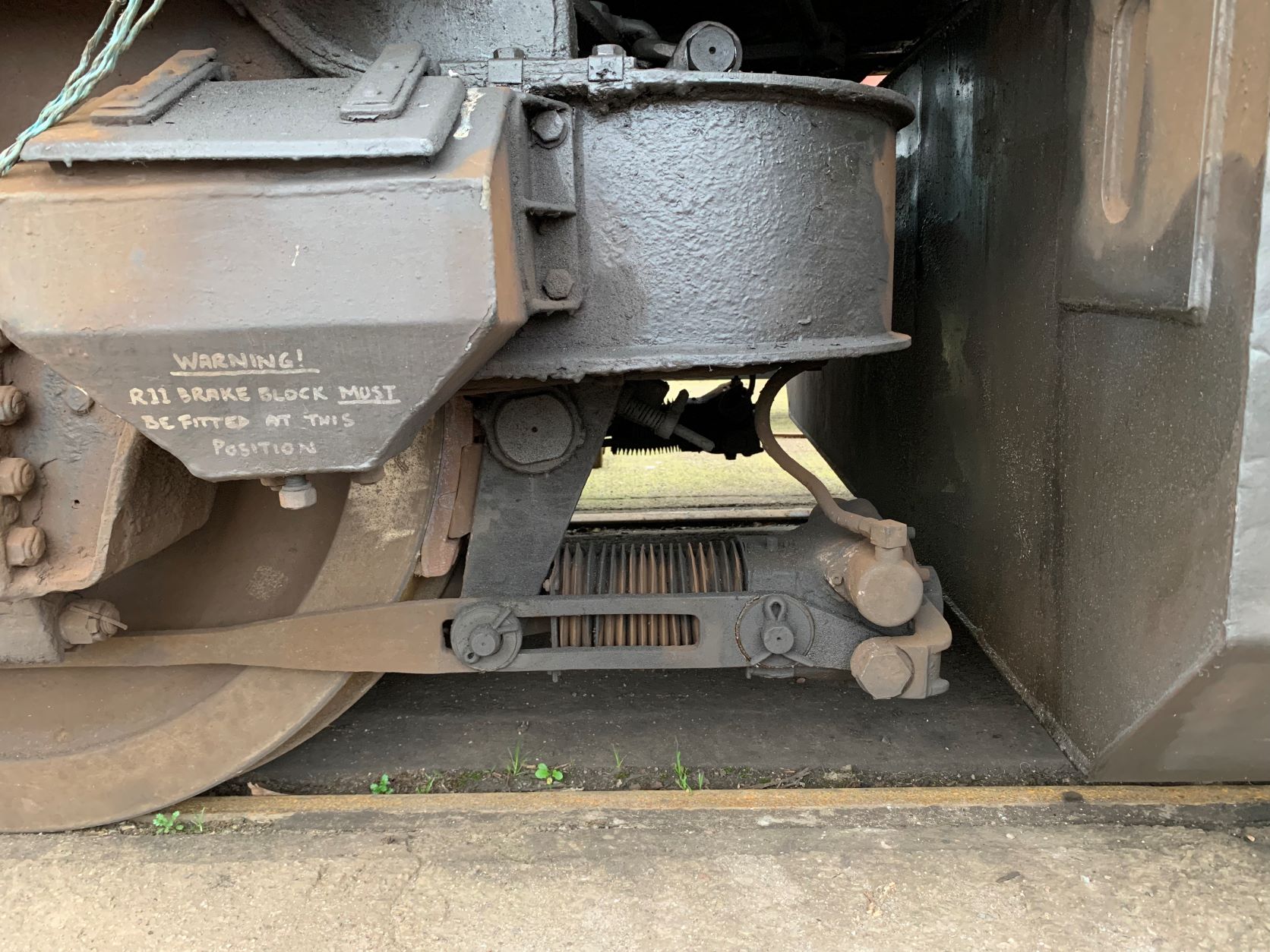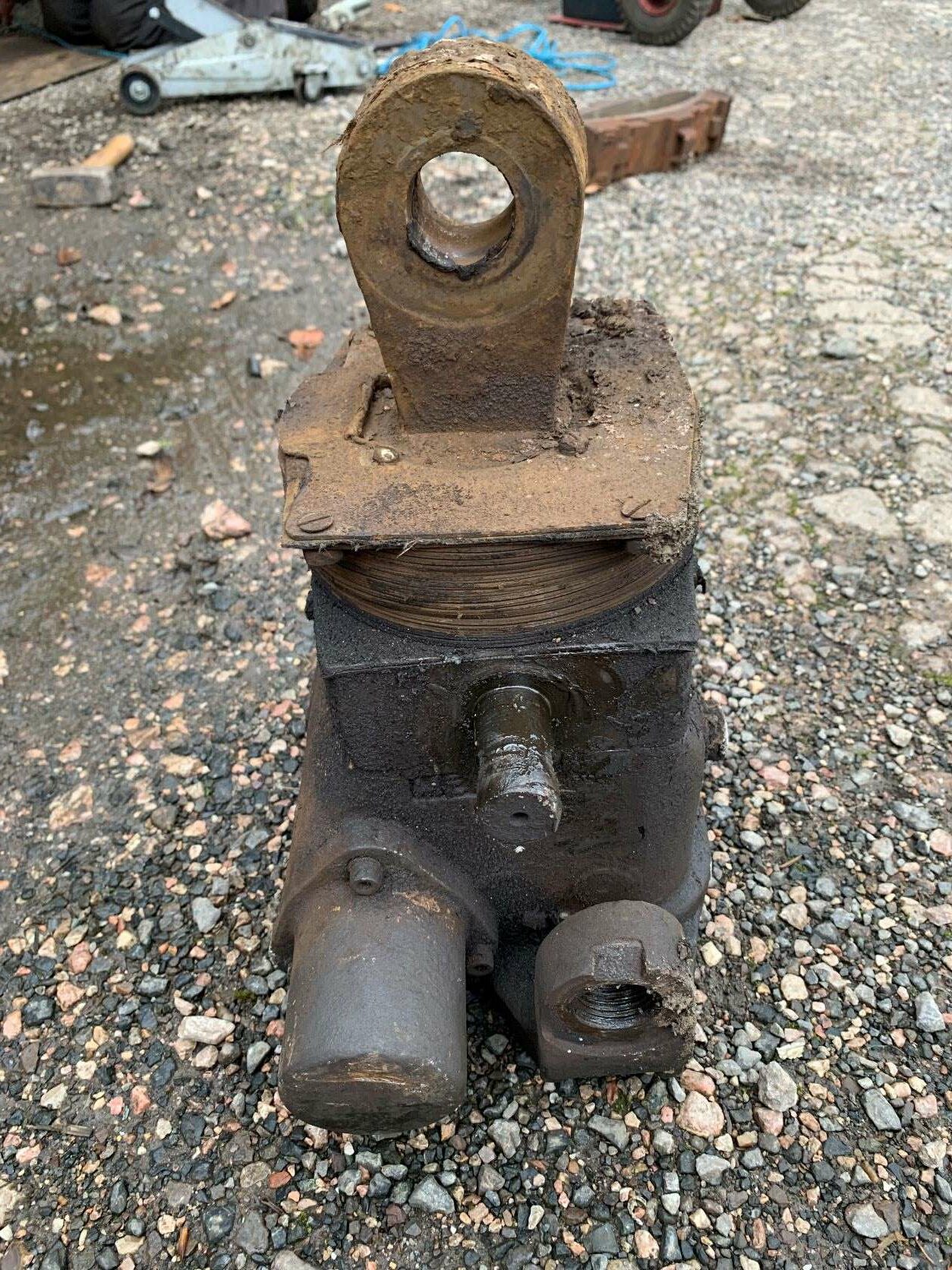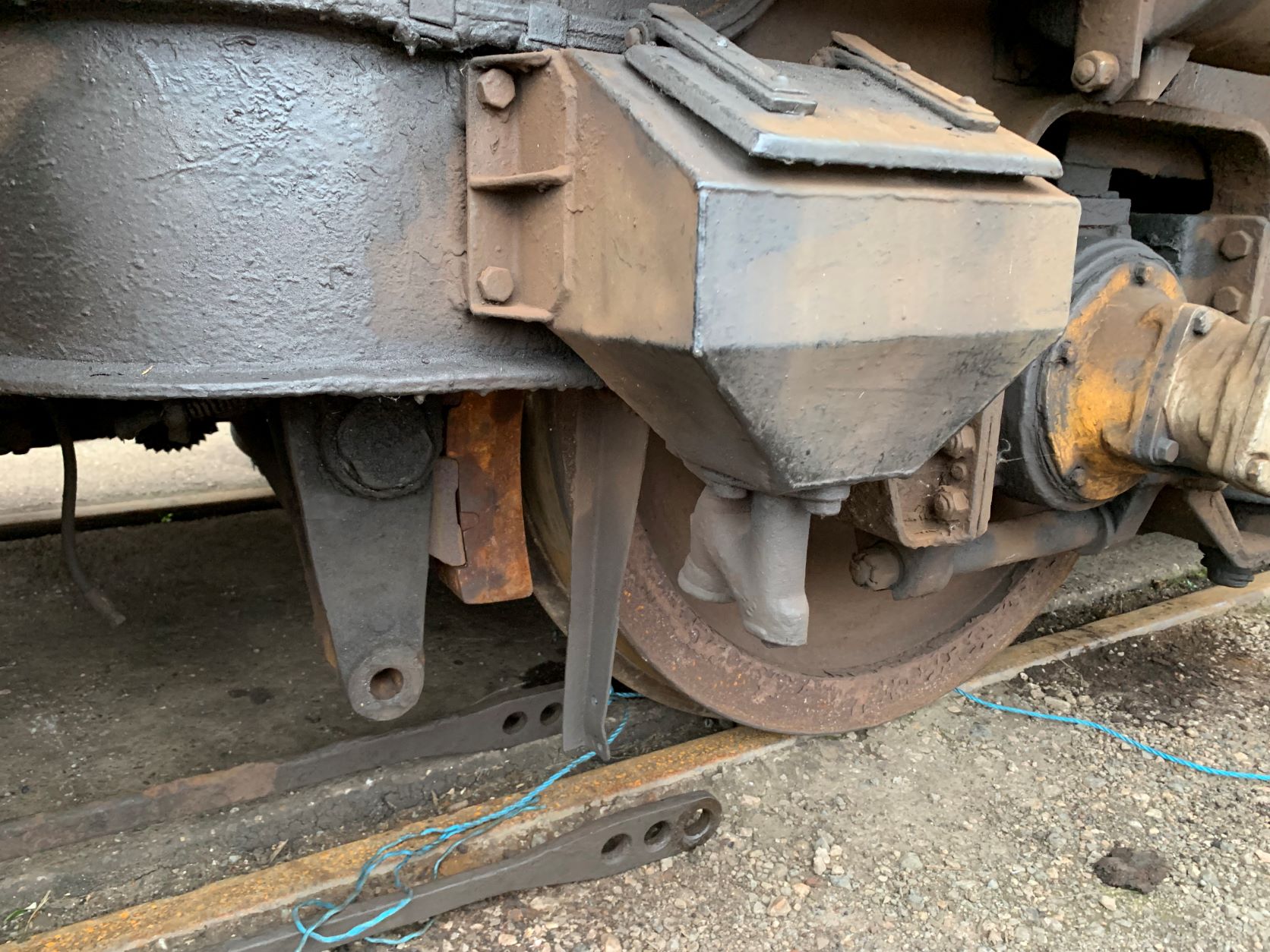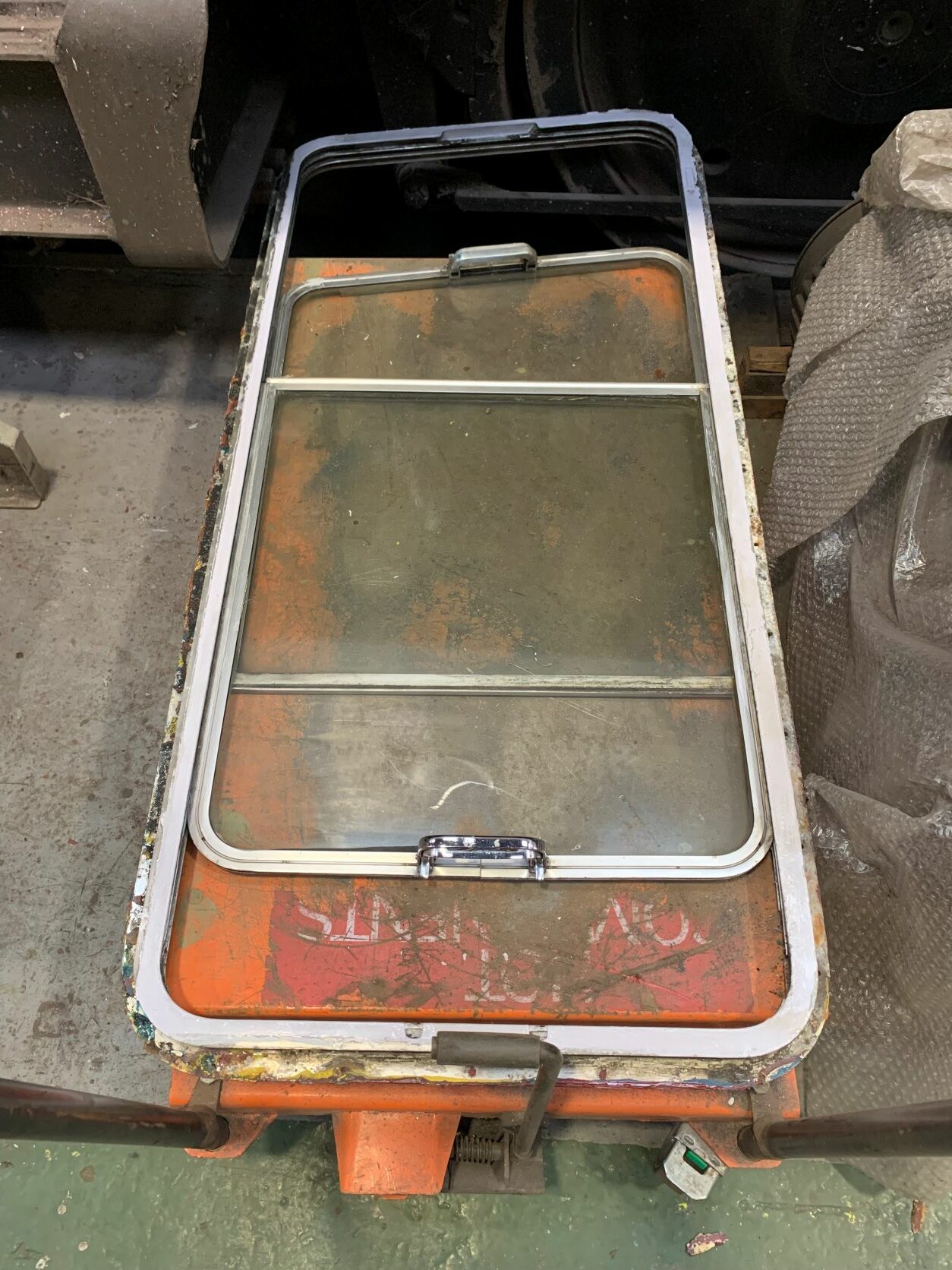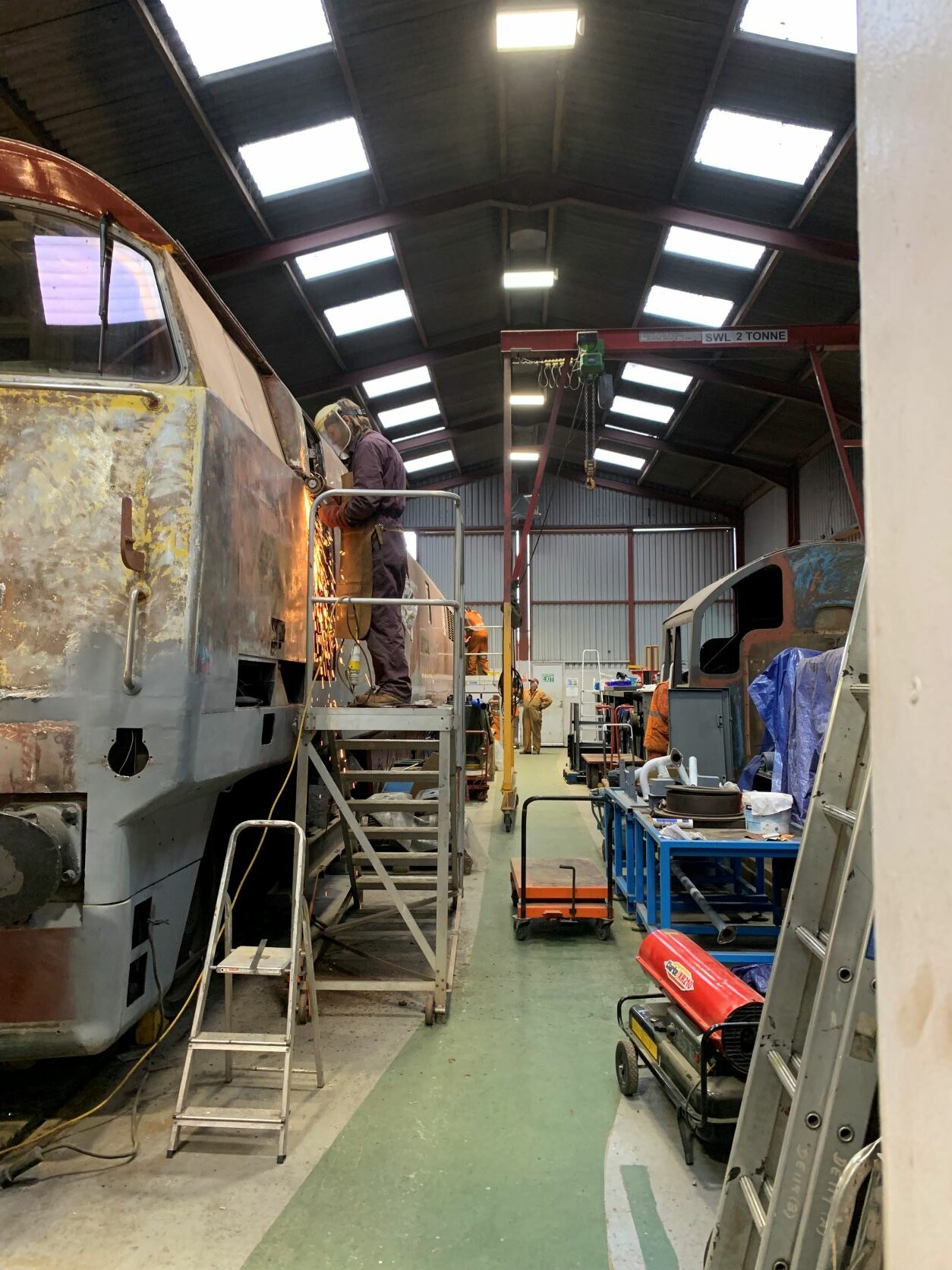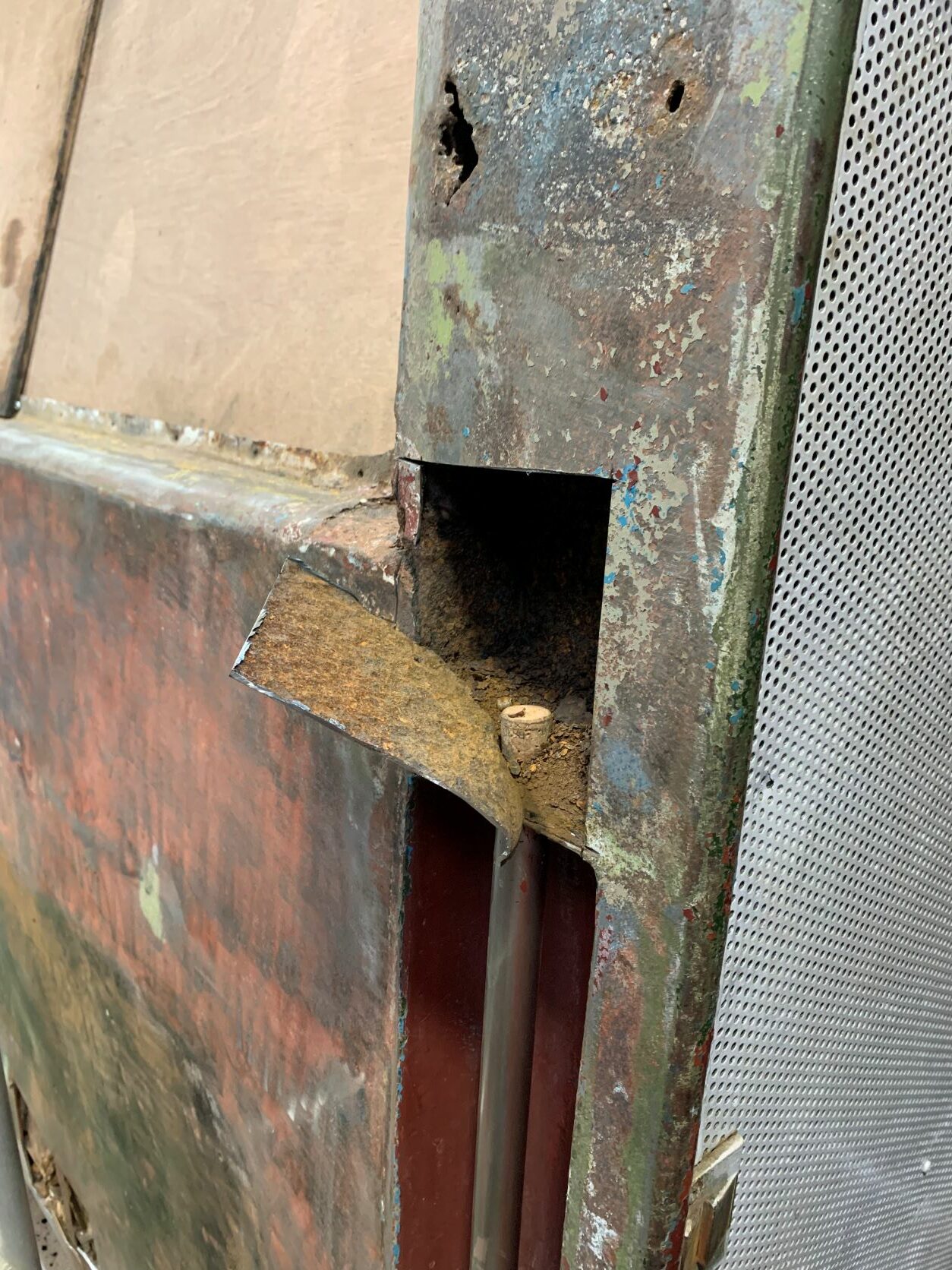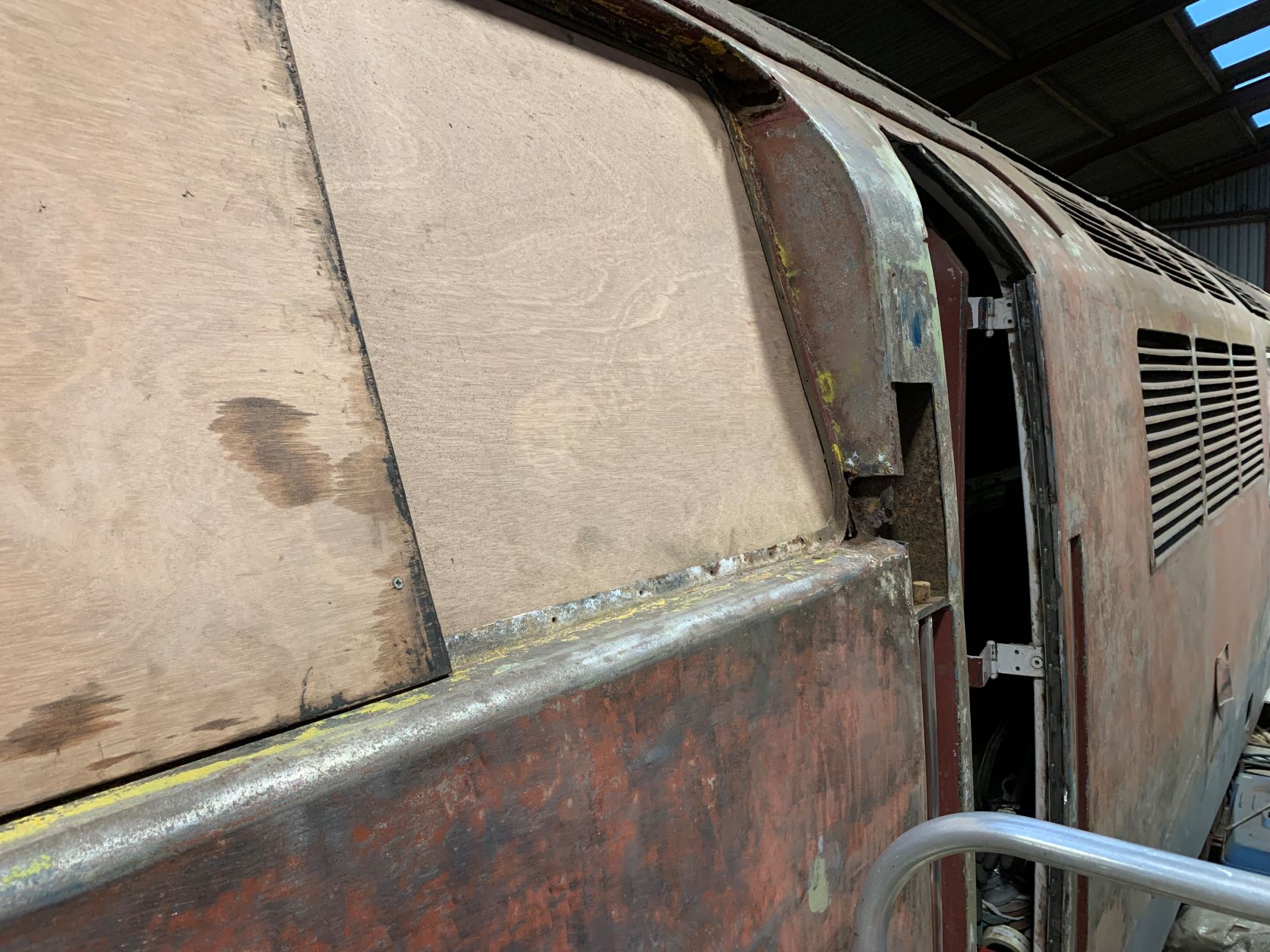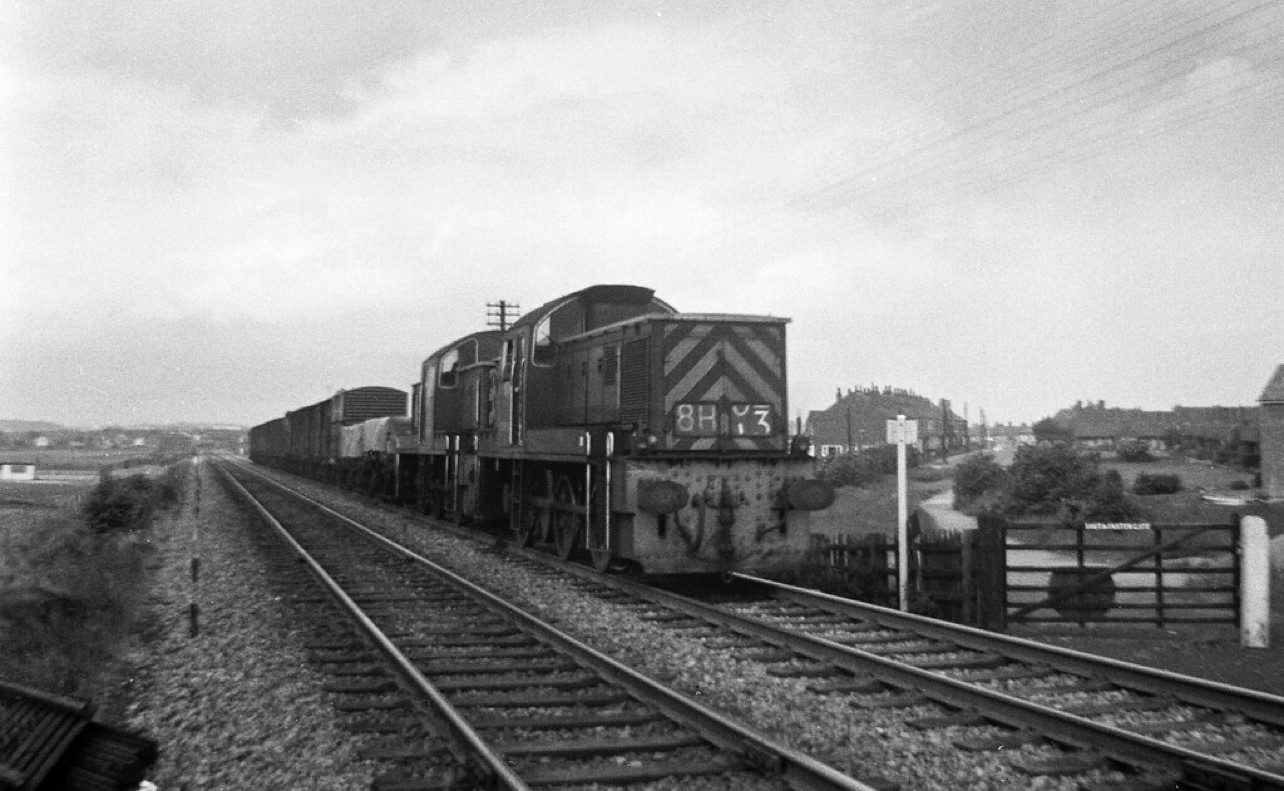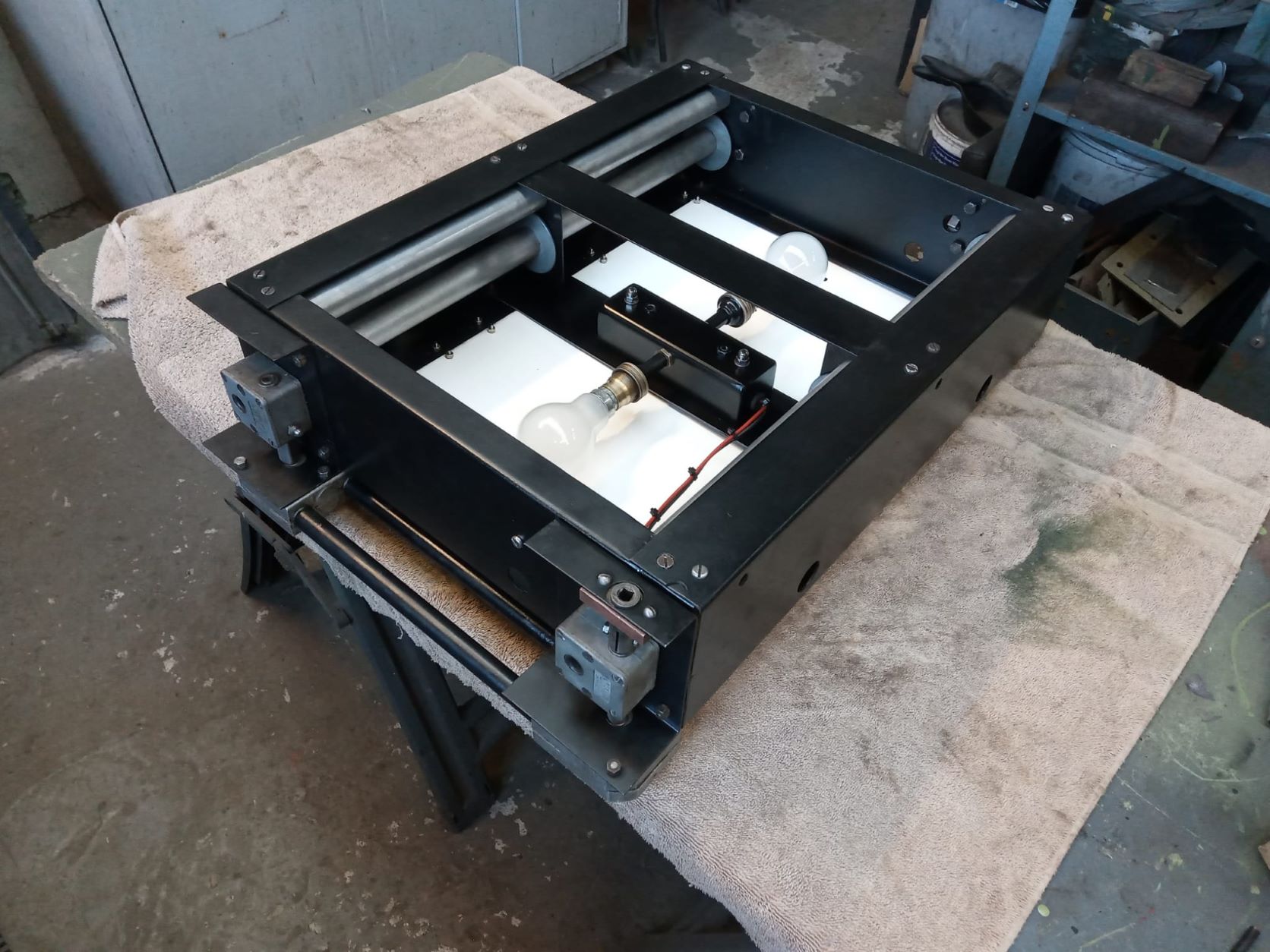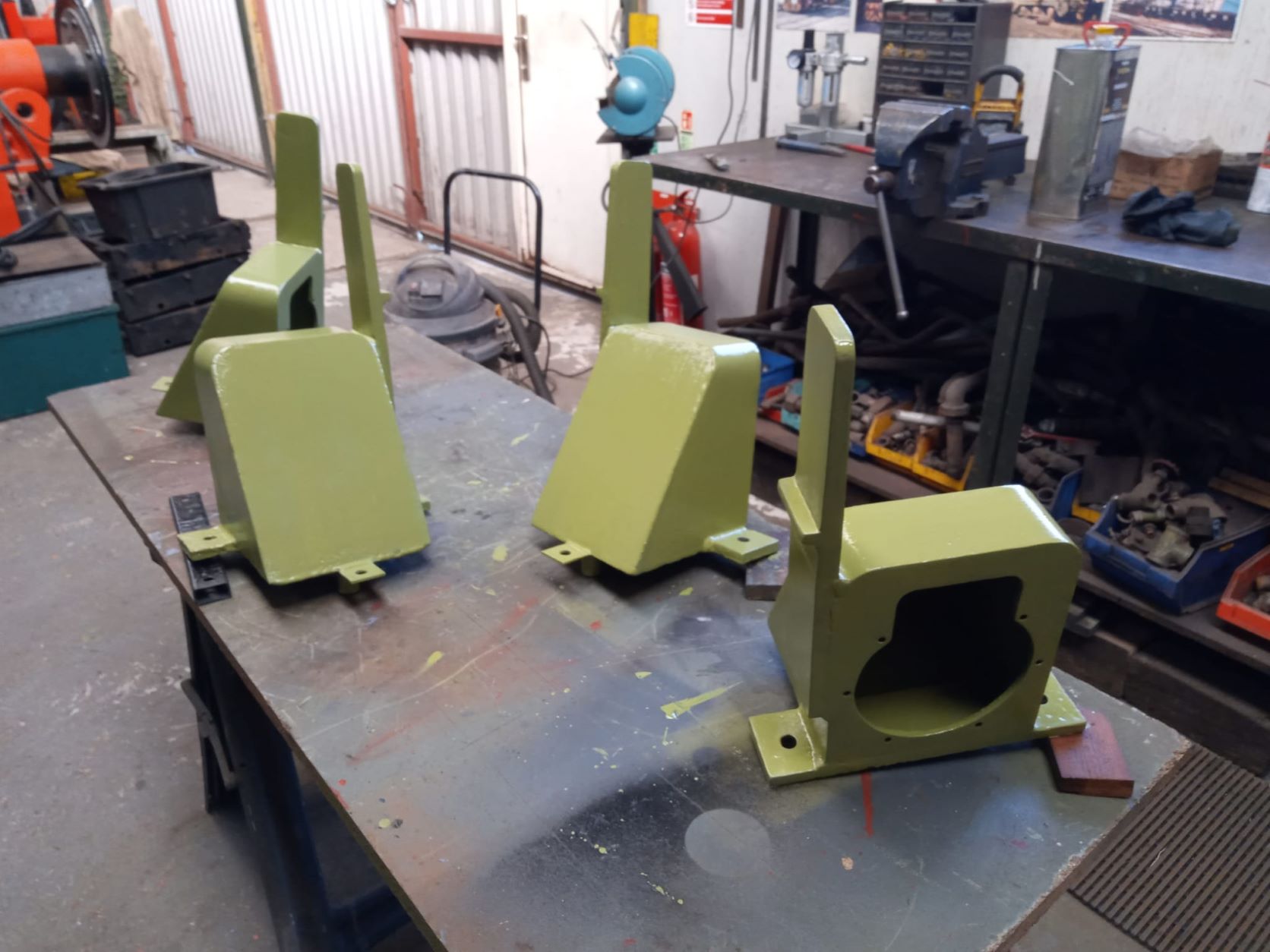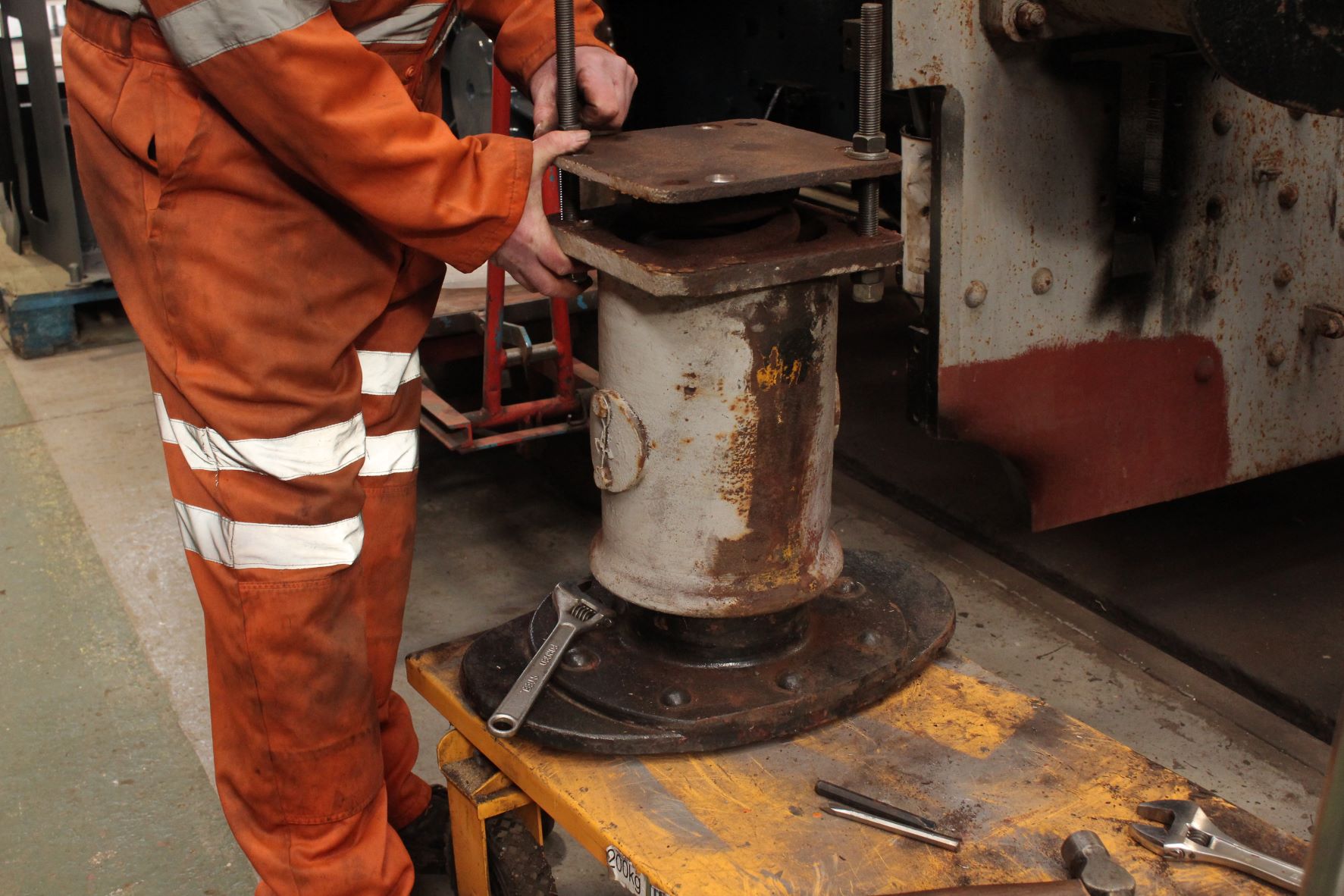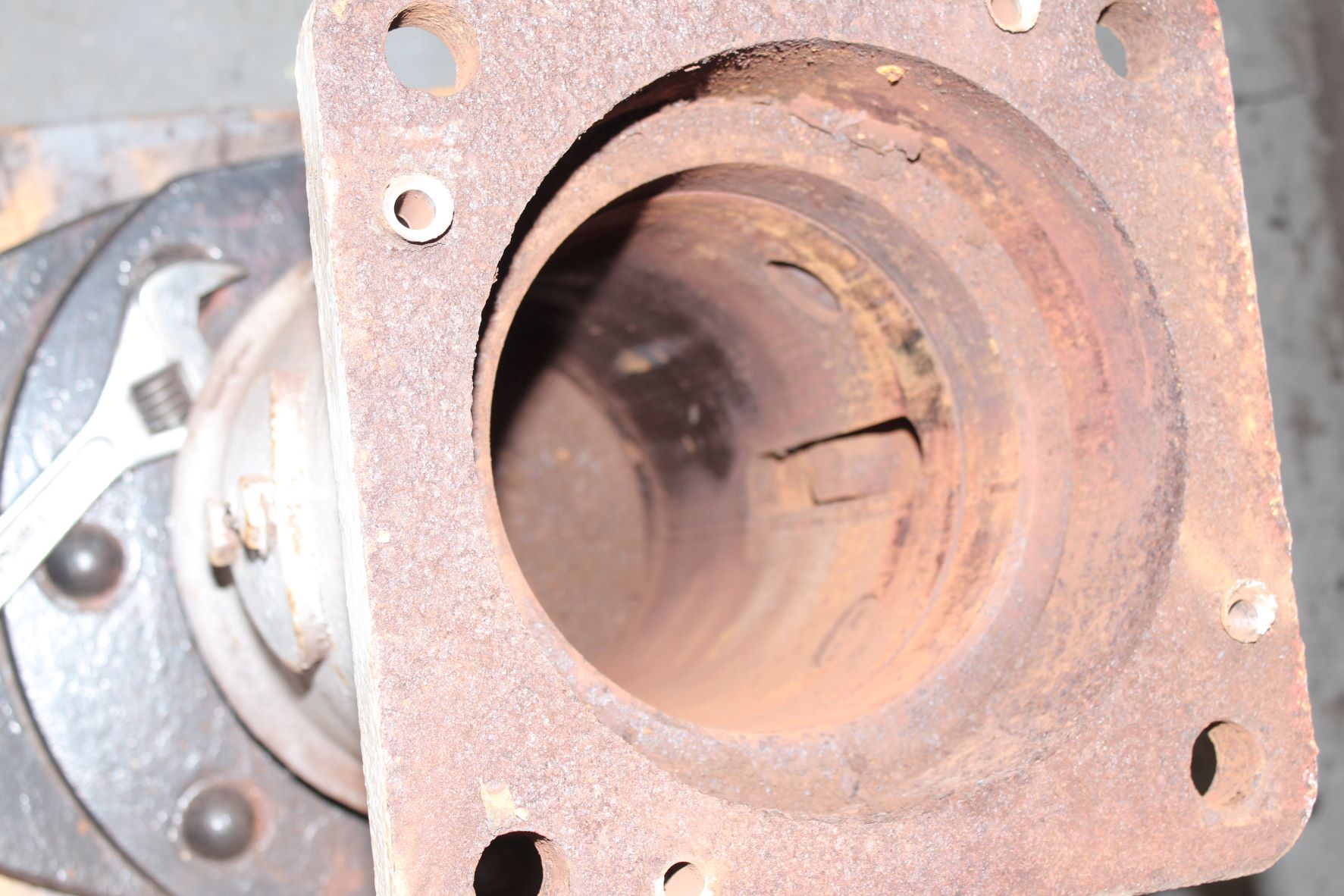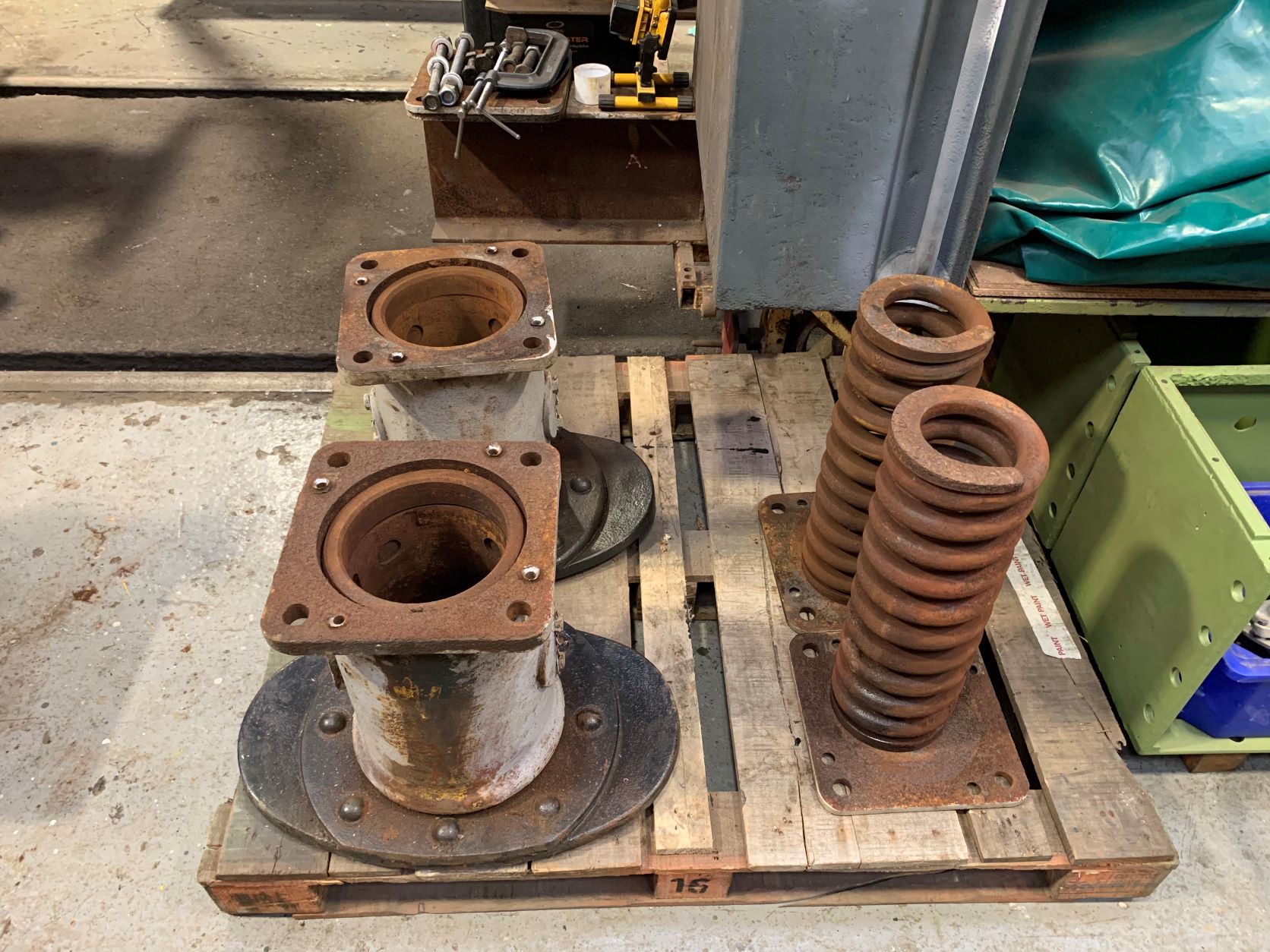 Class 14 'Teddy Bear' D9526 – this loco is currently based at the Kent & East Sussex Railway and will remain at the K&ESR until May 2022, by which time her older sister D9504 should have completed her heavy overhaul and be returned to traffic. We look forward to seeing D9526 back at Williton in time for the WSR's 2022 Diesel Gala that takes place from Thursday 9th through Saturday 11th June 2022. This loco was in action on Saturday 5th February 2022 when she hauled an Empty Coaching Stock (ECS) movement on the K&ESR.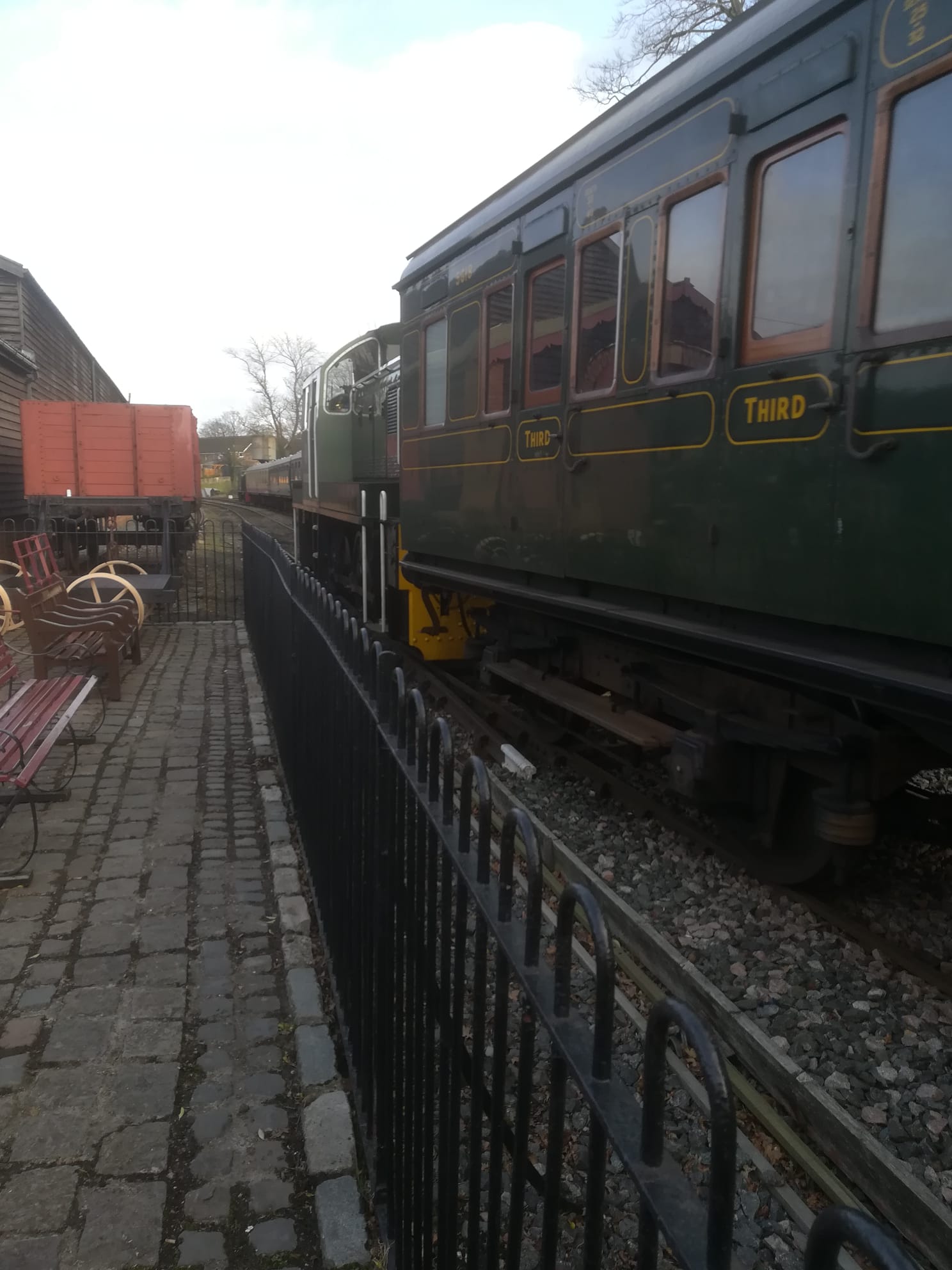 Class 14 D9526 was in use on the K&ESR on Saturday 5th February 2022, hauling a set of Empty Coaching Stock (ECS), including this 1931 Maunsell corridor coach, on a repositioning move. Photo by Mike Grimwood © CC BY-NC 3.0
Andrew Barclay 0-4-0DH 578 – this loco is currently in the Swindon Shed at Williton receiving attention from the WSR Restorations team who are performing a partial repaint that will then allow the loco to be stabled in the yard for the rest of the winter. The loco is currently wearing undercoat and will receive a coat of gloss when weather conditions allow.
If you can help by donating your time, then please JOIN US and come along to the depot for an introduction to what we do and how we do it. We currently have people on site from Saturday through to Tuesday and we can open on other days if we can be sure of getting at least two volunteers on site at all times, so there is plenty of scope. We have tasks of all types to suit most capabilities, both skilled and unskilled. Here's some photos of the work that has taken place during the last week:
Many thanks to all of our volunteers who give up so much of their time to work on the cleaning, painting, maintaining, restoring, managing and fund raising for our fleet of heritage locomotives !
BOOK REVIEW – this week, we introduce a book that has yet to be published but holds out significant promise and will be of great interest to all of our Class 14 followers. The book is another by Anthony P Sayer and we will be providing a detailed review from long-term DEPG member and regular contributor, Neale Long, as soon as he can get his hands on a copy. The publisher is Pen & Sword and their website states that the publication date for the first volume, covering the life of the Class in BR hands, will be 31st March 2022. The second volume will cover the life of the class in Industry, and will be published on 30th June 2022.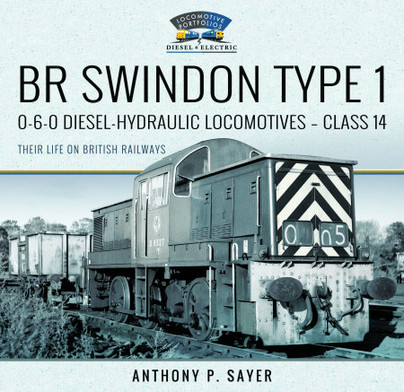 Also of interest this week is 'MODERN LOCOMOTIVES ILLUSTRATED PLUS' bi-monthly publication number 253 (Feb-Mar 2022) in which Neale tells us the following:
"There are several articles of particular interest to Group members, namely 'Hymeks on Freight' where D7017 is illustrated on a demonstration freight train on the WSR, freshly painted in 2013, and 'Westerns on Tour' in which there are several shots of D1010 on the 'Western Requiem' tour of 13th February 1977. D1010 even appears in the article on 'Motorail -Taking Your Car on Holiday' where she can be seen at St Austell in 1972 at the Motorail Terminal, with Class 47 number 1590 in the main platform on a Penzance to Bristol service. Well worth a look."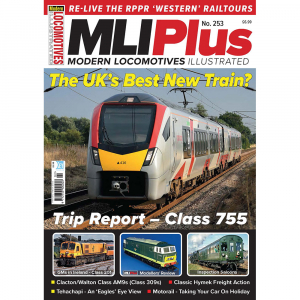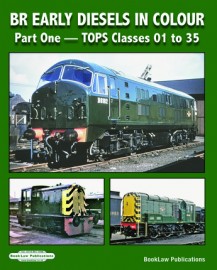 Many thanks to Neale for keeping us up to date with these highly relevant publications !
ON SHED – several readers have commented and expressed their appreciation for the series of photos by Barry Gay covering the loco depot at Newton Abbot. Today, we can share another gem from his vast collection, from the days when the 'Warships' were still plentiful at Newton Abbot (as per correspondent Frank Northcott, there were 68 'Warships' allocated to Newton Abbot when at its peak in the latter part of the 1960s). Here's a view of the East Yard with the coal-fired power station in the background (closed and demolished in 1974):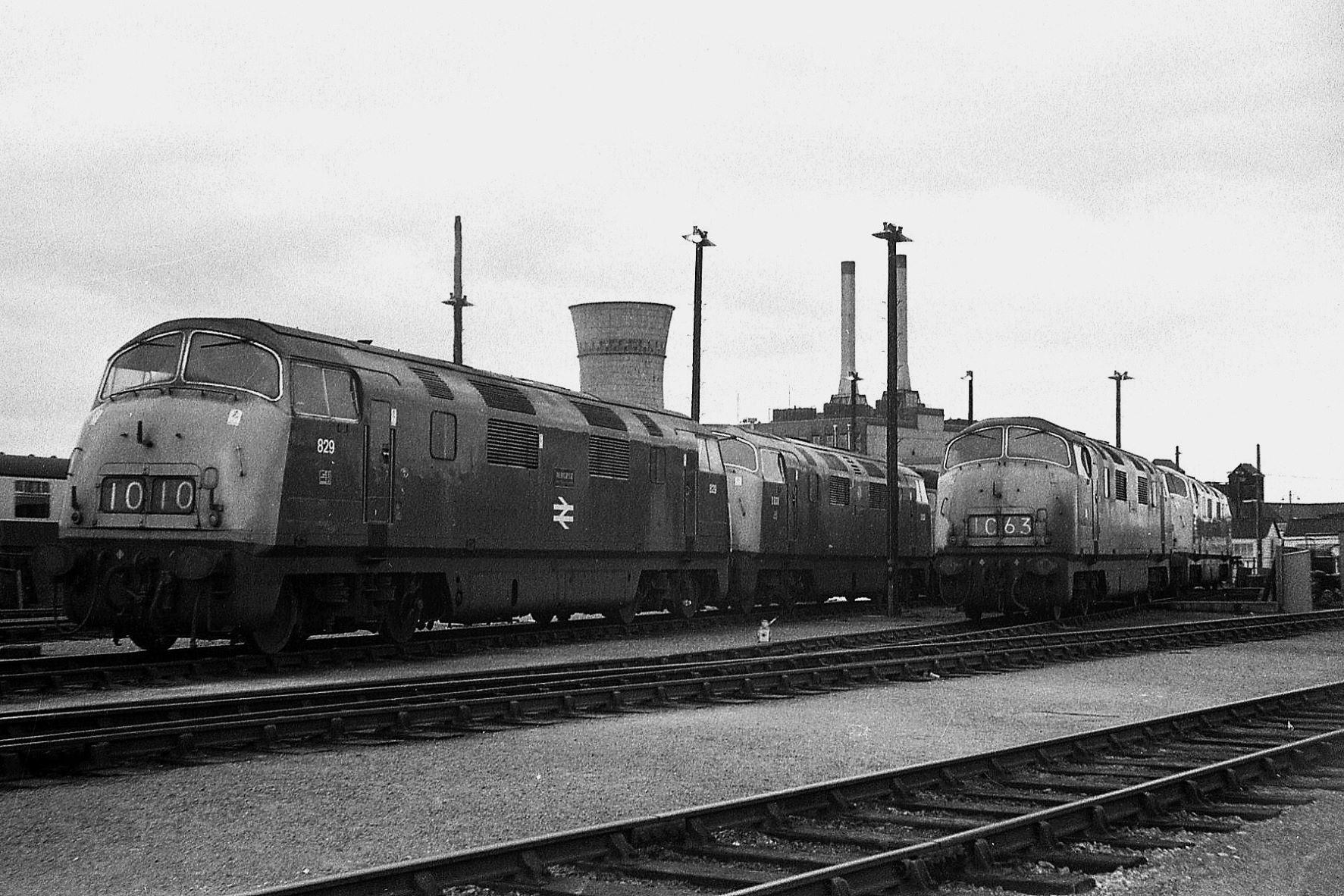 Four 'Warships' in the East Yard at Newton Abbot on Friday 27th March 1970, all fuelled up and ready for action, including one that was still in maroon livery. From left to right, we see 829 'MAGPIE' then D838 'RAPID' (in maroon) then 832 'ONSLAUGHT' with 835 'PEGASUS' furthest away. The two North British Class 43 locos (835 and D838) were withdrawn by the middle of the following year and the two Swindon-built Class 42s (829 and 832) by the end of 1972, but thankfully 832 lives on with the Bury Hydraulic Group at the East Lancs Railway. Photo by Barry Gay © CC BY-NC 3.0
Many thanks to Barry for sharing his photos with us all !
DEPG NEWS – the synopsis of the January Board Meeting will be emailed later this week to all DEPG members for whom we hold email addresses. We continue our efforts to build our membership, so if you like what we do, please JOIN US and help us do more of it !
DEPG WEBSITE – we have some stock remaining of our seasonably warm wearables, so click the the links below to find out more !
We can also provide these garments to order in different colours, so if you want a hat or a fleece but don't want it in black, please reply to this email or use our CONTACT FORM to let us know. Thanks !
WSR NEWS: Work continues on the relaying of the line between Dunster and Minehead, and on Friday 4th February 2022, our Chairman Martin Howard was in charge of the WSR's Class 03 shunter D2133 to perform a shunt of the Permanent Way Depot and to position the hopper wagons so that they could be loaded with fresh ballast. Here's some photos that Martin captured when it was safe to do so: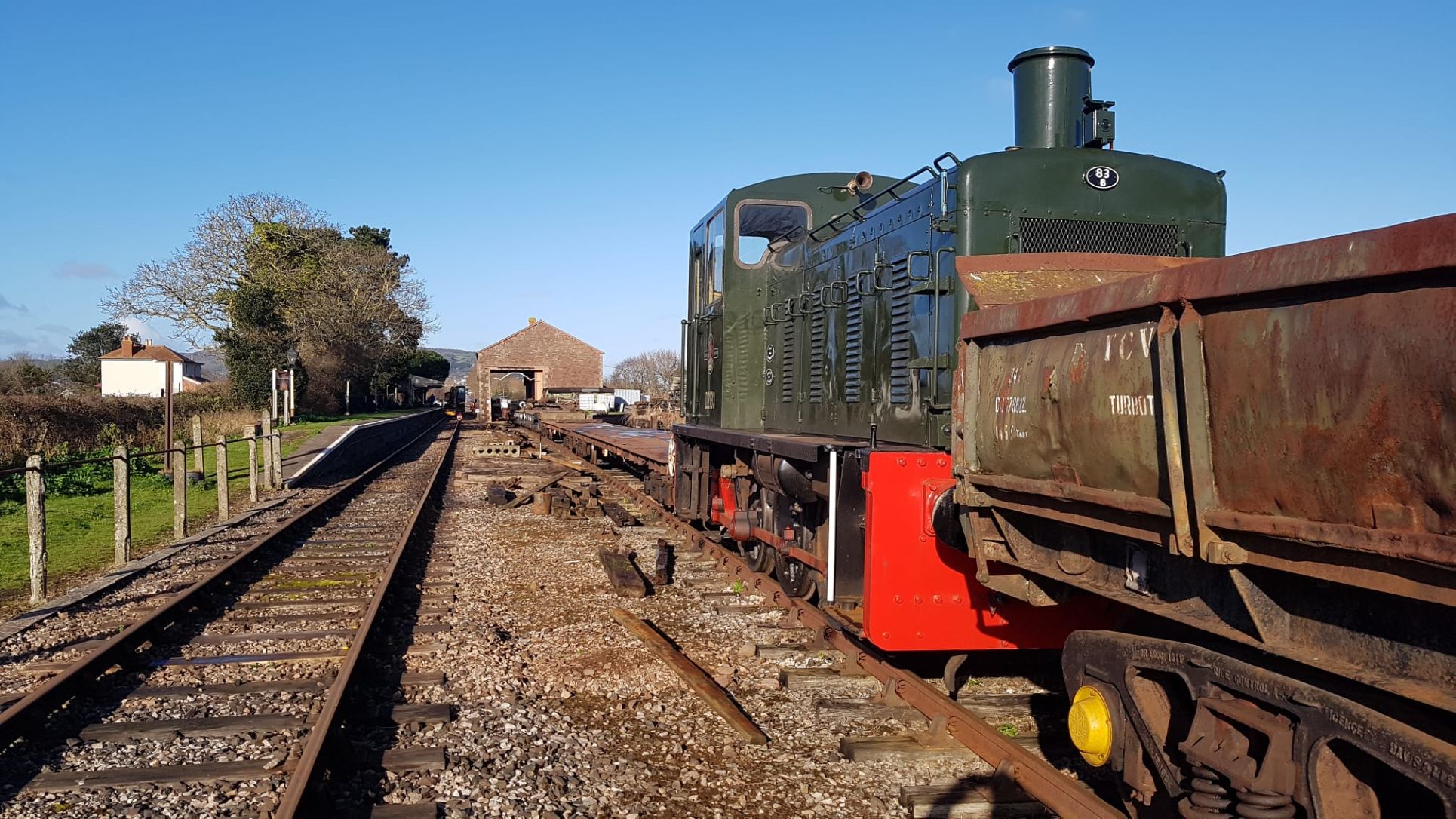 The WSR's Class 03 D2133 is pictured early in the shunting exercise at Dunster on Friday 4th February 2022, with the loco sandwiched between a 'Turbot' wagon and the 'Elk' flat wagons and a 'Warflat' wagon. Photo by Martin Howard © CC BY-NC 3.0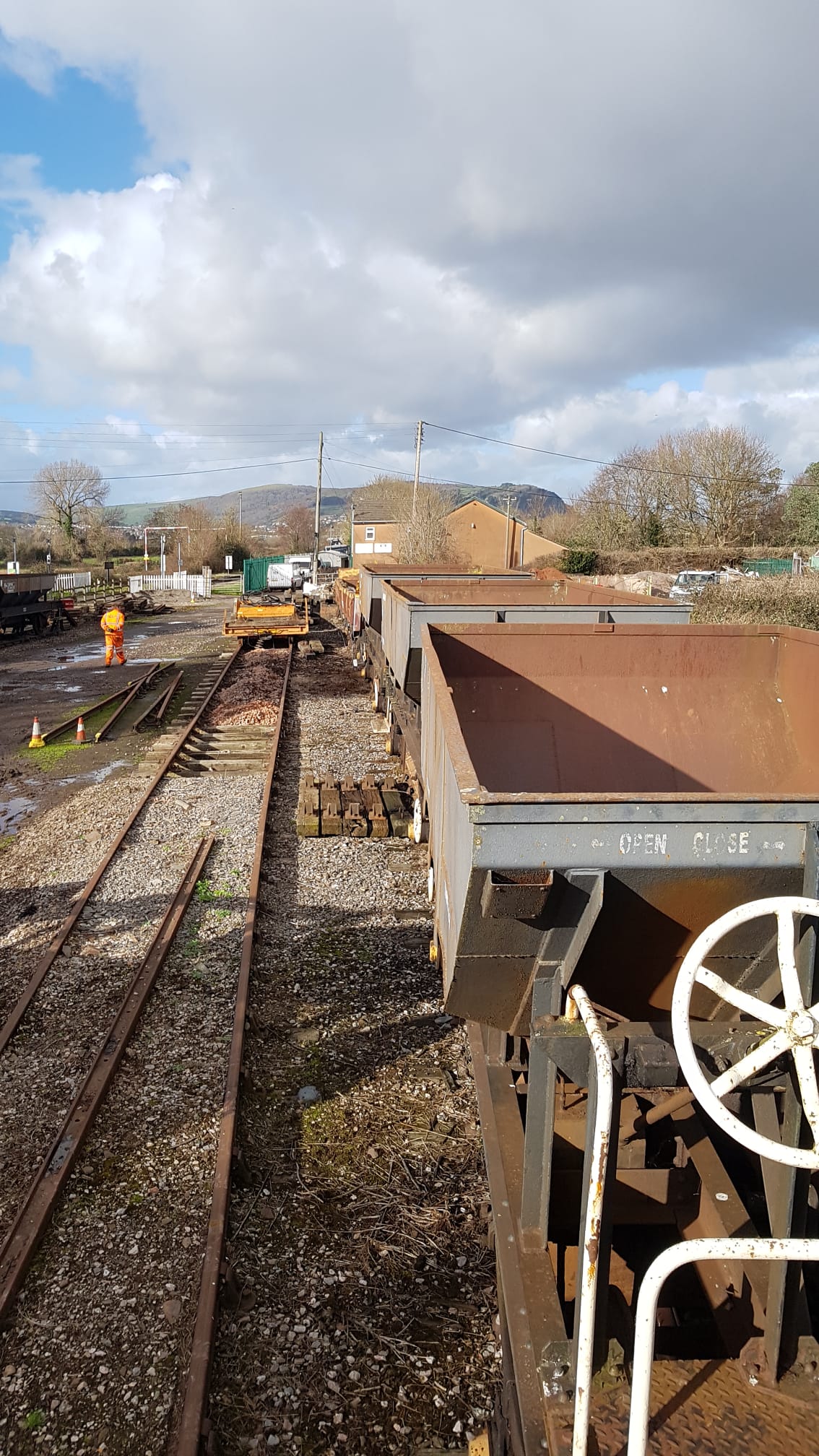 The WSR's Class 03 D2133 was then used to collect the 'Dogfish' hopper wagons from the back road at Dunster Yard so that they could be repositioned and loaded with fresh ballast. Photo taken on Friday 4th February 2022 by Martin Howard © CC BY-NC 3.0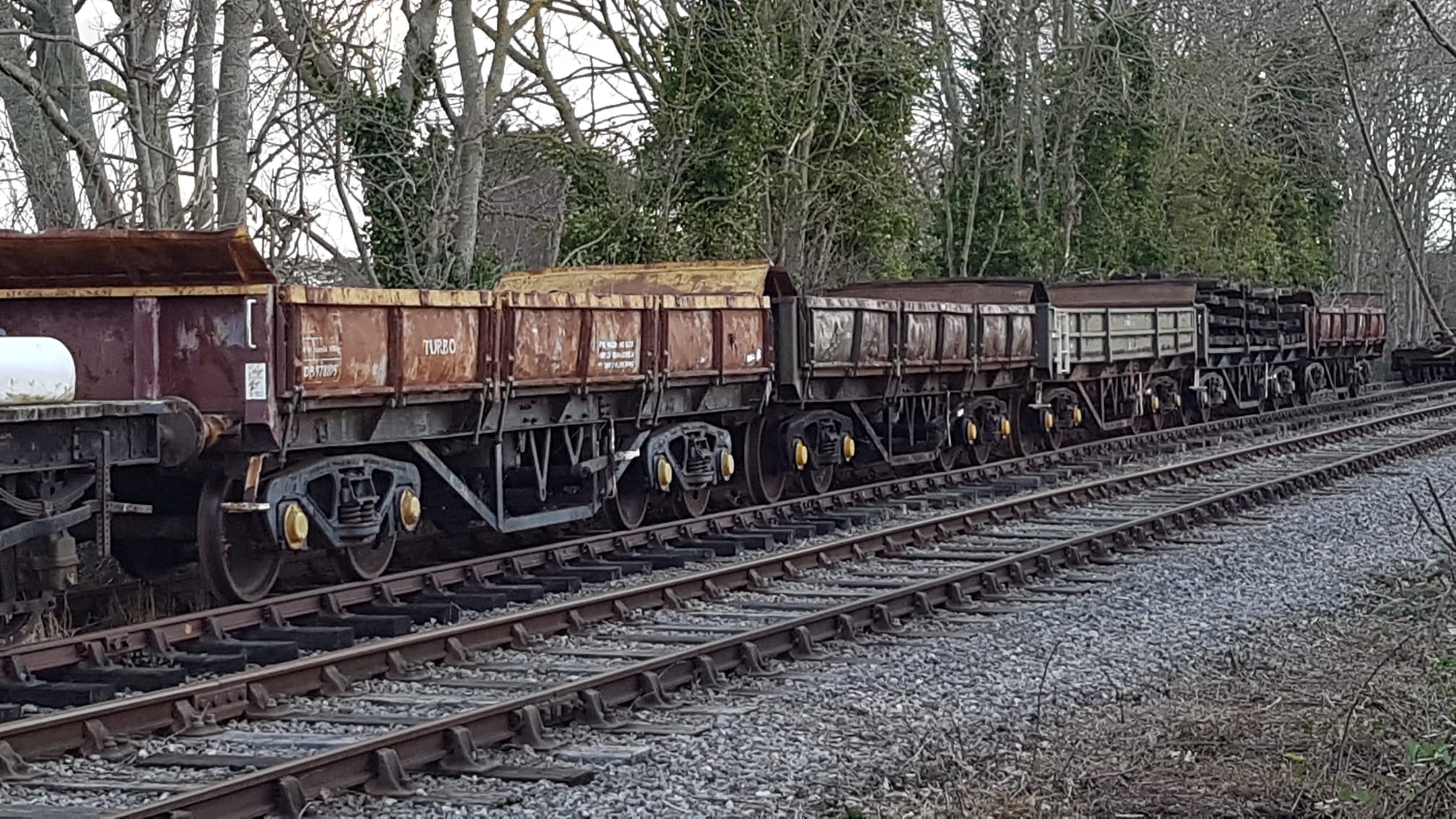 The WSR's fleet of five 'Turbot' wagons were all shunted back into one set at Dunster, probably for the first time in many years. Photo taken on Friday 4th February 2022 by Martin Howard © CC BY-NC 3.0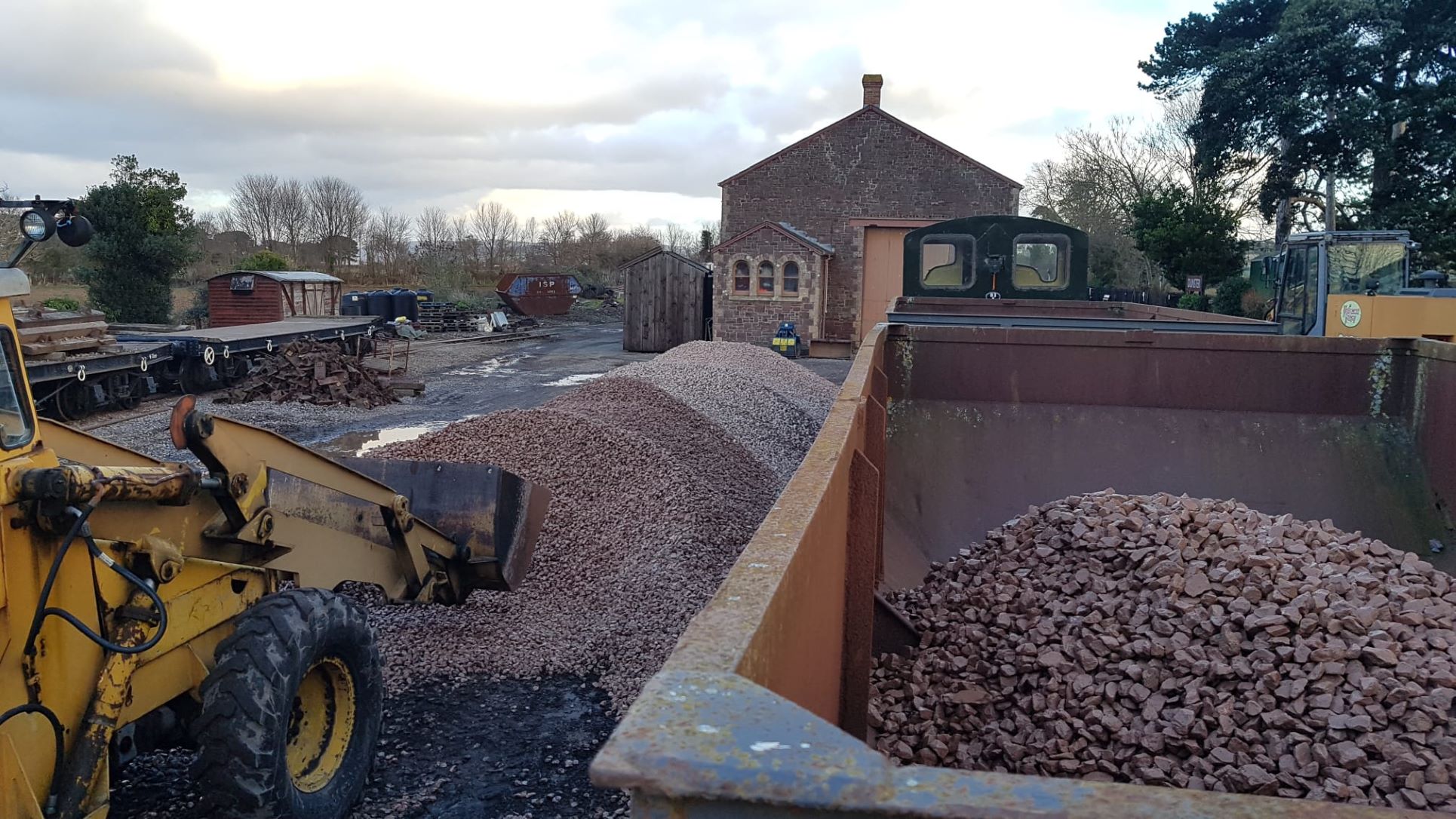 The WSR's Class 03 D2133 is at the head of this short rake of 'Dogfish' hopper wagons which are now being loaded with fresh ballast that will soon be delivered to the length of the line that has just been relaid at Alcombe, between Dunster and Minehead. Photo taken on Friday 4th February 2022 by Martin Howard © CC BY-NC 3.0
This investment in the upgrading of WSR infrastructure is most welcome and will be completed in time to celebrate the re-opening to MINEHEAD that we have all been looking forward to.
The WSR have published the timetables and the dates for the 2022 special events, as follows, so please make a note and ADD THESE DATES TO YOUR DEPG CALENDARS: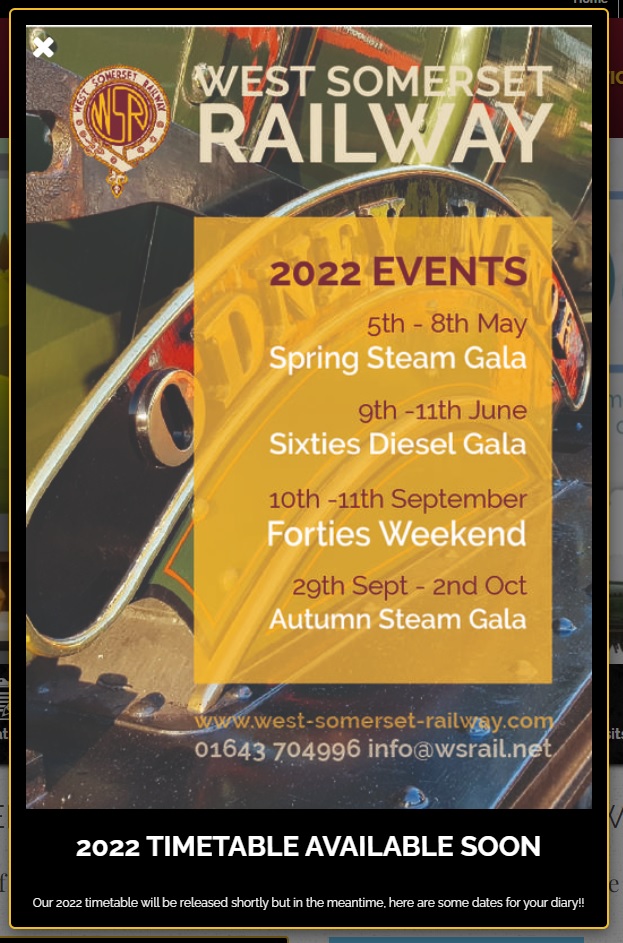 Go to next Weekly Roundup post
Go to previous Weekly Roundup post
---