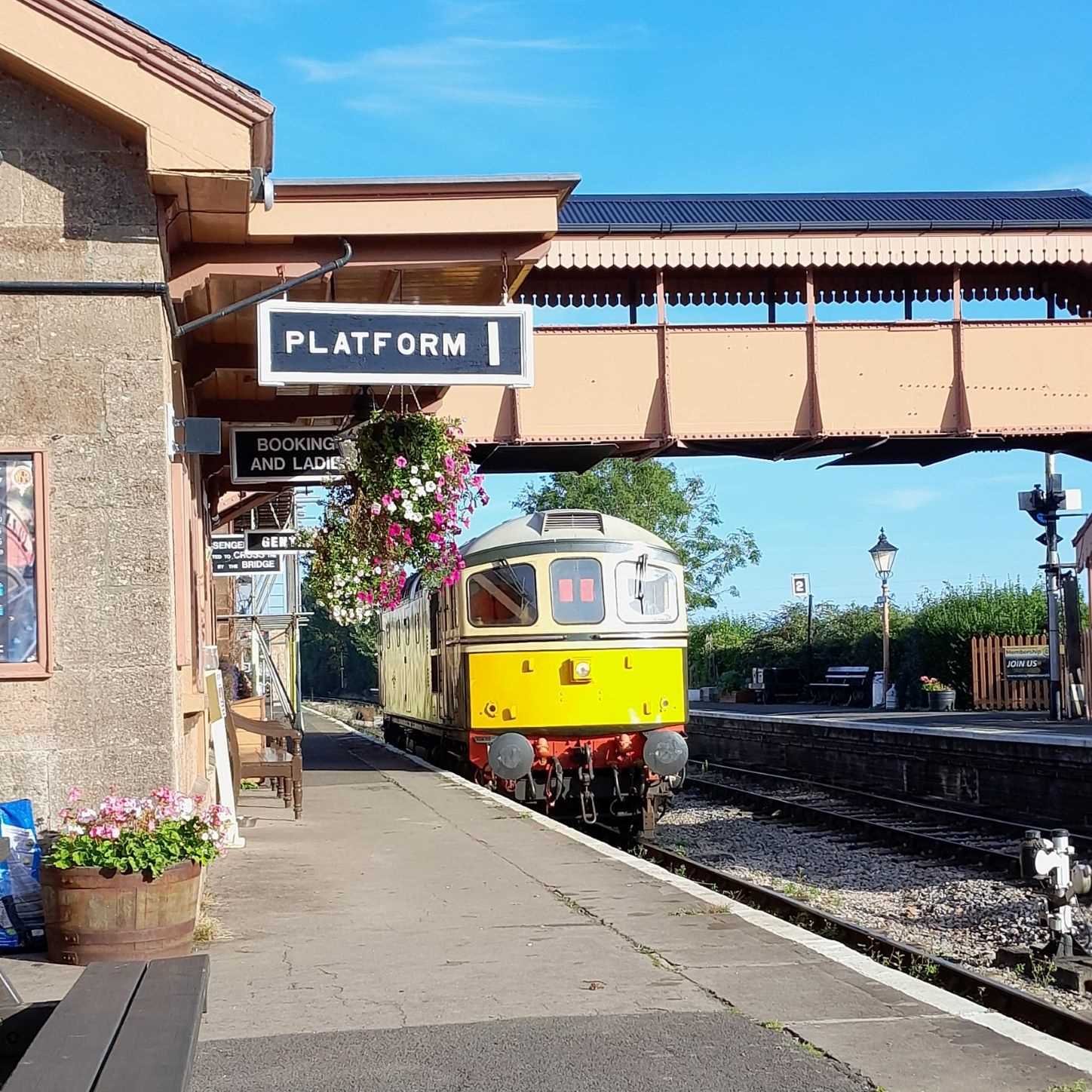 Class 33 'Crompton' D6575 (33 057) stands at Platform 1 at the delightful and well-presented Williton Station on Saturday 17th September 2022 as she prepared for her light engine move to Minehead, to take up her weekend duties under the BLUE timetable. Photo by Jon Tooke © CC BY-NC 3.0
The last opportunities for scheduled 2022 diesel-hydraulic running are upon us. This coming weekend is the last weekend of the BLUE timetable (4 trains each way per day) and Class 35 'Hymek' D7018 is rostered to haul the 10:00 Minehead to Bishops Lydeard and return diagram that includes two out-and-back runs totalling 80 miles. Last weekend, Class 33 'Crompton' D6575 (33 057) covered this duty, but now it is time for some 'Maybach Music' to end the main season.
As from Saturday 1st October, the railway enters the quieter 'shoulder' of the season and the RED timetable will come into effect, with services reduced from 4 to 3 trains each way per day. We note that Class 33 'Crompton' D6575 (33 057) has been rostered for the weekends of 8/9th October and again on 15/16th October so we will be sending out a DIESELGEN bulletin to cover these additions.
In summary:
On the weekend of 24th and 25th September, we have Class 35 'Hymek' D7018 running for 80 miles under the BLUE timetable. These will be the LAST scheduled diesel-hydraulic-hauled services of the season, so please come along and enjoy the ride, to the accompaniment of 'Maybach Music' !
We have kept our DIESEL RUNNING DATES page updated throughout all of the timetable and traction changes that took place during the year and will keep this page available as a historical record of public running for 2022. We will create a new page for 2023 as soon as timetables have been agreed and published.
MANY THANKS TO ALL WHO HAVE TRAVELLED for supporting this year's DIESEL RUNNING program on the WSR.

The usual caveats of loco availability apply, but we aim to provide as much advance notice of any change as possible, using our DIESELGEN and Twitter feeds, so please sign up to keep up to date.
LOCO NEWS:
Class 52 D1010 'WESTERN CAMPAIGNER' – this loco continues to get the lion's share of the attention, with body repair work progressing in parallel with work on her battery compartments and cab windows and headcode boxes. Theere is plenty of work still to be done on this massive locomotive and we need to continue raising funds to allow us to plan further work on the transmissions and bogies.
Please consider SPONSORING A PATCH because there is plenty of fresh metal that still needs engraving. We have an engraving session planned for this Saturday and the list of sponsors is still open, so click the image below and sponsor your patch now. Thank you in advance for your support !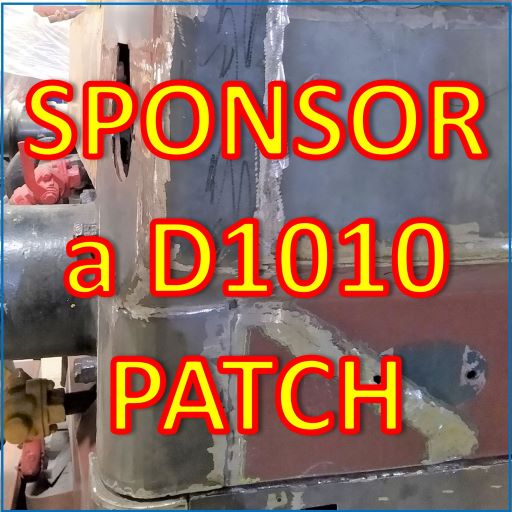 Although bodywork repairs have progressed well, we still have a lot of rubbing down and painting to do, so PLEASE DO COME ALONG AND HELP IF YOU CAN !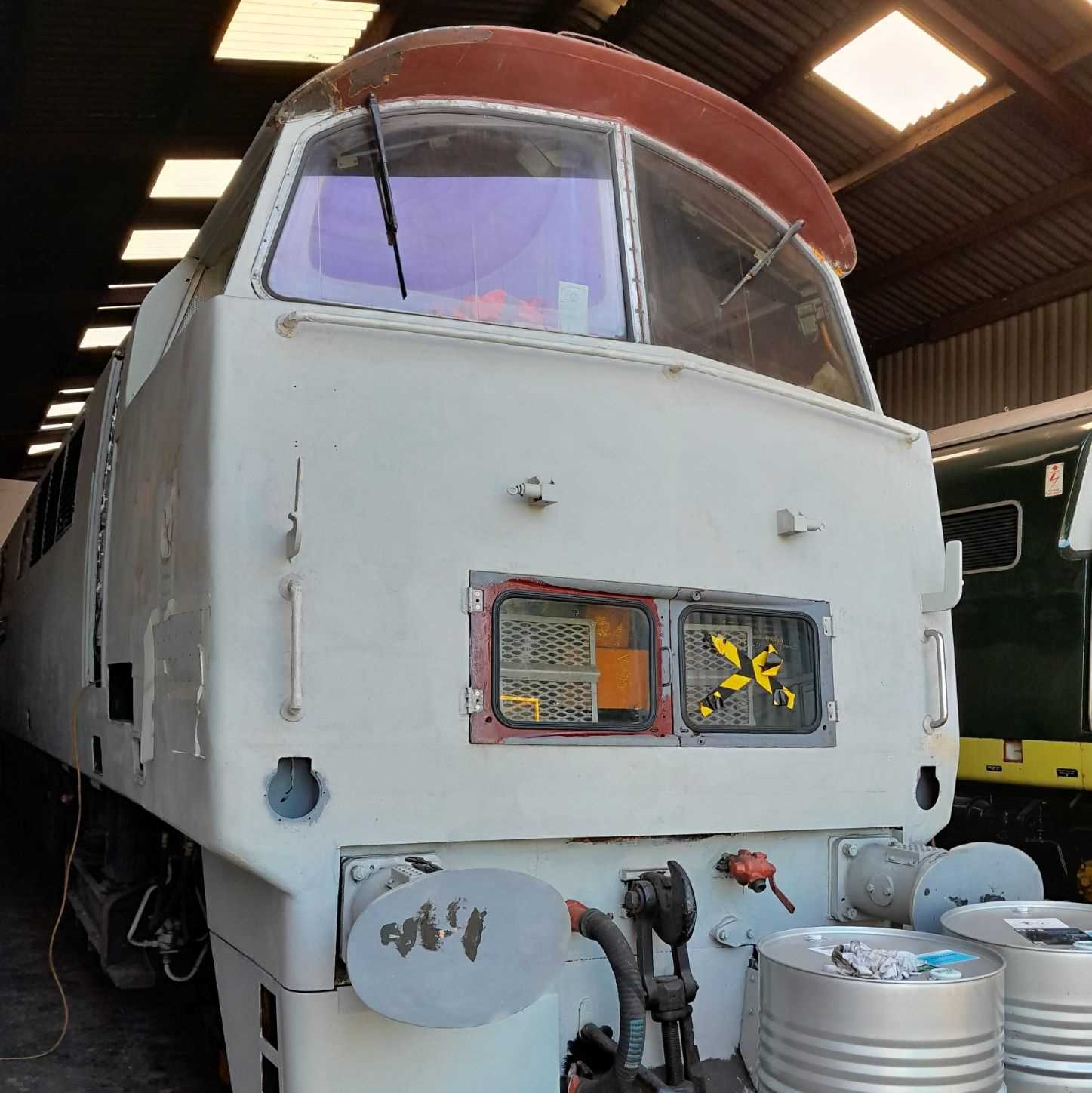 D1010 – continued effort on the 'A' end of the loco has resulted in completion of all bodywork repairs and an overall coat of grey primer has now been applied. The headcode frames have been re-fitted (temporarily) and now include new rubber seals for the glass panels. Pictured at Williton on Saturday 17th September 2022 by Jon Tooke © CC BY-NC 3.0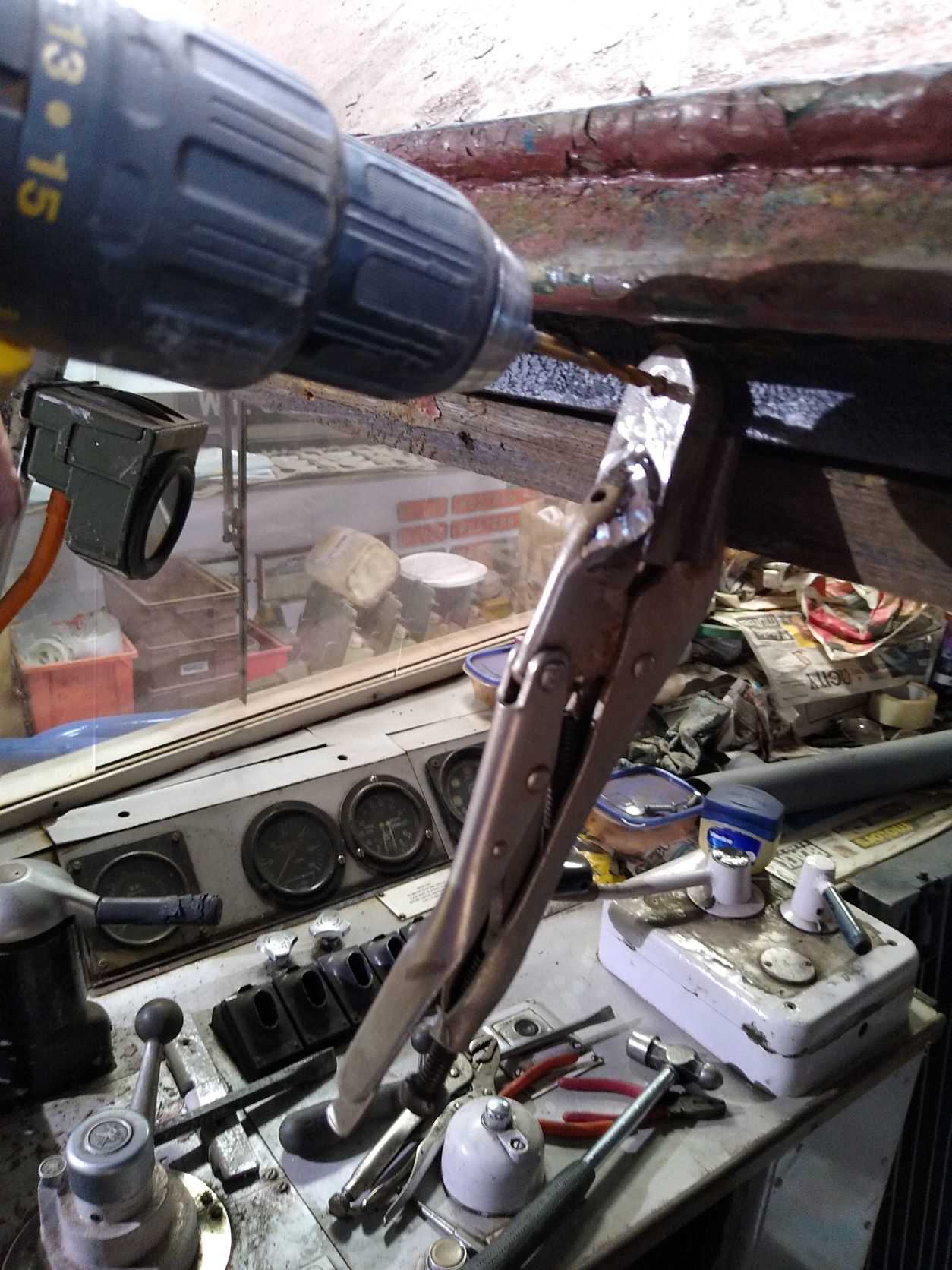 D1010 – the rusted remains of the sheared screws that held the side windows have to be removed carefully to ensure that the replacement screws will align correctly. This simple and effective tool has been made from a set of worn-out vice grips and engages with the broken screws and aligns the drill with the centre of the hole. Pictured at Williton on 10th September 2022 by Colin Foxhall © CC BY-NC 3.0
To support the work that is progressing in multiple areas on D1010, we launched our CAMPAIGN for CAMPAIGNER by offering 'SPONSOR A PATCH' where you can donate in support of the bodywork repairs that are taking place on D1010 'WESTERN CAMPAIGNER' and HAVE YOUR NAME ENGRAVED ON THE SPONSORED PATCH or PART.
For the sum of £25, this scheme offers you a chance to sponsor the restoration of this much-loved locomotive, with your personal contribution being recorded and documented on a set of drawings that will be made available at our Williton depot on running days and open days. For those who prefer to remain anonymous, a unique reference number or code word of your choice will be engraved instead.
See our CAMPAIGN for CAMPAIGNER web page for more details !

Class 33 D6566 (33 048) – this loco has had her oil strainer, oil filter housings and crankcase cleaned out and fresh oil pumped in while she waits for the return of her heat exchanger. The latest news is that it will be some time in mid-October before we get the heat exchanger returned to us, so work continues to prepare everything else as far as possible. We hope that this loco will be back in action some time in October, but it depends entirely on the specialist firm that is undertaking the repair work.
Class 33 D6575 (33 057) – this loco is currently stabled at Minehead and being the WSR Duty Loco, is fully serviceable. She covered the diesel duties last weekend as planned and as listed on our DIESEL RUNNING DATES page and has been the busiest loco of our home fleet so far this year. Well done D6575 !
Class 35 'Hymek' D7017 – the work on this loco has progressed very well and the loco will be ready for an engine run during our annual 'work week' (which happens to be next week).  The photo below shows that her roof has been re-fitted in preparation for the start-up, which will take place after the loco has been towed outdoors. Well done to Team D7017 for getting this work done !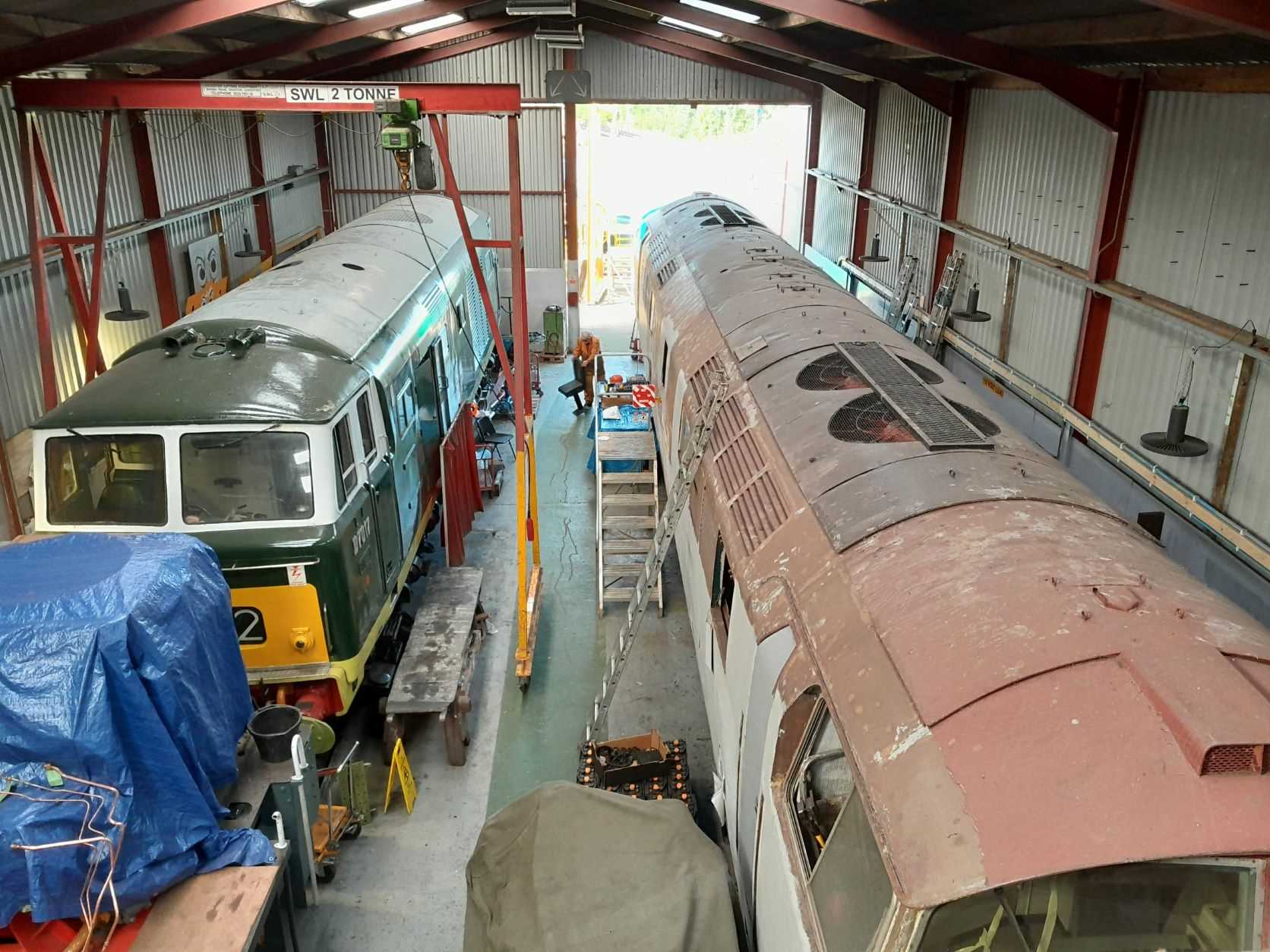 A view from the mezzanine floor – Class 35 'Hymek' D7017 was pictured in the loco shed at Williton on Saturday 17th September 2022 with the frames and cooler group of Class 14 'Teddy Bear' D9518 in front of her on the left and Class 52 D1010 'WESTERN CAMPAIGNER' filling up the shed on the right. Photo by Jon Tooke © CC BY-NC 3.0
Class 35 'Hymek' D7018 – this loco will be in use on the 10:00 and 14:30 Minehead to Bishops Lydeard return services on Sat/Sun 24th/25th September. Keep an eye on our DIESEL RUNNING DATES page for updates or join the DIESELGEN email bulletin group (which also includes information about non-public services, where the information is available to us sufficiently in advance).
Class 14 'Teddy Bear' D9518 – the Class 14 team continue to work on the re-installation of the compressed air system and the associated valves and pipework while, in parallel, restoration work is taking place on some of the many parts that are going to be needed in the near future – such as those shown in the photographs below: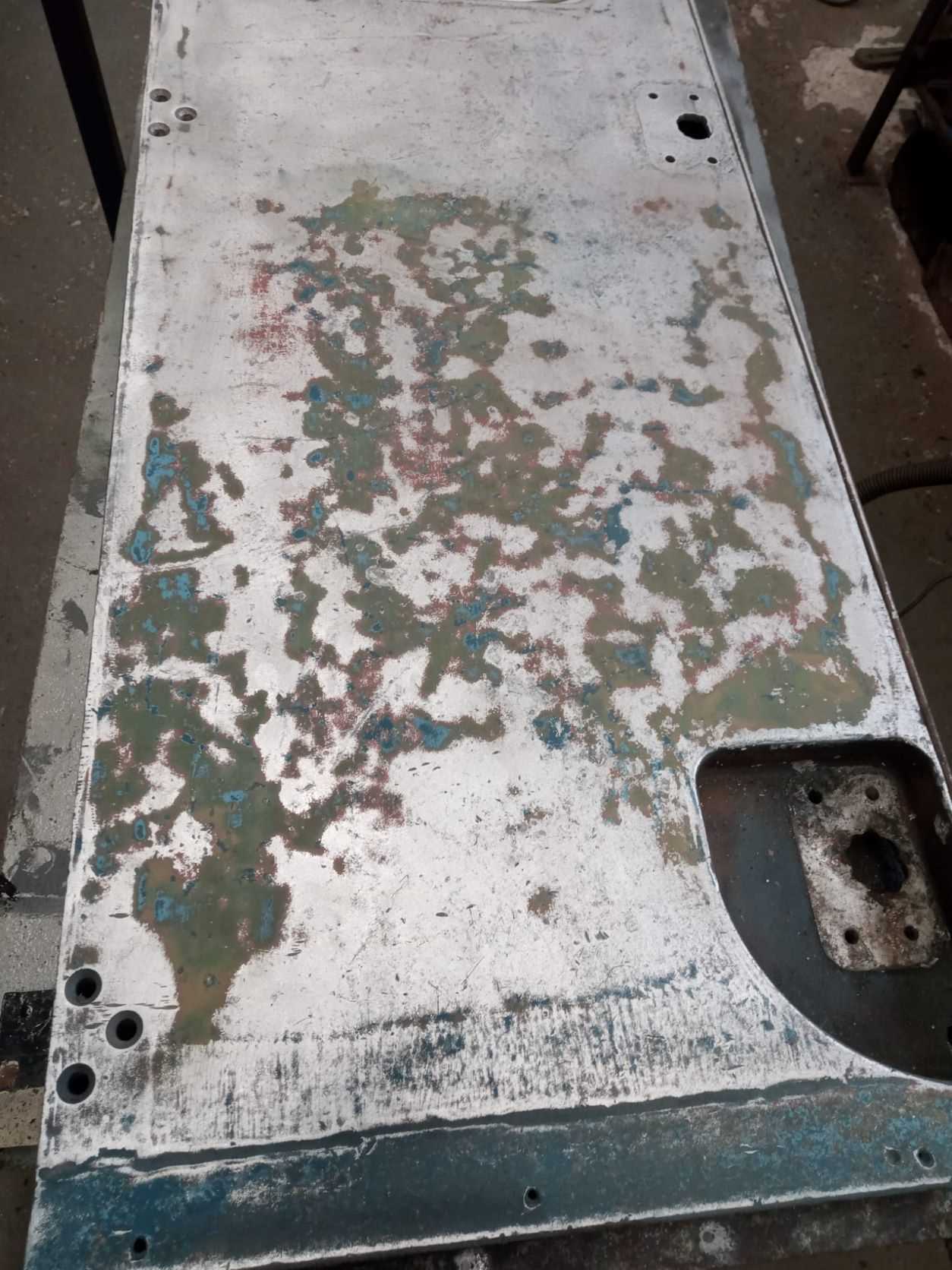 D9518 – under the layers of NCB blue, the cab door reveals the original Sherwood Green from BR days. Photo by Colin Girle © CC BY-NC 3.0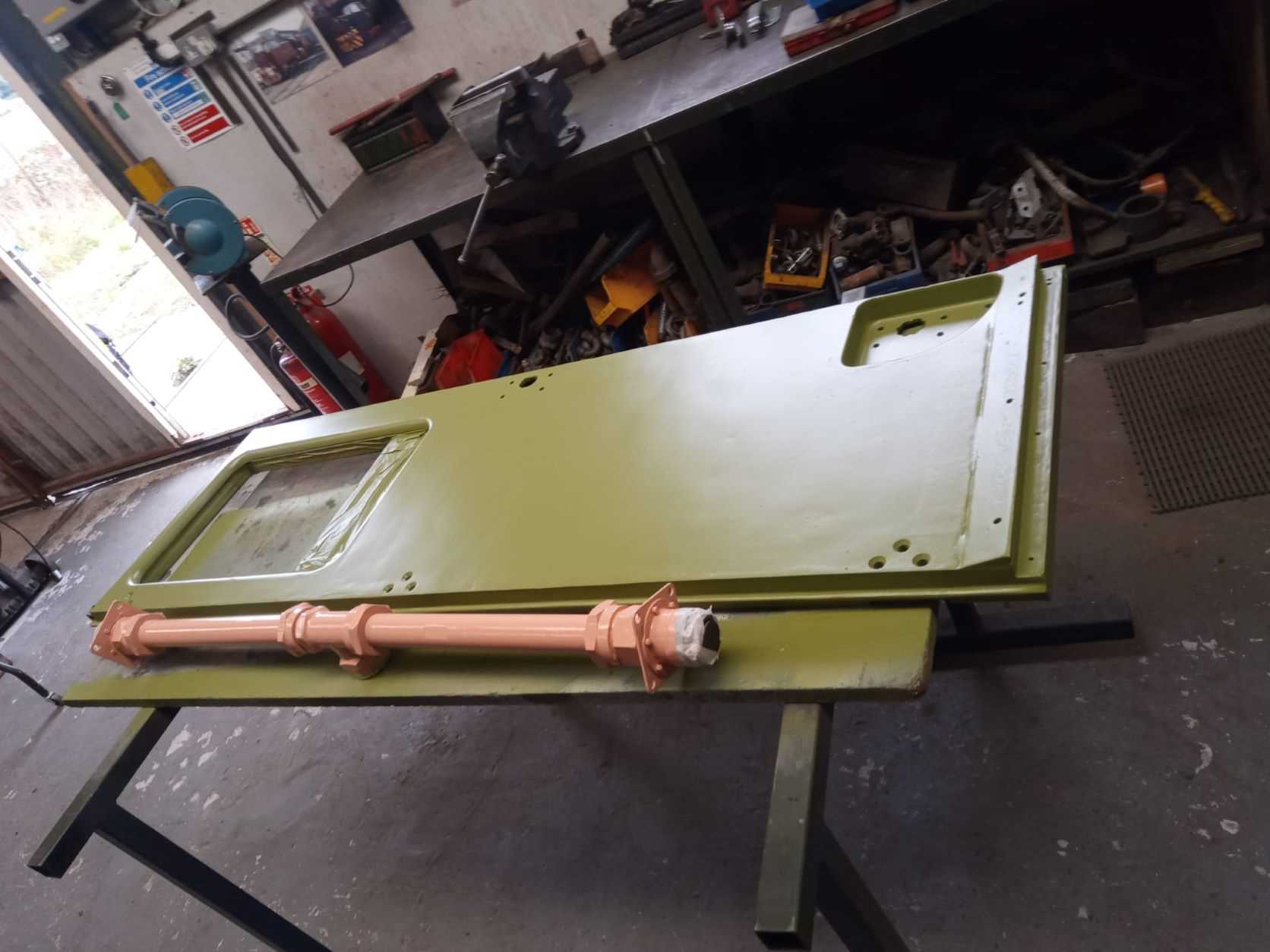 D9518 – the cab door has now been restored and painted in green primer. The pipe assembly, freshly painted in Salmon Pink (the designated colour for lubricating oil), is for the engine oil drain. Photo by Colin Girle © CC BY-NC 3.0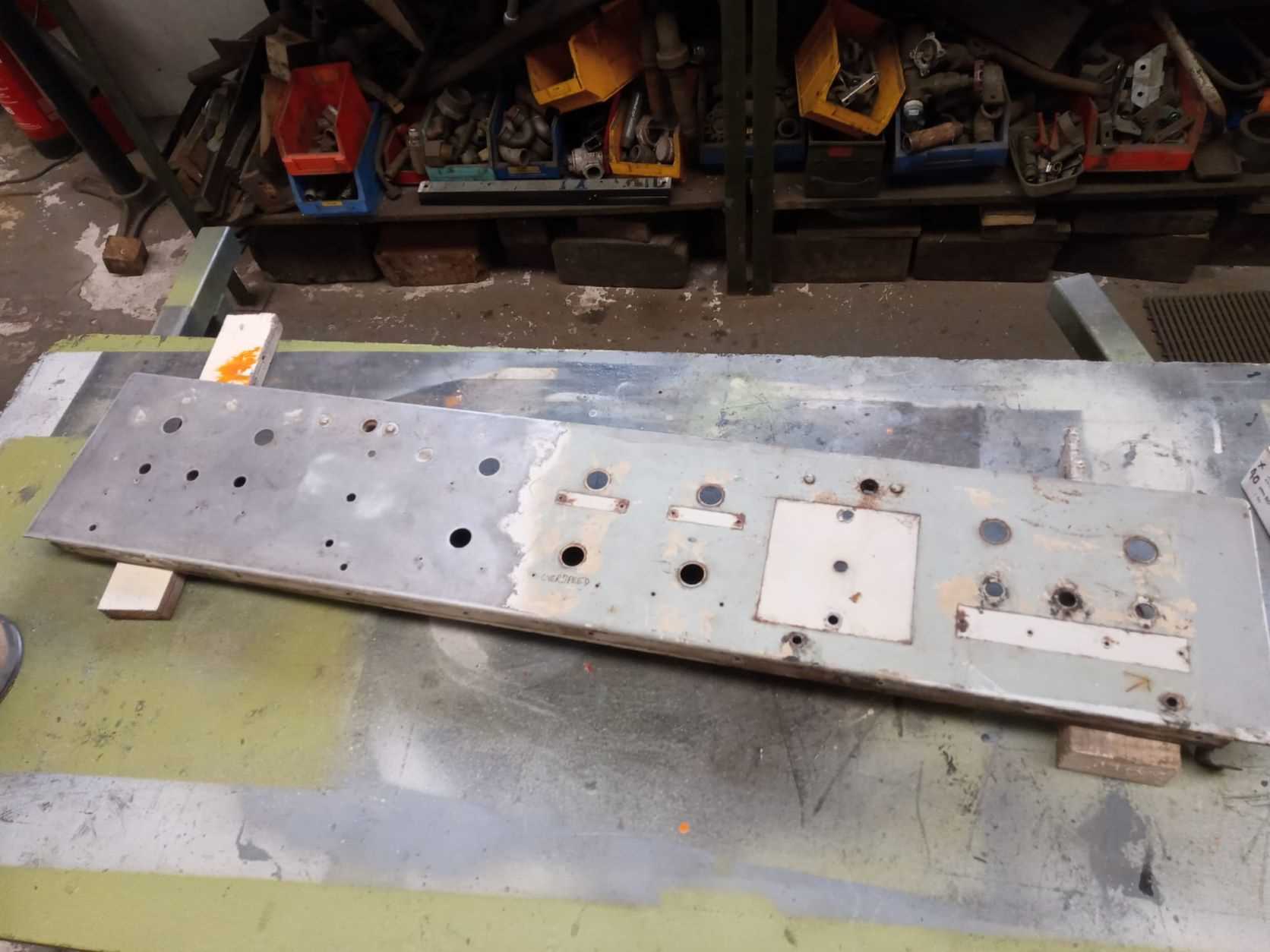 D9518 – the electrical switch panel from the control cubicle is also undergoing careful restoration and repainting. Photo by Colin Girle © CC BY-NC 3.0
D9518 – one of the doors from the electrical control cubicle revealed handwritten operating instructions that had been added in NCB days. Photo by Colin Girle © CC BY-NC 3.0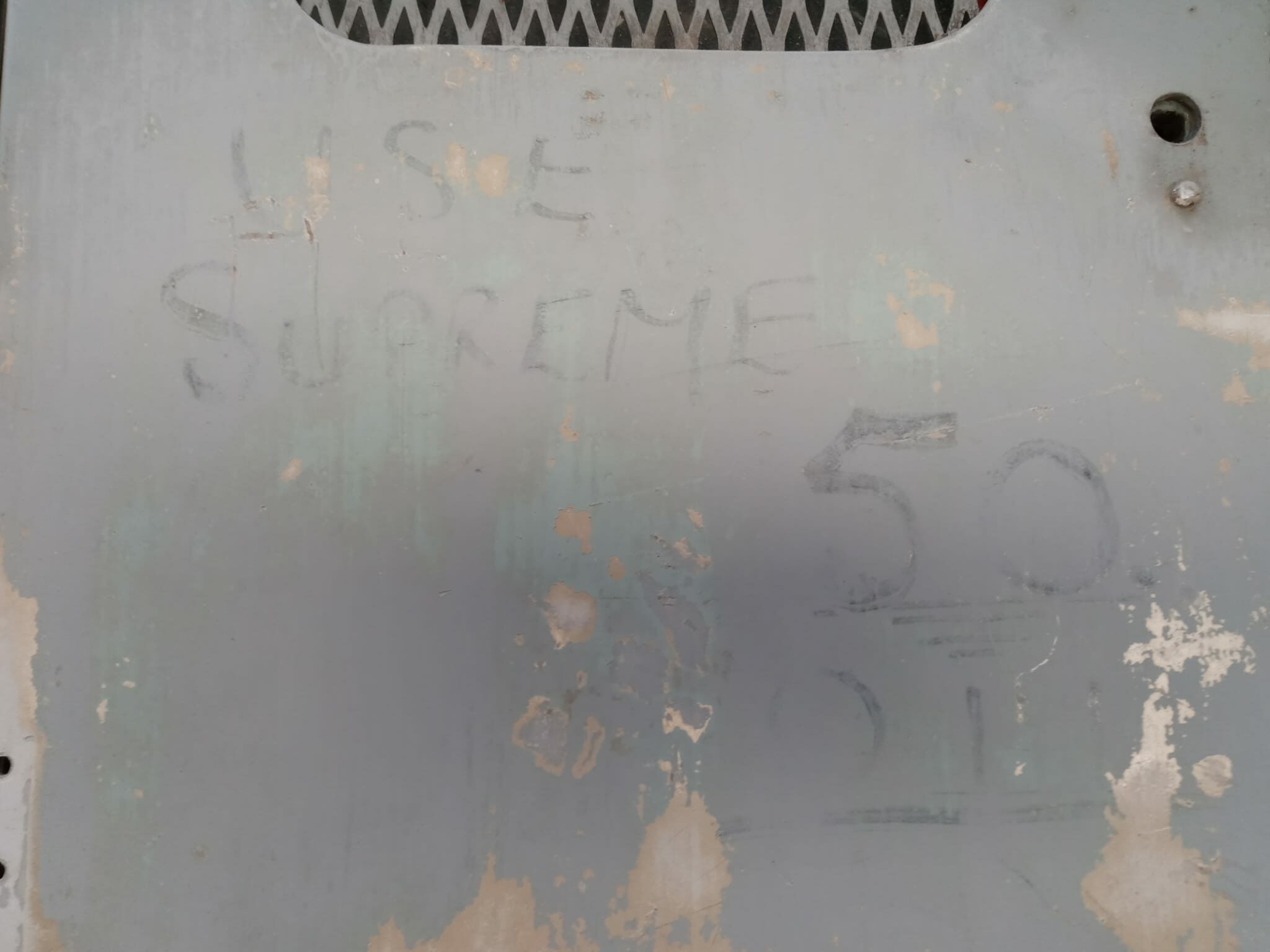 D9518 – "USE SUPREME 50 OIL" says the handwritten operating instruction that had been added in NCB days. Photo by Colin Girle © CC BY-NC 3.0
This loco is the subject of a fundraising appeal so please follow this link to find out more. We need your help ! In addition to funds, we also need plenty of HANDS. If you love the 'Teddy Bears' and you are not already a member of the DEPG, please join us so that you can become one of the team that is going to return D9518 to full operational condition as 'NCB No. 7'.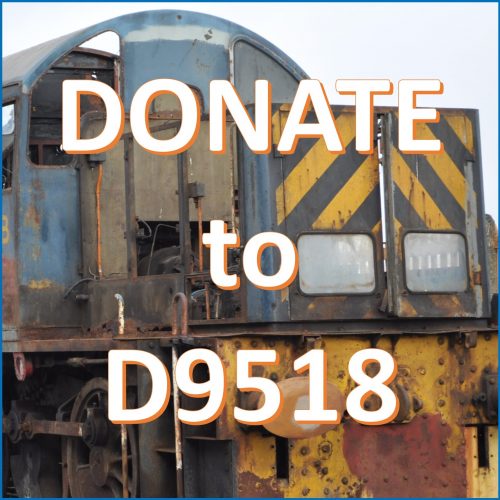 Class 14 'Teddy Bear' D9526 – this loco continues to be in regular use on the Kent & East Sussex Railway working alongside the steam locos and the Diesel Multiple Unit (DMU), sharing the work of hauling the public services. Here's a link to a YouTube video by Andrew Howard from a few days ago that shows D9526 working a train that includes a very old 4-wheeled coach. Click here or on the image below to open the YouTube video: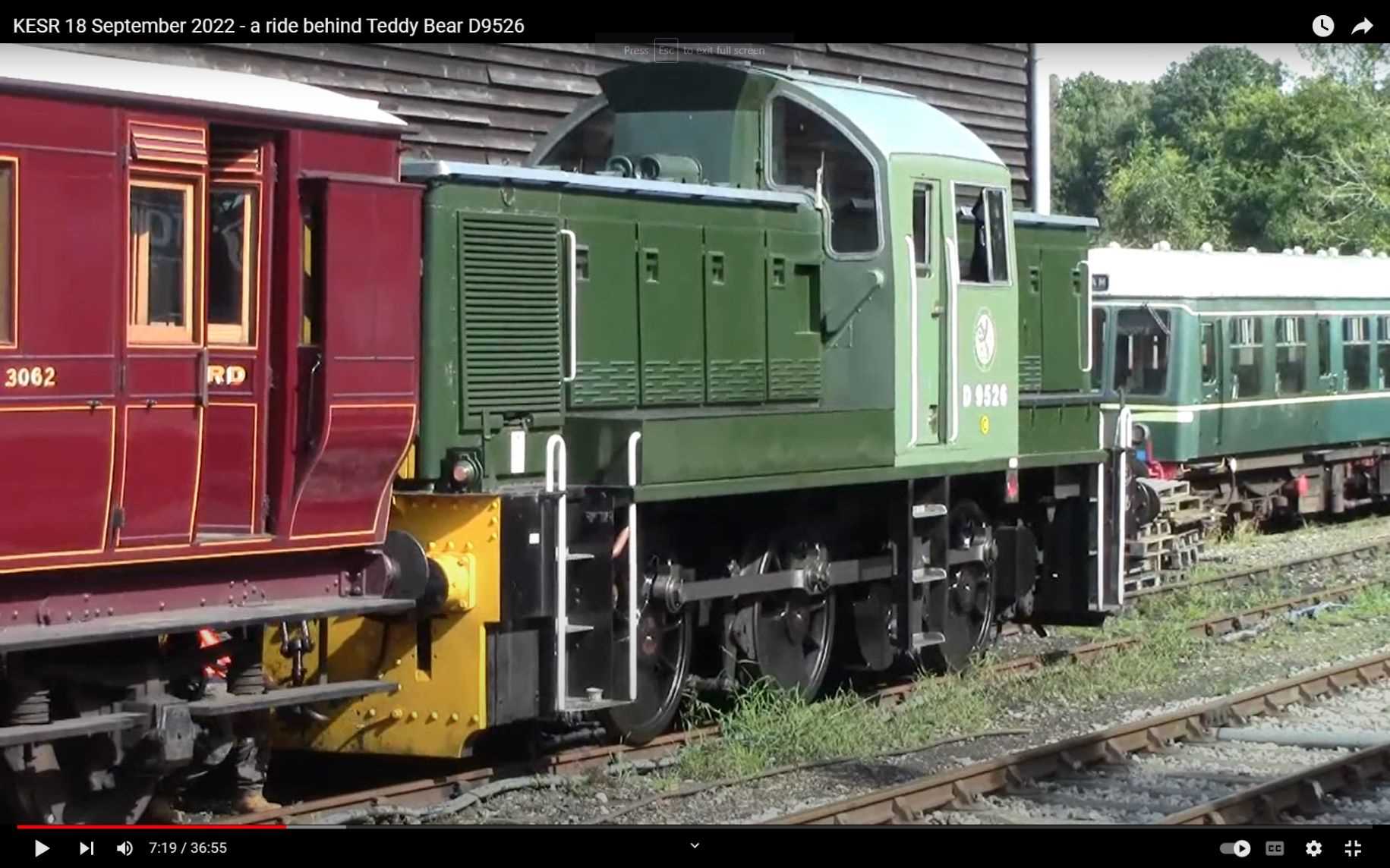 D9526 at work on the KESR – a YouTube video by Andrew Howard © CC BY-NC 3.0
Class 47 47077 'NORTH STAR' – this loco continues to be in regular use at the NYMR, which is great news, both for the loco and for the DEPG. Our correspondent in the area, Martin Fisher, is keeping us well-fed with photographs of our 'celebrity' loco at work on the NYMR – thank you very much, Martin !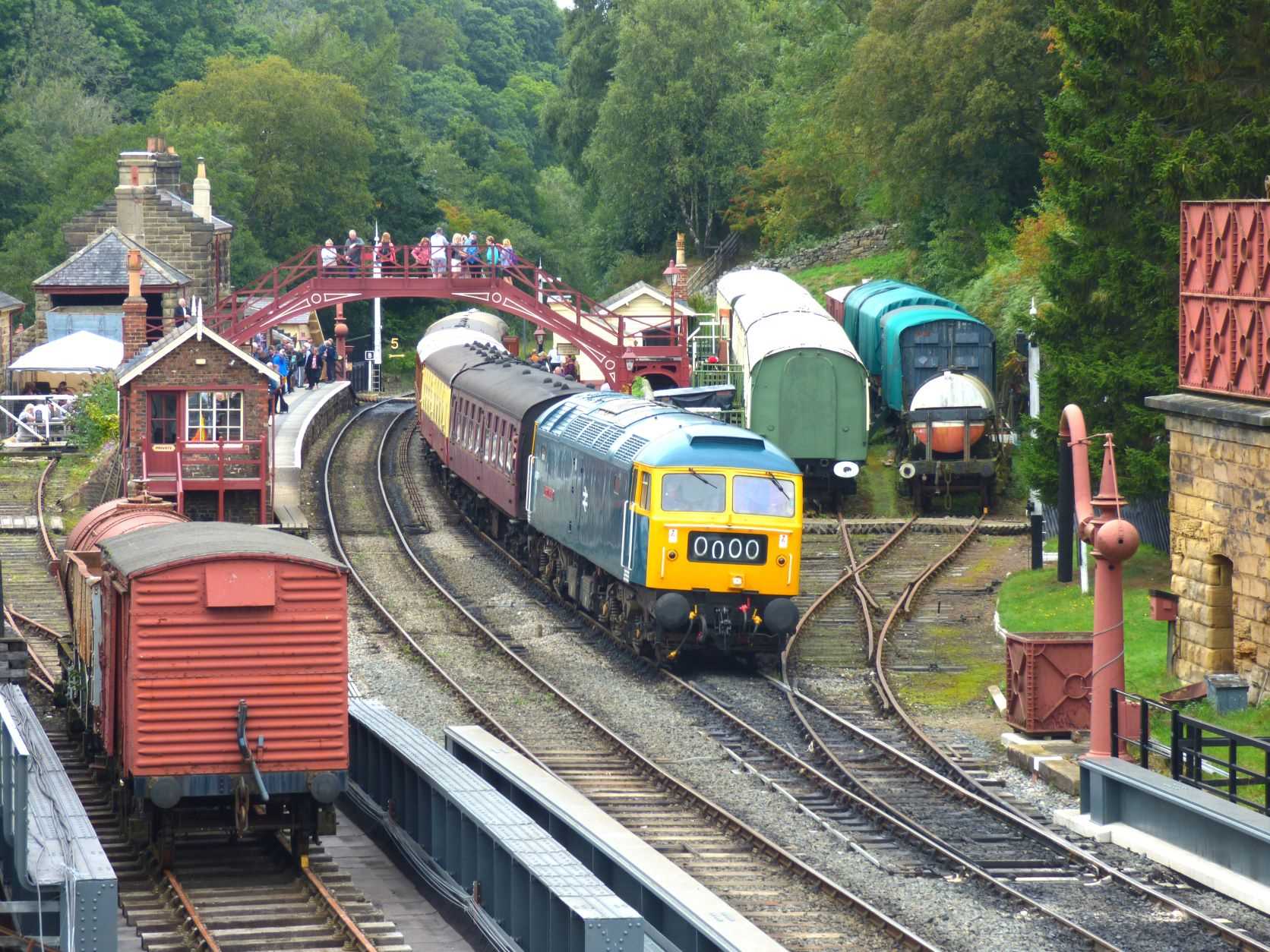 47077 (D1661 47613 47840) 'NORTH STAR' waits with her train while another train approaches to pass at Goathland Station on Wednesday 14th September 2022. Photo by Martin Fisher © CC BY-NC 3.0
Andrew Barclay 0-4-0DH 578 – this little loco was the subject of the attention of well-known WSR and DEPG volunteer Jon Tooke on Saturday, when he went to great lengths to establish the correct width and angle of the black diagonal stripes that needed to be added to the yellow buffer beam to achieve authenticity with the original paint scheme. The photos below show the work in progress and also show the finished result. A fine piece of work indeed – thank you Jon !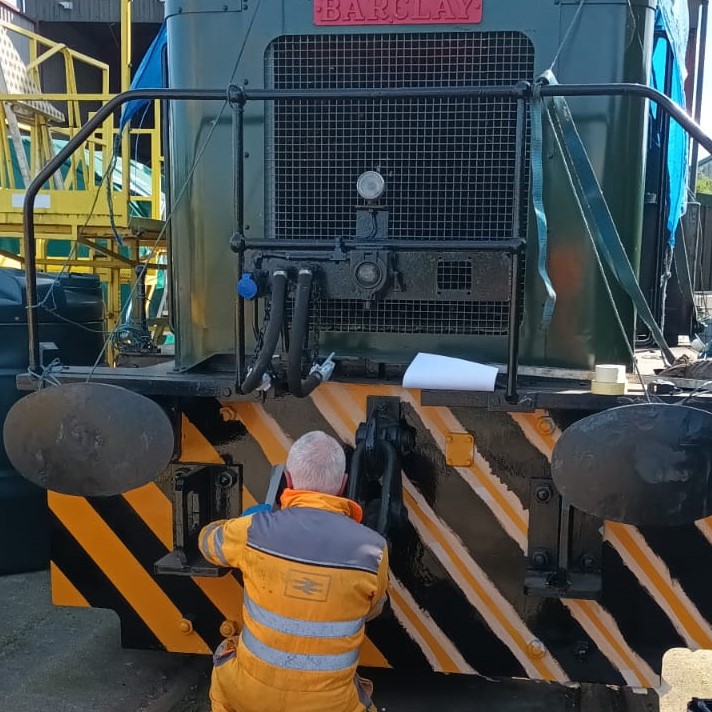 Barclay 578 (ROF 1) received her stripes at Williton on Saturday 17th September 2022 courtesy of volunteer Jon Tooke, who carefully and accurately masked up the buffer beam before adding the black paint. Photo by Tom Courtney © CC BY-NC 3.0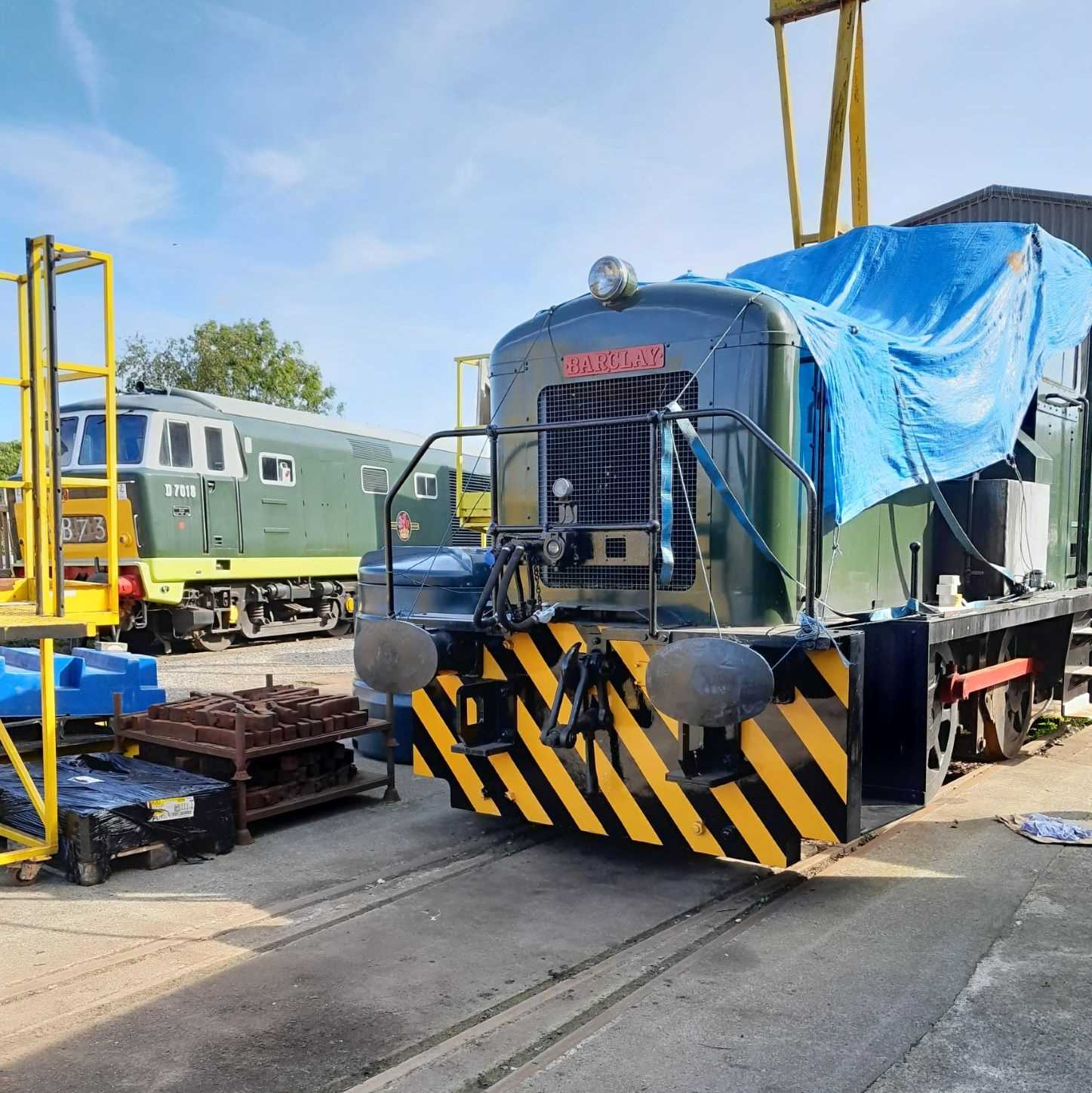 Barclay 578 (ROF 1) displays the new stripes on her buffer beam while Class 35 'Hymek' D7018 basks in the sunshine in Williton South Yard on Saturday 17th September 2022. Photo by Jon Tooke © CC BY-NC 3.0
If you can help by donating your time, then please JOIN US and come along to the depot for an introduction to what we do and how we do it. We currently have people on site from Saturday through to Tuesday and we can open on other days if we can be sure of getting at least two volunteers on site at all times, so there is plenty of scope. We have tasks of all types to suit most capabilities, both skilled and unskilled.
Many thanks to all of our volunteers who give up so much of their time to work on the cleaning, painting, maintaining, restoring, managing and fund raising for our fleet of heritage locomotives !
BOOK REVIEW – we have a book review of the first volume of 'THE BEATEN TRACK' from regular correspondent Neale Long but we will need to defer it to the next edition of roundup (next week) due to other priorities that have made the roundup run very late this week. We have stock of the newly-released second volume which we hope will live up to the same standard as the first volume. Both books are in stock at our 'Tiverton warehouse' and are ready to mail out, so please click on the images to go to the links on our ONLINE STORE.
We have added several other NEW BOOKS to our online store recently including GREEN DIESEL DAYS, so please visit our online store and browse then buy to support the work that is taking place on our locomotives. Thanks !
ON SHED – this week, we can't resist featuring this 'off shed' photo of our very own 47840 (D1661, 47077, 47613) 'NORTH STAR', pictured when operating the 5F70 First Great Western Mk 3 HST buffet car move from Plymouth Laira depot to Old Oak Common depot. The buffet car is quite appropropriately 'sandwiched' between two Mark 2 coaches that have been modified as barrier vehicles. The location is Rockstone Bridge, Dawlish and the date was Saturday 7th April 2007, just three weeks before the loco ended her mainline career and joined the DEPG fleet. The loco is carrying a 'BRISTOL BLUEBIRDS' headboard, which is a curious addition on an empty stock movement! Many thanks to DEPG volunteer and secondman Darren Hill for sharing his photo with us all.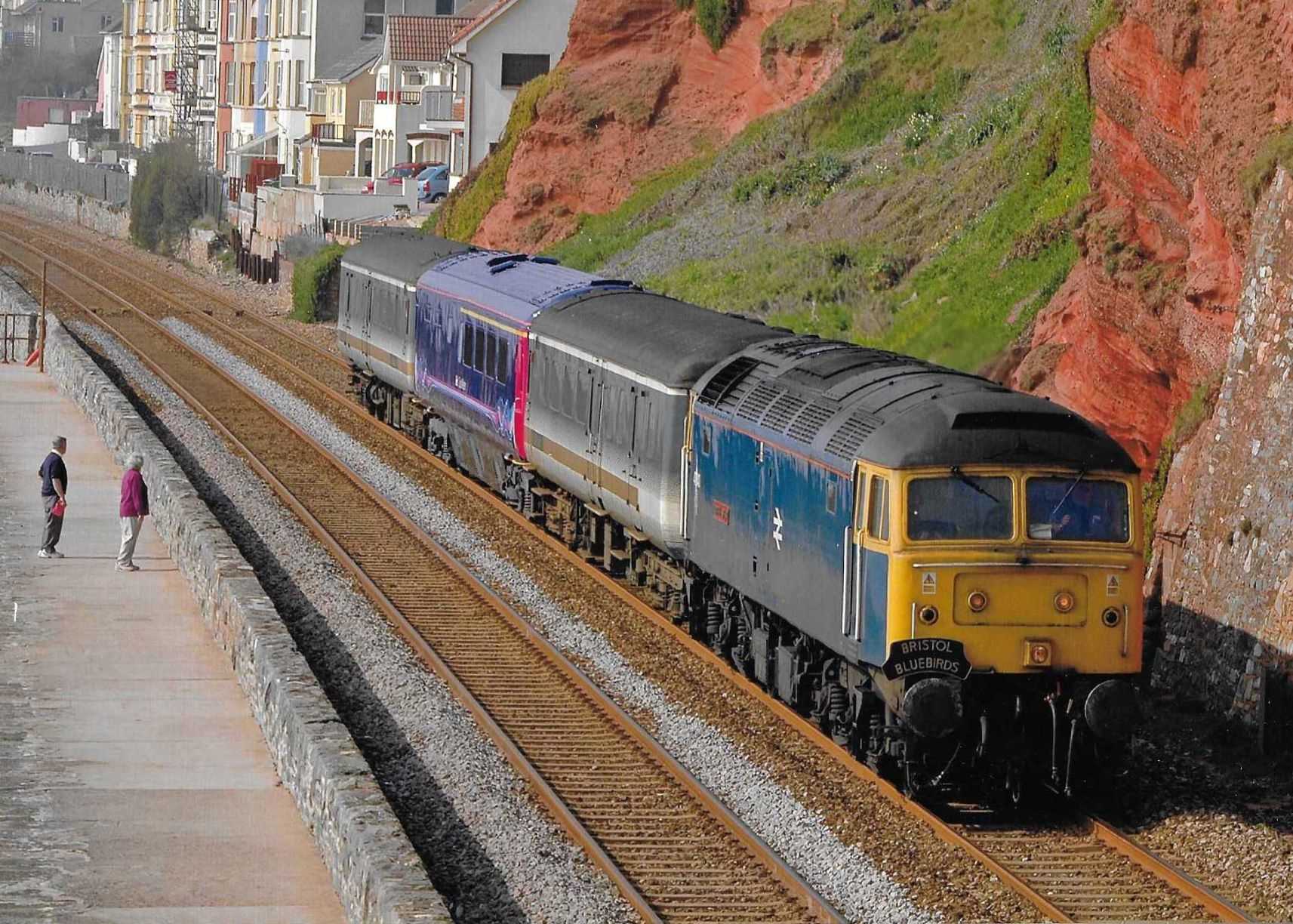 47840 (D1661 47077 47613) 'NORTH STAR' worked the 5F70 Plymouth Laira to Old Oak Common rolling stock transfer move on Saturday 7th April 2007, pictured from Rockstone Bridge, Dawlish by Darren Hill © CC BY-NC 3.0
DEPG NEWS – Our online store was subjected to abuse last week, resulting in 2,000 bogus orders being processed within 24 hours and causing a lot of stress while we worked to block the attack. As a temporary measure, we had to make a change to the checkout procedure which now uses PayPal as our service provider. Although PayPal like to encourage users to sign up for a PayPal account, it is still easy to bypass this and pay in the normal way by using the 'guest' option. We will try to reinstate the earlier 'Stripe' gateway but we will need to add a Captcha step to block automated attacks. Please let us know (via our CONTACT form) if you encounter any difficulty using the revised checkout procedure. Thanks !
Our new online membership system is working well and feedback has been very positive, even though some anomalies have had to be corrected here and there. Membership is INCREASING STEADILY ! If you haven't done so already, please take a look at your membership record and make sure that it is correct. You will also be able to select 'paper', 'paperless' or 'paperless except newsletter' communication, according to your preference. In the event of any discrepancies, please email Membership Secretary Chris Shields using members@depg.org or use the CONTACT FORM on our website.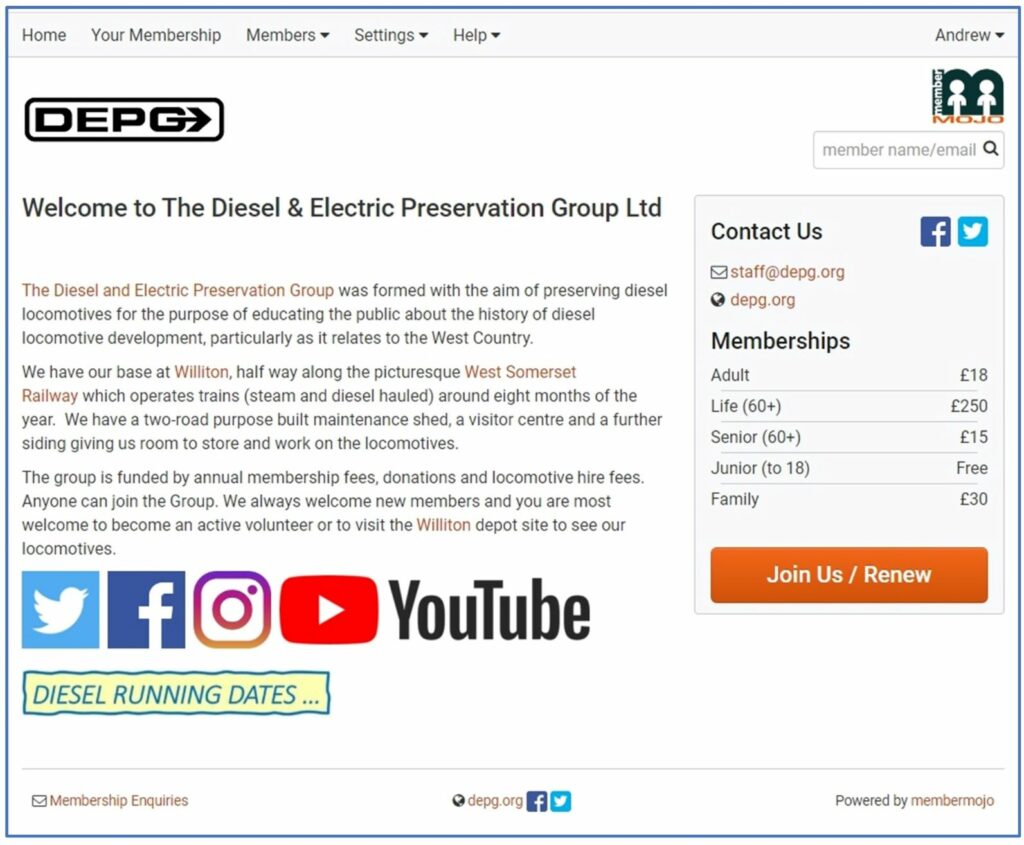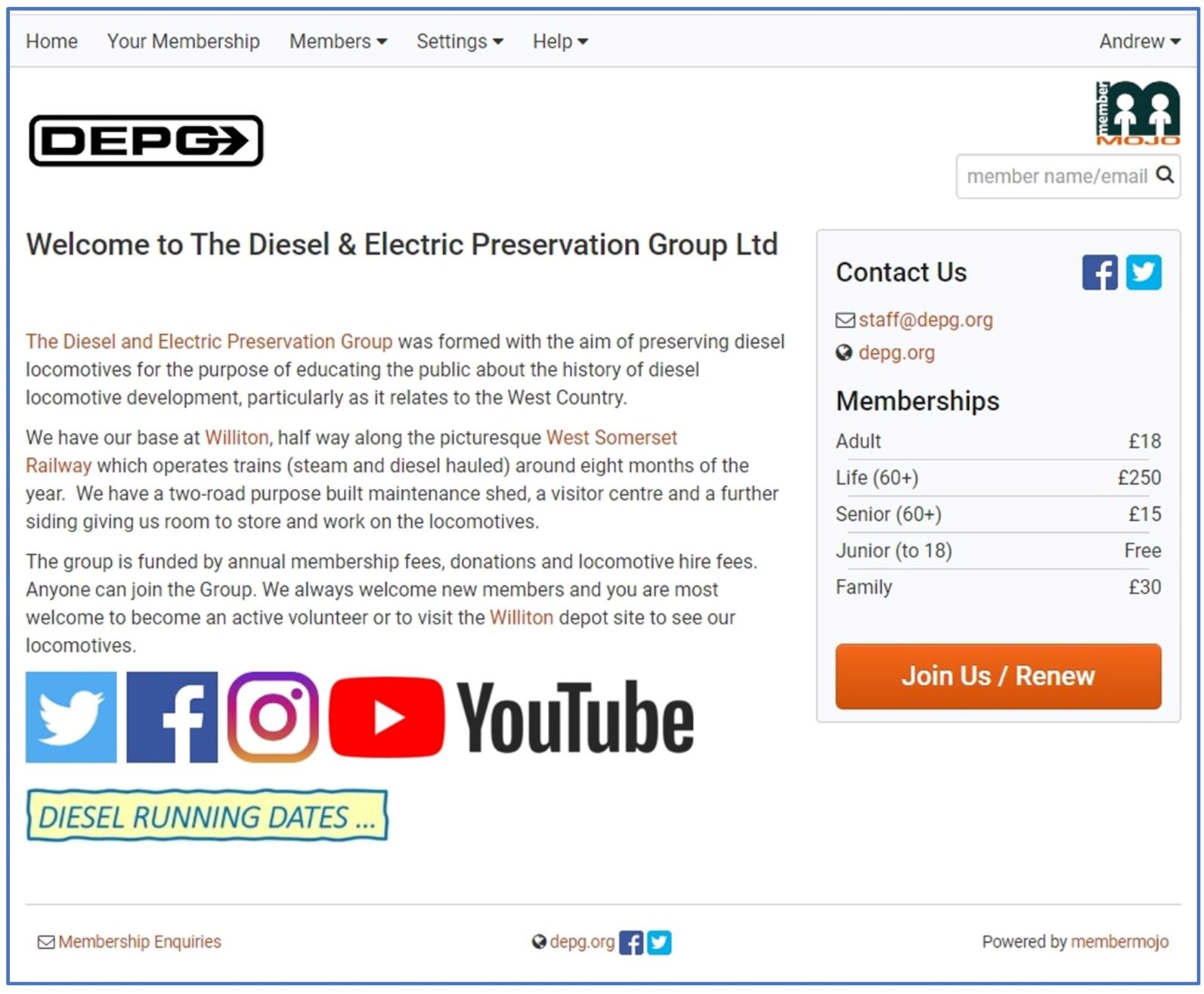 WSR NEWS: this coming weekend on the WSR will be the LAST scheduled diesel-hydraulic haulage opportunity of the season, so please do come along and support the 2022 diesel running program of the WSR and the DEPG to make sure that we get invited to run our heritage diesels next year as well !