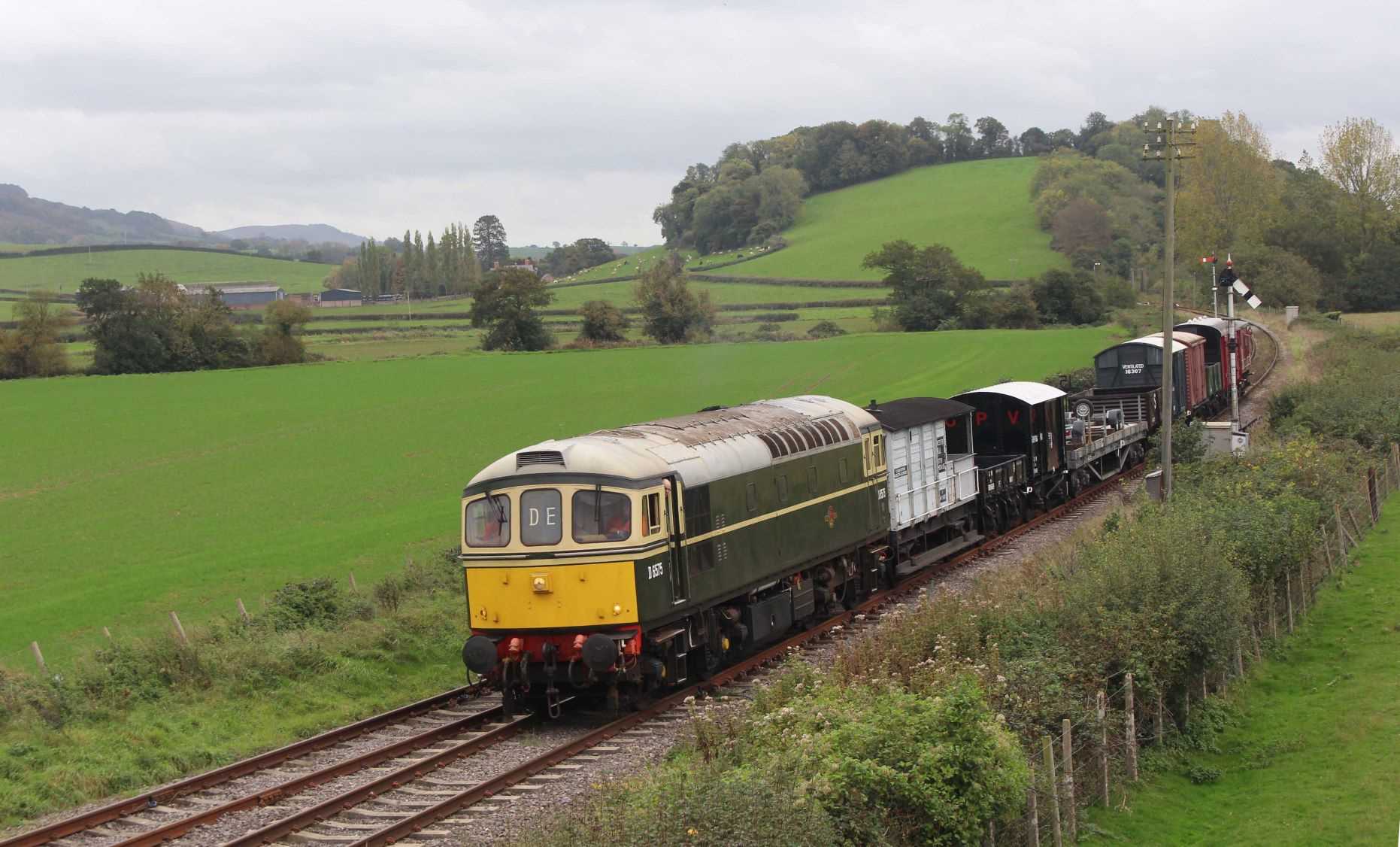 Class 33 'Crompton' D6575 (33 057) worked the DIESEL DRIVER EXPERIENCE COURSE on Saturday 29th October 2022, the first such course to run since 2019. D6575 was pictured approaching Williton on the return leg from Norton Fitzwarren to Minehead. Photo by Peter Nicholson © CC BY-NC 3.0
Class 33 'Crompton' D6575 (33 057) was hard at work hauling the DIESEL DRIVER EXPERIENCE COURSE that ran along the full length of the line on Saturday 29th October, fulfilling bookings that were taken in 2019. The heritage goods train was used for the working, adding interest and variety on a day that also include the penultimate steam-hauled services, with two locos in steam, BR(W) 4-6-0 7822 'FOXCOTE MANOR' and GWR 2-6-2T No. 5199.
The loco and expanded crew had to take on additional tasks last Saturday, starting with a shunt at Williton to collect a coach that had to be delivered to Minehead, and add it between the loco and the brake van. Then, upon arrival at Minehead, the coach had to be shunted to the 'right place' and the heritage goods train collected instead.
The train then headed along the full length of the line toward Norton Fitzwarren, where the 'Norton Triangle' was used to turn the complete train so that the brake van would be in the right place for the final leg, the return to Williton at the end of the day. This gave a rare photo opportunity, placing one of our diesels on the truncated line that once reached to Barnstaple, 43 miles distant.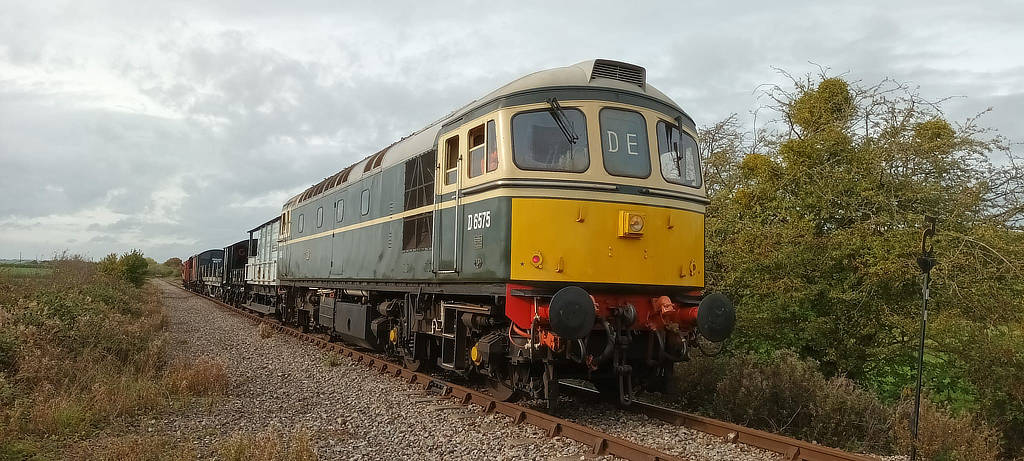 Class 33 'Crompton' D6575 (33 057) made a rare visit to Allerford, on the remains of the line that once ran to Barnstaple, while working the DIESEL DRIVER EXPERIENCE COURSE on Saturday 29th October 2022. Photo by Tom Courtney © CC BY-NC 3.0

The East and West chords of the 'Norton Triangle' allow complete trains to be turned around. The train arrives from the north via Allerford Junction and takes the East Chord to Barnstaple Junction, then reverses towards Allerford until the train is clear of Orchard Junction, then the train heads northward via the West Chord. Map 10 extract courtesy of WSR plc © CC BY-NC 3.0
The course participants were treated to an even more action-packed day than usual, and there were plenty of envious onlookers, myself included ! The DIESEL DRIVER EXPERIENCE COURSES are offered by the WSR and when dates are published for 2023, we will update the link on the 'Drive a Locomotive' page on our website to point at the relevant page on the WSR website. Be sure to make your booking early, as places are limited and will be snapped up very quickly.
LOCO NEWS:
Class 52 D1010 'WESTERN CAMPAIGNER' – more progress this week, with bodywork details being attended to by Gordon and Ian FN while Paul K and Andy V carried out inspection and assessment of transmission components that had been separated by Colin F, Geoff and Tim. Here's some photos: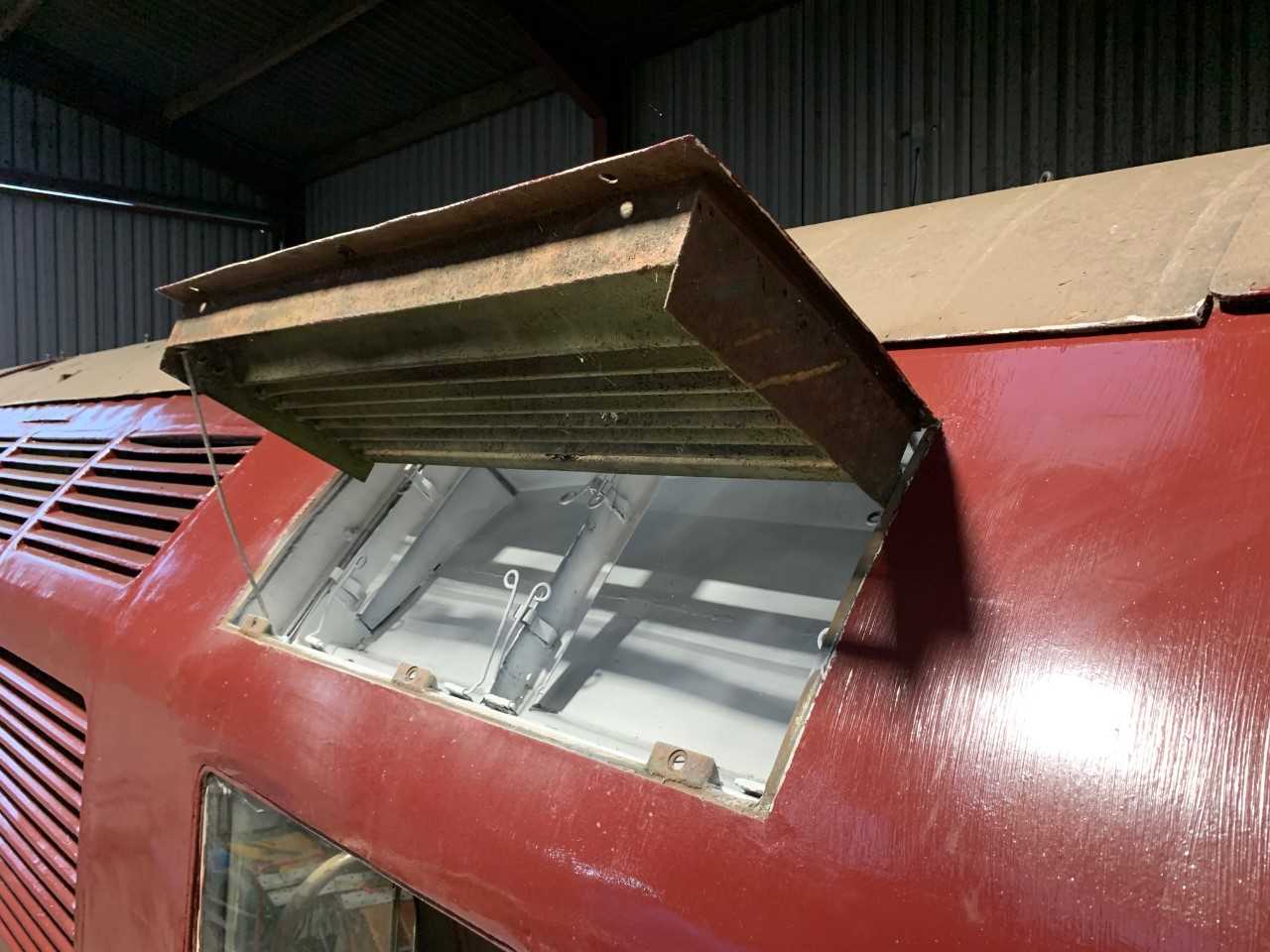 D1010 engine air intake on 'A' side at 'A' end was opened up for cleaning and painting by Ian FN at Williton on Saturday 29th October 2022. Photo by Andy Royal © CC BY-NC 3.0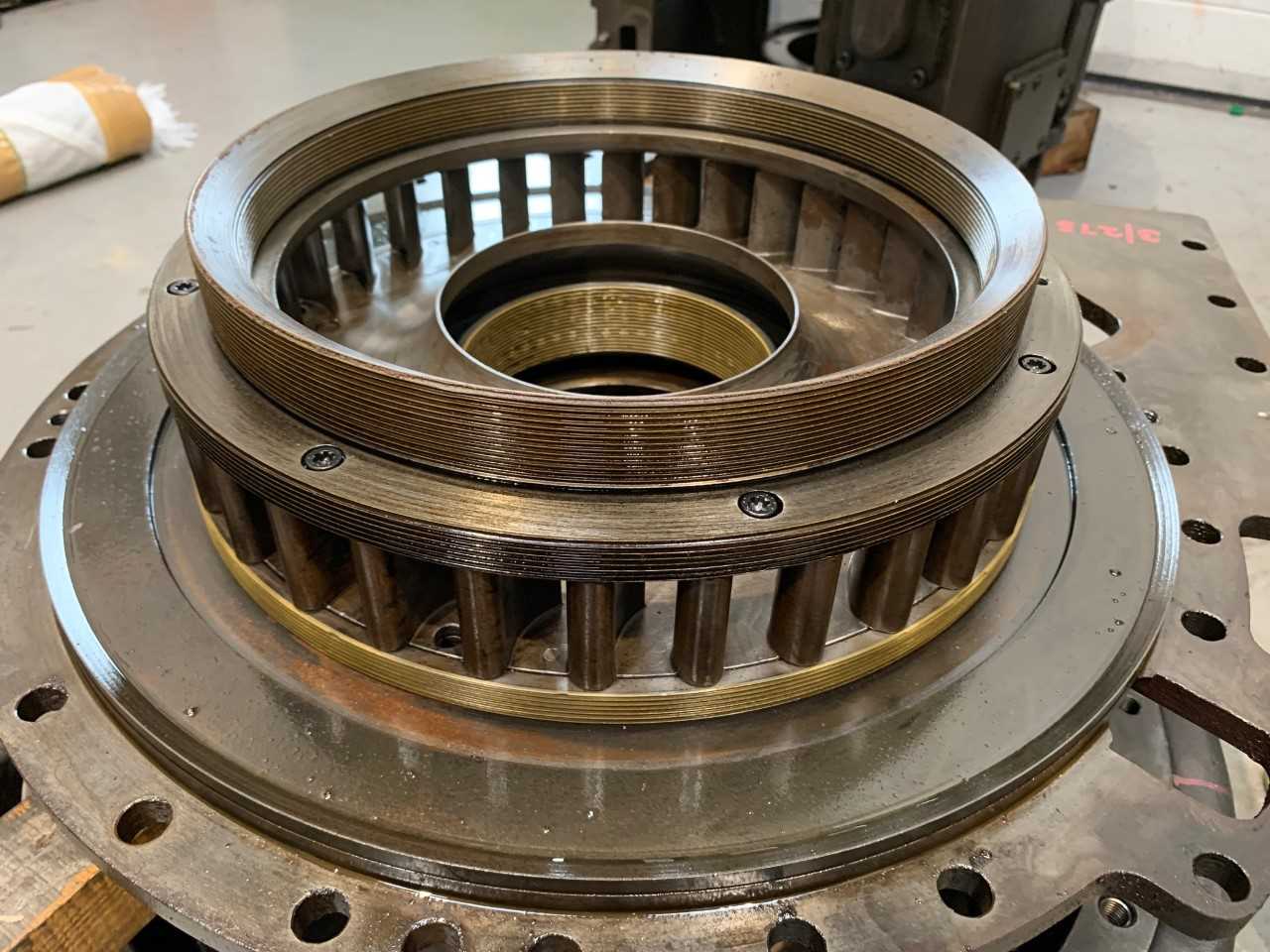 D1010 – the stator (guide vane) assembly from the first stage (low gear) torque converter of the 'B' end transmission, exposing the large diameter multi-groove 'labyrinth seals' that prevent pressurised hydraulic fluid from taking the easy route out of the turbine. These non-contacting seals depend on very close tolerances: any leakage will reduce the efficiency of the transmission. The turbine fits around the outside, the impeller fits inside. Pictured at Williton on 29th October 2022 by Andy Royal © CC BY-NC 3.0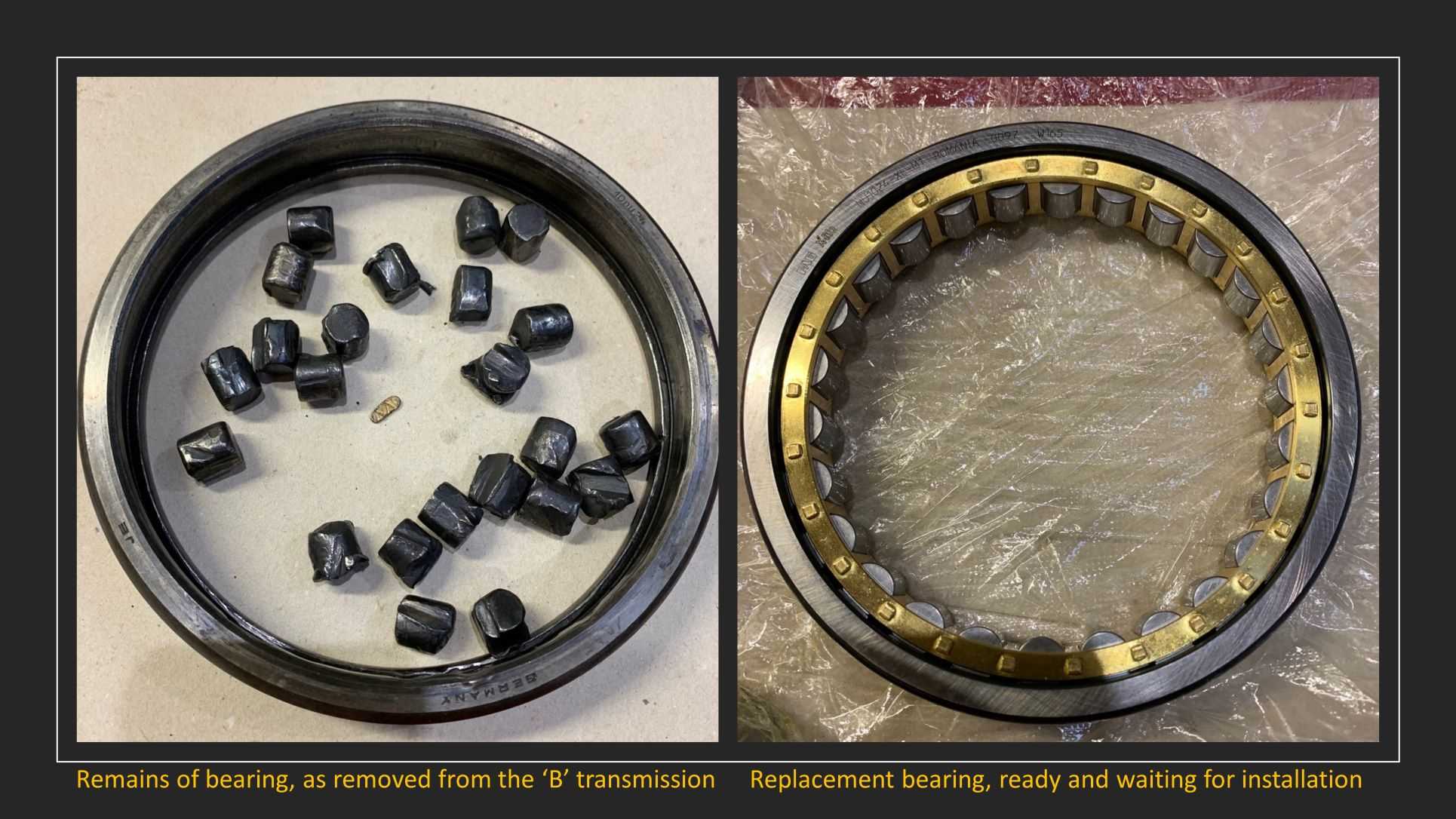 D1010 – the 'B' transmission failed because bearing 3-152 (between the second and third stage torque converters) broke up and jammed. The bearing failed because the oilways that feed oil to the bearing had become blocked with debris over the 47 years since the bearing last saw the light of day, resulting in severe overheating and loss of hardness. Pictured at Williton on 29th October 2022 by Andy Royal © CC BY-NC 3.0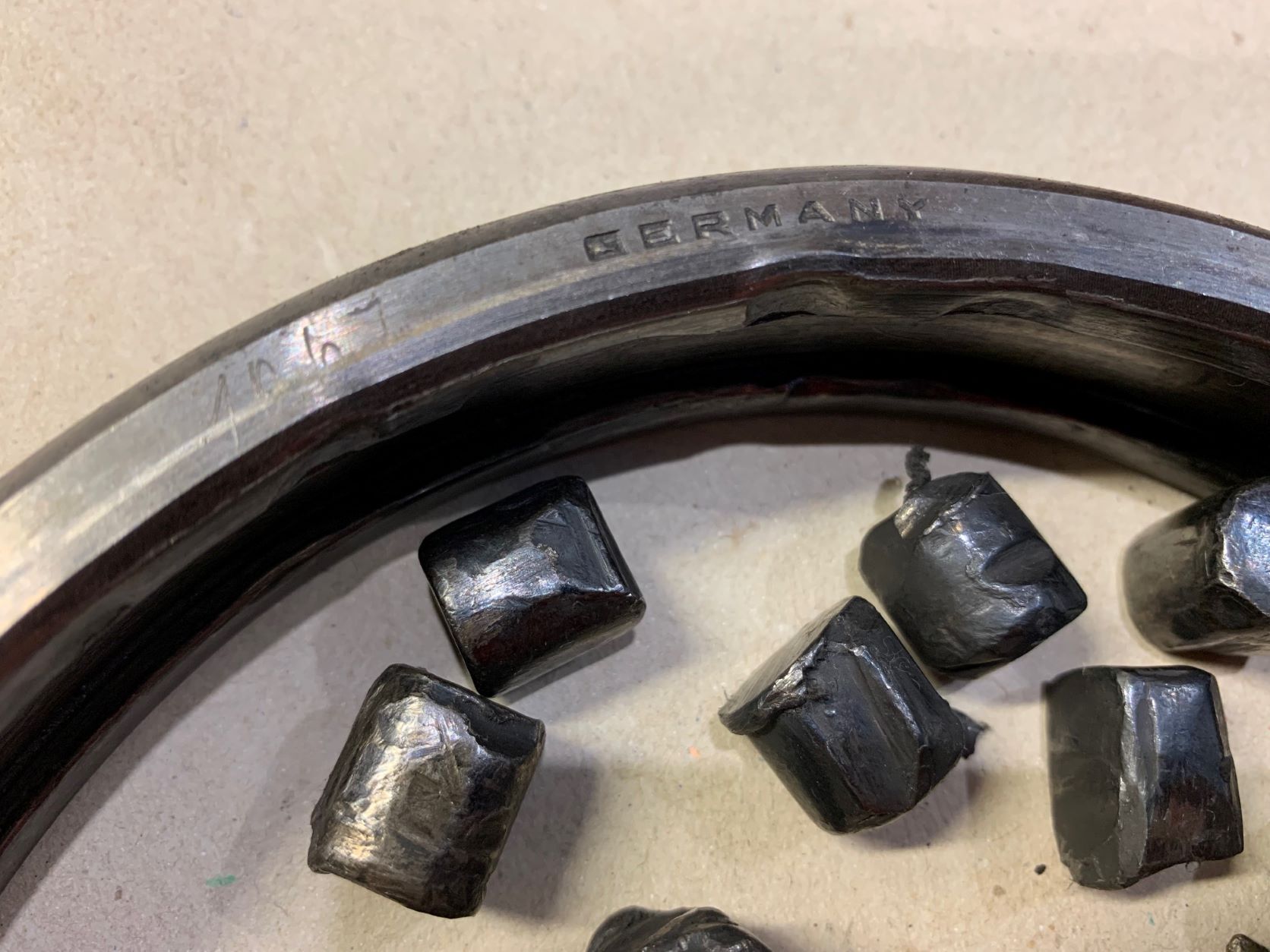 D1010 – a close-up view of the failed bearing 3-152 shows the blackened and distorted lumps of metal that were once shiny and smooth rollers, giving an idea of the temperature that was reached at the moment of failure. The brass cage that held the rollers in place had completely disintegrated, with only a few traces of it remaining. Pictured at Williton on 29th October 2022 by Andy Royal © CC BY-NC 3.0
To continue our rate of progress requires FUNDING which is becoming harder to get as belts are being tightened everywhere. If you are able to do so, please consider SPONSORING A PATCH because there is plenty of recently-added metal that still needs engraving. We engraved another 50 patches recently and we have another 100+ still to do, so the scheme has been very successful (well done Colin F for suggesting it). Photographs and certificates of sponsorship will be sent out to all who have sponsored this phase of the restoration work, but please bear with us because our admin resources are severely stretched at the moment. Click the image below to sponsor a patch. Thank you in advance for your support !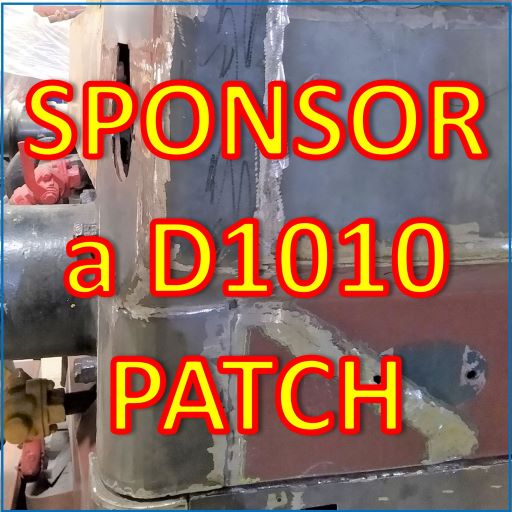 We still have a lot of work to do on this massive locomotive, so PLEASE DO COME ALONG AND HELP IF YOU CAN !
See our CAMPAIGN for CAMPAIGNER web page for more details !

Class 33 D6566 (33 048) – the work on cleaning up the engine room continued with the deck plates being removed and steam cleaned. LATEST UPDATE: The failed heat exchanger has been delivered to specialist subcontractor APPLIED RADIATORS in Stoke-On-Trent who have the capability to re-manufacture the core that comprises 630 tubes of 6mm diameter (1/4″). The work will cost almost £2,500 and will completed by the middle of this month.
Class 33 D6575 (33 057) – now that she has completed her DIESEL DRIVER EXPERIENCE COURSE (DDEC) duties and relocated to Bishops Lydeard, her next booked workings will be the 'WINTERLIGHTS' test trains that will run on 10th and 11th November in preparation for the start of these special services on Friday 18th November. 
Class 35 'Hymek' D7017 – no change this week. This loco is waiting for completion of her Vehicle Inspection & Brake Test (VIBT) and a test run before she can returned to traffic.
Class 35 'Hymek' D7018 – this loco also has to wait in line for her turn for attention. The work list on this loco comprises a number of small but important tasks that will be tackled during the coming weeks.
Class 14 'Teddy Bear' D9518 – the number of work fronts has increased because disassembly work has started on the Paxman 6YJXL V6 diesel engine that last operated in sister loco D9526 until removed for overhaul in 2017. The engine will be completely stripped down, then each part cleaned, inspected and replaced or repaired as necessary. The required parts are already in stock, so what is needed now is many hundreds of hours of volunteer time to perform the overhaul.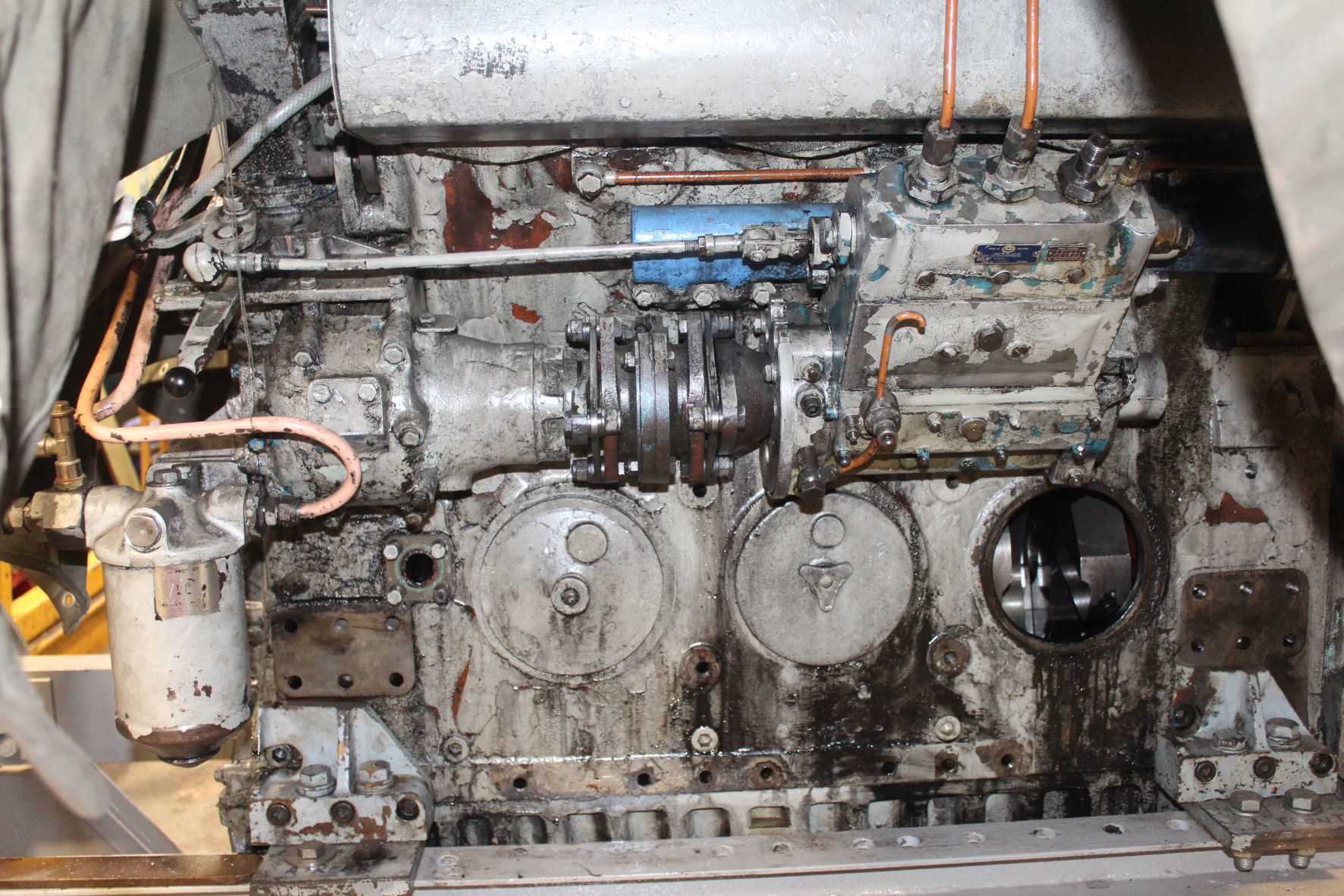 D9518 – the overhaul of the Paxman 6YJXL 26-litre V6 diesel engine that last ran in D9526 in 2017 has commenced at Williton. Pictured on Saturday 29th October 2022 by Terry Deacon © CC BY-NC 3.0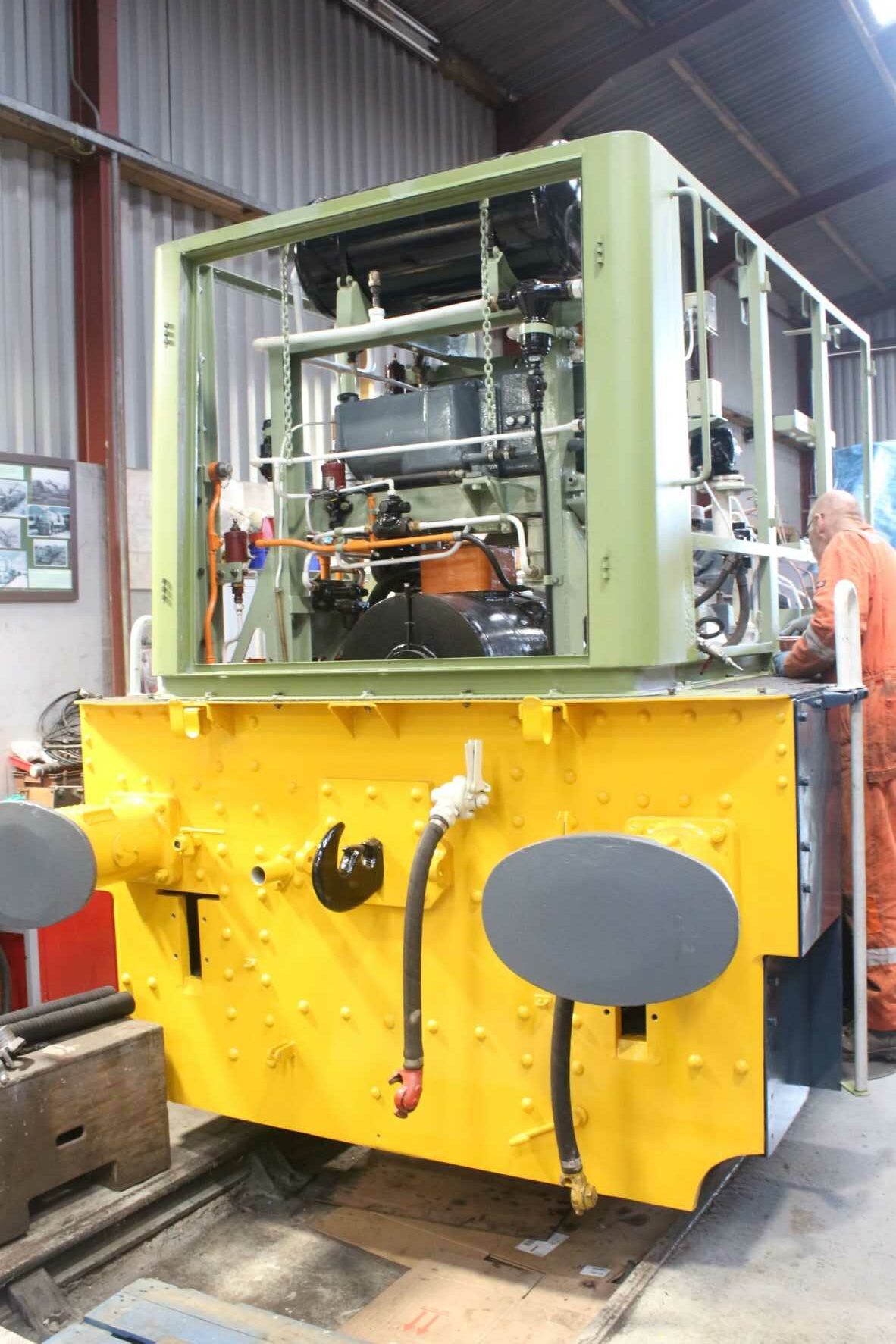 D9518 – meanwhile, Colin G continued his work on re-installing the cables and conduits and painting them in the designated colours (white for air/vacuum, orange for electrical). Pictured at Williton on Saturday 29th October 2022 by Terry Deacon © CC BY-NC 3.0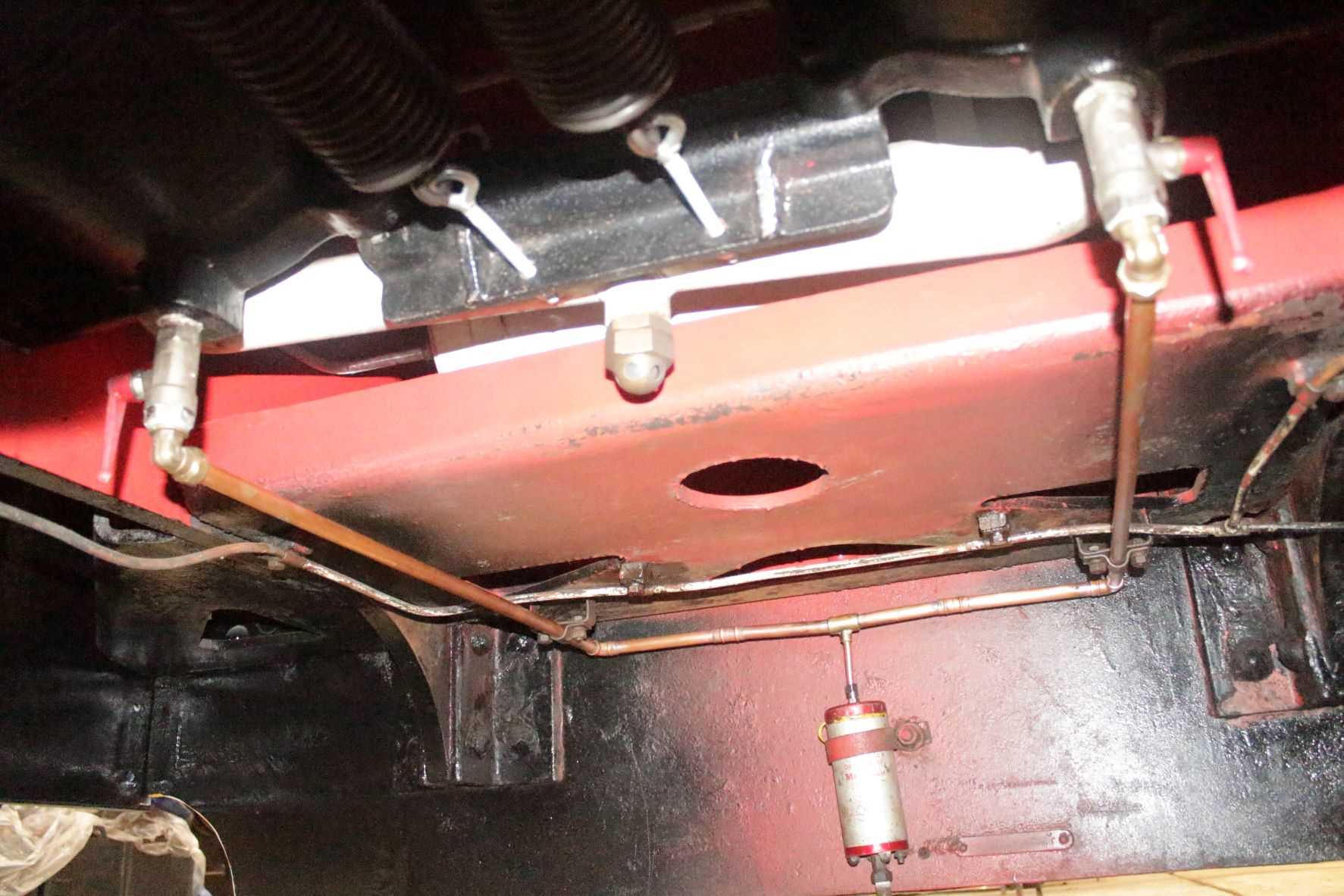 D9518 – this view, taken between the frames and looking up at the brake cylinders and return springs, shows the new valves and pipework associated with the system that allows condensed moisture to be drained from the brake cylinders. Pictured at Williton on Saturday 29th October 2022 by Terry Deacon © CC BY-NC 3.0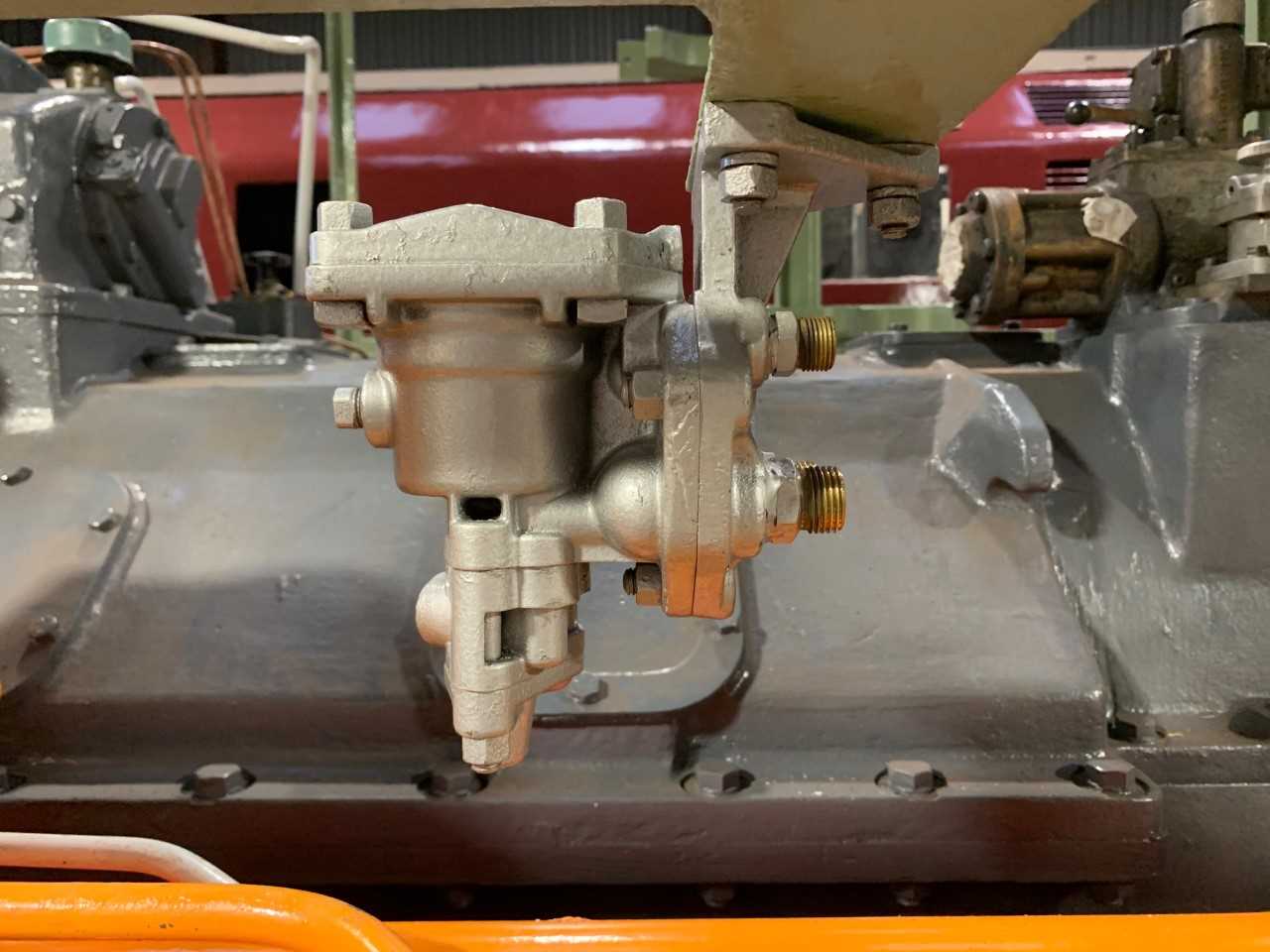 D9518 – another brake relay valve has been attached to the side frames and now awaits the fitting of the associated pipework. The large grey object is the Voith L217U hydraulic transmission. Pictured at Williton on Saturday 29th October 2022 by Andy Royal © CC BY-NC 3.0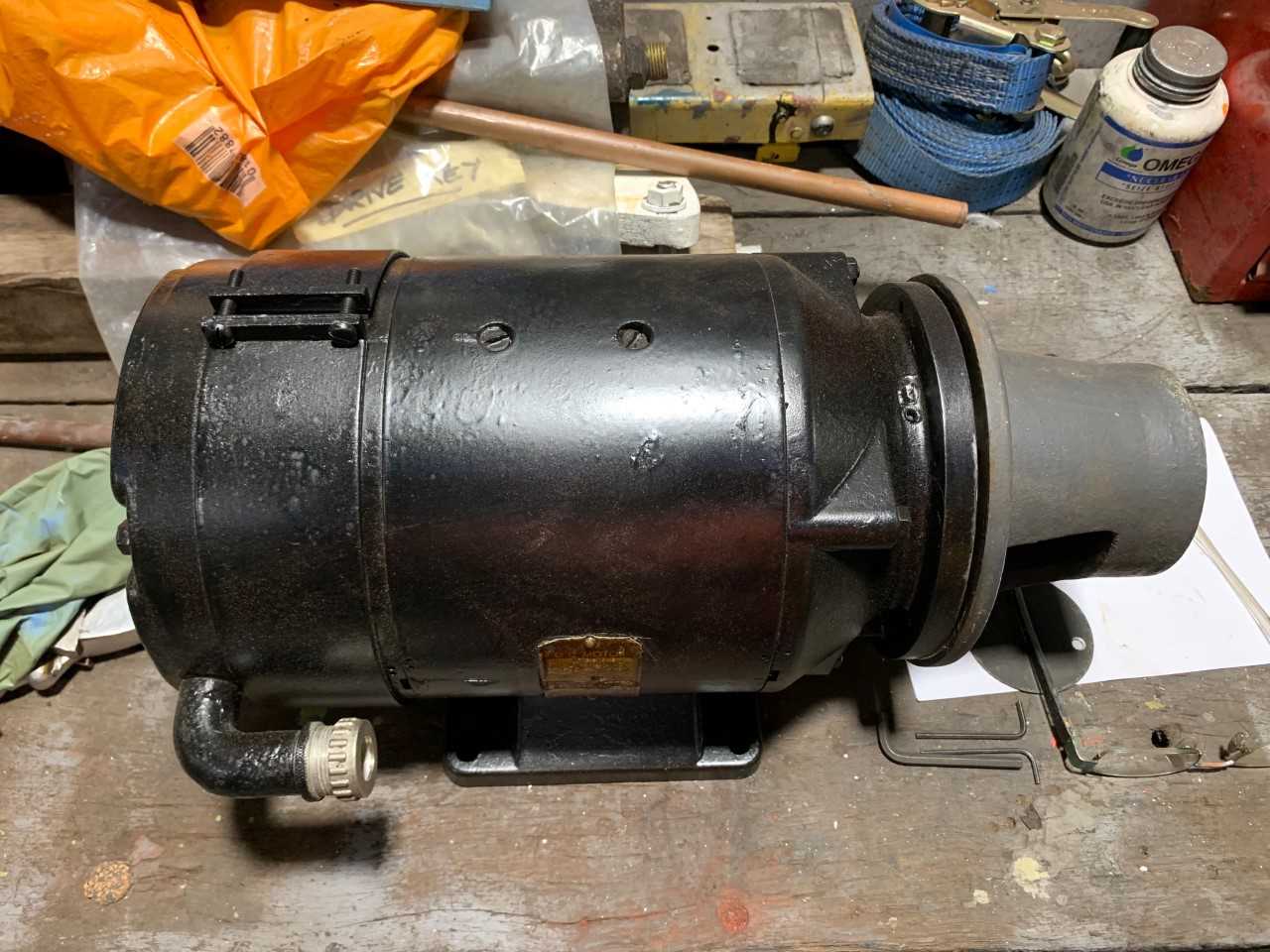 D9518 – the 58-year-old DC electric motor for the fuel lift pump has just arrived back at Williton after a thorough overhaul that was performed by BOWERS ELECTRICAL at Heanor, Derbyshire. Pictured at Williton on Saturday 29th October 2022 by Andy Royal © CC BY-NC 3.0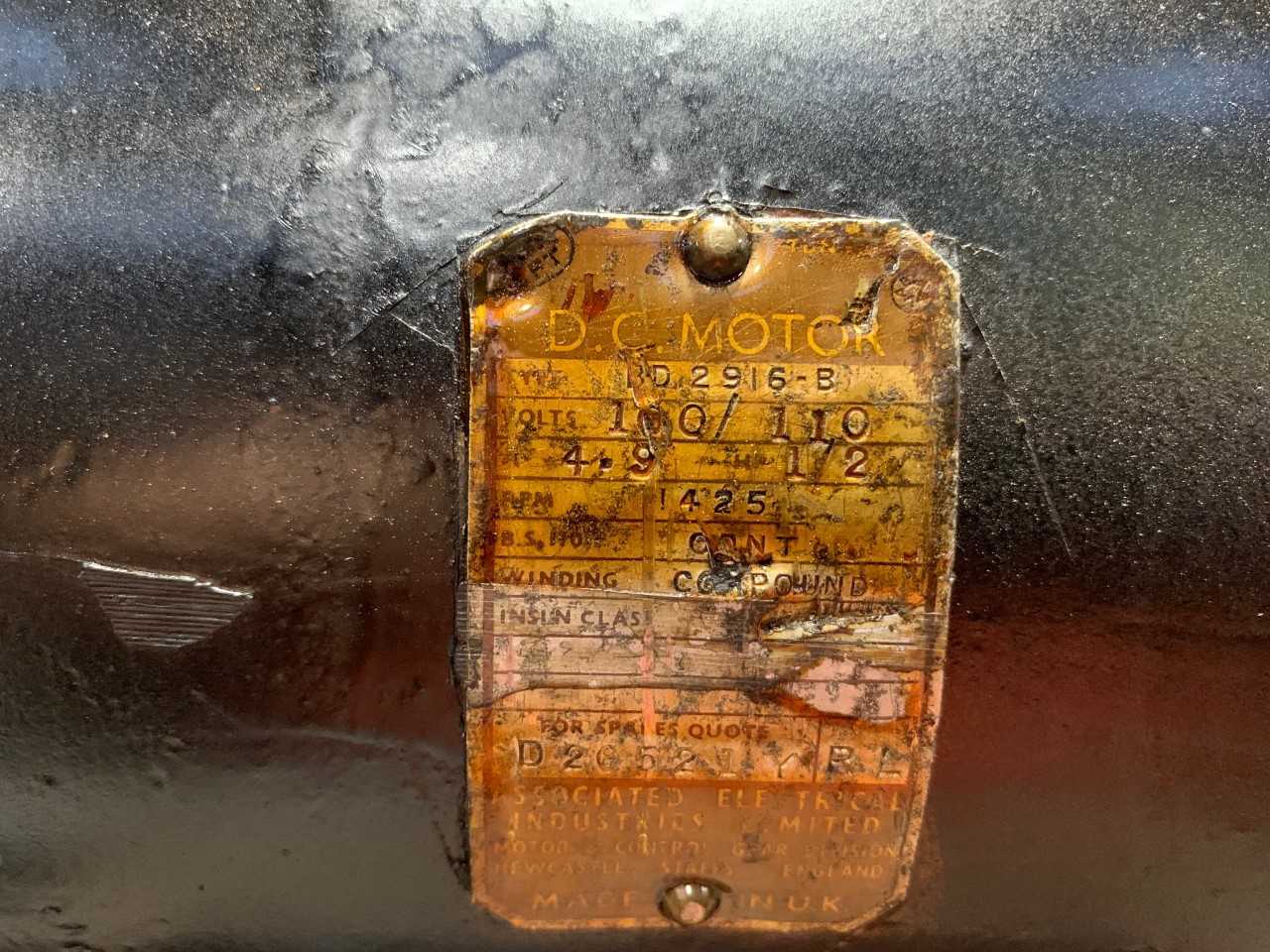 D9518 – the manufacturer's identification plate for the DC electric motor for the fuel lift pump shows that it was made by Associated Electrical Industries (AEI) in Newcastle, Staffordshire. Pictured at Williton on Saturday 29th October 2022 by Andy Royal © CC BY-NC 3.0
This loco is the subject of a fundraising appeal so please follow this link to find out more. We need your help ! In addition to funds, we also need plenty of HANDS. If you love the 'Teddy Bears' and you are not already a member of the DEPG, please join us so that you can become one of the team that is going to return D9518 to fully operational condition as 'NCB No. 7'.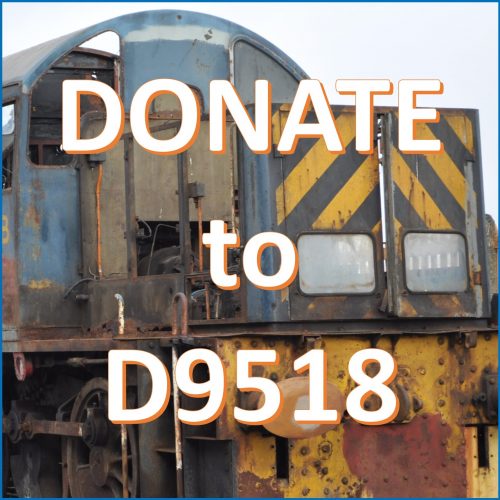 Class 14 'Teddy Bear' D9526 – this loco continues to be in regular use on the Kent & East Sussex Railway although her time in the far South-East is coming to an end, because sister loco D9504 has now completed her overhaul and will be returning to work shortly. We expect that our 'Teddy Bear' will be heading home to Williton some time in the next few months.
Class 47 47077 'NORTH STAR' – this loco continues to be in regular use at the NYMR, although usage is reducing as autumn sets in. During the last three months, this loco has covered more than 2,500 miles, so her first season in service has been a big success !
Andrew Barclay 0-4-0DH 578 – the fuel system has been dismantled so that the fuel injection pump can be sent out to COLCHESTER FUEL INJECTION Ltd for a thorough overhaul. The loco will need to be moved inside the loco shed so that the fuel system can be investigated to find out where the contamination is coming from. We expect this loco to be out of use for several months while this work takes place.
If you can help by donating your time, then please JOIN US and come along to the depot for an introduction to what we do and how we do it. We currently have people on site from Saturday through to Tuesday and we can open on other days if we can be sure of getting at least two volunteers on site at all times, so there is plenty of scope. We have tasks of all types to suit most capabilities, both skilled and unskilled.
Many thanks to all of our volunteers who give up so much of their time to work on the cleaning, painting, maintaining, restoring, managing and fund raising for our fleet of heritage locomotives !
BOOK REVIEW – last week's book review by regular contributor Neale Long resulted in several orders for the recently-released book 'THE BEATEN TRACK – VOLUME 2'. Click here or on the image below to go to the full article on our website: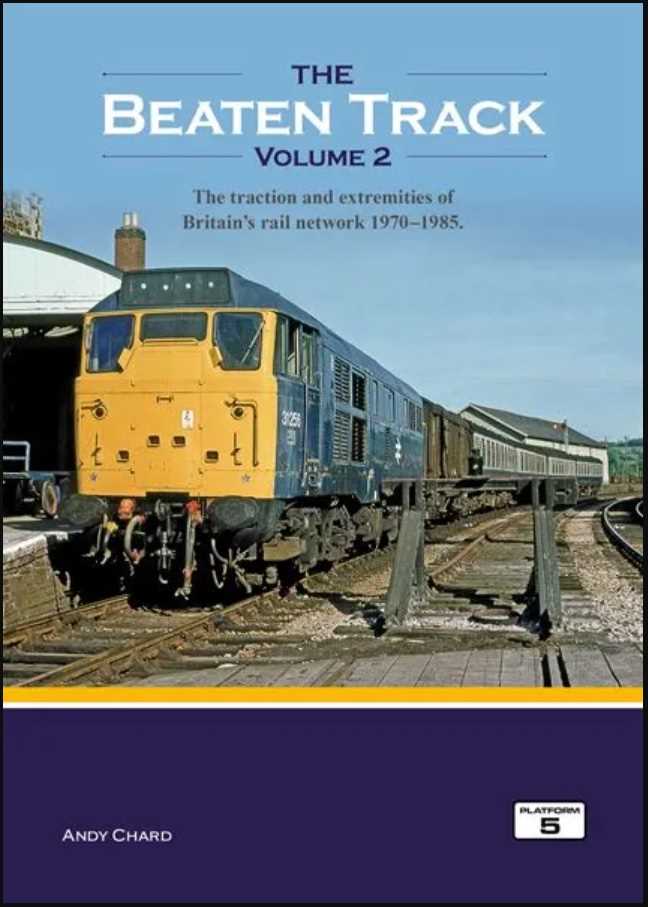 A quick reminder that we are now taking advance orders for the DEPG 2023 CALENDAR, further details of which will be posted here and on our webstore soon. To prevent waste and maximise the contribution to DEPG funds, we will be limiting the number of calendars that we order to match demand and no more. The printing costs have risen but if we control the quantity that we order, we can keep the price the same as last year, which is £12 including VAT excluding postage. Click here or on the image below to place your ADVANCE ORDER. Thank you to all of our contributors for allowing us to use their work for this important purpose.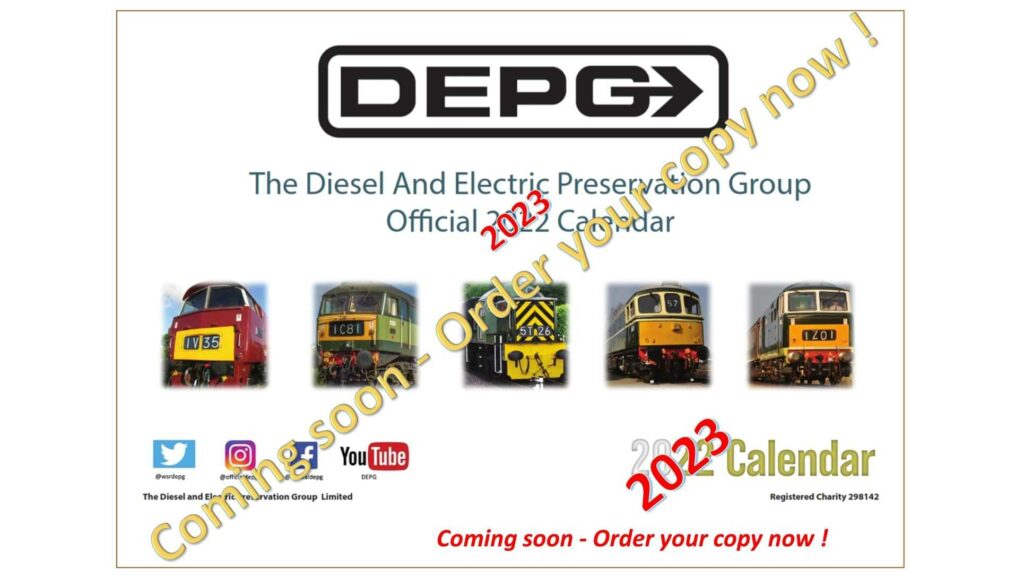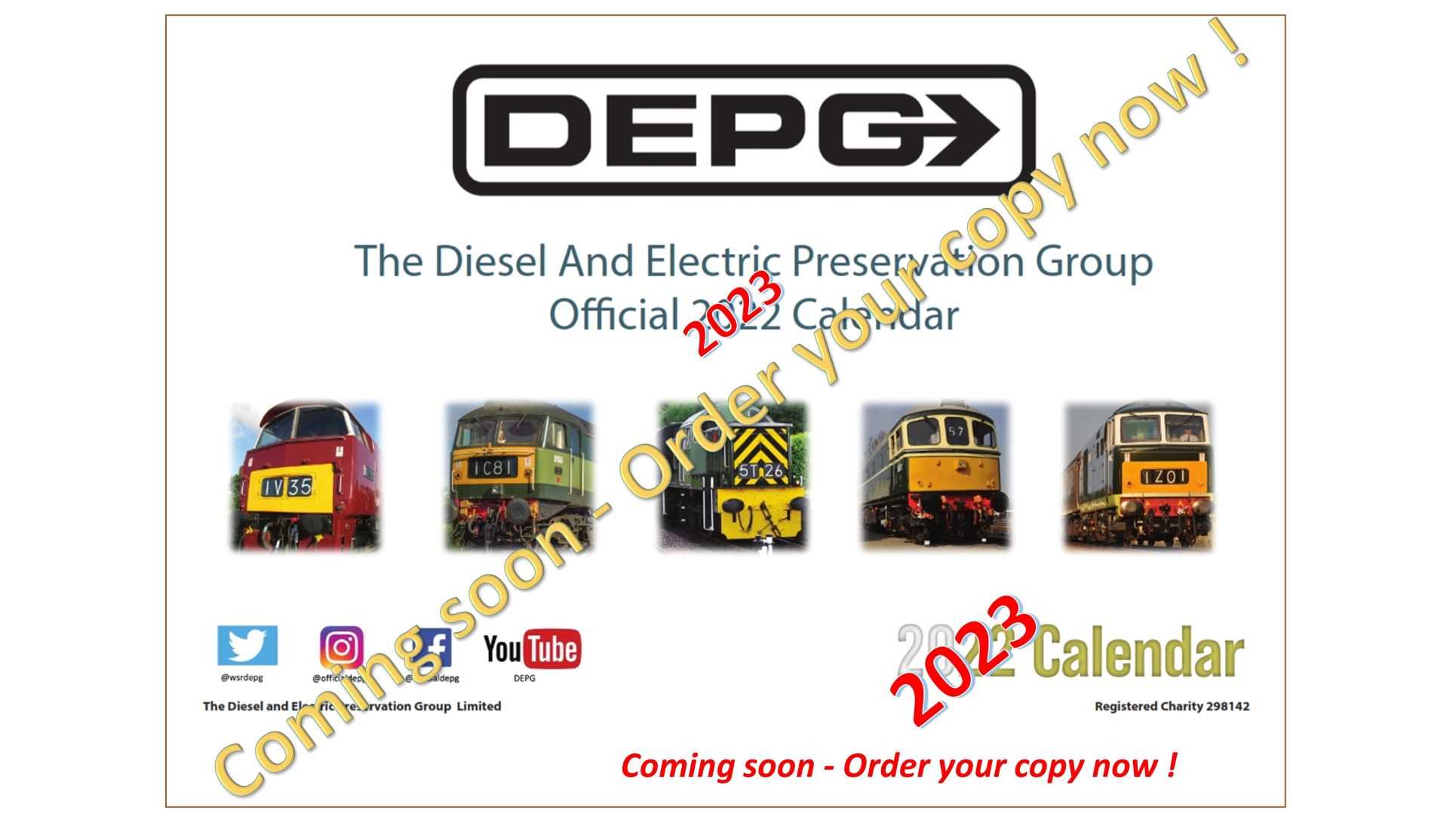 ON SHED – we almost had to skip this feature this week because of a lack of suitable photos ! If you like this feature, please SEND US YOUR PHOTOS with a bit of explanation of where and when they were taken, so that we can share them with our readers. Luckily, we have Barry Gay and his vast collection of photos to call upon, so thank you very much, Barry, for saving the day yet again !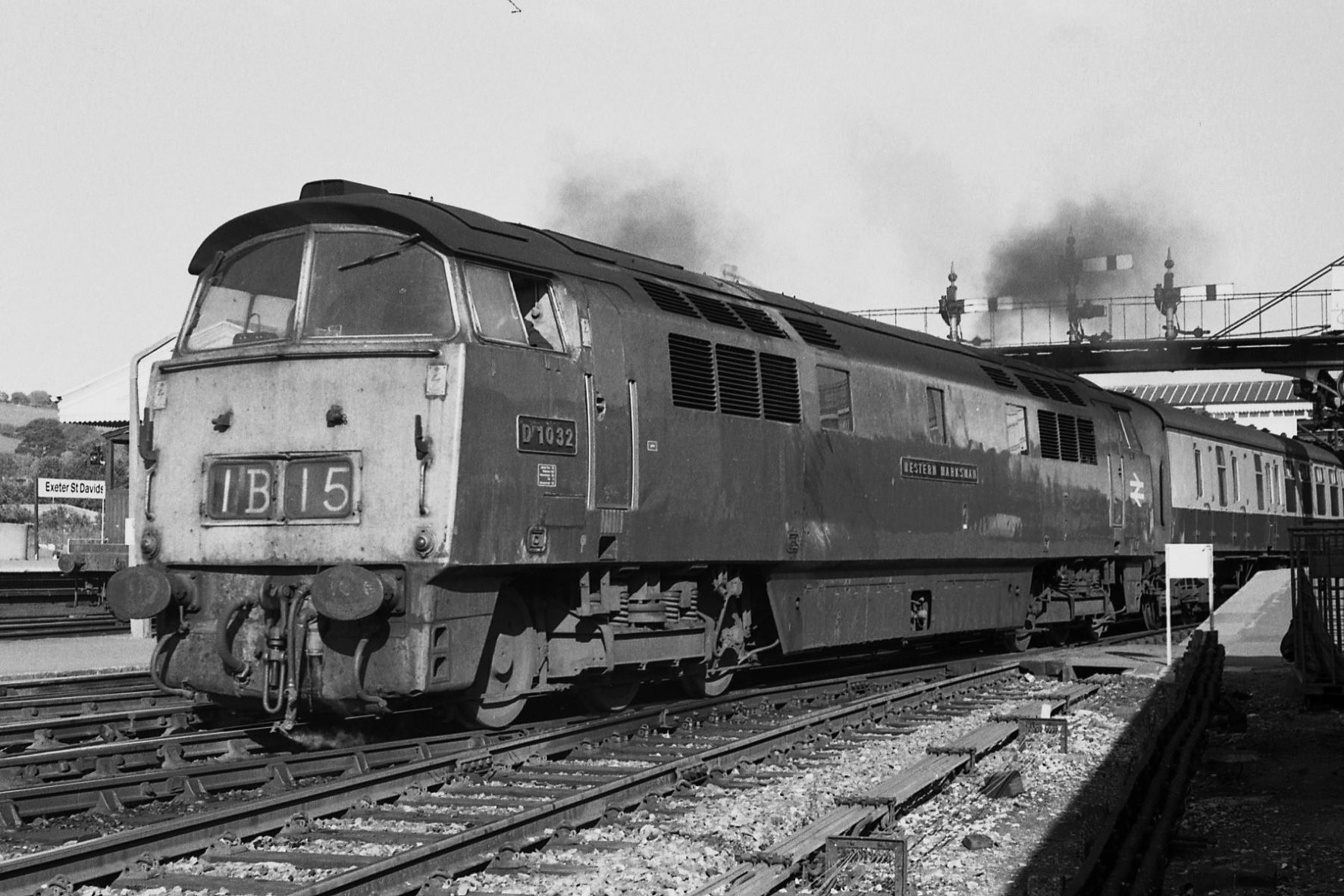 D1032 'WESTERN MARKSMAN' roars out of Exeter St Davids during what is thought to be her final full year of operation, 1972, before becoming one of the very first of the Class to be withdrawn from service in May 1973 after BR took the decision to cancel all further works overhauls. The loco became a parts donor at Laira before being cut up at Swindon Works in December of 1974. Photo by Barry Gay © CC BY-NC 3.0
Do you have a photo of one of our locos that would make for a good Christmas Card ? If yes, let me know because we are always on the lookout for interesting and unusual images for various purposes, all profits going to DEPG funds. Thanks !
DEPG NEWS – First, a reminder – the funeral of former DEPG Chairman JOHN CRONIN will take place in Westbury-on-Trym, Bristol, on Friday 4th November 2022. Please let us know by using our CONTACT FORM if you plan to attend at the memorial service that will take place at 12:45 later that day.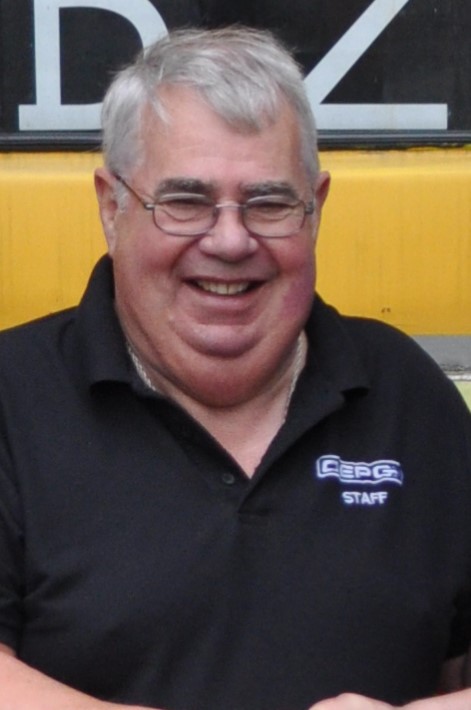 Former DEPG Chairman the late John Cronin was pictured at Williton on 15th July 2017 by Graham Perry © CC BY-NC 3.0
If you want to make a donation to John's chosen causes (the DEPG and the RNLI), a JustGiving page has been set up for that purpose. Here's the link: https://www.justgiving.com/crowdfunding/johncronin
The next BOARD MEETING of the DEPG will take place at Williton this coming Saturday, 5th November 2022. Please let us know by using our CONTACT FORM if you have a question that you would like to put to the board.
The dates for the WSR DIESEL GALA for 2023 have been firmed up. The event will follow a similar pattern to that of this year, running from Thursday 8th through Saturday 10th June as diesel-only and then with a mixed traction day on the Sunday. The DEPG 50th ANNIVERSARY CELEBRATIONS will also involve diesel running later in the year, on Friday 22nd and Saturday 23rd September. Details of both events will be announced as soon as possible. PLEASE MAKE A NOTE OF THESE IMPORTANT DATES.
Our new online membership system is working well and feedback has been very positive, but please be aware that WE STILL OFFER THE TRADITIONAL PAPER-BASED MEMBERSHIP via cheques and mail, by using the form attached or available via this link. If you want a form mailed to you, just use our CONTACT FORM or email our Membership Secretary CHRIS SHIELDS via members@depg.org
Of particular importance is the GIFT AID option. If you are a taxpayer, please consider setting your GIFT AID status to YES so that the DEPG can claim the tax that you paid on your subscription and/or donation. This increases the value of your payment by 25% and that makes a significant amount of difference to our fundraising. Thanks !
For our new online membership system, click here or on the image below and log in (no password required) to create a new membership or to check the details of your current membership. THANK YOU FOR SUPPORTING THE DEPG !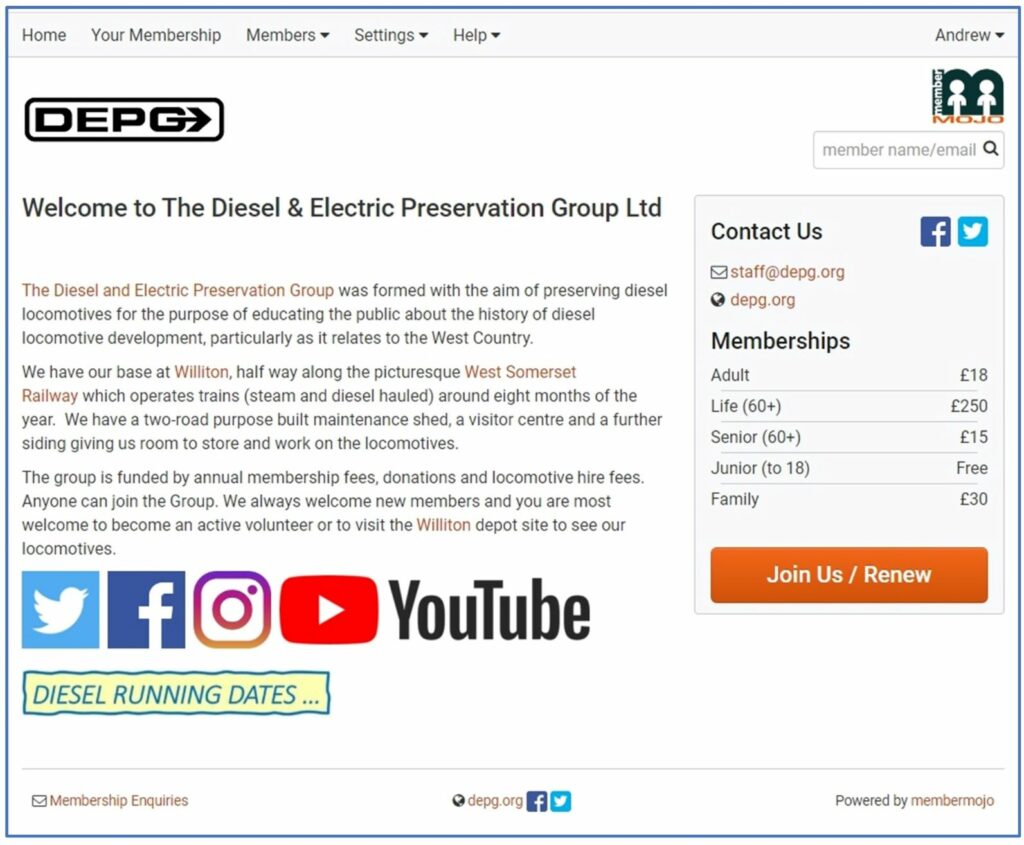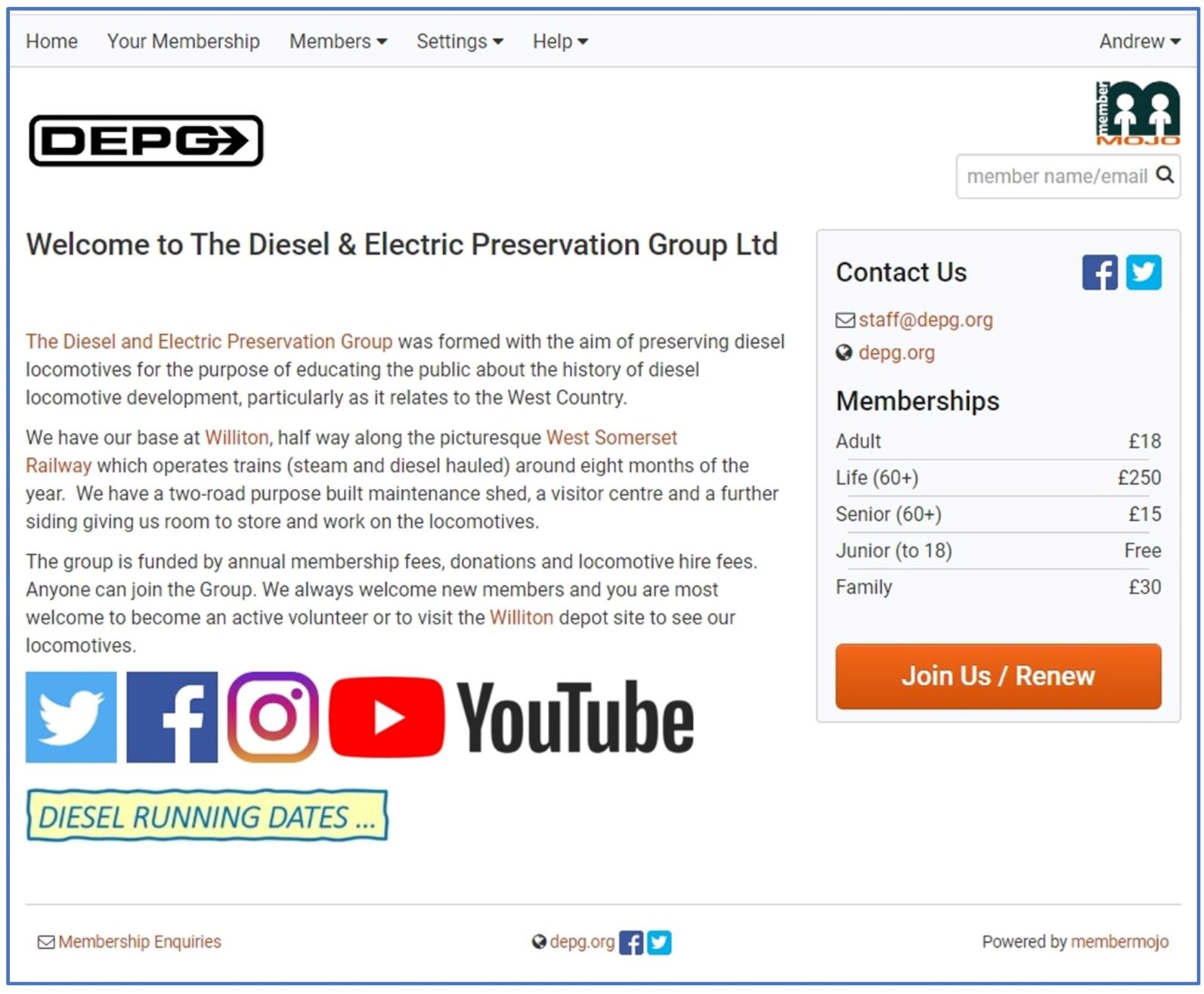 WSR NEWS: 
The WSR is now taking bookings for the 2022 'WINTERLIGHTS' trains which will be steam hauled on the journey to Crowcombe Heathfield and diesel hauled on the return leg, using one of our Class 33 'Cromptons'.
The colours and sights of last years' services resulted in a sell-out and demand is going to be solid again this year, so don't leave it until later to make a booking. If you and/or your family want to experience it, then now is the time to make a booking. Click here or click on the image below.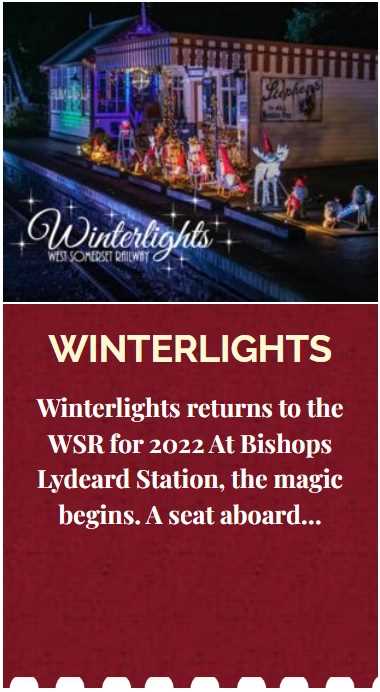 Go to previous Weekly Roundup post