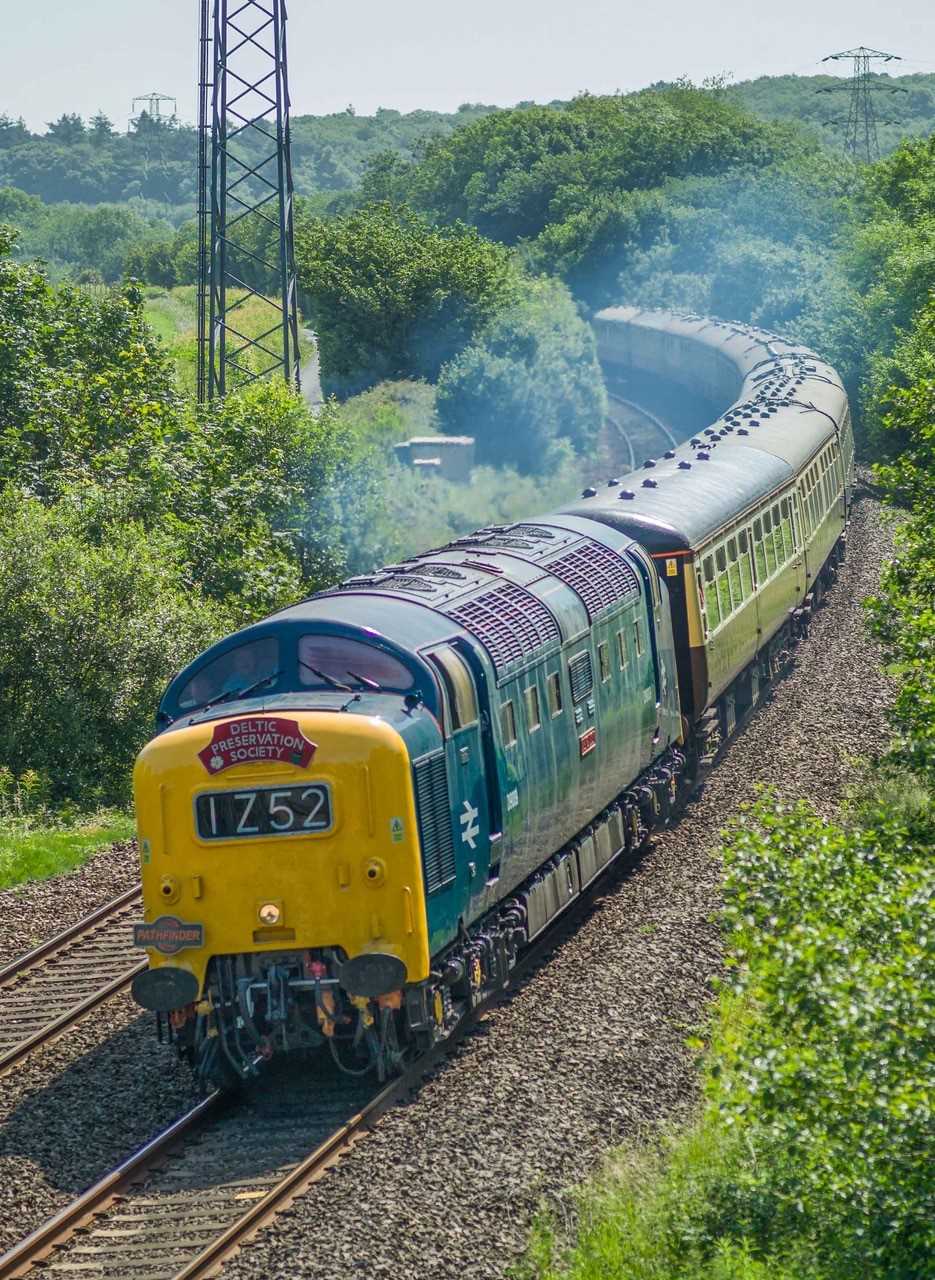 The twin Napier 'Deltic' engines of D9009 (55009) 'ALYCIDON' roar as she puts her combined 3,300 hp into an assault on Stormy Bank near Bridgend on the South Wales Main Line while hauling 'THE WELSH CENTRAL LINER' from Burton-on-Trent to Shrewsbury. Pictured on 17th June 2017 by Kelvin Lumb © CC BY-NC 3.0
The 2023 SUMMER DIESEL FESTIVAL will take place on the WSR on Thursday 8th June through to Saturday 10th June and the headliner will be 'DELTIC' 55 009 'ALYCIDON', one of the legendary East Coast 'racehorses' that revolutionised express passenger services between London, Newcastle and Edinburgh in the early 1960s. With their awesome power and 100 mph top speed, these locomotives led the field right through to the HST 125 mph era in the early 1980s. Of the 22 locomotives that were built, a total of six have been saved, which is in itself a tribute to their well-deserved popularity. In addition, the prototype DP1 'DELTIC' that first ran in 1955 has also been preserved and is part of the National Collection.
Being main line registered, 'ALYCIDON' will be arriving by rail and will be in the company of English Electric Class 50 50 008 'THUNDERER'. Both locos will make their way to Minehead on Wednesday 7th June where they will separate in readiness for their gala duties the following day. Class 50 'THUNDERER' is in the unique livery of owners HANSON and HALL and is still a working loco, often seen out and about on the mainline performing a range of duties, even though she is in her 55th year of service. Unusually for the class, this loco is not fitted with vacuum brake equipment so she is unable to haul the WSR coaching stock without a dual-braked (air and vacuum) 'translator' locomotive coupled between her and the train. This introduces some complexities in terms of loco allocation and positioning, so it is keeping the planning team busy !
A very welcome late addition to the gala line up is Class 14 'Teddy Bear' D9551, a loco that has close links with the WSR and DEPG, having started its life in preservation in 1981 by being based at Williton before moving to Minehead and then eventually to the Severn Valley Railway. Together with our own D9526, these two locos will provide a fitting tribute to the late SIMON PURVIS and will carry a wreath and headboard when running at the gala. MANY THANKS to the owning group and to a DEPG member for supporting the financial cost of bringing D9551 to the WSR as a mark of respect for Simon.
The above announcements add to the previously-announced visits of Class 33 33 002 (D6501) 'SEA KING', courtesy of South Devon Diesel Traction and Class 25 D7659 (25309, 25909), courtesy of the Waterman Trust and Peak Rail. The grey livery of 'Sea King' will stand out amongst our green home-based 'Cromptons' D6566 (33 048) and D6575 (33 057) and will offer a rare occasion to see three class members working together on one railway. The green '25' will be staying at the WSR for a few weeks after the gala and will be in use on Sunday 11th June and Saturday/Sunday 24/25th June when she will be working the 10:00 Minehead diagram under the BLUE timetable.
In summary, the WSR's 2023 'SUMMER DIESEL FESTIVAL' is now going to be blessed with FIVE visiting locomotives with a combined total of more than 9,000 hp, four of whom will be making their first ever visit to the WSR. This is going to be an AMAZING event so GET YOUR TICKETS NOW and enjoy the early discount. Here's the list of visiting locos:
Click here or on the ticket image below to get more details and/or buy a ticket. Hope to see you at the WSR for what is shaping up to be an excellent event !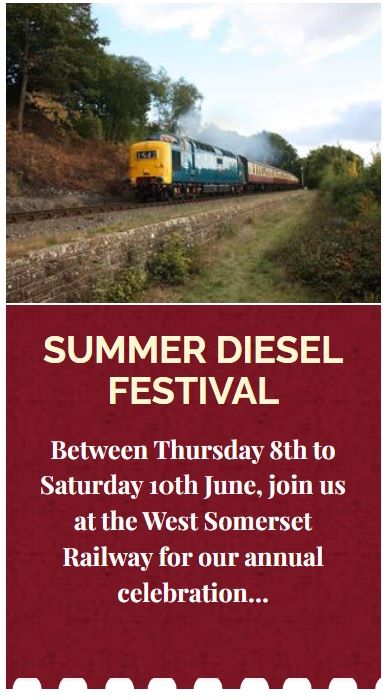 The BLUE timetable runs throughout May, featuring diesel haulage each weekend, with Class 35 'Hymek' D7017 working on 20/21st May and Class 33 'Crompton' D6575 working on 27/28/29th May and again the following weekend. For details of planned DIESEL-HAULED public services, see the DIESEL RUNNING DATES page on our website.

LOCO NEWS:
Class 52 D1010 'WESTERN CAMPAIGNER' – the priority being given to getting the 'Hymeks' ready for service resulted in some depletion of resources last week and will probably continue to impact for the next week or two, but progress was still made with Ian F busy on the 'B' bodyside and Gordon working on the sandbox doors and fittings. The 'transmission team' kept up the pace and are now very close to completing their work on the 'B' transmission. Here are some photos: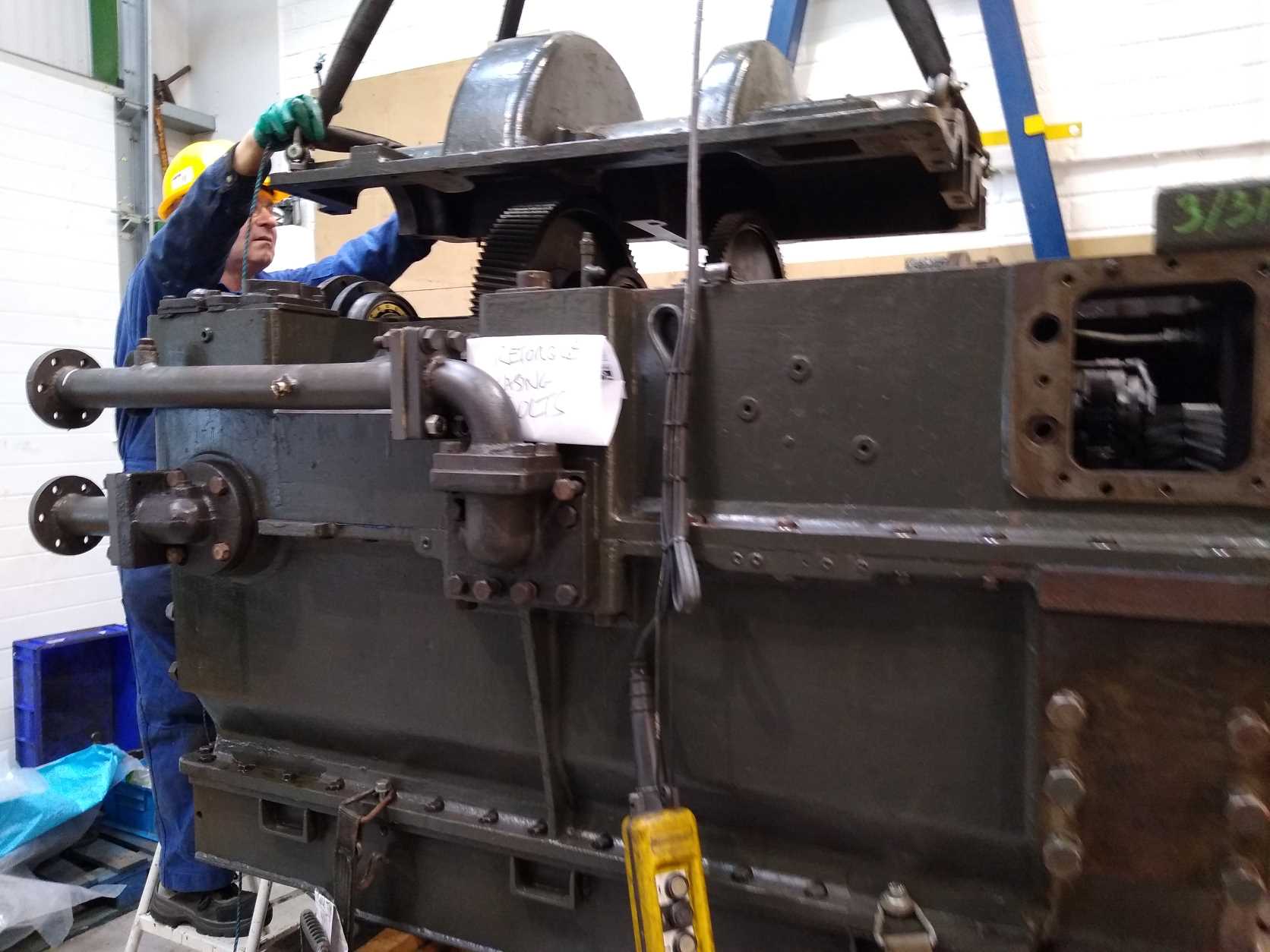 D1010 – the top casing that secures the input shaft and the auxilliary shaft was guided into place by Tim at Williton on Tuesday 9th May 2023. This completed the re-installation of all of the shafts. Photo by Colin Foxhall © CC BY-NC 3.0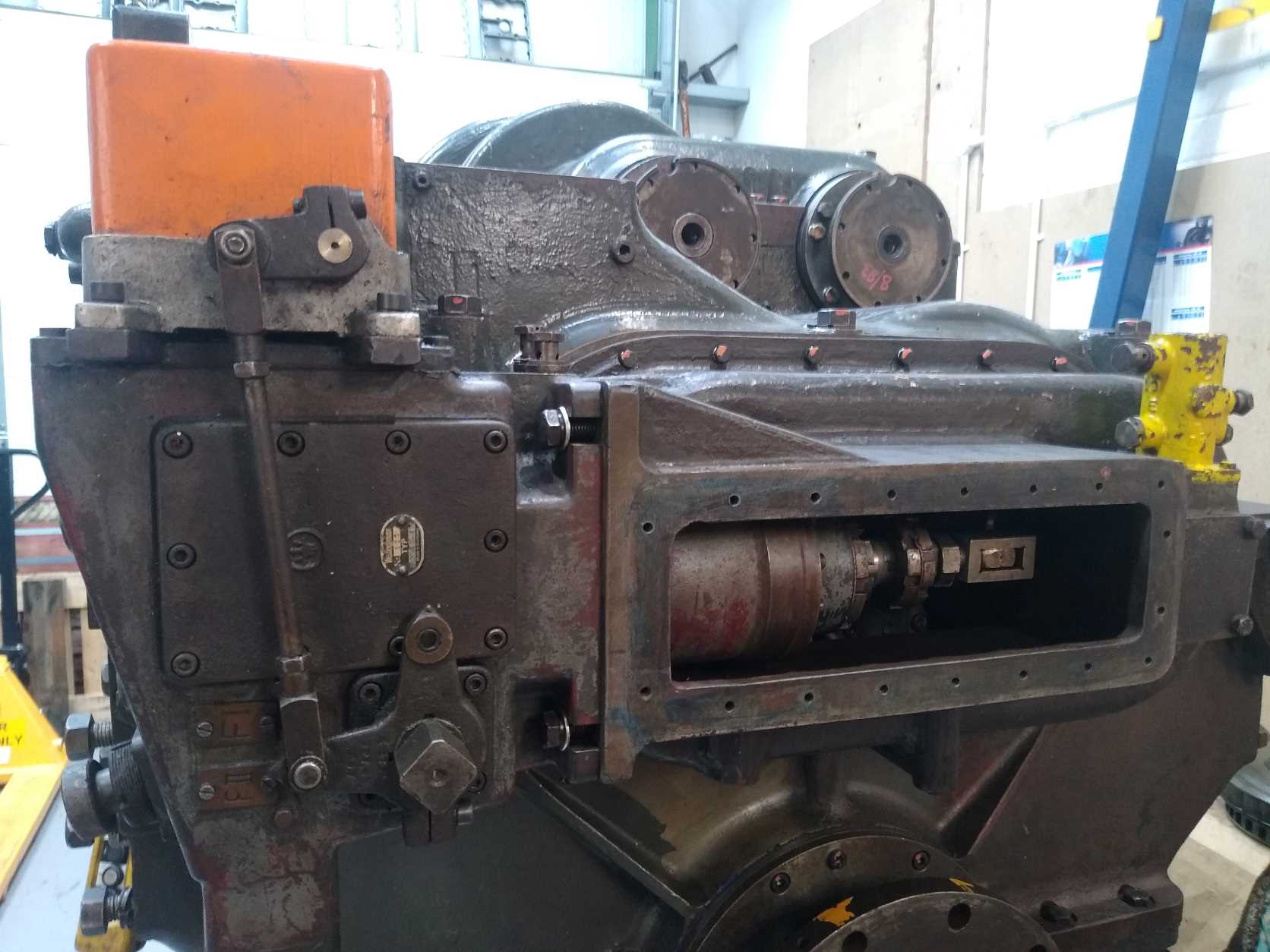 D1010 – the reverser assembly was re-fitted to the main casing at Williton on Wednesday 10th May 2023, leaving only the oil pumps and governors to be re-fitted before the job can be considered as completed. We are getting close ! Photo by Colin Foxhall © CC BY-NC 3.0
To continue our rate of progress requires FUNDING and we give our thanks to everyone who has supported D1010 by sponsoring or donating during these difficult times. If you are able to do so, please SPONSOR A PATCH because there is plenty of recently-added metal that still needs engraving. Photographs and certificates of sponsorship will be sent out to all who have sponsored this phase of the restoration work, and we are applying more resources to catch up with this obligation and deliver the documents. Click the image below to sponsor a patch. Thank you in advance for your support !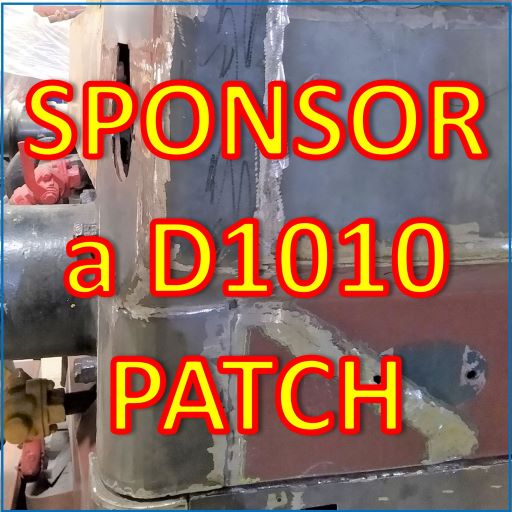 See our CAMPAIGN for CAMPAIGNER web page for more details. We still have a lot of work to do on this massive locomotive, so PLEASE DO COME ALONG AND HELP IF YOU CAN !


Class 33 D6566 (33 048) – the repaint of this loco is approaching completion at WSR Restorations in the Swindon Shed at Williton, where Harry has been busy preparing the surfaces and applying many coats of paint to build up a smooth and durable finish. The work has progressed to the bogies and underframe, so the end is in sight and the loco will be rolled out in good time for the gala.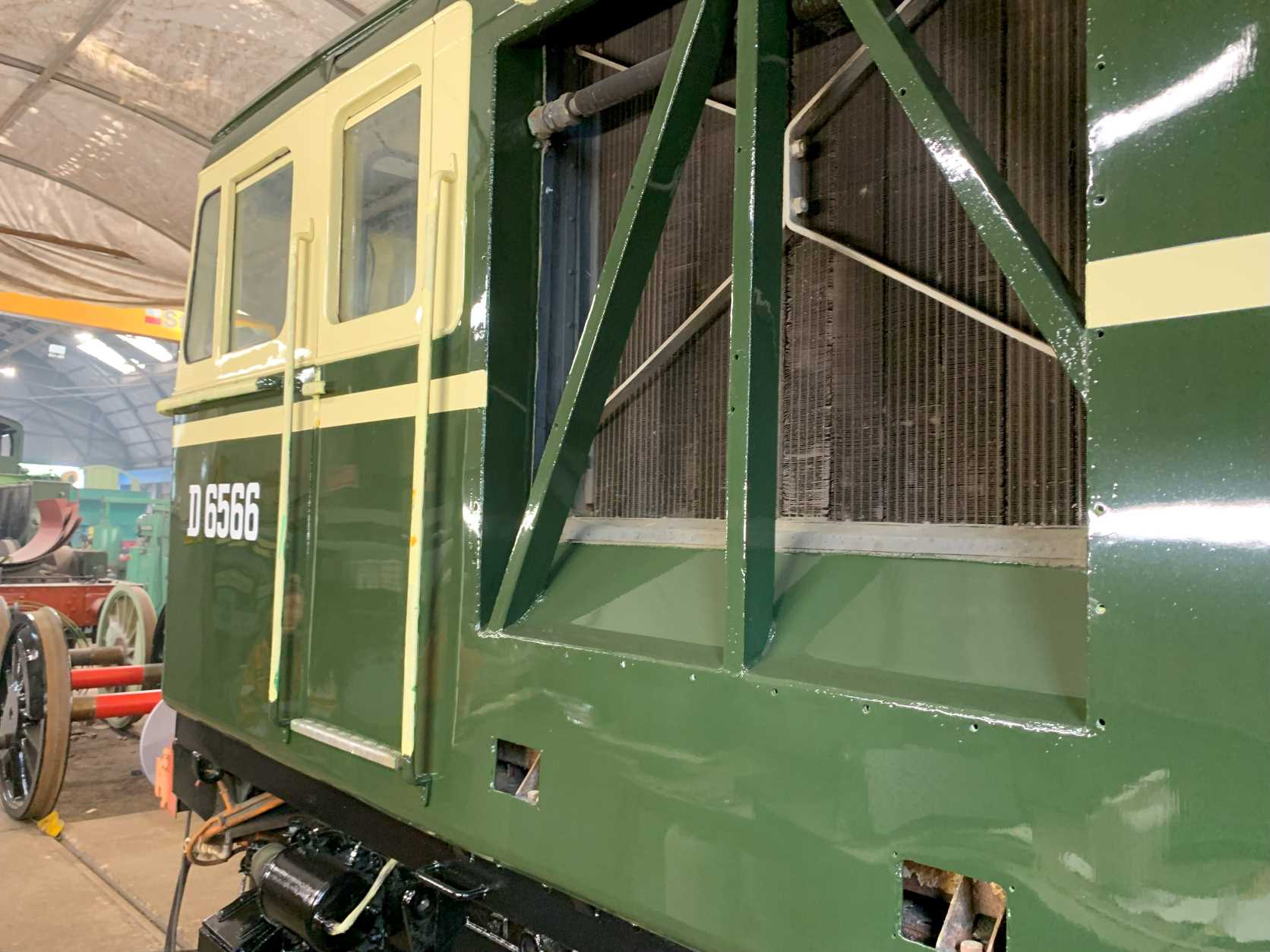 The repaint of Class 33 'Crompton' D6566 (33 048) is edging closer to completion at WSR Restorations, with the remaining work confined to detailing and re-fitting of grilles and covers. Pictured at Williton on 10th May 2023 by Andy Royal © CC BY-NC 3.0
Class 33 D6575 (33 057) – this loco is stabled at Minehead and was in use for the BLUE timetable duties on Saturday and Sunday 13/14th May. The coming weekend will be a 'Hymek' duty and one of the 'Cromptons' will be back in use for the Bank Holiday weekend.
Class 35 'Hymek' D7017 – the Maybach MD870 engine was run for two hours on Saturday 13th May so that a full inspection and test of the locomotive could take place in advance of her next rostered duties on Saturday and Sunday 20/21st May under the BLUE timetable. See our DIESEL RUNNING DATES page for information about this season's diesel-hauled services.
Everything went well, so the loco was also subjected to a thorough clean-up so that she looks the part and is able to stay at Minehead after her weekend of work, to be in position for her diesel gala duties.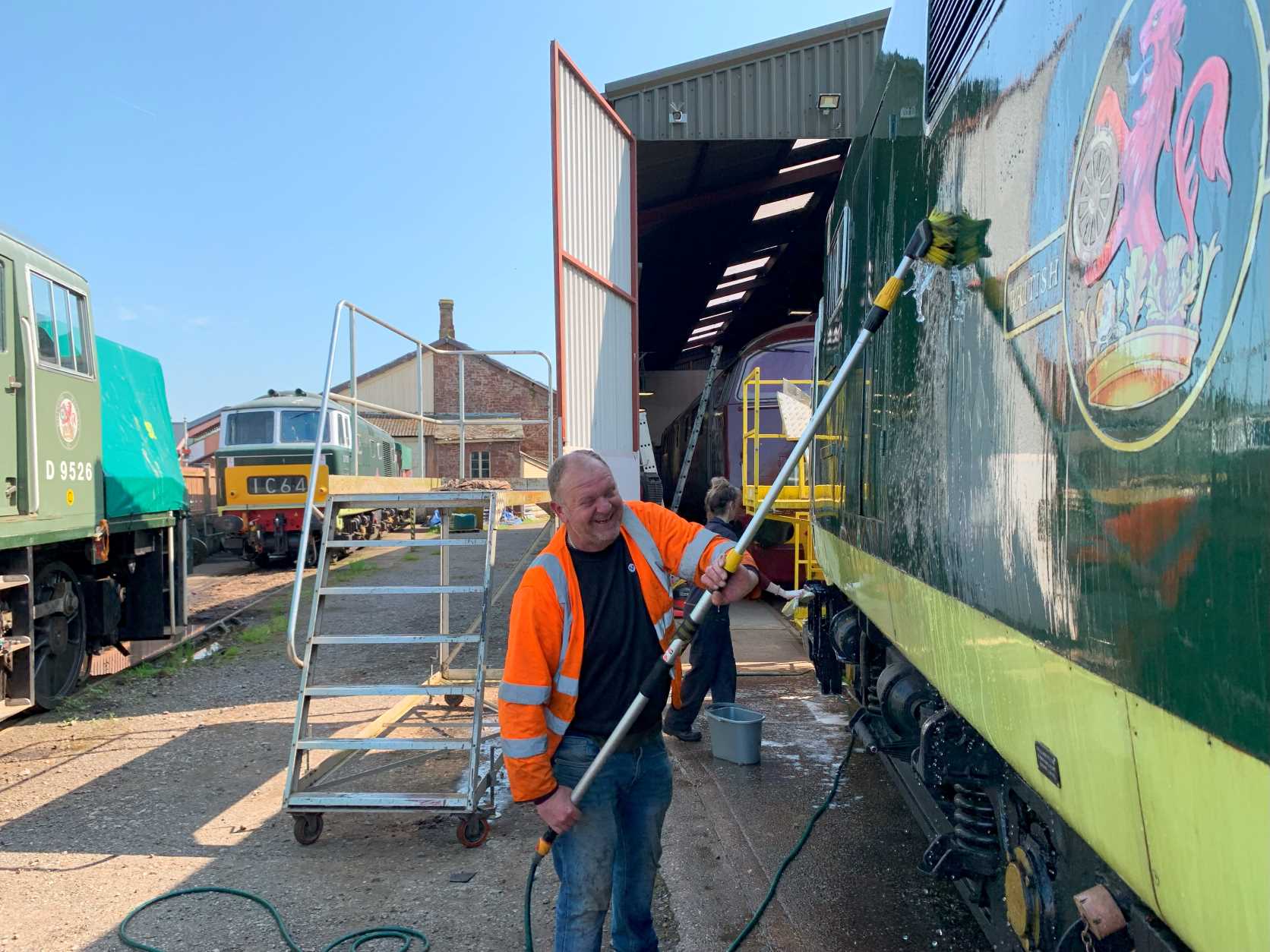 D7017 – with the benefit of the fine weather on Saturday 13th May 2023, the loco received detailed attention from a team comprised of Pat, Natalie, Andy R and Bob, the latter obviously enjoying his work as he restored the shine as part of a thorough clean-up, both internal and external. Photo by Andy Royal © CC BY-NC 3.0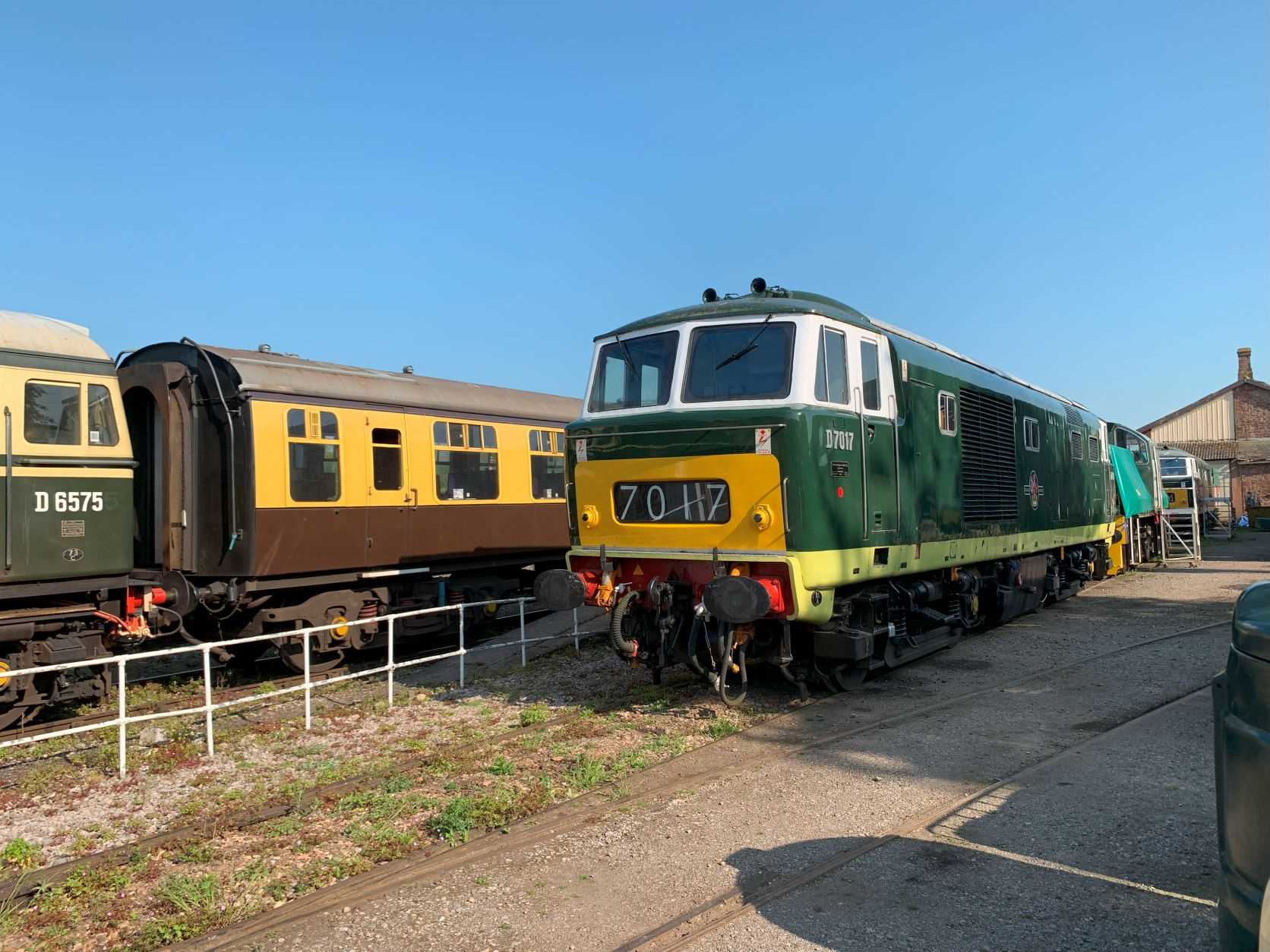 Class 33 'Crompton' D6575 (33 057) was hauling the last train of the day towards Minehead on Saturday 13th May 2023 when this picture was taken, showing D7017 ready for her duties on the weekend of 20/21st May, with Class 14 'Teddy Bear' D9526 and sister 'Hymek' D7018 behind. Photo by Andy Royal © CC BY-NC 3.0
Class 35 'Hymek' D7018 – with the work completed on sister D7017, this loco is now the number 1 priority task as we prepare for the Diesel Gala on June 8th through 10th. The reverser trouble will be dealt with during the coming weekend and the loco will be treated to a thorough clean and a polish, to bring back her shine. The air leak under 'A' cab has been dealt with, but another has been detected and will receive attention during the coming week. These are not show-stopping issues and we are expecting this loco to be available in time for the gala.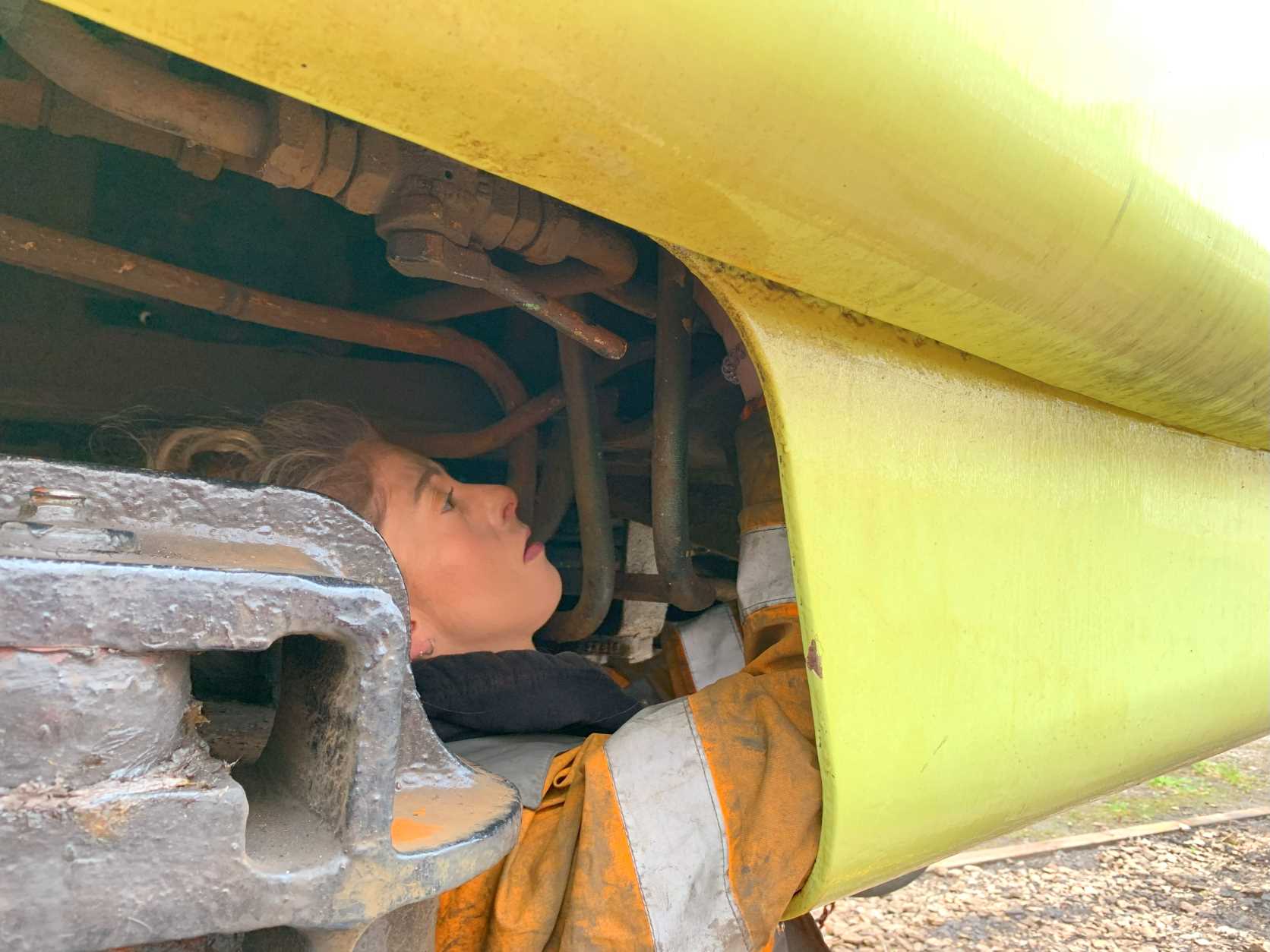 D7018 – the problematic leaking air pipe beneath the cab floor was silenced on Wednesday 10th May 2023, but not before it had presented some difficulty due to the access being extremely limited. Just the kind of job for Natalie, in fact. Photo by Andy Royal © CC BY-NC 3.0
Class 14 'Teddy Bear' D9518 – work continued in multiple areas, with Colin G and John making progress on the electrical control cubicle while Tony completed the re-skinning of both nose-end doors at the 'B' end (short end). Meanwhile, Terry and Nick continued their work on the brake rigging.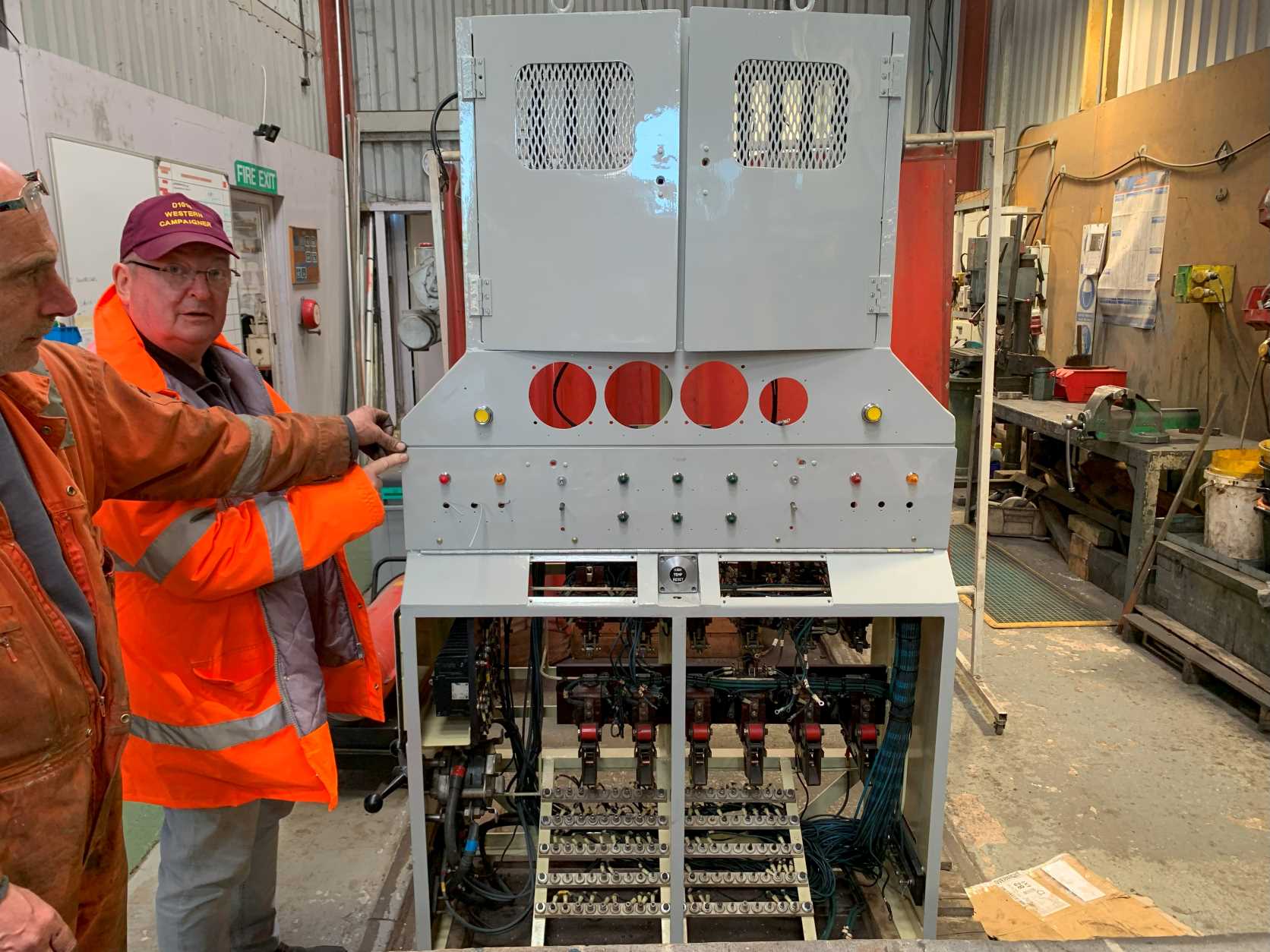 D9518 – the electrical control cubicle has been transformed by the careful restoration being carried out by Colin G and John at Williton. Pictured with a bit of help from Mike E and Colin G on Saturday 13th May 2023. Photo by Andy Royal © CC BY-NC 3.0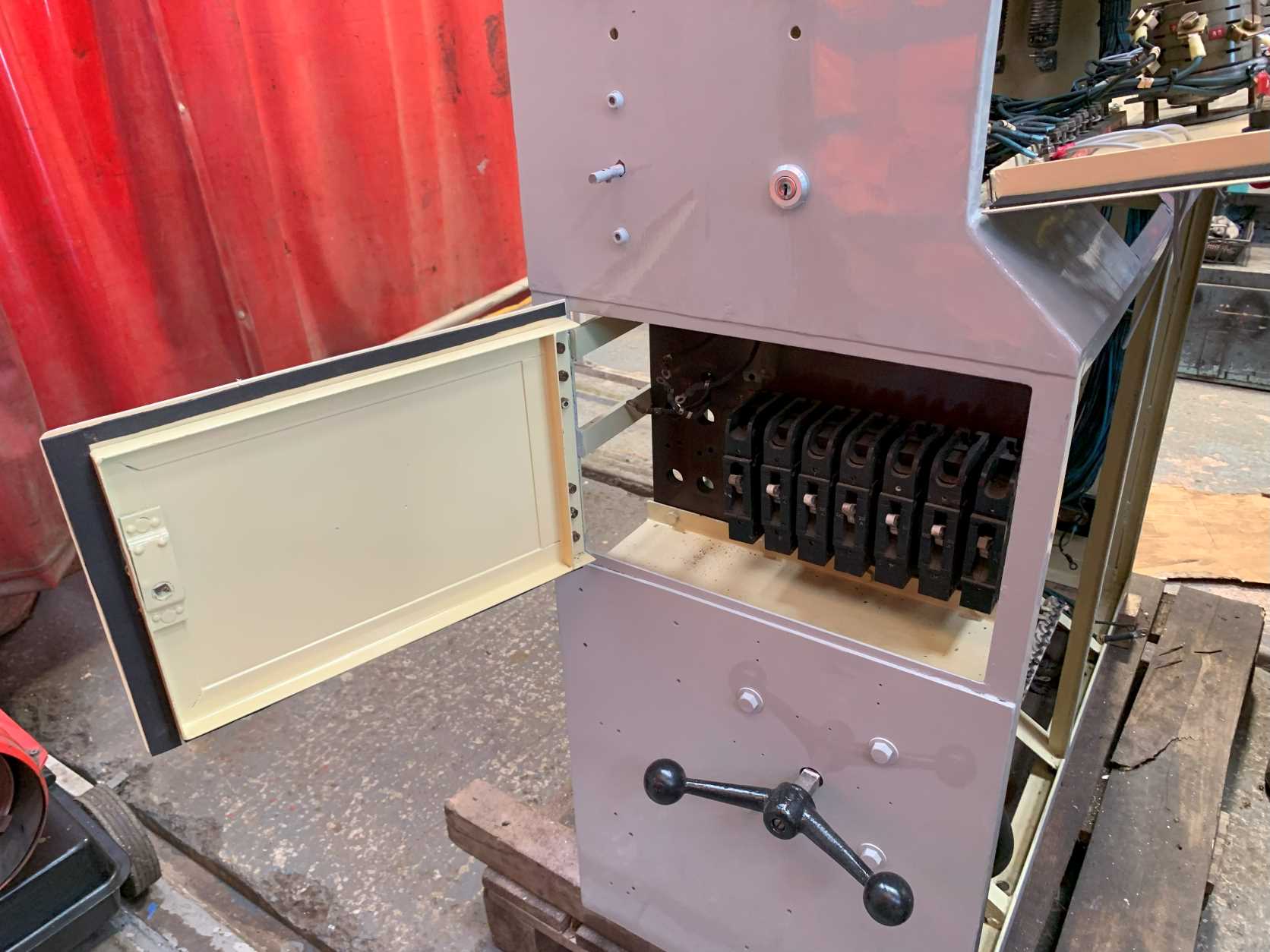 D9518 – the colour scheme for the electrical control cubicle is grey outside and cream inside, and it looks GOOD ! Pictured at Williton on Saturday 13th May 2023 by Andy Royal © CC BY-NC 3.0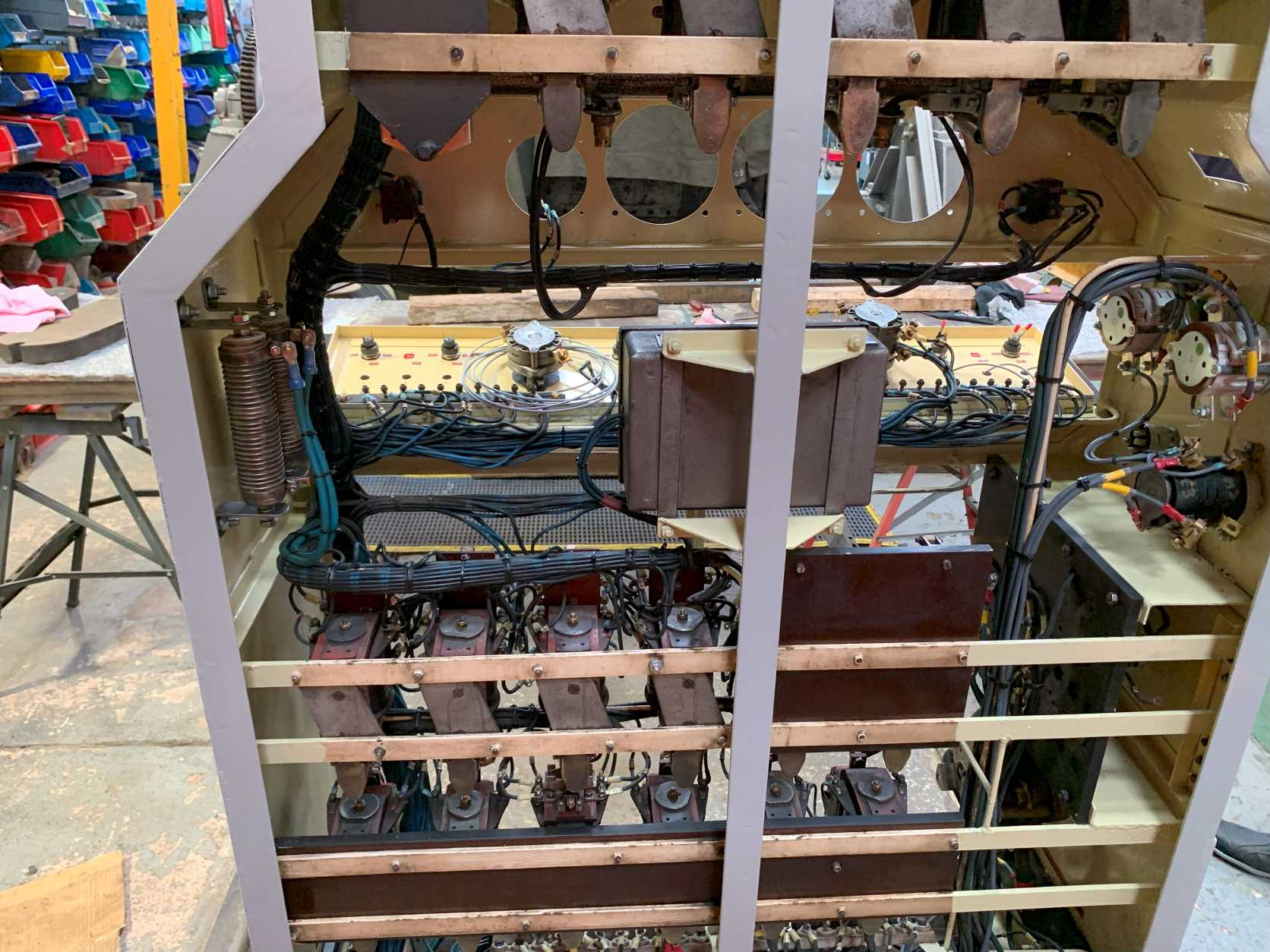 D9518 – the progress on the electrical control cubicle, viewed from the rear at Williton on Saturday 13th May 2023. Photo by Andy Royal © CC BY-NC 3.0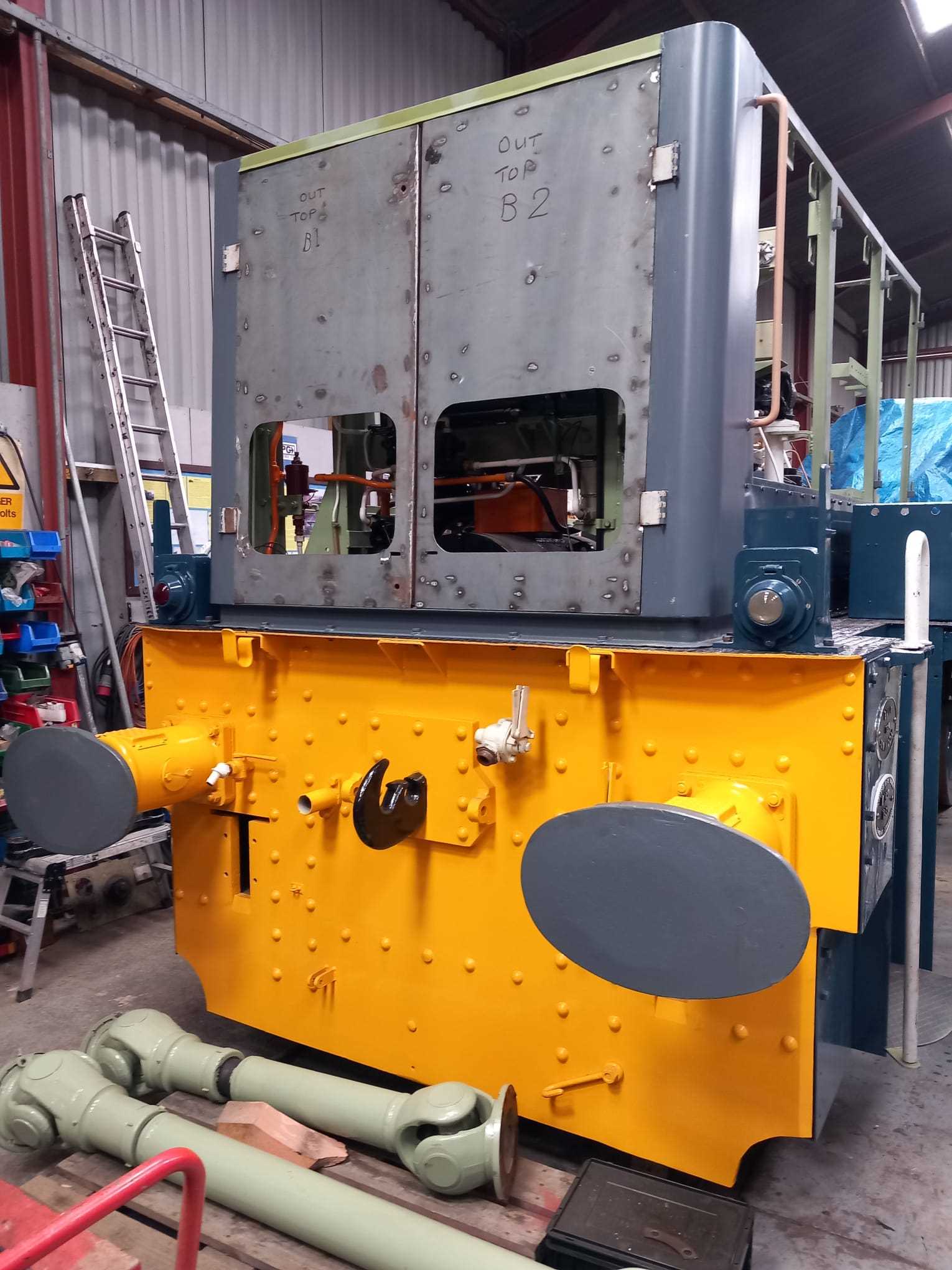 D9518 – the nose-end doors at 'B' end have been expertly re-skinned by Tony and are now ready for priming and painting. Pictured at Williton on 10th May 2023 by Anthony Austin © CC BY-NC 3.0
This loco is the subject of a fundraising appeal so please follow this link to find out more. We need your help ! In addition to funds, we also need plenty of HANDS. If you love the 'Teddy Bears' and you are not already a member of the DEPG, please join us so that you can become one of the team that is going to return D9518 to fully operational condition as 'NCB No. 7'.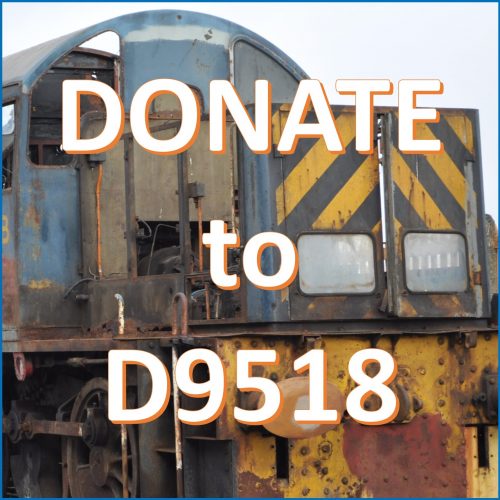 Class 14 'Teddy Bear' D9526 – this loco is fully serviceable and ready for use in the forthcoming SUMMER DIESEL FESTIVAL, during which she will carry a headboard and wreath in memory of volunteer Class 14 loco manager, the late Simon Purvis.
Class 47 47077 'NORTH STAR' – this loco is now back in regular use on the North Yorkshire Moors Railway and is performing well, covering 432 miles in April. We hope to include details of her exploits in a future roundup.
Andrew Barclay 0-4-0DH 578 – this loco is in full working order and is stabled in the South Yard, ready for action. We hope to apply her cabside lettering during the coming weeks to complete her '1972 makeover'.
If you can help by donating your time to any of these projects, then please JOIN US and come along to the depot for an introduction to what we do and how we do it. We currently have people on site from Saturday through to Tuesday and we can open on other days if we can be sure of getting at least two volunteers on site at all times, so there is plenty of scope. We have tasks of all types to suit most capabilities, both skilled and unskilled.
Many thanks to all of our volunteers who give up so much of their time to work on the cleaning, painting, maintaining, restoring, managing and fund raising for our fleet of heritage locomotives !
BOOK REVIEW – we will need to skip this feature again this week due to having so many other items to cover (it's a nice problem to have).
ON SHED – last week, we covered a number of events that took place on 6th May, but we missed reporting on one other anniversary that further highlighted the scandalous waste of public money that took place FIFTY YEARS AGO. On the 6th May 1973, in addition to the wiping out of half of the remaining 'Hymek' fleet, the first two Class 52 'Westerns' were sent for scrap as a result of the policy of eradication of diesel-hydraulic types.
The first to go was D1032 'WESTERN MARKSMAN' a Crewe-built loco that entered service in January 1964 and had the misfortune to require an overhaul nine years later, in January of 1973 – an overhaul for which there was no budget and no spare parts, so the loco was dumped out of use at Laira Depot (Plymouth) and was robbed for spares to keep other classmates going. Formal withdrawal came on the 6th May 1973, a fate that also befell D1019 'WESTERN CHALLENGER'. Not only was the writing on the wall, but it was crystal clear. The last of the 'Westerns' clung on against all odds for another four years until February 1977, and happily seven of the total of 74 were saved, including our own D1010 'WESTERN CAMPAIGNER'.
Many thanks to John Kite for bringing this event to our attention.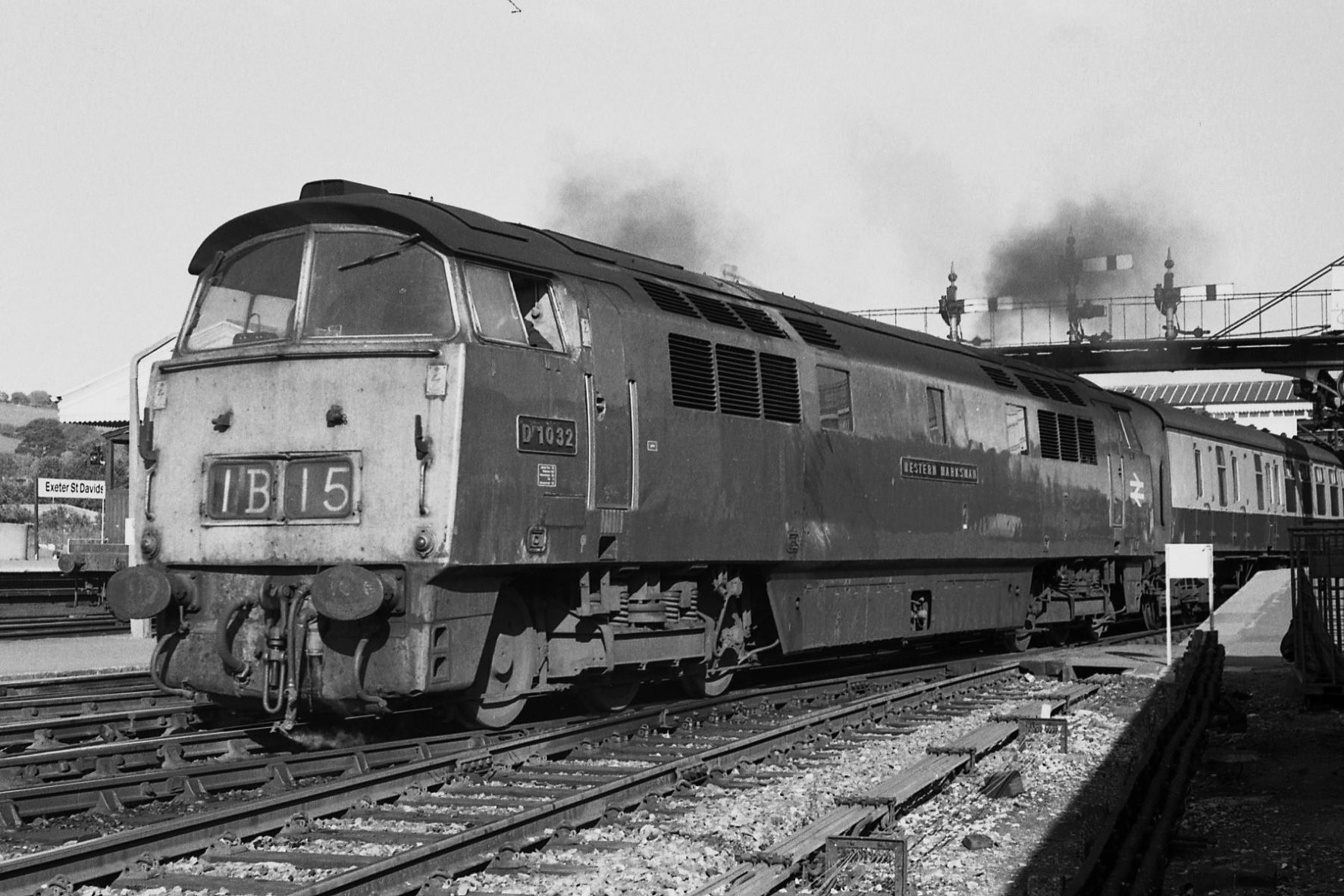 Class 52 'Western' D1032 'WESTERN MARKSMAN' was certainly still capable of 'doing her thing' when pictured departing from Exeter St. Davids station with an express for Penzance. This loco was written off as obsolete due to being non-standard after only nine years in service. Photo by Barry Gay © CC BY-NC 3.0
DEPG NEWS – the synopsis of the Board Meeting that was held at Williton on Saturday 22nd April will be shared via a separate email and will be sent out to all DEPG members for whom we hold a valid email address. Apologies for the delay.
The DEPG depends on the support of all of our members so please make sure that your membership is up to date. If you are not sure about your membership status, please click here or on the image below to access your membership record via MEMBERMOJO.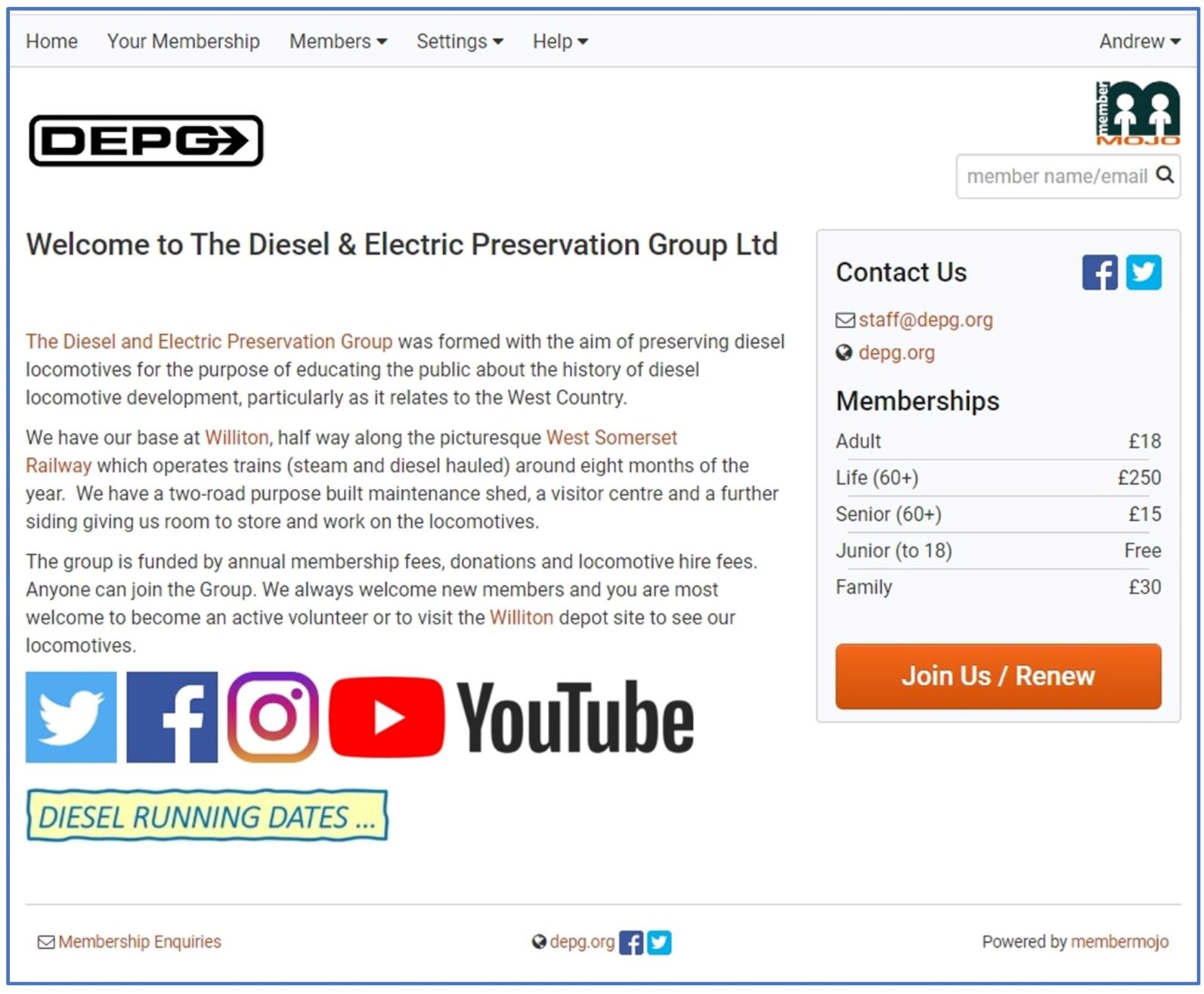 KEY DATES for your diary:
WSR SUMMER DIESEL FESTIVAL: Thursday 8th through Saturday 10th June 2023
DEPG 50th ANNIVERSARY CELEBRATIONS : Friday 22nd and Saturday 23rd September 2023.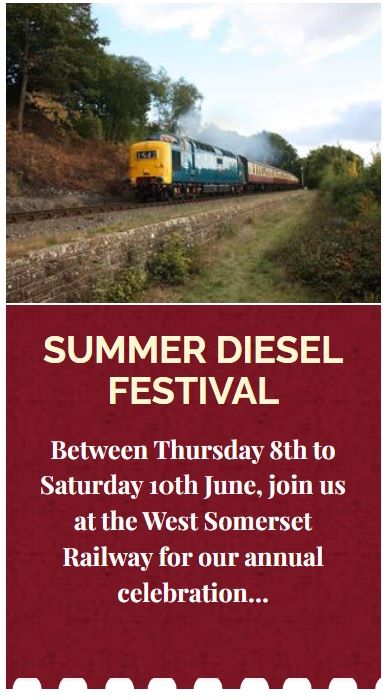 Go to previous Weekly Roundup post