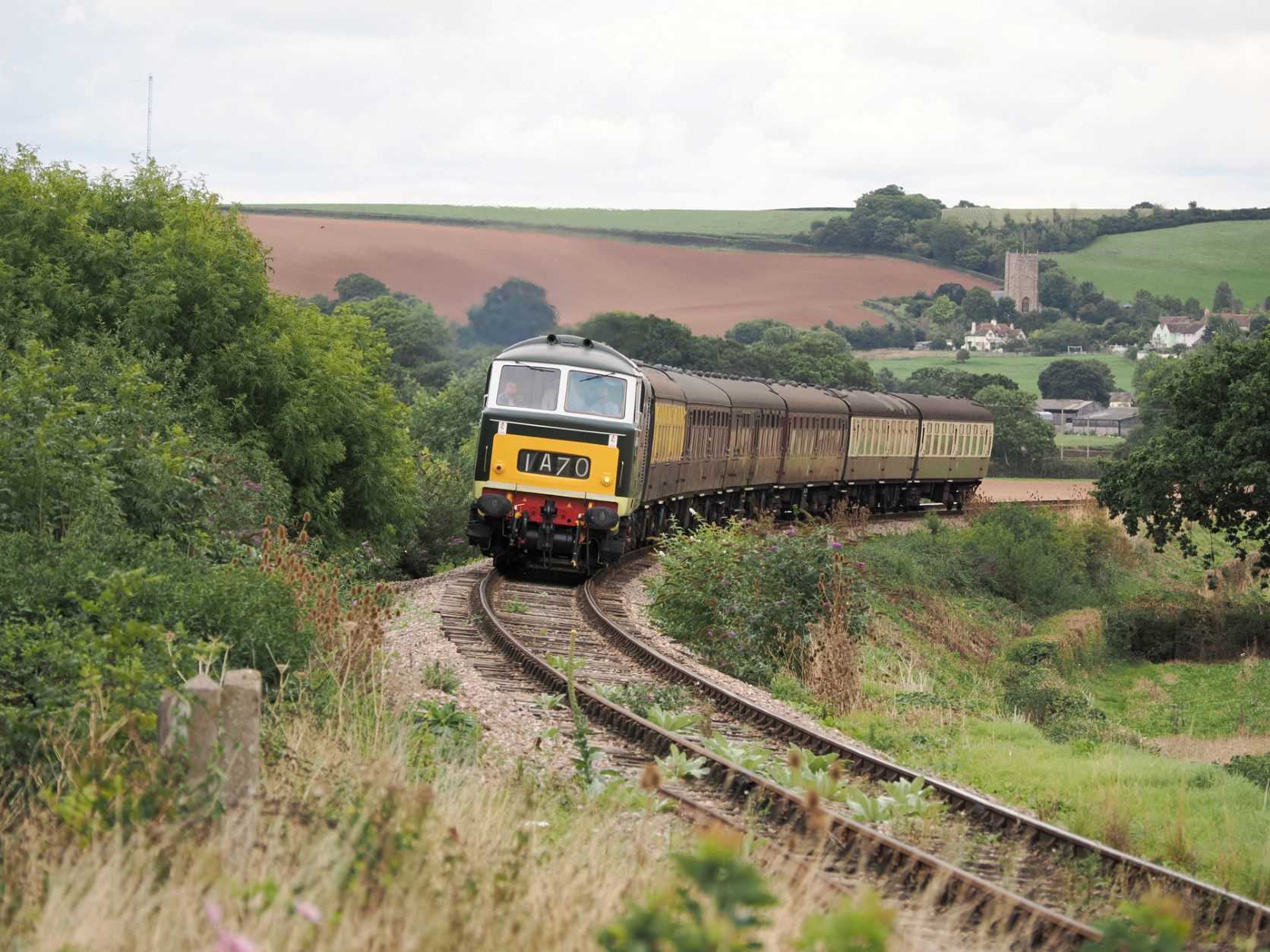 Class 35 'Hymek' D7018 approaches Blue Anchor with the 1230 from Bishops Lydeard on Sunday 25th September 2022, the last day of scheduled diesel-hydraulic-hauled services on the WSR. Photo by Glyn Warren © CC BY-NC 3.0
In last week's Roundup, we announced that the weekend just passed would be the last weekend for scheduled 2022 DEPG diesel running, but within minutes of the roundup being sent out, this was pointed out as being incorrect because two weekends in October are currently rostered for DEPG Class 33 diesel haulage. Apologies for that error !
We can safely say that last weekend was the end of scheduled diesel-hydraulic-haulage, as Class 35 'Hymek' D7018 has now returned to Williton to undergo transmission control block investigation work after running the entire season locked in second gear. Although her engine was limited to 1200 rpm instead of the usual 1500 rpm, reducing power to prevent overheating during standing starts, the 'Hymek' has performed all of it its duties in style and with a decent amount of 'Maybach Music' accompaniment.
Here's a short video that we have posted on our DEPG YouTube channel. Click here or on the image below to watch this video on YouTube: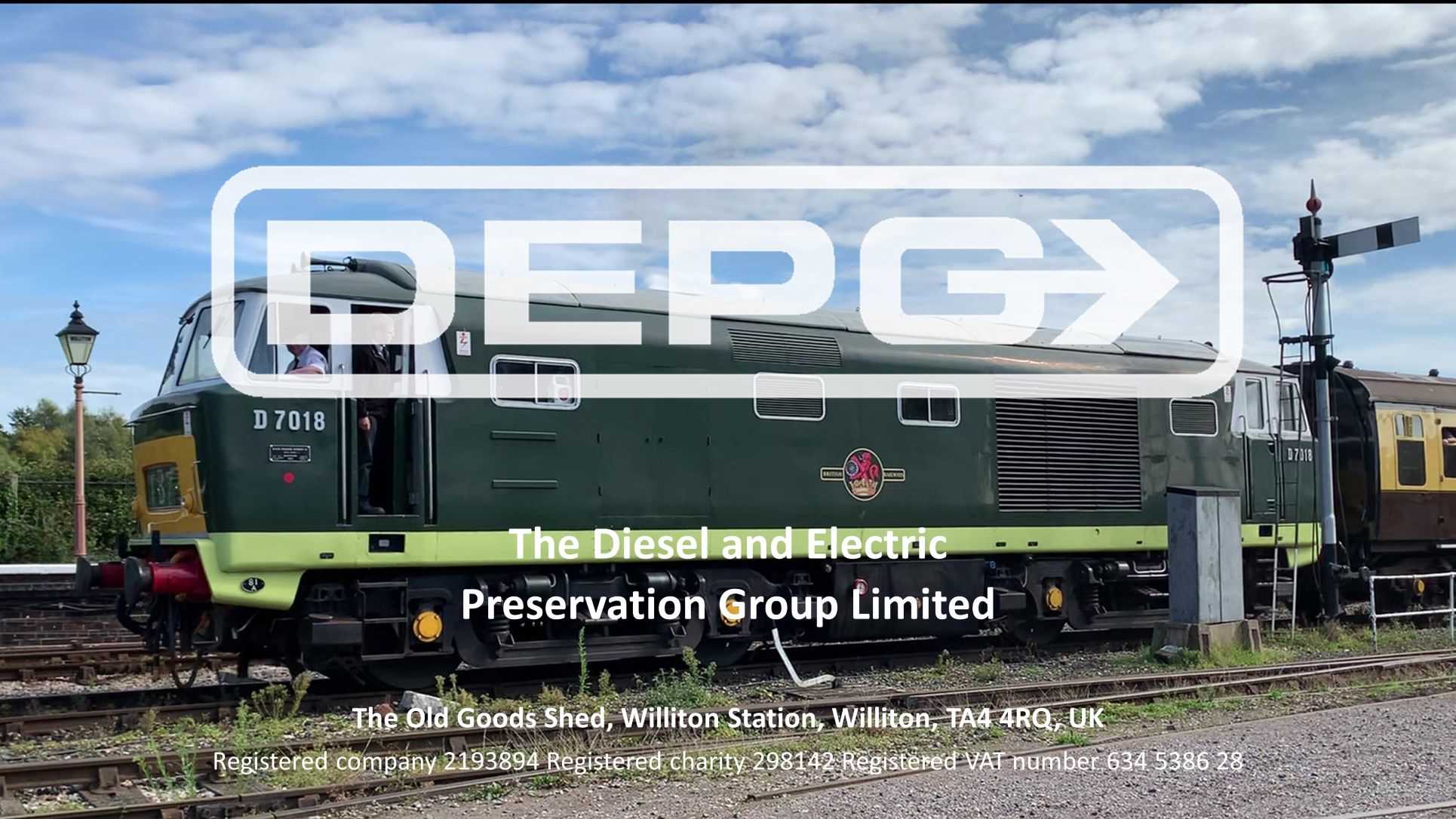 D7018 departing from Williton for Minehead on Saturday 24th September 2022. Click on the image to watch the video on the DEPG's YouTube channel. Video by Andy Royal © CC BY-NC 3.0
As from Saturday 1st October, the railway enters the quieter 'shoulder' of the 2022 season and the RED timetable will come into effect, with services reduced from 4 to 3 trains each way per day. Two weekends in October are currently rostered for diesel haulage (8-9th and 15-16th), with Class 33 'Crompton' D6575 (33 057) booked to cover the 12:30 Bishops Lydeard to Minehead and 14:30 return 40-mile duty.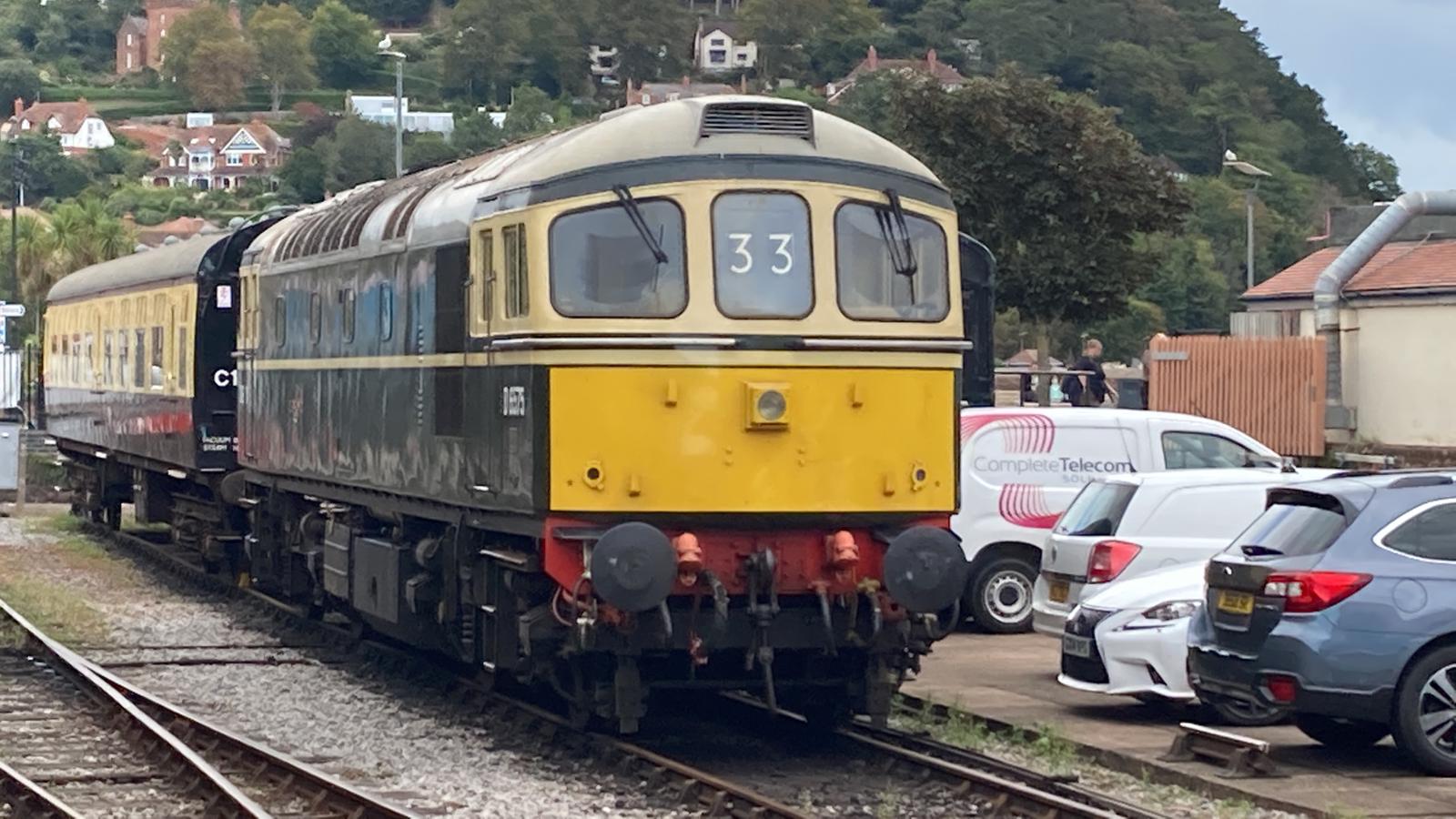 Class 33 'Crompton' D6575 (33 057) was pictured when stabled in the headshunt at Minehead on Saturday 24th September 2022. This loco will move to Bishops Lydeard in preparation for her duties under the RED timetable for the weekends of 8-9th and 15-16th October 2022. Photo by Josh Brinsford © CC BY-NC 3.0
In summary:
On the weekend of 8th and 9th and again on 15th and 16th October, we have Class 33 'Crompton' D6575 (33 057) running for 40 miles under the RED timetable.
We have kept our DIESEL RUNNING DATES page updated throughout all of the timetable and traction changes that took place during the year and will keep this page available as a detailed record of public running for 2022. We will create a new page for 2023 as soon as timetables have been agreed and published.
MANY THANKS TO ALL WHO HAVE TRAVELLED for supporting this year's DIESEL RUNNING program on the WSR.

The usual caveats of loco availability apply, but we aim to provide as much advance notice of any change as possible, using our DIESELGEN and Twitter feeds, so please sign up to keep up to date.
LOCO NEWS:
Class 52 D1010 'WESTERN CAMPAIGNER' – this loco is set to be painted in her first coat of maroon during this week and we will be using gloss paint in case the loco has to spend some time outside during the winter. At present, D1010 occupies one of the two roads inside our loco shed at Williton, but if the covered space is needed for heavy maintenance on one of our other locos, D1010 will need to vacate to make space. In that eventuality, the use of gloss paint will give additional protection. In spring of 2023, the loco will be sanded down so that work can continue on the surface finish of the many patches that have been added during the last twelve months.
Please consider SPONSORING A PATCH because there is plenty of recently-added metal that still needs engraving. We engraved 30 patches last weekend and have another engraving session planned for this coming Saturday, after which we will be preparing the photographs and certificates of sponsorship to send out to all who have sponsored this phase of the restoration work. Click the image below and sponsor your patch now. Thank you in advance for your support !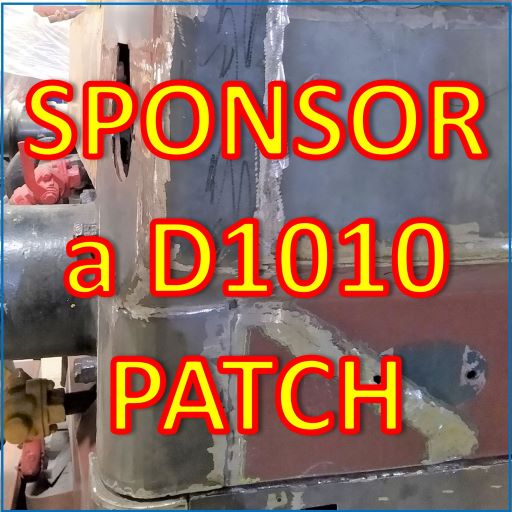 We still have a lot of work to do on this massive locomotive, so PLEASE DO COME ALONG AND HELP IF YOU CAN !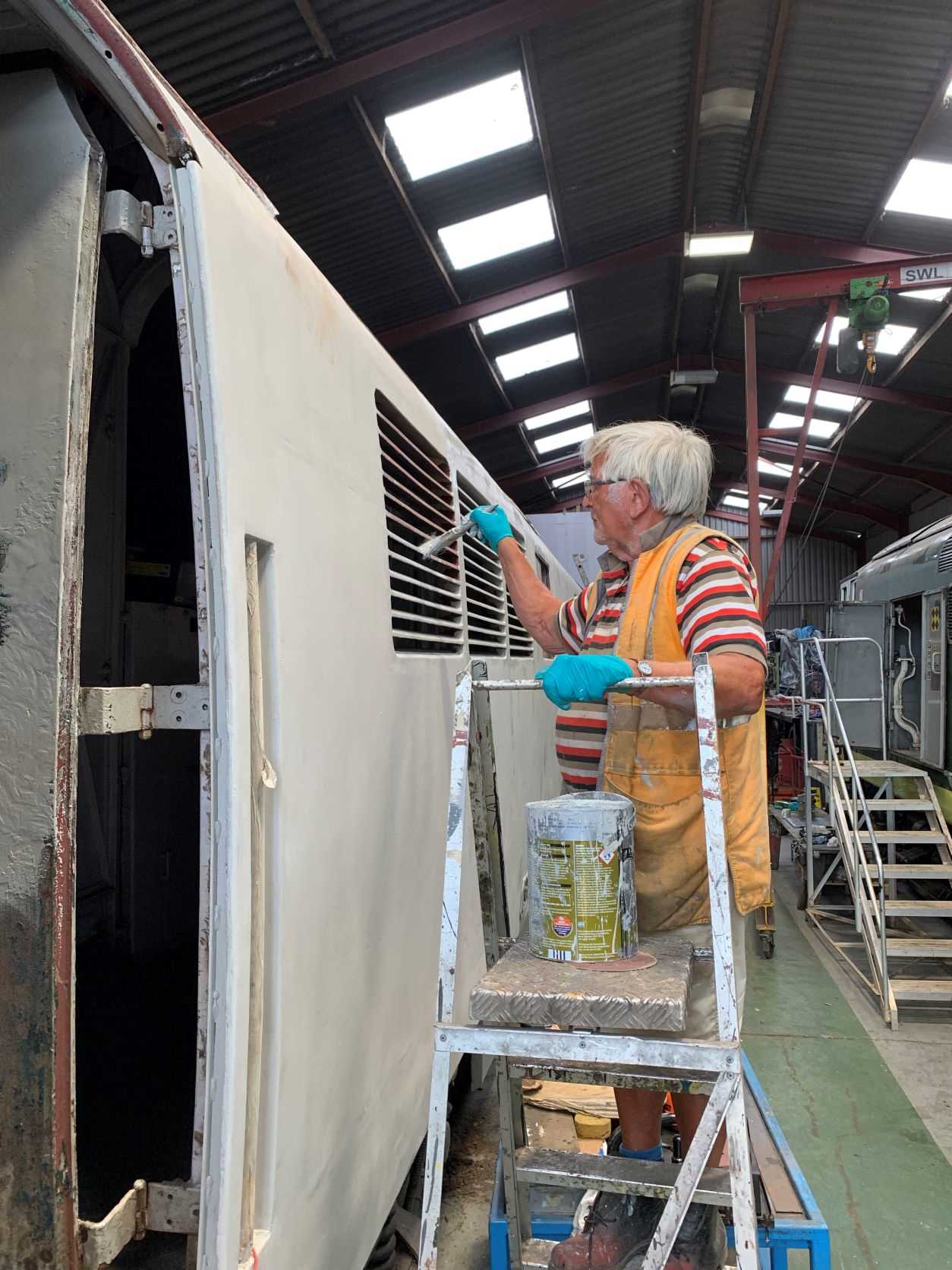 D1010 – long-time DEPG volunteer Roy completes the grey primer coat on the 'A' side of the loco at 'A' end. Pictured at Williton on Saturday 24th September 2022 by Andy Royal © CC BY-NC 3.0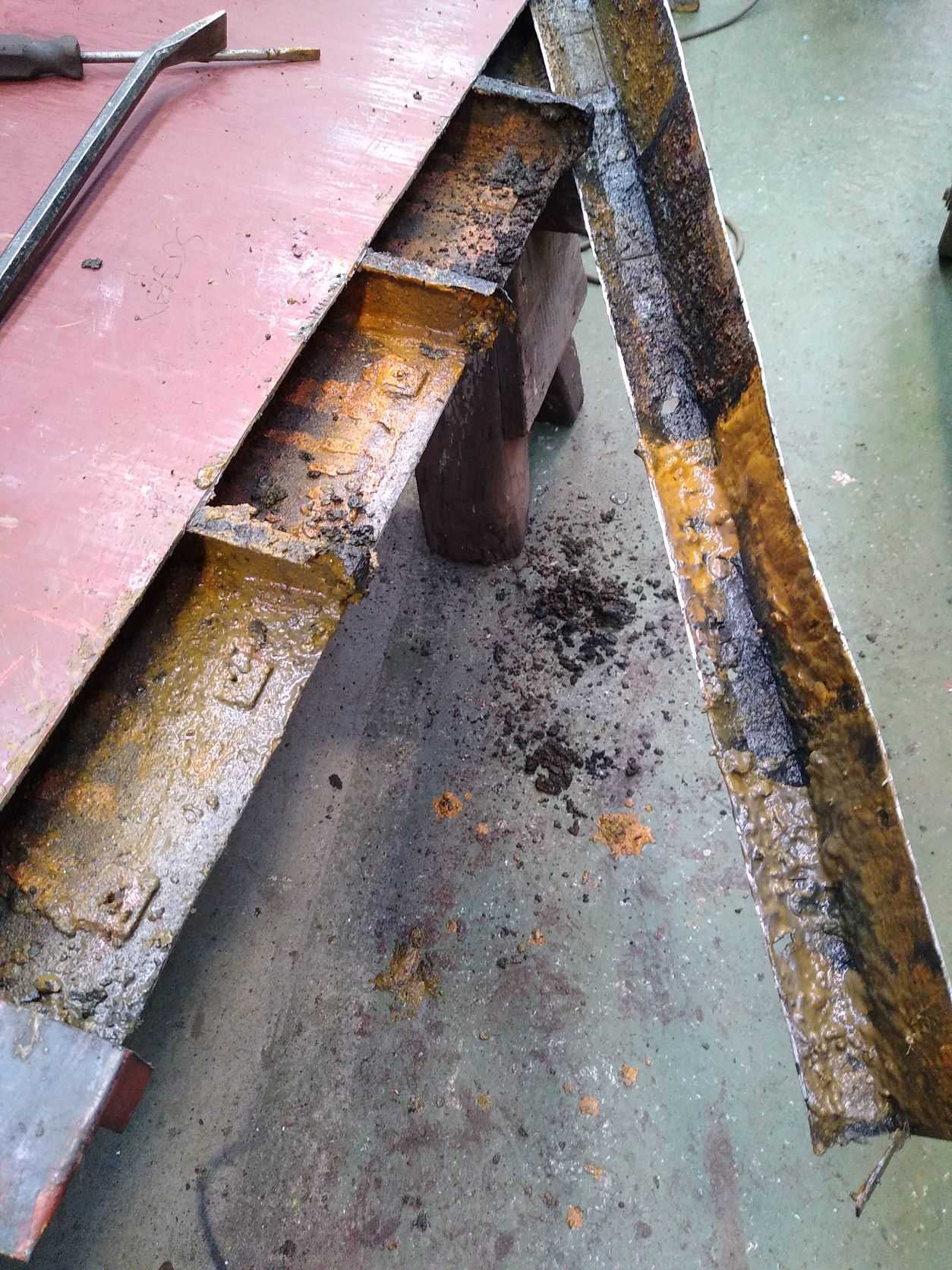 D1010 – the battery box door that was acting as a water tank was cut open for repairs to take place at Williton on Tuesday 20th September 2022. Photo by Colin Foxhall © CC BY-NC 3.0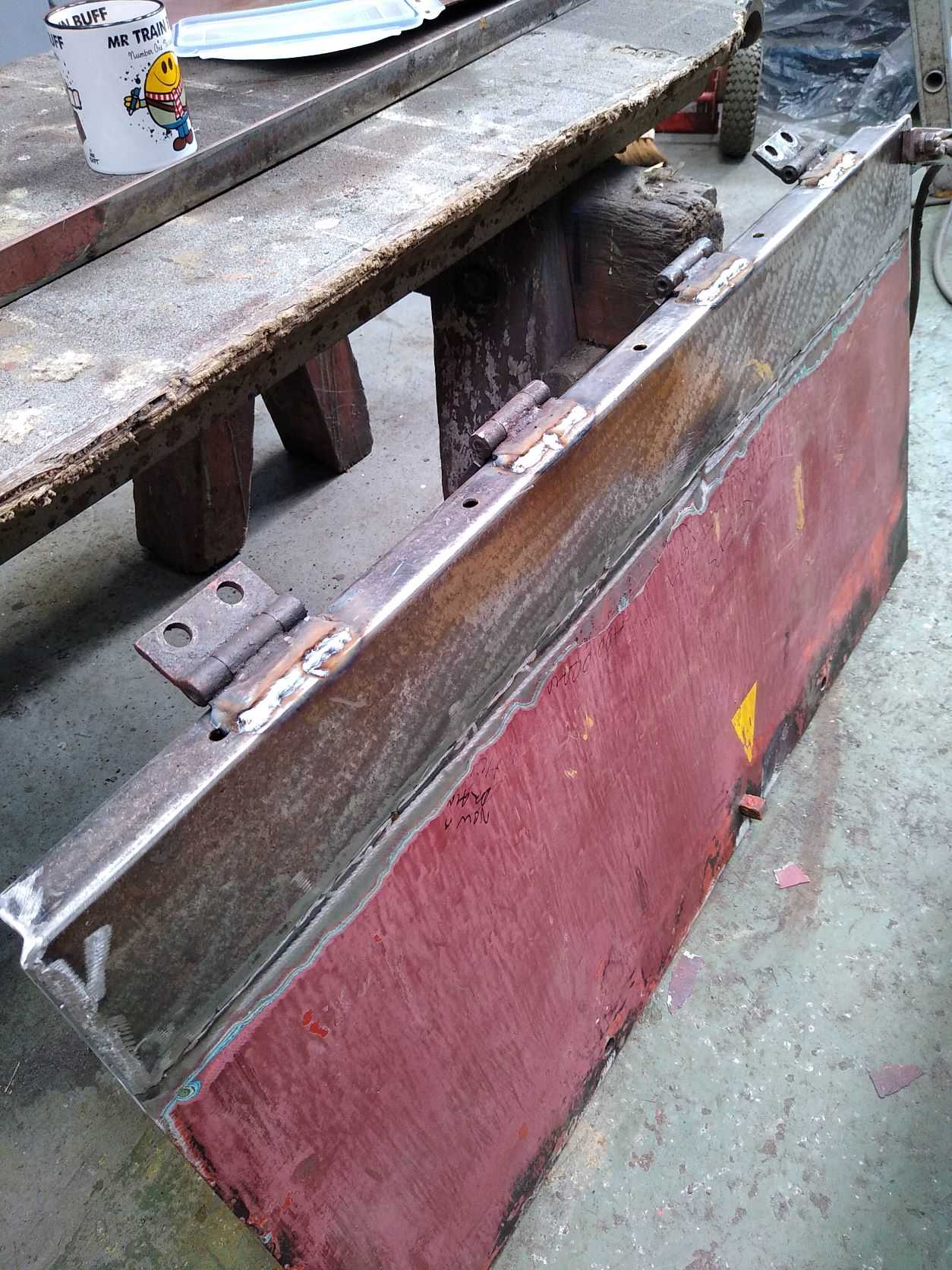 D1010 – the battery box door after repair at Williton on Tuesday 20th September 2022. Photo by Colin Foxhall © CC BY-NC 3.0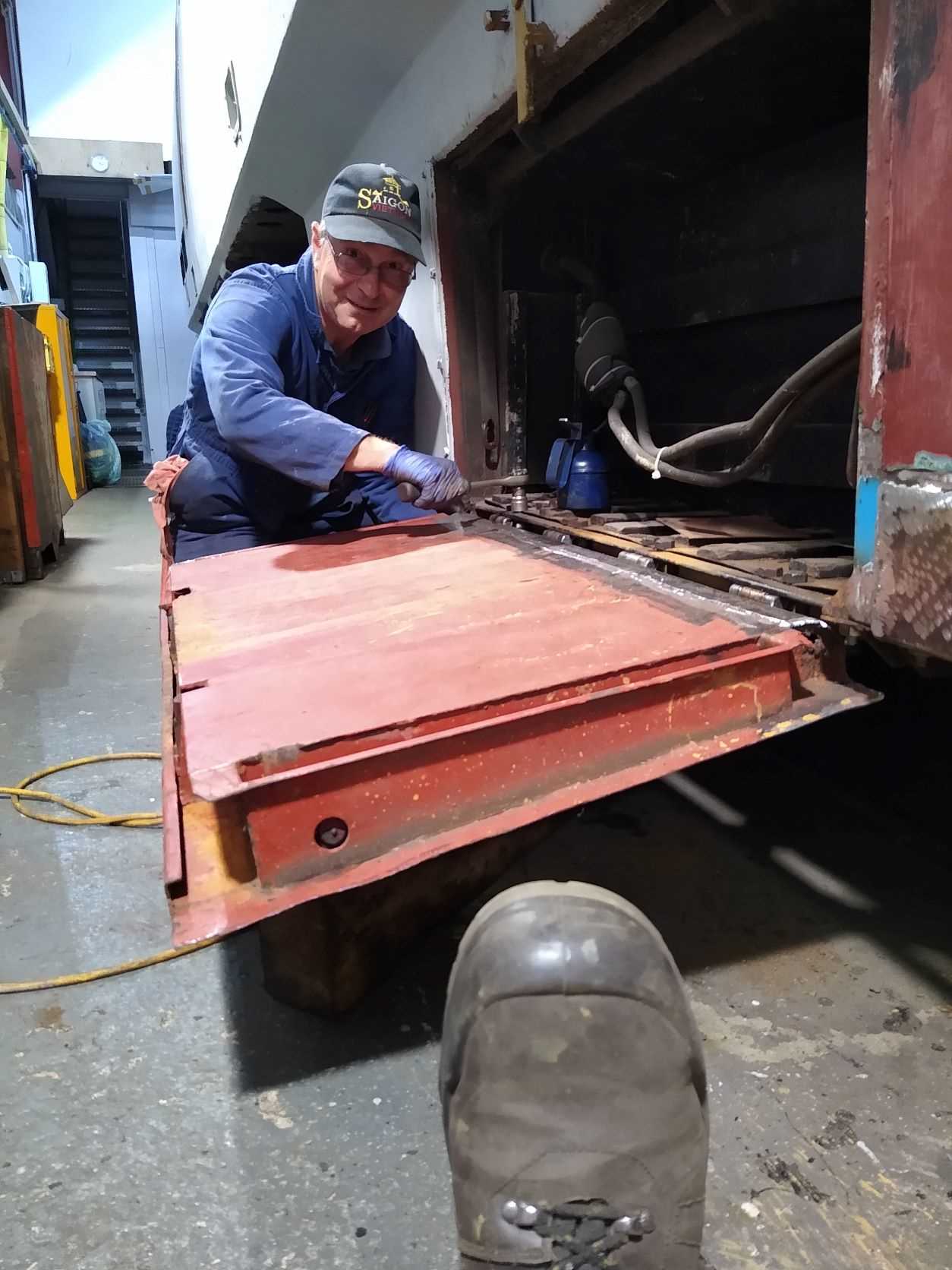 D1010 – volunteer Tim refitted the repaired door on the 'B' side of the loco at Williton on Tuesday 20th September 2022. Photo (and boot) by Colin Foxhall © CC BY-NC 3.0
To support the work that is progressing in multiple areas on D1010, we launched our CAMPAIGN for CAMPAIGNER by offering 'SPONSOR A PATCH' where you can donate in support of the bodywork repairs that are taking place on D1010 'WESTERN CAMPAIGNER' and HAVE YOUR NAME ENGRAVED ON THE SPONSORED PATCH or PART.
For the sum of £25, this scheme offers you a chance to sponsor the restoration of this much-loved locomotive, with your personal contribution being recorded and documented on a set of drawings that will be made available at our Williton depot on running days and open days. For those who prefer to remain anonymous, a unique reference number or code word of your choice will be engraved instead.
See our CAMPAIGN for CAMPAIGNER web page for more details !


Class 33 D6566 (33 048) – this loco continues to get attention to various small tasks while waiting for her heat exchanger to return from contract repair, which is expected some time in mid-October.
Class 33 D6575 (33 057) – this loco is currently stabled at Minehead and being the WSR Duty Loco, is fully serviceable. She will move to Bishops Lydeard when convenient for the Operations Department, prior to taking up her remaining public service duties, as listed on our DIESEL RUNNING DATES page, which shows that she has been the busiest loco of our home fleet this year. Well done D6575 !
Class 35 'Hymek' D7017 – we came very close to an engine start-up at Williton on Saturday 24th September but the pre-start checks revealed that the oil primer feed to one of the two turbochargers was not delivering oil as it should, so the start-up attempt was abandoned. The oil primer lines are being investigated. This careful precautionary work is essential to avoid a turbocharger bearing failure and subsequent damage. We expect to get this issue resolved and get the loco started up during 'work week' – which happens to be this week !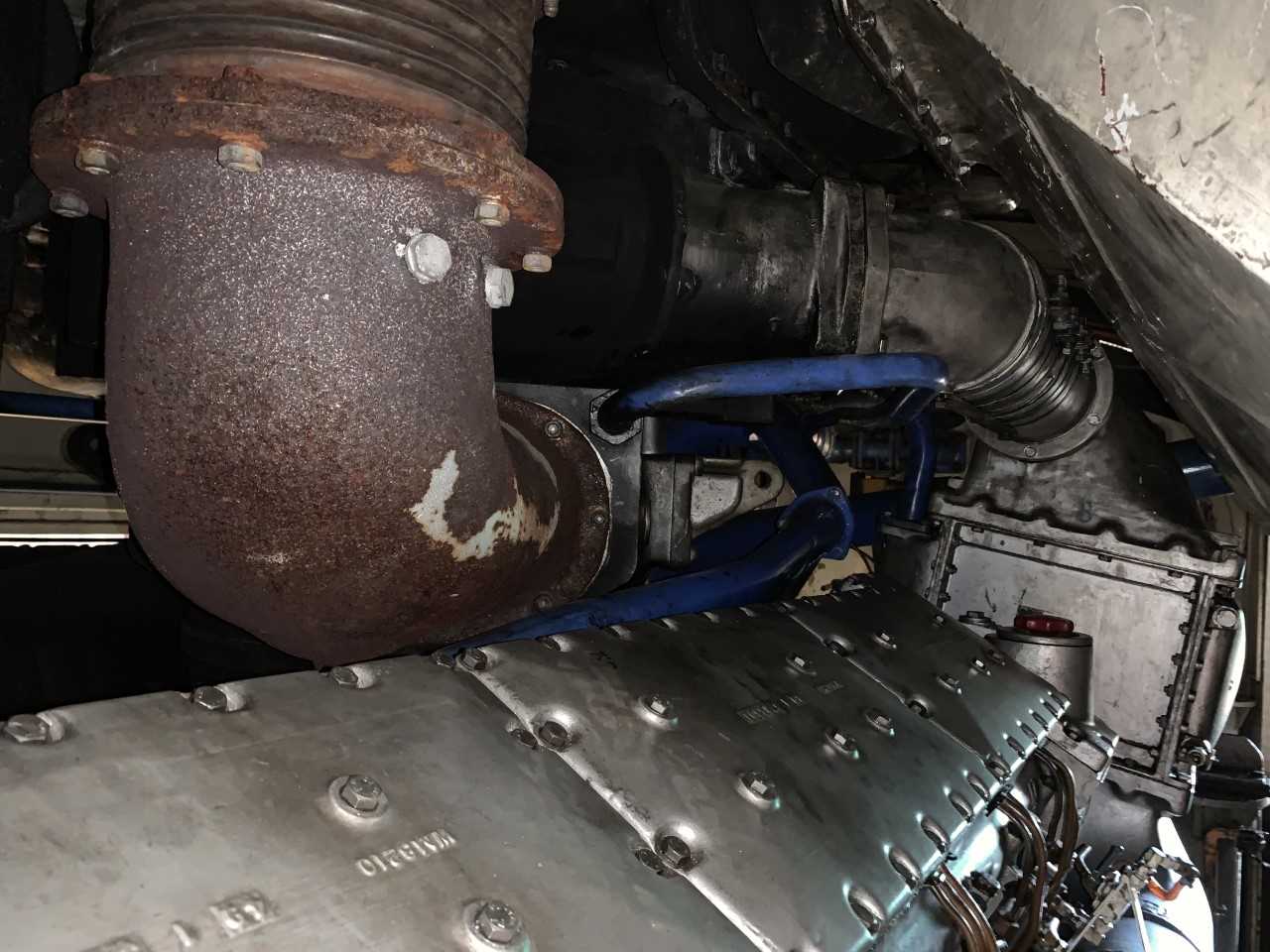 D7017 was prepared for start-up at Williton on Saturday 24th September 2022 but the oil primer for the turbocharger was found to be in need of a clean-out, so the start-up attempt was abandoned. The large rusty component in the photo is the exhaust outlet from the turbocharger. It is devoid of paint and rusts easily because it gets very hot ! Photo by Andy Royal © CC BY-NC 3.0
Class 35 'Hymek' D7018 – this loco was in use on the 10:00 and 14:30 Minehead to Bishops Lydeard return services on Sat/Sun 24th/25th September and has now completed her public service duties for this season. The loco returned to Williton late on Sunday evening and work will now re-start on investigating the reason why the automatic gear change control system is not working as it should.
Class 14 'Teddy Bear' D9518 – the re-installation of the many pipes and cables around the compressor and generator requires that the framework that forms the short nose end is in place, because the frames provide many of the attachment points. So, the Class 14 team have stepped up the work on these frames, as shown in the photographs below: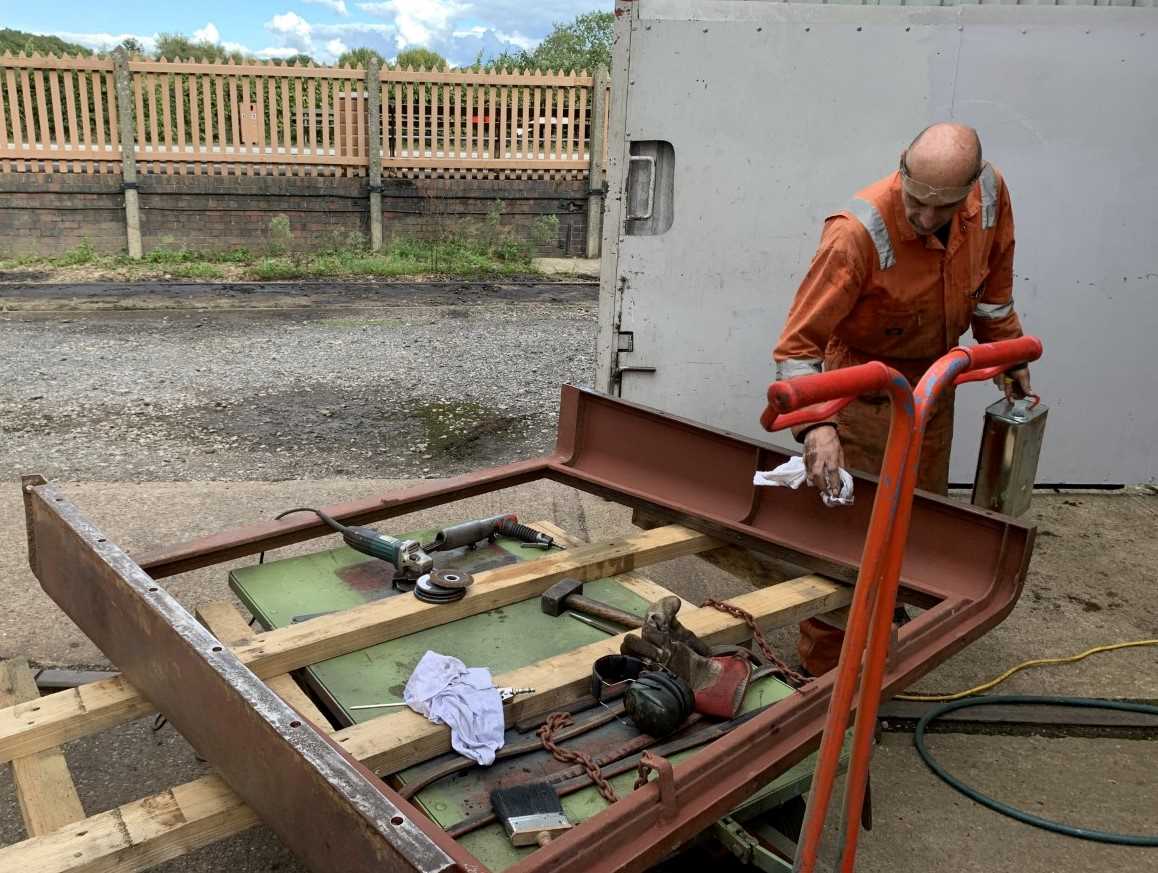 D9518 – the end frame for the short nose end underwent restoration at Williton on Saturday 24th September 2022 in the capable hands of Colin G. Photo by Andy Royal © CC BY-NC 3.0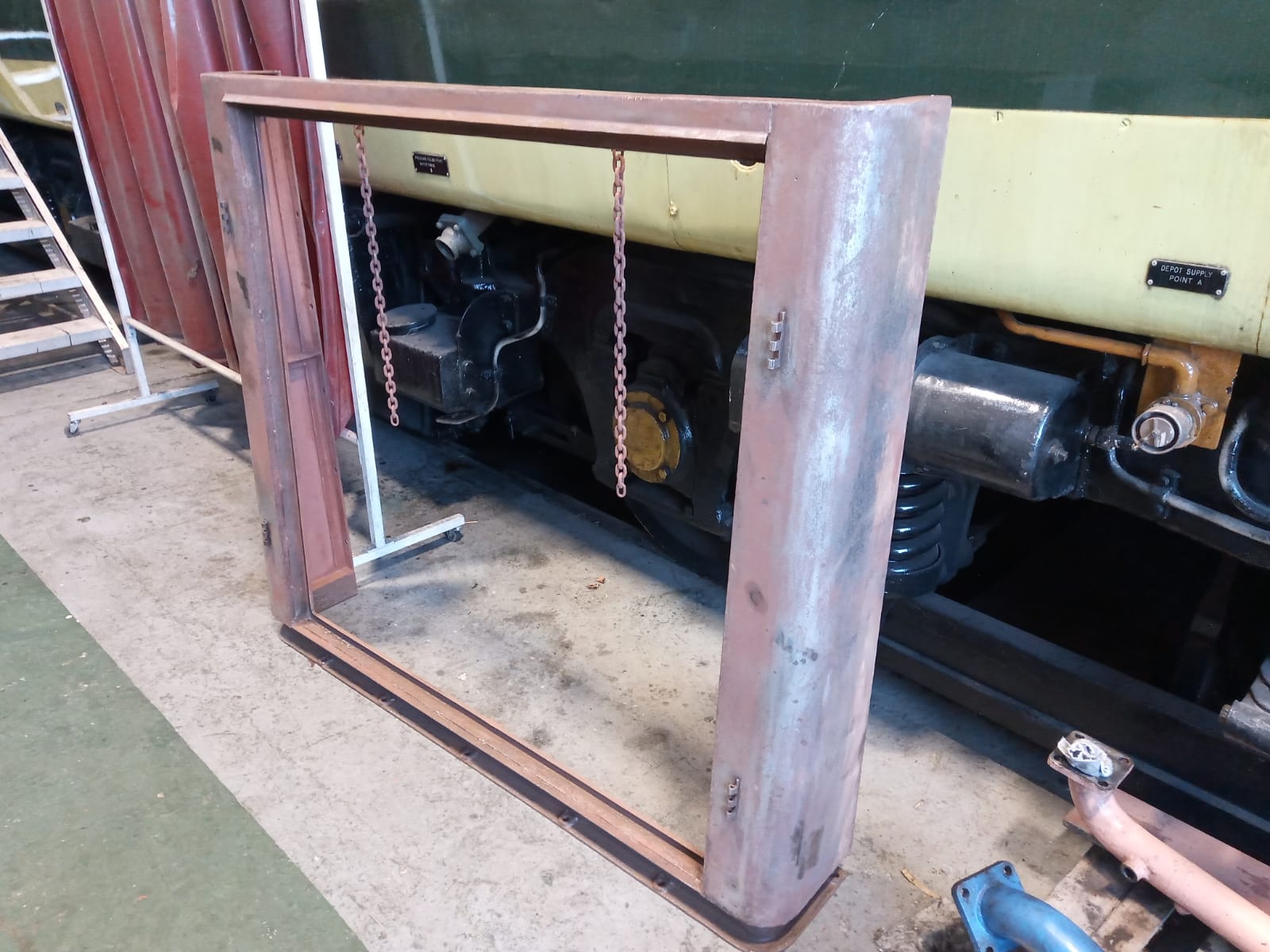 D9518 – the end frame for the short nose end restored and ready for painting at Williton on Saturday 24th September 2022. Photo by Colin Girle © CC BY-NC 3.0
This loco is the subject of a fundraising appeal so please follow this link to find out more. We need your help ! In addition to funds, we also need plenty of HANDS. If you love the 'Teddy Bears' and you are not already a member of the DEPG, please join us so that you can become one of the team that is going to return D9518 to fully operational condition as 'NCB No. 7'.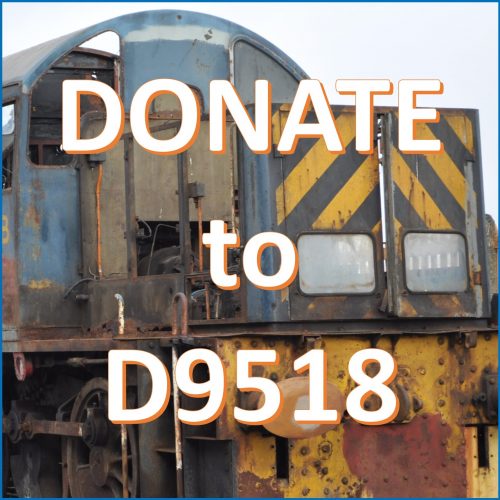 Class 14 'Teddy Bear' D9526 – this loco continues to be in regular use on the Kent & East Sussex Railway working alongside the steam locos and the Diesel Multiple Unit (DMU), sharing the work of hauling the public services. Work on locally-based sister D9504 has progressed well, so we expect to see D9526 returning to Williton early in the New Year.
Class 47 47077 'NORTH STAR' – this loco continues to be in regular use at the NYMR, although usage will reduce as autumn sets in. Last week, in the 'ON SHED' feature we included a photo of 'NORTH STAR' when she was still in mainline service, running as 47840. This photograph showed that the loco carried a 'BRISTOL BLUEBIRDS' headboard which prompted a question, and former DEPG Chairman Bob Tiller was quick to respond as follows:
   "The Bristol Bluebirds headboard is used by GBRf train crew in Gloucester / Bristol. 
   At that time, 47840 'NORTH STAR' was being used as a spare loco by First Great Western (FGW) and I was the FGW Fleet Engineer. The 47 was used to move empty stock and perform sleeper moves when a Class 57 was not available. We had other 47s, 830 and 832, but handed them back as more 57s came into service. 
   47840 would have had to go to conversion or sale or scrap, so as I was liaising with GBRf in my FGW role and also with Porterbrook, I decided along with assistance from Porterbrook management that 47840 should be saved as a 'celebrity' 47, a lot of us having a close affinity with this loco.
   When the hire of 47840 ended with FGW, it went for 6 months to GBRf in effect with me, as I had left FGW and moved to GBRf as Fleet Engineer then as Engineering Director. The 47 was used both for stock moves and rail services.
   Due to my friendship and the spirit of cooperation with both Brush Traction and Porterbrook, we were able to get some work done at Brush as they too realised that the preservation of 47840 was worthwhile and was their product. We therefore took 47840 off hire at GBRf and Train Manager Stu Priday and myself collected her from Old Oak Common going via Swindon, Golden Valley and Sheet Stores (Long Eaton, Derbyshire), light loco to Loughborough.
   At Brush, they very kindly undertook a complete repaint in two tone green, rewired and refitted exhausters for dual braking along with all relevant pipework, fitted headcode blind boxes and wired all lighting. Brush also undertook some engine repairs and bogie work before we moved 47840 from Loughborough to Derby to haul its special train to Minehead and into preservation."
Many thanks to Bob for providing us with this information !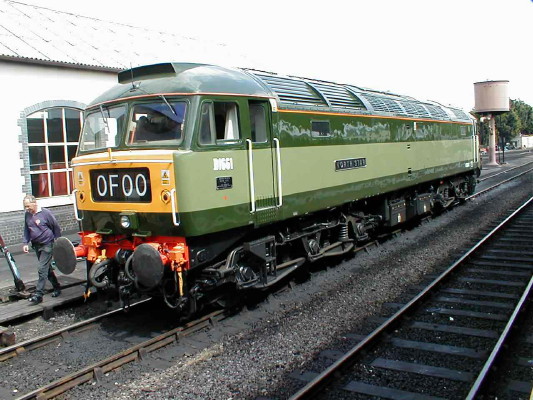 D1661 (47077 47613 47840) 'NORTH STAR' resplendent in two-tone green and entering into semi-retirement on the West Somerset Railway after arrival at the head of a railtour from Derby. Pictured at Minehead on 28th May 2007 by Ian Robins © CC BY-NC 3.0
Andrew Barclay 0-4-0DH 578 – after receiving diagonal stripes on her leading buffer beam, this little loco now awaits similar attention to he trailing buffer beam and also the restoration of cabside lettering. We hope to make further progress on this work during October.
If you can help by donating your time, then please JOIN US and come along to the depot for an introduction to what we do and how we do it. We currently have people on site from Saturday through to Tuesday and we can open on other days if we can be sure of getting at least two volunteers on site at all times, so there is plenty of scope. We have tasks of all types to suit most capabilities, both skilled and unskilled.
Many thanks to all of our volunteers who give up so much of their time to work on the cleaning, painting, maintaining, restoring, managing and fund raising for our fleet of heritage locomotives !
BOOK REVIEW – our website now carries the book review of the first volume of 'THE BEATEN TRACK' provided by DEPG member and regular correspondent, Neale Long. Here's an extract below to give a quick flavour to the review. Click here for the full article.
   "This 176-page hardback book published by Platform 5 illustrates Britain's somewhat tired and rundown network in 1970 up to the period where reform and reorganisation began in 1985. Many railway locations and practices were disappearing as indeed were various types of traction. With those parameters in mind, the volume concentrates on the many and various branches, some well-known, others less so. Throw in some of the disappearing traction types of the era, and a truly comprehensive picture is illustrated in this wonderful evocation of the period.
   The author, Andy Chard, by skilfully using the talents of four very well-known photographers, Ian Mortimer, Gordon Edgar, Geoff Plumb and Steve Marshall, has produced one of the finest photographic albums of recent times. What makes this more commendable is that …." CLICK HERE to read the full review.
Many thanks to Neale for providing us with his book review !
We have stock of the newly-released second volume which we understand lives up to the same standard as the first volume. Both books are in stock at our 'Tiverton warehouse' and are ready to mail out, so please click on the images to go to the links on our ONLINE STORE.
We have added several other NEW BOOKS to our online store recently including GREEN DIESEL DAYS, so please visit our online store and browse then buy to support the work that is taking place on our locomotives. Thanks !
ON SHED – this week, we visit Taunton Stabling Point where Beyer Peacock 'Hymek' D7018 was found to be resting on a dull day in March 1970. Contributing photographer Barry Gay provides us with his recollections of his day out:
"Tuesday, March 10th 1970, Taunton stabling point. There usually was a Class 35 here to work the Bason Bridge milk trains as well as a few local trips. I had just arrived from Exeter behind D1020 'WESTERN HERO' (what a great name!!) on the 1E21 09:50 Penzance-Bradford service. The 'Hymek' was only a few weeks out of Swindon Works after a general overhaul."
Many thanks to Barry for sharing another gem from his vast collection !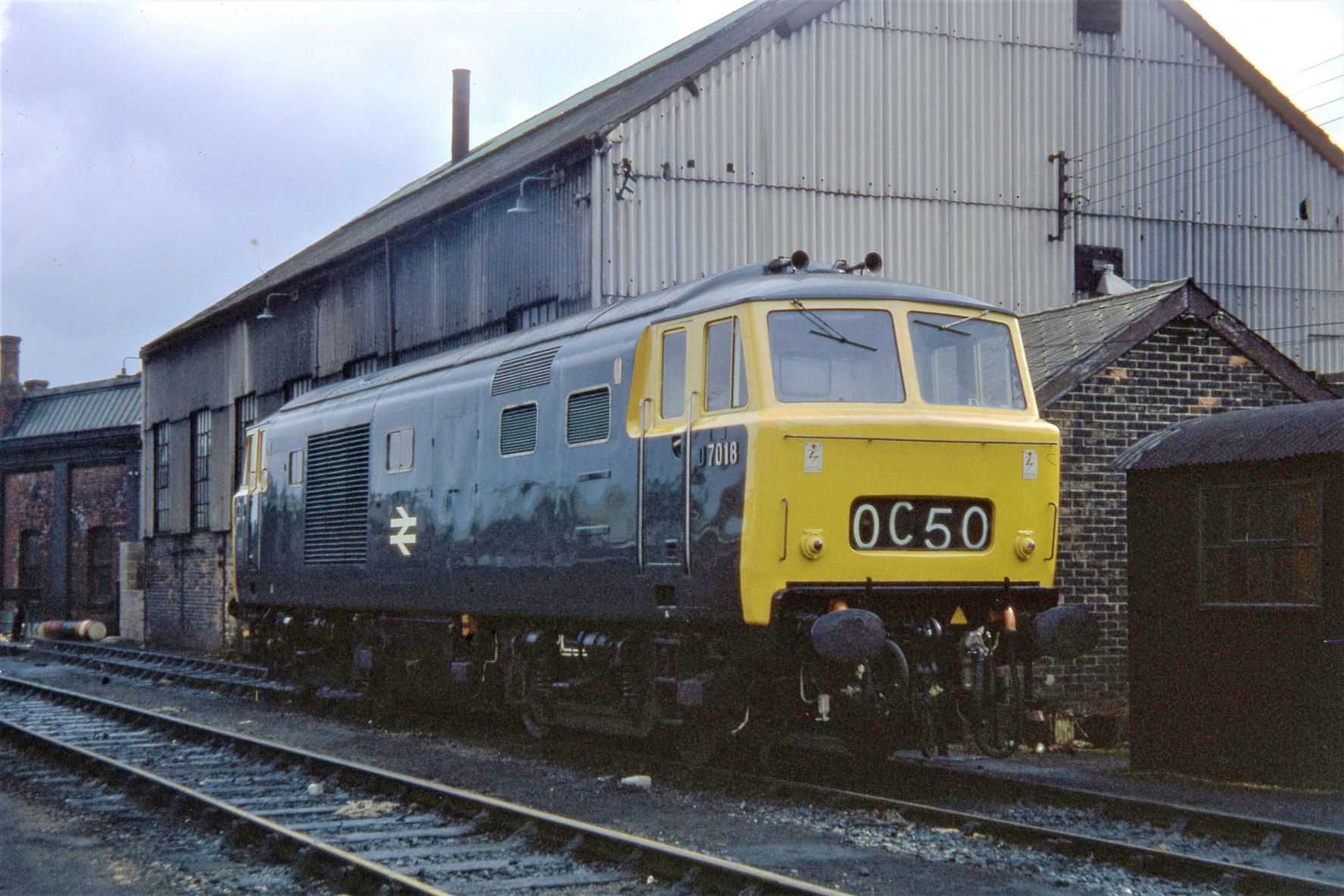 Class 35 'Hymek' 7018 (the letter 'D' has been painted over) was pictured at Taunton Stabling Point on 10th March 1970 in ex-works condition, two weeks after being outshopped from Swindon Works after her final general overhaul of her BR service era. Photo by Barry Gay © CC BY-NC 3.0
DEPG NEWS – This week is our annual 'work week' where we invite our volunteers to spare as much time as they can to come along to Williton and lend a hand on the major projects of the moment. We have plenty of progress to report, so the next edition of roundup will be jam packed with photos of the work that has been taking place.
The next DEPG Board Meeting will take place on Saturday 1st October, so if you have a question that you would like to put to the meeting, please let me know or use the CONTACT FORM on our website.
Williton Depot will be hosting another visit from WILLITON BEAVER SCOUT TROOP on the late afternoon of Monday 3rd October, so let's hope for some nice dry weather so that we can teach the youngsters something about outdoor railway safety, as well as showing them what goes on inside our loco depot.
Our new online membership system is working well and feedback has been very positive, even though some anomalies have had to be corrected here and there. Membership is INCREASING STEADILY ! If you haven't done so already, please take a look at your membership record and make sure that it is correct. You will also be able to select 'paper', 'paperless' or 'paperless except newsletter' communication, according to your preference. In the event of any discrepancies, please email Membership Secretary Chris Shields using members@depg.org or use the CONTACT FORM on our website.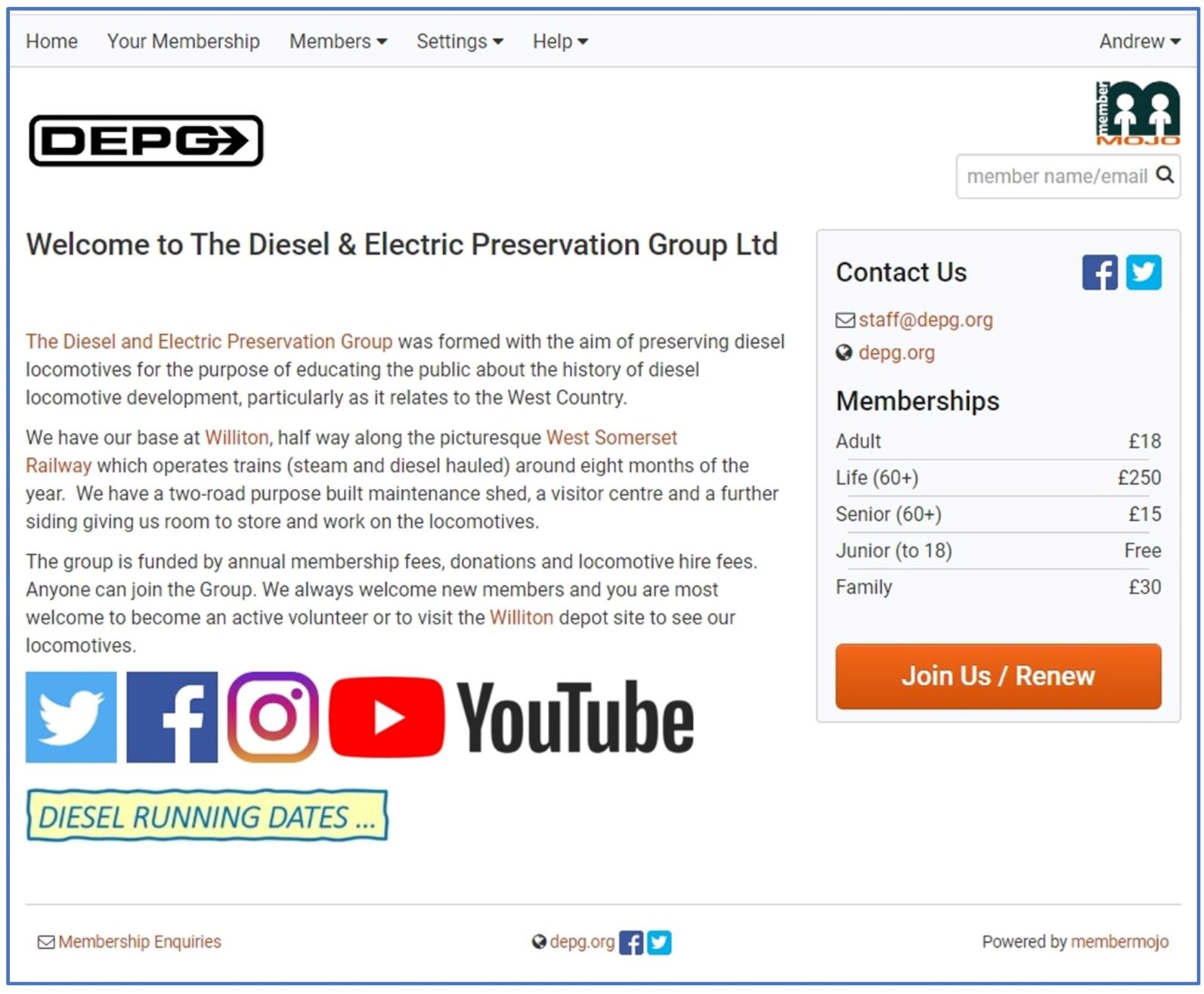 WSR NEWS: this coming weekend sees the introduction of the RED timetable which provides three trains per day in each direction and remains in force throughout October. The Saturday and Sunday turns on the weekends of 8/9th and 15/16th will be DEPG diesel hauled, but it is possible that a diesel may be rostered on other days at short notice. Keep an eye on our DIESEL RUNNING DATES page for the latest information. The 'Hymek' hauled services last weekend were well patronised, which was great to see, and we are very grateful to everyone who supported us, but please do come along and continue to support the remainder of the diesel running program to make sure that we get invited to run our heritage diesels next year as well !
Go to previous Weekly Roundup post