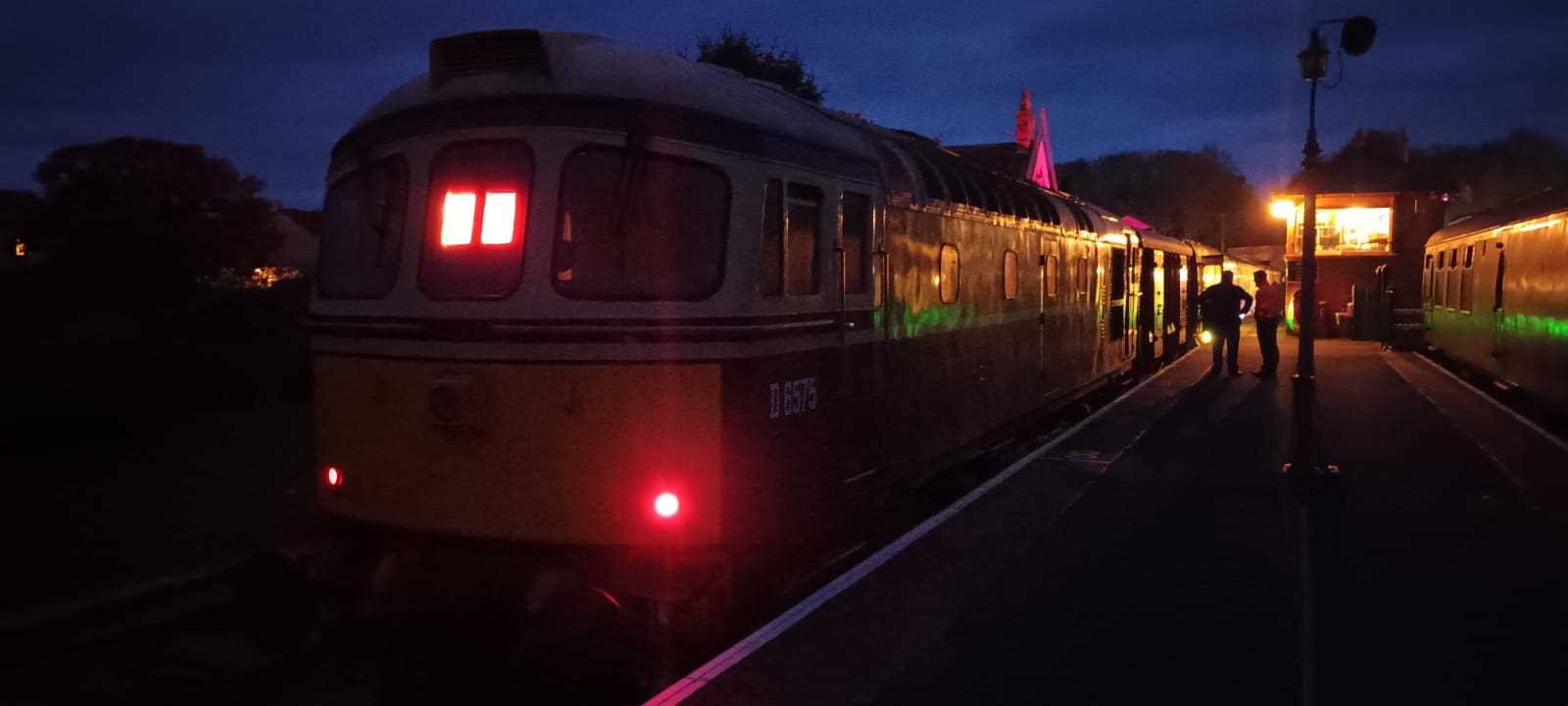 Class 33 'Crompton' D6575 (33 057) shows red tail lights at the trailing end of the 'WINTERLIGHTS' test train, on the first night of testing, Thursday 10th November 2022. Pictured at Bishops Lydeard by Tom Courtney © CC BY-NC 3.0
The WSR took a step closer to the start of the 'WINTERLIGHTS' season by running a test train from Bishops Lydeard to Crowcombe Heathfield and back on the evening of Thursday 10th November 2022, followed by another test on Friday 11th, paving the way for the 'official' services that start this Friday 18th November.
A steam loco is provided at the leading end and the six Mark 1 coaches are fully adorned with high-tech light strings that change colour and intensity as the train travels along the line, passing the various exhibits that complement the train itself, putting on quite a show. Power is provided by a generator set that is mounted inside the restored Southern Region 'Parcels & Miscellaneous Van' (PMV) which is coupled between Class 33 and the train, as last year.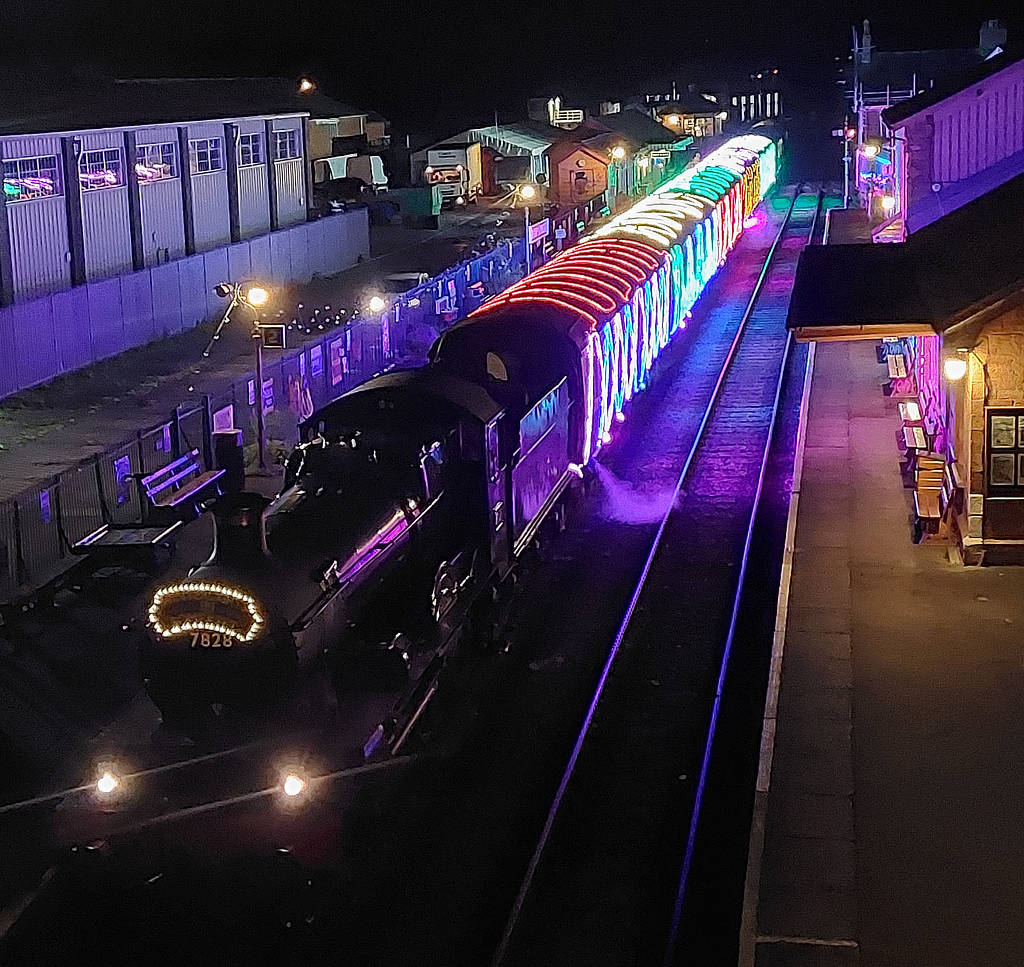 The 'WINTERLIGHTS' test train operated on Thursday 10th and Friday 11th November 2022 to make sure that everything worked properly and to provide crew training opportunities in advance of the commencement of the 'official' services. BR(W) 7828 'ODNEY MANOR' was pictured at Bishops Lydeard on the 10th by Dave Fowler © CC BY-NC 3.0
The 'WINTERLIGHTS' trains depart from Bishops Lydeard, mostly at 17:00 and 19:00 on Fridays and Saturdays starting Friday 18th November, and become daily in the run-up to Christmas. Click here for more information on these special services.
In addition, the WSR will be running 'SANTA EXPRESS' services between Bishops Lydeard and Williton (steam hauled but with the 'Crompton' on standby in case banking assistance is required) and 'DUNSTER BY CANDLELIGHT' services on Friday 2nd and Saturday 3rd December as a very appropriate means of getting to this well-known event.
Please do try to support these events if you can, and also let your family and friends know that they are taking place, to spread the word further. Thank you !
Now for an update on a project that we featured in early summer, the AC Railbus W79978 that is owned by DEPG member Martin Rouse and based at Hayes Knoll on the Swindon & Cricklade Railway. We have received two updates from Martin, covering September and October, and both will be posted to our AC Railbus W79978 website page ASAP.
Here's an extract from the October update to give a flavour to the progress being made:
   "The pneumatically-operated folding steps and handrails have been un-seized. These were fitted to allow passengers to board and alight at low height "platforms" constructed from wooden sleepers. They are controlled from the driver's desk and can only be operated when the brakes are applied.
   The step treads require replacing on this side, the handrails and steps are missing from the other side of the railbus and so replacement items will need to be fabricated."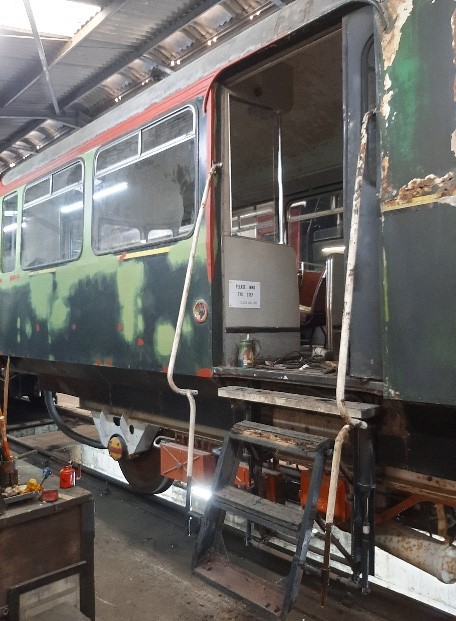 The pneumatically-operated folding steps of AC Railbus W79978 are undergoing restoration at Hayes Knoll on the Swindon & Cricklade Railway. Photo dated October 2022 by Martin Rouse © CC BY-NC 3.0
AC Railbus W79978 update September 2022
AC Railbus W79978 update October 2022
Many thanks to Martin for keeping us updated on the progress of this very interesting project. Also mentioned in Martin's September update is a new book that is due to be released by well-known author and DEPG member BERNARD MILLS entitled 'Backtracking from Plymouth to Padstow' so we look forward to hearing more about this new title soon.
LOCO NEWS:
Class 52 D1010 'WESTERN CAMPAIGNER' – more steps were taken toward re-assembling the locomotive, with Gordon continuing his work on the headcode boxes and indicator blinds, while Chris and Ian Fn tackled the battery compartment doors and Richard worked on reinstating the electrical wiring that runs under the cab floor at 'B' end. In parallel, work on inspection and measurement of the many individual parts that make up the hydraulic transmission continued, to allow conclusions to be reached for the repair or replacement of the parts that were damaged when bearing 3-152 failed back in 2018.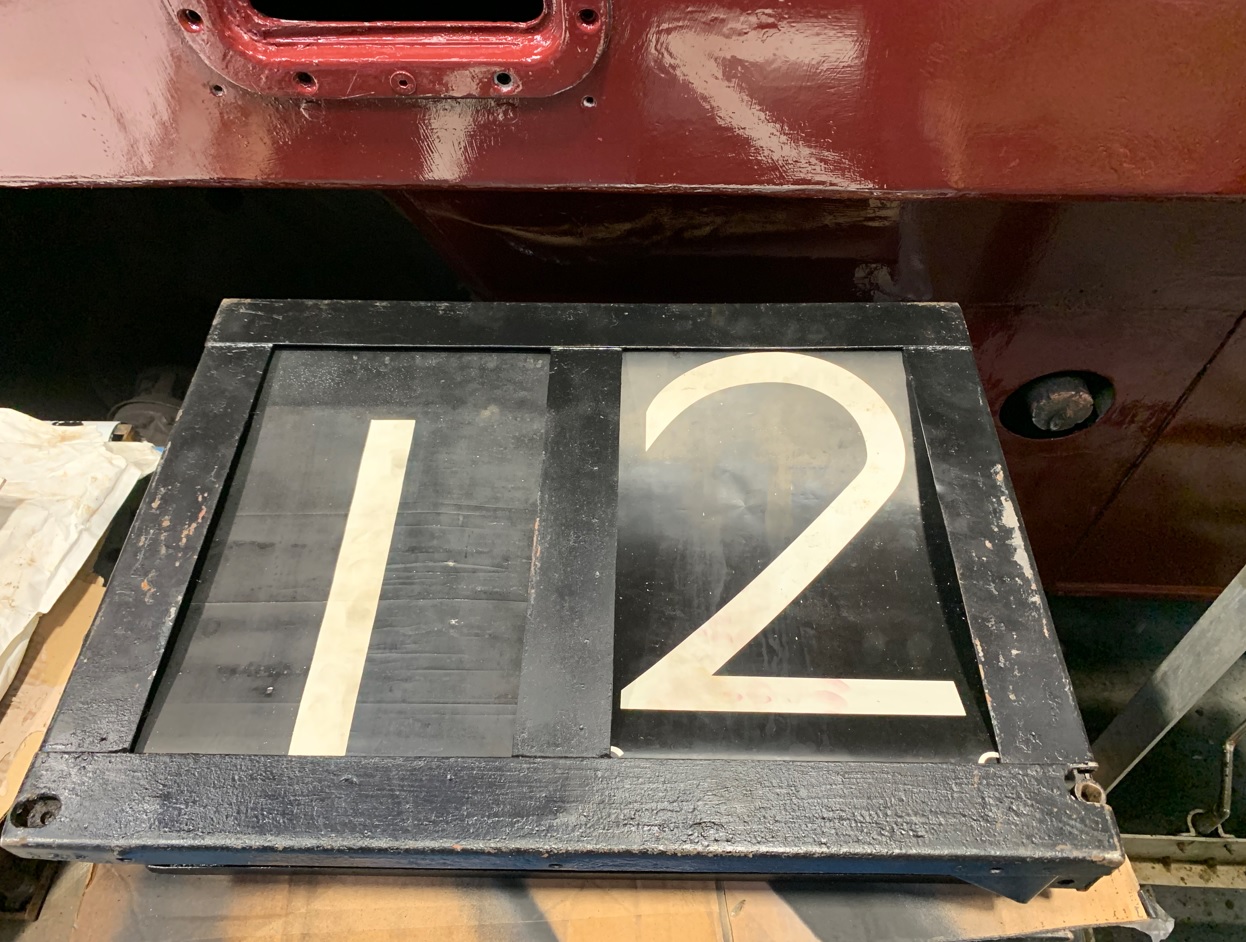 D1010 – the four sets of headcode indicator blind mechanisms are being overhauled by Gordon and one set is almost ready for re-fitting to the 'A' end of the locomotive. Pictured at Williton on Saturday 12th November 2022 by Andy Royal © CC BY-NC 3.0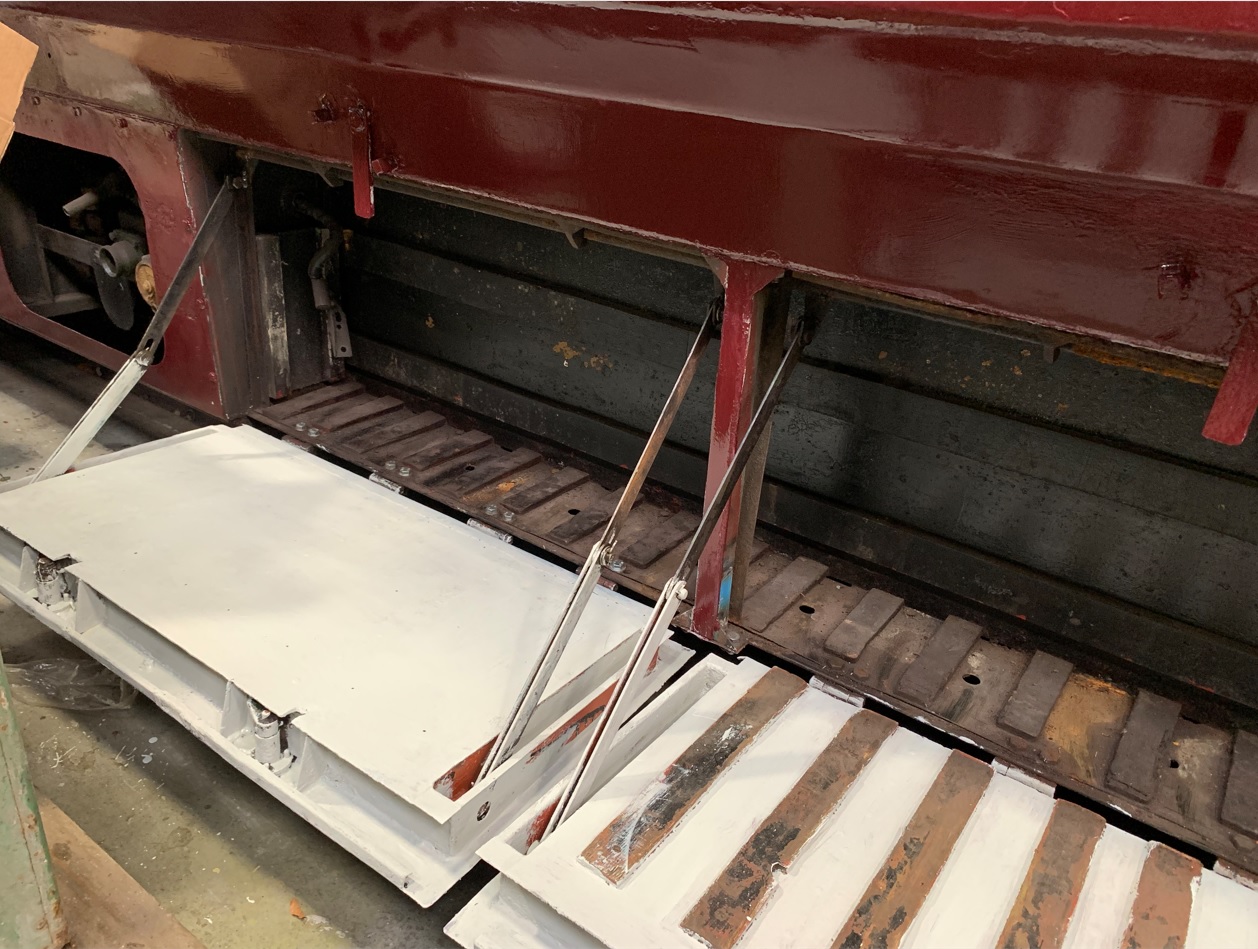 D1010 – two of the eight battery compartment doors were cleaned up and given a grey primer coat by Chris at Williton on Saturday 12th November 2022. On the other side of the locomotive, Ian Fn was hard at work on the external cosmetic appearance of the two other battery compartment doors. Photo by Andy Royal © CC BY-NC 3.0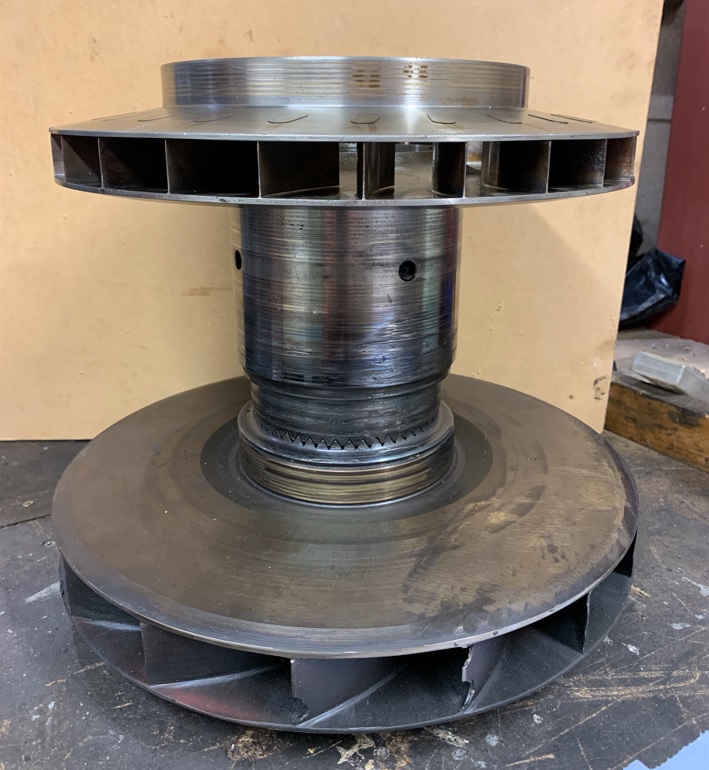 D1010 – the second stage (bottom) and third stage (top) impellers from the 'B' transmission underwent inspection and measurement at Williton on Saturday 12th November 2022 to allow the repair options to be determined. These parts are driven from the 'B' engine and impart the energy to the hydraulic fluid when the relevant stage is selected and filled. The blue area of the stage 3 shaft has been damaged by the seized bearing and several blades of the stage 2 impeller have notches caused by internal collisions that resulted from the failure. Photo by Andy Royal © CC BY-NC 3.0
To continue our rate of progress requires FUNDING which is becoming harder to get as belts are being tightened everywhere. If you are able to do so, please consider SPONSORING A PATCH because there is plenty of recently-added metal that still needs engraving. We engraved another 50 patches recently and we have another 100+ still to do, so the scheme has been very successful (well done Colin F for suggesting it). Photographs and certificates of sponsorship will be sent out to all who have sponsored this phase of the restoration work, but please bear with us because our admin resources are severely stretched at the moment. Click the image below to sponsor a patch. Thank you in advance for your support !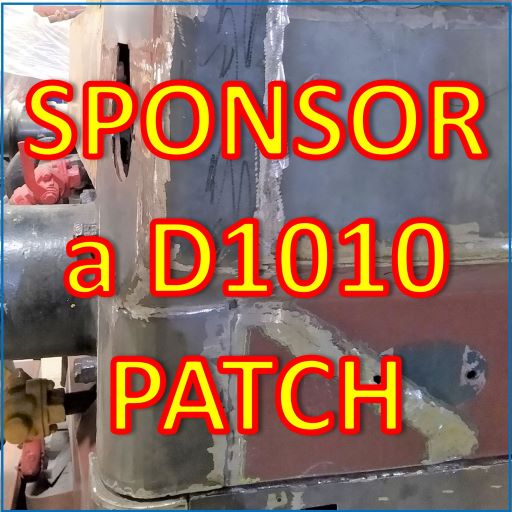 We still have a lot of work to do on this massive locomotive, so PLEASE DO COME ALONG AND HELP IF YOU CAN !
See our CAMPAIGN for CAMPAIGNER web page for more details !


Class 33 D6566 (33 048) – the repaired heat exchanger has been delivered by specialist subcontractor APPLIED RADIATORS in Stoke-On-Trent who provided an amazing service and turned this project around in one week ! The core of of the heat exchanger has been completely rebuilt and should now give many years of reliable service before it next needs attention.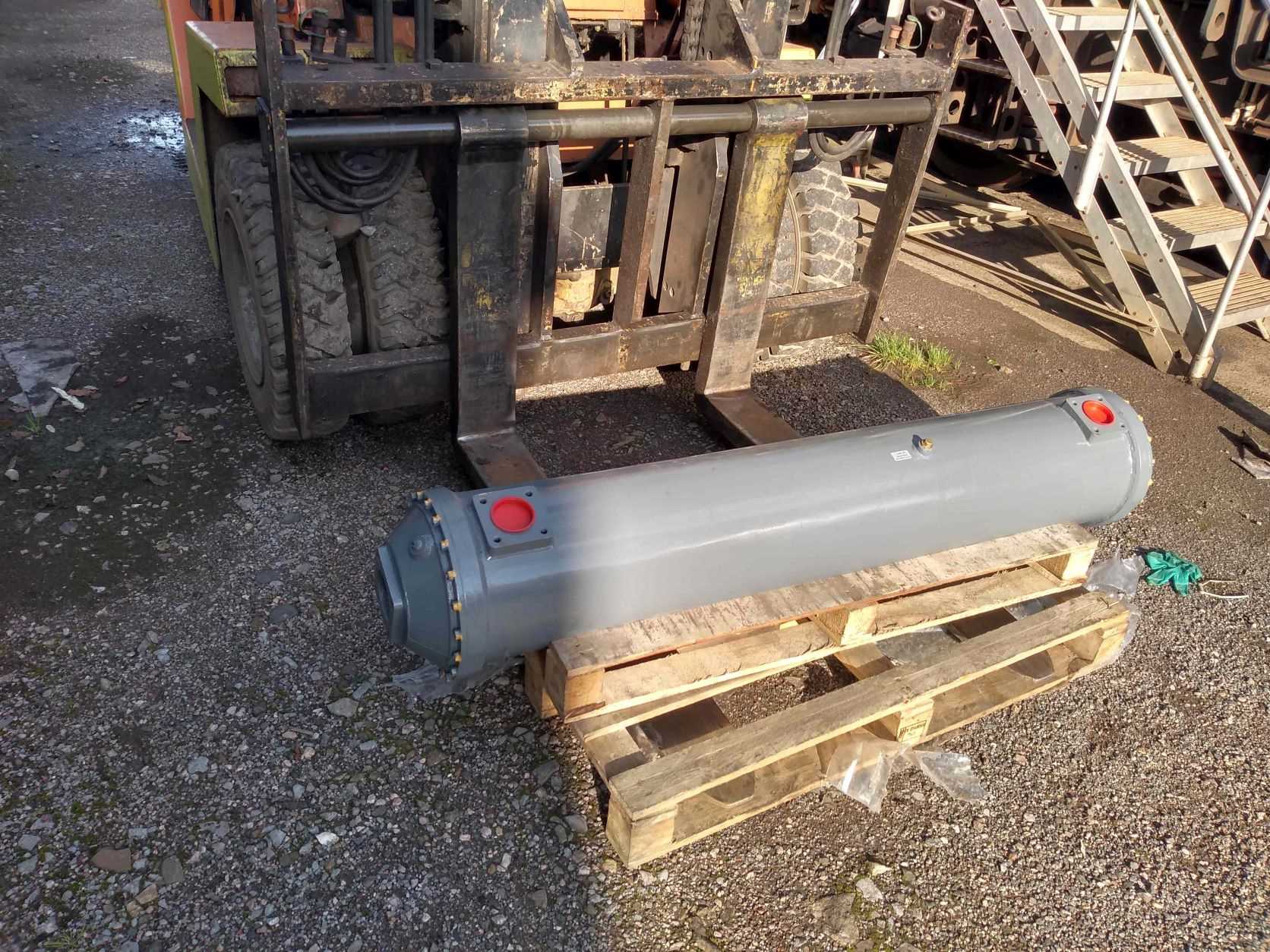 D6566 – the rebuilt heat exchanger as returned by APPLIED RADIATORS of Stoke-on-Trent is pictured on the pallet at Williton on Saturday 12th November 2022. Photo by Ian Robins © CC BY-NC 3.0
The rebuilt part was re-installed in the loco by Ian R, Ian Fs, Chris and Martin on Saturday 12th November and the water and anti-freeze mixture pumped back in the following day by Ian R and Tom so that the engine could be started up, but low water pressure prevented the engine from starting so the system was drained down again and the water pump disassembled to check it for proper operation. The reduced resistance of the rebuilt heat exchanger had resulted in a higher water flow rate, but the pump could not create sufficient pressure to override the engine safety devices. No doubt that this issue will be resolved quickly and the loco will soon be able to take up her duties as standby loco.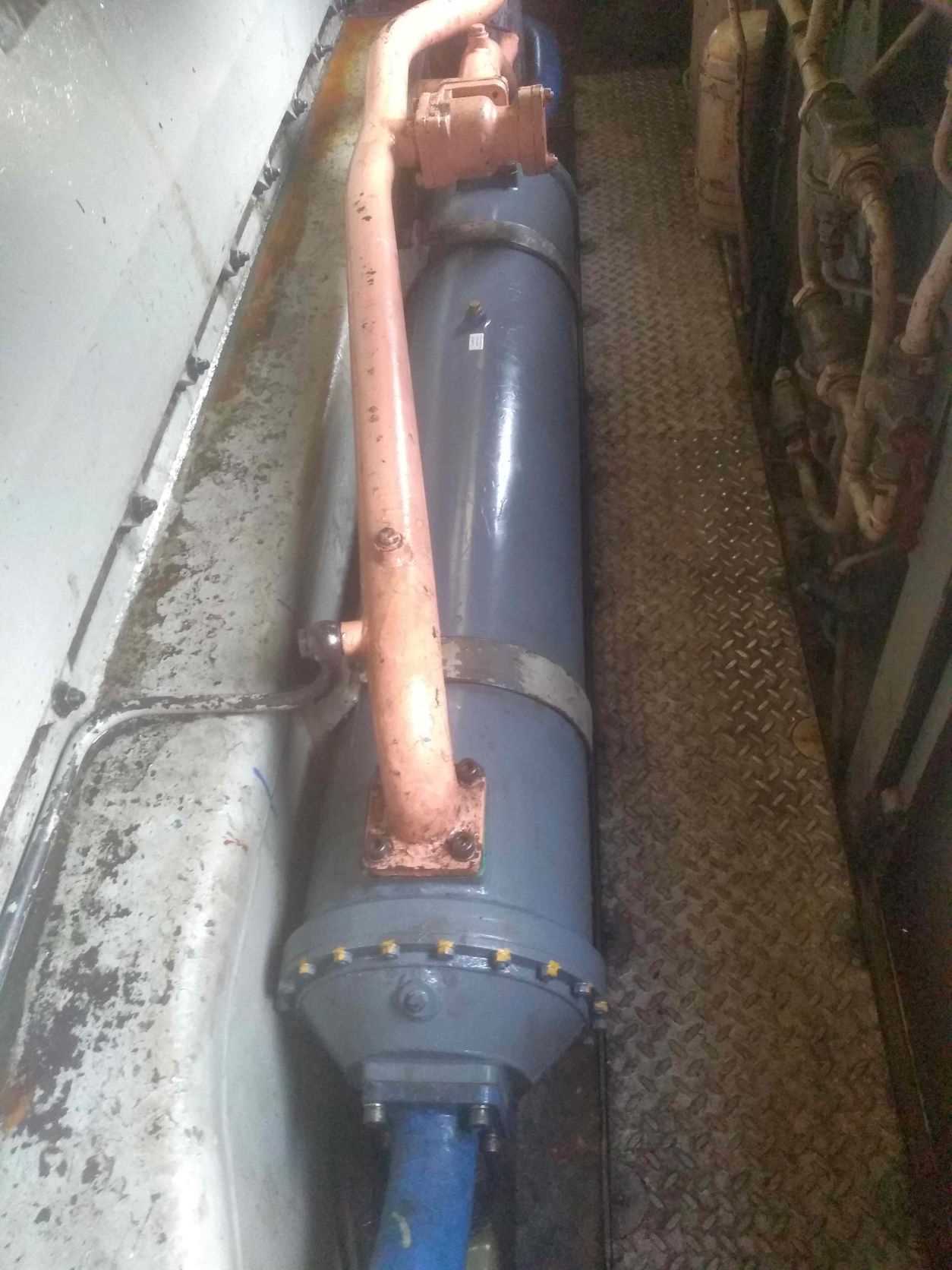 D6566 – the rebuilt heat exchanger was re-installed in the loco at Williton on Saturday 12th November 2022. The blue pipes feed the water through the core and the engine oil is fed via the pink pipes and circulates around the core, transferring heat from hottest to coolest. Photo by Ian Robins © CC BY-NC 3.0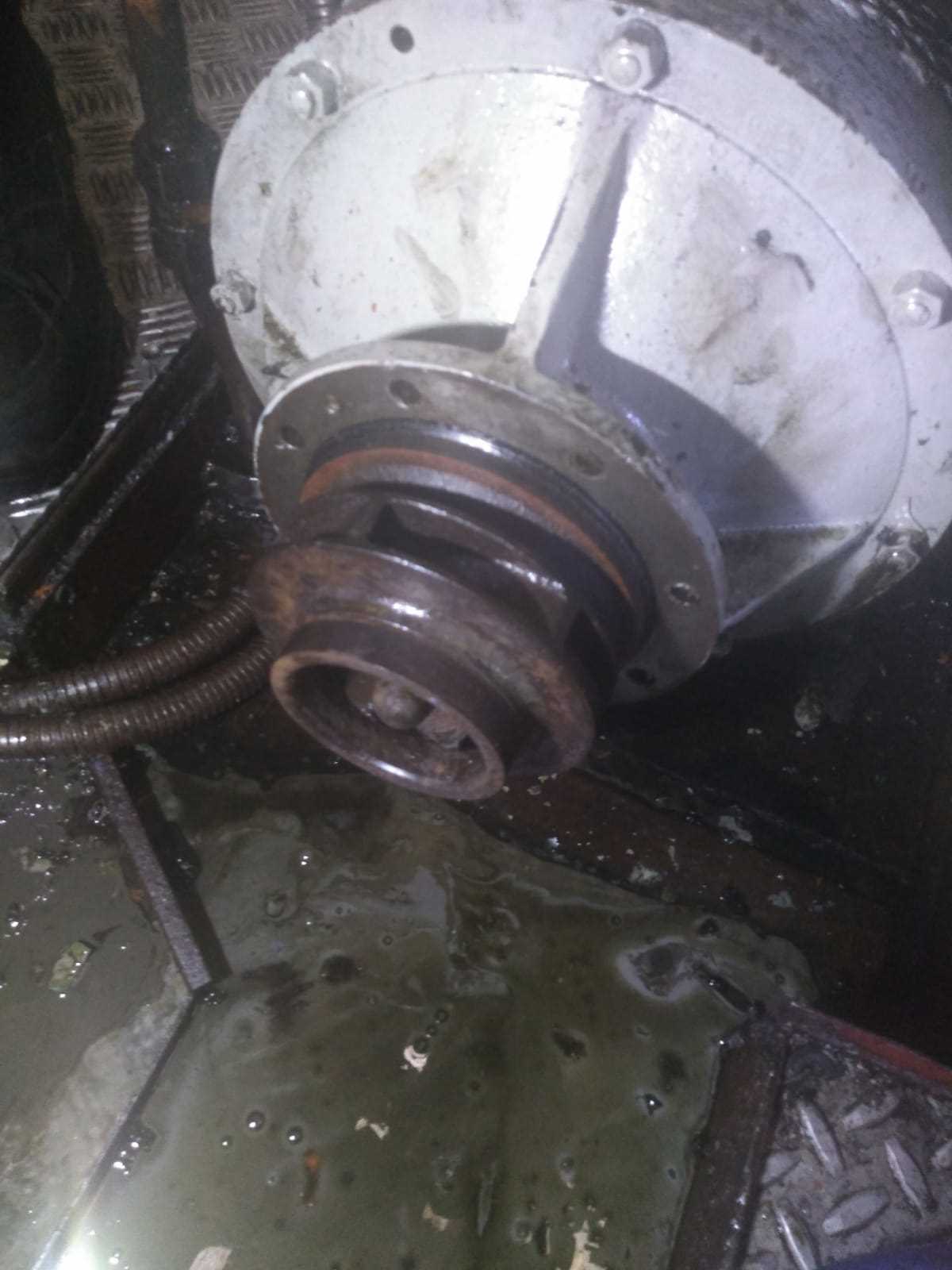 D6566 – the water pump was disassembled at Williton on Sunday 13th November 2022. The hole in the centre of the blue housing is for the incoming water, which is then picked up by the impeller that is visible on the end of the grey triple pump motor, and thrown outward at motor speed to the output port on the blue housing. Photo by Ian Robins © CC BY-NC 3.0
Class 33 D6575 (33 057) – this loco is currently stabled at Bishops Lydeard in readiness for her next booked workings, which will be the 'WINTERLIGHTS' services that will run on 18th and 19th November and every weekend until Christmas week, during which they will run each day.
Class 35 'Hymek' D7017 – this loco was started up so that Andrew Barclay 578 (ROF 1) could be shunted into the loco shed. The opportunity was also used to perform some engine checks and take an oil sample, once operating temperature had been reached.
D7017 – this loco was started up on Saturday 12th November 2022 and used to shunt Barclay 578 (ROF 1) into the loco shed.  This loco is waiting for formal completion of her Vehicle Inspection & Brake Test (VIBT) and a test run before she can be returned to traffic. Photo by Andy Royal © CC BY-NC 3.0
Class 35 'Hymek' D7018 – with attention being concentrated on sister D7017, the planned engine run was deferred to next weekend, when the transmission control pressures will be checked and adjusted if necessary. The loco will then need to have a number of small but important tasks dealt with during the winter months, in readiness for her return to service in the spring.
D7018 – one of our star performers that achieved 100% availability during 14 days of running during 2022, this 60-year-old is currently stabled on number 1 road in the South Yard at Williton. Pictured in the evening of Friday 11th November 2022 by Jon Tooke © CC BY-NC 3.0
Class 14 'Teddy Bear' D9518 – work on the disassembly of the Paxman 6YJXL V6 diesel engine is taking place under Terry's supervision on Tuesdays and Saturdays, while Simon, Colin G and Andy P work on the reassembly of the 'B' end of the loco and John C works on the electrical cubicle. Progress on multiple fronts, but a shortage of photographs – which we will hopefully remedy next week.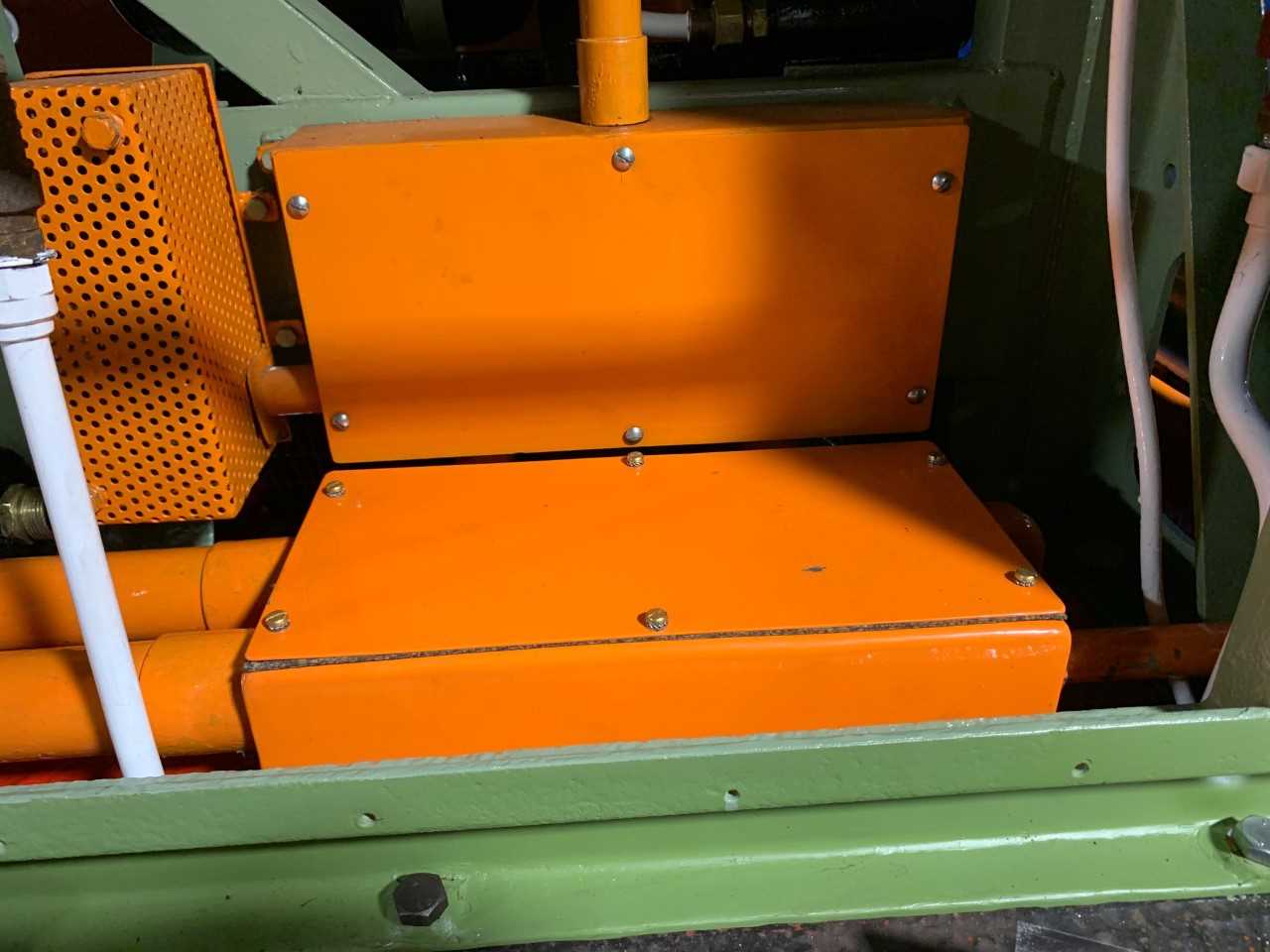 D9518 – orange is the designated colour for electrical items and there is plenty of orange in this view of the 'B' end of the locomotive at Williton on Saturday 5th November 2022. Photo by Andy Royal © CC BY-NC 3.0
D9518 – this view, looking to the right and upwards of the previous view, shows one of the Westinghouse solenoid valves that operates as a switch for compressed air (through the white pipes) when the internal electrical coil is energised. The two terminals of the coil have yet to be wired up (via the orange conduit. Pictured at Williton on Saturday 5th November 2022 by Andy Royal © CC BY-NC 3.0
This loco is the subject of a fundraising appeal so please follow this link to find out more. We need your help ! In addition to funds, we also need plenty of HANDS. If you love the 'Teddy Bears' and you are not already a member of the DEPG, please join us so that you can become one of the team that is going to return D9518 to fully operational condition as 'NCB No. 7'.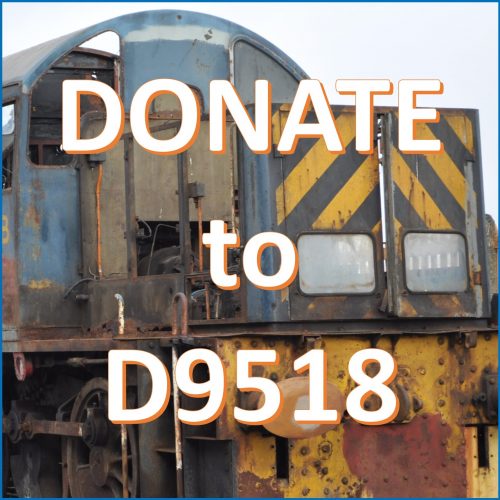 Class 14 'Teddy Bear' D9526 – this loco continues to be in regular use on the Kent & East Sussex Railway although her time in the far South-East is coming to an end because sister loco D9504 has now completed her overhaul and will be returning to work shortly. We expect that our 'Teddy Bear' will be heading home to Williton in mid-January 2023.
Class 47 47077 'NORTH STAR' – this loco has seen regular use at the NYMR though to the end of October, when public services ceased. Hopefully, the loco will see occasional use during the winter to keep her in good condition.
Andrew Barclay 0-4-0DH 578 – this loco has now moved into the loco shed so that work can progress on the investigation into the fuel contamination that resulted in damage to her fuel injection pump. Such work needs clean and dry conditions, and being outdoors in November is unlikely to tick that box !
Andrew Barclay 578 (ROF 1) – pictured outside the shed on number 3 road at Williton in the evening of Friday 11th November 2022. Photo by Jon Tooke © CC BY-NC 3.0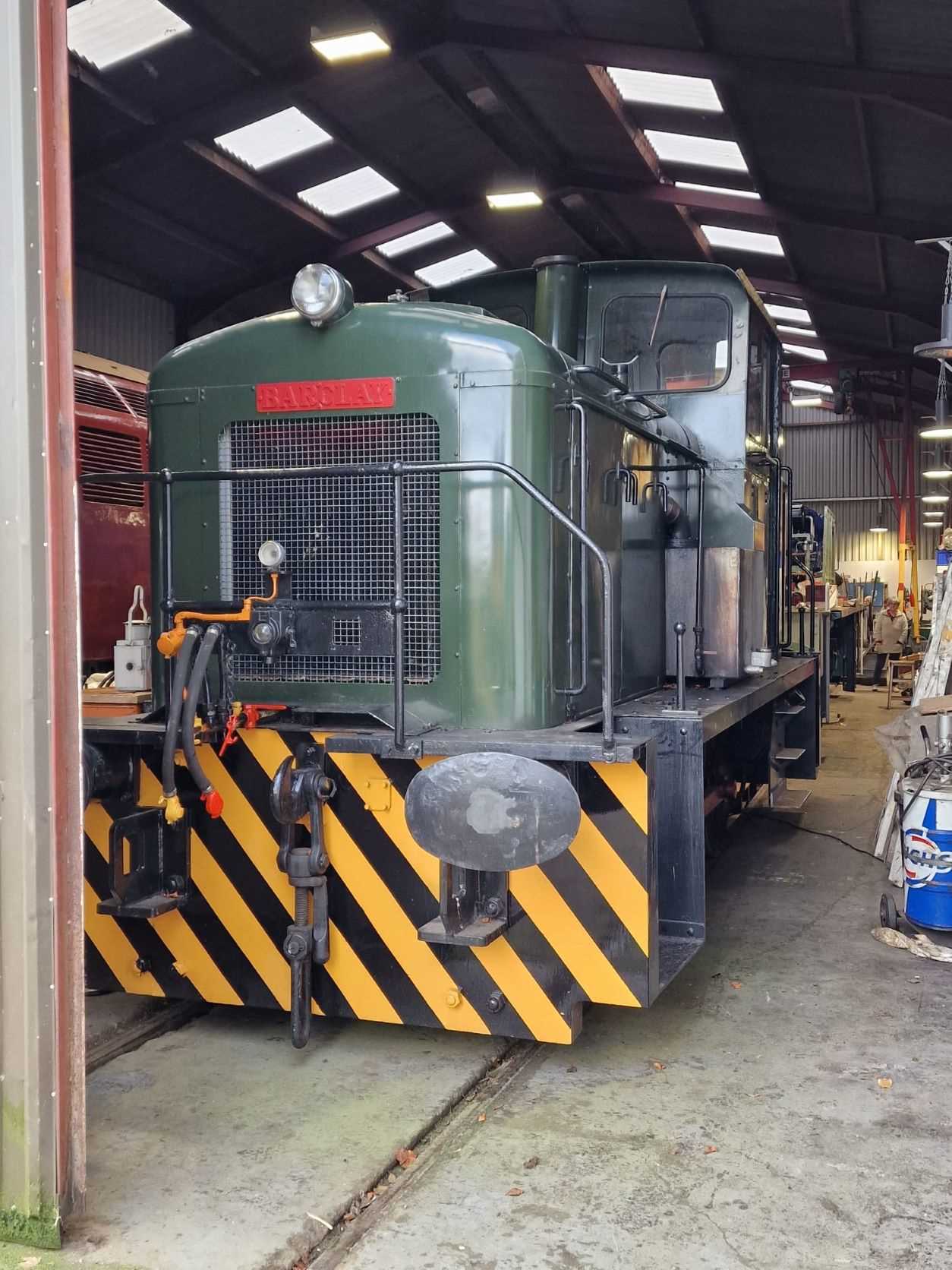 Andrew Barclay 578 (ROF 1) – pictured inside the shed on number 3 road at Williton in the afternoon of Saturday 12th November 2022. Photo by Martin Howard © CC BY-NC 3.0
If you can help by donating your time, then please JOIN US and come along to the depot for an introduction to what we do and how we do it. We currently have people on site from Saturday through to Tuesday and we can open on other days if we can be sure of getting at least two volunteers on site at all times, so there is plenty of scope. We have tasks of all types to suit most capabilities, both skilled and unskilled.
Many thanks to all of our volunteers who give up so much of their time to work on the cleaning, painting, maintaining, restoring, managing and fund raising for our fleet of heritage locomotives !
Click here for our CONTACT FORM.
BOOK REVIEW – this week, we are pleased to report that more pre-owned books that have been donated by members and supporters have been catalogued and photographed and are going to be added to our online store this week. The targets this week are 12 volumes in the 'RAIL PORTFOLIO' series, as follows: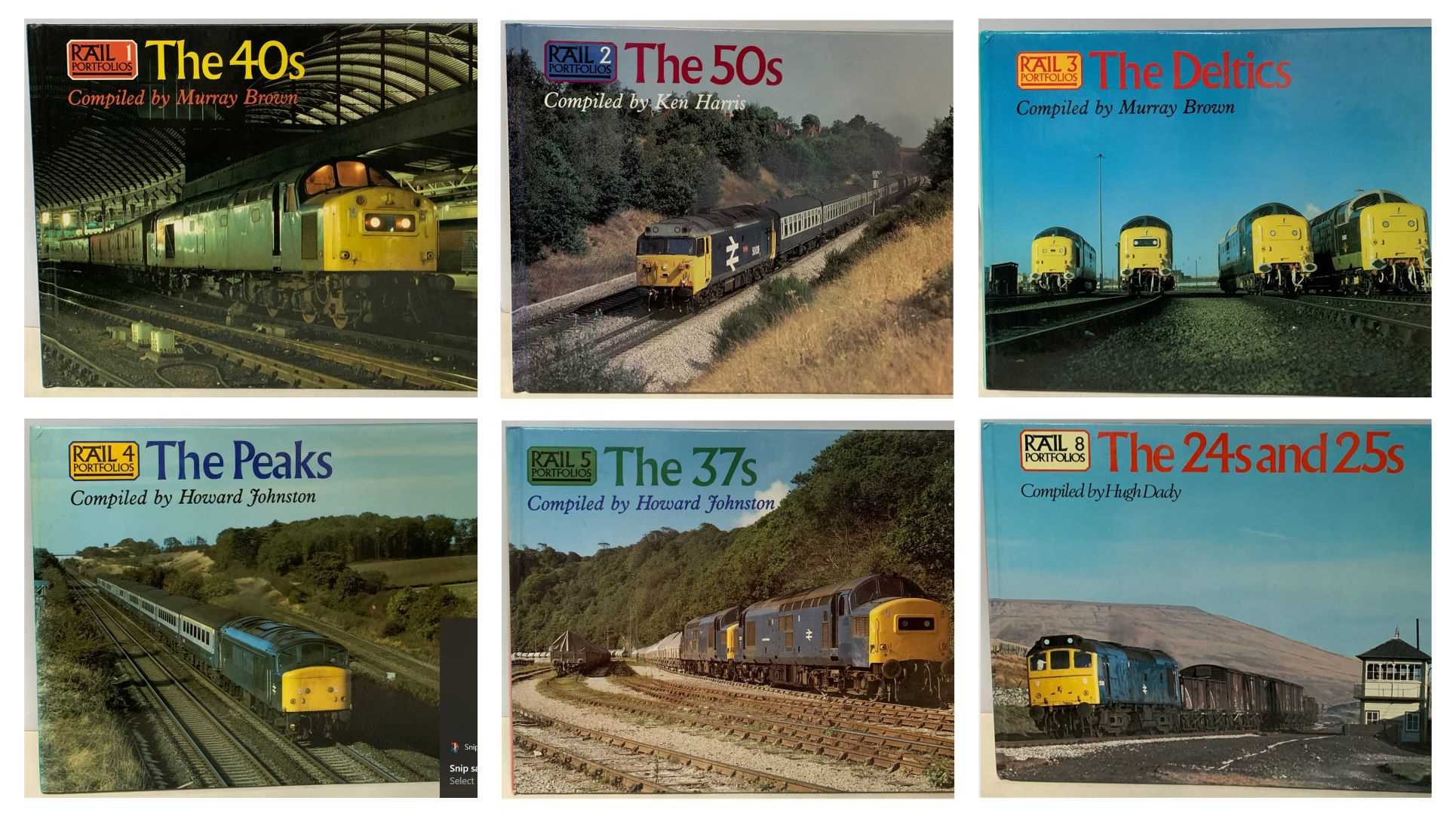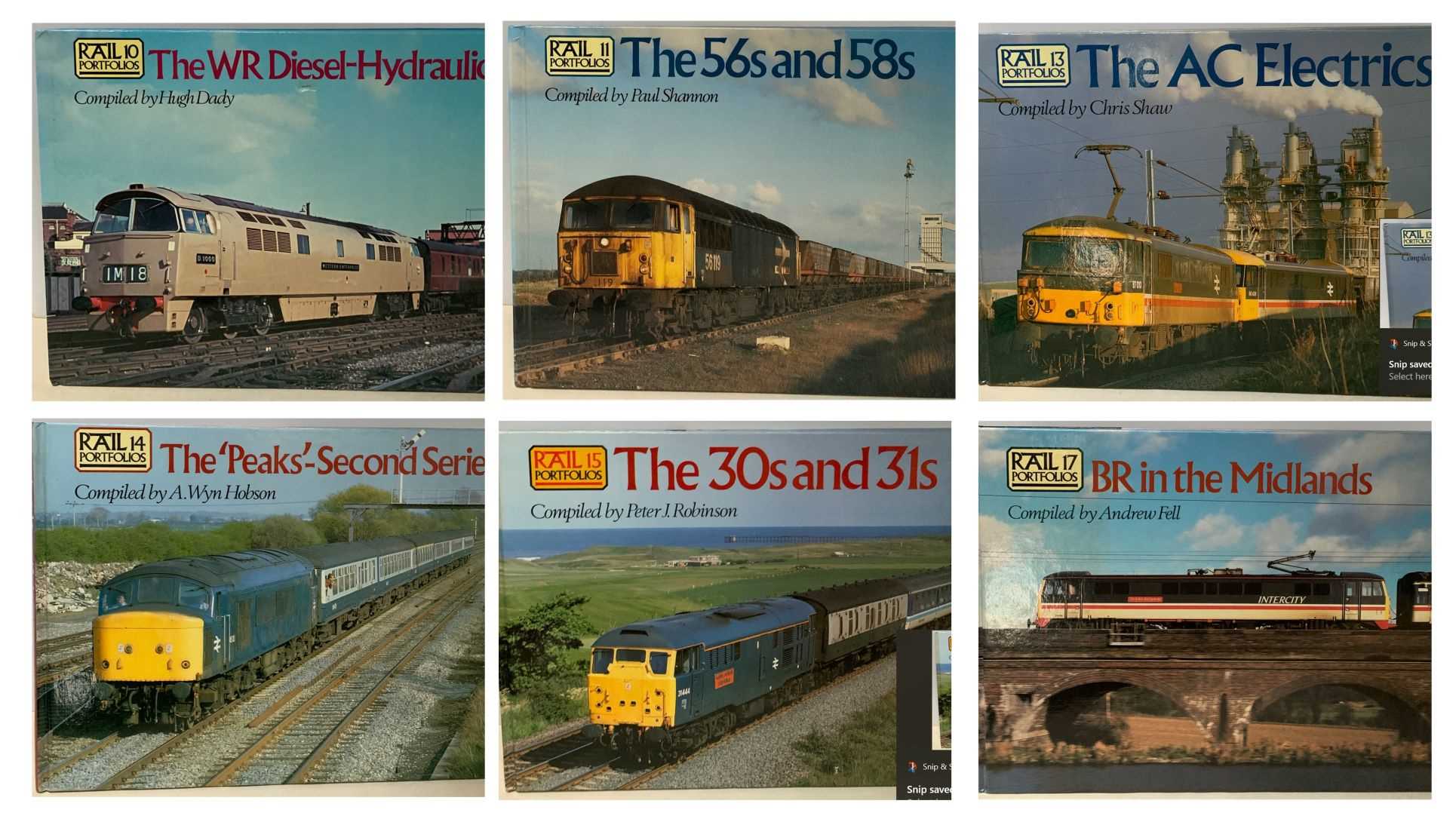 These twelve titles were amongst a large collection of pristine condition books that were donated by a DEPG member and active volunteer, for which we are very grateful. Some of these as-new books are difficult to get, so we will be setting prices individually in the range from £10 upwards (we are after all, raising funds for our fleet). Please use our CONTACT FORM if you are interested in any of the above or any other books in the Rail Portfolio series, because we may have more titles in stock. Thank you very much to all who have donated books, photographs and video tapes for the benefit of our locomotives.
A quick reminder that we are now taking advance orders for the DEPG 2023 CALENDAR, further details of which will be posted here and on our webstore soon. To prevent waste and maximise the contribution to DEPG funds, we will be limiting the number of calendars that we order to match demand and no more. The printing costs have risen but if we control the quantity that we order, we can keep the price the same as last year, which is £12 including VAT excluding postage. Click here or on the image below to place your ADVANCE ORDER. Thank you to all of our contributors for allowing us to use their work for this important purpose.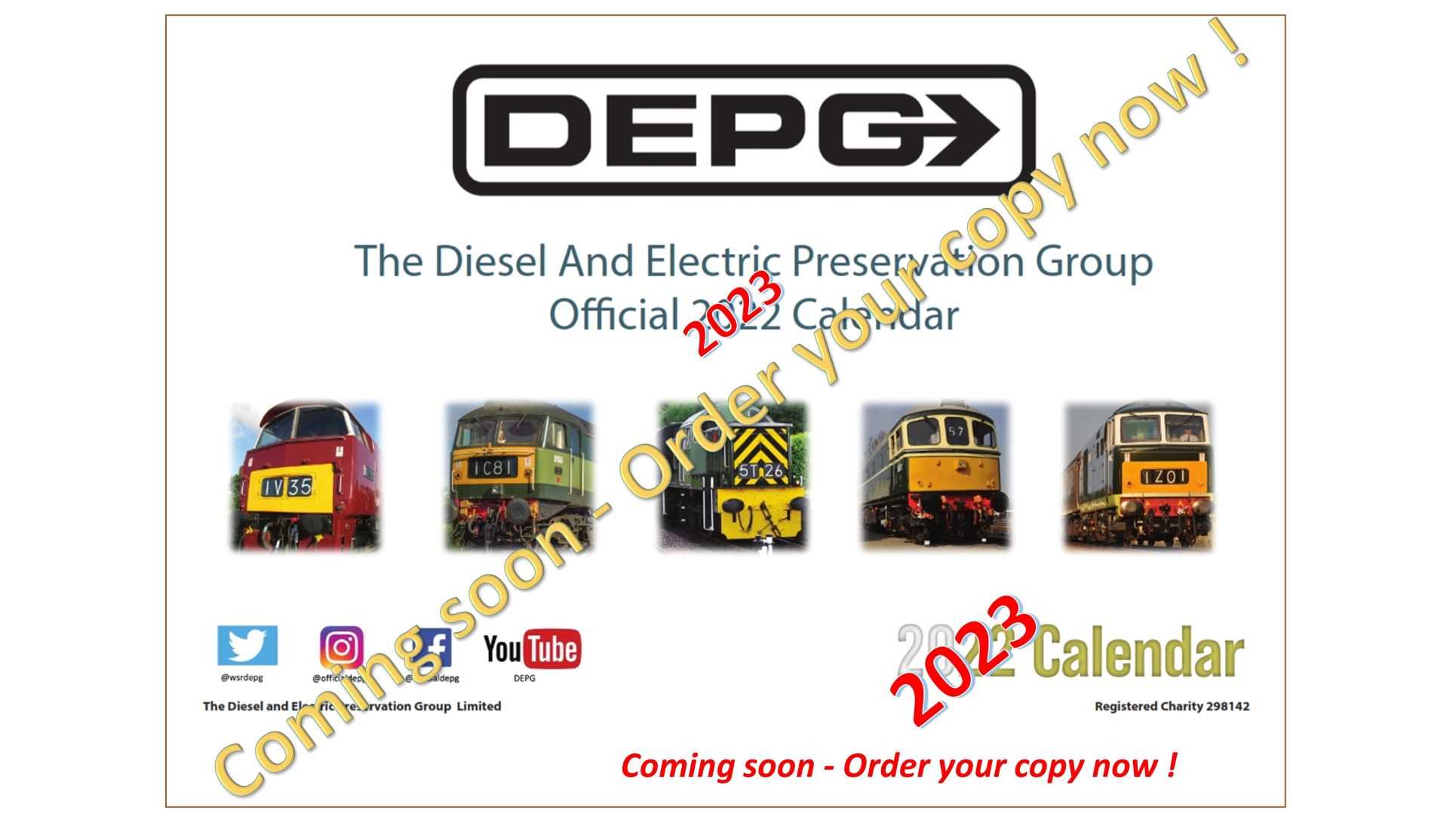 WILLITON STATION FUNDRAISING – as mentioned last week, our friends at our local WSR station have been busy making a range of embroidered Christmas cards, gift tags and decorations that will be of interest to many, as well as being a departure from what one would normally expect to find on the DEPG website !
The many items are being photographed and examples will be placed on our online store during the next few days, in the 'Christmas Items' category. All monies raised from the sale of these items goes to Williton Station funds. Thank you for your support !
Another example of the work being done by volunteers at Williton Station. Each item is for sale at the Station or via the DEPG online store.
ON SHED – we recently put out a request for 'on shed' photos and we had some fantastic responses including 'in service' photographs such as the below image of our own D1010 'WESTERN CAMPAIGNER' departing from Westbury with a long rake of 'YEOMAN' hoppers in the summer of 1976, the very last summer of mainline operation of the type. Photographer Kelvin Lumb also provided us with the caption that goes with his photograph. Many thanks to Kelvin for sharing another item from his collection with us all.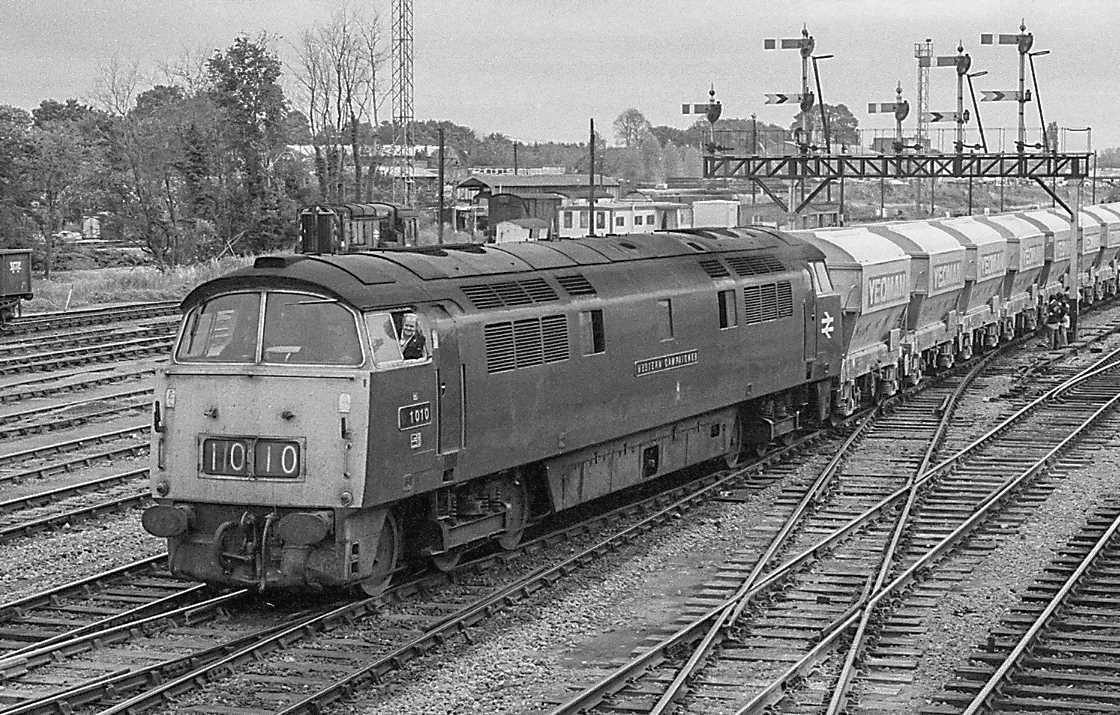 D1010 WESTERN CAMPAIGNER hauls its Yeoman set away from Westbury with a trip to Merehead Quarry (maybe?). Photo taken from the West Signal Box, summer '76 by Kelvin Lumb © CC BY-NC 3.0
DEPG NEWS – a very useful item that won't break the bank is our new DEPG keyring LED torch, now in stock and selling for £2.50 with the option of five different colours. The aluminium body, simple on/off switch, swivel keyring, great brightness and replaceable batteries make this a decent purchase. Available from our online store.
IMPORTANT DATES for 2023:
WSR DIESEL GALA : Thursday 8th through Saturday 10th June 2023
DEPG 50th ANNIVERSARY CELEBRATIONS : Friday 22nd and Saturday 23rd September 2023.
Our new online membership system is working well and feedback has been very positive, but please be aware that WE STILL OFFER THE TRADITIONAL PAPER-BASED MEMBERSHIP via cheques and mail, available via this link. If you want a form mailed to you, use our CONTACT FORM or email our Membership Secretary CHRIS SHIELDS via members@depg.org
Of particular importance is the GIFT AID option. If you are a taxpayer, please consider setting your GIFT AID status to YES so that the DEPG can claim the tax that you paid on your subscription and/or donation. This increases the value of your payment by 25% and that makes a significant amount of difference to our fundraising. Thanks !
For our new online membership system, click here or on the image below and log in (no password required) to create a new membership or to check the details of your current membership. THANK YOU FOR SUPPORTING THE DEPG !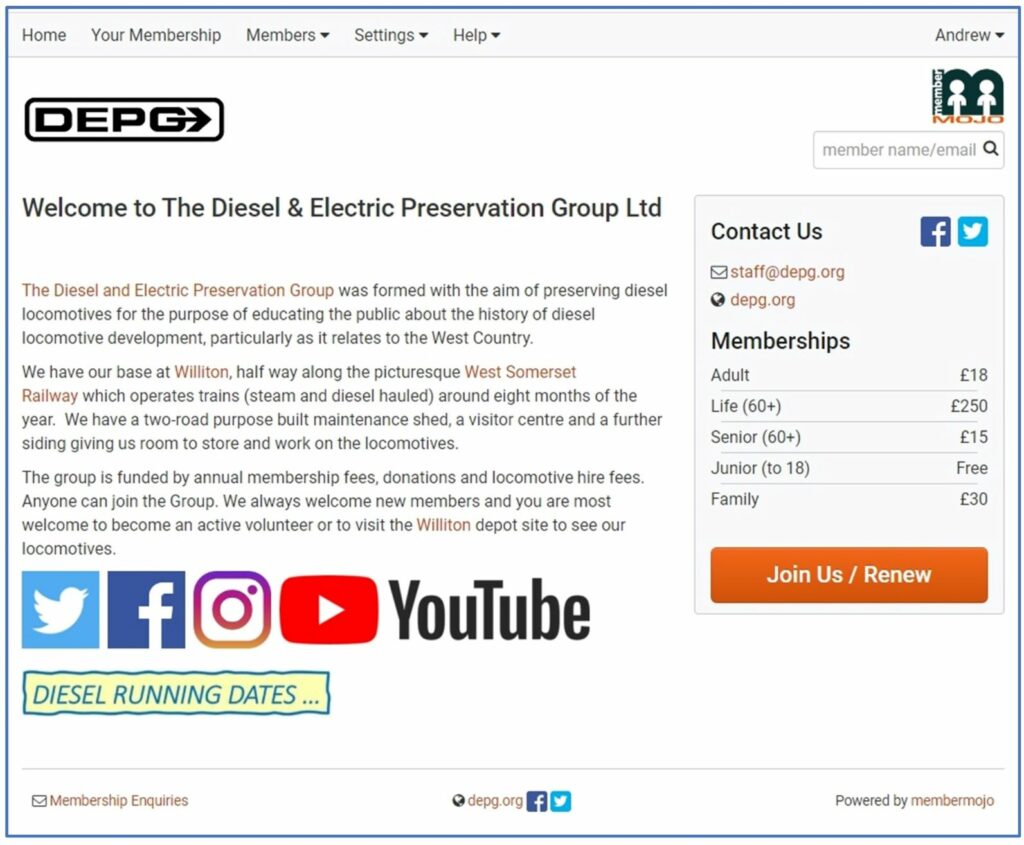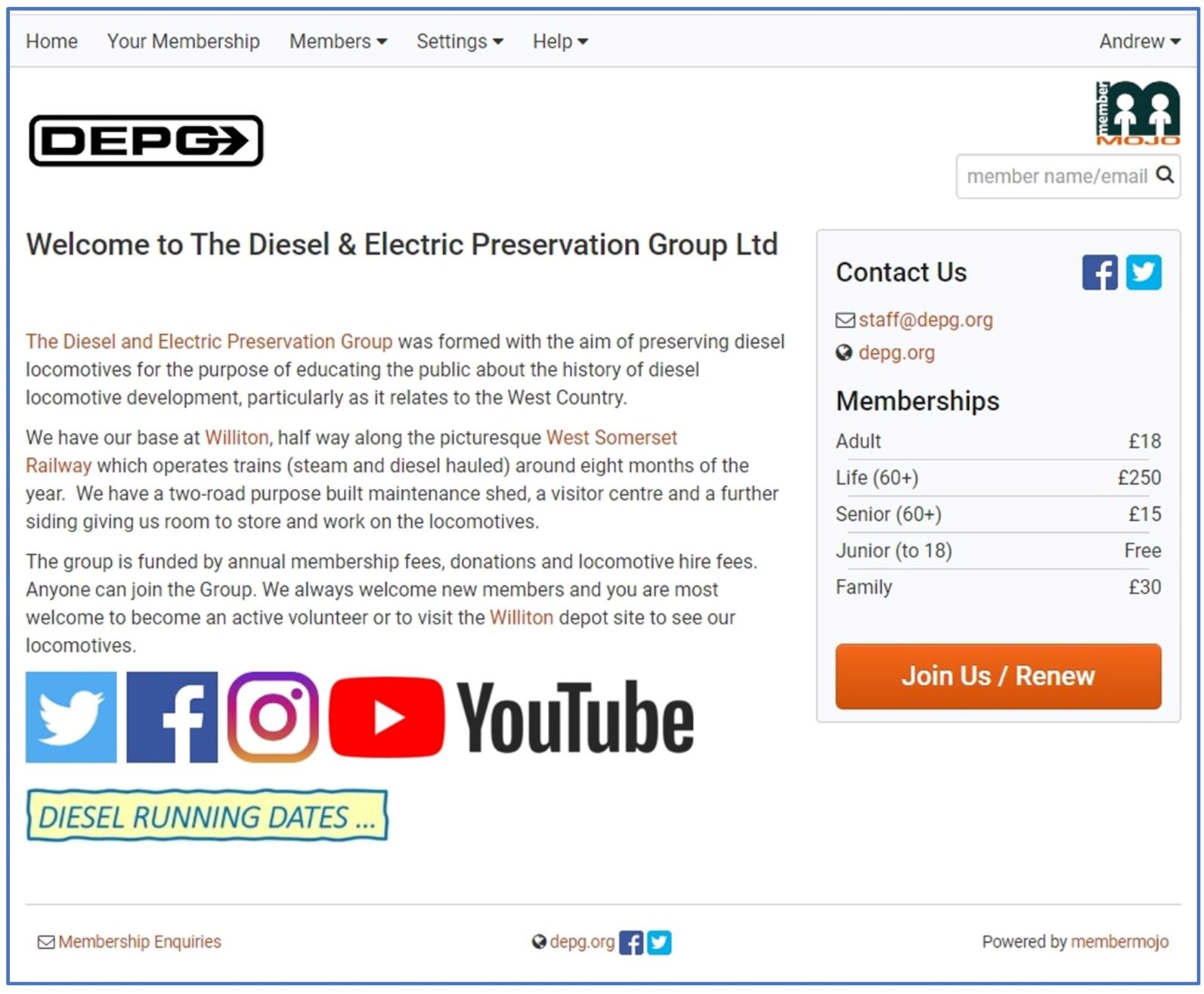 WSR NEWS: 
The WSR is now taking bookings for the 2022 'WINTERLIGHTS' trains which will be steam hauled on the journey to Crowcombe Heathfield and diesel hauled on the return leg, using one of our Class 33 'Cromptons'. Also running are the 'SANTA EXPRESS' services between Bishops Lydeard and Williton, and two special trains on Friday 2nd and Saturday 3rd December for visitors to the 'DUNSTER by CANDLELIGHT' event. 
Demand is expected to be strong so don't leave it until later to make a booking. If you and/or your family or friends want to experience one or more of these events, then now is the time to make a booking. Click here for the events page on the WSR website or click on the images below.